[Top 10] War Thunder Best Aircrafts That Are Powerful
Updated: 04 May 2022 10:24 pm
Let's roll!
Sup guys, I'm a consumer of flying so this will be a breeze for me. as I drive many aircraft in my spare time.  Nothing can beat being up high in the sky flying above your enemies and laying fire on them. While you're doing this make sure that you're not in a random helicopter or an airplane. Make sure to go all the way with these guys. so enough of my chit chat let's get into the best aircraft you can get in War Thunder.
10. EC-665 Tiger HAP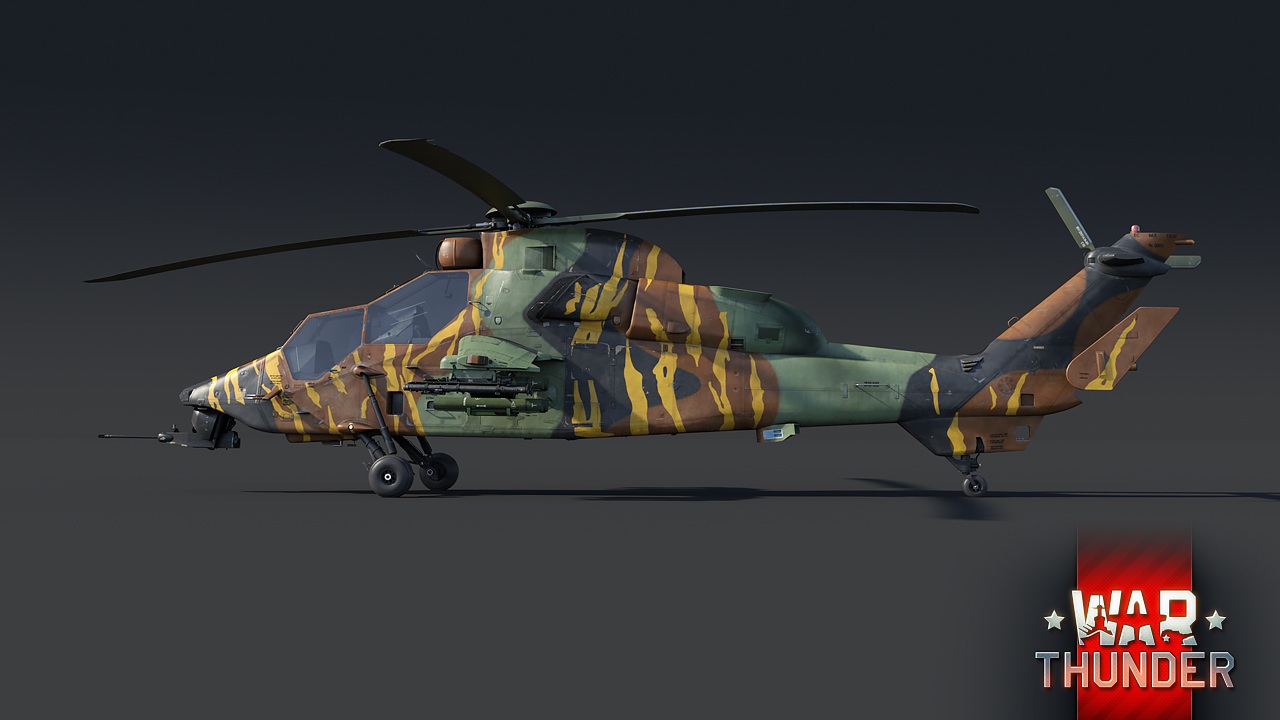 Helicopter, helicopter!
Most people don't like helicopters but I surely love them. Being in one just makes my jimmies rustle. This is an attack helicopter that's great for taking out other enemy aircraft and tanks. You will need a high skill ceiling to maneuver around and dodge your enemy's attacks. So for your concern, the EC-665 is a flexible little bird. 
Why is this aircraft great:
has a maximum speed of 300 km/h
carries 450 rounds 
shoots 720 shots per minute. 
9. AH-1Z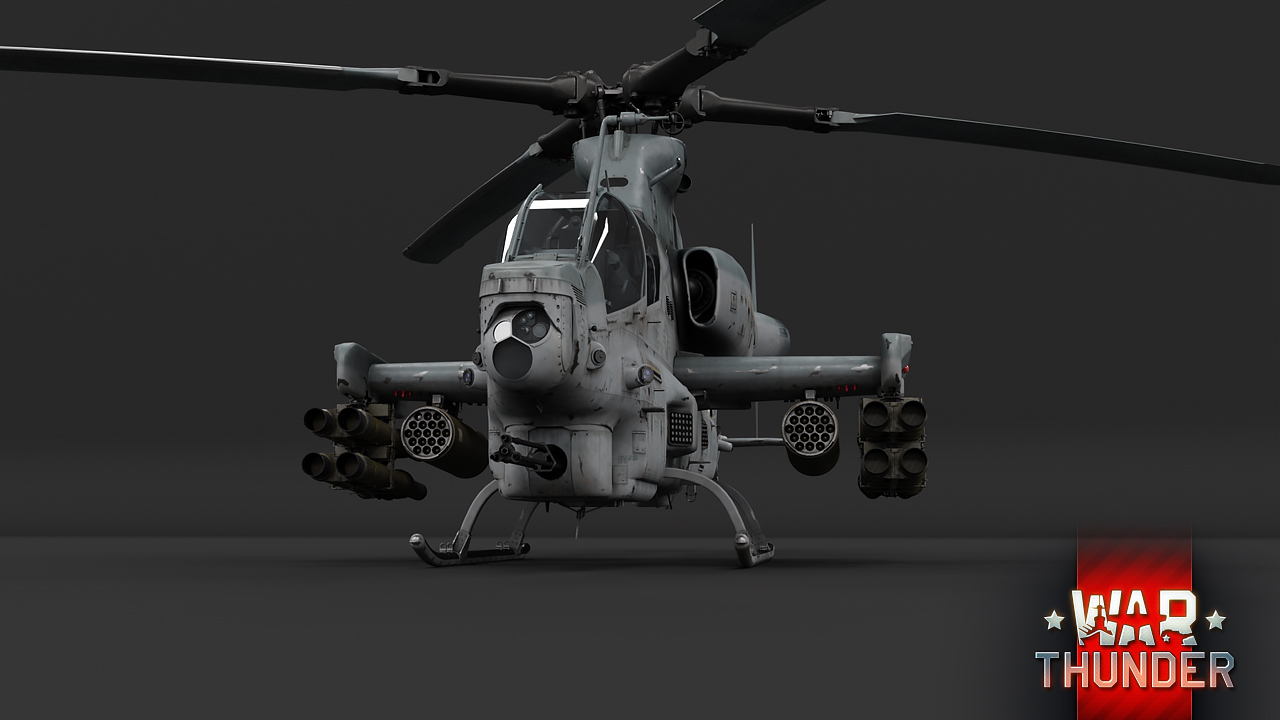 AH-1Z!
The AH-1Z is the better cousin of the EC-665 helicopter. As this helicopter is much faster and carries more ammo. It's way deadlier as well. It can also reach an altitude of 6 kilometers which makes you safe from most gunfire. When it comes to the looks of the helicopter that only depends on you and how you like it. I don't care about it as I like to drive in the first person while mowing down my enemies. 
Why is this aircraft great:
The maximum speed is 411 km/h
Can reach an altitude of 6 kilometers. 
Carries 750 rounds and shoots 750 rounds per minute. 
8. FW 190 A-4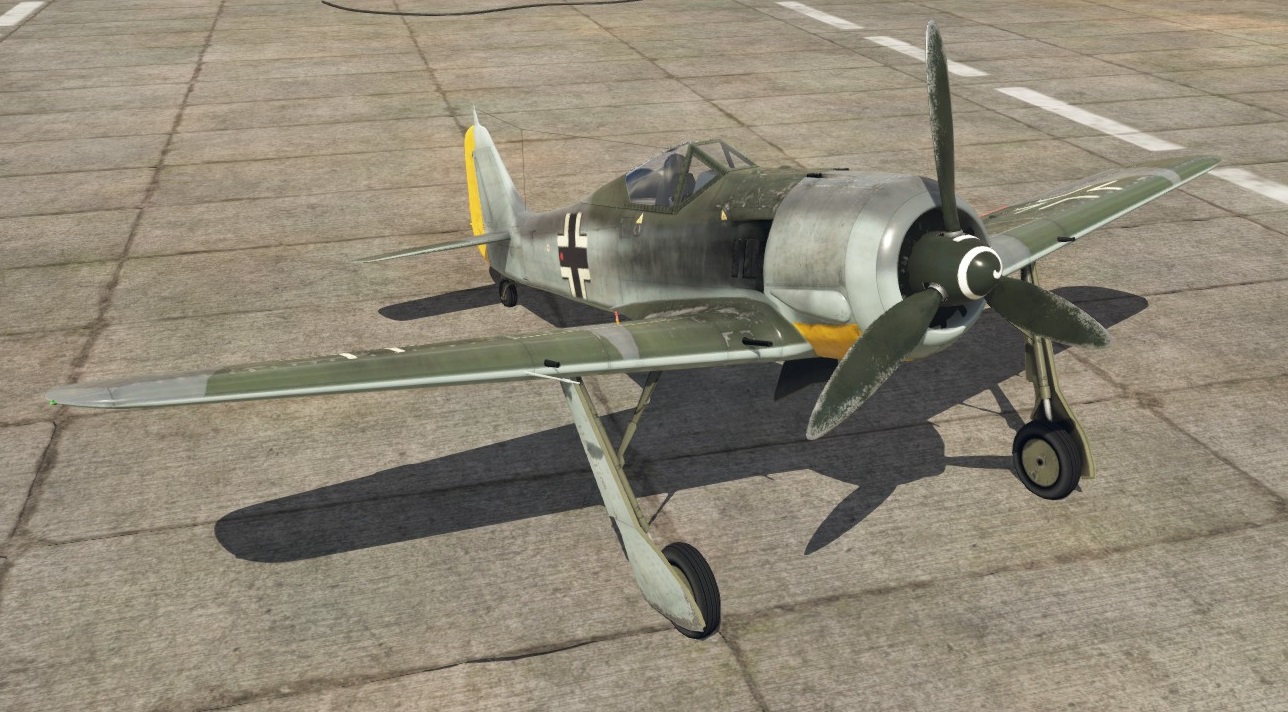 Looks like a bee..
Here we have our first airplane on the list. This is a low-ranking German fighter plane. The original name of this airplane 
Wurger which means the beast. Sounds pretty damn cool if I spoke any German that is. But when you see this beast in action 
you'll know that the nickname is deserved. With this plane, you can destroy enemy fighters fast and it can also double up as a bomber plane. 
Why is this aircraft great:
Has a top speed of 648 km/h. 
Carries 500 rounds. 
It's great as an attack aircraft and can also be useful as a bomber plane. 
7. Ho 299 V3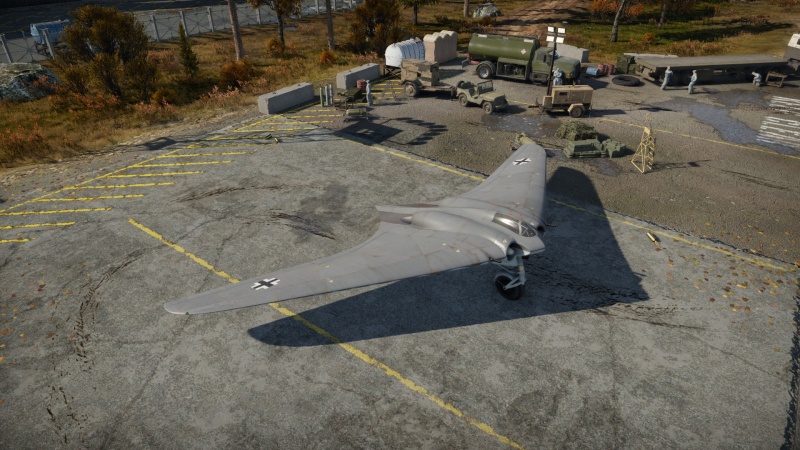 Batman!
Now this plane might get the nickname from my mother but god damn is it strong and we are only at the number 7 spot. You wanna dominate the skies and also seem like you're from the future? Well then look no further than this airplane. This was made for you only. Funny enough this airplane was created in WWII as a secret project or something. Oh those Germans, they were always up to no good. You should know that this aircraft is pretty evasive and just with your looks you will intimidate your enemies. 
Why is this aircraft great: 
It's easy to do evasive maneuvers. 
Has a max speed of 910 km/h. 
Has a max altitude of 12 kilometers. 
6. Sea Hawk FGA.6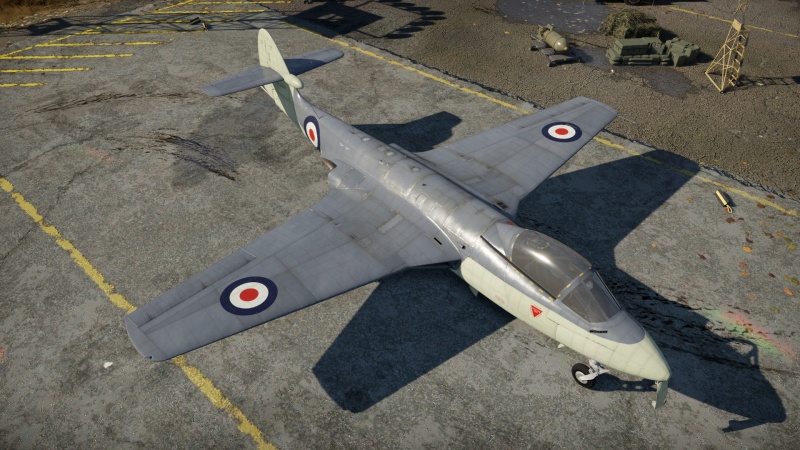 A sea hawk.
What's better than a german secret military operation aircraft? A British airplane. This airplane was given the name Sea Hawk as it was mostly deployed to fight over the sea. It started to see deployment at the end of WWII and it was one of the earliest fighter jets that the British created. In War Thunder, the Sea Hawk is one of the best at its job. It has great maneuverability and you can break quickly to be more precise.
Why is this aircraft great:
Has a max speed of 933 km/h. 
Great maneuverability in the air. 
Breaks quickly for a more precise aim. 
5. Yak-3P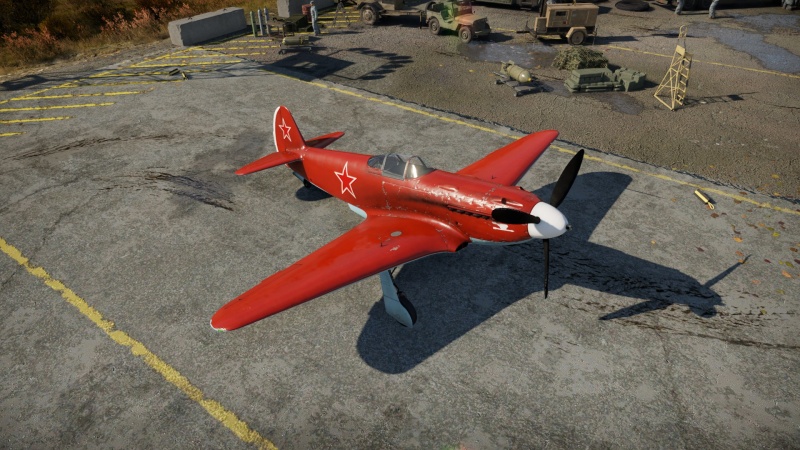 Blood everywhere.
Here we have a bit of commie engineering. This is a Soviet WWII jet fighter that was created to battle against the germans. Many were produced during WWII and that's because the Soviets didn't care about safety. All they cared about was creating the most amount of airplanes so they can send them out. It's also a very light plane and the weapons don't hinder its performance. By that I mean the weapons don't weigh it down as much as they should. It's also the most durable commie airplane in the whole game. 
Why is this aircraft great:
The best commie airplane. 
The most durable aircraft. 
Yak-3P's weapon can shred anything. 
4. G.56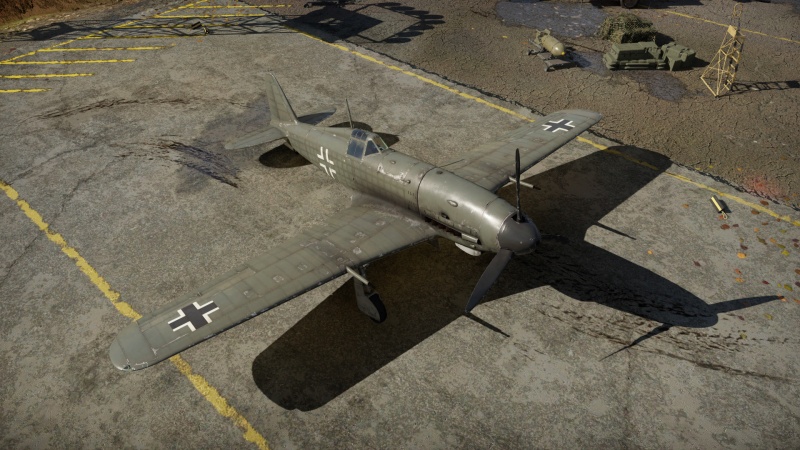 G plane.
Here we have an Italian airplane that isn't in the shape of a noodle. This aircraft is known to strike fear into the heart of anyone that's playing War Thunder. It also did that in real life. This aircraft is equipped with those beast engines that you can see poking out from the sides. It has medium endurance in the skies but what it does support is a great set of weapons. With a great ammo capacity as well.
Why is this aircraft great: 
Has a max speed of 700 km/h. 
Great Italian engineering, so far the coolest looking aircraft. 
Carries 800 rounds and can shoot 700 rounds per minute. 
3. Spitfire F MK 24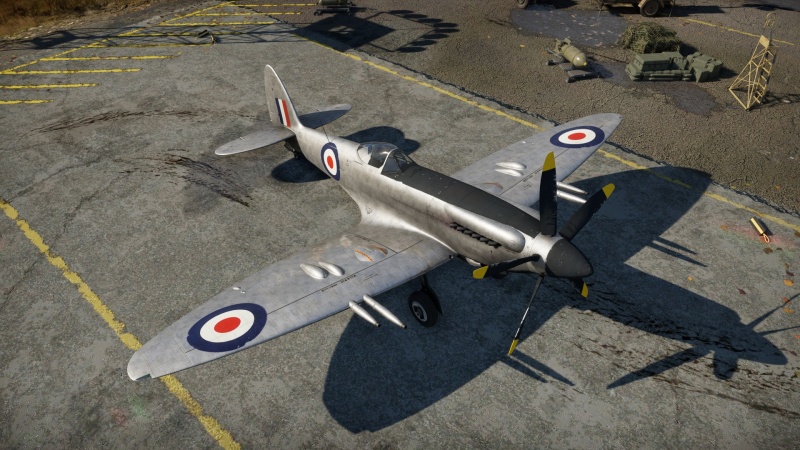 Spitfihah!
Ah yes, the spitfire. Everyone in their mothers has heard about this aircraft. This was the aircraft of that era and it's the finest iteration of it. The MK 24 was the staple of WWII and it's a great upgrade from the MK 22. The MK 24 carries a better gun and a better engine. It is seen as a massive upgrade from its previous cousin. Which in return turned this great beast into the untouchable scourge of the skies. When it comes to dogfighting players must take advantage of its acceleration and speed to come out on top. 
Why is this aircraft great:
Best fighting airplane in War Thunder. 
The iconic aircraft of the WWII era. 
Much better than it's MK 22 cousin. 
Carries 650 rounds and can shoot 600 rounds per minute. 
2. F-4C Phantom II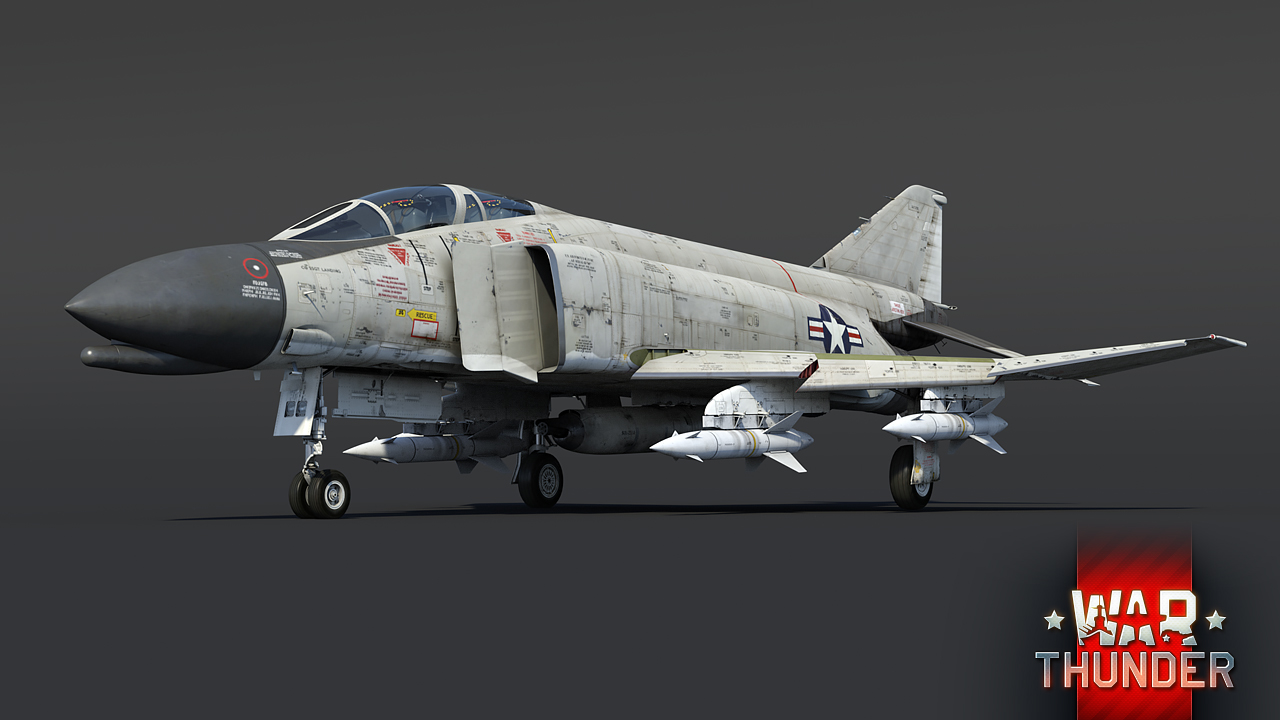 Literally a ghost!
Let's bring some freedom to the skies with the first USA aircraft to hit the skies. If you have a grandpa that was in WWII he will tell you that this is the most iconic aircraft of that era. This aircraft was quite the hit with the USA army as it was used the most. This aircraft is also a hybrid as it's a fighter and a bomber in one. How romantic it must have been for the enemies. 
Why is this aircraft great:
Has a max speed of 2,288 km/h. 
Can be equipped with guns or bombs. 
The max altitude of this aircraft is 16 kilometers. 
1. F-86F-2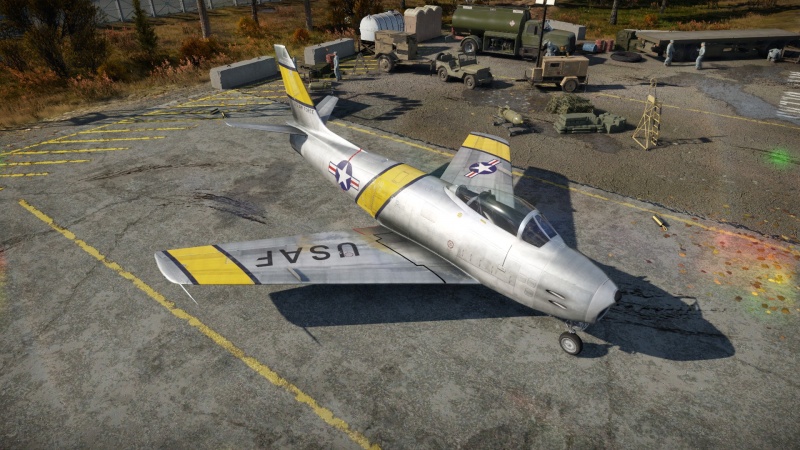 The best!
This is the standard choice for a high-tier jet fighter. As every single player will pop their cherries eventually and they'll have to pick a high-tier airplane to get. This is the most common choice and for good reason. It has a high win rate and it's highly versatile. It carries great guns that can help your enemies to butter and it goes pretty fast too. It does require some gun control as it's known to overheat quickly but in the right hands, the F-86F-2 is a deadly little beast. 
Why is this aircraft great:
Has a top speed of 1,106 km/h. 
The most common choice of every War Thunder player when picking a high-tier aircraft. 
Pretty deadly in the right hands. 
Guns can overheat quickly but they can also turn other airplanes into liquids.
You may also be interested in:
Image Gallery