FF14 How To Decorate Apartment
Updated: 04 Dec 2021 6:15 pm
Home is when we are together!
Ever heard of Housing (Savage) in Final Fantasy XIV?
That is probably why a lot of the Warrior of Light does not own a house but instead an apartment. Once you get your apartment, how are you going to decorate it?
To answer that question I will first answer the types of furniture you can get. There is the interior, which will change how your wall, flooring, or chandelier look, you can only have one type of this each, so be careful not to buy too many of them unless you like to change the view now and then. There is also furniture such as tables, beds, chairs, meals and you get the point, right? There is also limited item, which the amount is limited for each house, like pots and crafting facility. So, do read the item description carefully! With that on the head, let's get started with how to get the furniture.
There are two ways to get the furniture one is to craft them yourself or buy them from the market board. There is also some event that may give furniture, but not all the time, so don't rely on that too much. Some of the older events' items are also sellable on the market board but mind you, it is very expensive. The newer one is able for purchase in mog station with real money.
How to place furniture:
Select the "Social" menu,
Choose "Housing",
Choose "Remodel Interior" if you want to change the flooring, wall, and chandelier.
Choose "Indoor Furnishing" to place housing items,
Remember the items you want to put in the apartment must be in your inventory, Chocobo saddle won't do.
And decorate the apartment the way you like!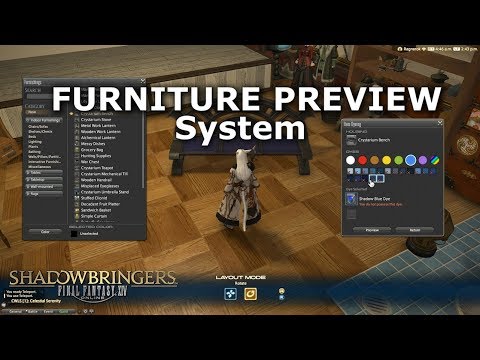 Furnishing System Preview.
Just like equipment, once the furniture is placed they are bound to you, which means you won't be able to sell them anymore. Also, do note that you have limited overall items you can display in your apartment, the limit is 100 items in total, excluding the interior.
You May Also Be Interested In: