FF14 How To Extra Materia
Updated: 04 Dec 2021 6:15 pm
Lalafell playing with materia.
For melding, you may require Disciple of Hands to do it, but for extracting? Anyone can do it!
You may have noticed that materia is important for additional status, but how does one own so many materia without farming it? Well, the answer is by extracting it from your long worn equipment. Before you can extract this materia however, you must first complete the quest to unlock the ability to do so! To take this quest you are required to finish the Main Scenario Quest of 'Life, Materia and Everything'! Be sure you have passed that quest!
Forging the Spirit:
A Roegadyn named 'Swynbroes' in Central Thanalan (24,13) would like to explain to you about the creation of materia.
Once you have taken the quest from him, talk to him again and he will explain to you what you need to know about how the materia was formed.
Congratulations, you have unlocked the materia extraction!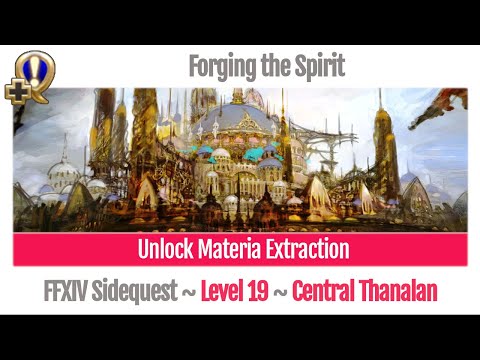 A guide to complete 'Forging the Spirit' quest.
How to extract materia:
You will get some sort of notification when the spiritbond is full,
Only when the spiritbond is full you can extract materia,
Open up your Character window, [C] is the default button, or you can access it from the 'Character' menu and select 'Character',
Select the equipment which spiritbond is full or at 100%,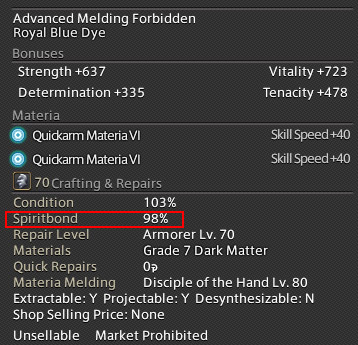 It has to be at 100%!
Right-click on the equipment,
Choose 'Extract Materia'
There you have it!
Once the spiritbond hits 100% the item will stop bonding and add no additional percentage, so do extract them as soon as possible! Once they are extracted, the percentage will go back to 1%. The materia you are getting will be random and highly depends on what equipment you are extracting it from. On top of it, materia is also the easiest way to get some extra gil! Extract, use what you need, sell the excess. What are you waiting for, extract those materias!
You May Also Be Interested In: