PUBG Mobile Emulator - Everything You Need To Know
Updated: 19 Jul 2021 8:55 pm
Emulator Gameplay
Have you ever wondered about playing PUBG Mobile on an Emulator? Well, get all the information about emulators and how to install them in this article.
PUBG has become a global sensation. Most individuals play PUBG in their free time. PUBG has become a source of support for the people during the lockdown. PUBG has helped us stick to the phones and play games day and night, allowing us to pass our time without being bored.
PUBG has made us stick to mobile phones, but mobiles get heated up, and this game consumes battery a lot. You must be wondering what can be the solution to playing PUBG without using Mobile phones. Don't worry. I have got you covered. 
PUBG is a game designed to be played on handheld devices, but it has an official feature that supports emulators. That means you can play PUBG on any laptop or PC. In this post, we will be discussing everything that you need to know about PUBG Mobile Emulator. 
What Is a PUBG Mobile Emulator?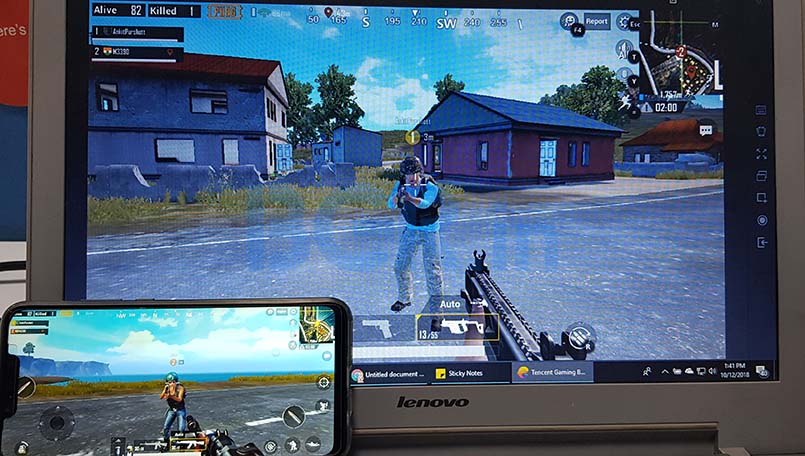 Emulator Gameplay, PUBG Mobile
The emulator is a program or software that helps you play a game on another platform on your PC or Laptop. A PUBG Mobile Emulator is software that helps in running PUBG Mobile on our PC's or Laptops. There are many reasons why a person should opt for an emulator. Some of them are:
Constantly playing with a mobile device is difficult; the device becomes hot, the battery drains, and the eyes become irritated.
Using a computer monitor provides a larger screen, making the game easier to play; also, keyboard and mouse support promote faster gameplay.
The PUBG PC version is not free and requires a minimum of 8GB RAM, which not every PC has.
Streaming via PC is more convenient for YouTubers and streamers.
How to Set Up a PUBG Mobile Emulator?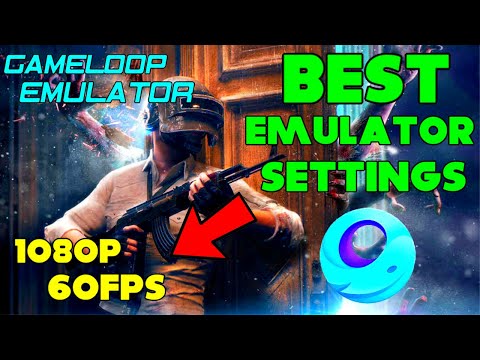 Setting up Emulator, PUBG Mobile
In this YouTube video, we can see all the settings and steps required to set up a PUBG Mobile Emulator according to your PC specifications. So, let us get started to discuss the steps in brief.
Step 1: Download Gameloop
The first question that pops up in our mind is how to download Gameloop? Well, it is straightforward. All you have to do is go to the official website of Gameloop, or you can search google for Gameloop software. You can select the language that you want your Gameloop software to use. English is preferable for all of us. 
Tencent gaming buddy has been considered as the top emulator for playing PUBG Mobile. Tencent branding has elevated it to the point that it is the sole genuinely essential recommendation one year later. The emulator dropped the Tencent identity last year, rebranding itself as Gameloop. However, as anyone who has used it previously will attest, it is the same program with all of the same essential features, and it is still developed and supplied by the game's publisher.
If you're concerned about your account being flagged as a potential hacker for using an emulator, keep in mind that Tencent openly promotes Gameloop as a way for people to play PUBG Mobile on devices other than a smartphone or tablet. 
Step 2: Download and Setup Gameloop on your PC or Laptop
Once the application has been downloaded, launch the installer and follow the on-screen directions. You should probably read the minimum requirements here. However, given that it just requires a mid-range GPU from a decade ago, it's safe to say that any PC purchased within the previous five years will run it flawlessly from the integrated graphics processor on its Intel or AMD CPU.
After the installation is complete, you may notice the emulator downloading and installing a few updates and critical services. After all, it's an Android emulator, so it's essentially creating a virtual phone/tablet in the background. The type that developers would utilize to build their applications.
Step 3: Download the Application "PUBG Mobile"
Once that is complete, you need to establish an account and log in. From there, it's as simple as visiting the program's version of the app store and downloading PUBG Mobile. As this is by far the emulator's primary use case, you'll see banners and buttons for the game everywhere, ready to initiate the process.
You are not, however, confined to PUBG Mobile. Gameloop officially supports several Android games, including Arena of Valor, Call of Duty Mobile, and idle games. If PUBG Mobile has been holding you back due to your phone's limited storage space, now is the chance to experiment with a few other games.
Step 4: The Emulator Settings need to be tweaked
Before you start playing PUBG Mobile, you may want to change a few emulator settings to ensure it runs optimally on your PC. To locate them, click the three horizontal lines icon. This icon can be found at the top right side of the screen.
You'll probably want to leave the renderer on Auto. However, you can tweak the emulator's resolution and screenshot directory. This will allow the emulator to fill the whole screen for that complete UI feel while ensuring that your comedic skills and bug reports don't get lost in some far-flung folder deep in your recovery drive.
You may wish to adjust the key settings are the memory allowance and the number of processing threads. If none of these options is meaningful to you, leave them alone. However, if you know how many RAM or CPU threads you have available, changing these options can assist ensure your system can handle PUBG Mobile's load in addition to its other critical background activities.
By using an emulator such as Gameloop, you may effectively run a second operating system within Windows. Therefore, if you don't want your computer's overall computing speed to slow on a less powerful system, you'll want to make sure Gameloop isn't sucking up too many resources required to operate Windows efficiently. On a high performing and latest system, you're likely to have plenty of extra computing power if you're playing PUBG Mobile on an emulator.
Step 5: Tweak the Setting of PUBG Mobile
Assuming that all downloads have been completed. On the main menu, your mouse cursor takes the place of touchscreen taps. Log into your account as usual and navigate to the Settings section to optimize the game's performance. You'll find the standard selection of graphics settings here, but if your PC is substantially more capable than your phone, you may be able to increase them.
Regrettably, emulation has a cost. It's far more taxing to run an emulator on generic hardware. Therefore, it's generally recommended to set the PUBG Mobile emulator to Smooth and turn off shadows and anti-aliasing settings to reduce the jumps and jitters associated with emulation. However, increase the Frame Rate setting to Extreme to achieve the all-important 60 frames per second. Because this is a competitive game, smooth and constant frame rates are significantly more crucial than a couple of attractive trees.
Step 6: Setup Controls
What I love about Gameloop is its plug-and-play approach to PUBG Mobile. All of those touch inputs are immediately mapped to keys, and these instructions are displayed alongside the game's standard UI.
The majority of the time, WASD is used to move, the mouse controls the camera and your aim, the left click is used to shoot, C is used to crouch, Shift is used to run, and M is used to open the map. In Hardcore mode, R works like a key that helps in reloading the weapon, E helps in interaction with objects such as doors, and each item on the floor receives its control of pickups prompt, such as F, G, or H. 
All of these settings are accessible via the key binds menu on the right side of the window. These function by visualizing a keypress as a tap on a single location on the screen, which means you'll need to utilize them to move floating buttons if you're rearranging your UI in-game. On the right-hand side, you'll also see a reminder of the core controllers. Nifty!
By far, the most straightforward PUBG Mobile emulator to install is Gameloop. It even includes controller support, which we may discuss in the future. However, it is not the most seamless or reliable method of playing PUBG Mobile. It's just the most comfortable option if you're not a fan of curling your digits around a hot smartphone all day.
Conclusions:
This guide contains all the essential features that are necessary for playing PUBG Mobile on an emulator. If appropriately followed, you'll definitely end up enjoying the game to its fullest. You will be open to a whole new level of gaming experience on an emulator that will change the way you used to play PUBG. 
You May Also Be Interested In:
Image Gallery