[Top 7] PUBG Mobile Best Settings That Give You An Advantage
Updated: 23 Apr 2022 7:35 am
Sole versus Squad? Not a Problem.
Ever wondered how to become a professional using the best graphic settings? Discover the best setting that can help you get an advantage.
Player Unknown Battle Grounds is a game that is constantly gaining audience and popularity throughout the world. It is a multiplayer battle royale game. It is a competitive game with over 730 million downloads as of June 2020. It is a difficult game and takes experience and much learning to become a professional.
If you face problems while aiming or firing at enemies, you've come to the right place. In this article, I will provide you with the best settings that will give you an advantage over your rivals, and you can easily defeat them by using these settings.
With PUBG being one of the most played games of this decade, I can proudly say that I am an expert in PUBG. What makes me an expert? Usage of some tips and tricks that I discovered, and obviously due to hours of exposure to the game. If you want to become an expert in the game and want to be called a pro, follow the steps mentioned in this article.
Best Settings for PUBG Mobile
From my personal experience, I have come to know that it is impossible to become a professional or skilled player in PUBG if you are not using the best settings on your PUBG account. When I started playing this game, I experienced problems like:
Difficulty in Shooting
Difficulty in Aiming
Difficulty using controls
If you face the same problems, then read along with the article.
1. Use of Proper Controls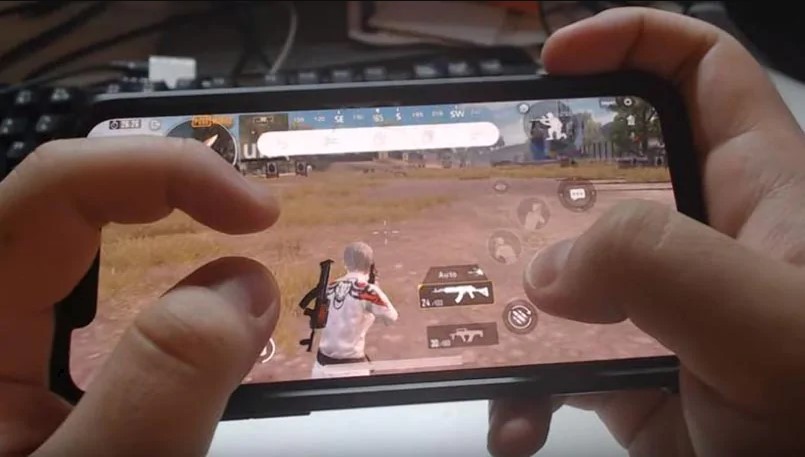 Customized Controls, PUBG Mobile
Like me, many users experience difficulty using the default controls of PUBG. It is one of the most important settings to change when playing. You can adjust your controls according to your preferred style. Many users, including me, use Three Finger Claw Setting. This setting is considered the most preferred setting to use when playing.
There are many other types of claws setting that other players use, such as:
4 Finger Claw
5 Finger Claw
6 Finger Claw
All these claw settings are useful to use in PUBG but have some disadvantages such as:
5 and 6 finger claws can only be used on IPad
The screen of the mobile cannot be properly seen
It is not easy to use these controls sometimes
From my personal experience, I can conclude that three and four-finger claw settings are one of the best settings to utilize in PUBG, as they are easy to manage and allow you to use multiple fingers rather than just thumbs. Usage of multiple fingers helps in aiming, firing, moving, crouching, and prone.
2. Getting the Best Sensitivity for Your Game
With hours of playing and experience, I know that sensitivity is one of the most important settings in PUBG. If your sensitivity is not good, you cannot achieve anything in this game because your aim will miss due to the increased recoil of your guns. Below I have shared the details and images of my sensitivity.
Camera Sensitivity: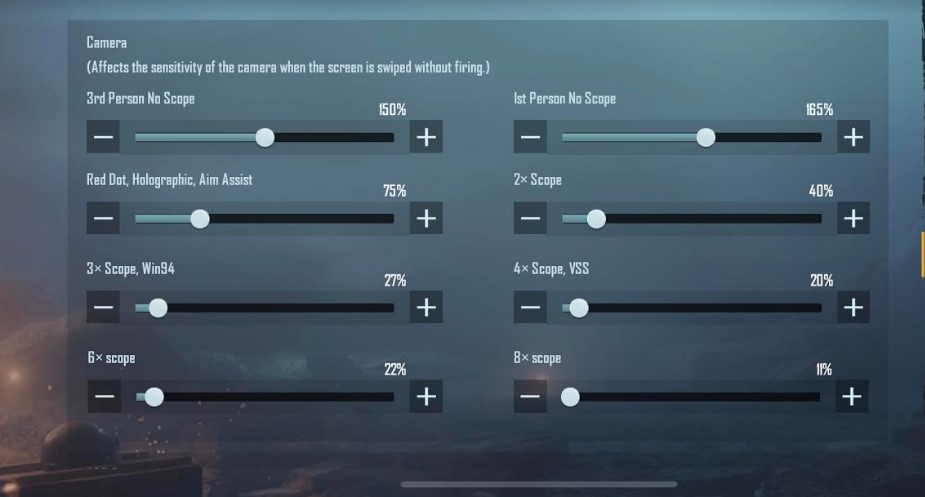 Camera Sensitivity, PUBG Mobile
1st Person No Scope – 165
3rd Person No Scope – 150
Red Dot – 75
2x – 40
3x –  27
4x - 20
6x - 22
8x – 11
ADS Sensitivity: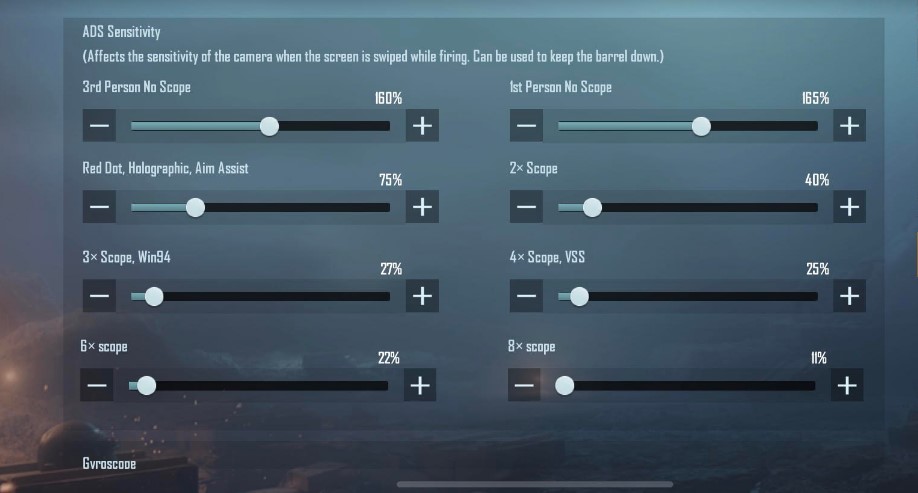 ADS Sensitivity, PUBG Mobile
1st Person No Scope – 165
3rd Person No Scope – 160
Red Dot – 75
2x – 40
3x –  27
4x - 25
6x - 22
8x – 11
Gyroscope Sensitivity: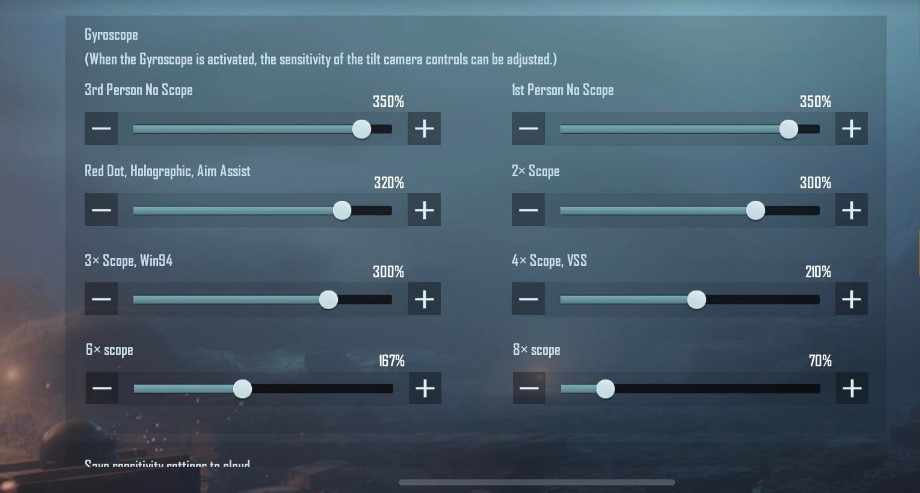 Gyroscope Sensitivity, PUBG Mobile
1st Person No Scope – 350
3rd Person No Scope – 350
Red Dot – 320
2x – 300
3x –  300
4x - 210
6x - 167
8x – 70
3. Use of Gyroscope:
According to me,  the main setting that you need to use in PUBG is a gyroscope. Gyroscope is important for aiming and moving without having to use your thumb and finger. Most experienced gamers, including me, utilize this feature as it comes in handy during a close-range and long-range fight.
Many gyroscope users complain that their gyroscope gets a glitch and stops working. Well, this is only In the case of very old and low devices. The latest mobile phones do not have such issues as they have up-to-date technology.
Gyroscope is good for:
Gyroscope is beneficial, and it is good for:
Faster aiming
Acing close range fights
Assists in firing while moving
Less recoil
How to Turn Gyroscope on: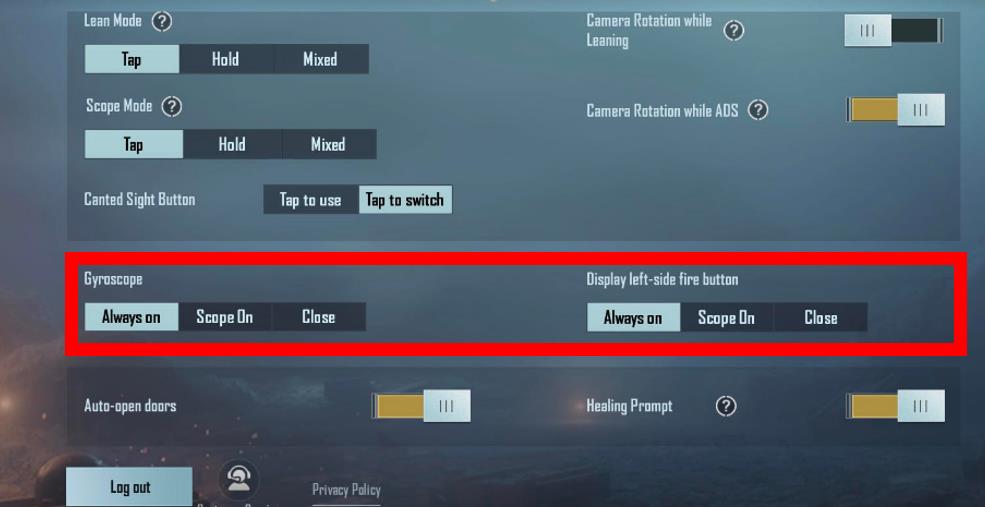 Turning  on gyroscope, PUBG Mobile
Turning on a gyroscope is one of the simplest things that a PUBG user can do. I'll be guiding you to turn it on. Just follow the steps mentioned below:
Open Setting
Select Basic Settings
Scroll Down Below the Canted Sight Button
Below the Canted Sight Button, You'll see gyroscope
Select Always on
Many people use gyroscope on the scope rather than always on. I would suggest using the gyroscope as always on because it comes in handy in close-range situations.
4. Problem with Movable Fire Button
Many users, including me, have faced the situation when we are killed just because of the rough movement of the aim while firing? Well, I have got you covered. This is one of the most common issues people face and cannot get a solution to.
I faced the same issue and couldn't find a solution to it on the web as well. But after some digging, I came to know the real cause of this issue. This is due to the presence of two fire buttons. One fire button has properties of move and finger.
When we click the move and fire button, it moves roughly, costing us many fights. We can ignore the button by pasting it somewhere on the screen where we don't usually touch it. This allows you to fire and enjoy fights without the worry of fire rotation.
5. Settings That You Should Turn Off Immediately:
There are many settings that you might have just ignored because you thought they're not important. The same was the case with me. When I came to realize the importance of such settings, I was also shocked.
Some of the settings that you should consider turning off are:
Camera Rotation While Moving
Camera Rotation While Leaning
Aim Assist
Peak and Open Scope
Reasons to Turn These Settings Off:
I had faced many troubles when firing or in between a fight because of these settings that I didn't know were on. Some of the problems I faced were:
Camera Angle Rotation
Aim Assists Making me Miss Targets
Peak and Open Scope is Time Consuming and Mostly Glitches, giving enemies a chance to kill you easily.
These settings make you vulnerable to your enemies' attacks and cost you your game. By using my guidelines, you can improve your game and surprise your enemies.
6. Use of Lower Graphics and High Frame Rate
Now, I am going to tell you about the most important setting of PUBGM. By using this setting, you can improve your game and become a professional within no time. Most of us play the game at high graphics and low fps. What this does is it makes your graphics good but makes your game lag.
Lower fps means high chances of facing a defeat by your enemies, and this is because higher fps perform better than the lower fps. On high fps, the enemies can see and attack your way before you spot them. Settings to use are as follow:
For Graphics: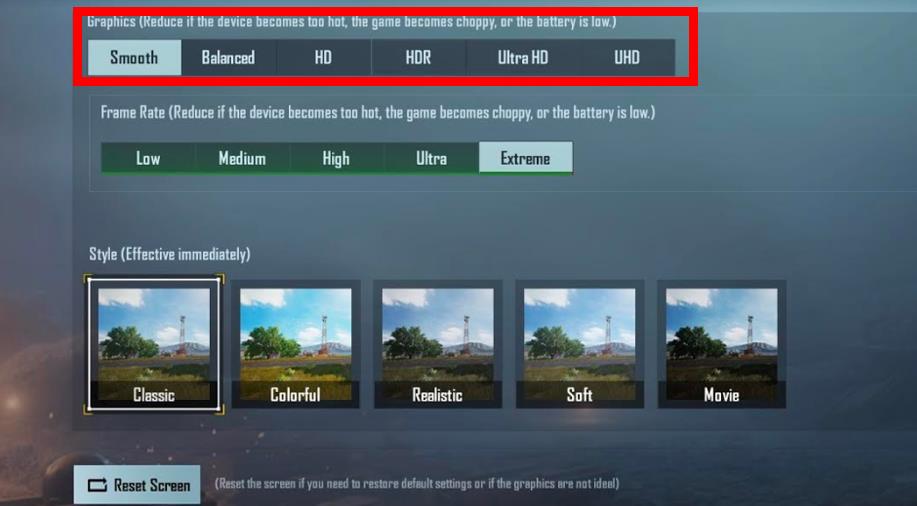 Low Graphics, PUBG Mobile
Go to Settings > Graphics > Choose Smooth Graphics
For FPS: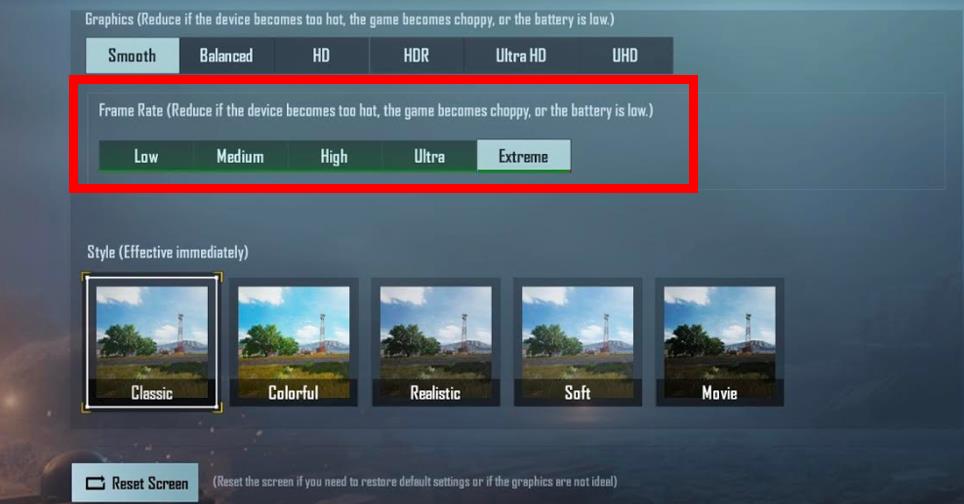 High Frame Rate, PUBG Mobile
Go to Settings > FPS > Choose High or Extreme Graphics
Using these settings can make your game work faster without any lag. This makes you aim faster. It is difficult to adjust at low graphics first but not impossible. Most of the professional players use these settings (including me).
7. Which Graphic Style to Use When There is Fog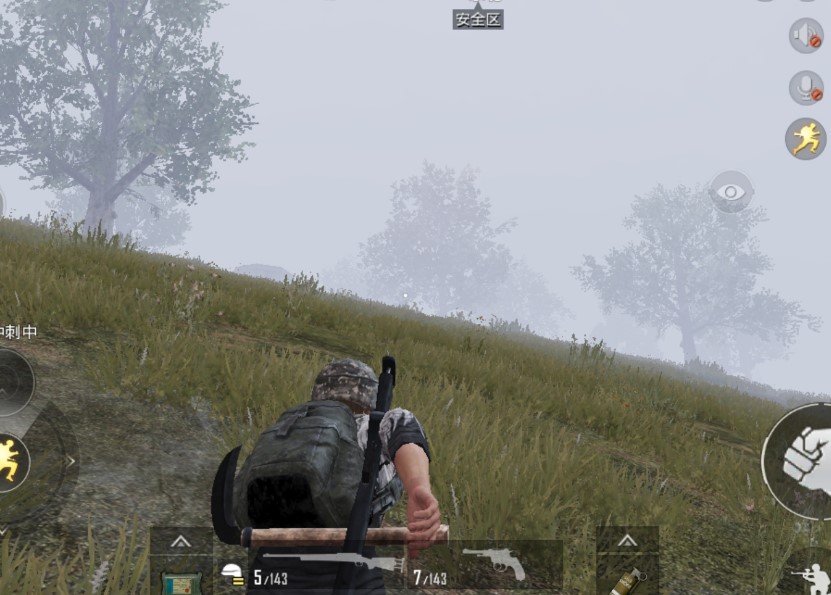 Fog Settings, PUBG Mobile
We have all been in a situation where we encounter fog and cannot see anything but our enemies are spotting us easily and firing without missing their target. This is due to this graphics trick that most players use and don't expose this setting to others.
Today, I will tell you about the graphic type you should use if there's fog in-game. You can choose between various styles of graphics such as classic, colorful, realistic, soft, and movie. In case of fog, Go to Setting > Graphics > Select Style Movie.
After selecting the movie-style scroll below, you will find a brightness tab. Decrease that brightness tab to 30%. This will help you see clearly in fog and take fights in fog easily, making you invulnerable to your enemies' attacks.
EndNote:
In this article, I have provided you with the best settings of PUBG Mobile that you can use to make your game better. The settings mentioned above will make you enjoy your game more without any tension of being repeatedly called a noob or bot.
 You can stand out amongst other players and come on top by properly utilizing the settings I have told you. Like me, you can also become a conqueror. Using the basic guidelines and tricks provided by me, you'll find your game to be much more exciting and smooth without any lag.
(PRO TIP: Play more tournaments and scrims match to improve your game rather than playing classic all the time. Scrims are a competitive game with all skilled players, making you gain experience with every passing game. When I started playing scrims, I was a total noob, and it helped me gain exposure to the game and tips that I needed to improve my game. You should try it as well.)
You May Also Be Interested In:
Image Gallery