FF14 How To Hide Chat/Log Window
Updated: 04 Dec 2021 6:16 pm
My chat log is privacy! Do not invade my privacy, nyaa!!
Need a more wide view during battle? Or simply hiding it to take screenshots?
Not a problem! Do you know you can always hide your 'Log Window'? Yes, you can! And here is how!
How to hide log window:
Right-click on the tab of the 'Log Window',
Select 'Hide Log Window',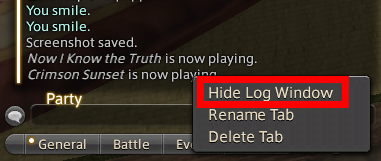 Ta-da! Your Log Window is now hidden!
To make it appear again, simply press [Enter]. It's easy and useful if you need that extra space for the view!
You May Also Be Interested In: