[Top 10] FF14 Best Hairstyles
Updated: 16 Sep 2021 7:30 pm
A fashionista Lalafell!
What comes to your mind when you hear the word "Fashion" in FF 14?
When I hear the words "Final Fantasy XIV" and "fashion" in one sentence, the first thing that comes into my mind is definitely the awesome character customizations for the game. Final Fantasy XIV has a lot to offer when it comes to customizations and fashion. The game has Glamours Feature, which allows the player to freely explore their sense of fashion in the world of fantasy without having to worry about not wearing the right battle equipment. This feature will be unlocked once you reach level 15 and finish the quest "If I Had a Glamour". That aside, let's talk about a more sensitive part of a character, shall we? Yes, the hair indeed.
Final Fantasy XIV has done a great job for their customization colour palate for the hair, although, for some reasons, there are a lot of people who like to dye their character hair white, including myself. The hairstyle itself has a lot of variation, from short to medium to long. With Patch 5.5 adding new hairstyle variants, I think we should talk about which hairstyles are the best! Here are the 10 Best Hairstyles based on my opinion and where can you get them! Let's get started!
1. Gyr Abanian Plait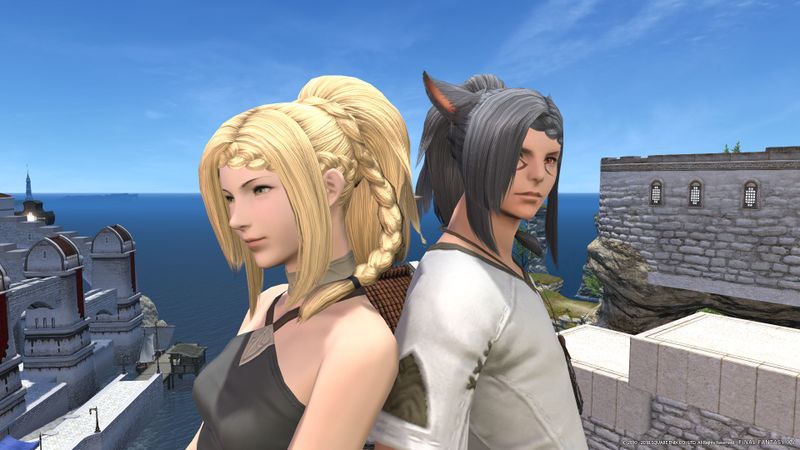 Gyr Abanian Plait hairstyle in Female Hyur and Male Miqo'te─a traditional Ala Mhigan hairstyle that was popular until the imperial invasion
Okay, so the first one goes to Gyr Abanian Plait, this hairstyle is my all-time favourite! Since there are not many braided hair variations in Final Fantasy XIV, this may be a great choice to consider! This medium hair with a ponytail and a side braid will give your character an exquisite look. This hairstyle may give you a clean yet adventurous visual but at the same time glamorous. It looks good on both male or female characters, just make sure your race can use this hairstyle (sorry, Hrothgar and Viera). To get this hairstyle you have to hit Heaven-on-High hard with your friends or if you are too lazy and a solo player like me, just get it from the Market Board.
2. Early To Rise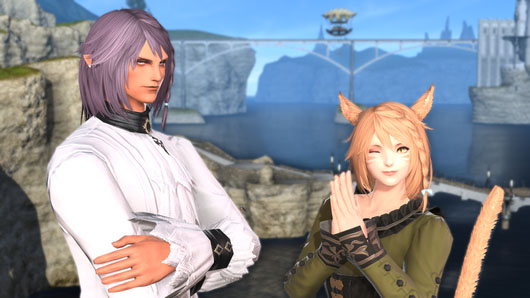 Early To Rise look─a simple-yet-elegant braid that can be employed by even those who are not yet fully awake
Moving on to the next one, we have the "Early To Rise" hairstyle. Introduced in Patch 5.45, it is still a relatively new hairstyle when I wrote this article. The hairstyle is rather simple and has a modern look with just one braid on the side and side bangs. This is a medium hair that you should go for if you are aiming for a more casual cute look, even for the male characters. To get this hairstyle you should raid on Delubrum Reginae until you get one, and if you are not so lucky like me, you can always pay a visit to the Market Board.
3. Form And Function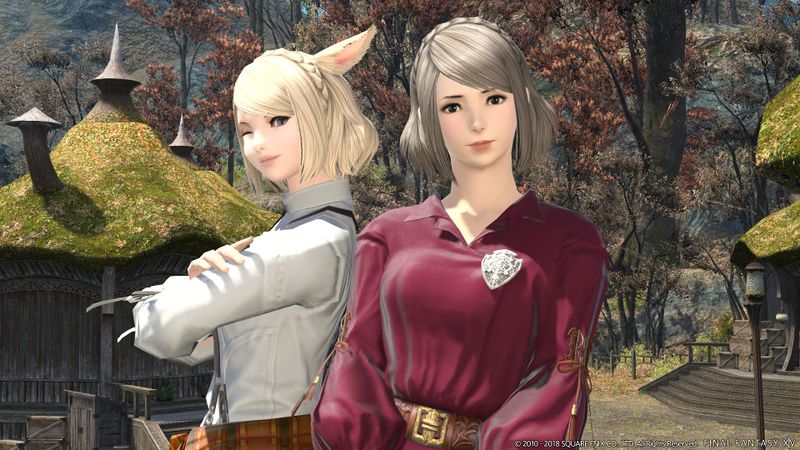 A simple-yet-elegant braided headband
The next stop is the "Form And Function" hairstyle. Are you going for an old school look? This is the style I recommend for you. It is another medium-short hair with a braid. This hairstyle will give you the classic sophisticated look as if you are an elegant princess from a kingdom far-far-away! The braid will change colour depending on the highlight you use, one nice extra detail for the hair. To obtain the hairstyle, finish 2 Bunny FATEs in Eureka Pyros to get Bunny Pyros Lockbox, as there is a chance to get this hairstyle from it, or as always you can rely on Market Board.
4. Battle-ready Bobs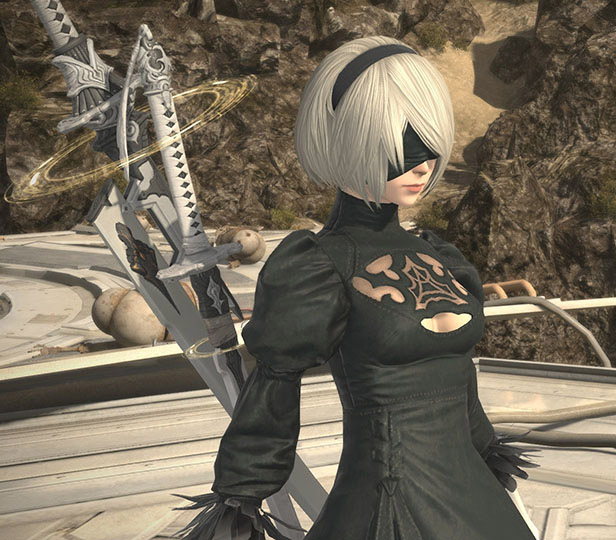 An uncannily perfect bob─like that of your android acquaintance 2B
This hairstyle is a new one from the recent Patch 5.5! If you want to get a cool hairstyle for your character, you should really get this hair! The style is a short bob cut with the bangs covering one eye, this hairstyle giving this emo-cool vibe. You can get Battle-ready Bobs from the raid "The Tower At Paradigm's Breach" or as it is a tradable item, you can get it from Market Board!
5. Controlled Chaos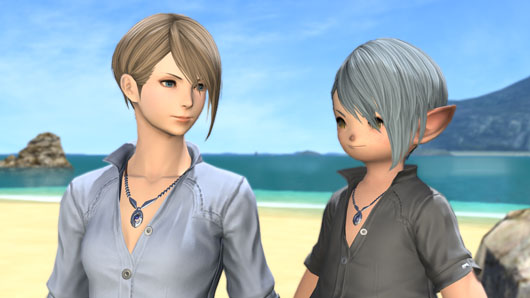 An attractively asymmetrical look that's a cut above the ordinary
Similar to Battle-ready Bobs, Controlled Chaos also has the bangs covering one eye. However, what makes it different is the representation of this style. This hairstyle gives you a rather clean-formal-short-hairstyle that is good for both male characters and female ones. The front side of the hair is longer than the backside, giving this unique view. You can have this hairstyle by trading 1,800 Skybuilders' Scrips or from the Market Boards. 
6. Modern Legend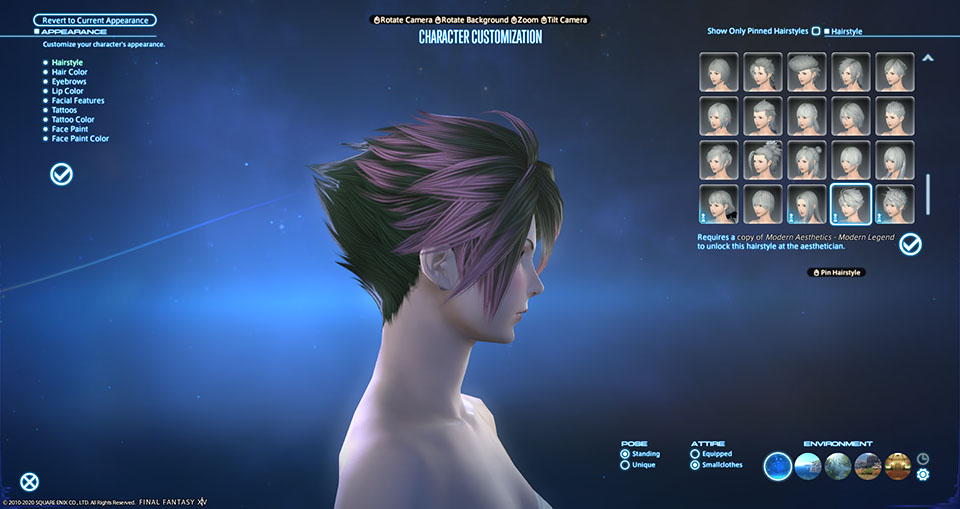 Styling oneself to resemble the hero of the world's oldest fable
After some clean-short-hairstyle, we are moving to the messy one. Modern Legend has this funny piece of hairs that stands out from the rest of the group. This fantasy hairstyle looks very neat if you want a messy hairstyle. The bangs between the eyes will give you this cool main character vibe. You can get this hairstyle by trading 1,800 Skybuilders' Scrips or from the Market Boards or Fête Present. 
7. Styled For Hire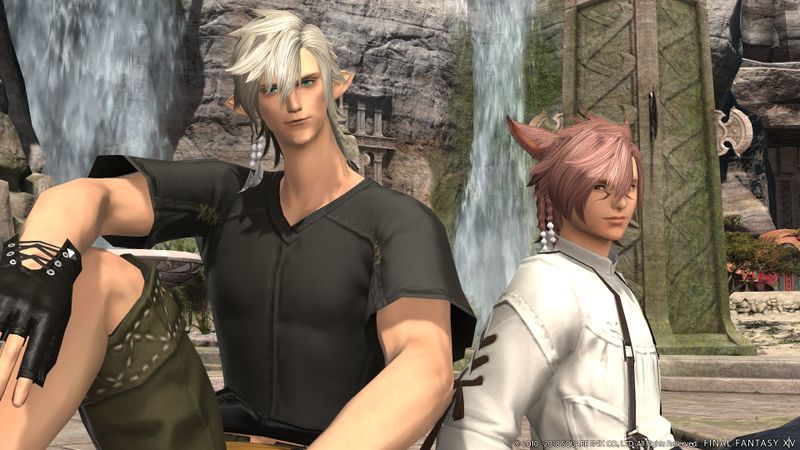 The dashing look that's in vogue amongst sellswords across the Three Great Continents
Styled For Hired is another short hairstyle. This is the hairstyle you want if you aim for a messy-cool look. The little ornament on the side is what makes this hairstyle stand apart from other messy-short hairstyles, this hairstyle is also pretty easy to get compared to the others. You can have this hairstyle by playing Frontlines and trade 18,000 Wolf Marks from it.
8. Lexen-tails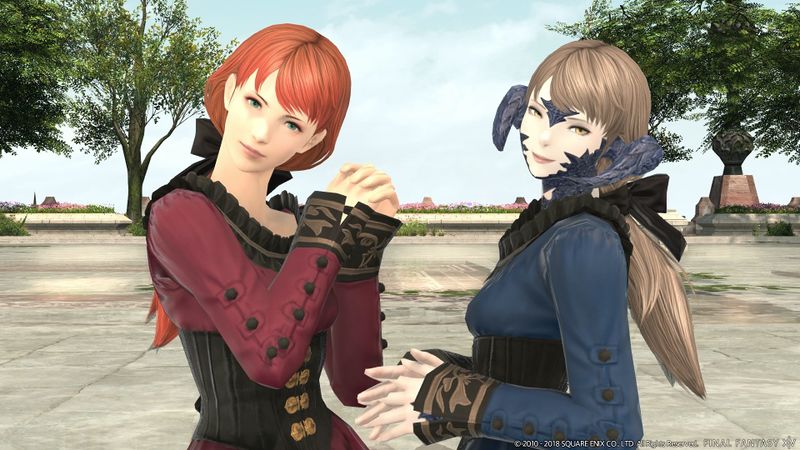 Imitating the Lexentale siblings' signature stage-ready styles
For some reasons, there are not many long hair options available on Final Fantasy XIV, most of the good long hairstyles are only available to Viera. This is where Lexen-tails makes its entrance! The Lexen-tails hairstyle gives you a clean-butler-like look if you are a male, or like a Japanese Miko (Temple Priest) if you are a female. Your hair will be tied lowly on the back of your head with a black ribbon. This hairstyle is available after completion of the quest "The City of Lost Angels" by completing the raid "The Orbonne Monastery". Only then, you can get this gorgeous long hair from Gold Saucer by trading 50,000 MGP, unfortunately, you cannot rely on the Market Board for this one.
9. Great Lengths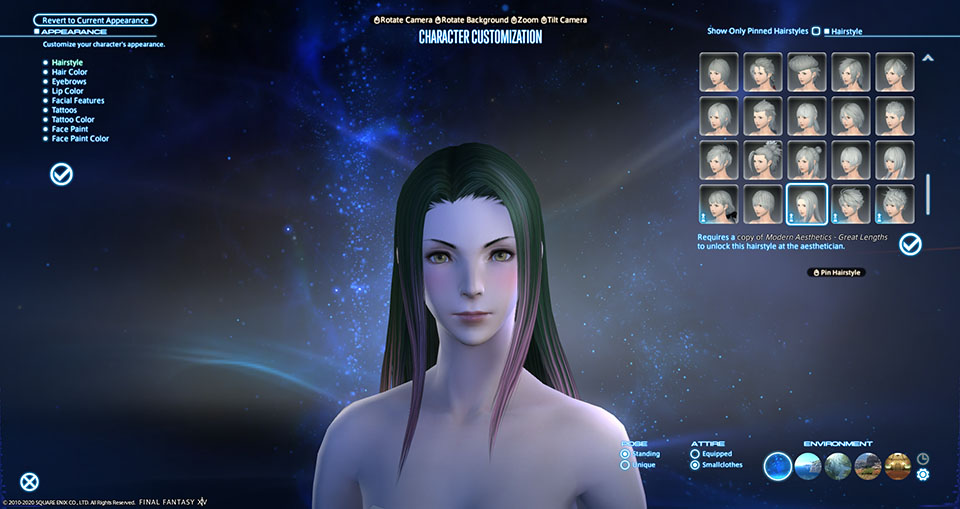 Keeping long hair neat and sleek
This is a loose hairstyle without bangs. This hairstyle is a simple-straight-long hair. Since there are not many variations for long hair in FFXIV, I suggest you get this hairstyle if you like long hair. Like I said earlier, there are not many long hairstyles available, this is one of the easiest to get. This hairstyle is also obtainable from Gold Saucer by trading 30,000 MGP.
10. Samsonian Locks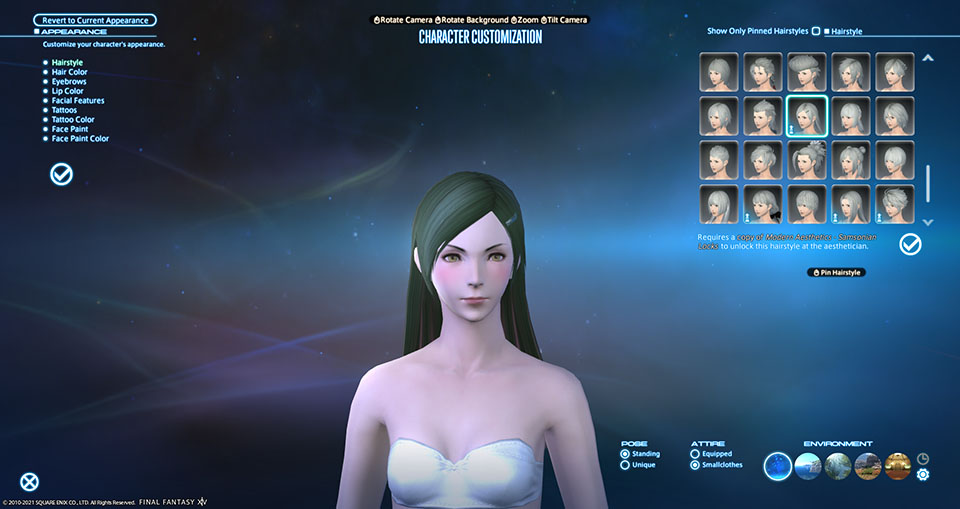 Samsonian Locks on Female Hyur─a good style for longer hair
Last but not least is the Samsonian Locks. This is also a simple-straight-long hair, but it has bangs. What makes it apart from Great Lengths, is the front side of this style is not as loose, giving the tidy look to your character. This hairstyle drops from "The Palace of the Dead" or you can search it in the Market Boards.
That covers the Top 10 Final Fantasy XIV Best Hairstyles, which hairstyle is your favourite? Or do you have a different opinion in mind? Well, it's okay if you fancy different styles as long as you enjoy your stay in Eorzea!
You May Also Like:
Image Gallery