[Top 10] ACNH Best Animals
Updated: 25 Mar 2021 12:07 am
What is your favorite Animal in ACNH?
With over 400 villagers and 35 animal species, Animal Crossing: New Horizons has many animal friends that can move onto the island. But which animal type is considered the best of the best? Here is the list of [Top 10] ACNH Best Animals!
10) Sheep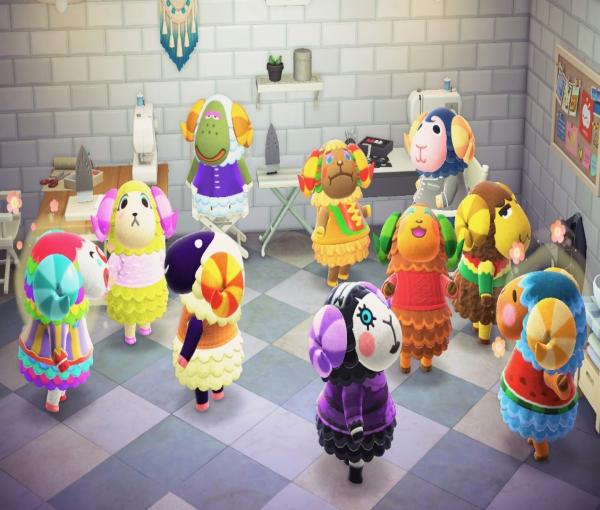 Sheep are in the top 10 Best Animals list? You 'herd' that right!
Okay, with puns aside, the sheep are a wonderful addition to have on the island due to their very unique looks. All sheep have their giant curl horns which are all different colors as well as their wool. There are a total of 14 sheep in Animal Crossing New Horizons and most of them consist of Normal, Snooty, Peppy, Jock, and Big Sister personality types.
Pietro has a rainbow clown appearance that is either adored or despised greatly amongst Animal Crossing players. 
Muffy is a gothic Lolita sheep with a gorgeous gothic home to boot.
Dom, the jock sheep, is new to the series of Animal Crossing and wears a rainbow tye-dye shirt that certainly brightens up the island.
Wooly and wonderful, the sheep villagers make fantastic residents on the island.
9) Frog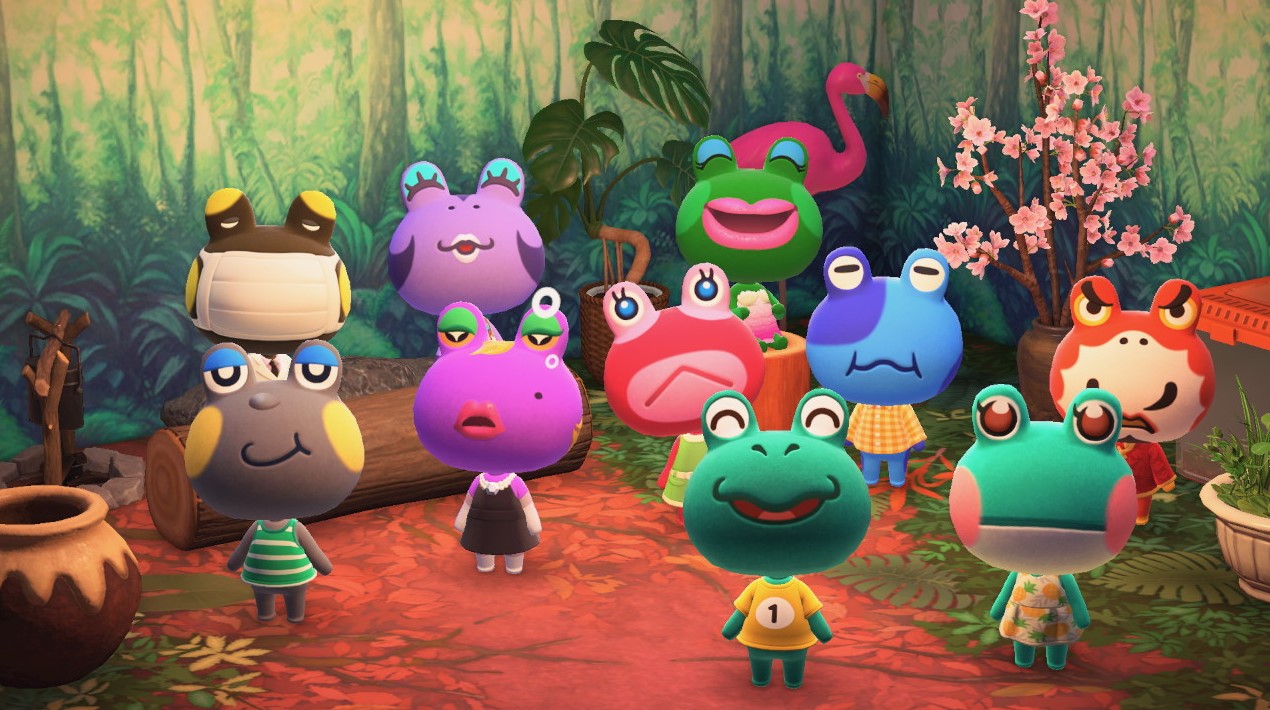 Frogs on the island is a hoppin' good time!
Frog villagers are toad-illy wonderful to see around the island with their round heads and precious eyes. There are 18 amphibian islanders in Animal Crossing New Horizons. Two are normal, three are lazy, one is peppy, two are smug, one is snooty, five are jocks, and three are cranky, and one is sisterly. 
Lily has been an Animal Crossing villager since the beginning. Her appearance is pastel green with pink cheeks just like in every game to date. 
Ribbot is a jock frog that resembles a robot. And although not much personality can be shown on Ribbot's metal face, he is very passionate about his physical activities.
How perfect is Raddle, the doctor frog wearing a mask, who has been practicing social distancing during this pandemic? Okay, even if that isn't the main reason, Raddle's lazy yet absolutely hilarious personality still makes him a chummy villager on the island.
Hopping with delight, Frogs make a wonderful addition to the island.
8) Wolf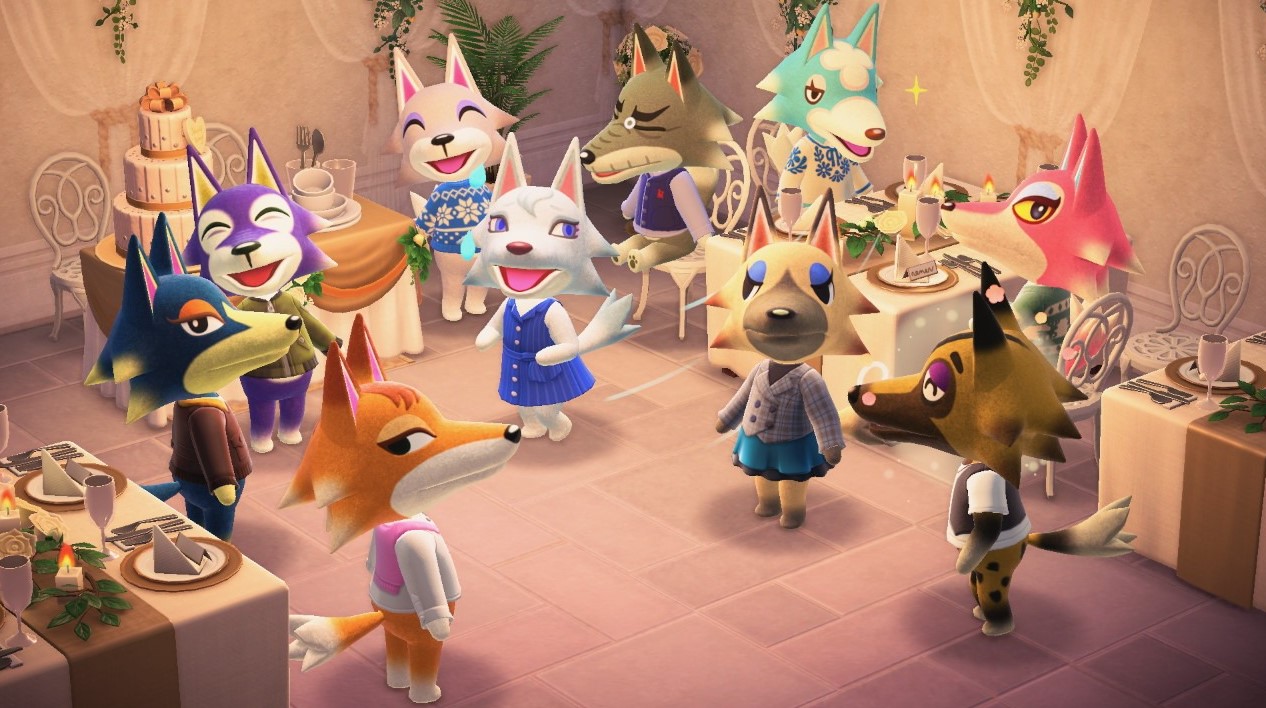 Wolves are wonderful on your island.
Even though they are one out of three species that can't be an island starter, the Wolf villagers really have some amazing great personalities once they join your island. There are 11 wolves in Animal Crossing: New Horizons with six males and five females. Four are cranky, three are snooty, one is peppy, one is lazy, one is normal and one is smug.
Whitney is a popular wolf with arctic white fur and blue eyes. She wears pink eyeshadow and winged eyeliner. She is of snooty personality but has a real charm about her. Whitney is even a star in the Animal Crossing movie Gekijouban Doubutsu no Mori.
Audie is a peppy wolf and the only peppy wolf at that! She is brand new to the series as her debut game is Animal Crossing: New Horizons! It is said that Nintendo created this wolf in honor of an 87-year-old grandmother who played over 3,000 hours of Animal Crossing: New Leaf who named her character Audie!
Although most wolves have cranky and snooty personalities, they are definitely loved and appreciated by the fanbase.
7) Penguin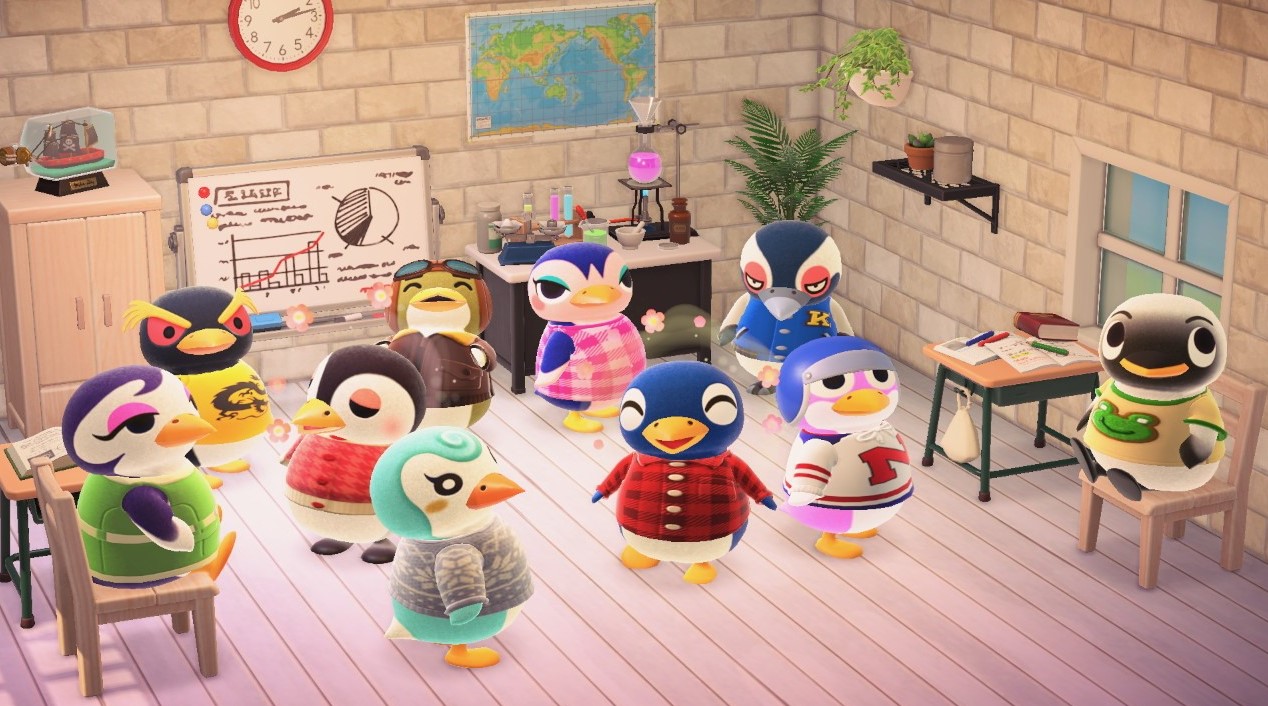 Round and super kawaii, Penguins are unique in their own ways.
Sliding onto your island in the most loveable fashion, penguins are quite precious with their round bodies. With 13 penguins on ACNH, two are jocks, four are lazy, two are snooty, one is cranky, one is normal, one is peppy, one is smug and one has the big sister trait. 
Although he may be cranky and not very kind to other villagers, Hopper's design as a macaroni penguin is really distinctive. He was even featured in the Animal Crossing movie as the comic relief!
Aurora is a very popular penguin who has a normal type personality and is very sweet and kind to other villagers. She has appeared in every Animal Crossing game to date.
When Animal Crossing New Horizons first released, Roald the penguin had many memes about himself as a normal-looking penguin in real-life situations. As a jock with a flannel, he is an interesting penguin who always had some sort of popularity. 
Penguins bring quite a joy onto the island with their adorable appearance.
6) Squirrel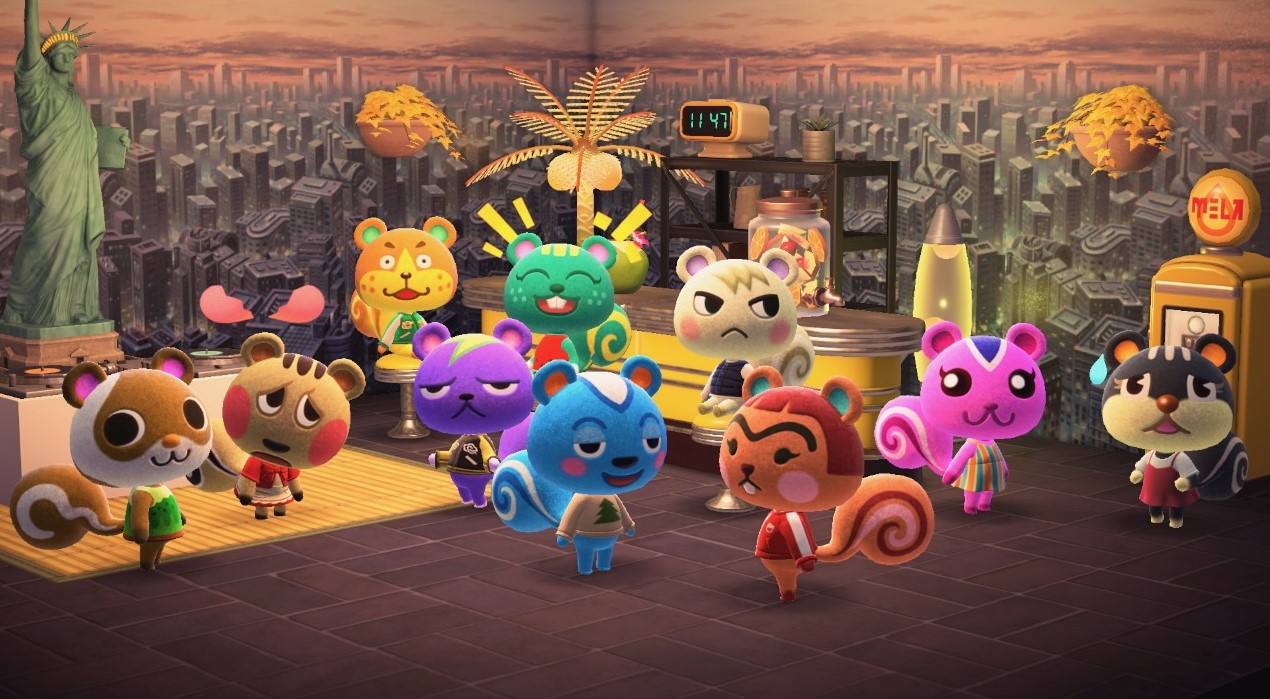 Those curly round tails are too cute!
Are you nuts about squirrels? Well, we don't blame you. With their fluffy tails and array of different designs, there is something about squirrels that is absolutely charming. There are 18 squirrels in Animal Crossing: New Horizons, with 5 being male and 14 being female. Three are peppy, one is a jock, four are snooty, two are cranky, one is a big sister, six are normal, one is lazy and one is smug. 
Marshal, Marshal, Marshal. One of the most popular Animal Crossing characters to date is Marshal the smug squirrel. With his cream-colored fur, dark eyes, and purple-colored ears, the internet is absolutely nuts for this squirrel. With a smug personality, Marshal is sweet, considerate, and always giving out compliments on fashion.
 Not as popular as Marshal but squirrel villagers like Agent S, Poppy, Filbert, Peanut, Poppy, and Sylvana have gained some small popularity with fans.
Squirrels may be small but they have a big heart and can be a big addition to your island.
5) Dog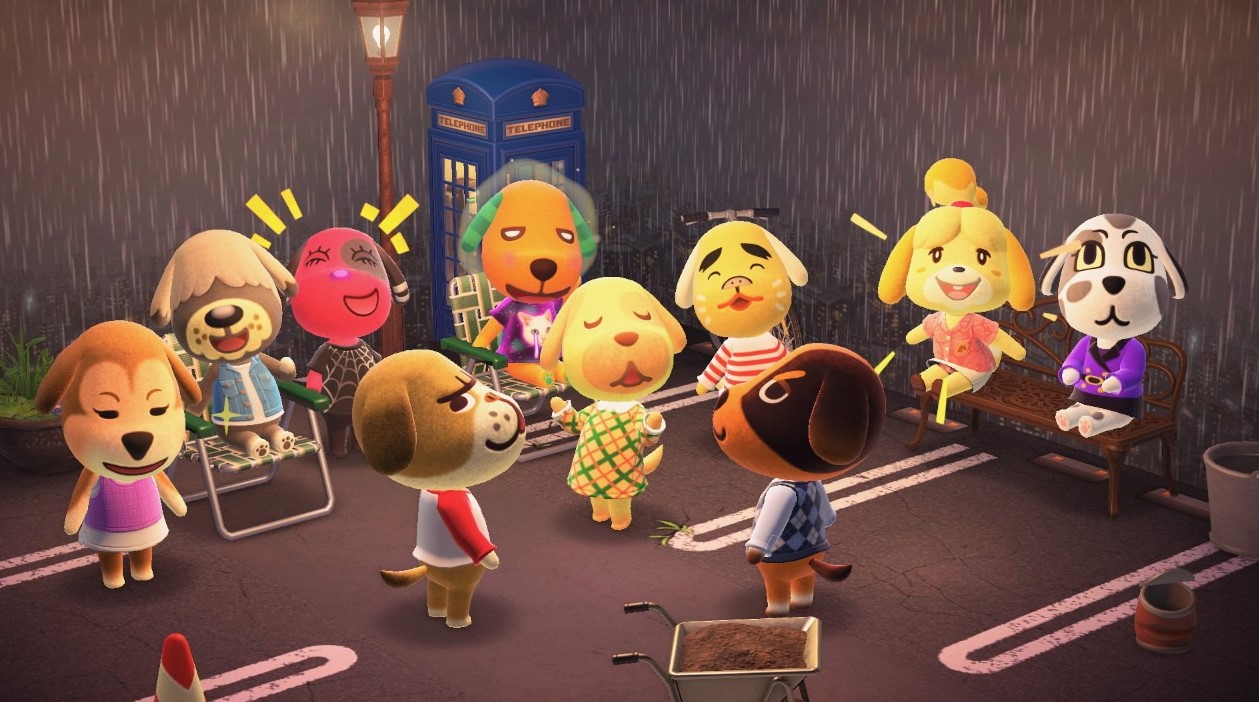 Precious dogs with personalities of all sorts join happily on the island.
Animal Crossing: New Horizons definitely has puppy power! The dog villagers have many different breeds as well as special dog characters. Along with the default dog type, there are resemblances of golden retrievers, akitas, shih tzus, beagles, dalmatians, labrador, rottweiler, doberman and akitas. There are 16 dog villagers. Six are lazy, one is a jock, one is smug, one is cranky, two are peppy, one is snooty, one is a big sister, and three are normal type personalities.  
Lazy yet adorable, Lucky can really bring some luck and happiness to one's island. With a play hobby and his mummy-like appearance, he is an absolute delight even though his home is decorated like a graveyard.
Isabelle, our loveable resident service civic consultation counter assistant, has graced us with her presence and her sunshine-like charm. She is a dog and one of the mascots of Animal Crossing New Horizons!
K.K. Slider is a very popular dog who has appeared in all the Animal Crossing games to date. He is said to appear as a Jack Russell terrier with his white fur. 
The dog villager is not just a man's best friend but definitely the island's.
4) Rabbit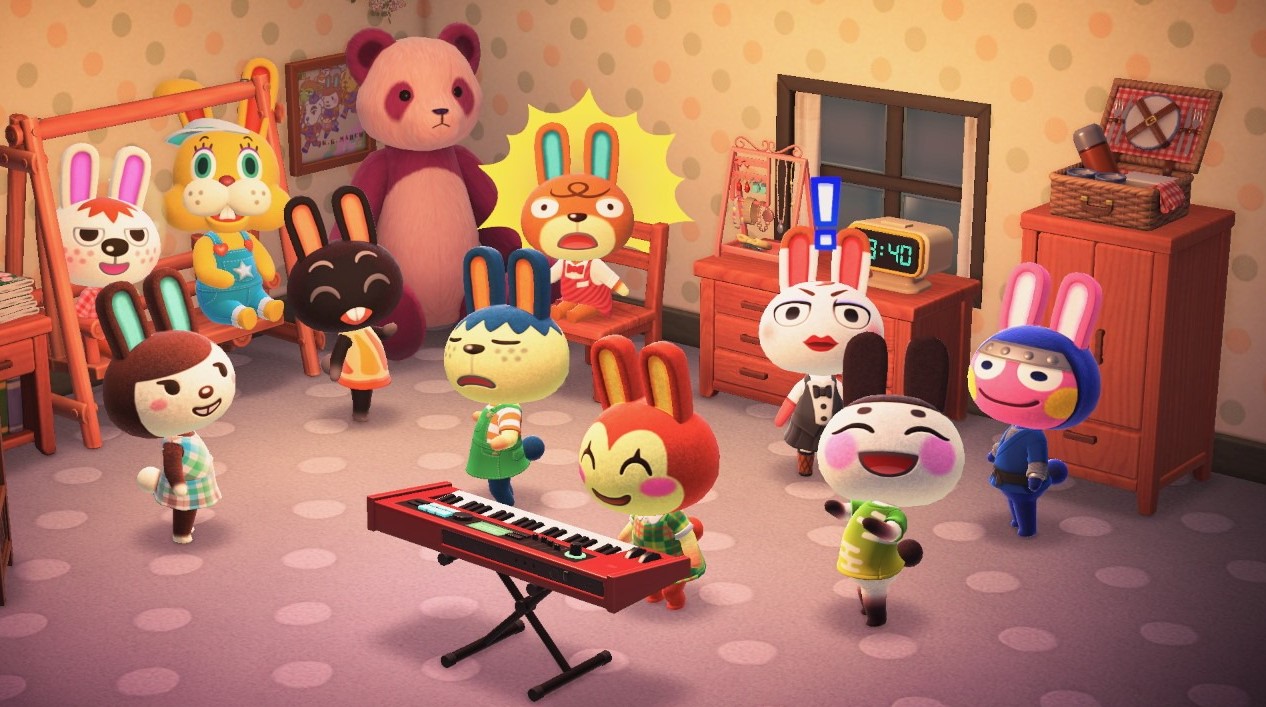 With their round heads and big long ears, Rabbits are a lovely sight to see.
Everyone needs a friend who is all ears, and with 21 rabbit villagers, you certainly can! Rabbits are distinctive with their long straight ears, round heads, and small puff tail. Eight rabbits are peppy, four are lazy, two are jocks, one is normal, two are snooty, one is a big sister, one is cranky and two are smug. 
Coco is a very popular rabbit and resembles haniwa which is a terracotta clay used for ritual uses and buried with the dead. Although she may have a spooky backstory, Coco's normal personality is quite sweet and charming.
Chrissy and Francine are Animal Crossing: New Horizons' only sisters (that are not considered special characters) and they make quite a pair! Chrissy is very popular amongst players with her peppy personality and her polka-dotted pink ensemble and she is always found smiling. Francine is the older sister and a bit more reserved with her snooty personality. She has a blue ensemble that matches Chrissy's pink polka dots. 
Peppy and popular is the villager Bunnie! She is a brownish-orange rabbit that is always full of smiles and sunshine! She has big eyes and a very can-do let's go for it attitude.
Hopping right into our hearts and onto the island are the fabulous Rabbit villagers!
3) Octopus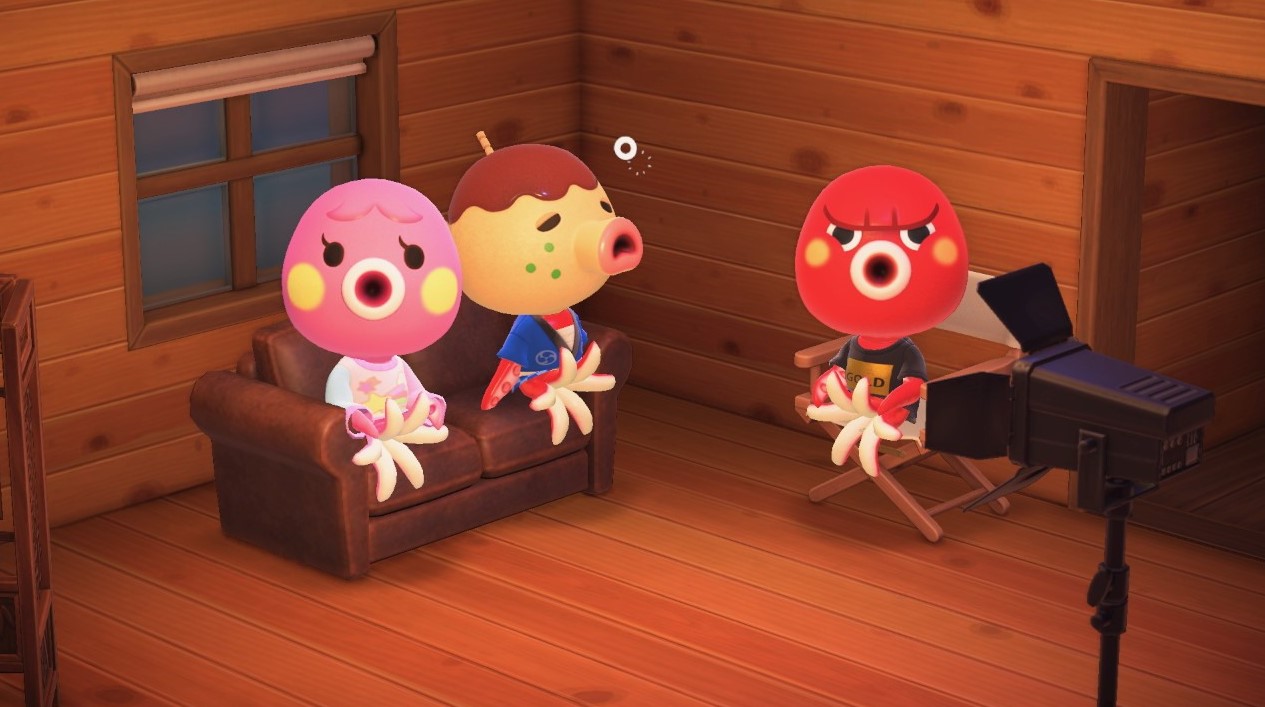 The three rare octopus villagers: Marina, Zucker, and Octavian.
With their precious inky jet round mouths, tentacles, and round heads Octopuses are the rarest villagers in the game, especially the fabulous pink Marina. Only 3 octopuses are in Animal Crossing: New Horizons and only 4 in all of the games in the series. Octavian is cranky, Marina is normal, and Zucker is Lazy. Octopuses can't be starter villagers just like their fellow wolves and cows. 
Marina is the most sought-after villager and is extremely rare to have on your island. She has pink skin with yellow cheeks and wears the pastel Dreamy Sweater. She has a normal personality which makes her very kind and sweet. Her music hobby will have her around the island singing songs alone and with other music hobby villagers.
Octavian, the cranky one, is the only octopus to appear in every game in the series.
The octopus villager is unique in many ways being the only invertebrate and fully aquatic species as well as the only villager with more than two legs -tentacles!
2) Cubs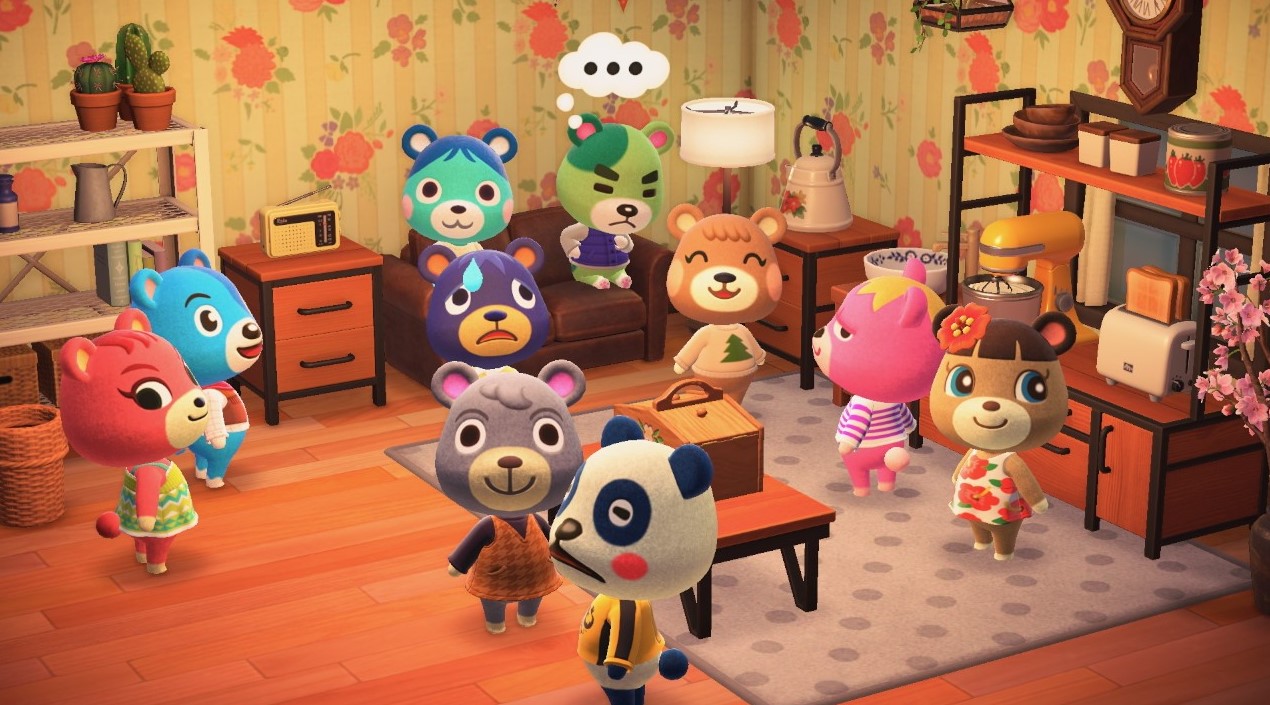 Small, round, and full of personalities are the bear cubs!
With adorable bodies and precious heads, the baby bear cub villager is a kawaii addition to your island. There are 16 cubs on Animal Crossing: New Horizons, 9 being male and 8 being female. Five are lazy, two are jocks, two are cranky, one is snooty, two are peppy, four are normal, and one is a big sister. 
Debuting in Animal Crossing: New Horizons is Judy the snooty pastel bear of a fairy-kei lolita's dream. Her fur is an ombre of pastel blues and pinks and has big sparkly star eyes. Judy became a very popular villager amongst Animal Crossing: New Horizons players because of her new debut, her fairycore appearance, and her pastel home ambiance.
What is there not to like about Stitches the lazy patchwork cub bear? With purple, green, blue, and orange patches all over his body and stitched X eyes, this bear cub truly resembles a teddy bear.
Even though they may be small, these cub villagers truly bring enormous value to your island.
1) Cat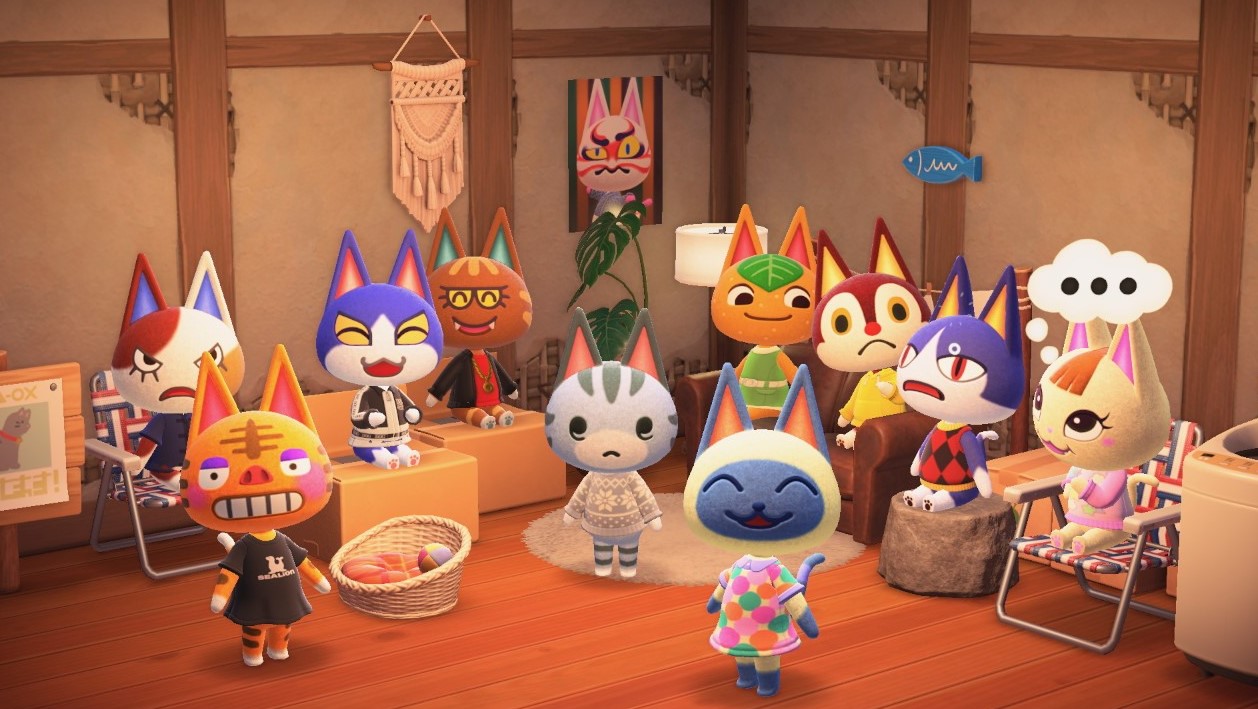 It ain't easy being purr-fect.
Pointy ears and long tails? It must be the cat villager! The cat villager is definitely the most prevalent animal in the game with 23 villagers, 14 females and 9 males. Three are jocks, five are peppy, three are lazy, three are normal, two are cranky, one is smug, five is snooty and one is a big sister. 
The most popular character in all of Animal Crossing: New Horizons is Raymond the smug cat whose first appearance was debuted in this game. A grey cat with black and pink ears, rimmed glasses, and a white puff of hair, Raymond with his heterochromia brown and green eyes has ranked number 1 on most top tier lists and is the black market's most valuable and hottest commodity. 
Ankha, Bob, Kidcat, and Rosie are also very popular cat villagers. Bob and Rosie appear in every game while Ankha and Kidcat appear in most to date. 
So whether you're allergic to cats in real life or not, having a cat villager or two on your island is absolutely purrfect.
So here you have the top 10 best animals of Animal Crossing: New Horizons. Which animals do you prefer? Let us know in the comments!
You May Also Be Interested In:
Image Gallery