[Top 10] Animal Crossing: New Horizons Best Custom Designs To Incorporate on Your Island
Updated: 03 Sep 2020 12:42 am
Multiple little ways to decorate your island - from custom designs to in-game furniture.
Animal Crossing: New Horizons is plentiful in different ways to customize your island, from other types of flowers to furniture. But, what some people don't know when they first begin the game is that as you start to grow your island, you get access to online customizable designs.
You, of course, need a Nintendo Switch Online membership to access this, but at 3.99 a month or 19.99 a year, it shouldn't be too much of a hassle to pull the trigger and swing in their way to find the ultimate custom designs. And these ten will surely make your island stand out. All of the following are on the subreddit r/ACQR.
10. A Drive-In Theater (u/Vivienne_Venom)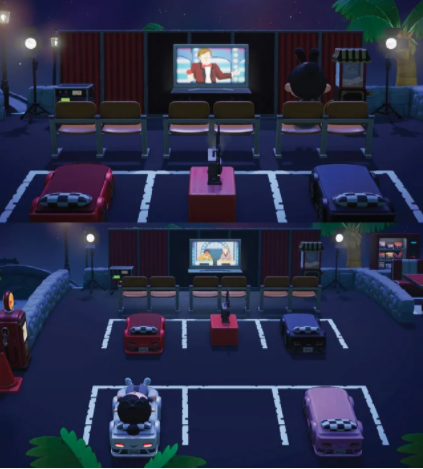 While there isn't a specific download code within this post, this is a great inspiration for what you should include on your island if you have free space!
A drive-in is a great way to use furniture that you don't usually use within your house or anywhere else. 
It's an excellent way of showing off your design skills in a quaint yet straightforward matter. 
9. A train tunnel (u/Giallah)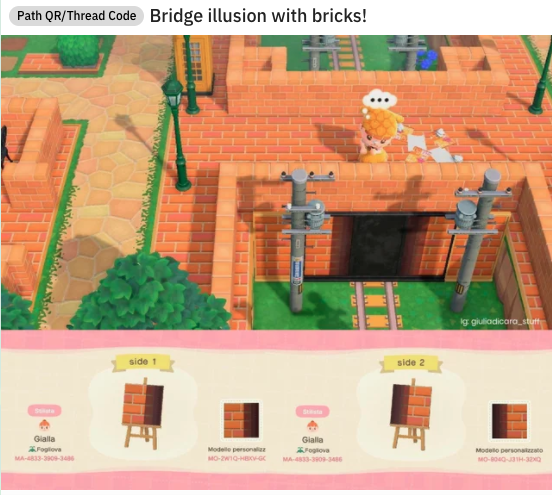 Bridges can be expensive in the game if you don't have the bells - take advantage of this handy-dandy little trick:
It makes your area look like a bridge without having to pay the money. 
If you get the QR code, you can even make it look like you have a train track going along your island, adding more depth to the ground than before. 
8. Kitty cats (u/cloudthemon)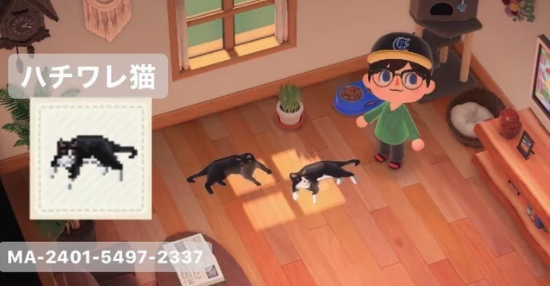 Sadly, Animal Crossing does not allow you to keep pets unless they are bugs or other forms of life that you catch - no dogs or cats. Fortunately, with this QR code, you can have yourself some cats in your home, just relaxing on the ground. 
There is no other way for you to get a pet in this game because cats and dogs are technically villagers, so this is your best bet.
Plus, they are so cute. 
7. A bakery (u/miss_alyss98)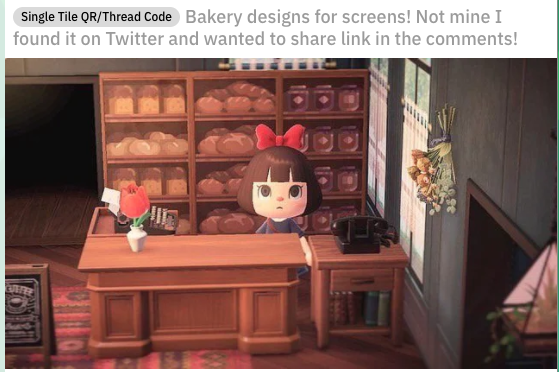 While the actual bakery QR code is not by the poster in this example, the link to this code will be  right here. Making a bakery is super simple and a cute way to use your forsaken blenders and ovens. 
All you'd need is a desk (as pictured above) and a couple of simple panels to put the design on. 
Add some ovens and a cute sign and boom, you have a bakery! 
6. This awesome wave portrait (u/Mishayurin)
If you happen to have a lot of free spots open in your custom design palette and want some cool art that isn't sold off a boat by a sly fox (looking at you, Redd), this is your next best bet. 
It's a beautiful painting that can add some reality into your game, and make your walls stand out. 
The only downside is that it does take up many slots, so if you choose to use this, make sure you have plenty available! 
The QR code was created by someone else, so here is the link to it. 
 5. Food patterns (u/rainosma)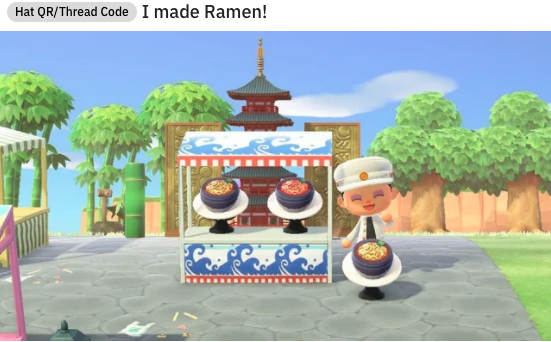 This is just one of the many examples of different types of food patterns you can make to showcase the kind of dishes you may want at your homemade pizzeria or bakery. For example, this is ramen that is technically considered a hat in the game, but when placed down, it's your favorite dish - at least looks like it. 
You don't get food placeables in the game as a whole, so mock designs are your best bet to make incredible decorations. 
There's tons of different food QR's out there on the subreddit as well - this is just one of the most popular. 
 4. Some cool steps/pathways (u/Larssmaller)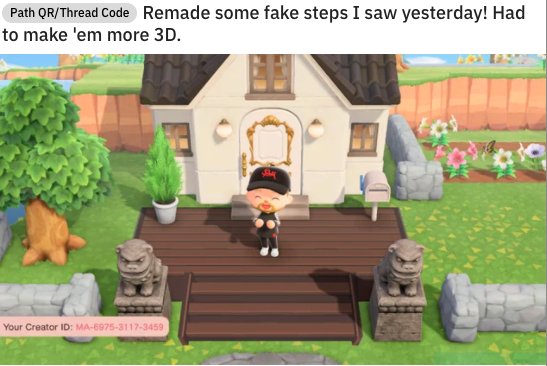 One of the downsides of ACNH is that you don't get to give your villagers lovely patios and decks, so you have to take it upon yourself to create your own! This gives the illusion of having a 3D deck when, in reality, it's just a floor pattern that looks cool. 
It would add illusion to your island and make your houses a little more complex to look at. 
You'd be able to make larger landscapes for specific villagers and give them a whole outdoor look. 
3. Stepping stones (u/illltsu)

I have personally used this QR code, and I love it with a passion. Considering my island is very flowery and surrounded by pinks and purples with a couple of weeds thrown in there, having a proper stepping stone path is perfect. 
You can use it for a garden, or just as a driveway to your home. Or even in an orchard - the options are endless. 
This design only has four different types of stones you can take, but multiple other formats exist out there as well. 
 2. A skeleton's grave (u/eightcell)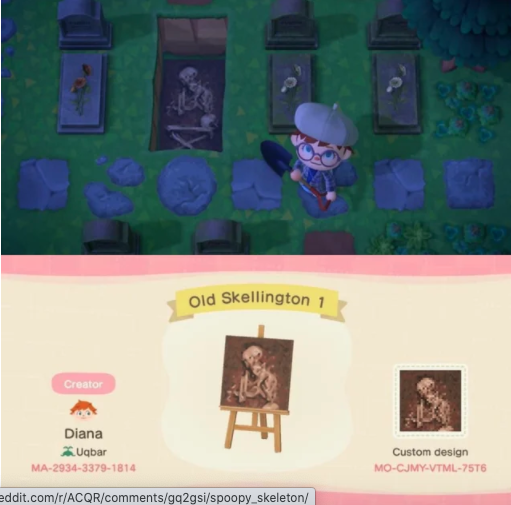 Okay, while I have never used this, you have to admit that this is cool. Imagine you're creating a graveyard, and you want to add a little bit of grit to it - this is the perfect design for that. 
It gives you a spookier vibe - and makes your island a lot more unique. 
It'll only take up two slots, a lot less than many other designs on here. 
1. No internet sign (u/JellybirdWren)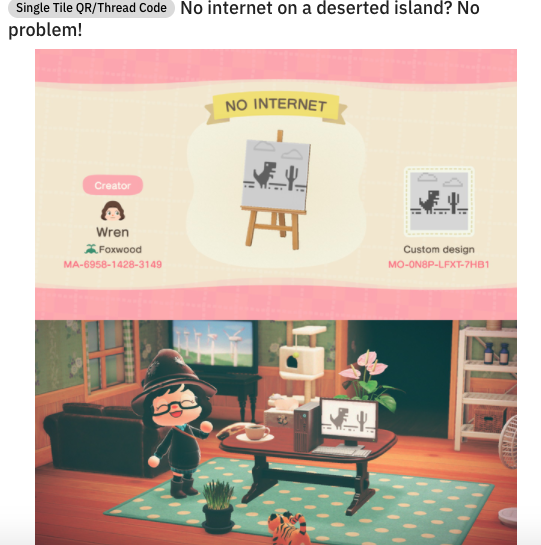 This is the worst any of us can experience - and now, your Animal Crossing villagers can experience it as well! 
It's as simple as customizing the screen of a computer through a workbench. 
From there, you can place your sadly out of internet computers anywhere,and you will no longer be alone in dealing with this misery. 
Image Gallery