[Top 10] Animal Crossing: New Horizons Best Amiibo Cards
Updated: 02 May 2021 7:21 am
Amiibos, Amiibos, Everywhere~
Let's face it, with Amiibo Cards, you can easily obtain villagers that you seek using these magical little cards. These cards also save time than trying to go to the main island over and over or wait around for campsite visitors as well. With over 400 villagers in New Horizons; how can you possibly just choose 10? Well below are the most sought after, expensive, or just absolutely adored villagers that are accessible with their amiibo cards.
10) Etoile #S3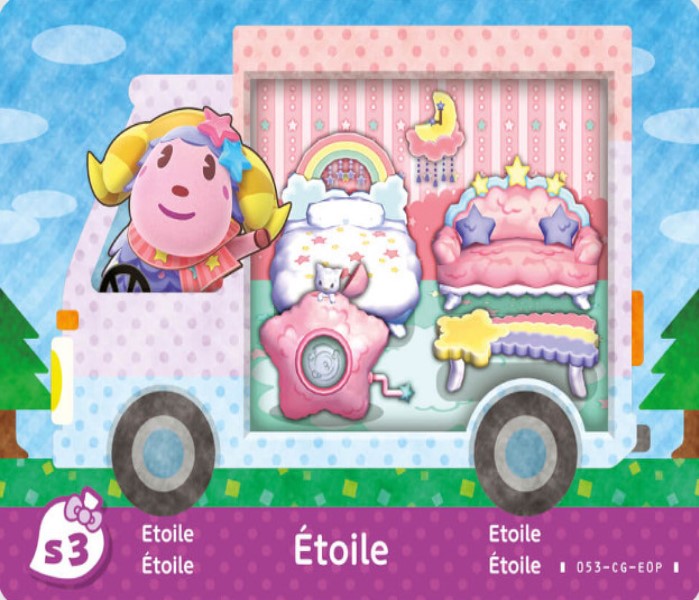 This sought-out Sanrio Amiibo really caused a stir!
Lavender wool, pastel polka dots, and covered in stars? Etoile is an adorable sheep that just recently joined the Animal Crossing: New Horizons game! Unfortunately, Etoile was a part of the Target exclusive Sanrio amiibo card set that many players were not able to obtain but she is a kawaii addition nonetheless. With her normal personality, Etoile is very friendly to the player and other villagers. She has a music hobby and will join in with other music hobby villagers to serenade the island. So why not have this precious pastel sheep on your island if possible?
9) Coco #150 -Series 2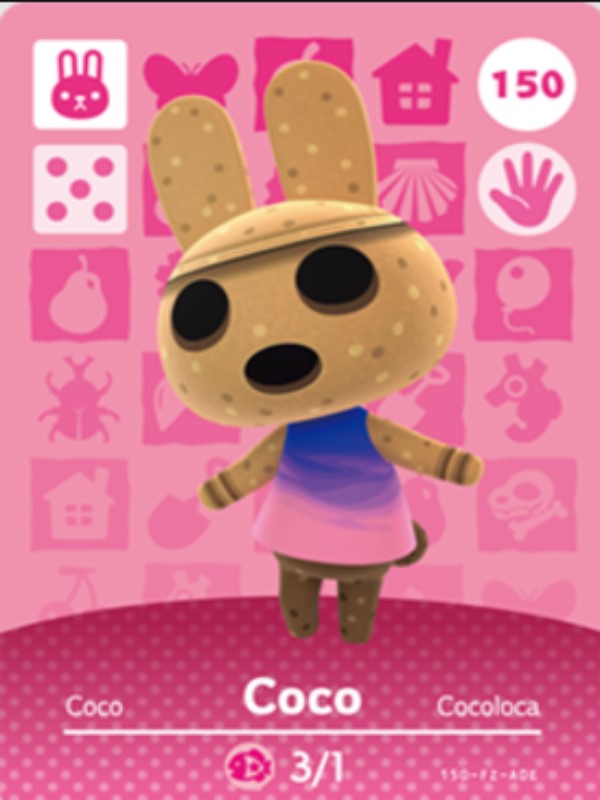 "Don't put off till tomorrow what you can do today."
With blank eyes and a hollow mouth, Coco is absolutely intriguing or terrifying depending on your perspective. Coco is based on Gyroids (haniwa) which are clay figures made in the Yayoi period in Japanese history. Having a normal personality, Coco is easy to get along with and acts kindly to the player and other villagers. Coco has a natural-looking home with earthy tones and stone furniture. She has an education hobby and can be found under a tree reading or enjoying her day at the museum. This distinct rabbit villager is definitely worth having an amiibo card for.
8) Merengue #258 -Series 3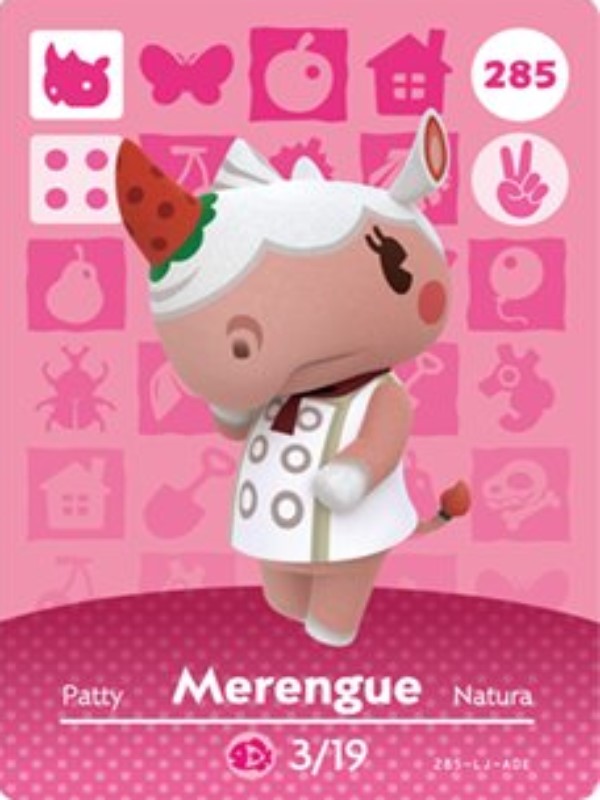 "Life is a piece of cake!"
Resembling a strawberry pastry, Merengue the rhinoceros is definitely a fan favorite. She, as well, has a normal personality that makes her easily befriended by villagers and the player. Merengue has a nature hobby, so you can easily find her outside studying flowers, bugs, fossils, and fish around the town. Her home is very simple and sweet with cute furniture and pastel polka-dotted wallpaper and flooring. What a delight it is to have this darling pink rhinoceros around your town and a good reason to obtain her amiibo card.
7) Lolly #333 -Series 4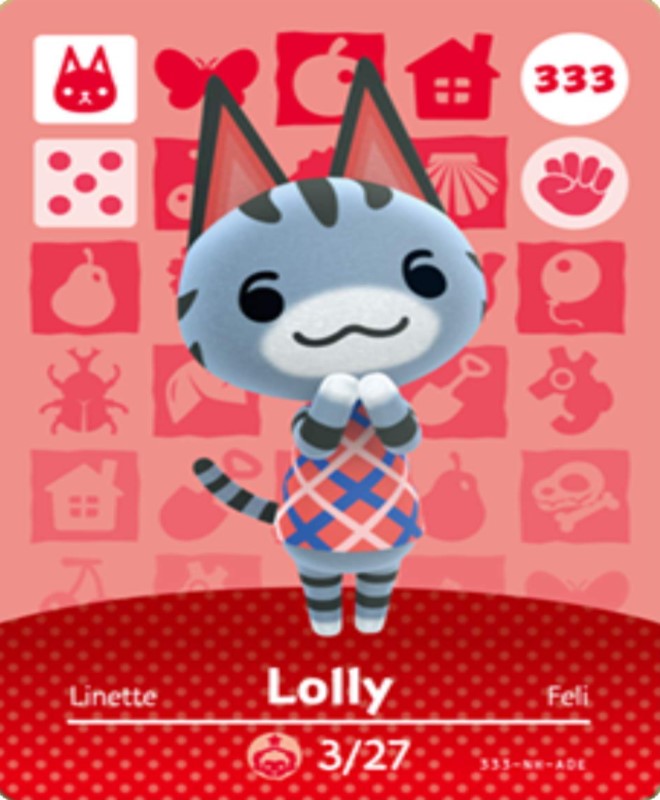 "Laughter is the best medicine."
Lolly is a grey and blue tabby cat with unique eyes and a curvy smile. She has dark grey stripes and dark grey ears. Lolly has a normal personality so she is very kindhearted towards the player and the villagers. Her name Lolly is short for Lollipop and just like the candy, she is just as sweet. She has a music hobby so you can find Lolly around town singing alone or with the other villagers. Her home is very natural with wooden furniture and earthy tones. Lolly can be found on the albums Lucky K.K. and King K.K. Obtaining Lolly's amiibo card is definitely worth it.
6) Diana #089 -Series 1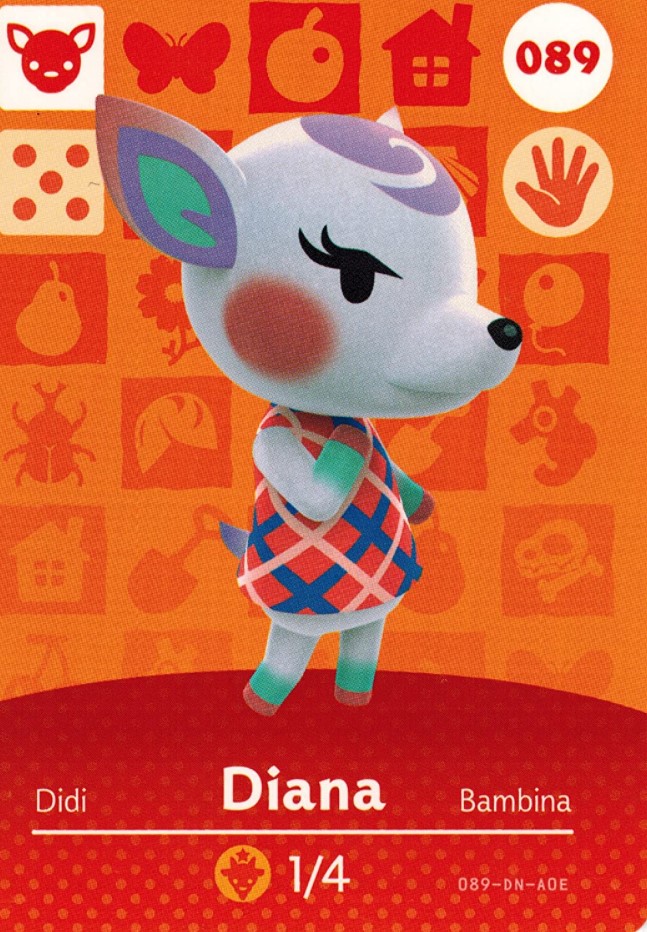 "Sometimes you have to lose to win."
Sharing the name of a Roman Goddess, Diana is quite the goddess herself. A wealthy fashionista living in an elegant home, Diana prides herself with her fashion knowledge and tips. She is a white deer with a lavender lock of hair and wears extravagant makeup. Diana can be seen around town reading books and visiting the museum due to her education hobby.
Although she may have a snooty personality, once you get to know her, Diana can be a great asset and villager to your town. Gracing your town with Diana is surely worth obtaining her amiibo card.
5) Lucky #385 -Series 4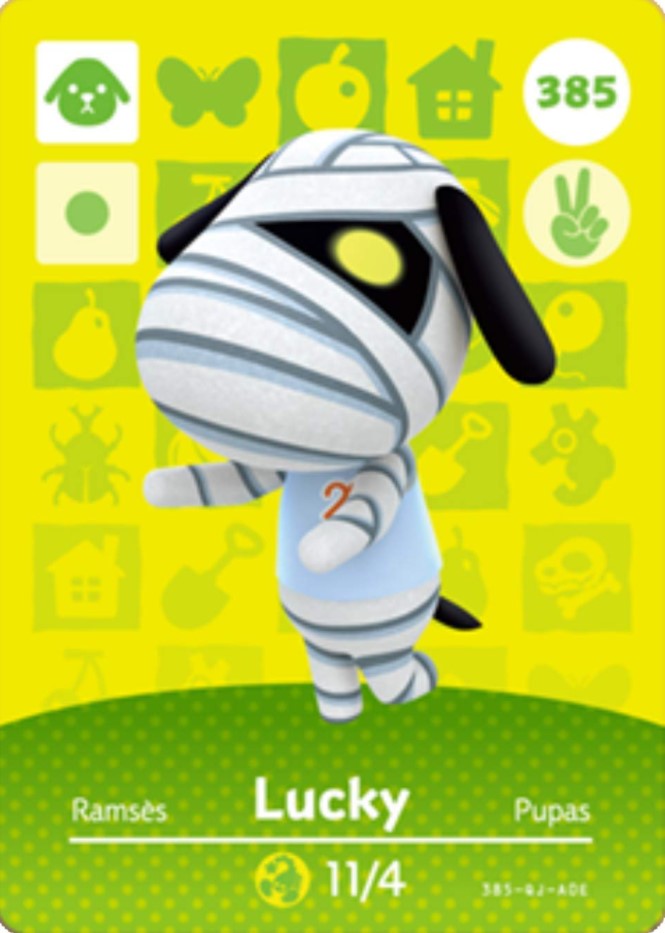 "Don't bite the hand that feeds you."
What is there not to like about Lucky, the mummified lazy dog? Wrapped in bandages, showing just his black ears, tail, and one yellow glowing eye, Lucky is a spooktacular pup to have around town. With a spooky and unique home decorated like a cemetery, you would never think such a sweet silly villager could live there. Lucky has a play hobby so he can be seen with his arms out running around the town living his best (undead) life. So why not have an adorable spazzy undead dog on your island? Lucky's amiibo card is absolutely deserving a chance at life.
4) Pietro #356 -Series 4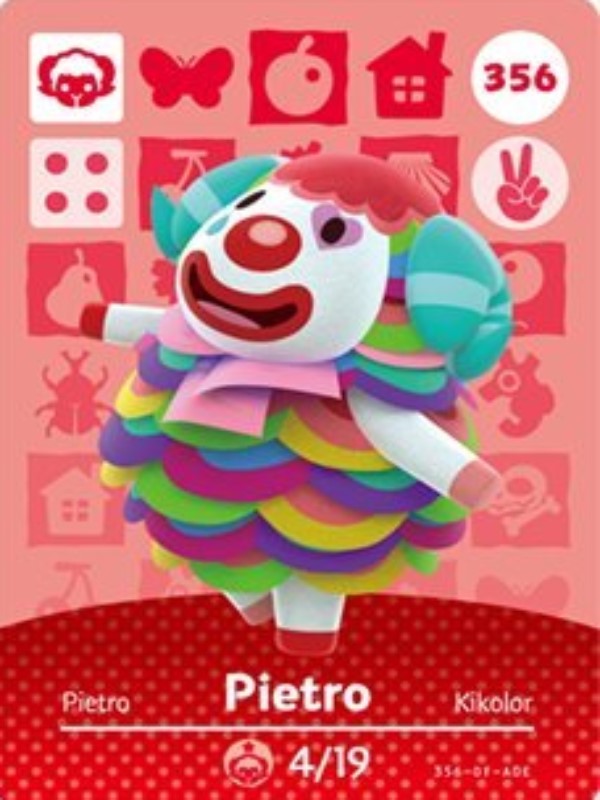 "Be the class clown."
Beautiful and bright is Pietro. A rainbow wool sheep resembling a clown with makeup, a bulbous red nose, and all. And just like the smug sheep himself, Pietro's home is as unique and distinctive as he is. With Sky wall, Cloud flooring, and furniture that resembles a carnival, Pietro is an absolute treasure to cherish! Pietro has a music hobby so you can find this dazzling class clown singing amongst the town and with other villagers. Having Pietro's amiibo card is definitely a majestic perk.
3) Marina #234 -Series 3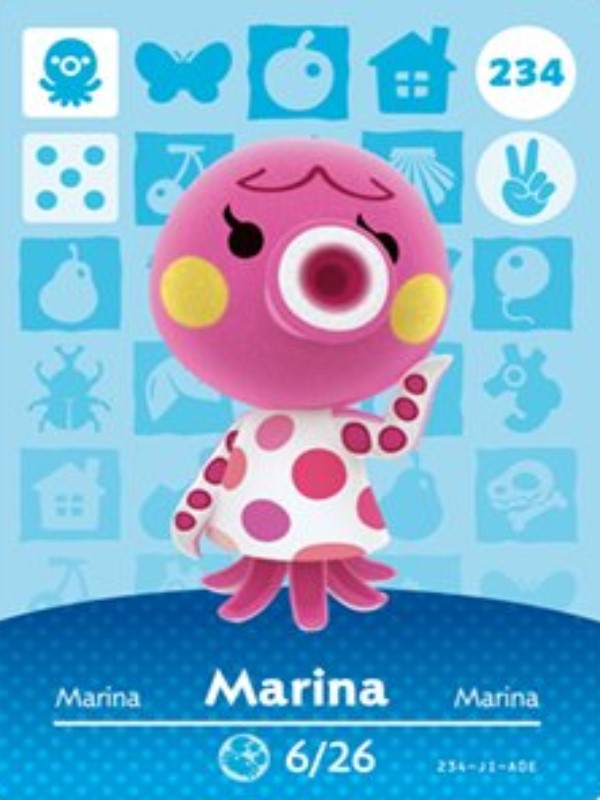 "If you can't say something nice, don't say anything at all."
Ever so popular Marina, the kawaii pink octopus, has such an incredibly low chance to get as a villager due to being 1 out of the 3 only octopuses in the entire game. Thus, her amiibo card is worth it to obtain. She has bright yellow cheeks and wears her pastel Dreamy Sweater. With her normal personality, she is very sweet and kind towards the player and villagers. She has a music hobby so she can be seen serenading around the town. Marina's home is just as pretty and pink as she is with a collection of cute furniture. She can be seen on the cover of K.K. Rally.
2) Ankha #188 -Series 2
"All that glitters is gold."
Inspired by Cleopatra and the Egyptian fashion, gorgeous snooty feline Ankha is absolutely charming. With golden yellow fur and navy blue stripes, Ankha wears thick black eyeshadow resembling Egyptian royalty as well as a similar headdress that Queen and Pharaoh Cleopatra once wore. Ankha's home resembles a pyramid surrounded by golden furniture. Ankha never smiles and that may be due to her snooty personality. Ankha has a nature hobby so she can be found around town under trees reading and studying fish, fossils, flowers, and bugs. This amiibo card is like pure gold, just like Ankha herself.
1)Marshal #264 -Series 3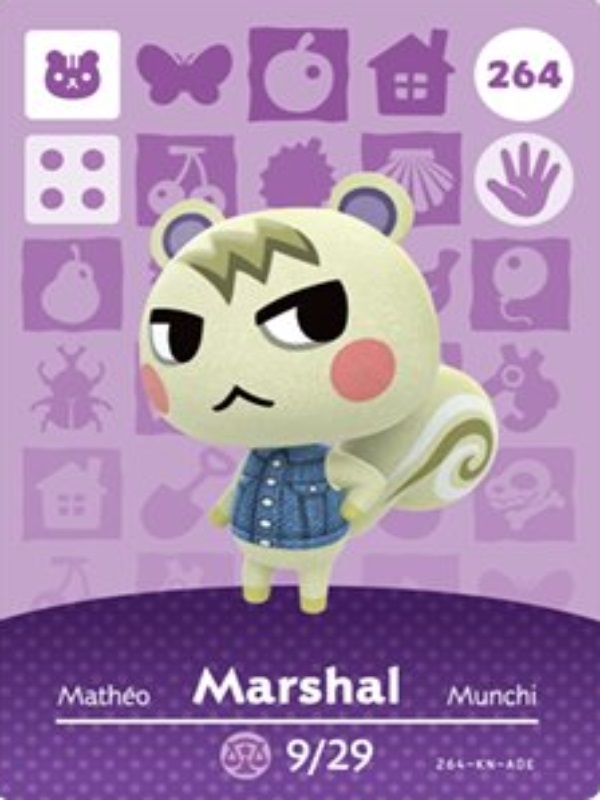 "Seize the day."
A charming squirrel that has won the adoration of most players is Marshal. He dons his white fur, lavender ears, pink cheeks, and black and green eyes. His cream-colored tail is swirly and overall he resembles a fluffy adorable marshmallow. An ultimate hypeman who will give you many compliments from outfits to items, being the polite smug squirrel he is. Marshal's home is just as chill as he is, designed as a coffee shop with Modern Wood flooring and an array of coffee and espresso makers. Marshal has a music hobby, so you can find him serenading and singing around the town with other villagers. An absolute delight in so many ways, it's no wonder why Marshal's amiibo card is the most expensive and rare one to find. 
Well there you have it, the Top 10 Animal Crossing: New Horizons Best Amiibo Cards out there. Which ones do you have? Let us know in the comments!
For more great Animal Crossing: New Horizons articles, check these out:
[Top 10] Animal Crossing New Horizons Best Island Layouts
Animal Crossing: New Horizons Best Ways to Make Money
[Top 10] Animal Crossing: New Horizons Best Sisterly Villagers
Image Gallery