[Top 10] Animal Crossing: New Horizons Best Cat Villagers
Updated: 16 May 2021 3:02 am
This is just a small group of the variety of cat villagers in Animal Crossing: New Horizons.
With 23 different cat villagers to choose from in Animal Crossing: New Horizons, it can be difficult to find out which cats have the best personalities.
Each cat within the game has its own distinct style and unique home that really sets them apart from one another.
In this article, we're going to have an in-depth look at the top 10 cat villagers and what makes each one special.
10. Kabuki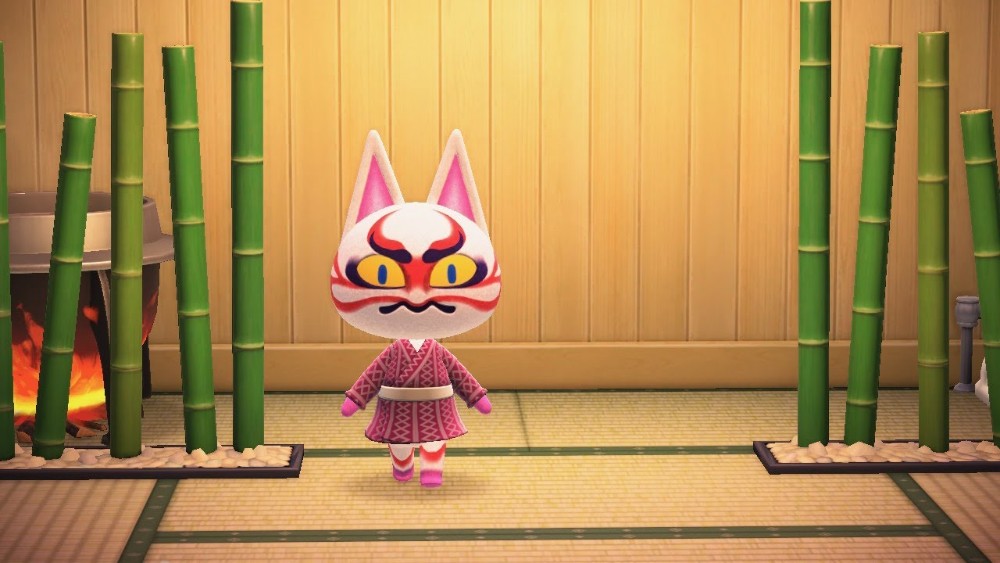 Kabuki may look mean, but he's got a heart of gold.
Kabuki's wild appearance is meant to resemble the masks worn in traditional Japanese Kabuki theater. His home has a peaceful décor with a tatami mat floor and a bonsai shelf.
Kabuki is also one of only two cranky type cat villagers, but don't let his initial gruffness put you off. Once you get to know him, he takes on more of a grandfather-type role, calling you "kiddo" and saying that he is looking out for you.
What's amusing about Kabuki:
His distinctive facial markings set him apart from the other cats.
With his cranky personality, he has some pretty mean things to say to you at first, but then he becomes a grandfather figure.
The dialogue options he has are often quite funny.
9. Punchy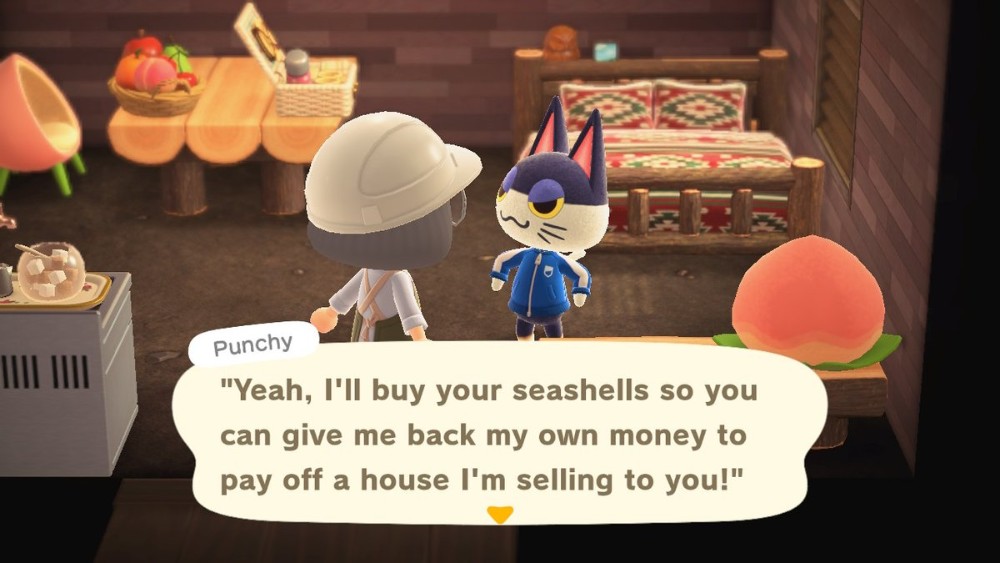 Punchy is onto Tom's little arrangement.
Punchy is a lazy type of cat villager who comes to your island in a cute plaid shirt. He has purple eyelids that are always half-closed, and a mischievous grin on his face.
His home has a laid-back feel with a mixture of blue furniture, and with his lazy personality, he gets along with pretty much everyone.
What's amusing about Punchy:
He often talks about food and how he's going on a snack run.
He gets along with almost every other type of villager, but his dialogue with snooty villagers is especially amusing since they don't mesh well.
He says really sweet things to you when you become good friends.
8. Kiki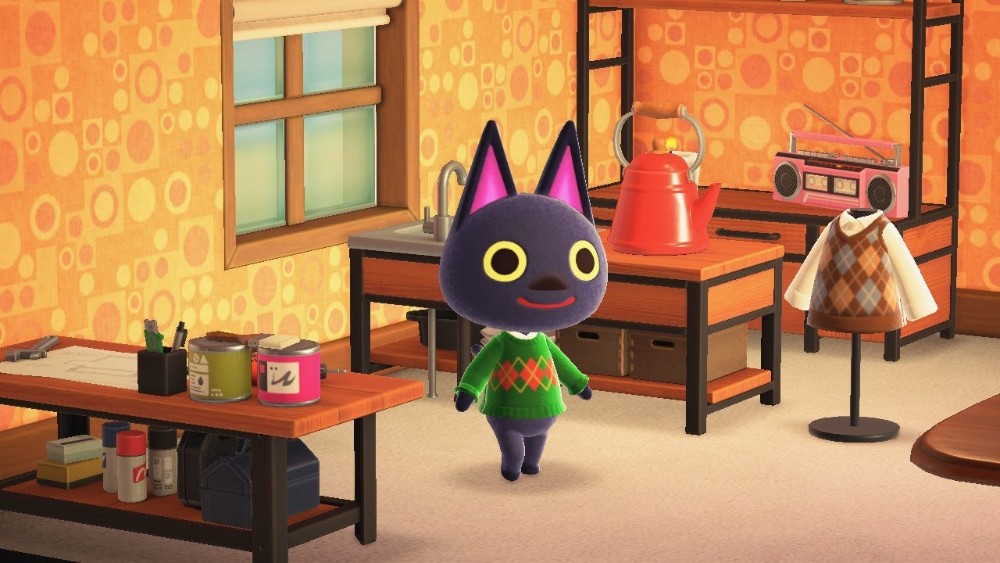 Kiki is always just happy to be here.
Kiki is a normal type of cat villager who will be very friendly to you right from the start.
She is a black cat with large yellow eyes and a preppy green argyle sweater. Her home is quite a sophisticated mix of Ironwood and Antique furniture.
Despite the nice home furnishings, Kiki has a taste for simple things.
She is also an early riser, waking up to roam the island at six in the morning.
What's amusing about Kiki:
She resembles the cat, Jiji, from the animated movie Kiki's Delivery Service.
Her wide-eyed stare and pushed-up nose give her face a funny appearance.
Her normal personality type makes her friendly towards everyone, which is sometimes too much for cranky and sisterly villagers.
7. Tangy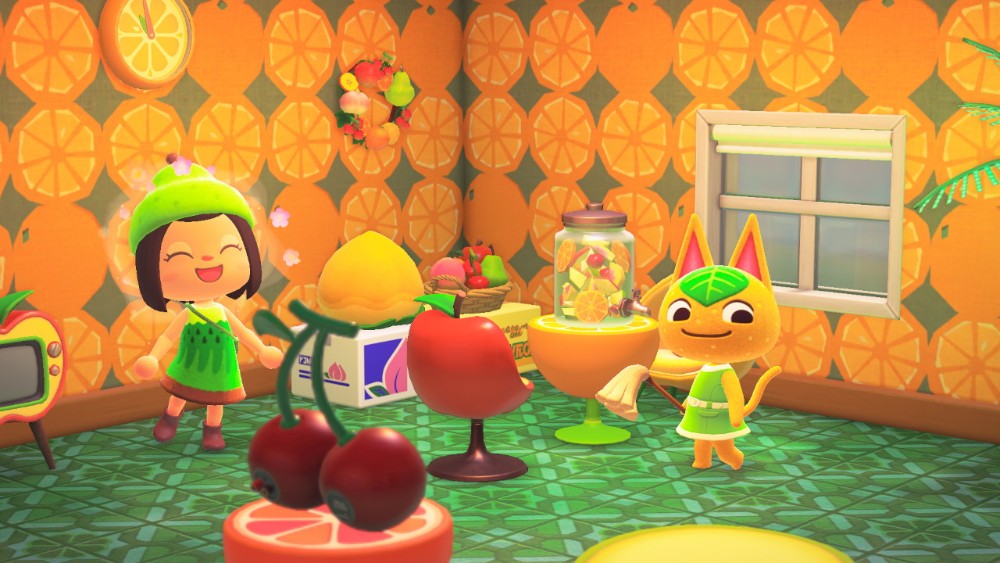 Tangy has the coolest little fruit house.
Tangy is a peppy cat villager who resembles an orange in her bright coloring and leaf "hair."
Her house reflects her appearance by being decked out with the Orange Wall and various pieces of fruit furniture, and the bright colors go well with her cheery personality.
With her peppy personality, Tangy will get along with almost everyone except for the cranky and snooty villagers who might find her too upbeat.
What's amusing about Tangy:
Her head resembles an orange.
The citrus theme resonates throughout her home.
She gets really excited about pretty much everything, which makes for some interesting conversations.
6. Merry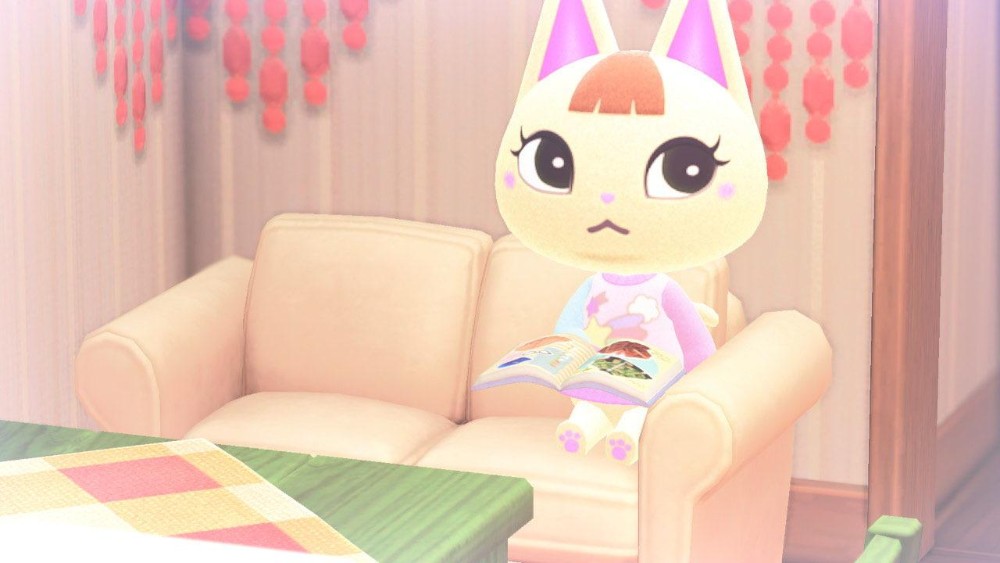 Merry is just chilling in all of her cuteness while she reads a magazine.
Merry is another peppy cat villager popular among Animal Crossing players.
She has a pale cream coloring with a pink nose, pink cheeks, and even tiny little pink toe beans. Her cuteness is accentuated with her pink Dreamy Sweater. She has long, winged lashes and brown hair that looks like bangs. She even has a little double chin, which just adds to her cuteness.
Merry's home is done in pastel colors to match her coloring and wardrobe.
What's amusing about Merry:
She is always smiling.
She is always excited and has lots of dialogue to prove it.
How could you not love her hair and that cute little chin?
5. Bob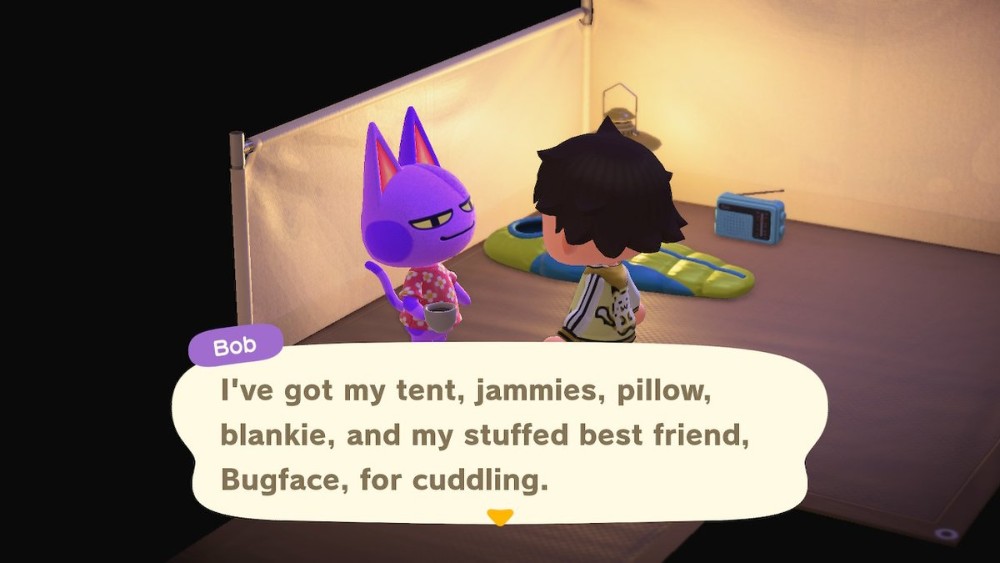 Bob has his priorities in the right order.
Bob is a bright purple lazy type cat villager who always looks like he's up to something.
His eyelids are always half-closed, also giving him a sleepy appearance to go along with his lazy personality.
In addition to his bright personal appearance, his home is decked out in bright red, blue, and yellow colors, mainly using the Colorblock furniture.
What's amusing about Bob:
He is the very first Animal Crossing Villager ever designed, and he has appeared in every Animal Crossing game so far.
His birthday is January 1st.
His lazy personality gives him some funny dialogue about bugs and snacks.
4. Ankha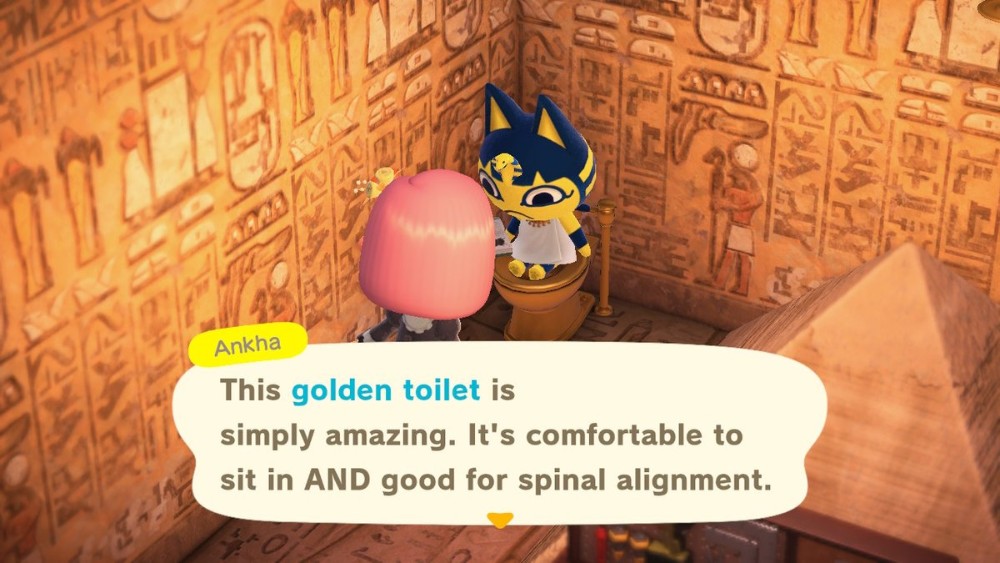 Ankha takes comfort and style very seriously.
Ankha is a snooty type cat villager with an Egyptian-themed personal appearance and home.
Her home almost exclusively features golden furniture such as the Golden Toilet, Golden Casket, and Golden Candelabra, in addition to a giant pyramid right in the middle of the room.
Ankha has a taste for the finer things in life, and prefers gifts of colorful clothing with an elegant style.
What's amusing about Ankha:
Due to her snooty personality, she is sometimes very mean to other villagers, and the exchanges between them is very amusing.
She is very committed to the Egyptian style aesthetic, right down to having a pyramid take up most of her home.
Ankha loves fashion, so expect her to give you a critique or two if you talk to her every day.
3. Rosie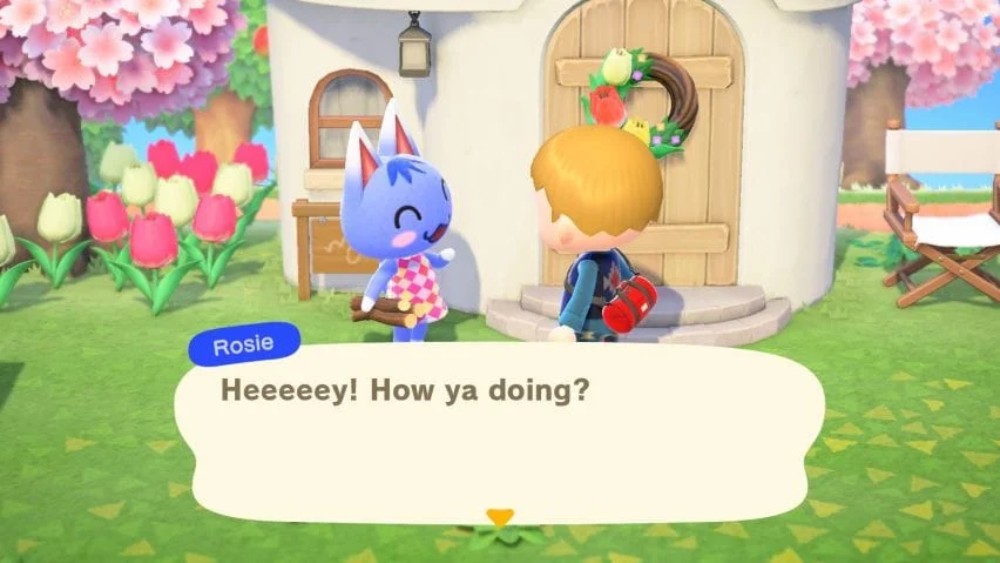 Rosie is featured in every Animal Crossing game.
Rosie is another peppy type cat villager who is very popular among Animal Crossing players, as she has been in every Animal Crossing game to date.
Rosie's face also regularly features on the cover art and promotional material throughout the Animal Crossing franchise.
Almost everyone who has ever played an Animal Crossing game has come across Rosie at some point. I first fell in love with Rosie when I started playing Animal Crossing: Pocket Camp.
What's amusing about Rosie:
She has a nice collection from the Cute furniture series in her home, and it matches her bubbly personality.
She has been in every Animal Crossing game, along with Bob.
She has not only appeared on the box art for previous Animal Crossing games but she was also featured in the Nintendo Collector's Edition of the Monopoly board game.
2. Raymond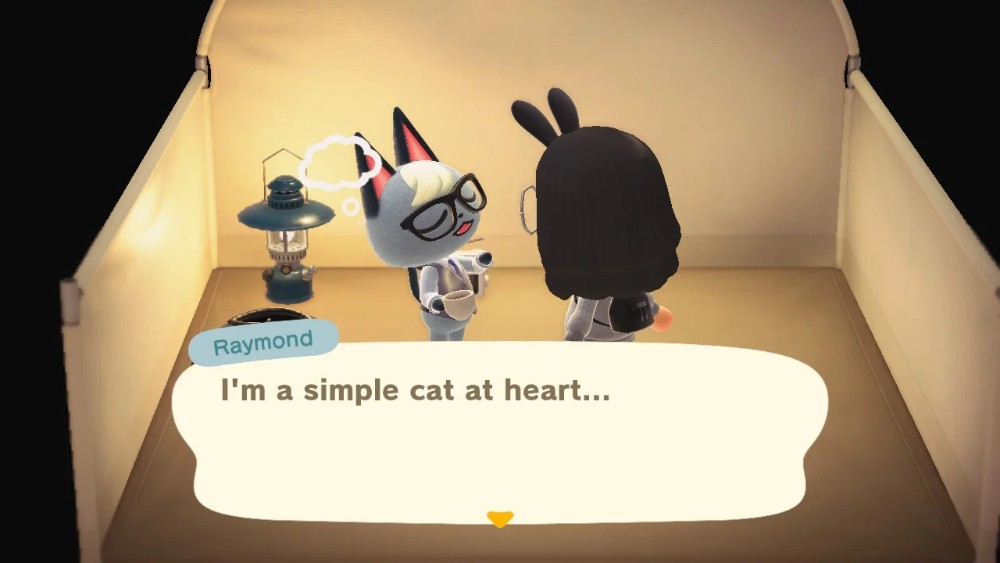 Raymond may be a simple cat at heart, but he has a taste for luxury.
Raymond is the only smug type cat villager in Animal Crossing: New Horizons.
Raymond makes his debut in the Animal Crossing series with his appearance in New Horizons, and he is the only smug cat villager.
He is also the only cat with heterochromia, in which his right eye is brown and his left eye is blue, and he has a little tuft of blond hair on the top of his head.
Due to his unique personality and appearance, Raymond is a very popular character among players.
Raymond offers some fun dialogue, and he prefers clothing gifts that have a classic style.
What's amusing about Raymond:
His appearance is unique with his blonde hair and different-colored eyes.
With his smug personality, Raymond's dialogue can come off as comically condescending.
His home décor is styled like an office building.
1. Lolly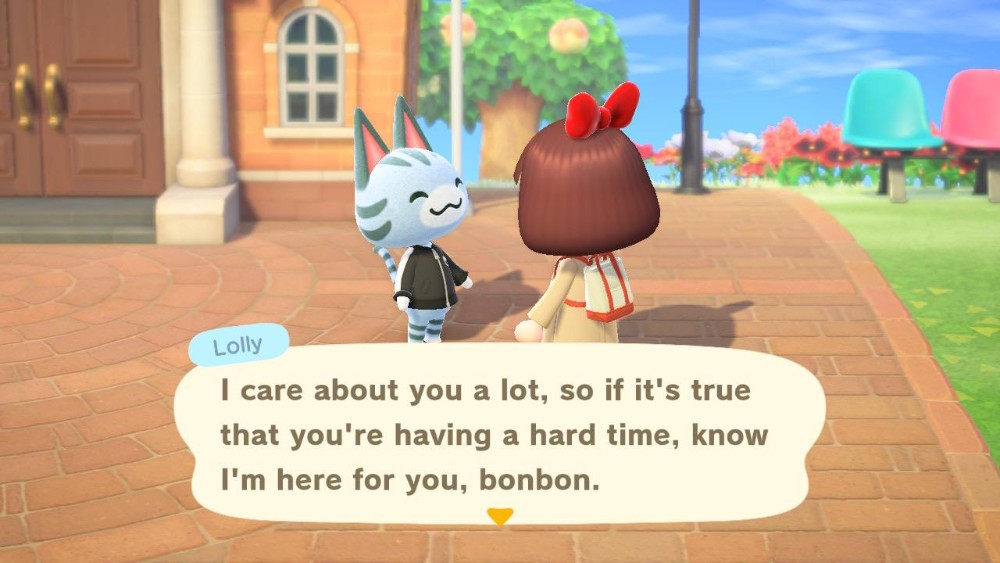 Lolly always knows what to say to cheer you up.
Lolly is a gray tabby cat villager with a normal personality, and she is easily one of the sweetest villagers in the game.
Her home décor is done in soothing neutral colors and natural wood finishes, and she always enjoys it when you come by.
Lolly has appeared in several other Animal Crossing games, and she is quite popular among players due to her extremely friendly personality and longevity in the series.
What's amusing about Lolly:
Her favorite catchphrase is "bonbon," which references candy, much like her name.
Lolly's eyes resemble quotation marks, and they don't have a distinguished pupil or iris.
With her friendliness, you can't help but smile.
You May Also Be Interested In:
Image Gallery