[Top 10] Animal Crossing New Horizons Best Friends
Updated: 26 Mar 2021 7:17 am
Make sure to keep an eye out for these characters!
The villagers in Animal Crossing: New Horizons are the lifeblood of our towns, and the softest, cutest friends we have. Maybe you're unaware of how wild these character designs can get or perhaps you're in the market for hunting down some new friends? In this list, we will look at the villagers who are most likely to spice up and diversify your town, as well as become some of your closest, cuddliest friends (trust me, you'll want to see some of these).
10.  Drago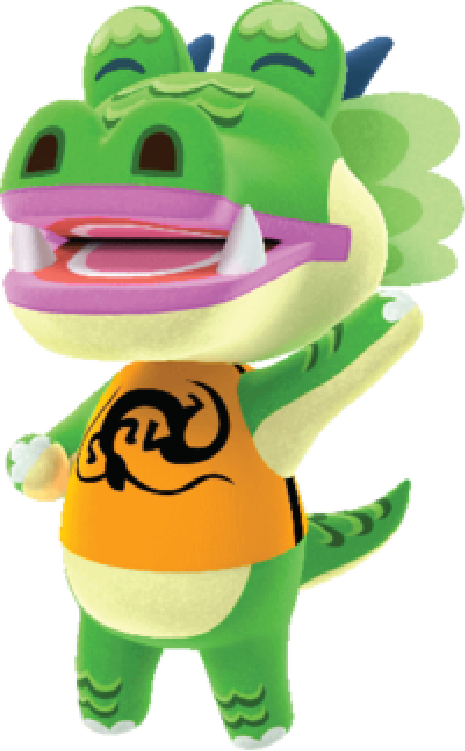 Drago is a lazy alligator villager, and he's jam packed with a unique and nerdy style. His personal phrase is "burrrn" and he is an aquarius.
What's Great About Drago:
Like his name references, his appearance is designed to make him look like a dragon, which, as we all know, is awesome.
He is a lazy villager, which means he is a huge fan of relaxing, eating, and will get along with many villagers easily.
His biggest aspiration is to be a pilot! Another subtle hint to his draconic heritage…
9. Anabelle
Anabelle is an anteater villager - one of the smallest villager groups in the entirety of Animal Crossing. Her personal phrase is "snorty" and like Drago, she is an Aquarius. She is a peppy villager with another creative spin.
What's Great About Anabelle:
Anabelle is actually based off of a pangolin, which is the anteater's armored cousin. This is why she has a flat tail as opposed to fluffy ones the other anteater villagers have.
Anabelle may actually have had a name change from the anteater villager "Lulu" in the gamecube port "Dōbutsu no Mori e+". This is speculated because of their almost identical designs and same birthday. So if you're a Lulu fan you're in luck! She's simply had a little name change.
Her biggest aspiration is to be a judge - order in the court!
8. Coco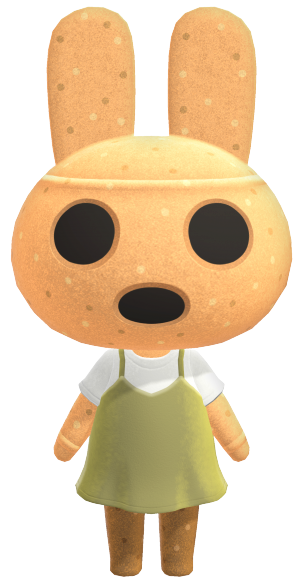 Coco is one the most visually distinctive rabbit villagers in the game. She's a normal villager, so expect her to be kind and sweet. Her personal saying is "Doyoing" and she is a Pisces. 
What's Great About Coco:
Coco has several origins, the most obvious one being her resemblance to the gyroid species that inhabit Animal Crossing world.
Coco also has a tie to the Losuphone folklore character "Coco" - a shape-shifting death-dealer who has been described to have a similar appearance to our own bunny Coco.
Her main aspiration is to be an astronaut.
7. Ketchup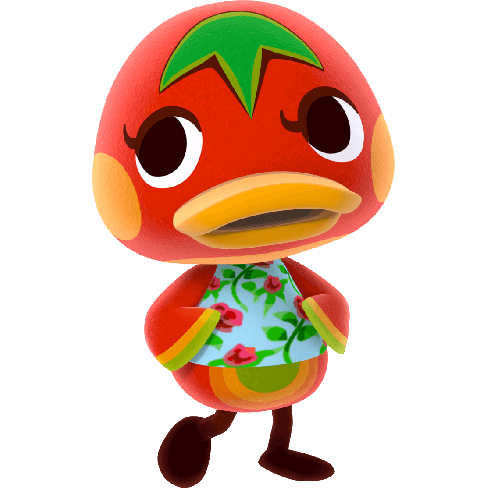 Ketchup is a duck villager with an obvious theme - her giant tomato head. She's a peppy villager so she's always on the go. Ketchup is a Leo and her personal phrase is "bitty" (though she doesn't look like one to me).
What's Great About Ketchup:
Foremost, her tomato head - it's cute and unique by any means. She'd definitely catch my eye walking around the village.
As a peppy villager, she will rarely be seen doing nothing - so keep your eye out for her!
Her biggest aspiration is to be a popstar singer. You go girl.
6. Raddle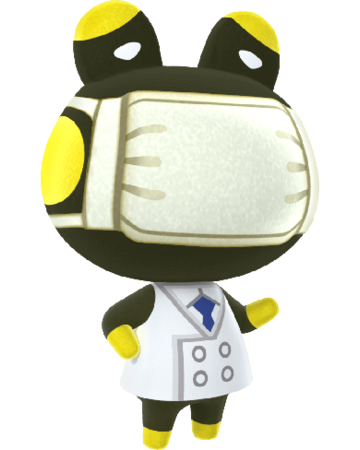 Raddle is quite an easy frog to dissect just on his appearance alone. Ironically enough, he's a lazy villager, which doesn't bode well for patient reviews, if you ask me. His personal phrase is "aaach-" and he's a gemini.
What's Great About Raddle:
His house is designed to be a "functioning" doctor's office, so feel free to visit him for a checkup!
His specific frog species is made to resemble a yellow-banded poison dart frog - which secrete one of the most deadliest poisons out of any frog. A nice ironic twist for our doctor - I hope he wears gloves!
Unsurprisingly, his main aspiration is to be a doctor.
5. Sprocket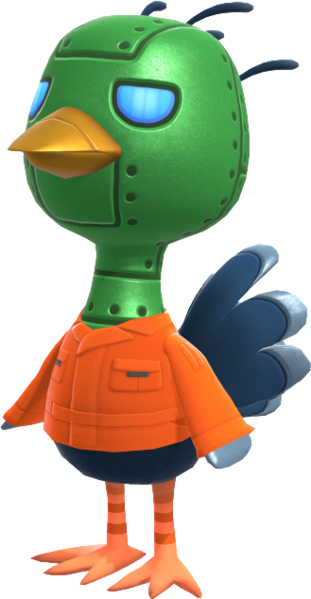 Yep. That's right - he's a robot. Sprocket is one of the few robotic villagers in the entire series. These villagers are technically not animals, and do not reference being as such. His manufacturer's date is noted as being a Saggitarius and his personal phrase is "zort".
What's Great About Sprocket:
He's a jock villager, which means that he'll be patrolling the island and doing various exercises taking up the role of self-proclaimed protector of your island.
Even with his robotic appearance, Sprocket will still speak like any other villager, so you get the best of both worlds without the uncanny valley effect.
His biggest aspiration is to be a guitarist (just imagine him shredding it…)
4. Hippeux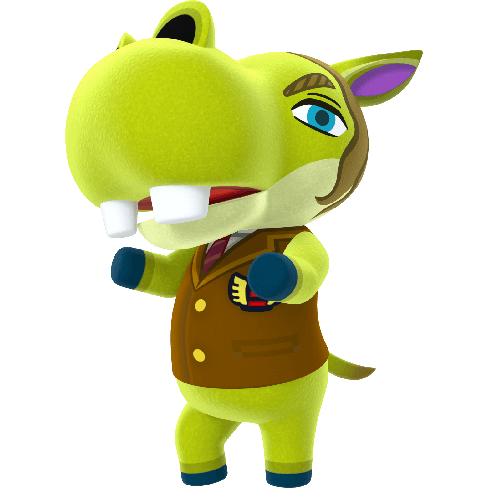 Another unique rarity for our list: Hippeux, of course, is a hippopotamus, another very small group of villagers in Animal Crossing capping out across the entire series with only ten total - having a hippo villager certainly gives you some bragging rights. His personal phrase is "natch" and he is a Libra.
What's Great About Hippeux:
As a smug villager, Hippeux will get along with mostly everybody, save the rare instance with a cranky villager.
Hippeux is the ONLY smug hippo villager - truly one of a kind.
His biggest aspiration is to be an actor (just think about him as Captain America, or the Joker)
3. Zucker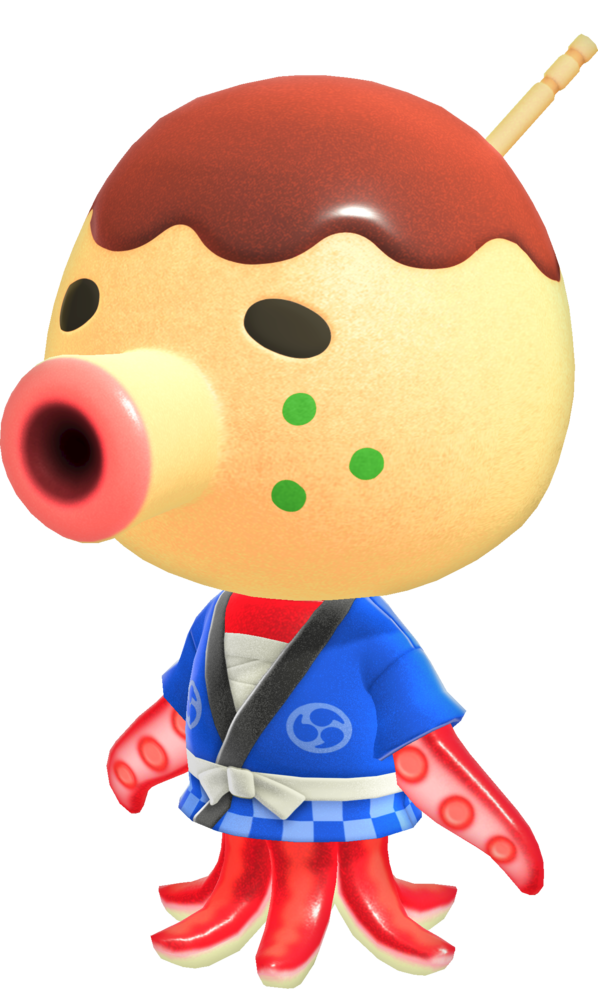 Octopi? In my Animal Crossing? It's more likely than you think. Zucker is one of only THREE octopi in Animal Crossing: New Horizons making him one of the rarest villager types of all. He is an Aquarius, fittingly, and his personal phrase is "bloop".
What's Great About Zucker:
As an octopus village, Zucker is full of firsts; octopus villagers are the only villagers who are full invertebrates, have more than two legs, and are fully aquatic (though in the game they will walk around like normal villagers would)
Zucker's unique appearance is made to represent the takoyaki octopus balls - a snack popular in Japan. He is complete with green seasoning freckles, takoyaki sauce hair, and a bamboo toothpick hairpin. For sure one of the most creative designs in the whole series!
His main aspiration is to be a chef! I wonder what kind of food he'd make….
2. Flora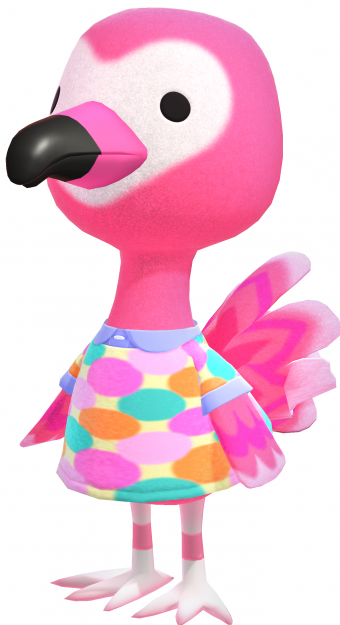 Flora is our second "ostrich" villager on the list, though she is based upon a flamingo by the tell-tale signs of her bright pink body and large beak. She will definitely add loads of diversity to your village, even if you have other ostrich types! Flora is our fourth aquarius on our list and her personal phrase is "pinky" (obviously her favorite color).
What's Great About Flora:
If you're going for more of a pastel look for your island, all of Flora's clothes, house interior and exterior exude a lovely pink shade. (Her house is full of flamingo's even! Cousins perhaps?)
Flora's favorite song is K.K. Flamenco, driving home her flamingo roots.
Her main aspiration is to become a gymnast.
1. Chadder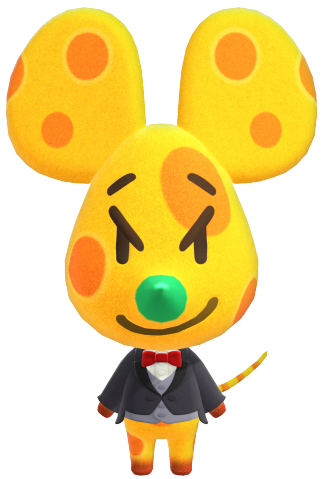 Last but certainly not least we have Chadder, a smug mouse villager who couldn't be more clear he's got the cheddar. His personal phrase is "Fromage" and he is a Sagittarius.
What's Great About Chadder:
Chadder is based upon cheddar cheese, as indicated by his dark yellow appearance and his green nose that is meant to represent mold.
Chadder's home gives the illusion of being in a city penthouse, so make sure you stop by and reenact "The Wolf of Wallstreet"
Chadder's main aspiration, just like Hippeux, is to be an actor.
You May Also Be Interested In: