[Top 10] Rocket League Best Dark Wheels That Look Awesome!
Updated: 16 Dec 2021 5:13 pm
Black carbon fiber on an Octane is a vibe of its own!
If black is your happy color, you've come to the right place!
Customizing your ride is one of the most enjoyable experiences in Rocket League. You go into the garage after a grueling session of ranked matches, maybe you ranked up, maybe you got your ass handed to you. But, you feel safe retreating into your safe space to fiddle with your ride and try on all the fun cosmetics you worked hard to unlock.
Rocket League players these days aren't just competing on the field. I wouldn't be surprised if "The Best Car Design" competitions suddenly popped up one day. Players are prepared to pay a premium to make sure their car stands out both on and off the field. Some love funky colorful designs, but today, we're going to show you some of the best dark wheels to complete that sinister all-black design you might want!
10. Centro (Black)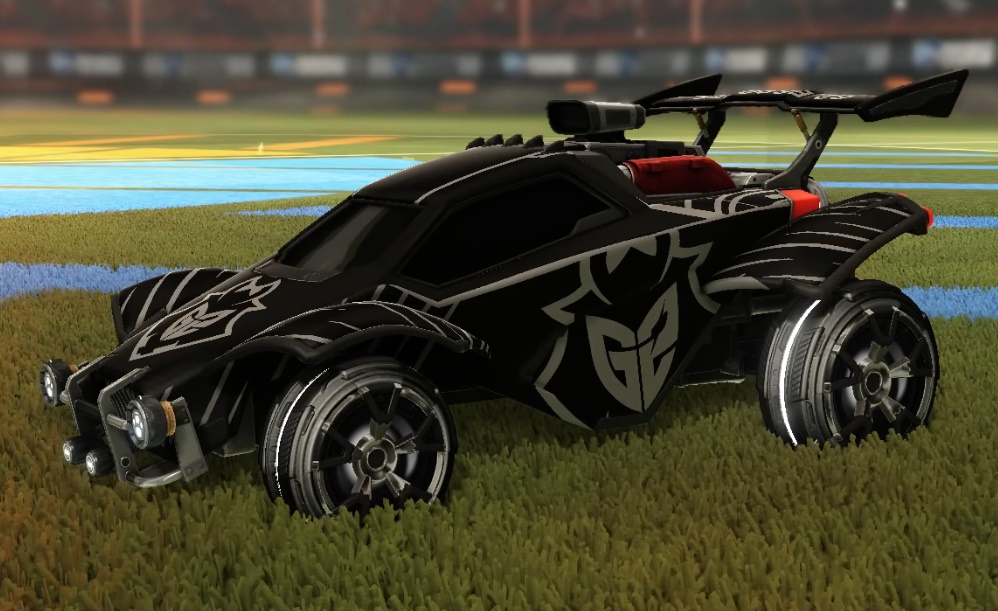 The black Centro wheels
We start off the list with a balanced choice. I doubt anyone with a love for black could dislike these wheels. The Centro wheels are a fine choice if you're into something that's a little flashy, a little subtle, and mixes blacks and whites well.
The Centro wheels have a nice mix of all the colors you'd want on a neutral dark-colored car. It has a bit of silver on its edges, a few white lines going all around the tires, and most importantly, pitch-black rims to complete the look. A bit of swirling animation in the middle adds something extra too.
9. Chakram (Black)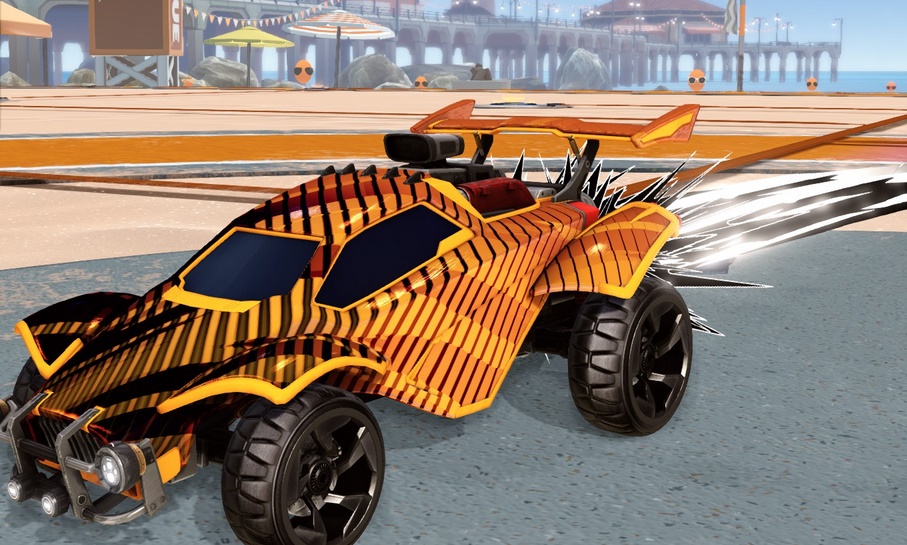 The black Chakram wheels
Beauty and elegance define these wheels very well, to be honest. It's one of the best combinations of "unique" and "classic" you'll find on a pair of wheels. The Chakram wheels' design was inspired by the wheels of the Lamborghini Reventon. If it's good enough for those designers, it's good enough for me.
The Chakram wheels have a black look to them. While they may not be the darkest or most black wheels ever, they have this matte finish to them which gives them a special look. The tires are also really thick, giving them a bulkier look. The curving edgy rims give it a modern feel while looking badass at the same time.
8. Capacitor IV (Black)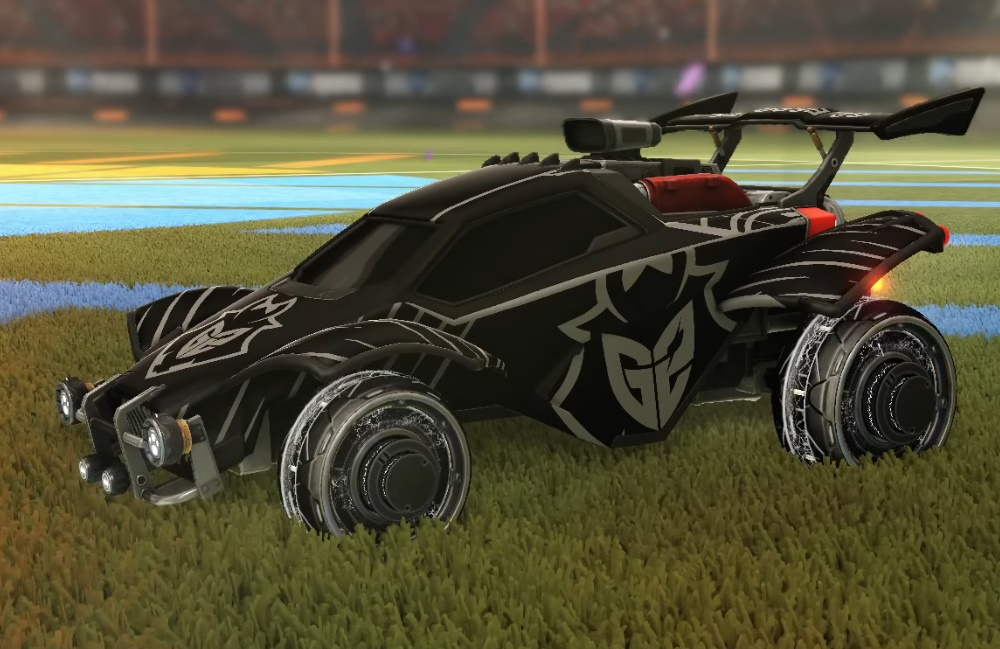 The black Capacitor IV wheels
These wheels will add a little spark to your game. Lots of players choose their wheels based on their personalities unknowingly at times. These wheels are for those players who like a bit of attention, excitement, and get bored of cosmetics easily.
The Capacitor IV wheels are really eye-catching, which is something rare on black wheels. Usually, black wheels blend into the car seamlessly, but these wheels offer a lot of cool animations. From the sparks on the tires to the electric nodes on the rims. These wheels are great for silver black designs that like to stand out.
7. Zomba (Black)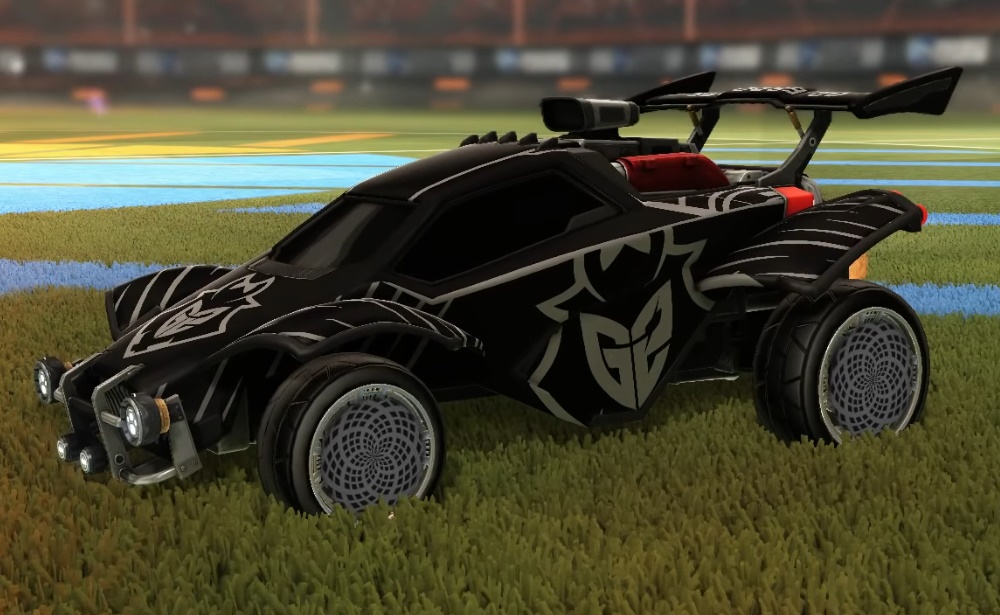 The black Zomba wheels
Yes, I understand. We've seen Zombas all over the game already, and they're already overused. However, people mostly go for the titanium white version of them and seem to ignore these black beauties. If you're looking for some premium-priced black wheels that look good, these are for you!
The Zomba wheels are fairly simple on the eye, the middle animation is as catchy as ever. The tires are fairly ordinary to keep the attention on the show in the middle. It can match very well with some other animated black decals.
6. Dieci (Black)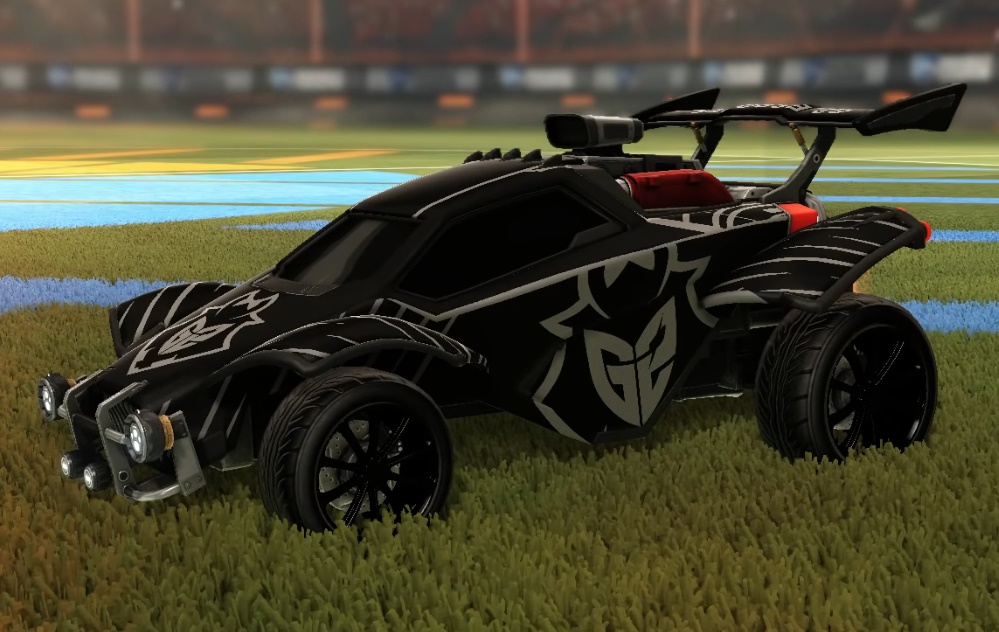 The black Dieci wheels
These wheels have been in the game for a while now, and they've been a popular choice for some time now, for good reason. The Dieci wheels are for those simple players. They want pitch-black wheels that blend in well, thin stokes on the rims, and nothing too flashy.
The Dieci wheels are a well-balanced choice for car enthusiasts who don't like the weird flashy cosmetics in Rocket League. They feature thin rims that you'd find on most premium cars and matte black tires with a nice pattern to them. Simple.
5. Stern (Black)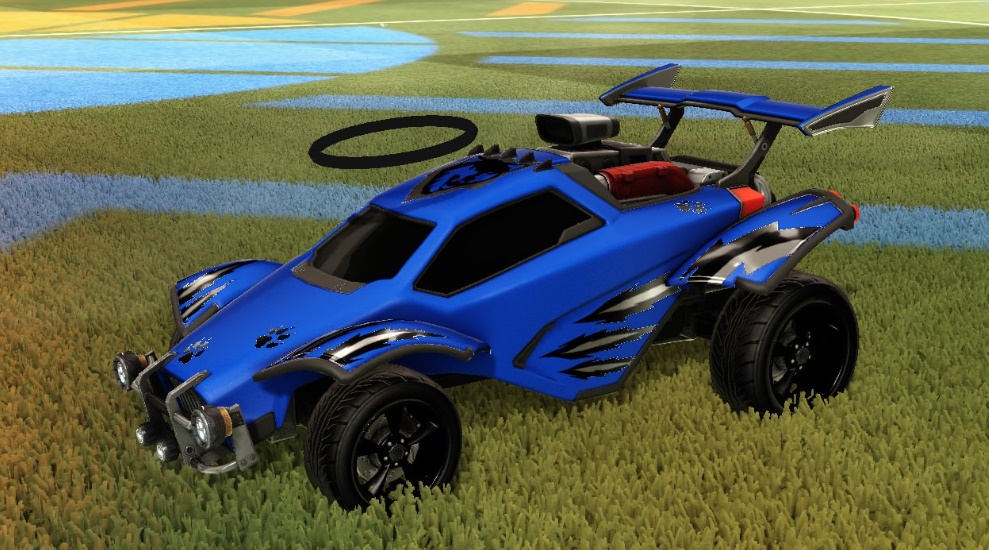 The black Stern wheels
One of the cleanest designs on this list. The Stern wheels are one of those wheels you'd pick when you're trying to make your ride look as realistic as possible. They're classy yet give off a sporty feel.
The Stern wheels aren't the most unique out there, but sometimes, less is more. With all the flashy animated wheels these days, these feel like a breath of fresh air. The thick bulky rims are awesome, in my opinion, as they resemble the wheels you'd find on a Mercedes Benz C class. Pretty balanced, pitch black, and straight to the point.
4. Muscle Boy (Black)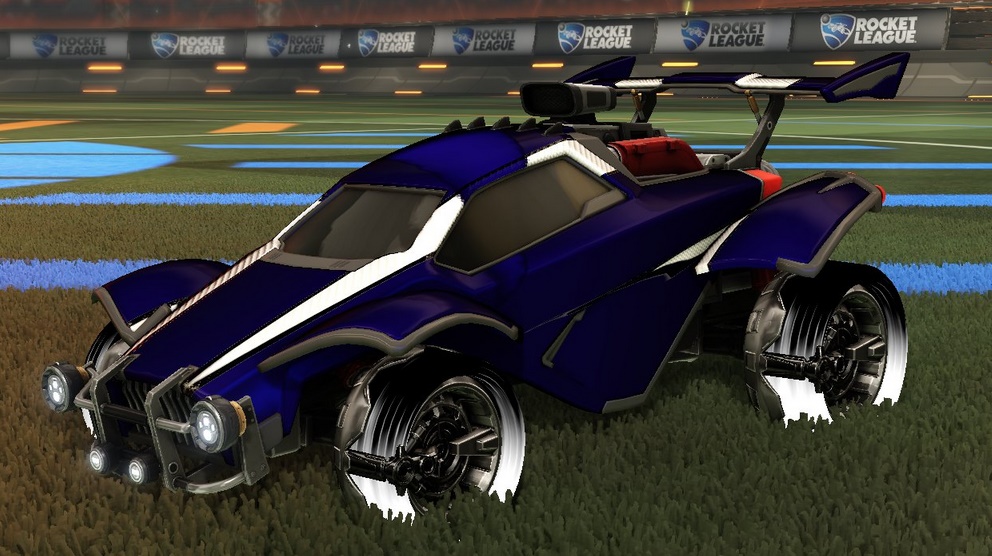 The black Muscle Boy wheels
Flashy bright wheels that will catch everyone's attention? Count me in! The Muscle boy wheels don't get any weirder or more unique than this. They're one of the most eccentric wheels that break off the norm.
The Muscle Boy wheels have a unique half and half design. The tires work well with titanium white and all-black designs. They have a glossy look to them that shines bright enough to stand out. The rims also look futuristic with a steel hinge design. Even though they look like you've parked illegally and been clamped, still, awesome complex design.
3. Veloce (Black)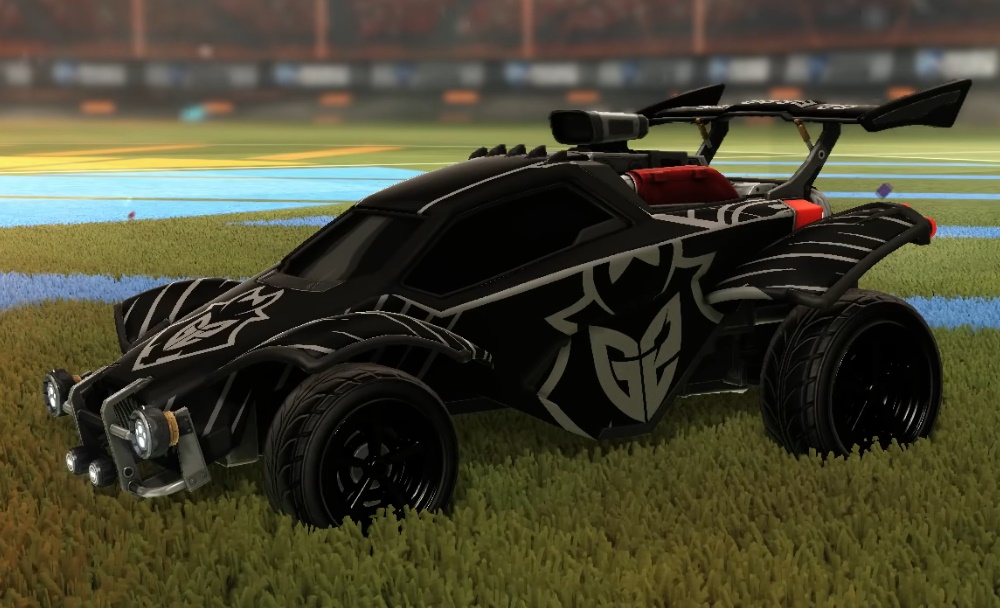 The black Veloce wheels
One of the darkest wheels in the game. Players who want to transform their car into a pitch-black dot need to look no further. The Veloce wheels are simple, elegant, and pure black while maintaining a classic look.
These wheels feature a simple design that isn't easily recognizable without squinting your eyes. The rims are 5 stokes with a glossy finish that shine nicely under the stadium lights. The tires are pretty standard though, would've loved to have seen a matte finish on them. A great choice for any black design.
2. Gripstride HX Inverted (Black)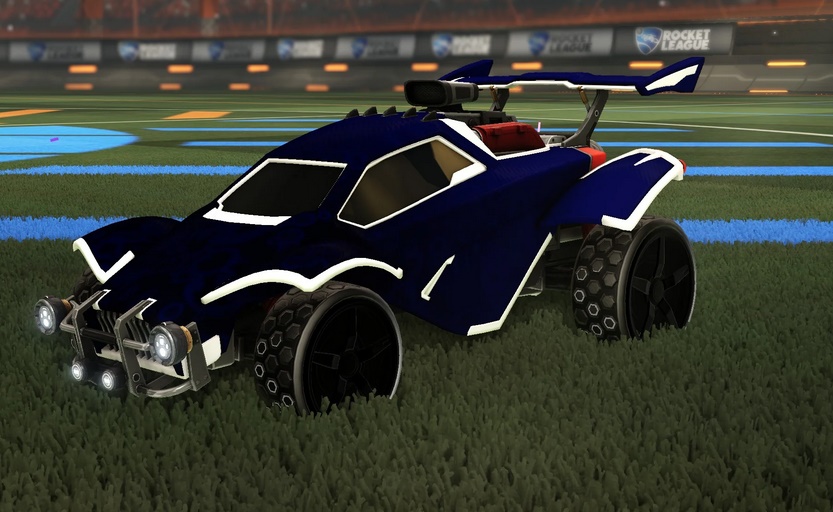 The black Gripstride HX Inverted wheels
Details, details, and more details! Whoever designed these wheels should get a raise because they're working hard to create something original. The Gripstride HX inverted wheels are full of animations, tiny finishes, and pure black design everywhere.
They feature a lovely animation around the tires with hexagon flashing patterns. The rims are pitch black that can barely be seen under the lights. They're a nice change from your classic straightforward wheels design that you get in the game. A really top choice.
1. Infinium (Black)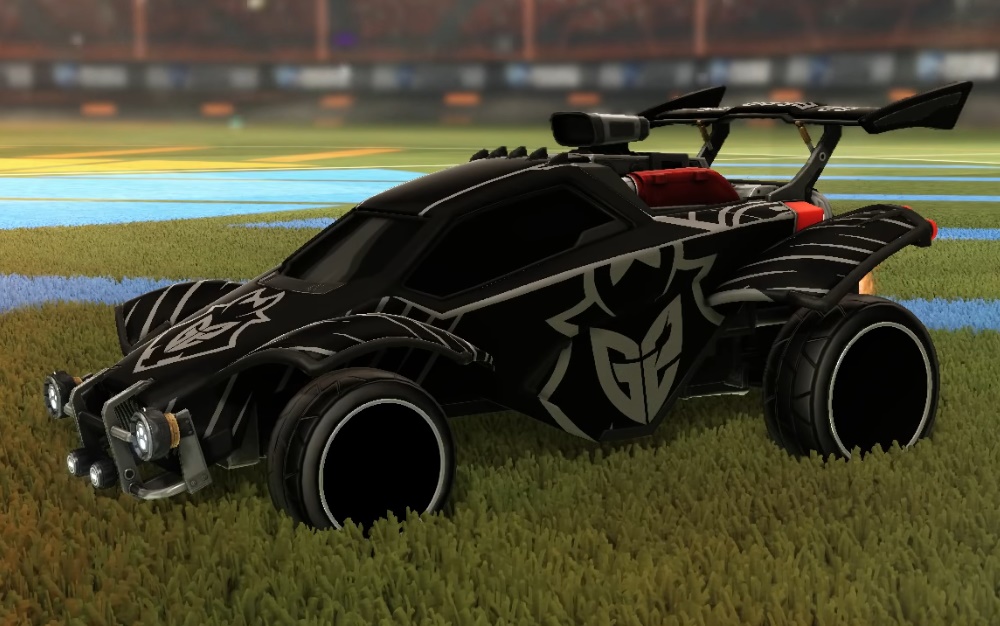 The black Infinium wheels
I like a clean finish, to be honest. I'm a fan of flashy and eye-catching cosmetics, but these wheels do all of that while not being bright at all! The Infinium wheels look like a literal black hole attached to your car.
The inside of the wheels stays dark at all times. If you're looking for an all-dark theme that doesn't change or get affected by the lights, you've got it! These will make your car feel like a black ninja darting across the arena if you match it with the right decal. The tires are also matte black which I love! I know I'm being a lil biased here, but they're one of the best dark wheels you can find!
You may also be interested in:
Image Gallery