[Top 10] Rocket League Best Animated Decals That Look Great
Updated: 03 Nov 2021 9:40 pm
Rocket League 101: When your car shines brighter than anything else, so does your luck!
Sometimes, looks are everything!
Rocket League is the game that brought the car genre back into the competitive scene once more. It's one of the few games that's been able to provide a fusion of cars, sports, fun, and customization. Especially customization. After all, the only thing car lovers like to do more than ride their whip is to personalize it with a nice paint job.
From wheels to boosts, Rocket League has a whole host of different types of customizations for you to choose from. The most popular one is probably the paint job or decals, most notably animated ones. Yes, I know you, the person who's reading this, has spent or at least thought about spending your credits on one of those fancy moving paint jobs. Let's take a look at the top 10 best-looking animated decals!
10- Almagest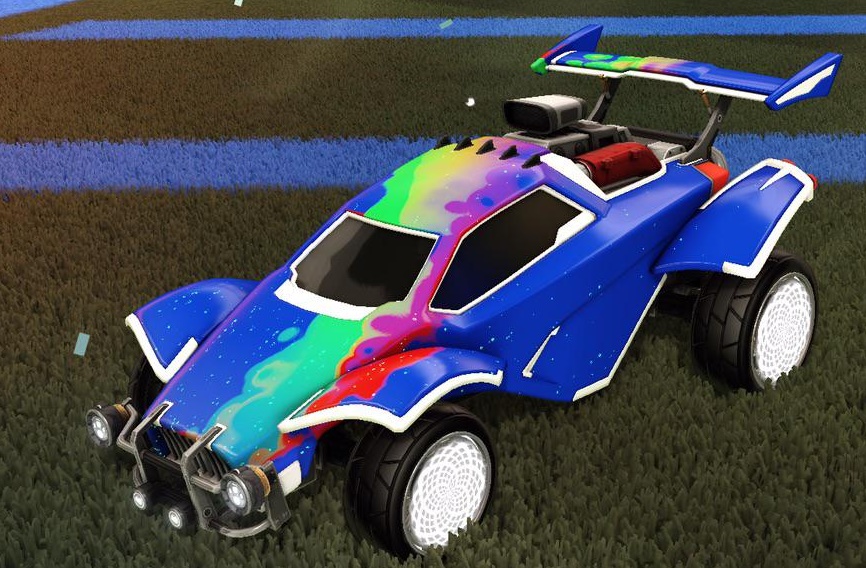 The Almagest Decal
The Interstellar's little brother. This funny-looking decal might not stand out too much, as it's just a funny-looking cloud in the middle of your car floating away, but it's the amount of imagination that can be put into it is why I love it. Depending on the color combination you use, this animation can be a rainbow cloud, an entire milky way galaxy, or even some cotton candy.
The decal might not be as deep to look at, but it's a lot more sparkly on the sides. I also love the lava lamp-looking animation that's floating through space. It might be a beta cartoonish version of the Interstellar, but the only limit is your imagination.
9- Slipstream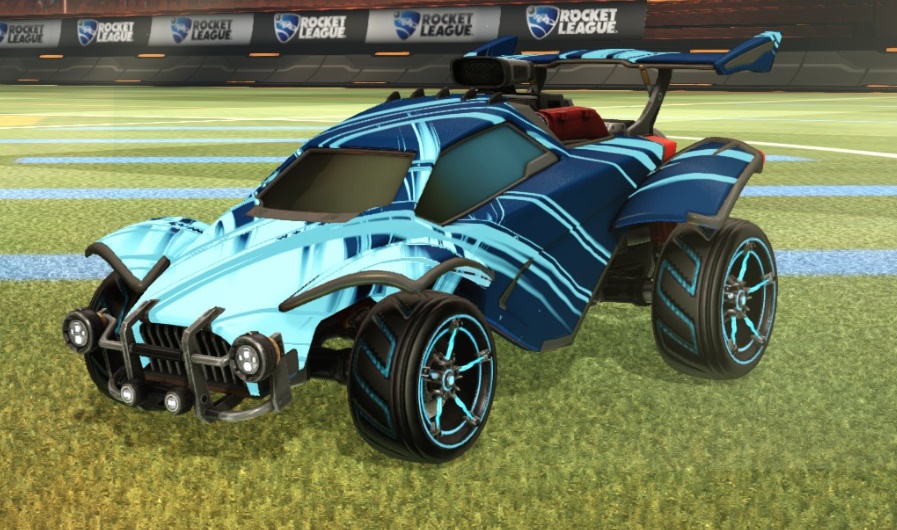 The Slipstream Decal
This is a really special decal. The reason being so is that it can sport a 3 color combination which is rare and isn't found on a lot of paint jobs. It looks like a piece of art. Abstract art to be exact. You may not understand what's going on exactly, but it's a beauty to look at.
I like the design in general. It has a bit of everything from still colors, sharp thin lines, to animated lines that move up only one side of the car. It's just a whole bucket load of randomness that's going on here that I couldn't ignore. Great great potential for so many designs you can make.
8- Stipple Gait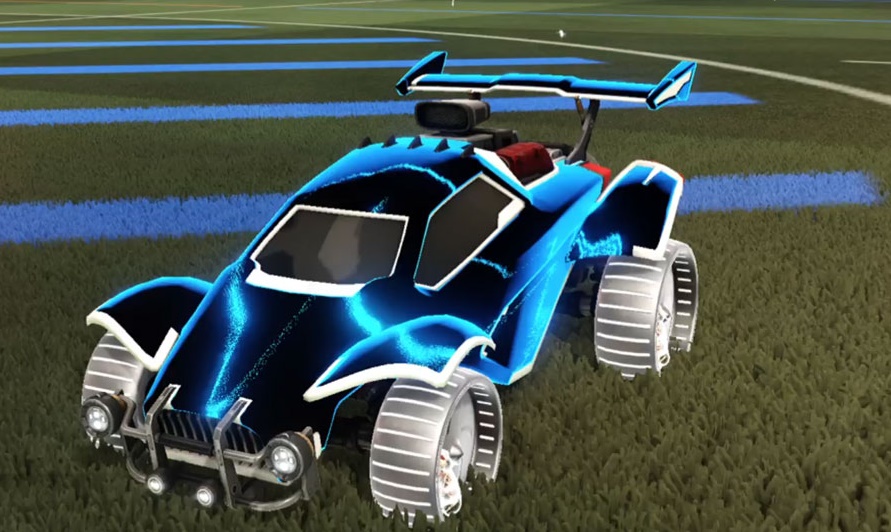 The Stipple Gait Decal
One word, different! This one is for those minimalistic lovers out there who enjoy sleek and clean designs. There's not a lot going on here as opposed to many other decals found in the game, which is the point. It's straight to the point and black. Lots of black.
The design really shows off how to use the color black. Have I said "black" enough times already? If you stare hard enough, you'll realize you won't find a darker or blacker car in the game. It's for those gloomy try-hard players who don't enjoy colors or life and just want to beat every opponent in your way. Yes, I'm talking about you. Jokes aside though, I love how the animation looks like a flock of birds dancing in the air like in those nature documentaries.
7- Storm Watch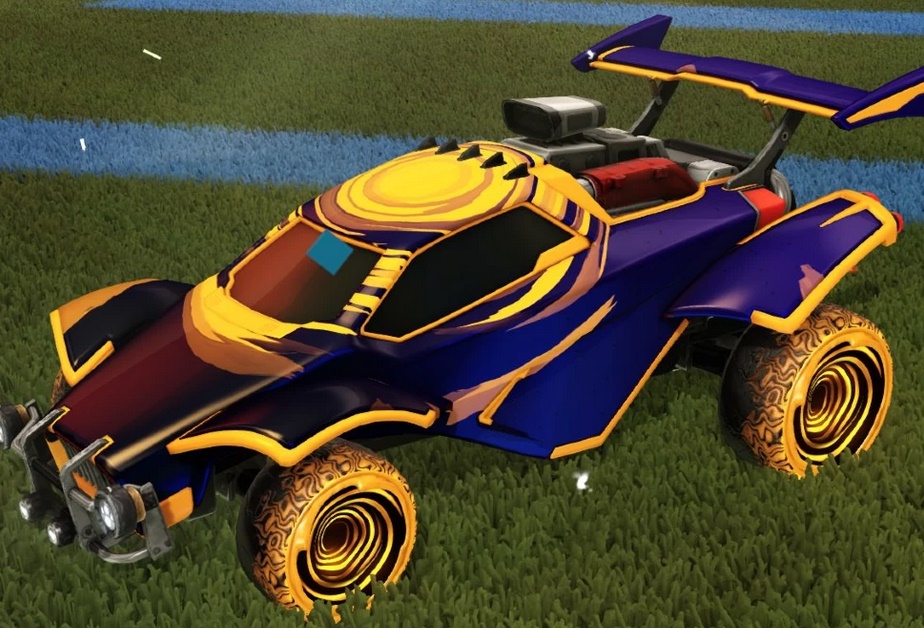 The Storm Watch Decal
Quite literally a storm. This decal breaks the usual linear design Rocket League gives for most of their decals. It also has a Pixar-like animated feel to it which really provides a different vibe to what we're used to seeing in the game.
It's another seriously clean design. There's not much going on here besides that huge tornado swirling in the middle of the car, and it's not the brightest. However, the way the animation gradient goes from a darker color to a lighter color is really mesmerizing. I highly recommend an orange and lighter orange accent for a really lovely flame theme.
6- Heatwave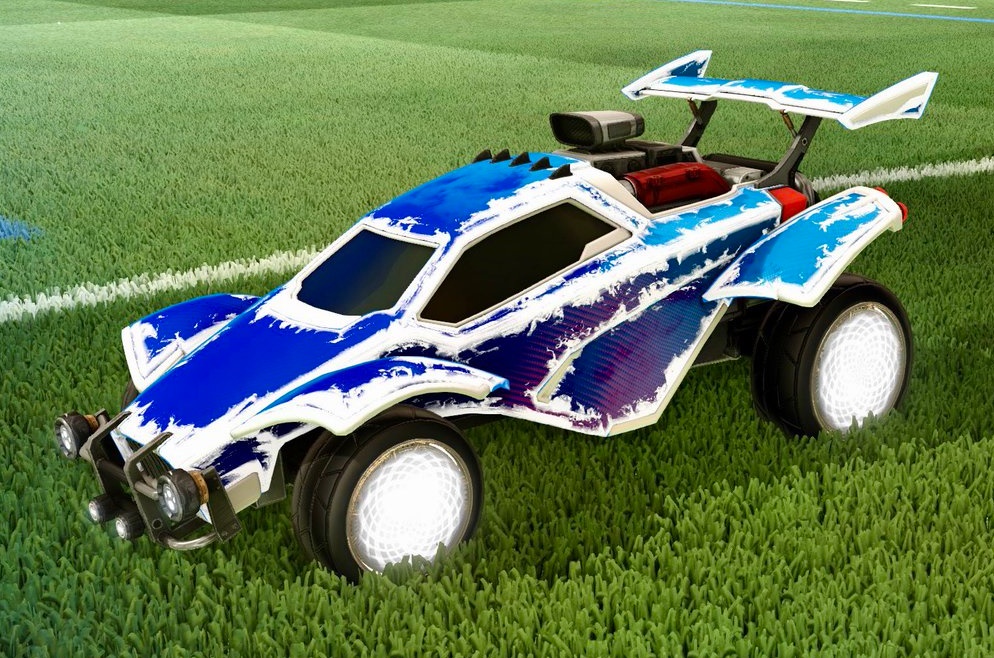 The Heatwave Decal
The Heatwave is an OG black market decal from back in the day! It used to be the most popular animated black market decal out there and is still making the lists of so many people. If you're looking for the best pyro flaming theme then look no further than the Heatwave!
This design has burning potential for so many different color combinations. Excuse the pun. I'd recommend choosing the accent as white or black and then rocking any other color as the main. You can't go wrong with it. I'm sure everyone has wanted to rock some animated flames when they see someone aerialing as a ball of fire in the sky above them.
5- Mainframe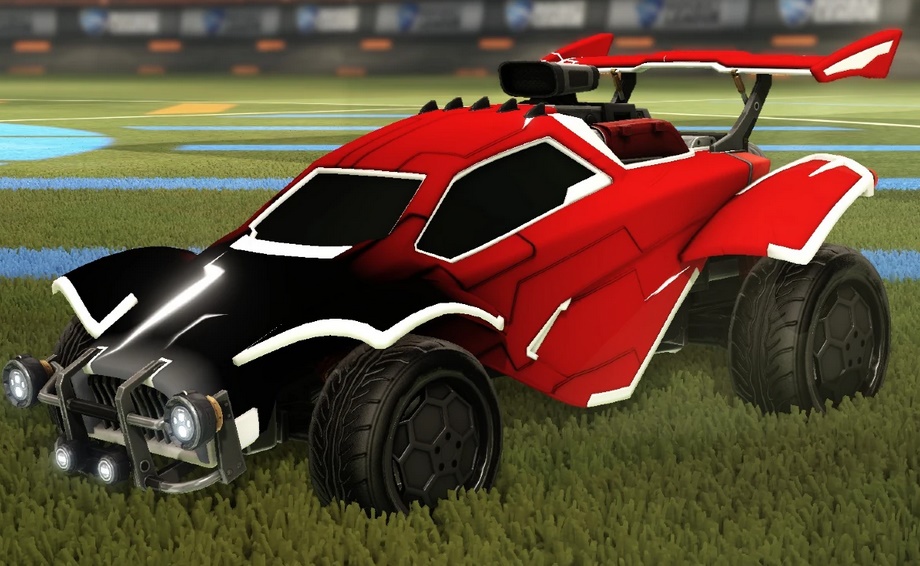 The Mainframe Decal
The Mainframe has been an ever-present on so many top 10 lists of a lot of players. And, rightfully so. If there's ever been a decal that's universally agreed upon, it's the Mainframe. It could be your dream choice or it might not be your taste, but everyone who looks at that superior body thinks to themself "Yea, I'd rock that."
It's clean, stands out, and edgy. The way those thin lines run along the body of your car while fusing into your second color really makes it so satisfying to look at. It's quite the show to put on for your friends in the lobby menu while you match up.
4- 20xx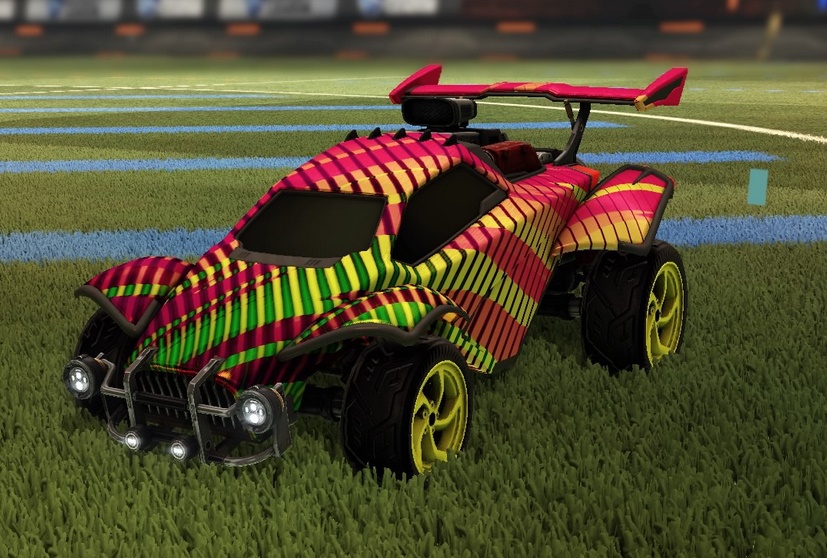 The 20xx Decal
Another decal that makes the list due to the way it can combine 3 colors. It has an unbeatable variety of color combinations you can choose from and really funky ones at that! It's one of the most original and random ideas you'll ever see on a Rocket League car.
I bet you can't guess which color will come out of those intersecting stripes. The way the colors fuse into each other and mix makes no sense to me and that's why I love it! I might be a little biased here, and I understand this isn't everyone's cup of tea, but I couldn't leave it off the list due to the sheer number of possible designs. It can be simple or complicated, all down to you.
3- Tidal Stream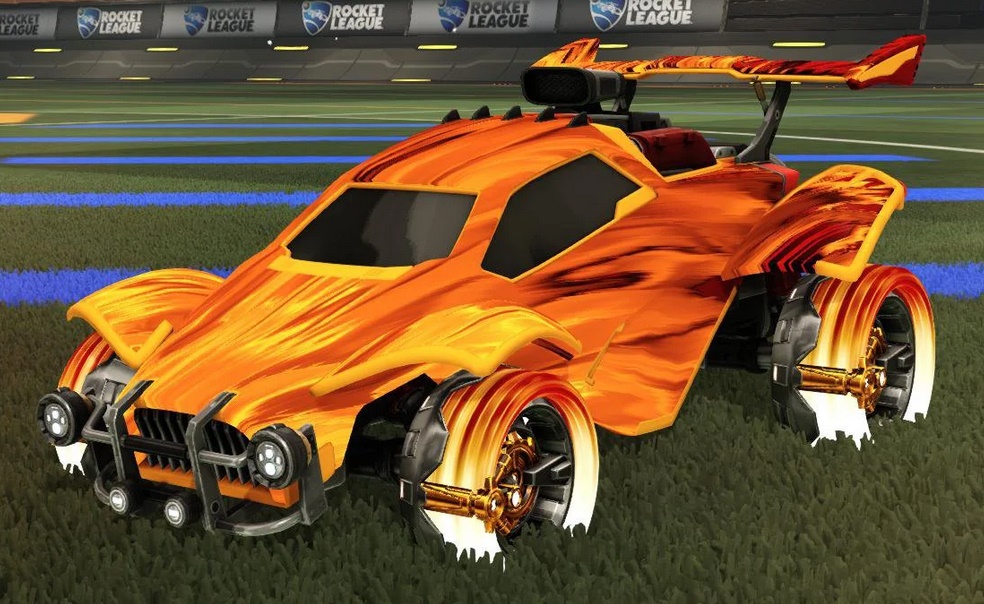 The Tidal Stream Decal
A glowing bucket of lava! Look at how bright that beauty is. The Tidal Stream may not have a load of customizable options as you can see, but it doesn't need it. It does one style well and well enough. It's literally one of the brightest, if not the brightest, decals in the game.
Try putting on some gold and orange accents on this and watch it put on a light show. Or, put on some cyan and flashbang your friends' eyes. The subtle change for the accent color at the back is also another plus for players who enjoy fiddling with their designs, but not too much. You'll never NOT see anyone coming with this neon beauty.
2- Dissolver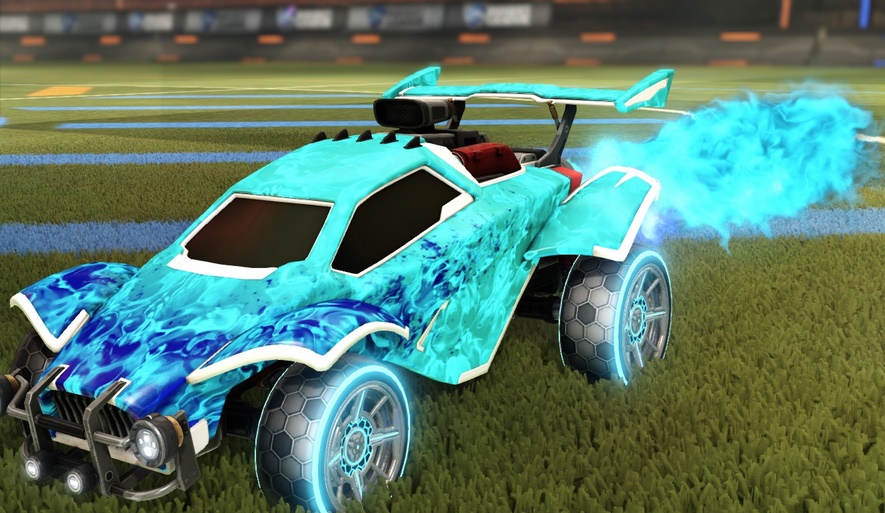 The Dissolver Decal
Everybody loves the Dissolver. It's one of Rocket League's most popular decals for a reason. It doesn't come without its flaws though as I really dislike the way some colors don't really work at all. The animation looks flushed out at times, but that's the only negative I could find.
When they do work, however, my oh my! Just slap 2 light blue colors on this baby and watch the animation dance. You can literally make an amazing water animation that really shows off why this decal is the top 2 on my list. It literally looks like a swimming pool. Pair it with some shark wheels and you got yourself a badass-looking set! Works with lava animations too!
1- Interstellar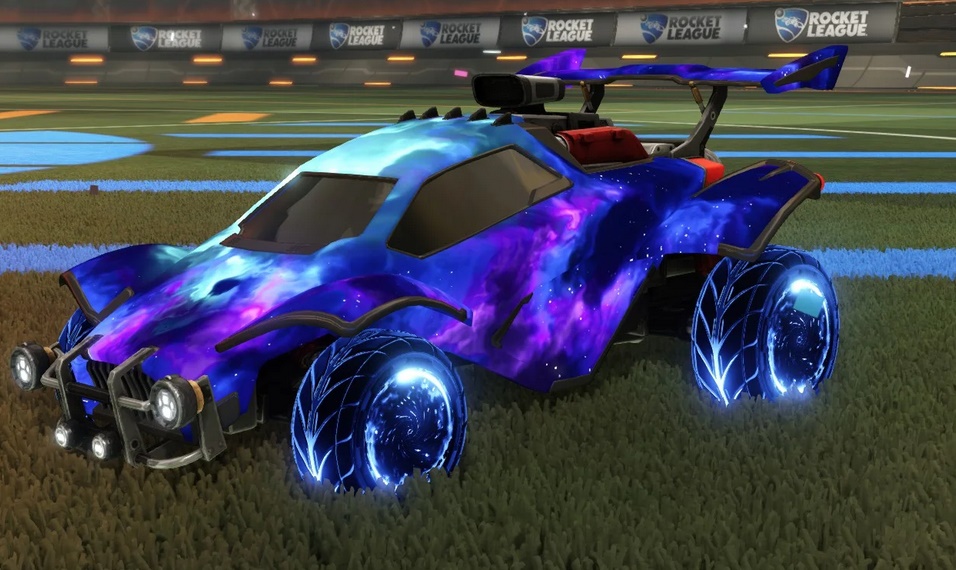 The Interstellar Decal
I'm pretty sure when you went through the first 9 on this list and didn't see the Interstellar yet, you just knew it was going to be the top 1 pick. Deservedly so. This is the black market animation that everyone has wanted ever since it came out.
Rocket League animations always look cartoonish or sporty, but this is unique. Who wouldn't want deep space literally splashed all over your car? This is also one of the few animations that actually provide an optical illusion of some sort where you can feel that the car's paint job looks like a portal into space. Futuristic, awesome, and flashy. Must be nice looking at that on your lobby screen.
You may also be interested in:
Image Gallery