[Top 10] Rocket League Best Heatwave Combinations That Look Awesome!
Updated: 28 Nov 2021 9:47 pm
Heatwave decal + Heatseeker mode, match made in heaven?
Bring the heat with the Heatwave decal!
In the world of Rocket League, showing off can be anything. It could be showing your friends that awesome musty flick you finally managed to pull off… in training. It could be the 1000+ hours you've put into the game along with all the badges and achievements you've accumulated over time to show how experienced you are. Or, it could simply be a badass set of black market decals your lucky ass unlocked which your friend has been dying to get ahold of. Lucky bastard.
Today, we'll be looking at 10 ways you can take advantage of the popular black market Heatwave decal you've just unlocked so that you can rub it in your friends' faces just a bit more. We'll be rating the top combinations based on how well they work together.
Note: The colors in each combination will be as such: (Primary Color & Accent Color)
10. Dark Purple & Pinkish Purple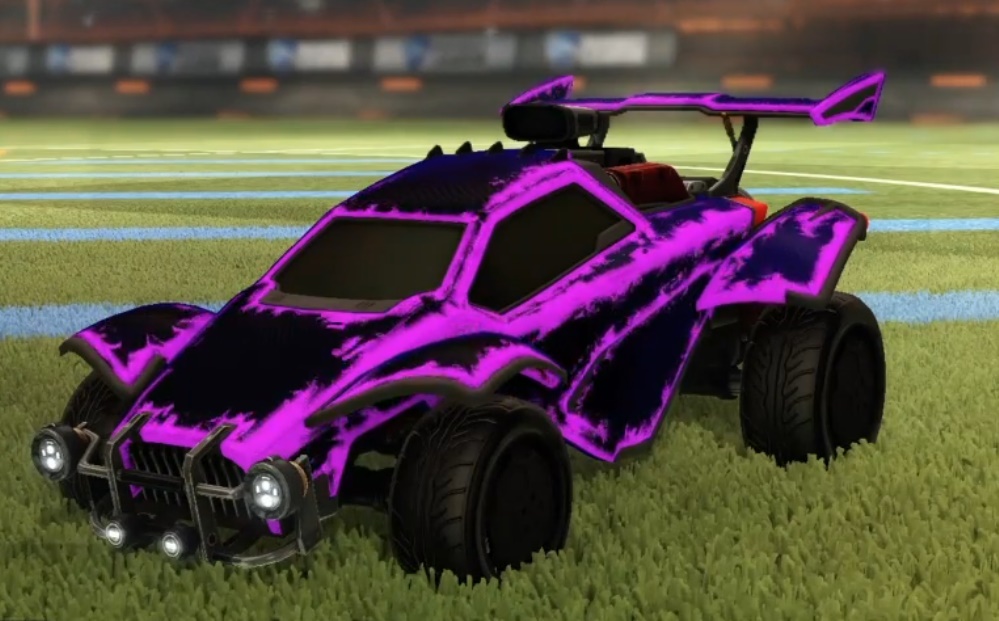 Purple Heatwave Combination
We start off the list with a color combination that may not be everyone's cup of tea. Come on now guys, it's 2021, the color pink isn't just for girls anymore. This color combination would definitely be popular among a small minority of players, but it looks badass nonetheless! Combining dark purple as the primary color along with a bright pink accent can result in sick-looking flames! You can also use a more purple-ish pink accent if you prefer less pink, like in the picture above.
9. Dark Forest Green & Bright Forest Green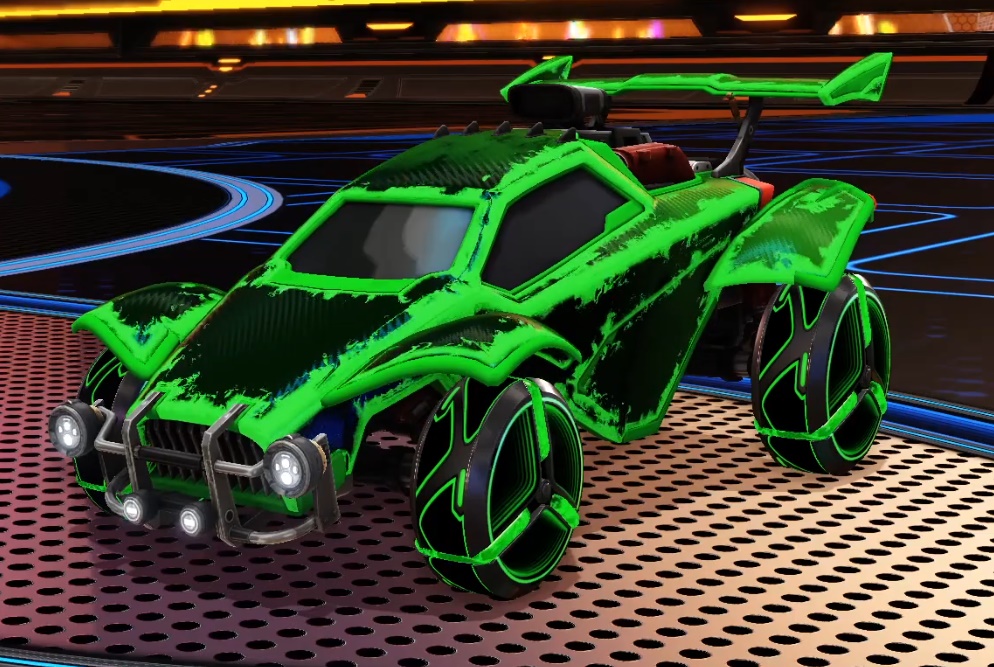 Dark Forest Green Heatwave Combination
For all you vegans and nature lovers out there who'd love to stay true to their values and colors, this combination is for you. Seriously though, I'd love to be able to buy this Octane as a souvenir to complement my Razer Accessories. The Heatwave decal does a great job at dampening the primary Dark Forest Green color to make it look almost black while providing a seamless transition into the bright green accent. Combine the decal with some green and black wheels, as above, for a sick set!
8. Dark Pink & White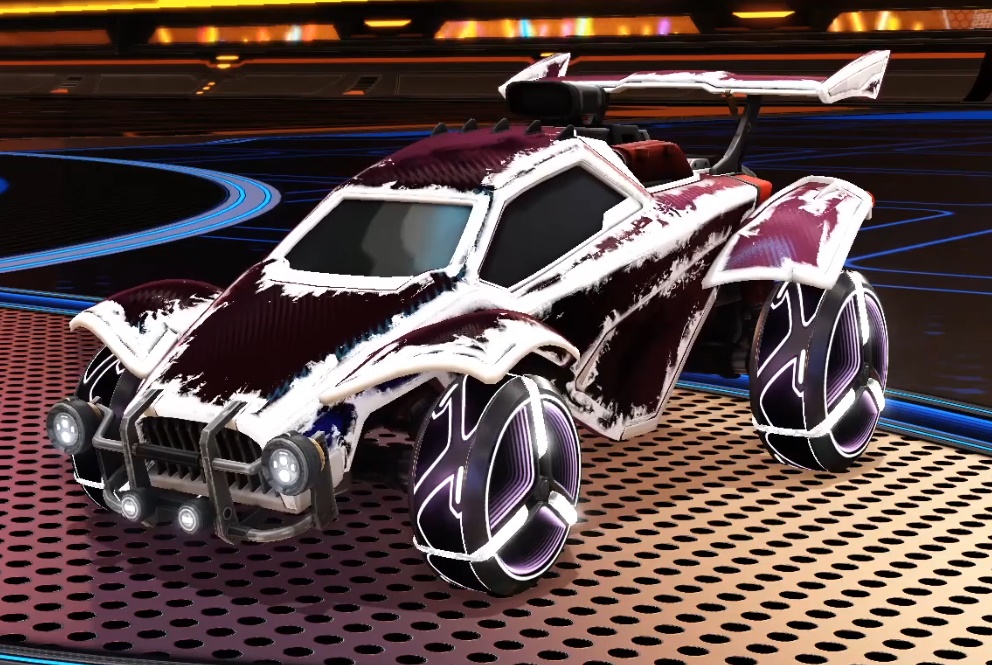 Dark Pink and White Heatwave Combination
Yes, I know. The title says pink but bear with me. The image above shows the true nature of this color combination as it results in a sick red wine color as the primary due to the heatwave's darker inner colors. The white flames manage to bring out the red wine color even more by how bright they are. The nice thing about this color is that it's so close to dark red, purple, and pink that you can have a whole mix and match party with the wheels, boost, etc.
7. Dark Red & White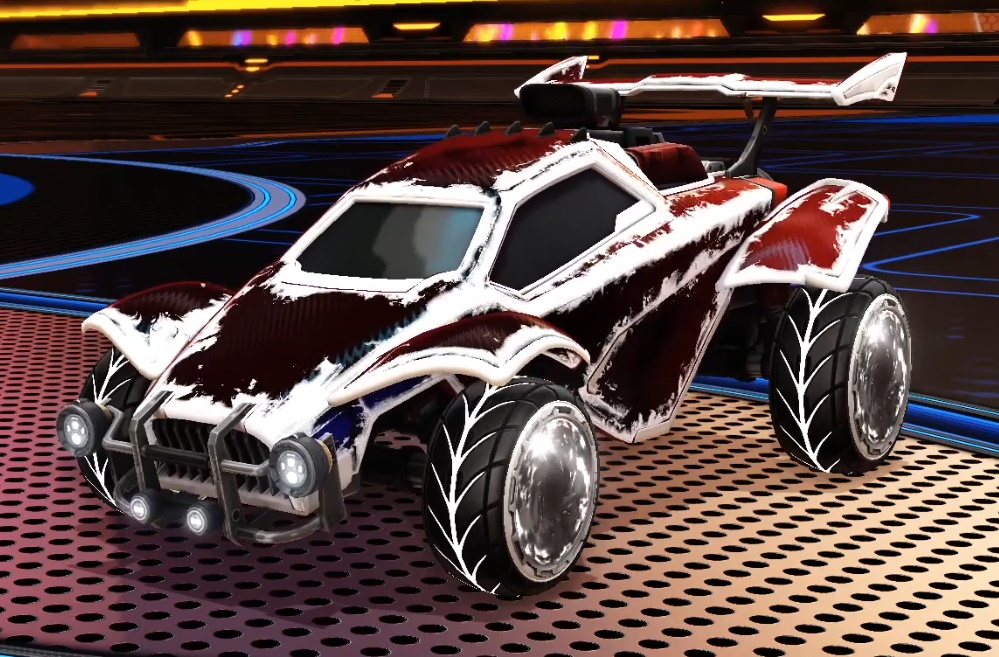 Dark Red and White Heatwave Combination
Similar to the previous combination, the white is essential in this packet to bring out the Heatwave's dark elements. The dark red color is a more popular choice among the players and provides a lighter note at the back of the car compared to others. The transition from dark red at the front of the vehicle to a brighter red at the back end is really awesome. A titanium white Octane combined with some titanium white Pyrrhos makes for an exquisite combination too!
6. Bright Pink & Lime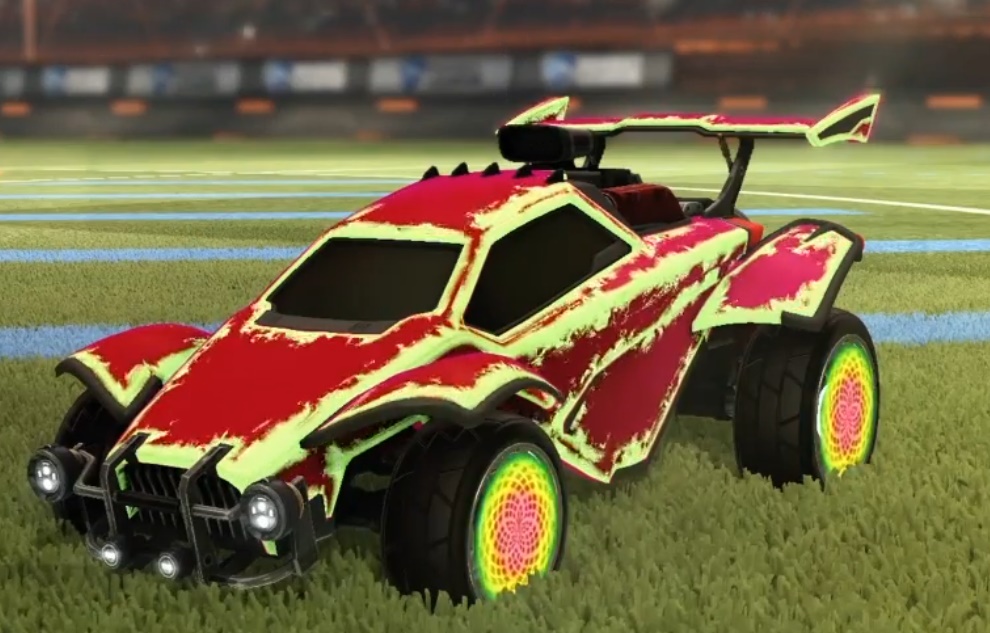 Pink and Lime Heatwave Combination
Pink really is a versatile color when factoring in all the different shades of colors it contains around it! This style of decal is what you would call a "You either love it or hate it!" It's really funky and colorful. Not one inch of this car is boring when combined with the matching Zomba wheels! A bright pink as the primary turns red at the front with a hue of pink at the back while a touch of lime flames goes all around it! You can substitute the lime for any other bright color and play around with it as well.
5. Dark Sky Blue & Bright Sky Blue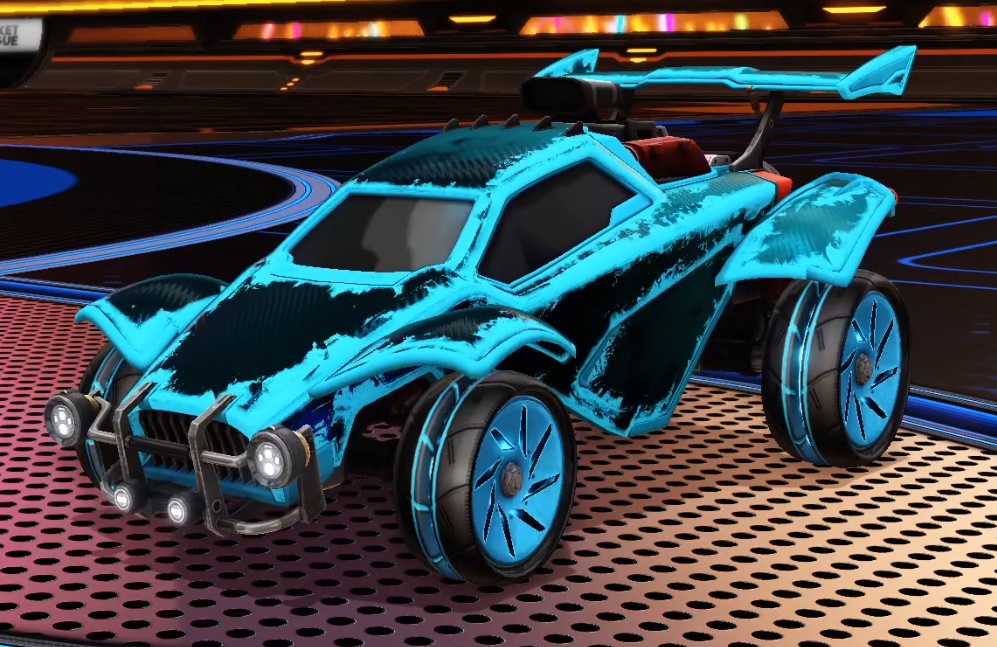 Sky Blue Heatwave Combination
How can combining 2 shades of the same color ever work, right? Wrong. If you're creative enough and spent many hours in the Rocket League garage tuning out your ride, you'd have noticed by now just how many shades of the same color the game provides. If sky blue is one of your favorite colors, then why not center your whole blazing fiery car around it! The one thing that can compete with fiery red flames is the badass icy flames! 
4. Dark Crimson & Bright Crimson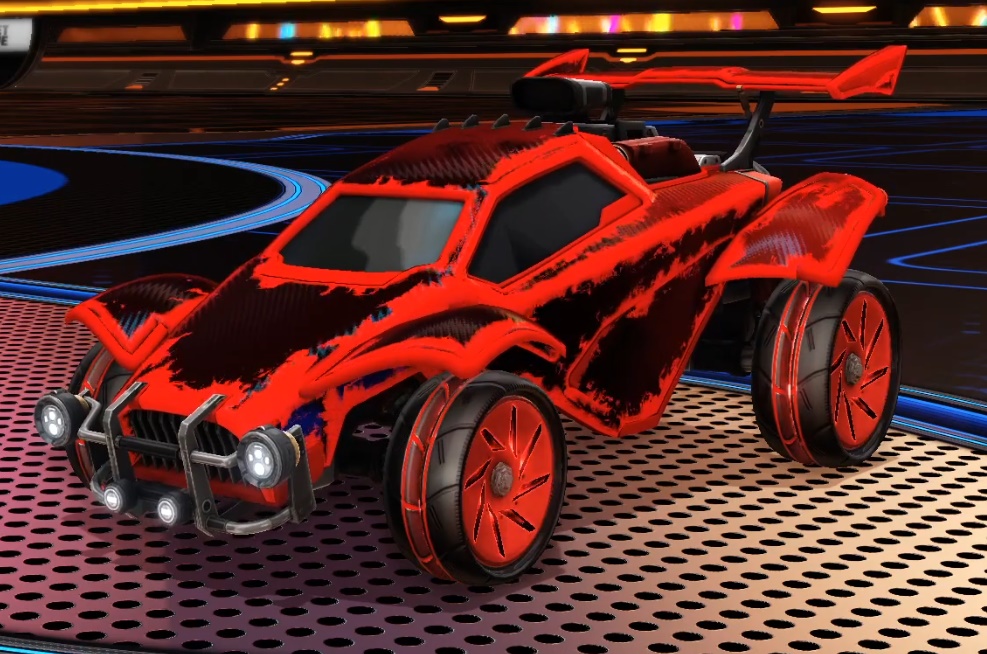 Crimson Heatwave Combination
The classic combo! The Crimson color is probably what the Heatwave decal has seen the most out of its time. Rocket League players always tend to connect the fiery animation of the decal to the color red for obvious reasons. However, this is a slight variation as this combo gives me Hades or hell-ish underworld vibes as the dark crimson melts in well with the bright red crimson. You can add some yellow if you want more of a fireball style theme, but I personally prefer this, especially with a red Octane.
3. Dark Forest Green & Lime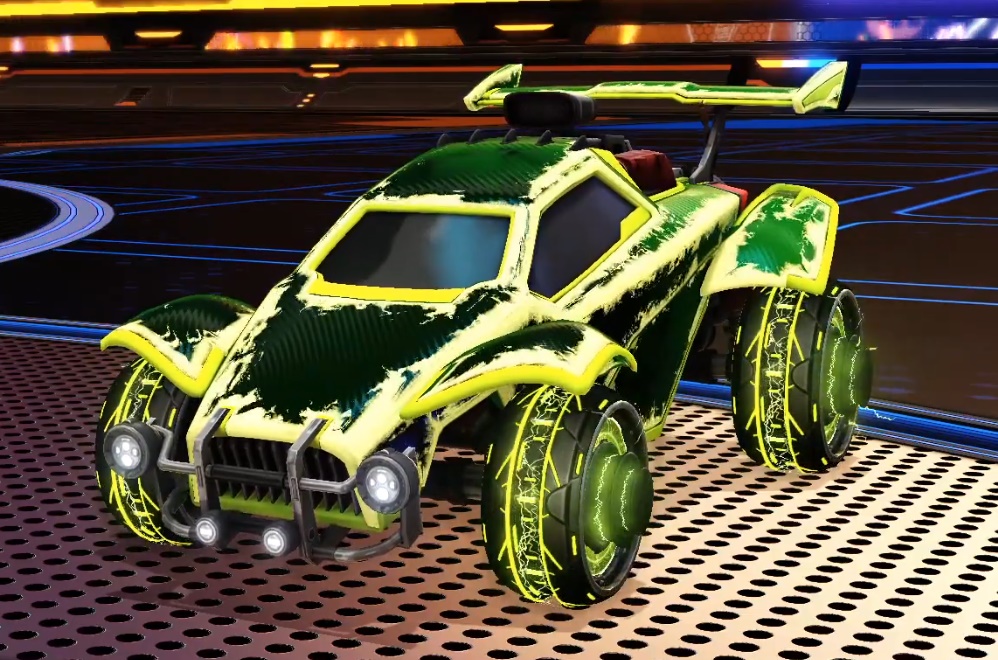 Forest Green and Lime Heatwave Combination
Nothing screams acidity and electricity like the color Lime! There's a lot of wheels and boosts in the game to go along with the electric theme, such as the Reactor and Capacitor wheels, that really complete this design. Nothing goes better with the lime than a primary Dark Green Forest color to blend everything together. Even the edgy flame animations fuse really well with the sparks. Pun intended.
2. Dark Blue & White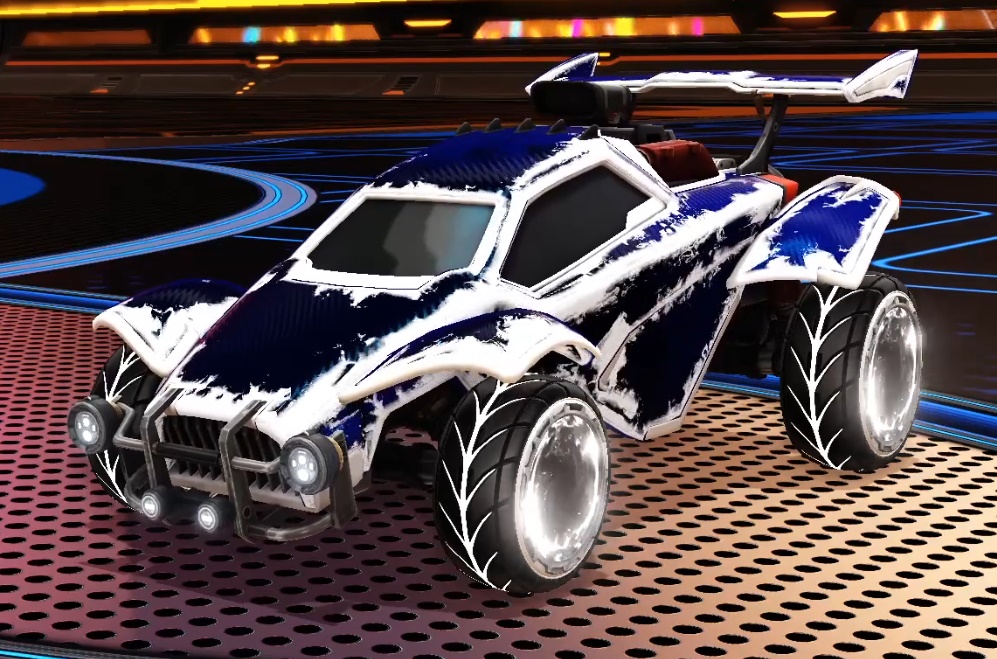 Blue and White Heatwave Combination
I may be a little biased here, but Dark Blue is one of my favorite colors. Combine it with white flames and titanium white gear everywhere, and you get yourself a sick-ass ride that balances between being a try-hard pro-wanna-be and aesthetics. I think the best colors for the Heatwave decal are the red, blue, and saffron colors as they really bring out that shine in those flames. A great classic choice for any design.
1. Dark Saffron & Bright Saffron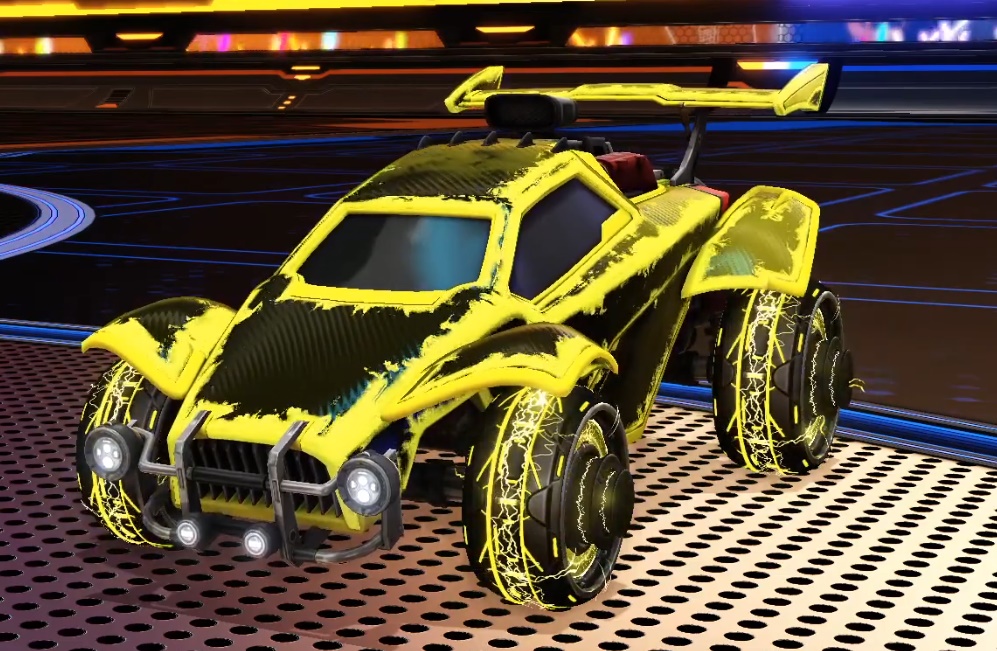 Saffron Heatwave Combination
The best color combination for the heatwave hands down! Saffron is one of the most underrated colors in the game. Just like the previous Lime and Forest Green combination, this design is most suited for a lightning theme with capacitor wheels, a yellow octane, and some lightning boost. The multiple shades inside this color are versatile with a lot of range from yellow to gold to dark misty yellow. Even some of the top Esport teams' designers have opted to go with the yellow/gold and black design such as Spacestation Gaming and Team Vitality.
You may also be interested in:
Image Gallery