[Top 10] Rocket League Best Cheap Wheels That Look Awesome!
Updated: 16 Dec 2021 5:13 pm
It doesn't have to be insanely expensive to rock out a car like this!
You can steal the spotlight on a budget!
Rocket League is a game full of awesome-looking cosmetics. From paint jobs to decals to wheels, the garage has everything you'd ever want to customize your own ride. However, ever since the game has gone free, the player base has grown so much that the prices and trading for items have scaled a lot.
To make your ride look good, you need creativity, not a big wallet. Rocket League offers a huge range of badass wheels. Not every nice pair of wheels is premium priced, and we're here to help you discover some of them. Let's take a look at the top 10 best cheap wheels you can find in the game!
10. Reactor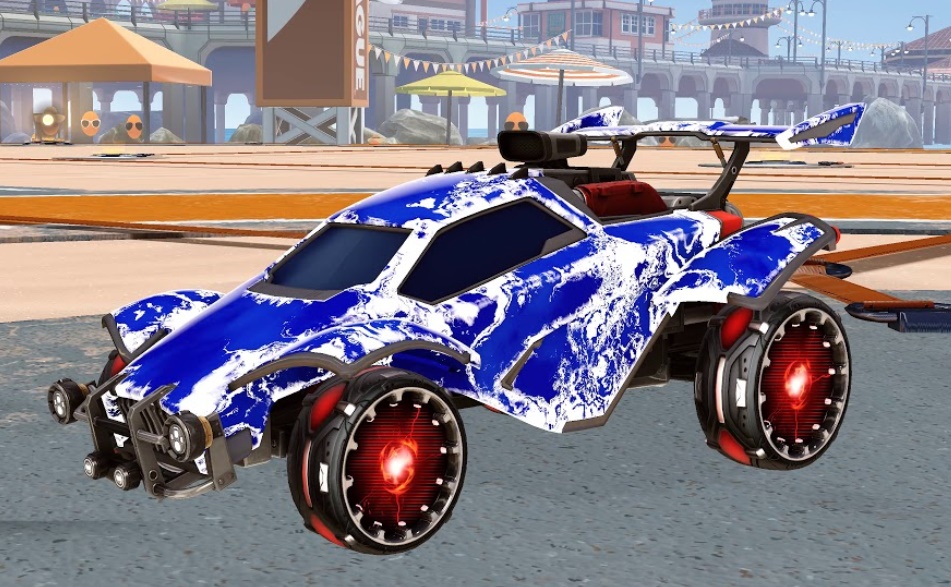 The Reactor wheels (Crimson)
If you're a fan of bright sparks and looking for a sweet electric pair of wheels, then look no further. The Reactor wheels are unique in their design and will definitely stand out for the right reasons.
This pair of wheels is from the exotic class and costs around 80 credits only! The animation is a bright whirlpool of glowing electricity with electric nodes surrounding it that form lines of sparks around it. Very eventful.
9. Yuzo
The Yuzo wheels
If you want a clean ordinary-looking pair of wheels that satisfy your inner sports car needs, then this is a solid choice. The Yuzo wheels are nothing special when compared to all the different wheels in the game, but they really don't have to be.
They're a part of the Very Rare class of wheels that will trade for about 40 credits. They feature no animation, but the rims look very good and classy. The tires also have a glossy smooth finish to them to round off the look.
8. Chakram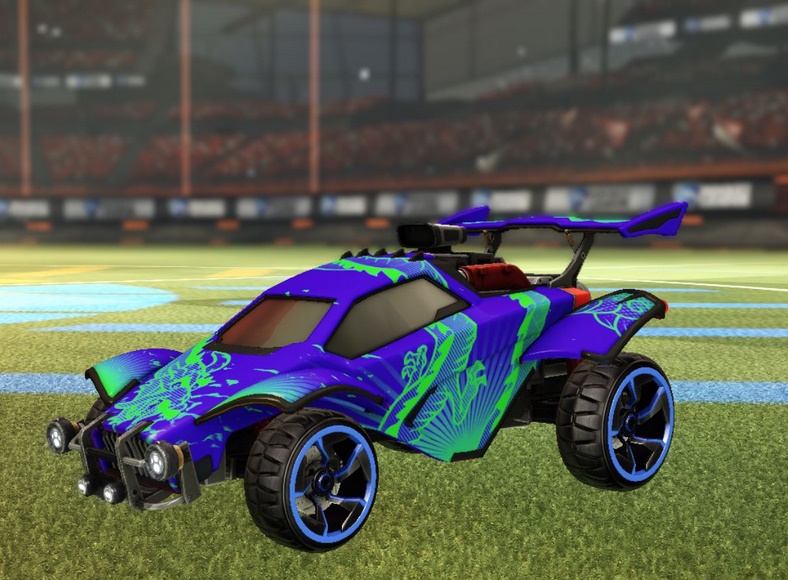 The Chakram wheels (Cobalt)
These wheels are a fan favourite. The Chakram wheels are a very balanced pair of wheels for those who like a bit of eccentric weirdness to their cosmetics while not shying away too much from looking like a car still.
The Chakram wheels are of the Very Rare class and will cost you around 40 credits. The tires are really thick to give it a bulkier look. The rims are where the action is at though. They resemble the wheels on a Lamborghini Reventon. Elegant.
7. Draco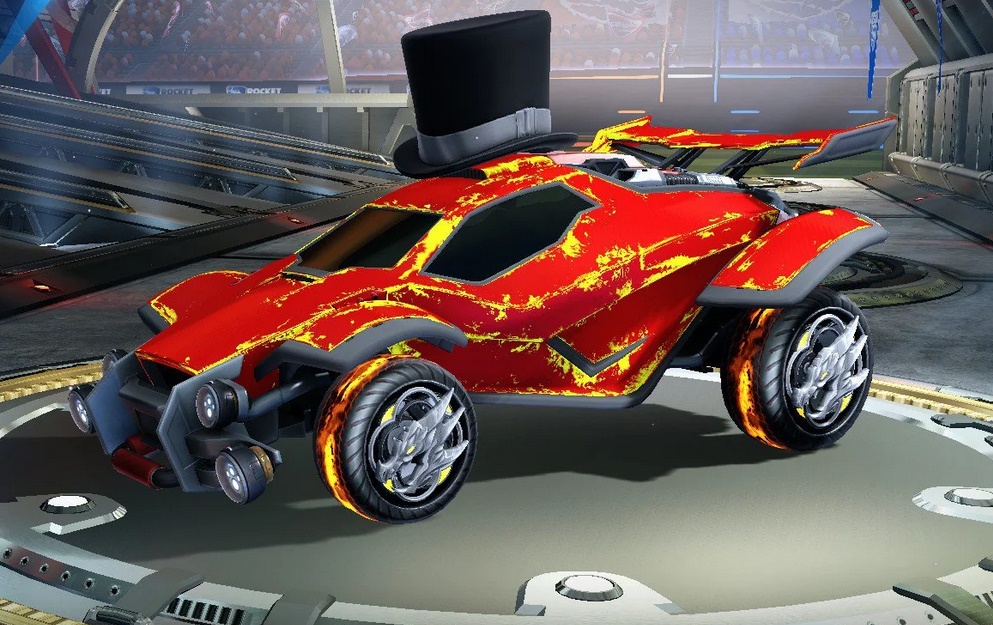 The Draco wheels
I don't think anyone should be surprised to find these wheels on the list. The Draco wheels have been around for a while and haven't lost a lot of love from the community still. Who wouldn't find a pair of burning tires and dragon heads exciting?
The Draco wheels are of the Exotic class and trade for around 90 credits. They're all about the pyro-themed animation where the dragon heads constantly spit out fire. However, the burning tires are my favourite touch, it's really badass, to say the least.
6. Zomba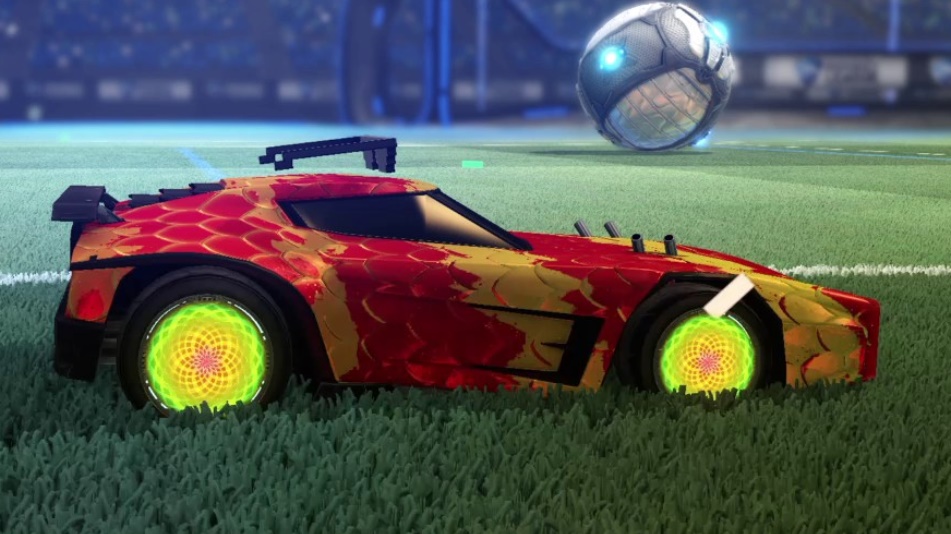 The Zomba wheels
Whenever you're confused about which color to add to your ride, why not try them all on? The Zomba wheels add a colorful touch to your car. They have a cute artistic feel to them as well as a nice glowing pattern.
The Zomba wheels are of the Exotic class that trade for around 100 credits. They're not the cheapest on this list, and that's because they're known to be premium wheels when painted. The ordinary ones are a lot cheaper, but still, they look really awesome and provide that quality finish to your ride.
5. Wonderment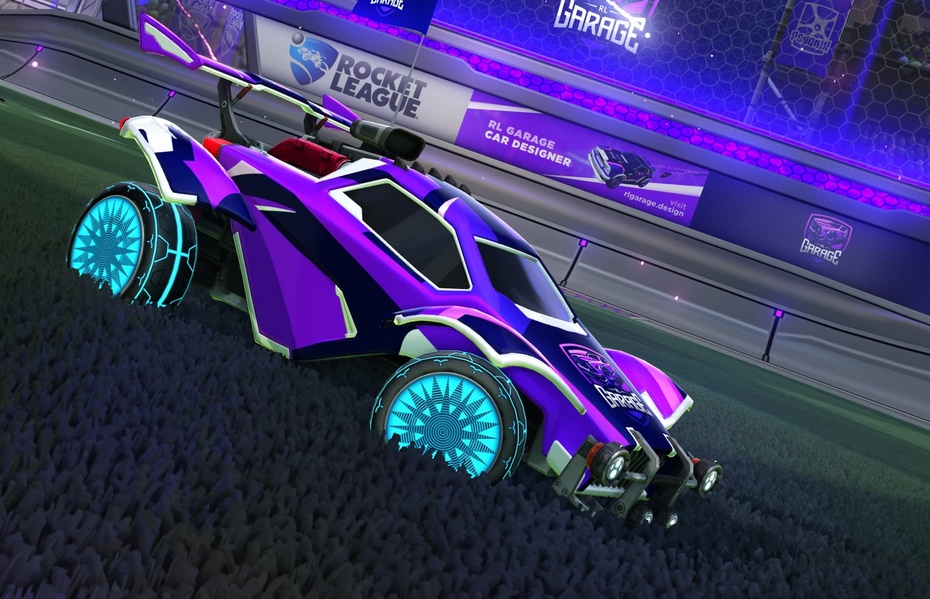 The Wonderment wheels
This pair of wheels leaves nothing to be desired. The Wonderment wheels have a bit of everything as they're bright, animated, and detailed on every inch. They're the perfect choice for an edgy and sharp sky blue design.
The Wonderment wheels are of the Exotic class and trade for around 100 credits. The animation features a slow-moving pattern of sharp shapes moving inwards and outwards. I really like the speed of it, unlike other animations that move really fast. The alien-like scribbles and patterns on the tire are also nice.
4. Pyrrhos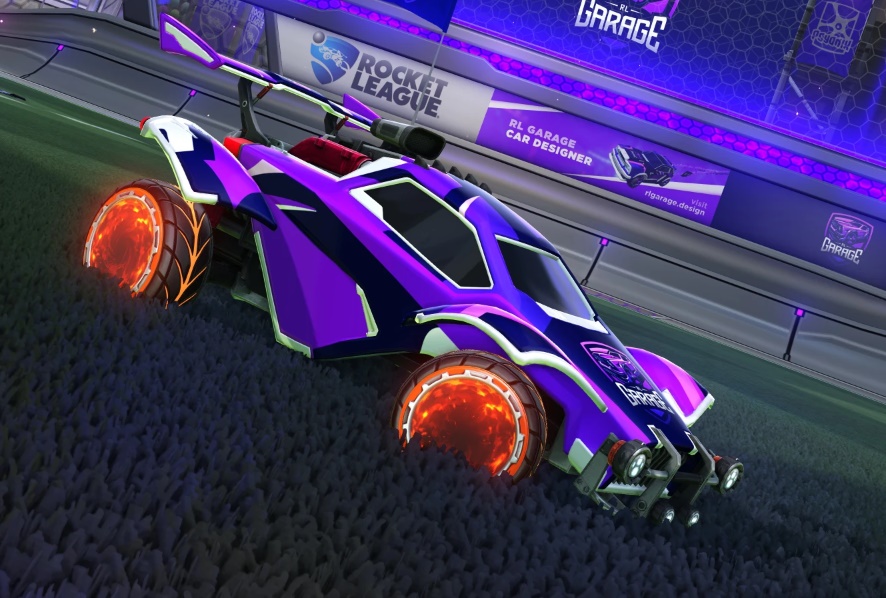 The Pyrrhos wheels
This pair of wheels looks like you have the eye of Sauron on your car! The Pyrrhos wheels are a flame-themed set. They stand out a lot due to their color and how bright they can get while the animation swirls around.
The Pyrrhos wheels are of the Exotic class and trade for around 100 credits. The best feature about them is the fiery black hole in the middle with the swirling animation. The tires have a cool neon arrow design to them as well. Nothing is boring about these wheels.
3. Infinium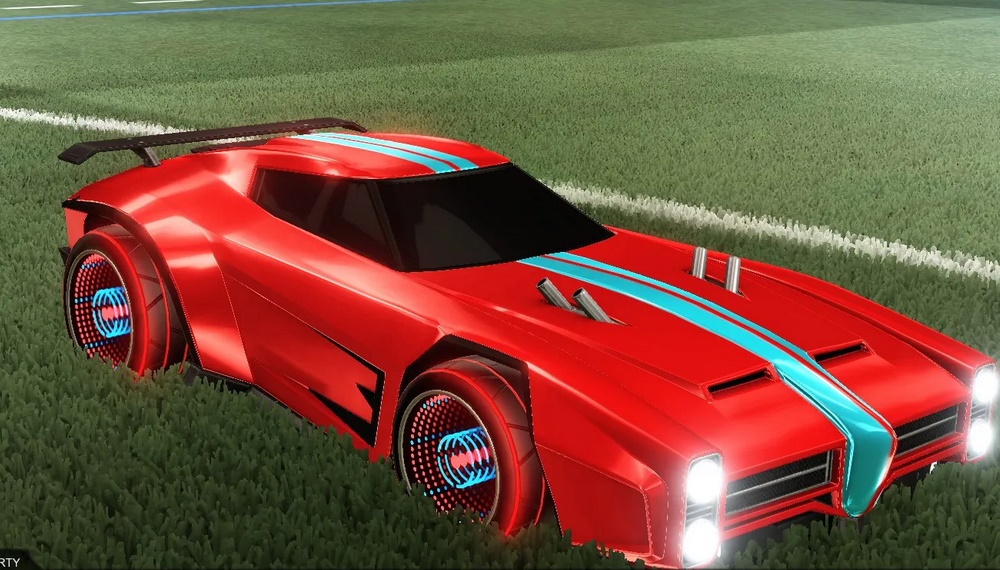 The Infinium wheels (Crimson)
Coming straight out of a sci-fi movie, you have the Infinium wheels. You won't find a more unique-looking pair of wheels out there that come with their own optical illusion built-in.
The Infinium wheels are of the Exotic class and will cost you around 100 credits to get a hold of. They're a very unbalanced pair of wheels. You either love them or hate them due to their eccentric weird look. Some might want to pair them with a lot of red and blue designs.
2. FSL-B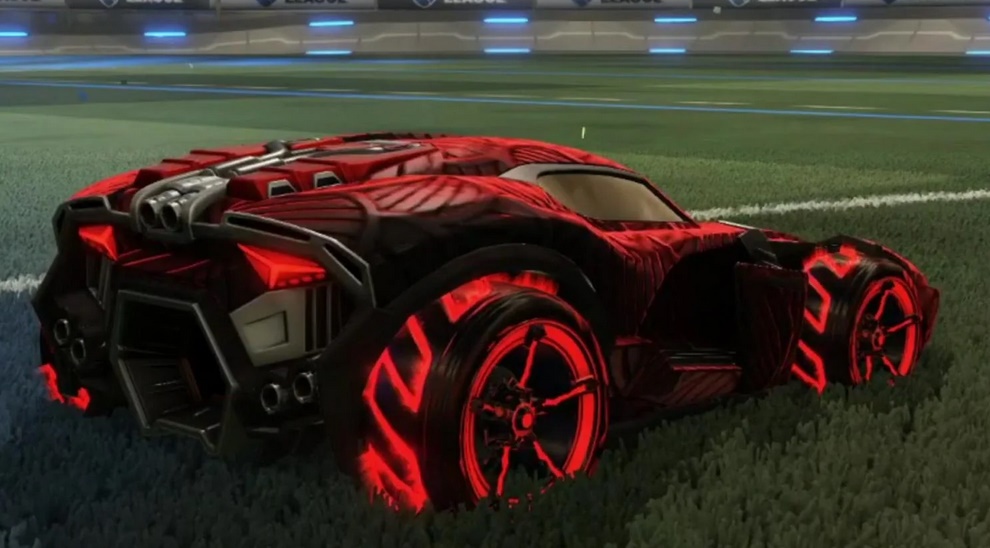 The FSL-B wheels (Crimson)
I've only recently come across these badass fiery wheels, and I think I'm in love. The FSL-B wheels are a thing of beauty. They combine elegance, a clean finish, and some badass looks really well.
The FSL-B wheels are of the Very Rare class and cost around 60 credits only! Classic FSL wheels are nice, but nothing too special in my opinion. However, the addition of a burning flame pattern to the tires really helped bring everything to life. The best wheels in the Very Rare class in my humble opinion.
1. CNTCT-1: Infinite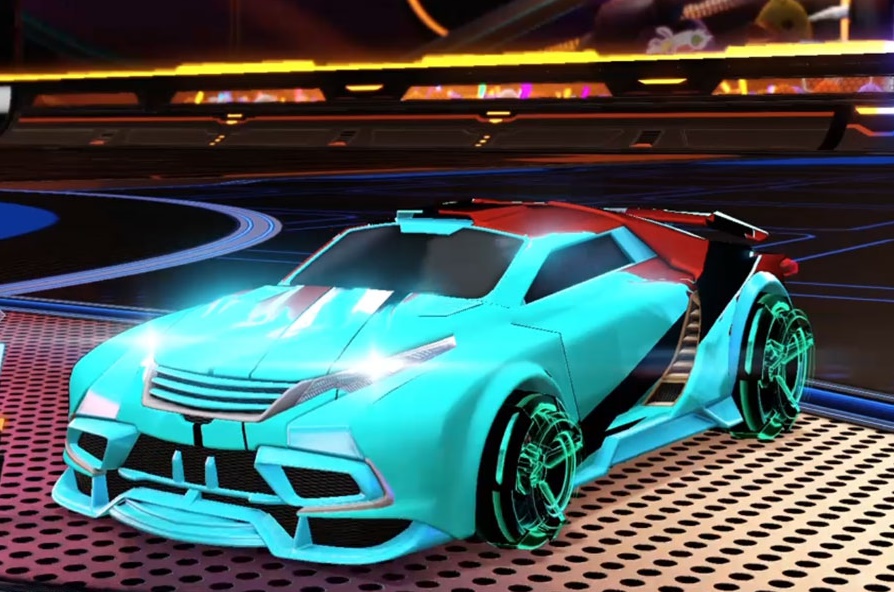 The CNTCT-1: Infinite wheels
My top choice for the best-looking cheap wheels out there. The CNTCT-1: Infinite wheels look almost holographic. You can't mistake them or compare them to other wheels in this price category.
The CNTCT-1: Infinite wheels are of the Import class and would cost you around 80 credits. The animation features glowing green circles going from inside out of the rims. The tires are also pitch black that would suit a dark-themed car really well. Knowing how popular black-themed designs are these days, these wheels would suit a lot of players.
All prices were taken from Rocket League Insider, rl.insider.gg
You may also be interested in:
Image Gallery