6 Reasons You Definitely Want to Play Rocket League
Updated: 17 Aug 2015 4:15 am
Play ball!
The lively soccer game that has now be downloaded more than 5 million times 
And no, that game is not FIFA.
It is Psyonix's latest title, Rocket League.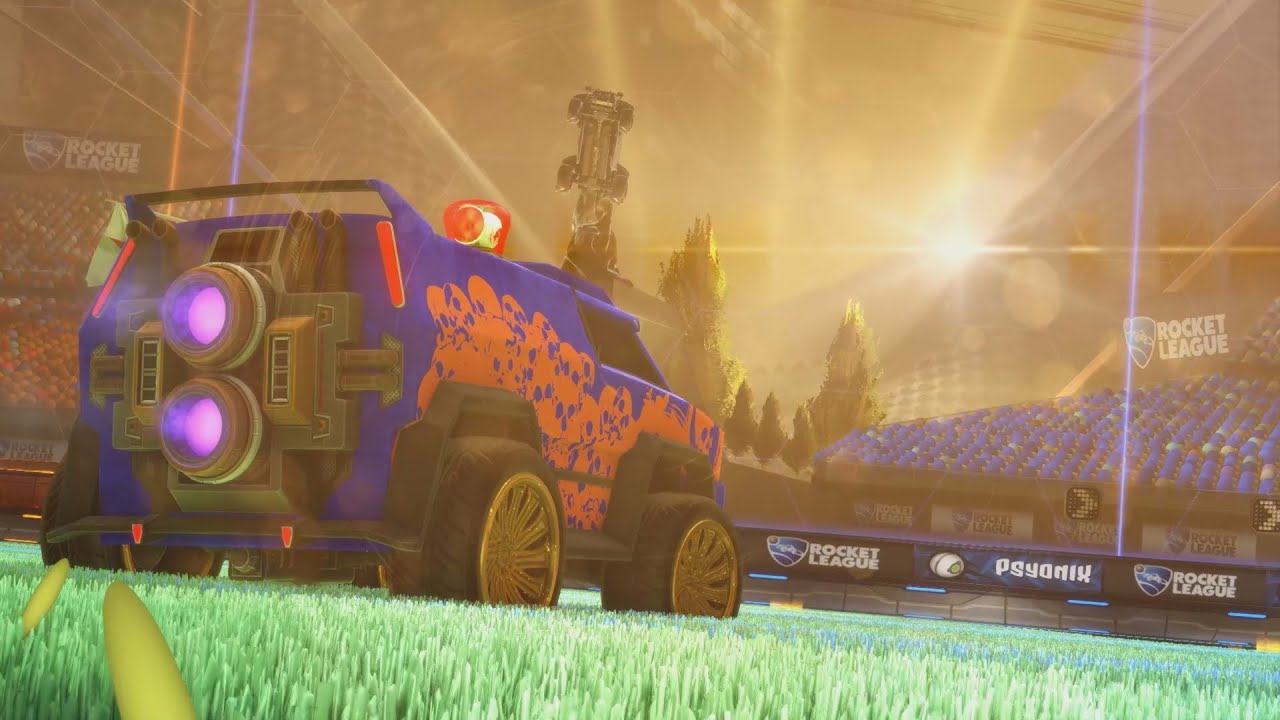 An official gameplay montage of Rocket League
Rocket League is not a traditional e-sports game. Rocket League employs a point system that determines which team wins each round and is competitive and fast-paced, but beyond that, it has little in common with the Maddens or NBA 2Ks in the industry. If anything, Rocket League plays as more of a perpetual demolition derby mode…with goals at both ends of the field. 
Since its early July release, gamers have been smitten with the idea – a racing and soccer (or football) hybrid. Between PC users and PS4 users in its cross-platform multiplayer mode, Psyonix reports that there are 179,000 concurrent players at any given moment.
1. Rocket League is innovative and interactive.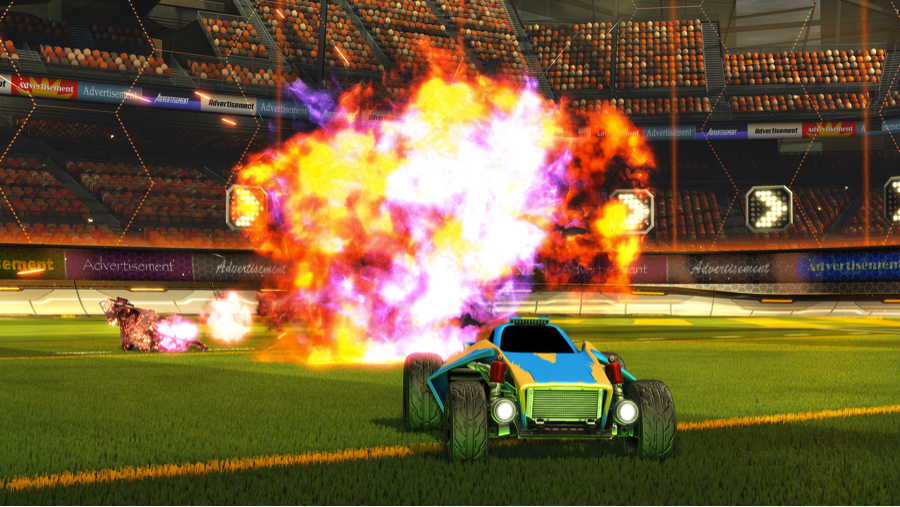 Burning rubber on the playing field  
In short, Rocket League is the combination of soccer, known worldwide as football, and car racing. Vehicles zoom across a stadium in strategic positions with the objective of 'kicking' a giant ball into the appropriate goal. Whichever team earns the most points within five minutes (in online play) is the winner. 
Players can choose one of two modes. Multiplayer is where most of the fun can be found! Rocket League offers both online and offline multiplayer games – the latter accommodating up to four players with a split-screen, and the former employing cross-platform play. 
The second mode is single-player, offline, and completely customizable. Individual team size, length, level of difficulty, and number of teams are all up to the player to decide. There has been less hullabaloo and excitement about this "Season" mode, but it still is a solid portion of the game. 
2. It has something fun for every type of player. 
Rocket League does not inflict the stress of simulation sports games, and is actually the sequel to a campy 2008 action game called Supersonic Acrobatic Rocket-Powered Battle-Cars.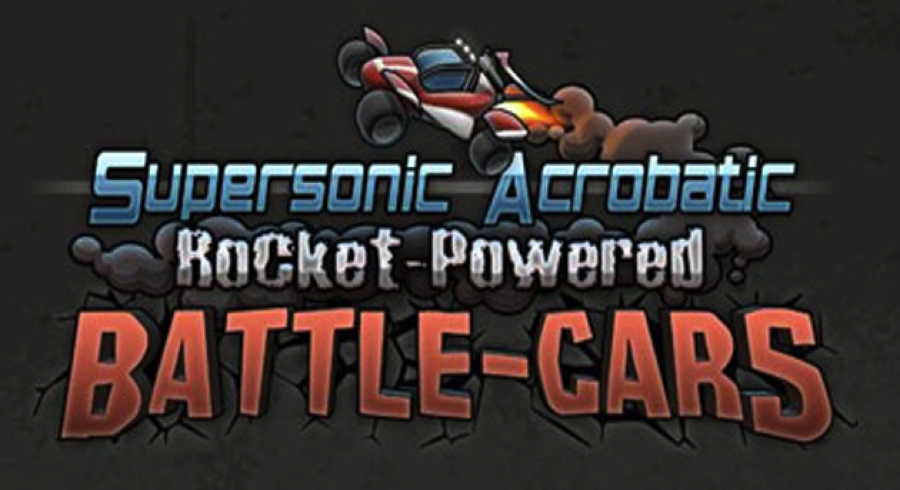 The original game
The gameplay has enough variation that someone can choose to play casually for fun or choose to delve deep into its mechanics and invest time in becoming the best player they can be. Therefore, Rocket League has appeal to multiple audiences – something that sets it apart from other action games. There are the passionate fans, and then there are the people who downloaded it for free from PlayStation Plus this month just to toy around a bit. 
Regardless of which type of player somebody is, most are finding Rocket League surprisingly easy to pick up. It is accessible without sacrificing the ability to learn and grow noticeably better over time. 
The round system is handy, because each match only lasts for five minutes. No more or no less. That gives teams enough time to become emotionally invested in the game, but not too much time for interest to wane, and it does not require a long time commitment that could deter casual players. 
In short, Rocket League is good at what it does in every respect. Sure, the PlayStation Plus deal surely boosted its fan base, but nobody can discount word of mouth's influence on sales. When a game is fun, people want to share that experience with other individuals – and in this case, 5 million of them.
3. There is a learning curve. 
The core characteristic of Rocket League is that it is a physics-based action game. Understanding how those physics work and the flow of controls in a match is crucial to developing as a player. 
Also, it is important to recognize that the 'rockets' in Rocket League are attached to the car you are driving. Rockets are there to propel the vehicles quickly across the playing field – very quickly. So, there is no need to go full-throttle all the time; movement is powerful, but also begs to be precise.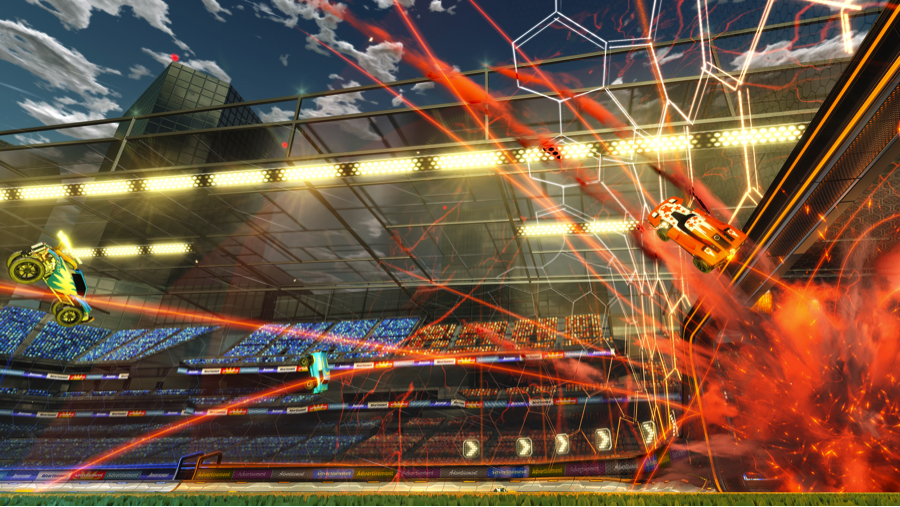 The cars' speed is what grants them so much power!
Working with a team, instead of as an individual, is another crucial mechanic to understand in multiplayer mode. Due to the tremendous speed of their rocket-powered vehicles, a player's first instinct may be to chase the ball around the arena when a better tactic would be to position each team member in their respective place on all corners of the playing field.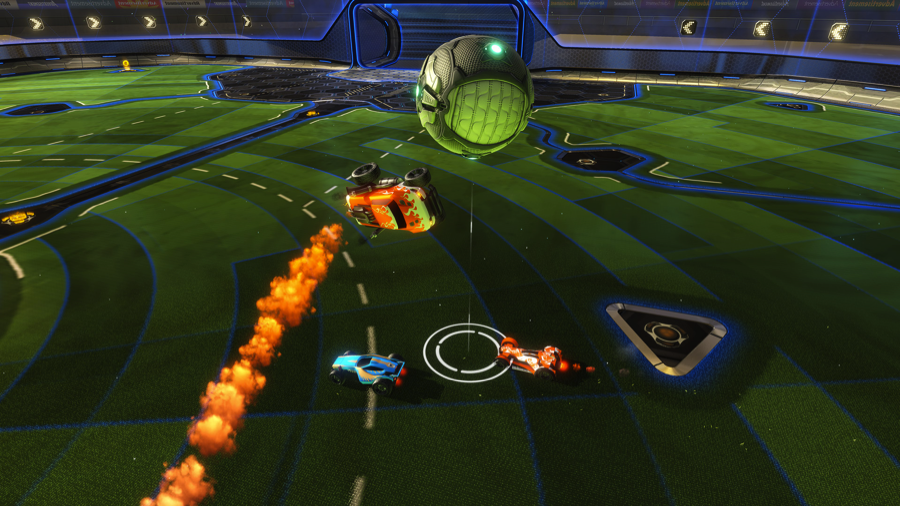 Not every single player needs to be extremely close to the ball
Clearly, team coordination could be a problem in an online multiplayer game with strangers. However, after enough experience, players should be able to observe how the dynamics in public play work and discern what position is needed of them. 
To defend against the opposing team, a player can "kill" another player's car by ramming into it at extreme speeds. It is a good mechanic for vengeance. 
Most surprisingly, the camera options players set for themselves are pivotal to their performance. Apart from the default camera, there is a special "ball view" mode that never lets the ball out of sight. Although it is a small change, it is a mechanic that can affect the entirety of gameplay like any other.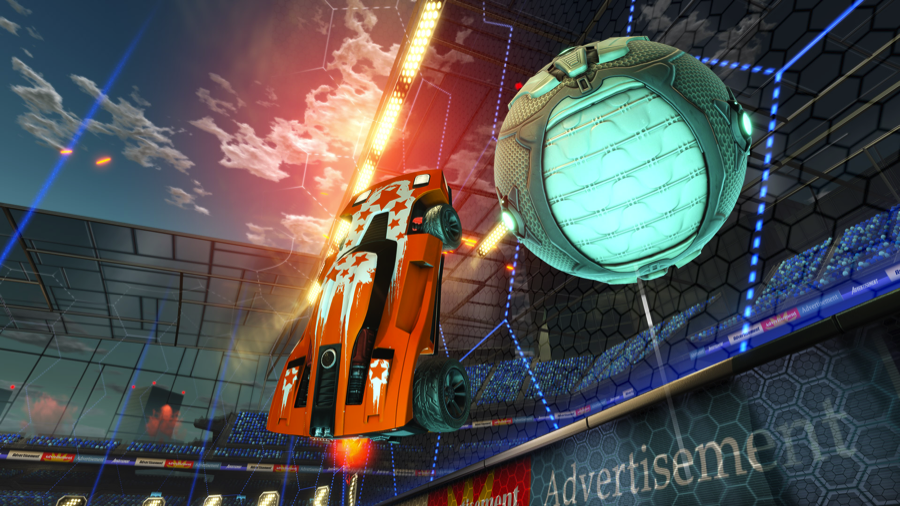 That sure is an interesting view of the ball!!
There are cosmetic variations between each vehicle, but they do not operate as a game mechanic; they solely have a different appearance.  
4. The only post-release bugs have been minimal and are quickly being taken care of.
Since Rocket League is such a new product, certain flaws are to be expected. Most critics of the game cite bugs, connection issues, glitches, and crashes as their main obstacle in enjoying it.
Psyonix Studios has encouraged a rapport with the Rocket League community to sort of ease the pain while handling these issues. In the face of new-release hitches, they have been very open and honest on social media such as Twitter (@RocketLeague). Nobody expected the game to grow so popular; it is no wonder that their servers cannot function perfectly under that much strain!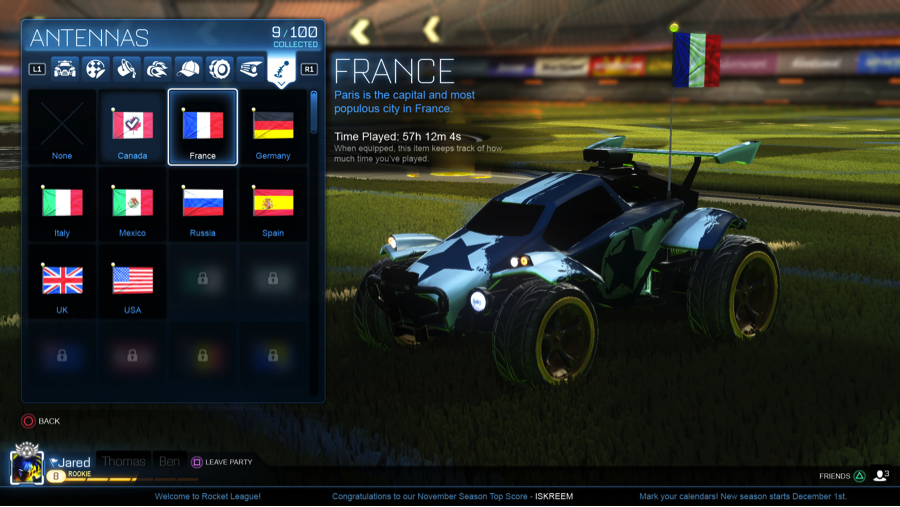 A player's customization screen before entering into a match
Another gripe has been repetitive game crashes. Once the game closes, the player cannot reconnect to the match they were in, and, thus, all that progress is lost. 
Less dire, rather more of a slight inconvenience, is that PC players and PS4 players have no way of communicating with one another despite the cross-platform play. Not even pre-recorded callouts and warnings can be relayed. Matches feel quiet and may foster more confusion as a result. 
Granted, patches are still being released for Rocket League, and none of its concerns are anything out of the ordinary for new games. They probably will not last much longer. 
5. New DLC has already been announced.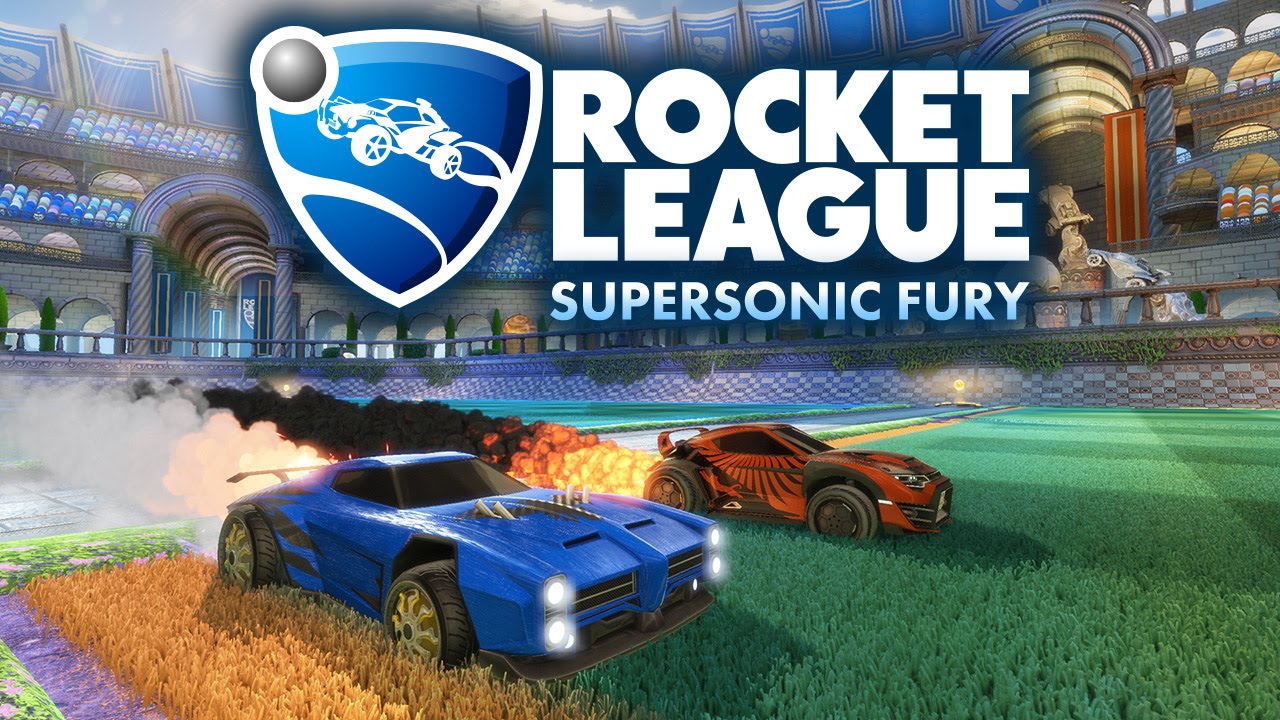 The official trailer for "Supersonic Fury"
The first piece of DLC for Rocket League has just been announced for an "early August" release. Priced at a shy $3.99, it is accessible to all dedicated players and could appeal to those who downloaded the game for free on PlayStation Plus – proof that the somewhat risky arrangement has profited developers. 
Supersonic Fury will introduce a collection of new items to the base game, including new cars! The new cars will only be playable to those who purchase the add-on, and several customizable skins will be available for each racer. 
Takumi is the first of two new Battle-Cars, described as possessing the spirit of a Japanese street racer. On the other hand, Dominus, the second vehicle, is an all American muscle car.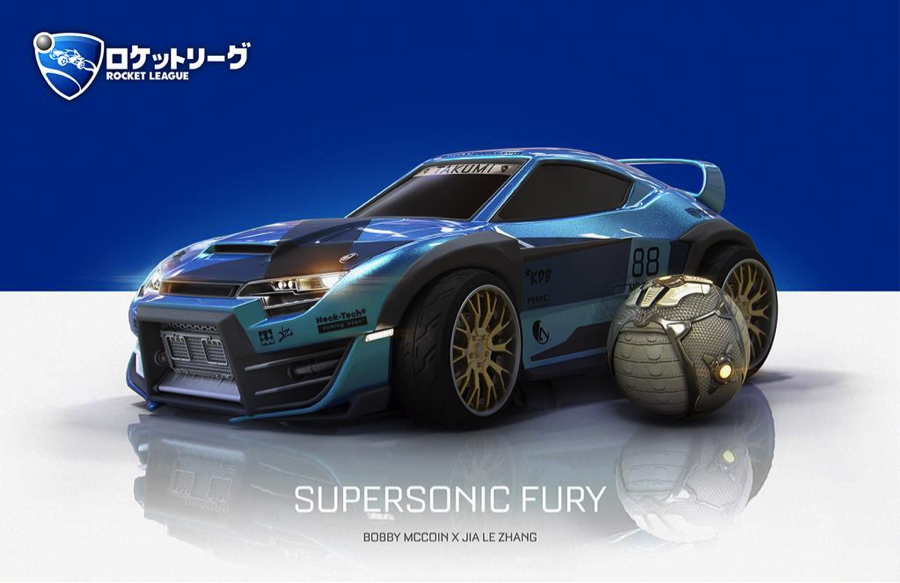 A celebration of Rocket League's Japanese release and a first peek at the new Battle-Car, Takumi
Other new items that are being introduced include five new paint types (like "Pearlescent" and "Wood"), two new Rocket Boosts, several new trophies, and two new wheel sets.
6. The developers care about keeping the base game fun, too. 
Psyonix maintains a healthy attitude about paid expansions. They are simultaneously working on Supersonic Fury and a substantial free update to appease players of all sorts, instead of solely focusing on what is profitable. 
The free update is anticipated to include a new song, improved goal demolition, and more than seventy new country flags to attach to Battle-Cars. However, the two largest features surpass even the upcoming DLC in awesomeness! 
There will be an entirely new map called Utopia Coliseum, and the implementation of a brand new spectator mode, which the game was lacking before. Being able to view a game without participating in it is sure to up the "e-Sports" element of Rocket League.
All in all, the hubbub about Rocket League does not seem to be dying, and developers are fueling the fire by promising new content so soon after its initial release. Fans will continue to discover more and more things they love about the game; this is only the beginning of Rocket League's life.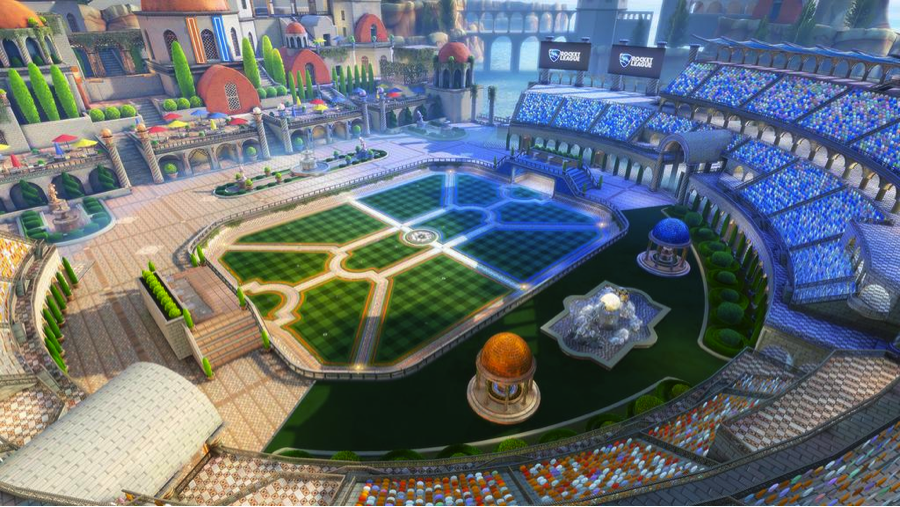 Utopia Coliseum, a part of an impending free upgrade for Rocket League
Related Articles
10 Best Car Racing Games for PC in 2015
Esports: 11 Interesting Facts about the Rapidly Growing Industry
10 Best Sports Games To Play in 2015 (PC)
10 Most Popular Esports Games in 2015
Image Gallery