[Top 5] Far Cry 5 Best Sidearms That Are Powerful (And How To Get Them)
Updated: 14 Jul 2022 6:32 pm
Get your sidearms handy to take on unknown enemies.
We all love the security of our M50, but what happens when we run out of ammo? Are you stuck with peggies charging left and right in the middle of an outpost fight and need a fallback weapon? While sidearms are abundant in this game, how do you know what to rely on when the time comes for one? We've done the work for you and found the top five sidearms from Far Cry 5 that will save your "butt" from extra peggies.
5. Tazer Spazer Annihilator (Best for Lost On Mars)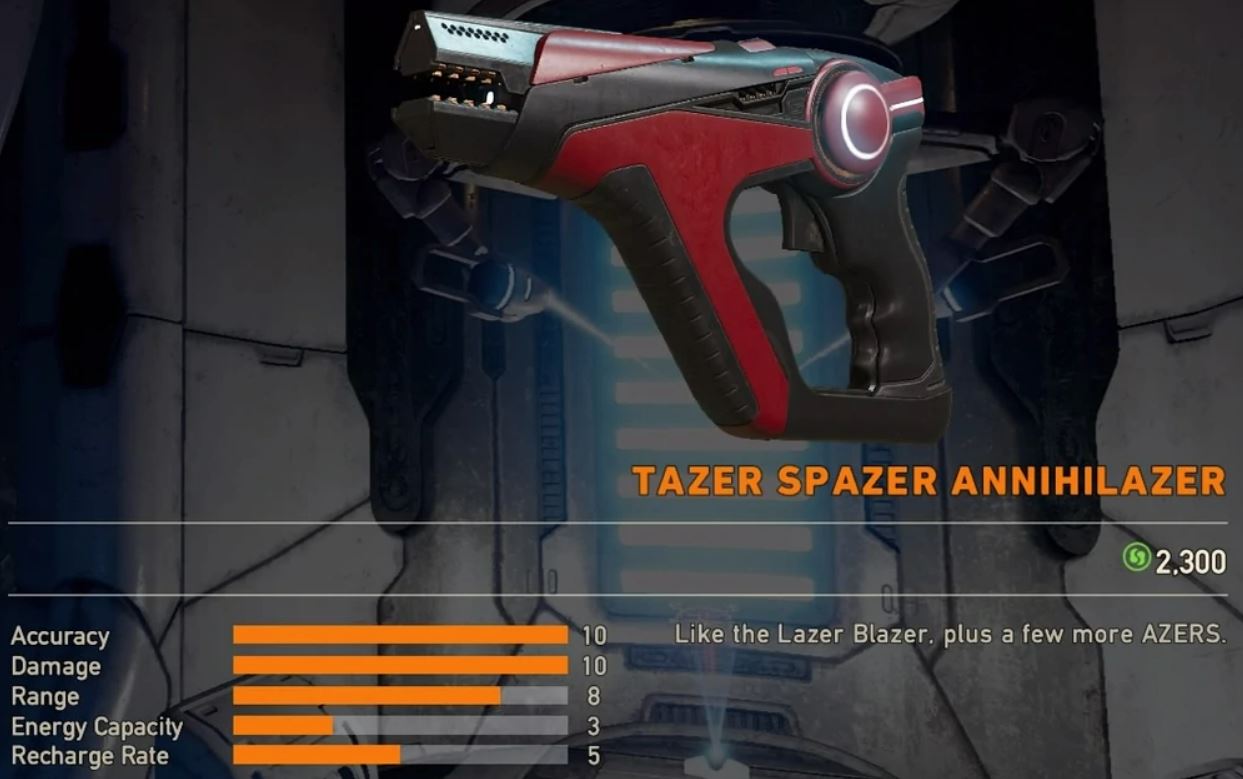 A great alien gun that delivers quite the ZAP.
If you have any interest in all of the incredible Far Cry 5 DLCs, look no further than the best gun you'll find for the Lost On Mars DLC. With the highest combo of any weapon for Accuracy and Damage, this gun is bound to send your alien opponents off the face of the planet.
What makes Tazer Spazer Annihilator great:
Has maximum accuracy and damage, incredible to see for a sidearm
Recharge rate is high in comparison to other sidearms for Lost On Mars
Relatively low cost for weapons in Lost On Mars
How to Get Tazer Spazer Annihilator
Tazer Spazer Annihilator details
4. M-79 "Shark Shooter" (Best for Large Enemies)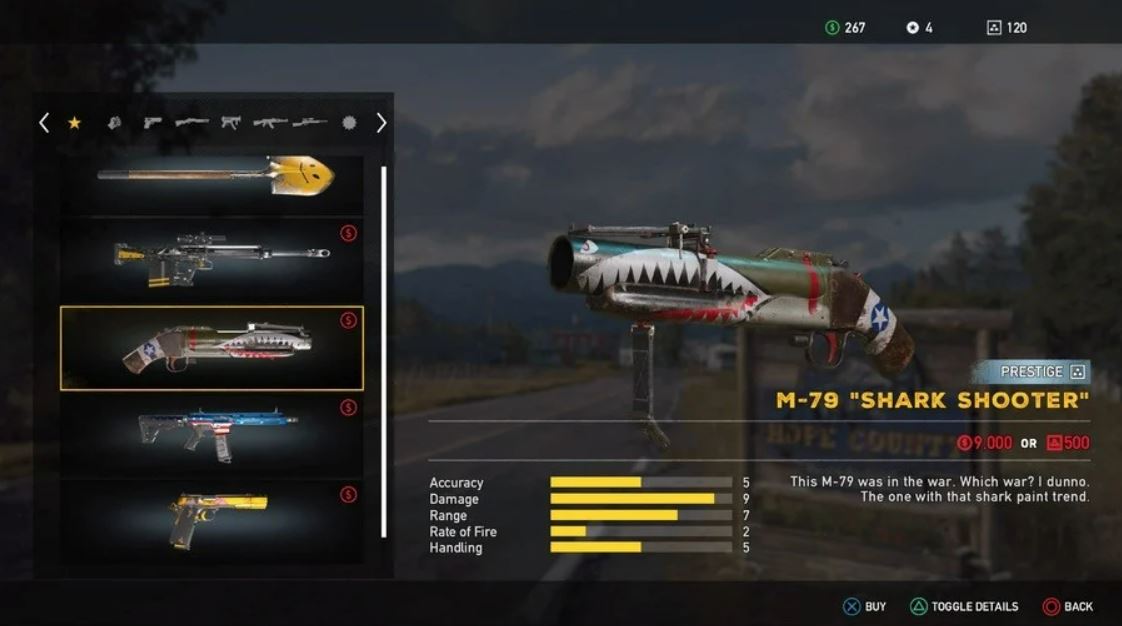 Who knew sharks could shoot?
What do you get when you combine a bomb with a set of jaws? The Shark Shooter. One of the most entertaining weapons in the game, this gun packs a massive punch in a quick pinch against a surprise bear or flamethrower attack. Regardless of who you end up against, this sidearm will protect you from anyone who dares to look down the barrel of those massive jaws.
What makes M-79 "Shark Shooter" great:
Can shoot both 40mm Shells and Incendiary 40mm Shells
Beats out the D2 weapon given its higher rate of damage 
Decent handling considering the damage and range abilities of the weapon
How to Get M-79 "Shark Shooter"
M-79 "Shark Shooter" details
3. D50 "Sovereign" (Best for Animal Attacks)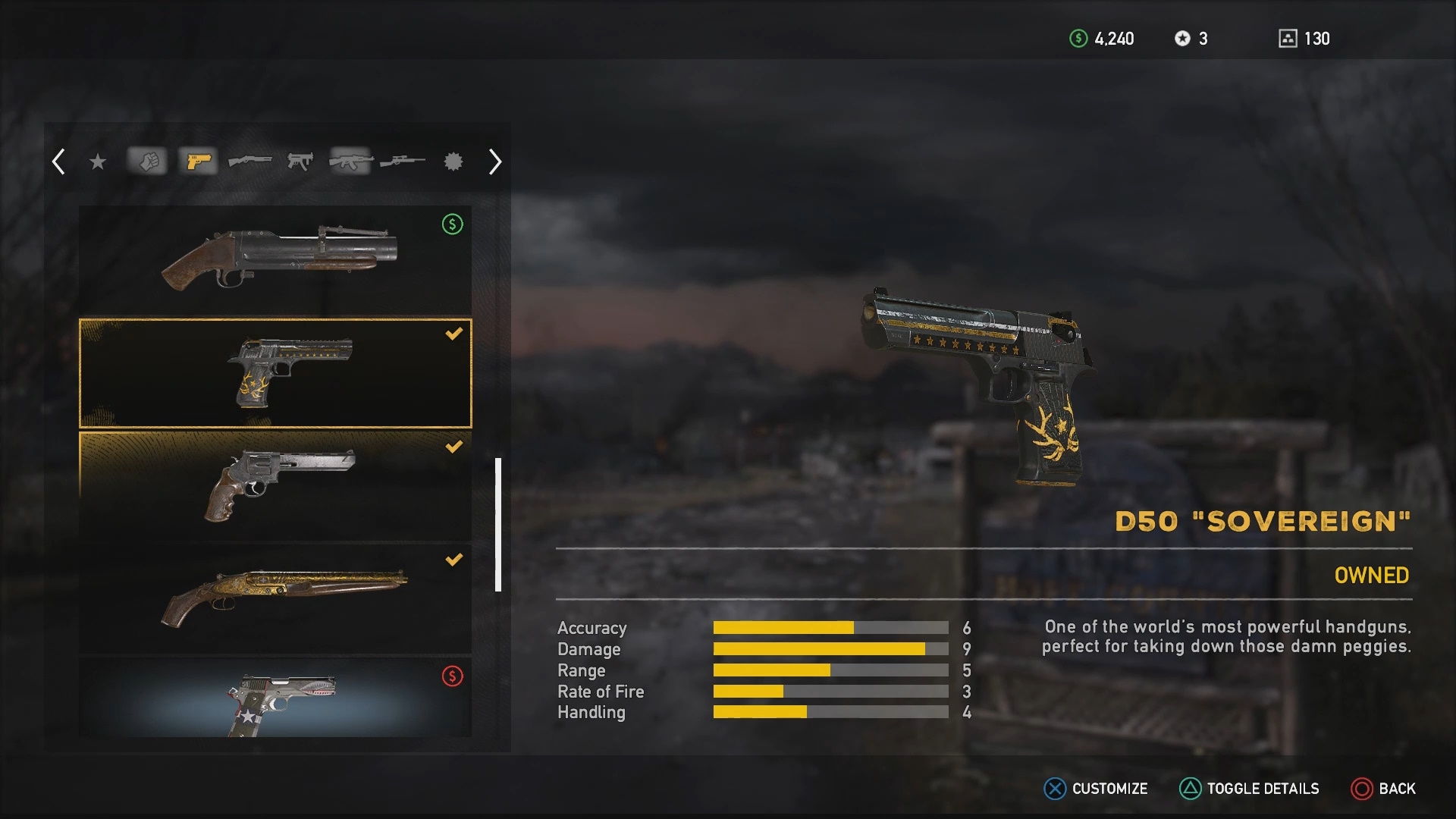 With this sidearm, you'll reign sovereign.
Who knew killing bears could get you such cool prizes? With a neat set of hunting antlers displayed on the gun, no one will forget what a bear killing badass you are. And with damage at 9, you'll be able to take out a bear with just this one D50. 
What makes D50 "Sovereign" great:
Incredible damage for small sidearm
Uses both .50 Cal Ammo and Armor Piercing .50 Cal Ammo
Comes at no cost, just need to complete the Hambearger Live Event 
How to Get D50 "Sovereign"
D50 "Sovereign" details
2. Skorpion "Big Spender" (Best for Outpost Takedowns)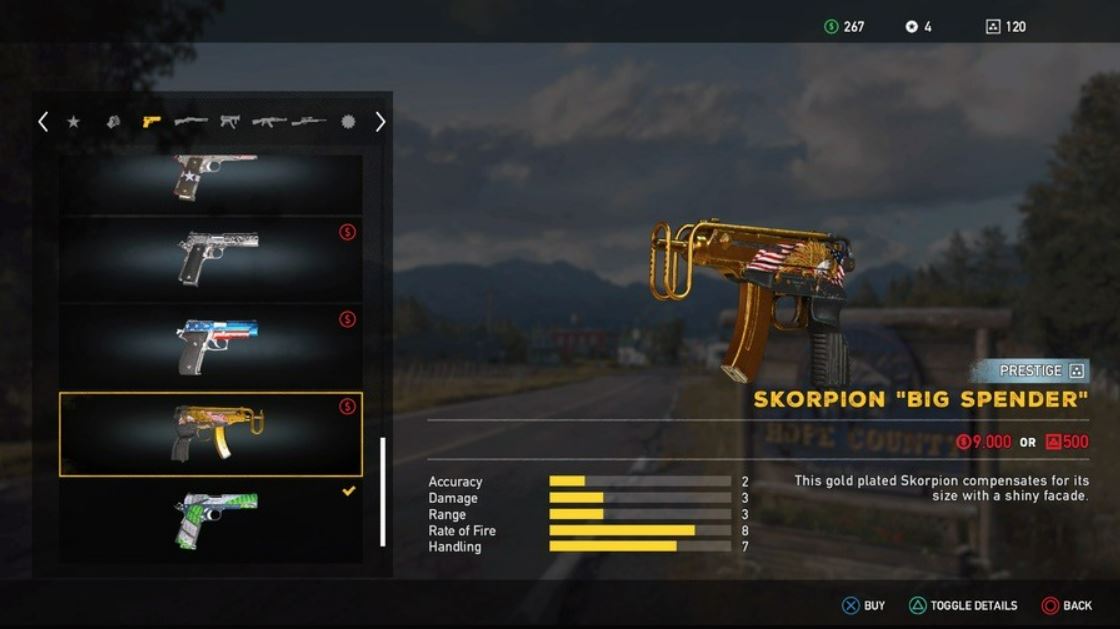 Shiny and dangerous, your two favorite things in Hope County.
It's the age old adage: you get what you pay for. This gold plated Skorpion is a great addition to your sidearm choices; if you're stuck in an outpost battle that renders your first weapon useless, this skorpion will surely sting back at the remaining peggies. And it'll look pretty while you do it.
What makes Skorpion "Big Spender" great:
Beats out this A-99 weapon with even though Accuracy and Range are lower
Higher handling, but repairable with extra rounds compared to A-99 with 20 Rounds
With 30 Rounds (Extended Magazine) this gun gives you time to spray bullets while evading enemies
How to Get Skorpion "Big Spender"
Skorpion "Big Spender" details
1. 1911 "Shark" (Best for Overall Performance)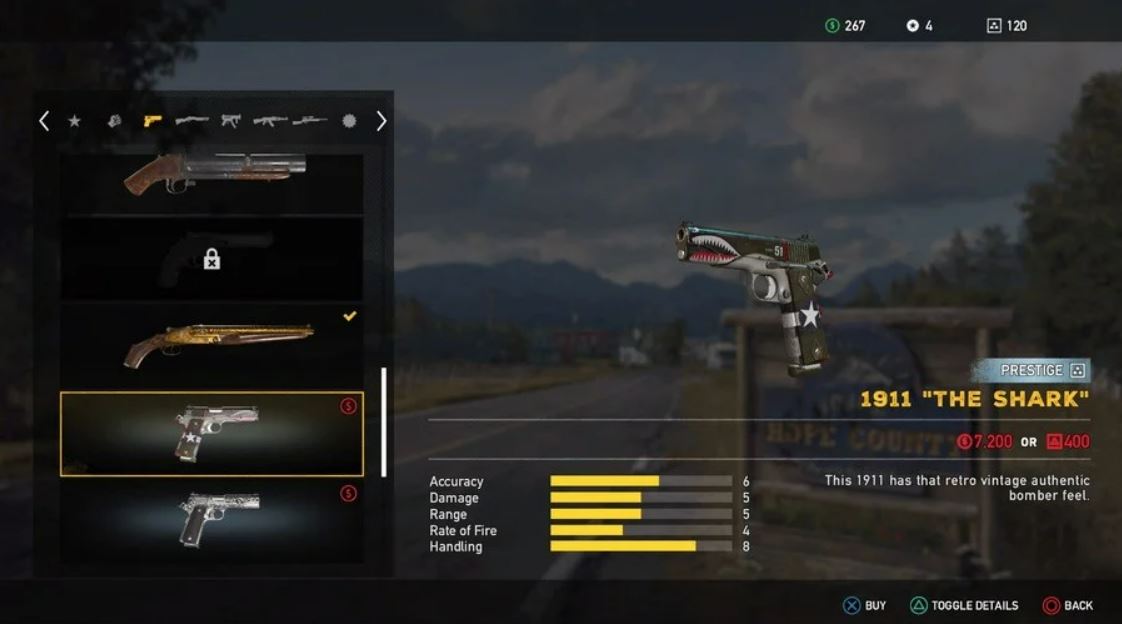 This 1911 will have peggeis calling 911.
While we detailed another "shark" on this list, this one takes the cake for the best sidearm available in the Far Cry 5 world. With a solid level in all stats, this gun is as tried and true as the shark itself, and will keep you alive as long as one.
What makes 1911 "Shark" great:
Incredible handling that really aids in every and any enemy encounter
Accuracy and damage are still high considering handling abilities 
A prestige item with a super neat paint job
You May Also Be Interested In:
Image Gallery