[Top 3] Far Cry 5 Best Bows That Are Powerful (And How To Get Them)
Updated: 14 Jul 2022 6:31 pm
Get ready to hunt like a pro.
So you've played around in Hope County for enough hours to finally be tired of guns…what new weapon should you try? For help with Hope County's location, need for stealth against large groups of enemies or need to hunt large and tricky game, bow weapons will help you to overcome all of these challenges. Look no further than the list below of the top bows available in Far Cry 5 to help you kill everything from the smallest bunny rabbit to Jacob Seed himself.
3. Compound Bow (Best for the Beginner or the Cheapskate)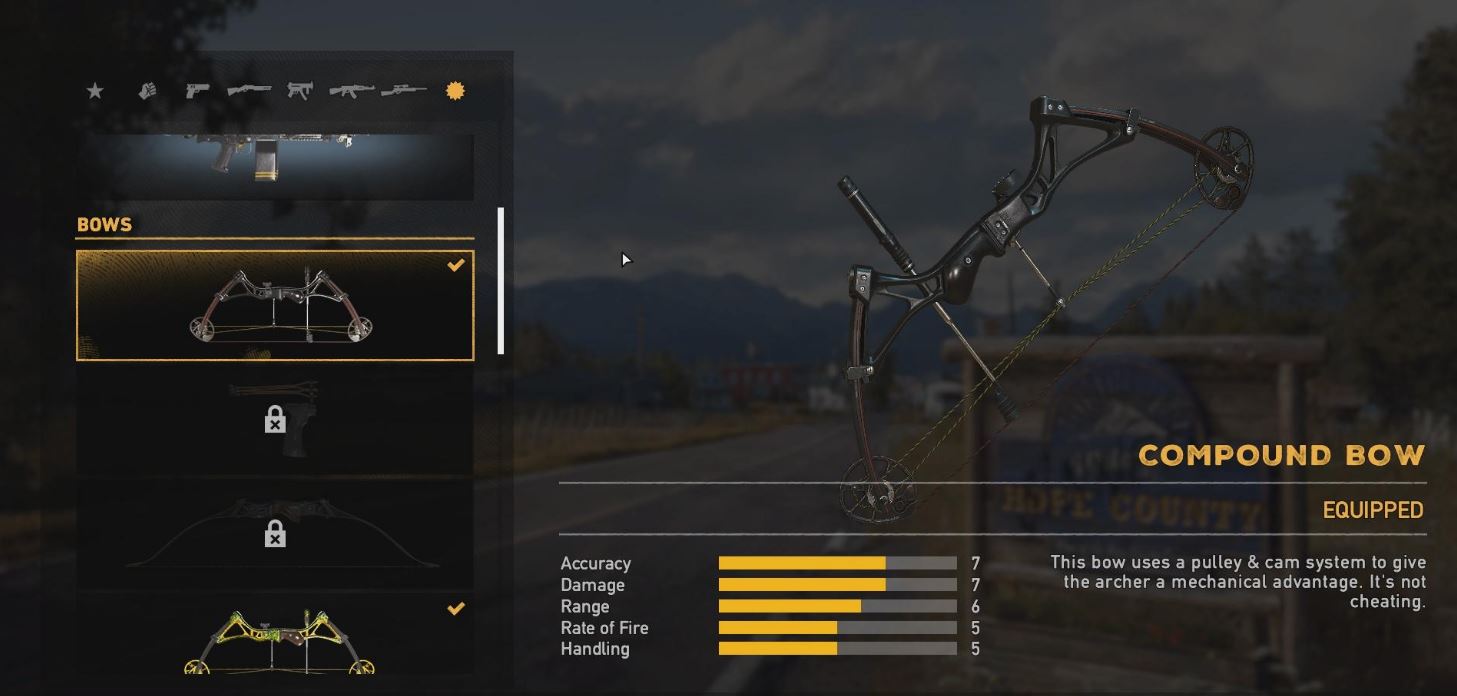 The sleek and beautiful compound bow.
If bows are new to you, this bow will get you into the ranged game while also packing some serious power to combat your itching desire for bullets. With a great combination of accuracy, damage and range of fire, this bow will do most of the work for you and, like the description says, it's not even cheating.
What makes the Compound Bow Great:
Easy to find in multiple locations, helping to lower weapon costs
Slightly faster reload time than Recurve Bow
Above average stats for accuracy damage and range, making it a comparable weapon to guns throughout the game
No necessary resistance levels to complete, unlike the Recurve bow
2. Recurve Bow (Best for Stealth)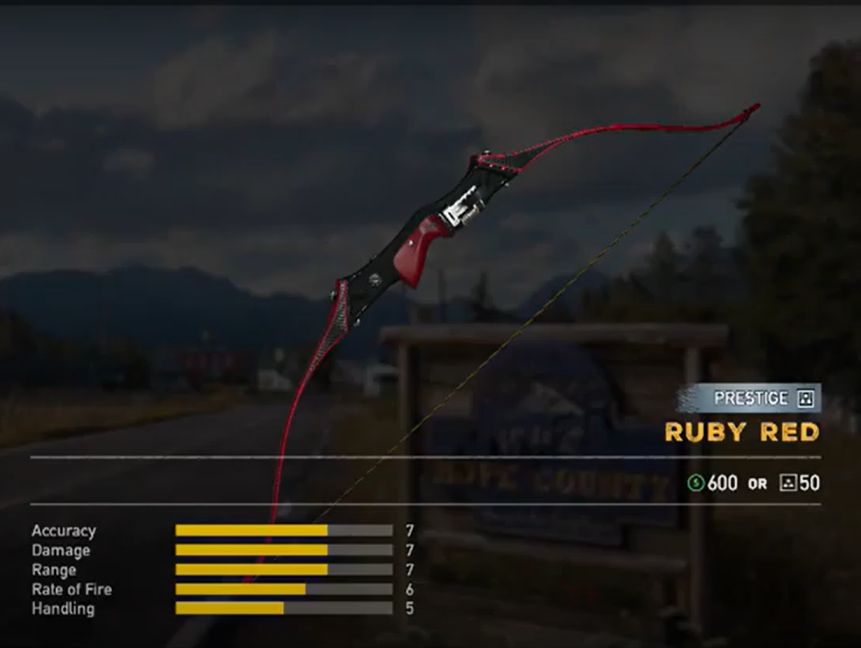 The recurve bow dressed in her best Ruby Red skin.
This bow is one Robin Hood himself would drool over. The Recurve bow ups your overall range abilities, making you an unstoppable arrow wielding stealth demon. Although the Compound Bow has minorly faster reload speed, the Recurve Bow still reigns victorious. $2,000 and worth every penny, the Recurve Bow will bring you to many victories in Hope County as swiftly as the arrows you shoot.
What makes the Recurve Bow great:
Increased Range from Compound Bow
Increased Range of Fire from Compound Bow
Comes in a multitude of different skins, including the Prestige skin "Ruby Red"
1. Jess Black (Best For Companions)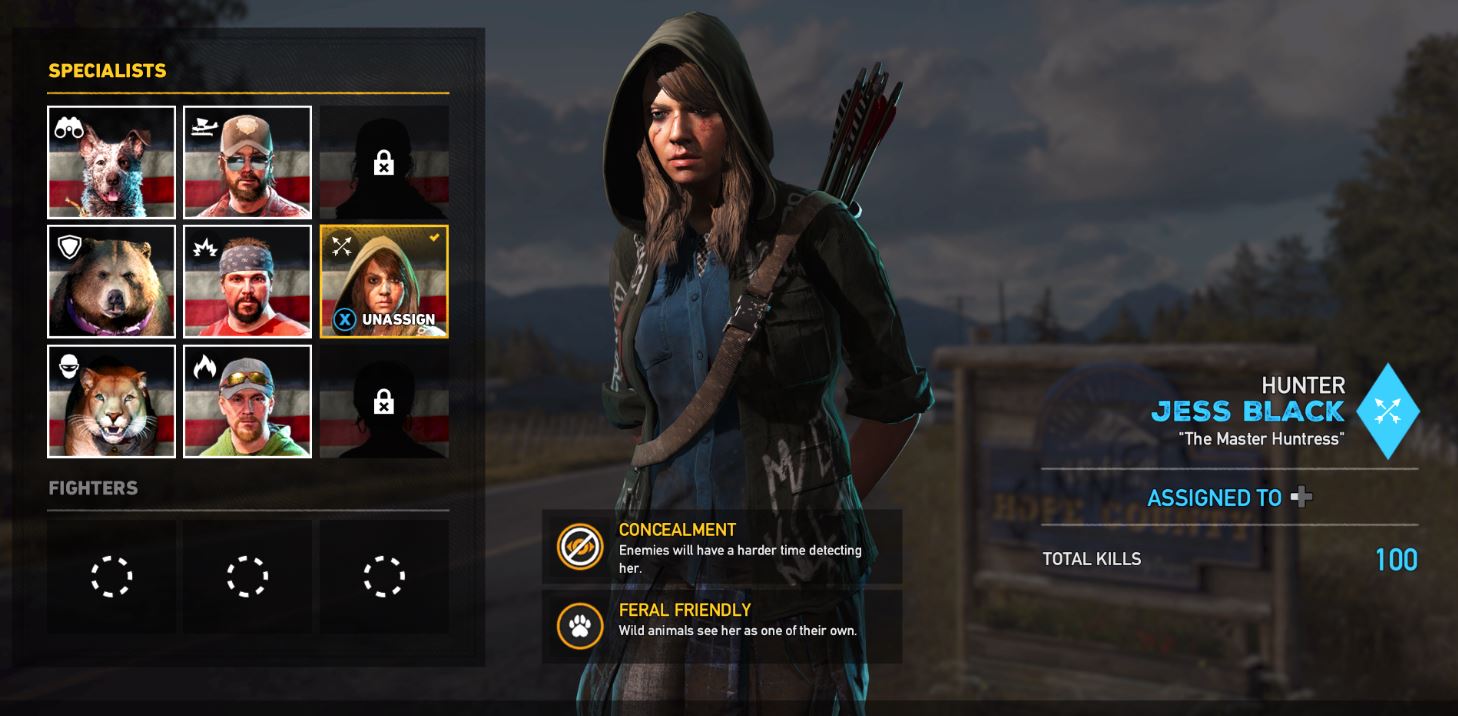 The stealthy Robin Hood-ess herself, Jess Black.
The winner of bow choices in Far Cry 5 oddly enough is a bow you never even fire yourself. It's the bow of one of the most stealthy and fatal companions in Hope County, Jess Black. With her at your side, you'll be able to eliminate outposts without barely making a sound or lifting a finger…..or arrow for that matter.
What makes the Jess Black great:
Gives you the ability to carry other weapons or bows while having someone with bow abilities at your disposal
Quicker at changing targets than other companions, giving you better chance of winning an outpost battle
Although it cannot be commanded, Jess also has the ability to shoot fire arrows, incendiaries that greatly help you in an outnumbered fight
You May Also Be Interested In:
Image Gallery