Top 10 Games Like Far Cry 5 (Games Better Than Far Cry 5 In Their Own Way)
Updated: 16 Aug 2022 1:20 am
Bored of Far Cry 5? I'm not. But here's some alternatives anyways...
Here Are The Best Games Like Far Cry 5
Ok, so I know this can be a controversial topic because everyone has a different playing style, so take this with a grain of salt. After the many many years I've spent as a professional gamer, I'd like to list 19 top games I think that are most like Far Cry 5 and why I love each and every one of these games. Some are new, some are old, but all of them are absolutely fantastic.
19. Fallout 76
Fallout 76 gameplay
Of course it's Fallout 76. Now this game has been released in beta and will so be released on XBOX One, PC and PS4, and holy damn, it's a great game, aside from the bugs of course. But even Far Cry 5 has its bugs. Fallout 76 as Bethesda puts it is "steeped in mystery. But when you're not trying to discover what happened to everyone after the bombs dropped, you might find yourself asking a different question: What's that figure, lurking in the dark? The answer probably isn't as friendly as you might like. The Tales from the West Virginia Hills holotape series is here to serve as a warning for all survivors." From the SIDESHOW SNALLYGASTER to the THE BEAST OF GRAFTON "Not all creatures are of the land; some stalk the skies. One such boogeyman has been reported for generations by mystified West Virginians. The Mothman Cometh! begins in Morgantown Municipal Hospital. We join young Mary Scarberry at her bedside as she wakes, looking a little worse for wear." This makes this the 9th in the series and, of course, the best. The graphics are amazing, the environment is tantalizingly fun and challenging, and the storylines are great. I cannot wait to see where this adventure will take us.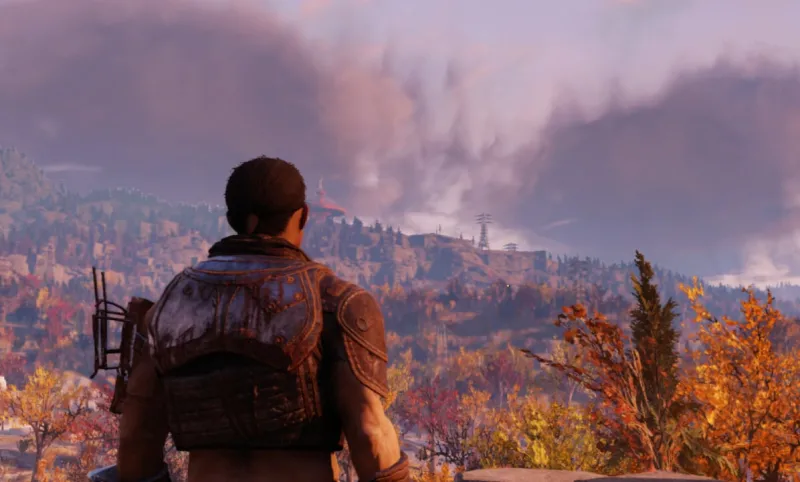 Fallout 76 takes place in the vast lands of West Virginia.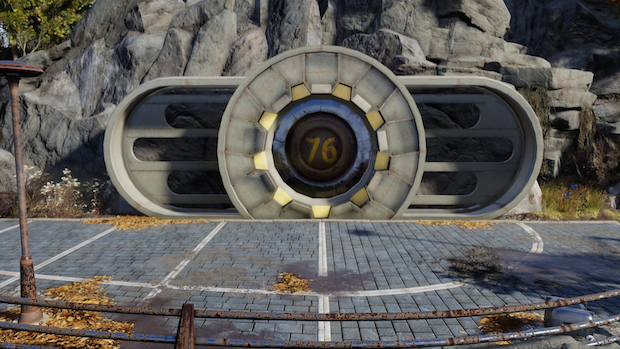 After leaving the vault, take up the wastes with your friends.
18. Fallout 4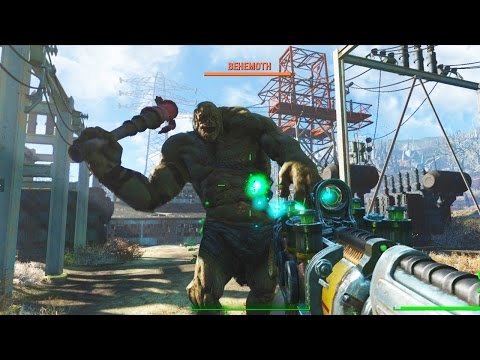 Fallout 4 Gameplay
Next up is, of course, Fallout 4. Now of course this was released back in 2015, but it still remains to be one of my most favorite games of all time, as are most Bethesda games. The worlds, the stories, and the engines all make for incredible gaming experiences. Now honestly, at first I thought the main storyline for Fallout 4 was a little weak, but as I played the game more and more, I also fell in love with it more. Now as one who creates mods and one who loves to play with them, my experience in the game will be vastly different from your standard player. This is also why I game off of PC and not console. There's so much freedom to do whatever you want to. Take for instance, being a huge fan of Skyrim SE, I wanted my Fallout world to be more like a nuclear apocalypse, so I implored a few mods that now make my world super wintery. This, for me, made it truly feel like a Nuclear Apocalypse.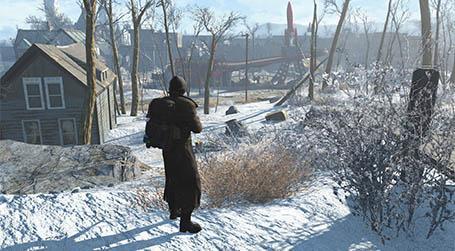 Fallout 4 with Winter Overhaul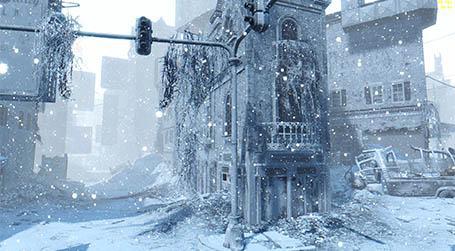 Watch the YouTube video here: Winter Overhaul
17. The Elder Scrolls: Skyrim Special Edition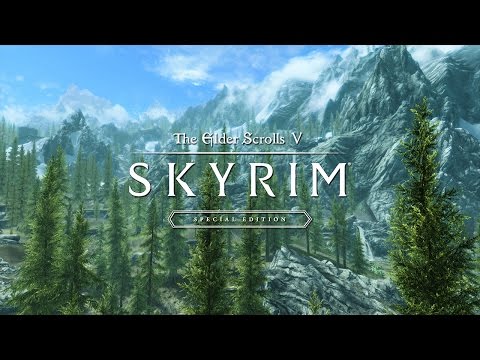 Skyrim Special Edition Gameplay Trailer
Next, as I mentioned above about how I love games based in winter, is my 3rd favorite game similar to Far Cry 5 and that is Skyrim SE. Akin to the original released in 2012, Skyrim SE and the recently released Skyrim VR take the medieval rpg world to a whole new level. Bethesda in their wisdom with the Elder Scrolls series, has released 10 editions of The Elder Scrolls and will soon release Blades for mobile devices. But Skyrim SE is where I truly find home in the Elder Scrolls. Being able to integrate my favorite mods from CBBE models and textures for all Bethesda games to more obscure standalone companion, racemenu, looks, presets, and unique wardrobes. Skyrim SE allows modders to have free reign to create however their little hearts desire. This is a game I still, after 6 years, play on a daily basis. It's my wake up, coffee, and go game.
Feel the olden days of Skyrim and her people in HD.

The stunning visuals make Skyrim SE feel brand new.

 
Watch the trailer here: Skyrim SE
16. No Man's Sky
No Man's Sky Gameplay
Back to newer releases is No Man's Sky, originally released in 2016. Since then, it has received much criticism and little support for most of the gamer world. But as the original developers promised, little by little, updates were released to make No Man's Sky what it is now and what it was originally intended to be. Russ Frushtick from Polygon puts it this way "The "goal" of No Man's Sky is arguably different for everyone. Maybe you want to see a bunch of different planets, or build a massive home base for manufacture and trade. Or maybe you just want to max out your character's combat abilities until you can play it like the guy from Doom." and I couldn't agree more. No Man's Sky has a little something for everyone and the game is truly limitless in what you can create or where you want to go. This puts it neatly in my Best Games like Far Cry 5.
Multiple planets allow for a quite unique experience every time...

...and their appearances can have vast variances.

 
Watch the trailer here: No Man's Sky
15. Dying Light 2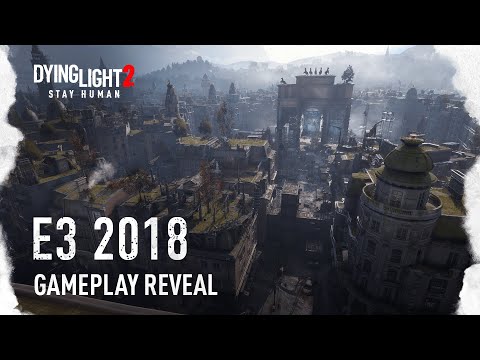 Dying Light 2 Gameplay
Now I have to say, there is a reason this game is rated M. It is not for all gamers. I myself am not a fan of horror survival games. I remember the release party of Evil Within at PAX Prime 2014 and for me that was the last horror survival game I wanted to play. I don't know, I just don't enjoy being scared. But Dying Light 2 is something entirely new. You basically get Far Cry 5, but if you added a bunch of zombies and creatures trying to kill you coupled with similarly awesome parkour skills like the Assassins Creed games. The graphics are top notch, the engine is incredible, and it's developed by video game heavyweight Techland, makers of titles like Dead Island and Call of Juarez. Dying Light 2 is stacking up to be one of the best games of 2018.
This game is basically a spooky Far Cry 5.

Seems post-apocalyptic, because it is.

 
Watch the trailer here: Dying Light 2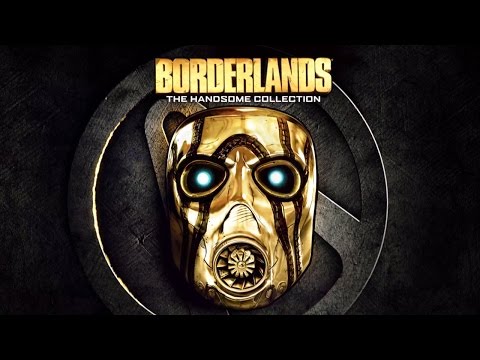 Borderlands Canon Trailer
Now I know this is more than one game, but I do truly feel that this series deserves spot six. The Borderlands canon has been one of my absolute favorite game series since the birth of Borderlands back in 2009. The crazy world of Pandora with its tongue-in-cheek comedy, ridiculous characters like Tiny Tina, the bomb making 13 year old pyro who wants to "Put a little bomb in the hot ass damsel, blow stuff up and make people die.", to Claptrap "Stop me before I kill again, except don't!" creatures and bandits yelling "I'm gonna eat your babies" makes it one of the few games I return to every year and it holds a dear place in my heart. And with the recent rumors of a release of Borderlands 3 (or whatever the title may be) based on the world of Promethea, makes this series that much more exciting and deserving of a place on the list. I absolutely love these games.
Like a futuristic Mad Max, if you will.

...or maybe Star Wars/Mad Max crossover?

 
Watch the trailer here: Borderlands 2
13. The Witcher 3
The Witcher 3 Gameplay
Now if any of you have ever played the Witcher series, this game needs no introduction. But for those of you who haven't, the Witcher 3 is a story based on Geralt, a male witch who is a mercenary monster hunter. Witcher 3: The Wild Hunt begins where 2 left off after Geralt fights the Kingslayer is search of his dear love Triss who was kidnapped earlier in the game. Witcher 3 boasts a massive a map that is "1.5 times bigger than the 81 km2 of GTA V, 3.3 times the 41 km2 of Red Dead Redemption. 3 times bigger than Far Cry 4's 46 km2, three and a half times bigger than Skyrim's modest 39 km2! Put simply, we only have conservative estimates of the map size." says Peter Donnell of eTeknix. Making it one of the largest, if not the largest open world medieval RPG's in the gaming universe. Not to mention all the stuff you can do and all the mods! I love this game.
Giant centipede? Sure is.

If you like to defeat weird creatures in combat, it's for you.

 
Watch the trailer here: Witcher 3: Wild Hunt
12. The Sinking City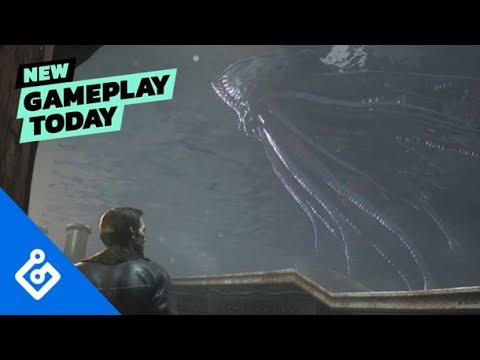 The Sinking City Gameplay
The Sinking City has been pushed back a few times and has yet to be released, but it is a game of "investigation and mystery taking place in a fictional open world inspired by the works of H.P. Lovecraft." He quotes "We live on a placid island of ignorance in the midst of black seas of the infinity, and it was not meant that we should voyage far."— H.P. Lovecraft, The Sinking City is a game of based in the 1920s . Your player is a private investigator who finds himself in the city of Oakmont Massachusetts, New England. This is a city suffering from unprecedented floods of what appear to be clearly supernatural origins. "Trembling on the brink of madness, can you survive this beleaguered town and untangle the mysteries responsible for its tragic situation or will you be driven beyond madness yourself?" I believe it will be a true adventure filled with mystery, mayhem and a few monsters. Sounds like true fun.
Sinking : Insanity

These roads require boats.

 
Watch the trailer here: The Sinking City
11. State of Decay 2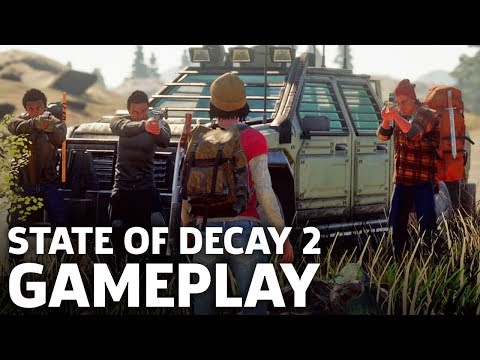 State of Decay 2 Gameplay
Now as I said before, I do not care for horror survival games. When i first played by State of Decay 1, I was was underwhelmed. I was told by a friend that it was just like Dead Rising 3 and I bought the bait. I think this was the same for a lot of people. But with State of Decay 2, that has completely changed. State of Decay is based in Trumbull County, Ohio. It is a zombie survival game much like the world of The Walking Dead. You have to scavenge, survive, look for other non-zombie people to link up with, and of course kill as many zombies as you can. Again, I do not care for horror survival games but State of Decay 2 does do a good job of bringing the open world zombie killer scene a little closer to the not terrible zone. I think it definitely deserves a spot in the Best Games Like Far Cry 5
Look at this big fella.

Maximum Overdrive with zombies.

 
Watch the trailer here: State of Decay 2
10. Sunset Overdrive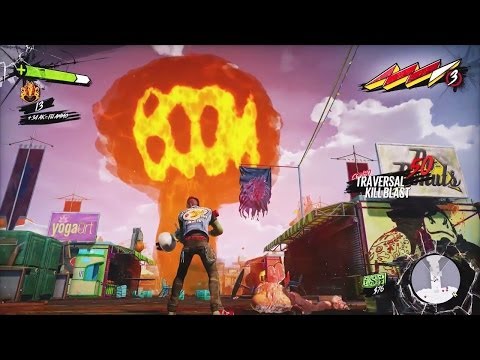 Sunset Overdrive Gameplay
One of my most favorite games, Sunset Overdrive, a game with which I personally got to work on a bit. Sunset Overdrive is best described as Tony Hawk's Pro Skater 2 meets Borderlands 2, meets Dead Rising 3. In a world where an evil soda company bent on turning all humans into zombies, and run by a race of robotic dickheads, this game with it's quirky tongue-in-cheek one liners, crazy guns, storylines and side quests make it one of the most enjoyable and fun gaming experiences I have ever had...and that says a lot. You have everything from Asian girls in bikinis to crazy Samurai Girls Scouts and privileged white school kids. It's just purely fun. And even though they never released it on PC, which I'm still pissed about, it is a download that lives on my XBOX One permanently. Even though it came out in 2014, it is still one of the best games out there and I highly encourage everyone to play.
Rocket riding. Just like Fortnite.

This is why we mentioned Borderlands 2.

 
Watch the trailer here: Sunset Overdrive
9. Rage 2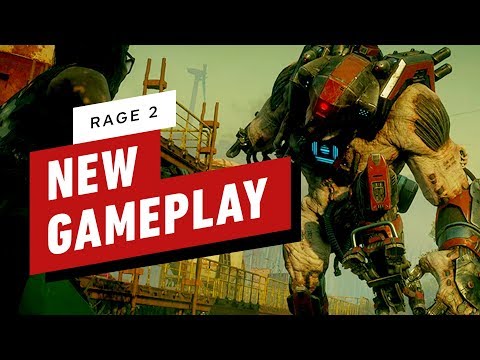 Rage 2 Gameplay
If you played the first Rage, you know the awesomeness that is this game. Similar to Borderlands, Rage was based in a post apocalyptic desert world devastated by an asteroid that hit the earth, filled with ravenous creatures and murderous bandits… and a few half witted townspeople. Well now, out of the bowels of Bethesda come Rage 2, the gloriously murderous sequel. Rage 2 picks up where we left off in 2011 with Rage. I mean, it's basically Fallout 4 meets Borderlands 2. Seriously, what more could you ask for in a game, and because it's a Bethesda game, of course you know there will be a console and all the modding options we love about the Bethesda games. It's earliest release will be in spring of 2019 but I'll be damned if they don't do a beta release as they did with Fallout 76. The official website says "Dive headfirst into a dystopian world devoid of society, law, and order. RAGE 2 brings together two studio powerhouses – Avalanche Studios, masters of open world insanity, and ID Software, creators of the first-person shooter – to deliver a carnival of carnage where you can go anywhere, shoot anything, and explode everything." Now I don't know about you, but if it's anything like the titles I listed above, there will be little to stop me from loving the shit out of it. And I can't wait cuz the mods alone will be worth playing the game.
Stunning visuals are Rage 2's speciality.

This scene is really similar to one from Doom.

 
Watch the trailer here: Rage 2
8. Metro Exodus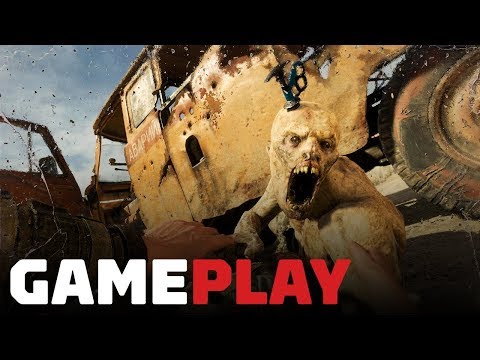 Metro Exodus Gameplay
Metro Exodus, the series heavyweight from 4A Games studio, is based on the novel series by Dmitry Glukhovsky. The game takes place after a nuclear catastrophe that wiped out almost all life on Earth and made the natural environment irradiated and uninhabitable. The only survivors have formed a society, rather a militia consisting of barely a few thousand people, living hidden metro tunnels of the Moscow. I didn't play Metro 2033, the first in the series but I did play Metro Last Light. It reminds me a lot of Fallout 3 and Lost Planet in the gamer style and character engine. Metro Exodus places us squarely in a world of mutant nightmares. There are four seasons in the game Winter, Spring, Summer, and Autumn. I'm not sure if these are just different periods of advancement in the game or dlc's or maybe even both and the game also has a season cycle. What I do know is that game looks amazing and I'm dying, pun intended, to play it.
Fallen civilization.

Fallout 4 with Winter Overhaul. Kidding, it's Metro.

 
Watch the trailer here: Metro Exodus
7. Dying Light Enhanced Edition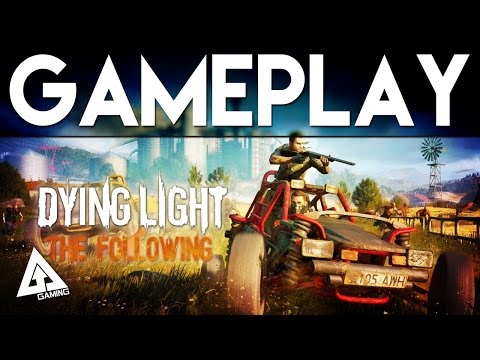 Dying Light Enhanced Edition Gameplay
Well we've already discussed Dying Light 2. The original Dying Light was just released in an Enhanced Edition. Originally released by Warner Brothers Studios, Dying Light takes place in a vast open world devastated by a mysterious epidemic where you get to help defeat the hordes of flesh-hungry enemies the plague has created. The new release Includes: Dying Light Game Enhanced (base game), Dying Light The Following (expansion), Ultimate Survivor Bundle (DLC), The Bozak Horde game mode (DLC), Be the Zombie multiplayer mode (DLC), Cuisine & Cargo challenge missions (DLC) and of course a retooling of HD graphics and textures. As you know I don't care for horror survival games but this one is far from the worst and all together is really well done.
Hordes of zombs. Sweet.

That scenery though...

 
Watch the trailer here: Dying Light Enhanced Edition
6. Green Hell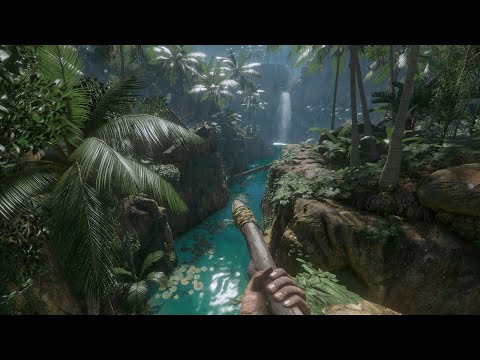 Green Hell Gameplay
Similar to Far Cry Primal and Far Cry 3, Green Hell, takes place in the sweltering jungles of the Amazonian rainforest. "Clinging to life, the player is set on a journey of durability as the effects of solitude wear heavy not only on the body but also the mind. How long will can you survive against the dangers of the unknown? Having only a radio at your disposal you will follow a familiar voice through a seemingly endless and ruthlessly inhospitable jungle. Bit by bit, you will unveil more of the mystery of how you came to be in this hostile situation and what you discover just might be worse than what you fought so hard against to survive." Green Hell seems "awfully familiar." says John Walker of Rock Paper Shotgun. The "Upcoming survival sandbox is a strong reminder that mother nature has no particular love for humankind, and that dense, verdant rainforests - while scenic - are not a place for the unprepared to wander. If the animals lurking in the night's long shadows don't get you, then the bugs will." - Dominic Tarason. I for one am looking forward to playing this.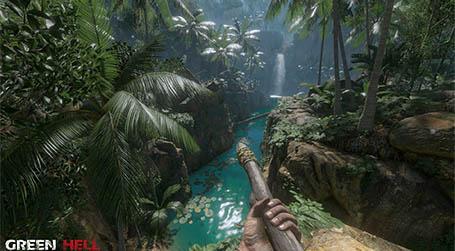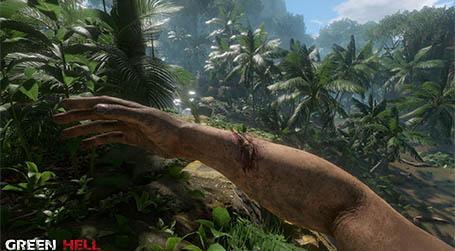 Watch the trailer here: Green Hell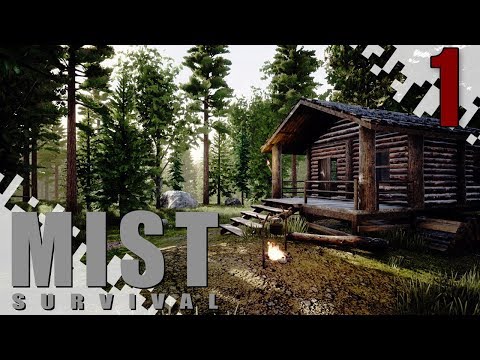 Mist Survival Gameplay
Like so many others we've talked about, Mist Survival is just another in the long list of post apocalyptic sandbox games. I have to say though I'm not as impressed with this one as I am with the others. It just seems a bit too...generic. The gameplay is clunky and slow at times and I'm not overly impressed by the world either. Even still it is among the best games like Far Cry 5. Mist takes set in a world torn by a virus outbreak, like State of Decay and Metro Last Light to survive the player must hoard food and water, find shelter and protect themselves not only from the wildlife and bandits lurking in the shadows. It at the very least is entertaining and worth giving a jaunt through. Just don't expect too much on the graphics side.
Has a PUBG feel, doesn't it?

Companions.

 
Watch the trailer here: Mist Survival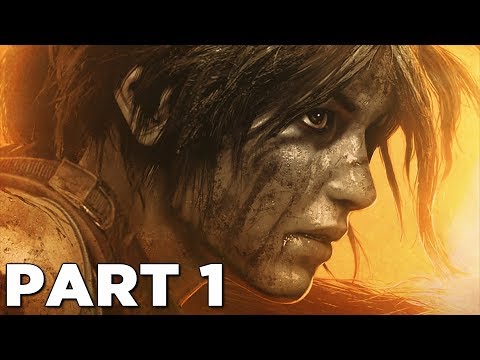 Shadow of the Tomb Raider Gameplay
So many good games have come from Square Enix; Just Cause, Final Fantasy XIV, Deus Ex and of course the latest to the franchise the Tomb Raider series with the most recent Shadow of the Tomb Raider. This time around the famous Lara Croft takes on the wild deadly jungles of Central America to overcome terrifying tombs, and persevere through her darkest hour. As she races to save the world from a Maya apocalypse, Lara will ultimately be forged into the Tomb Raider she is destined to be. And boy does it stack up. Not only are the graphics incredible but the engine is equally excellent. Shadow of the Tomb Raider promises to have more of an open world feel and less of a scene by scene like the previous games. I guess we will see.
Lara Croft is back at it again!

Look at those graphics!

 
Watch the trailer here: Shadow of the Tomb Raider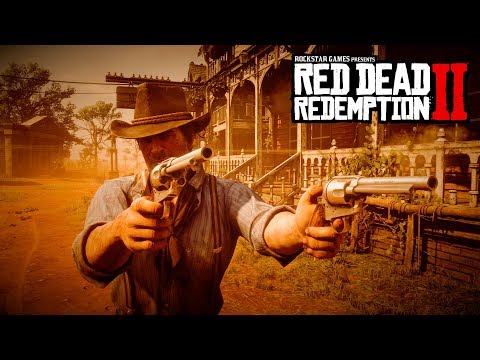 Red Dead Redemption 2 Gameplay
To say that I am not a fan of Rockstar Games would be an understatement. I have not, since the early days of GTA, liked Rockstar Games as a studio. GTA, Manhunt and Max Payne are not my idea of good games. To me, they seem more like games for the angry sexually frustrated frat boys. However, Red Dead Redemption 1 & 2 are in my opinion Rockstar's saving grace. They are like the rest in a way but RDR delivers in a fashion that none of their other titles do. Red Dead Redemption is "an epic tale of life in America's unforgiving heartland." The game's massive open world also provides the foundation for a new online multiplayer experience. It brings to life the struggle of living in the early west coupled with the engine and development of the GTA team. It is THE ONLY wild western style game I enjoy playing besides Oddworld - Stranger's Wrath of course lol.
Arthur has the horses… and they aren't in the back!

Yee freakin' haw!

 
Watch the trailer here: Red Dead Redemption
2. Rust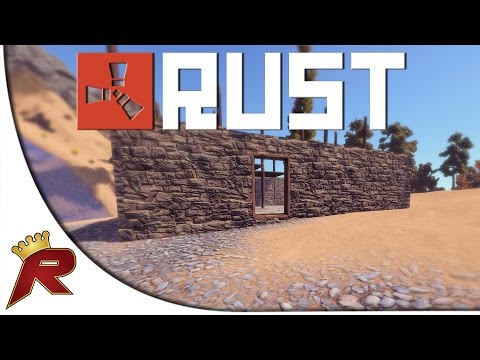 Rust Gameplay
Like Mist Survival this is yet another open world survival game. Yet unlike any other you start the game fully nude, which is usually something you have to add mods to a game to get a player to be...ehem...CBBE & Bethesda games. The only objective in Rust is to survive. It's fairly simple as are the graphics and the engine. I'll be honest i wasn't super impressed. One interesting development especially coming from a popular modder is that Garry Newman (known also for Garry's Mod, Rust's designer) is not giving players a choice in their physical appearance. As such, genitalia have been randomly — and permanently — assigned to all players.
Characters start out nude. Just like at birth.

Build civilization from the ground up, literally.

 
Watch the trailer here: Rust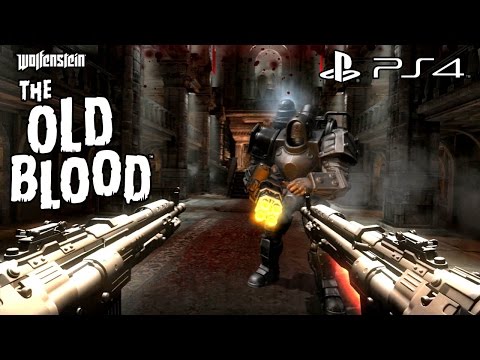 Wolfenstein: The Old Blood Gameplay
Like Dying light, the Wolfenstein games original release in 1981. "Wolfenstein: The Old Blood is a strange beast. As a six-hour, stand-alone prequel to 2014's excellent Wolfenstein: The New Order, it puts us through a grinder of tense, exciting, and memorable shootouts in some really great settings. But while The New Order shined brightest during its quiet moments of exploration and character development, The Old Blood never really gives you time to catch your breath during its descent to zombie-filled strangeness. That unrelenting pace makes it lots of fun, but not as thoughtful as its stand-out predecessor." Says Marty Sliva of IGN. The Old Blood drops you in the blood-soaked boots of B.J. Blazkowicz, back before he saved the world from Deathshead's evil. The story has you infiltrating mountainside fortresses, escaping Nazi prisons, and fighting waves of zombies. Like so many entertaining but forgettable shooters before it The Old Blood comes across more like Medal of Honor vs. Dead Rising 3. Nothing really stood out from this game that wowed me. The graphics are ok but the storyline, like all other Wolfenstein's is just very generic and unmemorable. It is though entertaining enough to play online or on Steam but surely not a gamer I'd come back to over and over.
Mind the graphics, they don't reflect on the true quality.

Shoot 'em up!

 
Watch the trailer here: Wolfenstein: The Old Blood
These, for me, are a few of the reasons why I love gaming so much, and the games I think most closely resemble Far Cry 5. There is so much diversity, so many worlds, characters, adventures to be had, why would you not want to game even just a little bit
Image Gallery