LoL Best Lulu Skins Revealed (All Lulu Skins Ranked Worst To Best)
Updated: 22 Jan 2023 8:07 am
I'm delighted to introduce you this adorable list to make your decision worth your RP. Take a closer look at every Lulu skin and choose your favorite!
11. Bittersweet Lulu

If they wanted to make her look creepy, they nailed it.
Skin spotlight: 
I mean... what is this skin exactly? I'm uncertain if I should be scared or just laugh and keep going. I think is horrible but it's among the favorites of Lulu players. I don't understand why but there you go. I'll rather play with the original Lulu, to be honest. The visual and sound effects remained as the original skin just like the recall. The butterfly is very annoying in-game. I recommend it for collection purposes.
How to get Bittersweet Lulu: as a legendary skin it can only be purchased when the legacy vault opens or through a chest.
10. Wicked Lulu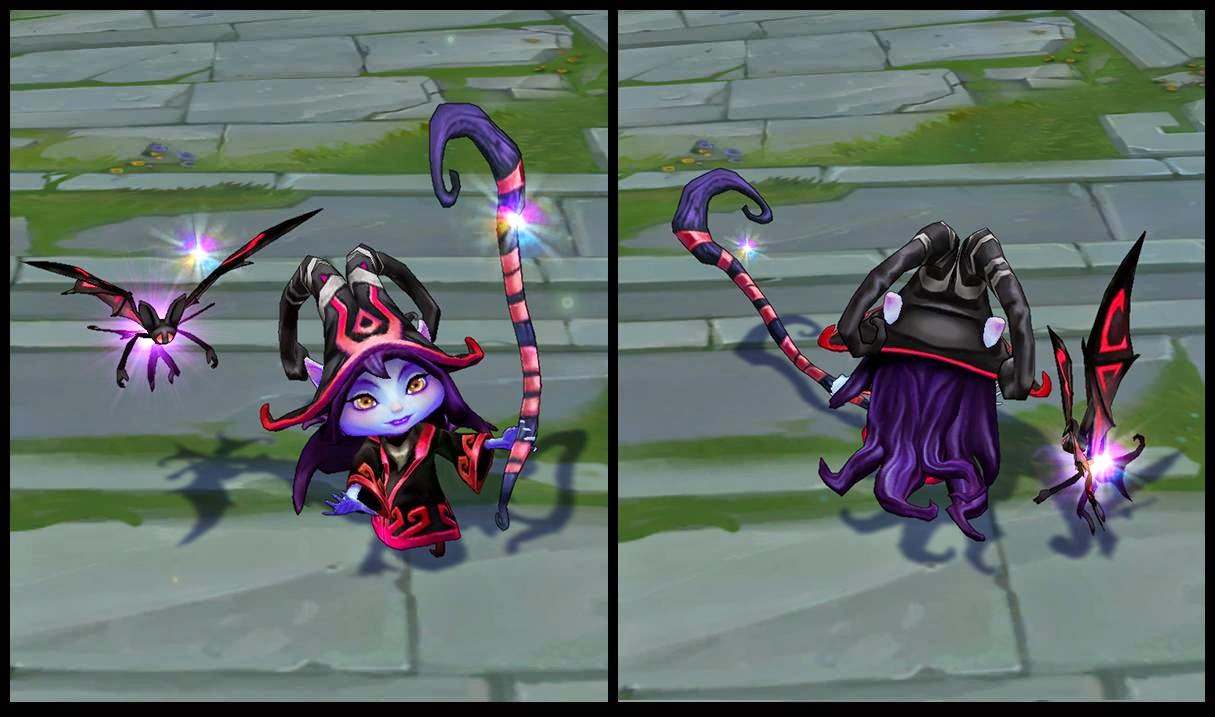 The colors are very pretty
Skin spotlight: 
My problem with this skin is how they changed the old polymorphy spell. It used to be transformed into a black cat and that was the best part of the skin. Right now is just a dark version of the original Lulu with no changes to the visual and sound effects on her spells. Is the cheapest Lulu skin available which is not bad. But I wouldn't buy it to use it since it's like getting a chroma instead of a skin.
How to get Wicked Lulu: it's available in the game client's store for 975 RP.
9. Dragon Trainer: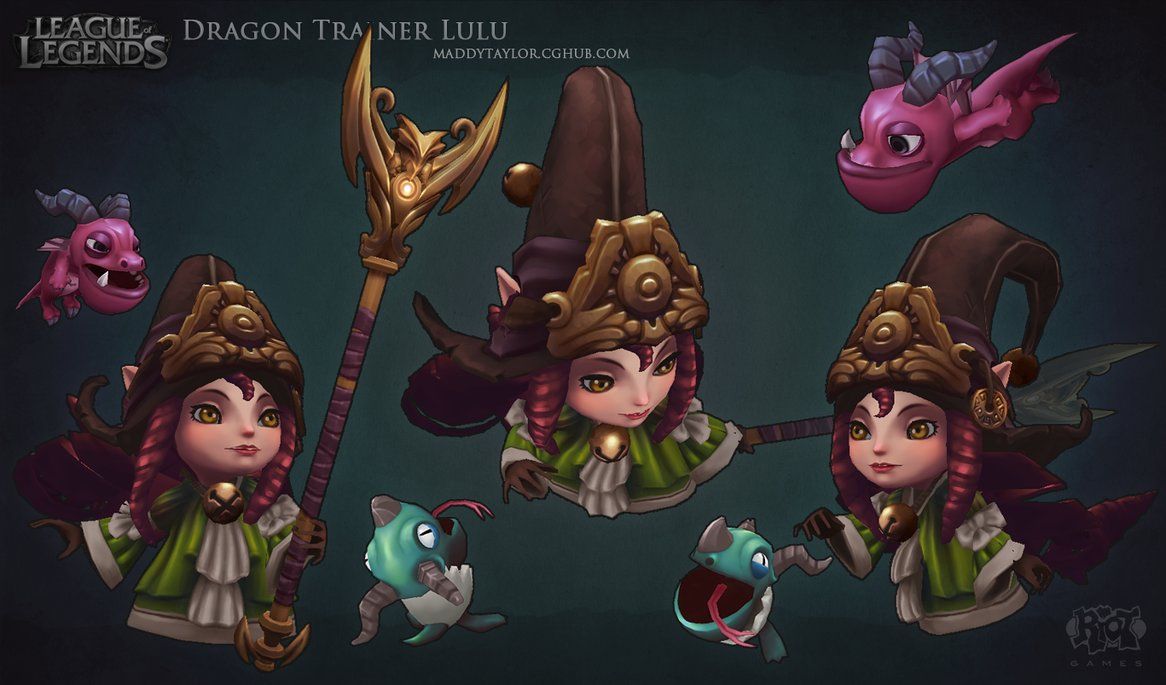 Isn't she lovely?
Skin spotlight: 
I love how she looks in this one! She's so cute I can't get over it. Sadly it doesn't change much from the original skin. For an Epic skin, it's not as good. But Lulu seems like a little medieval fantasy creature and that's just perfect for her. Also, her face has a better design which is a big step from her worst skin.
How to get Dragon Trainer Lulu: you can purchase it in the game's store for 1350 RP.
8.  Cosmic Enchantress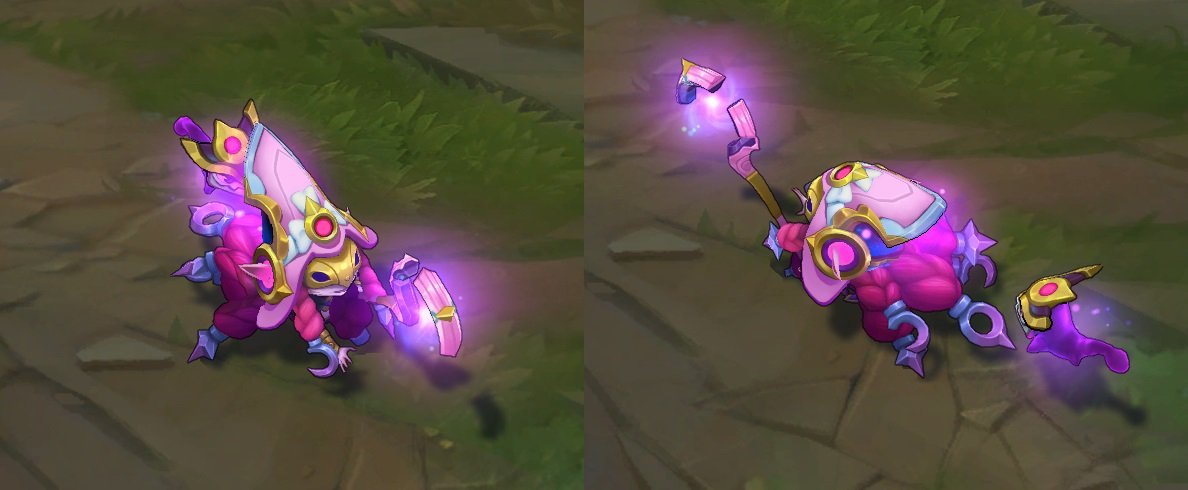 Ok but this chroma is a beauty
Skin spotlight: 
Ok, the visor shouldn't be there. Her hair looks way too long and big concerning her body. The rest of it is gorgeous. Notice how the fairy is now a mini Aurelion Sol. The recall interacts with the small Aurelion and that makes it all for the skin. The color with the bright details is stunning. Also, her ultimate has a new animation for the stun. This is very helpful in-game since it's more noticeable than in the base skin.
How to get Cosmic Enchantress Lulu: you can buy it directly from the game's store for 1350 RP.
7. Pool Party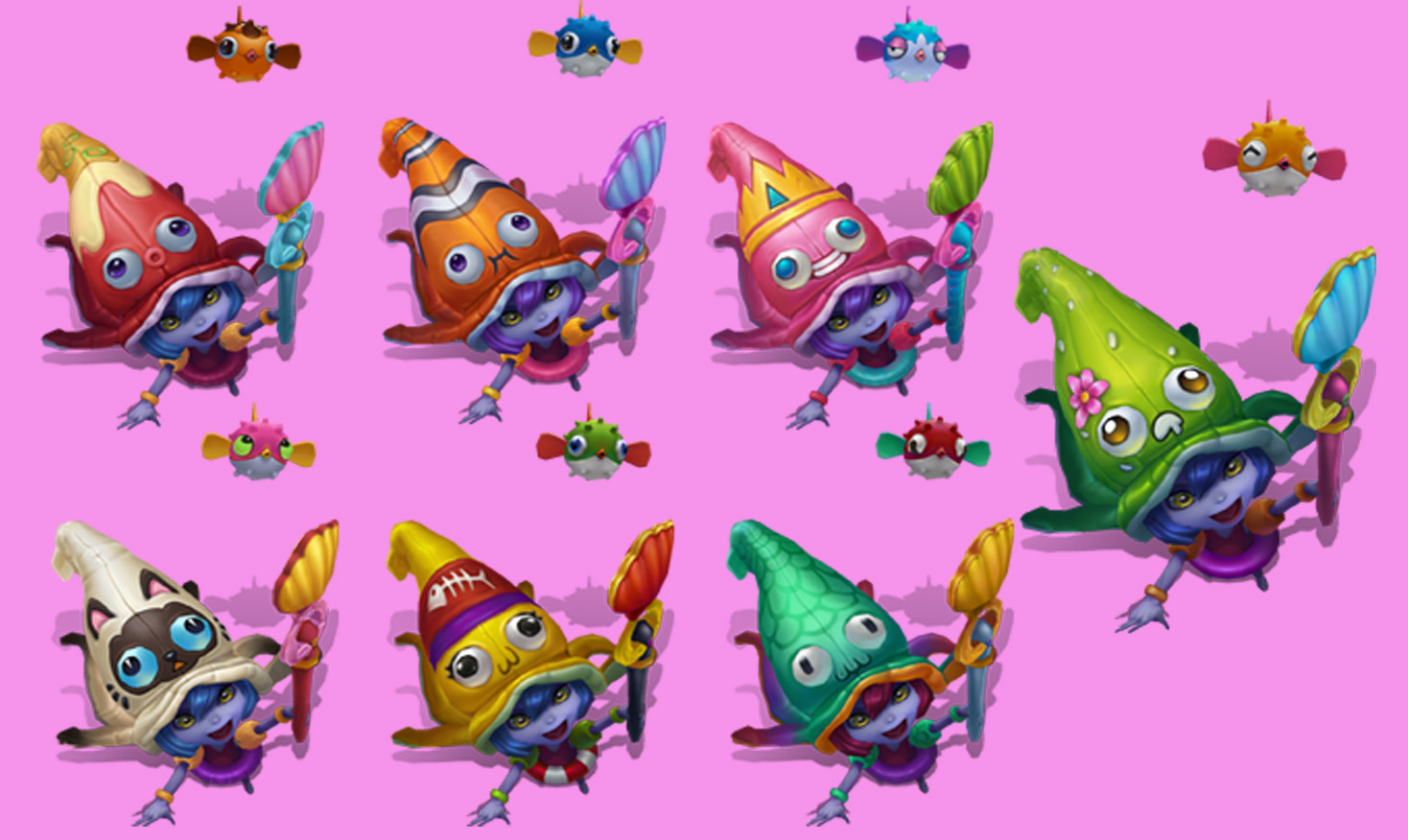 Coolest chromas on earth!
Skin spotlight: 
Again, if it wasn't for the change in her polymorphy spell animation this skin would be perfect. Is funny because they kept the sound of the seal but took away the animation and replaced it with the one in the original skin. It looks senseless. At least take away the sound so it doesn't feel so out of place. Apart from that is the first skin that presents an obvious and satisfying change on her auto attack. The bubbling effect is amazing. Also is one of the funniest skins to play with. Check the chromas. One of them has a Nemo hat! 
How to get Pool Party: it's available at the game's store for 1350 RP.
6. Winter Wonder

Her face in this skin is one of the cutest.
Skin spotlight:
This one is among my favorites. Is not as good as it used to be but still a nice choice. The pore and her outfit are everything to me. The new visual effects are very well done but there's nothing else about it that makes it stand out from the rest. It's expensive if we consider the amount of detail and changes they added. In-game is hard to see in the river fights due to the color of her spells. It's also a very old skin. At this point, the problem is not the skins but the fact Riot won't update Lulu's model design. If they did so, all of her skins would look so much better.
How to get Winter Wonder: this is a legacy skin which means that you'll be able to purchase it when the legacy vault opens or through a lucky chest or re-roll.
5. Pajama Guardian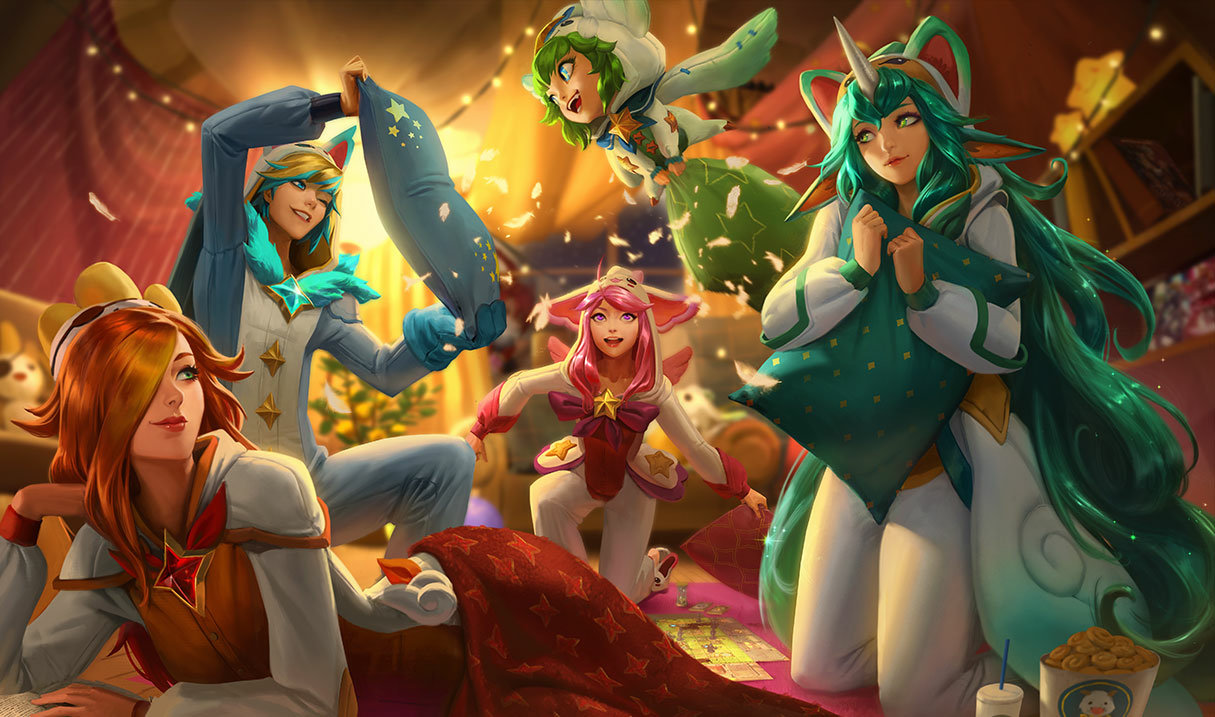 The splash art is lovely, we want to be part of that party too.
Skin spotlight: 
This one is so cute. It's the first skin in this list that looks pure quality. She shares this skin line and the splash art with Miss Fortune, Lux, Soraka, and Ezreal. So far is the most detailed one. The spells are super cute. Everything about it is adorable. The problem is that is the same as Star Guardian but in pajamas. It makes it unnecessary. It could have been a special chroma.
How to get Pajama Guardian Lulu: it's available in the game's store for 1350 RP.
4. Monster Tamer

Probably her cutest stare.
Skin spotlight: 
This is her newest skin. Released this very year, it brought a new story behind where Kog'Maw is part of it. She seems ready to train baby Kog'Maw. Pixie is now Kog'Maw pre-evolution. Pretty dope interaction.
There are drastic changes to all of her spells. It's a beautiful choice to start with. The problem is the wand looks way too long which creates a weird unbalanced effect.
How to get Monster Tamer Lulu: you can purchase it on the game's store for 1350 RP.
3. Star Guardian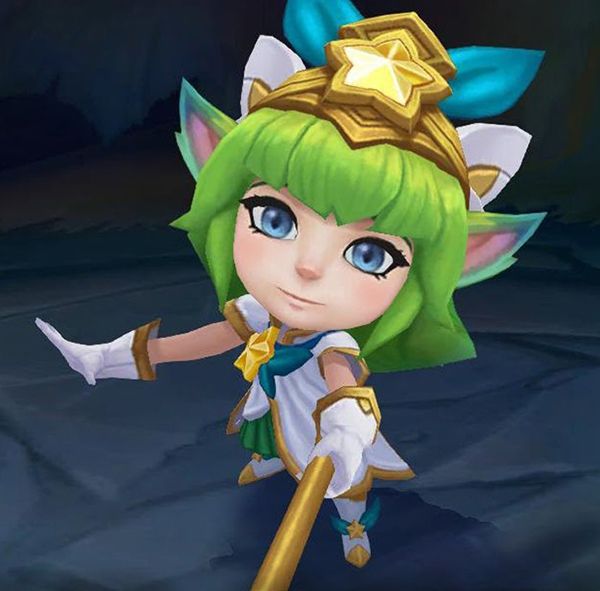 Look at that small baby
Skin spotlight: 
I love how Lulu looks in the Star Guardian concept. She's too cute and small. Her little sailor suit is the most adorable thing. The green hair was a great choice. I have no complaints about this one. If you ask me I would choose Star Guardian over Pajama Guardian. 
How to get Star Guardian: luckily available in the game's store for 1350 RP. 
2. Space Groove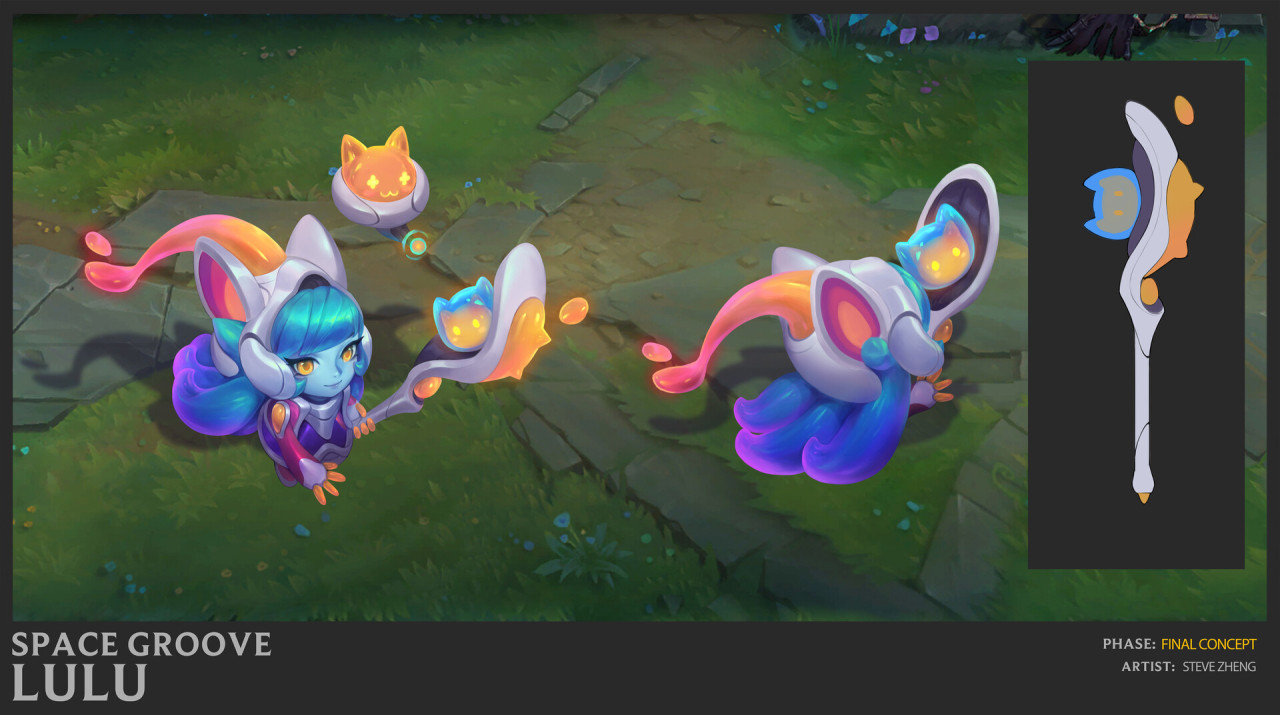 A very jelly look don't you agree?
Skin spotlight: 
I always love cosmic and space themes. This one isn't an exception. The model design is adorable. Her hair is weird, it feels plastic. I'm not sure if they wanted to give a jelly effect but it doesn't look good.
In this universe, Lulu comes from Boogie Wonderland, a groove planet. She makes creatures dance with her sorcerer powers. I'm pretty sure that once they update her base model this will be her best skin. The visual and sound effects are so soothing and well-made.  
How to get Space Groove: it's available for purchase in the game's store for 1350 RP.
1. Space Groove Prestige Edition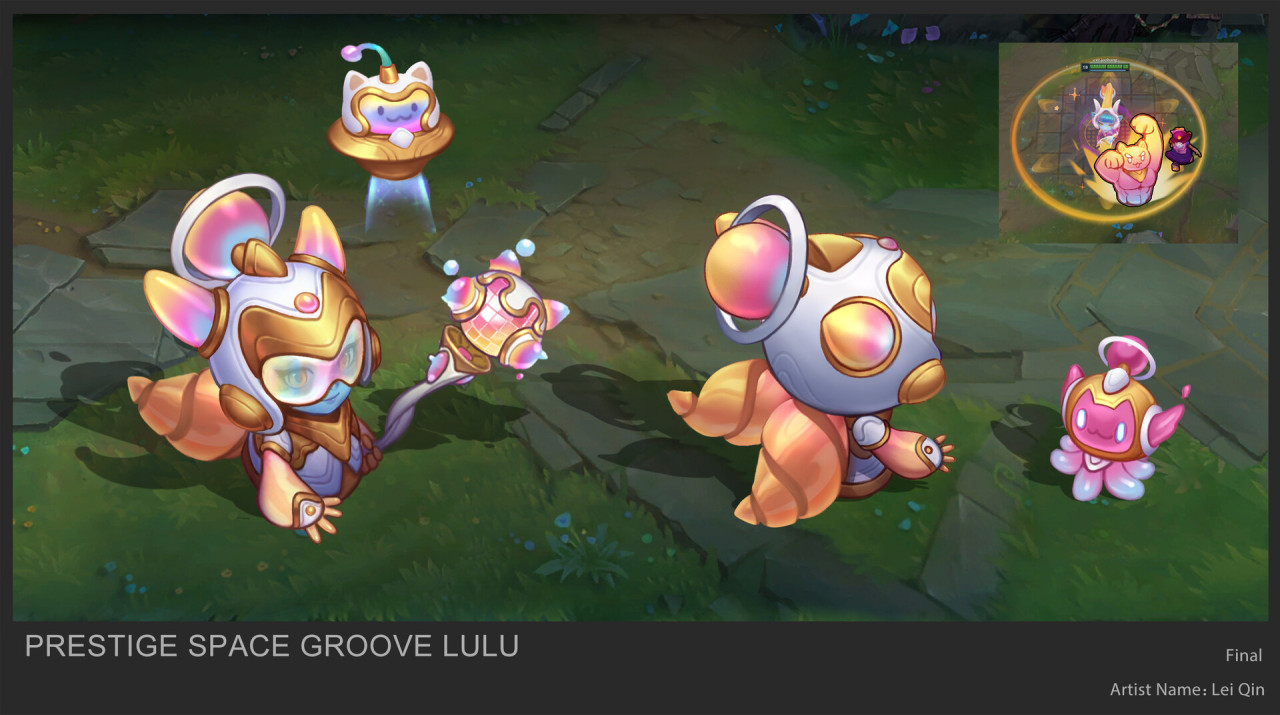 Her little fingers look like sausages.
Skin spotlight: 
Thank god they changed that hair. Now it looks perfect. Her staff has a nicer design, and also her helmet. Now it has a visor that gives a more "space" appearance. It reminds me of The Jetsons. If you're old enough you'll remember this old cartoon.
In-game this skin feels very cute. You will get attention. That can be either good or bad. Your choice! 
How to get Space Groove Prestige Edition: as with all Prestige skins, you'll have to wait for it to be released on the mythic store. It will cost around 135 or 150 mythic essence.
Also be sure to read:
Image Gallery