[Top 10] Fortnite Best Skin Concepts That Are Awesome!
Updated: 27 Nov 2021 2:27 am
Amazing Duo
Here are some of the best rated fan based skin concepts that we would love to see in Fortnite!
Outside of its addicting, madcap action, Fortnite: Battle Royale's future-slapstick style is one of the most constant aspects of the game. Epic Games has demonstrated that there is nothing it will not include in the game in terms of cosmetics—dinosaurs, teddy bears, and hamburger humans, to name a few.
Epic's determination to allow the game to be as ridiculous as it wishes has encouraged a great deal of inventiveness from the game's community. Potential skin concepts are one of the most popular types of fan creations, and we've gathered some of the more stunning ones here.
10. Fortnite Esports Skin
Fortnite Esports Skin, Fortnite
This initial skin design was produced by Twitter user @T0XlN. Rise thought it would be fascinating to see what it would look like if the game gave some of the world's most popular esports organizations new skins. 
If you're familiar with Overwatch's esports skins, you can imagine how well they'd sell in Fortnite as well. The only challenge is establishing a Fortnite esports scene in the first place. There has been no discussion or effort in introducing a competitive mode to Fortnite thus far. I almost wish there was an esports scene for Fortnite so that we could obtain these skins.
What makes Fortnite Esports Skin awesome?
Badass Outfit Contrast
Cool Masked Faces
Amazing Cloaks
Pistols attached to the torso
Skin Rating: 9/10
9. The Warden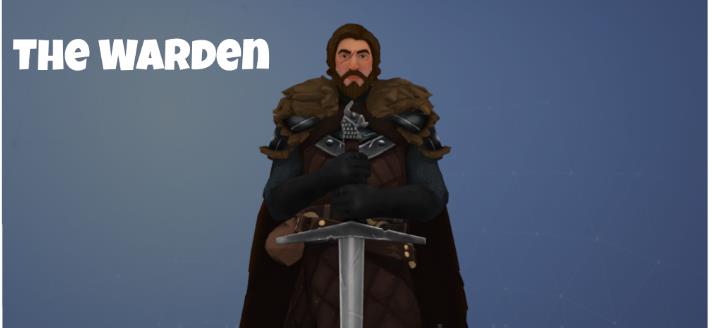 The Warden, Fortnite
The long night is coming. Man, we miss Game of Thrones so much. This Skin, replete with a llama-headed sword pickaxe hilt, would quench our appetite for dragons, blood, and political deception/decapitation.
What makes The Warden Skin awesome?
A Game of Throne Based Skin
The Warden of the Wall
Skin featuring the Main Star of GOT "Jon Snow."
Cool Black Feathery Outfit
A sword with a Llama head
Skin Rating: 8/10
8. Dakotas Wolf Skin Concept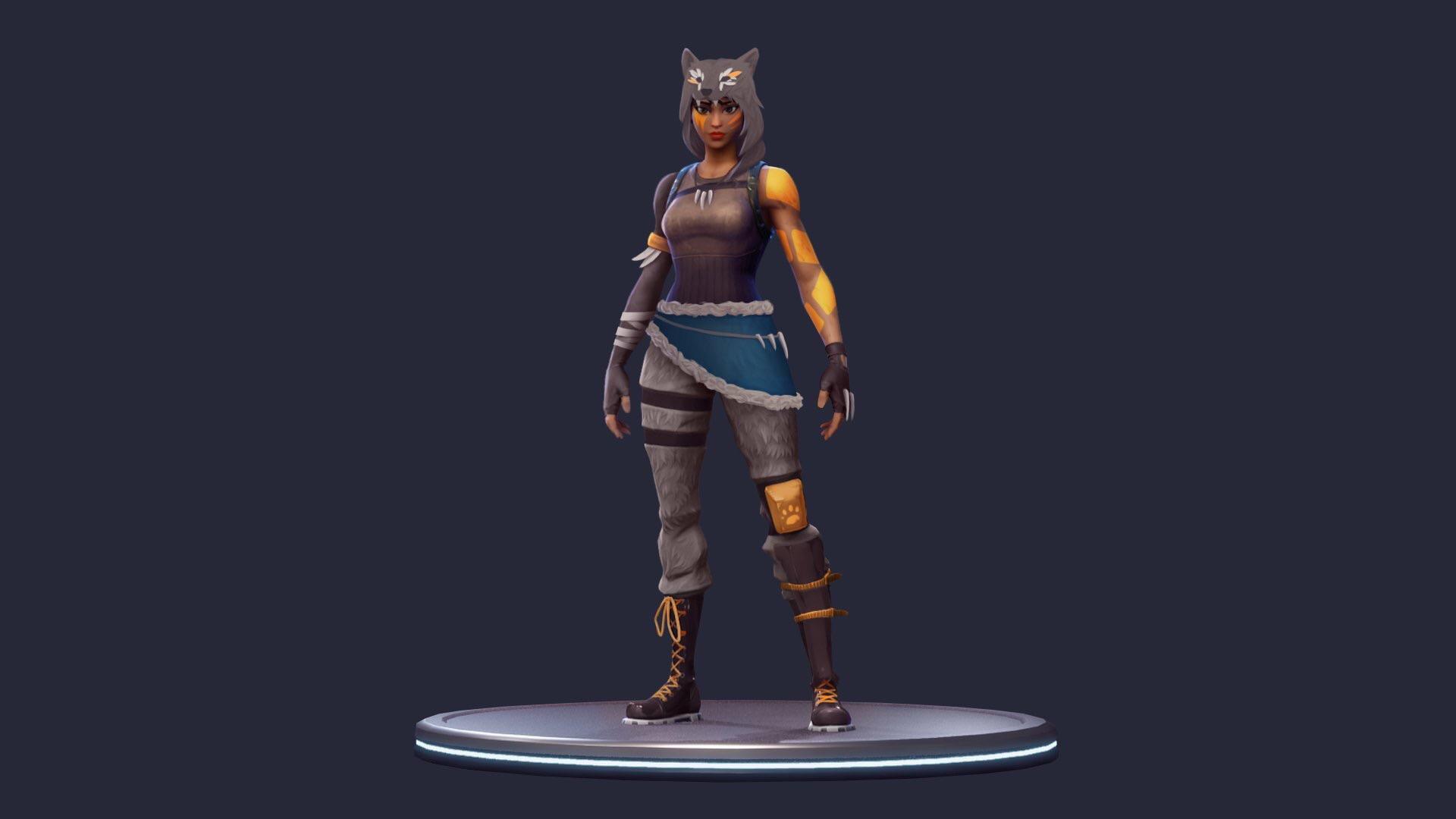 Dakotas Wolf Skin Concept, Fortnite
If you've ever watched Dakotaz play Fortnite, there are two things you'll notice. One, he is an exceptional Fortnite player, and two, he adores wolves. Kraze136 contributed this next-to-skin suggestion, and we're sure Dakotaz would rep it in every game if it made it into the game. 
I'd undoubtedly utilize it as well. What's lovely about this Skin is that it's straightforward yet does enough to differentiate itself from the other Fortnite skins. Hopefully, this will be a frequent skin, making it less expensive in V-Bucks.
What makes Dakota's Wolf Skin Concept awesome?
Badass Wolf Looking Outfit
Great Clay Gloves
A-Cap designed as a Wolf Head
Skin Rating: 9/10
7. Graffiti Head Skin Fortnite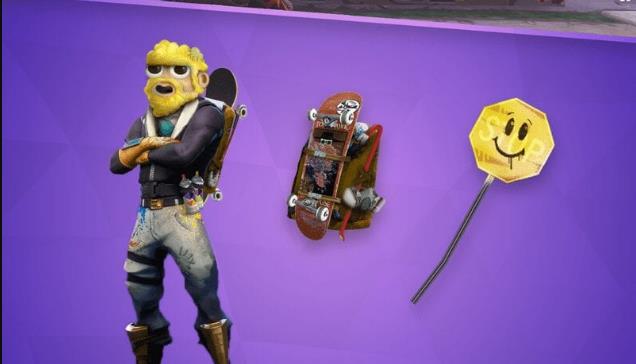 Graffiti Head Skin Fortnite, Fortnite
Have you ever noticed how Fortnite appears to be sprayed with different types of graffiti? Numerous cargo containers have been labeled, with some displaying this mysterious blonde bearded figure.
Nobody knows where this graffiti originated, but it prompted someone to design a Fortnite skin concept based on it. Above, you can see the concept for graffiti head skin.
The Skin was developed by XboxOneBlows and is just fantastic in every way. I adore the character's paint-splattered pants and skateboard on the back of his rucksack. The pickaxe is also rather excellent. It's straightforward, but it'd undoubtedly become a popular item.
What makes Graffiti Head Skin Fortnite awesome?
Cool Big Eyes Character
Yellowish Hair and Beard
Muscular Body
A cool Back bling of Skateboard
Skin Rating: 7/10
6. Fortnite Pop Culture Skin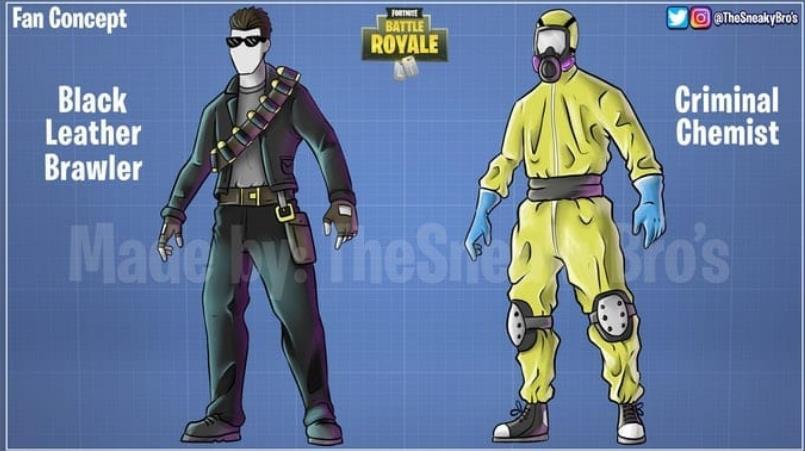 Fortnite Pop Culture Skin, Fortnite
Following that, we have additional Sneaky Paragon Fortnite skin designs. This time around, we're featuring designs inspired by famous cultural personalities. 
Here, we have the Black Leather Brawler, as Sneaky Paragon has dubbed it. Also, we have the Criminal Chemist, an apparent reference to Breaking Bad. Additionally, the designs on both pickaxes complement the overall skin theme.
What makes Fortnite Pop Culture Skin awesome?
Cool looking Tough Skins
Cool Sunglasses
Amazing Chemist Suit
Skin Rating: 7/10
5. Homer Simpson Crossover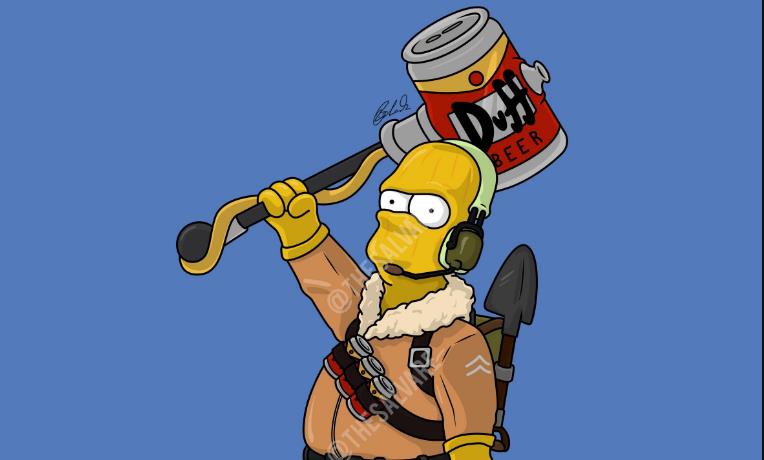 Homer Simpson Crossover, Fortnite
While getting Epic to accept this would be not easy, I'd still want to see a Homer Simpson-inspired skin in Fortnite. Or perhaps we'll be fortunate enough to see the Simpsons make some reference to Fortnite in a future episode. 
The salvage created this Skin, which combines the Fortnite Raptor skin with Homer Simpson to create a crossover concept.
What makes Homer Simpson Crossover Skin awesome?
A badass Simpson Homer Skin
Amazing Outfit
Pair of Cool Headset
Bear Cans attached to a belt on his belly
Skin Rating: 10/10
4. Bogo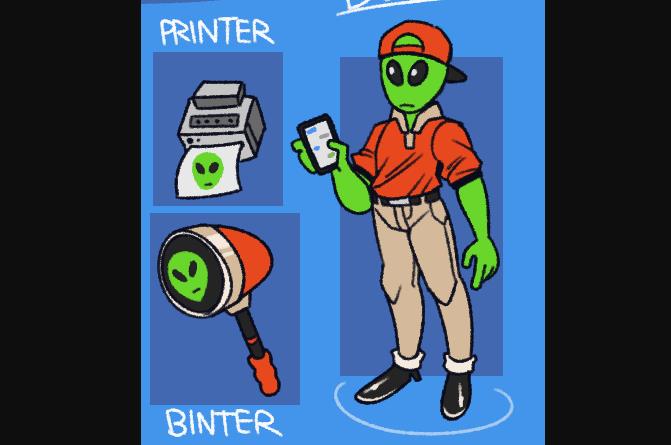 Bogo, Fortnite
Because Aliens are the primary emphasis of Fortnite Chapter 2, Season 7, many Alien concept skins have been released. Bogo, the underpaid alien telemarketer, is one of the most popular and amusing. It includes a printer back bling and makes you chuckle every time you see it.
What makes Bogo Skin awesome?
A Green Alien Telemarketer
Amazing Teenage Looking Alien
It has a Printer as its back bling
Skin Rating: 8/10
3. Alpha Borealis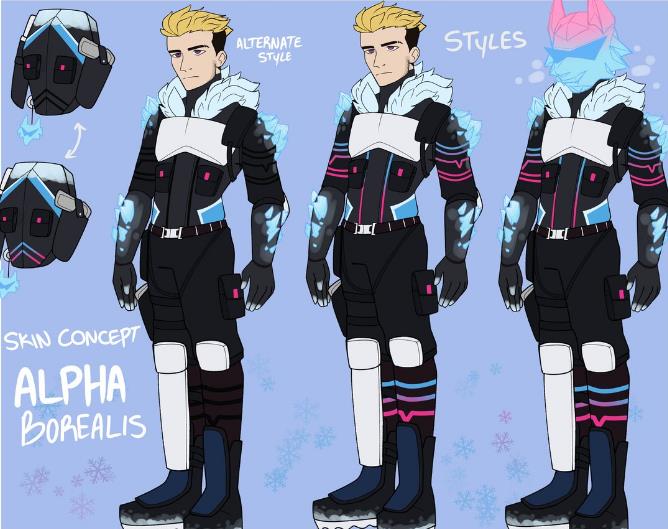 Alpha Borealis, Fortnite
Alpha Borealis has received a great deal of support on Twitter. This concept depicts a snowmobile-riding outlaw with some lovely fashion sense. He has neat hair and attire that features some vibrant colors. The back bling is fantastic, and he will eventually acquire a wolf-like mask/helmet.
What makes Alpha Borealis Skin awesome?
Cool Styled Snowboarder
Amazing Blonde Hair
Muscular Body
Skin Rating: 9/10
2. Pyne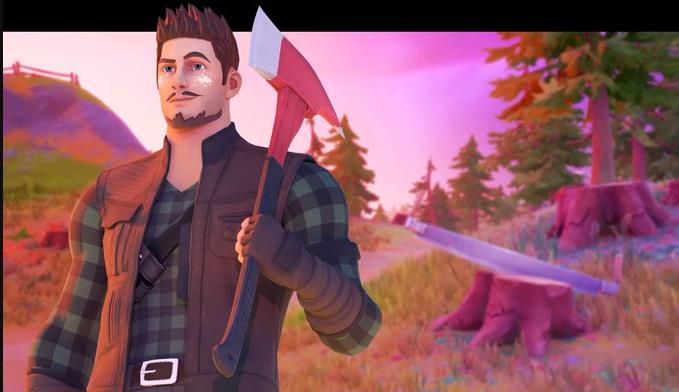 Pyne, Fortnite
Pyne seems to easily fit in a Fortnite starting pack or be introduced to the item shop at random during the autumn season. As a harvesting tool, the lumberjack is equipped with a flannel shirt and a tree-chopping ax. Additionally, the designer discusses many styles known as Human, Frosty, Black Ice, and Minty in the tweet thread.
What makes Pyne Skin awesome?
A lumberjack inspired Skin
An ax carrying person that loves to chop down anything
A random guy chopping woods in the forest
Skin Rating: 7/10
1. Punchy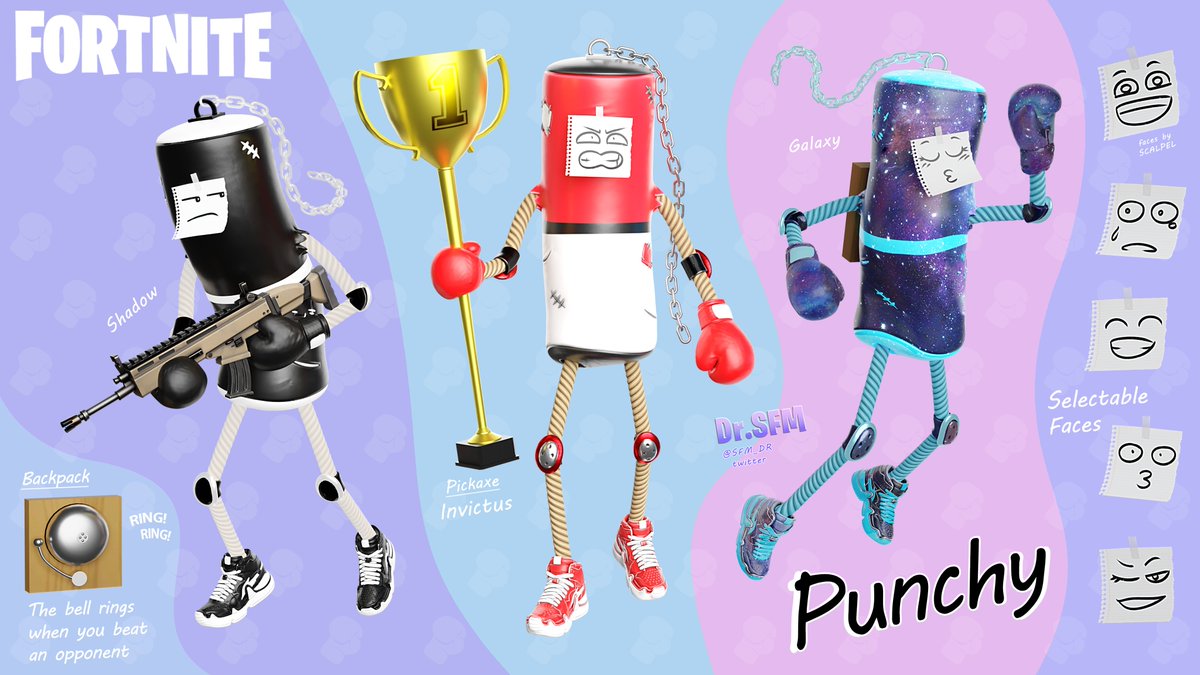 Punchy, Fortnite
Punchy is an excellent concept for Fortnite Skin. The avatar fits in perfectly with some of the otherworldly non-human species that have been transformed into Fortnite skins. This punching bag comes in various forms and comes with a long championship trophy as a harvesting tool.
What makes Punchy Skin awesome?
A Punching Bag Skin
Great for the Boxers that look to Train
Amazing Angry Looking Outfit
Skin Rating: 9/10
You may also be interested in: