[Top 15] Fortnite Best Audio Settings, And Tips That Give You An Advantage
Updated: 14 Jun 2021 10:27 am
You don't have to be a music producer to set up you audio settings
These are the best settings to make your game sounds better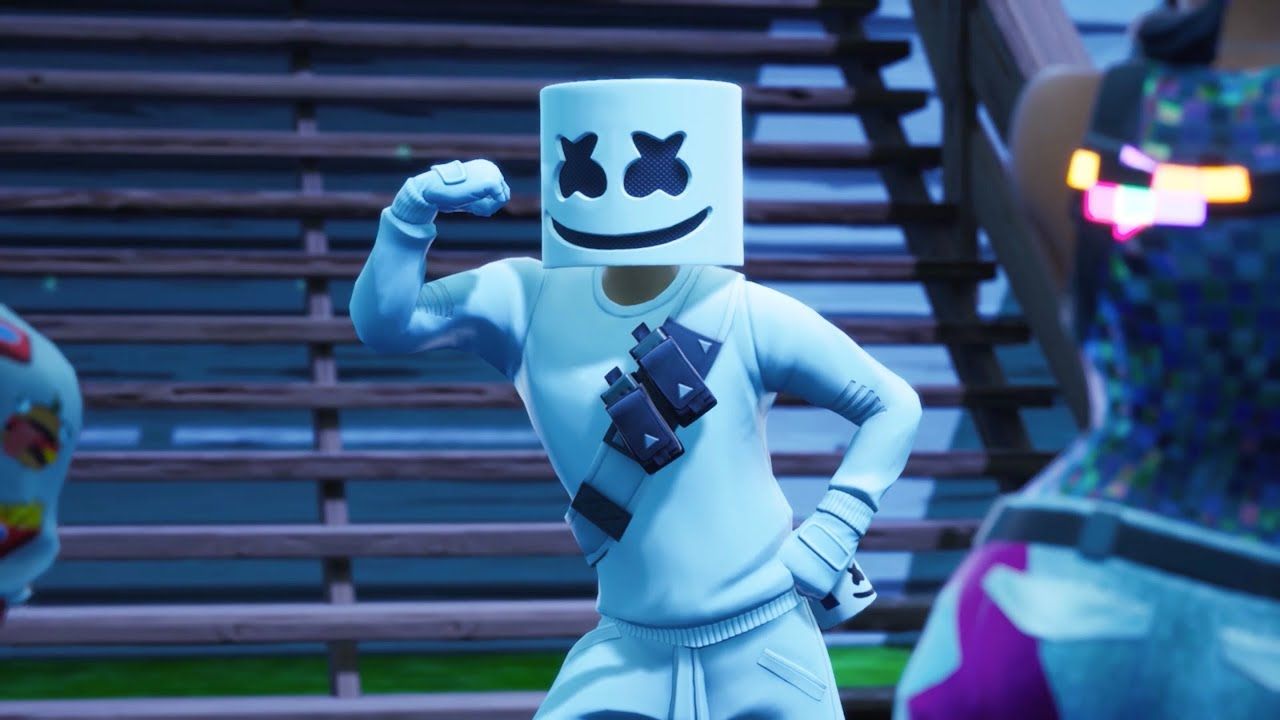 Fortnite Marshmallow 
As the title suggests, today we are going to talk about how to adjust your audio settings on your PC, as well as in Fortnite. It's one of the things that are overlooked as if not important enough, but you will be amazed at how much it can improve your playing style as well as the enjoyment of the game itself.
15. Setting up Your Sound Card
Тhe first thing you need to do is:
Click on the Windows search button and type in "Sound Settings". 
On the right click on the "Sound Control Panel".
A pop-up window will appear with the sound settings where you can adjust the default output devices (speakers or headphones/headset) and your input device such as your mic. 
You can adjust the volume coming out from your speakers/headphones, enhancements, bass boost, and the loudness of your mic while you are playing.
However, do not waste too much time adjusting, because you don't want to end up messing things around.
14. Loudness Equalization
You should consider using Loudness Equalization if you have trouble handling a sudden change of sounds, from too quiet, to very loud. This way it uses understanding of human hearing to "reduce perceived volume differences".
Sound Settings / Sound Control Panel
On the sound panel, click on the Speakers (or whatever is your output device), and click properties
Select the Enhancement tab and check the Loudness Equalization option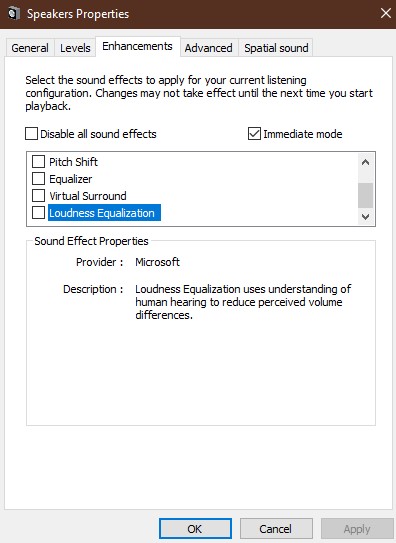 Loudness Equalization settings
13. Update Your Sound Card Driver
Just like any other hardware, the audio card comes with a driver you should update to the latest version. 
12. Pair of Headphones
You will be amazed at how decent sound can enhance your gameplay in Fortnite. Do not ignore this fact if you use headphones while playing. Of course, you do not have to spend a fortune to make a negligible difference. Research online, there is always something that will satisfy you with the price, but also with the quality.
11. Microphone
Fortnite, like any online game, allows you to play with your friends. It is important, but not crucial, to have a good mic. However, a good mic will give you an advantage while playing the game through excellent communication with teammates. 
Now for the in-game audio settings
10. Volume settings
If you are playing solo, you may want to keep everything on default 100%, but you may want to tweak the volume a bit if you are in the party (duo, trio, squad).

Volume Settings
Music - This adjusts the volume of music in Fortnite. Set this to whatever sounds best for you. Sometimes it is more of a distraction, so if you are in a squad consider lowering it to 5 - 10 %.
Sound Effects - These effects are in-game sounds you hear while playing like gunshots, chests, footsteps, and other sounds. Anything over 50% is good enough so you can clear all the sounds.
Dialogue - This adjusts the volume of dialogue for game characters. Set to whatever you find sounds best.
Voice Chat - Volume of your friends in voice chat. You should turn this loud enough so you can hear them well. Anything above 70% is should be fine.
Cinematics - This sets the volume of cinematics and in-game video scenes. Use whatever you find is best.
9. Sound Quality High / Low
Turn this to low only if you are using a weaker configuration and you need all the performance you can get. In any other scenario, leave it high to get the most out of your game sound quality.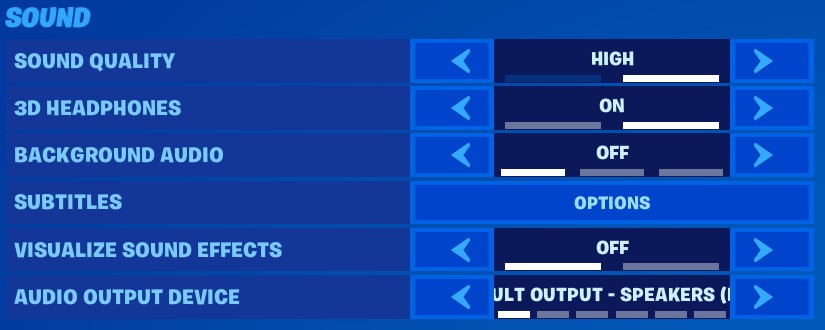 Sound quality
8. 3D Headphones ON / OFF
This setting enables 3D audio spatialization so you can hear the location of sounds more precisely. Turn this on if you use stereo headphones, as it significantly enhances the quality and enemy detection.
7. Background Audio: OFF
If you choose to leave this setting ON, every time the game is minimized, you will still be able to hear the sounds/music and it is annoying while you are trying to do other stuff on your computer. I suggest turning this OFF, so every time you minimize the game window, the sounds will fade out.
6. Visualize Sound Effects: OFF
An interesting feature that allows you visually capture sounds that you cannot hear well. For example, when someone approaches you nearby, steps appear on the screen, or if there is a chest nearby, a chest visualization appears.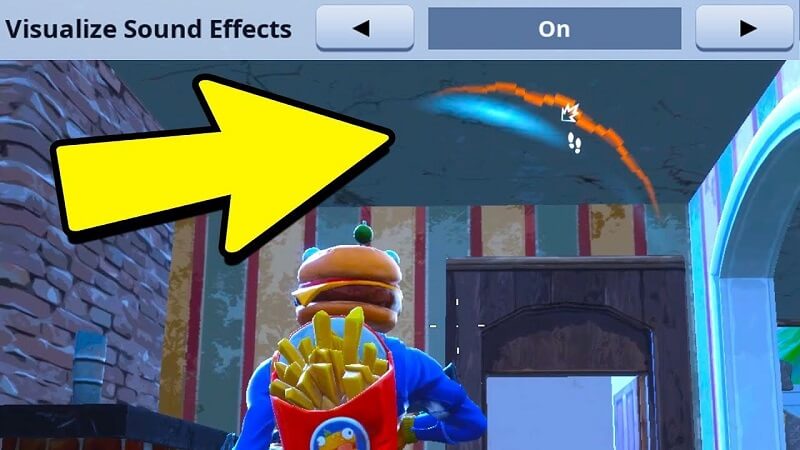 Visualize Sound Effects
If you enable this option, the spatialization of the 3D headphones option will automatically turn off. Therefore, if you do not need it, I recommend turning this option OFF.
5. Audio Output Device
Оften happens that the player has no sound coming out of his headphones or speakers. This option is for just that.
Choose one of the offered options, depending on what hardware you are using. This will most likely be your Headphones or Speakers with the Default Audio Driver.

Audio Output Settings
4. Voice Chat: ON
A setting that allows you to listen to your teammates and have them listen to you. Of course, it depends on whether you play solo or in a squad. In any case, always keep this option on and turn it off only if necessary.
Voice Chat Method: Open Mic
There are two options to choose from, but both of them come with their pros and cons. 
One of them is Open Mic, it is always on and your teammates hear you at all times. Surely, you do not want them listening to all the background noises, someone else talking in your room, so you have the other option Push to Talk. It means that your teammates will only hear you when you press and hold the Push to Talk button. However, some players may find this difficult to get used to so they just prefer open mic.
You can assign a USB foot pedal for the Push to talk key to help you keep your hands free from the already large number of usable keys in the game.
3. Voice Chat: Input and Output Device
Voice Chat: Input Device sets the device that will receive your voice chat that your teammates will hear. Select the default Microphone you are using at that moment.
Voice Chat: Output Device - You will hear teammates that are using voice chat. Select the default Speakers/Headset.
2. Other Voice Chat Settings
Voice Channel (Filled Match) - The default voice channel is filled with random players. If you choose the Game option, you will join the game chat channel. However, if you choose the Party option you will stay in the party chat channel with your non-fill teammates.
Voice Chat Notifications: ON - Enables or Disables the notifications that appear when someone is in your voice channel.
Houseparty Video Chat Integration: ON - Fortnite recently released the Houseparty video chat app. Players can link their Houseparty and Epic accounts and have their video chat shown alongside their Fortnite Game.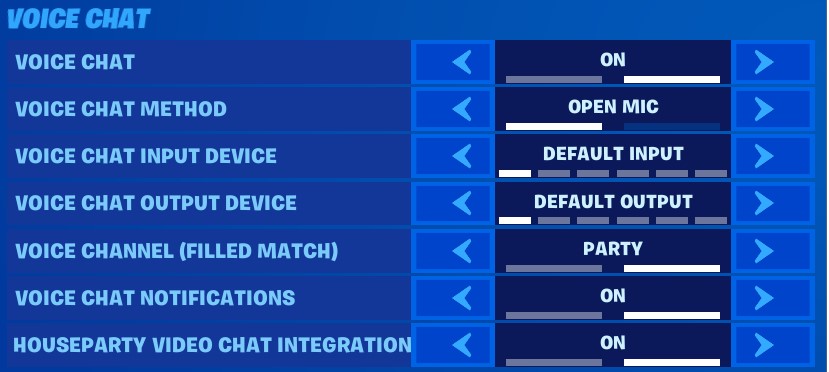 Voice Chat Settings
1. Licensed Audio
You need to be very careful about this last option, especially if you are a content creator or a streamer. You can select this option to avoid playing licensed audio sources, except event playlists that feature already licensed content (like in-game concerts). 
Play - The audio is played normally (all the in-game songs, emotes, cinematic music).
Mute Others - When other players play audio sources with licensed material this audio is muted.
Mute All - All sources containing licensed audio are muted, no matter if you or others play them.

Licensed Audio
I hope you have found this article useful and it has helped you configure your Fortnite audio settings in the best possible way.
You may also be interested in:
Image Gallery