[Top 15] Fortnite Best Marvel Skins That Look Freakin' Awesome!
Updated: 27 Nov 2021 2:28 am
Character Showdown
Are you wondering what the top skins of marvel are in Fortnite? Find out below:
Epic Games and Marvel have been collaborating on projects for a long time. While specific skins from the Marvel Universe have always been available in the Item Shop throughout past Seasons, the Fortnite universe was even involved in the Nexus War in Chapter 2, Season 4.
Guest characters have become the most anticipated content for each Fortnite Season, particularly when it comes to comic book characters. Whether via downloadable content or the Battle Pass, comic book characters wind up being some of the most frequently utilized skins in the game.
Marvel has frequently collaborated with Fortnite, even committing a whole season to feature Marvel characters in the Battle Pass. From heroes to villains, Marvel fans have had a plethora of high-quality skins to enjoy while playing the Battle Royale game.
15. Groot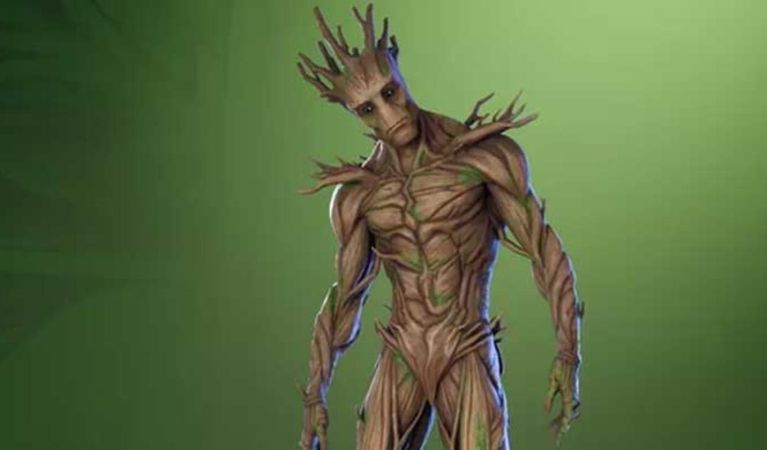 Groot, Fortnite
Technically, two characters rolled into one: Groot was obtained at Level 38 of the Battle Pass, but you get unlocked a pet if the player completed Groot's particular tasks. It was revealed to be Rocket Raccoon, and the two worked nicely together in Fortnite's cartoonish aesthetic style.
Groot also wore back bling in the shape of a dancing Baby Groot and branch-like harvesting tools, one of the rare instances in which a harvesting tool suits both the concept and visual style of a character.
What makes Groot Skin Awesome?
A strong muscular character
The character made of wood
Has branches on his head and shoulder
How to Get Groot: To unlock Groot, you will need to buy the Battle Pass in Fortnite Chapter 2 Season 4 and then level up to level 46.
See Groot in action: https://www.youtube.com/watch?v=w3biPopF6_8
14. Deadpool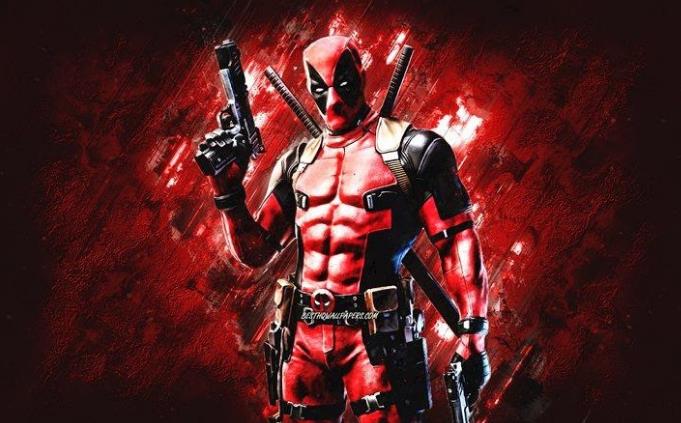 Deadpool, Fortnite
The standout guest character in Fortnite's Season 2 of Chapter 2 was everyone's favorite fourth-wall-breaker. Deadpool made quite an impression upon his arrival, from his bizarre refuge on the main menu to his comic adventures. He was another character who complimented his back blind and harvesting equipment nicely.
The Merc with a Mouth wore his signature red ensemble, as well as his iconic alternate grey and black skin from his X-Force comics, as well as an alternate skin showing a mask less Wade Wilson. Like with other characters in Fortnite, his sole fault was that he was unable to communicate, but his antics still made gamers giggle.
What makes Deadpool Skin Awesome?
Amazing Ninja Warrior
Cool looking red and black outfit
Badass Swords as Back Bling
How to Get Deadpool: Deadpool was added several seasons ago in Chapter 2 of the game, and unfortunately, that means that he is no longer in the game.
See Deadpool in action: https://www.youtube.com/watch?v=3ZRpf6nYbdU
13. Daredevil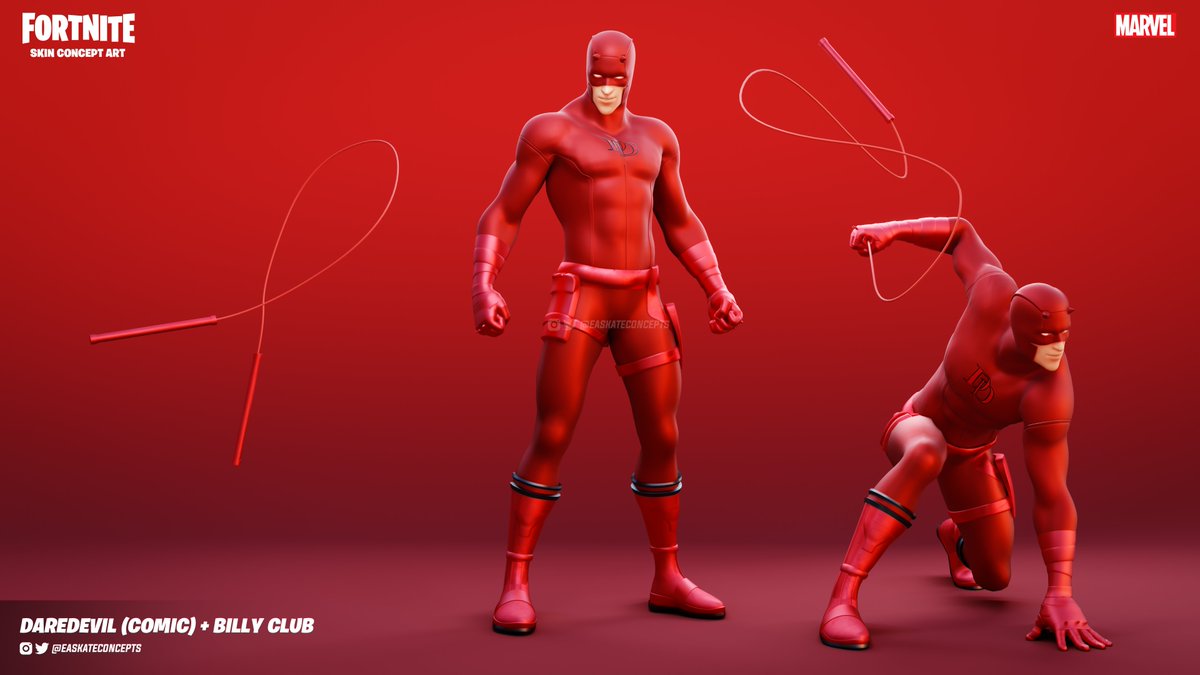 Daredevil, Fortnite
Sadly, Daredevil was not included in Chapter 2's Marvel-centric Season 4 Battle Pass but was offered as a DLC package in the in-game item shop. Daredevil comes equipped with his characteristic batons, a devil-themed glider, and back bling in the form of his echo-location for 1500 V-Bucks. Though he only had one variant skin, it was a welcome one since Fortnite rendered his base skin in a cell-shaded style reminiscent of comic books.
What makes Daredevil Skin Awesome?
Cool Looking Red Outfit
Amazing Abs
Muscular Body
Fierce Looking Warrior
How to Get Daredevil: To get the skin, On October 14, players were asked to compete in the Marvel Knockout Super Series Daredevil Cup.
See Daredevil in action: https://www.youtube.com/watch?v=5UzwGu_ua44
12. Storm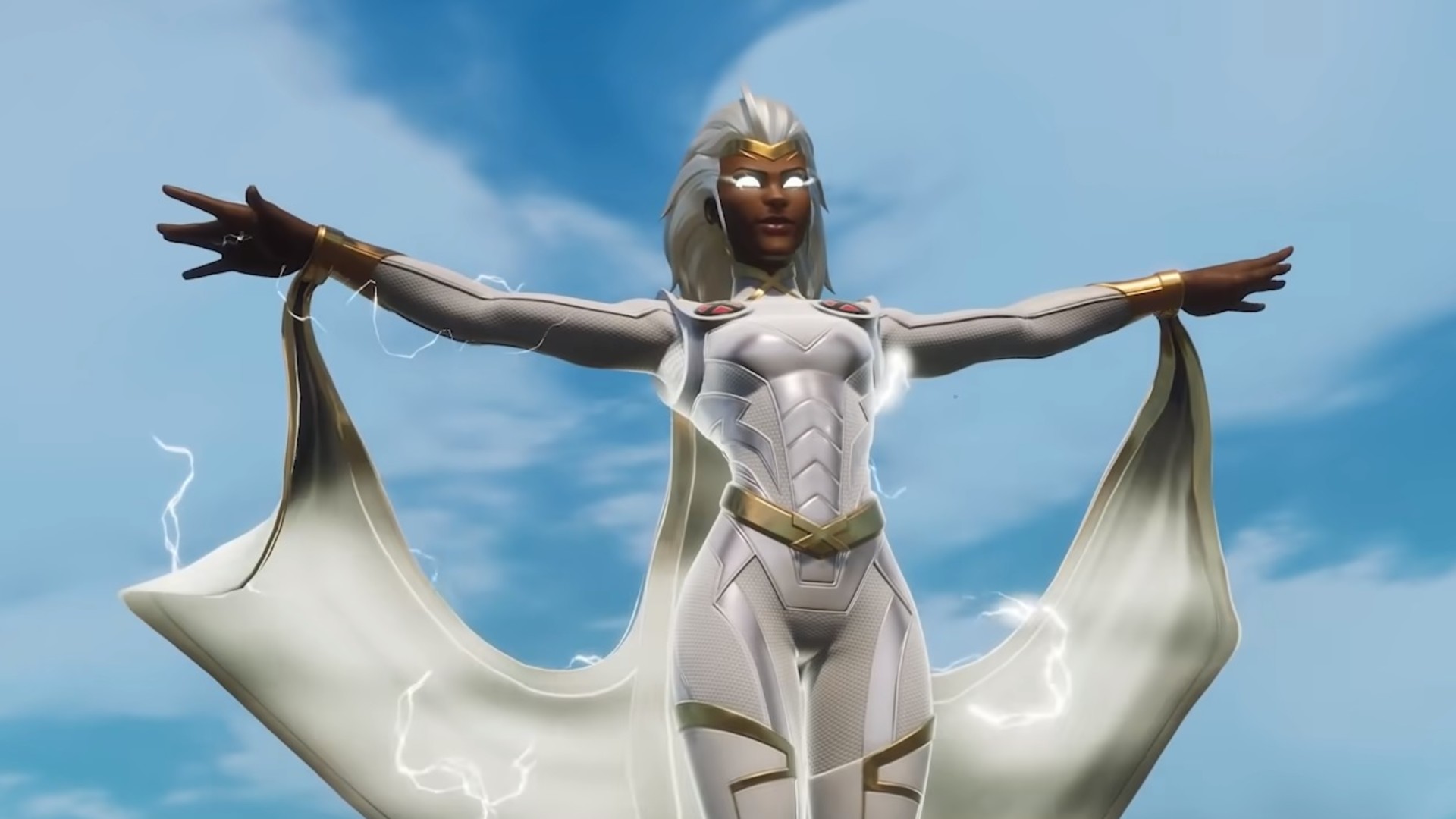 Storm, Fortnite
Marvel fans await Marvel's announcement of their intentions for the X-Men in the Marvel Cinematic Universe. Until that day arrives, supporters must make do with what is available. Fortnite, thankfully, delivered with a Storm skin that pays respect to an incredible depiction of black women in both editions.
What makes Storm Skin Awesome?
Amazing Glowy Eyes
Cool looking grey hair
A fierce warrior with control over thunder
How to Get Storm: To unlock Storm, you will need to buy the Battle Pass in Fortnite Chapter 2 Season 4 and then level up to level 22.
See Storm in action: https://www.youtube.com/watch?v=chVRQzu-pPg
11. Doctor Doom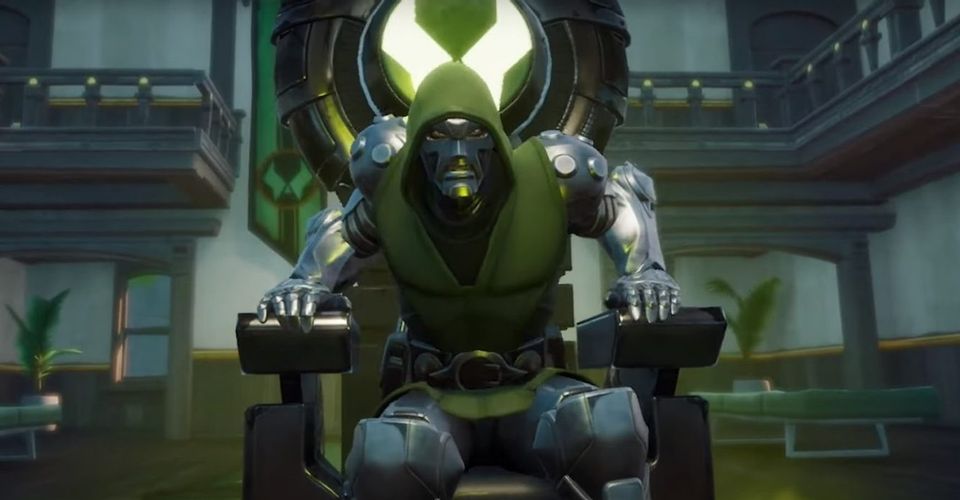 Doctor Doom, Fortnite
One of the most sought-after characters during Season 4 of Chapter 2 was one of Marvel's archetypal villains. From his signature green cloak to his foreboding metal mask, Doctor Doom was so renowned that Fortnite included a whole Latverian portion onto the map.
Fans adored this character's edition due to the inclusion of his staff and the option to sit on a throne as an emote. Unfortunately, like most of the Season's characters, he was only available via the Battle Pass, which means that gamers must now hope that Doctor Doom drops in the item store for purchase using V-bucks.
What makes Doctor Doom Skin Awesome?
Amazing Metallic Character
Fierce Villain
Cool Green Outfit
How to Get Doctor Doom: To get Dr. Doom, you will need to buy the Battle Pass in Fortnite Chapter 2 Season 4 and reach level 67.
See Doctor Doom in action: https://www.youtube.com/watch?v=_bRm35qlLAk
10. Black Widow
Black Widow, Fortnite
When Fortnite released the first previews for the Black Widow film, fans went insane when the hero spy dropped from a chopper wearing an all-white outfit. Fortnite, as the kings of opportunity, was able to make that version of Black Widow available via skin and package purchases in the weeks leading up to the film's theatrical and digital release. There's also a Fortnite skin with her in a black suit with her emblem in the center, which is more in line with her comic appearances and less with her film outfits.
What makes Black Widow Skin Awesome?
Pretty Red Head Women
Amazing Fierce Warrior
Cool White Outfit
How to Get Black Widow: You can get it for 1500 V-Bucks.
See Black Widow in action: https://www.youtube.com/watch?v=9LQo8MB0YRk
9. Iron Man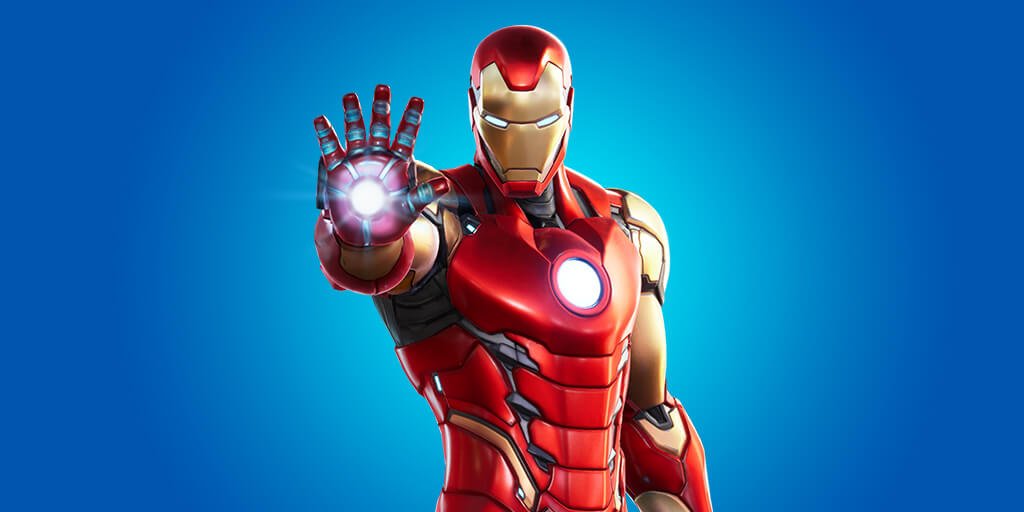 Iron Man, Fortnite
Tony Stark was an unlockable skin during the Marvel season, featuring the intelligent billionaire playboy philanthropist dressed in his skin-tight suit. It would unleash an emote that would convert Tony Stark into the Invincible Iron Man if he completed Tony Stark's trials. Iron Man's outfit was inspired directly by Robert Downey Jr.'s final appearance as Iron Man in the movie "Avengers: Endgame." It also had nanotechnology-based weapons such as an energy blade harvesting tool and flying wings.
What makes Iron Man Skin Awesome?
Unique looking Red Metallic Armor
Laser Beams Coming Out from Hands
Amazing Glowing Eyes
How to Get Iron Man: To get the Iron Man Suit Up built-in emote, you will need to unlock Tony, reach level 100 and complete the Tony Stark Awakening Challenges, which will unlock further rewards. Reach 88 on the speedometer in a Whiplash as Tony Stark.
See Iron Man in action: https://www.youtube.com/watch?v=2VKMYcA6JIA
8. Loki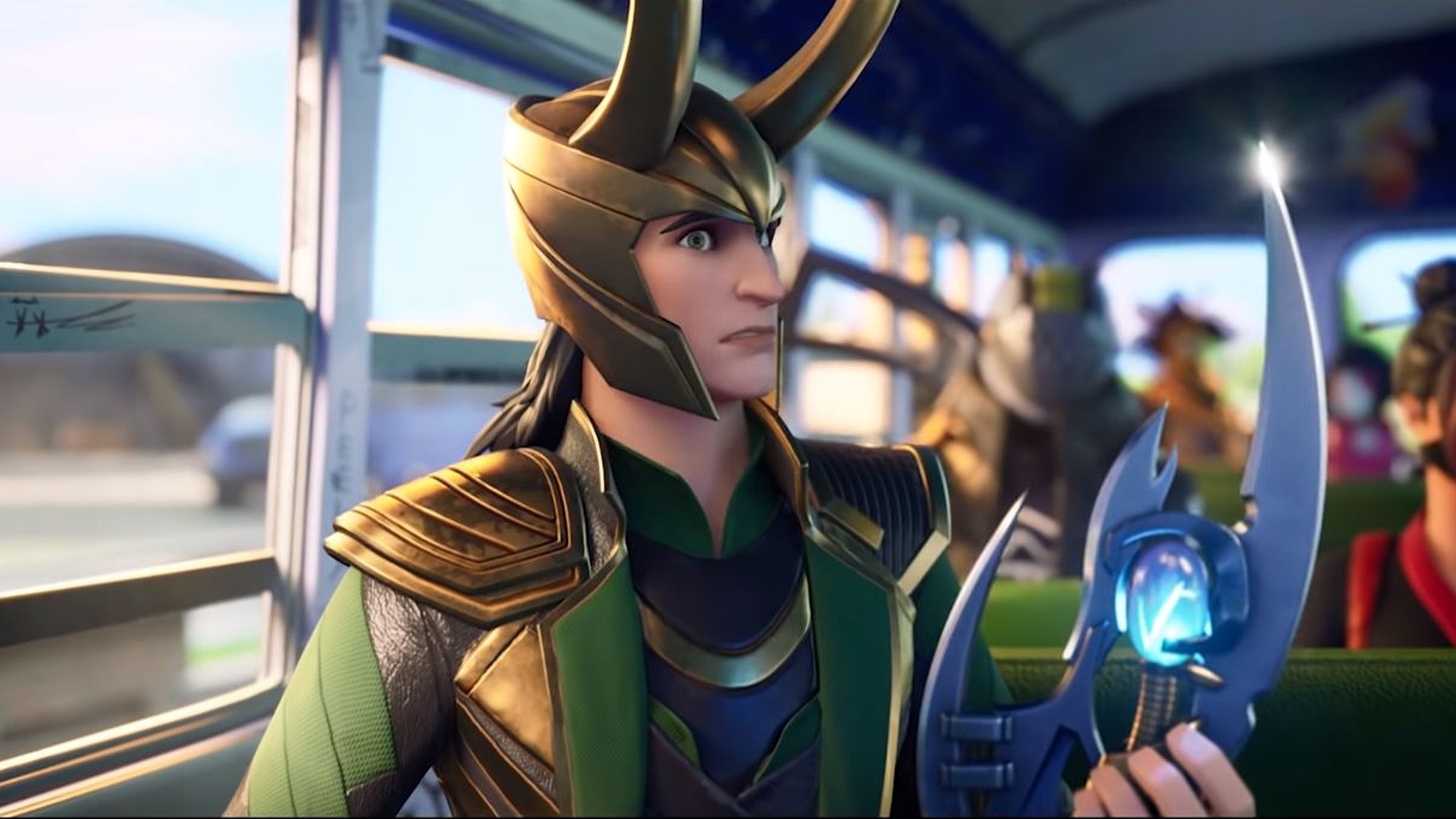 Loki, Fortnite
Loki, played by Tom Hiddleston, is arguably the most adored character in the Marvel flicks, which is not a member of the core Avengers. His latest Disney+ series Loki contributed to the character's heritage and accompanied a Fortnite skin that reflected the character's famous appearance from the first Avengers film. His bundle included a harvesting instrument in his distinctive scepter, which houses the Mind Stone. Additionally, it had a green and gold cape, a gliding item, and a loading screen.
What makes Loki Skin Awesome?
A villain from the Marvel
Excellent Horns on the Helmet
Has a Specter as its Pickaxe
How to Get Loki: To get the Loki Skin on Fortnite, you'll have to subscribe to the Fortnite Crew subscription service for July 2021.
See Loki in action: https://www.youtube.com/watch?v=5XvCvFcAJ6o
7. Blade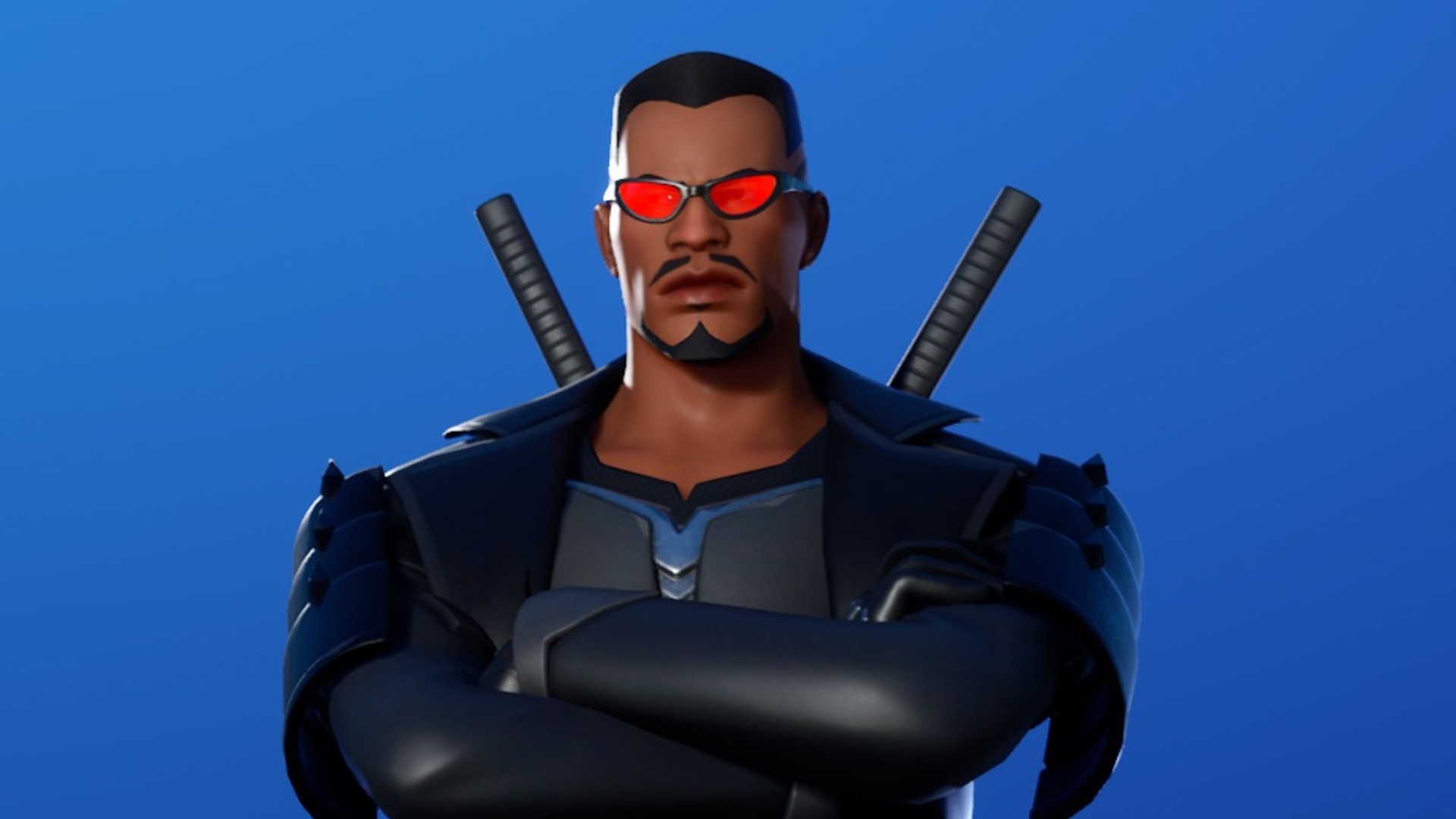 Blade, Fortnite
Like most Blade items, it is based on Wesley Snipes' depiction, which was so adored that It got rebooted even the comic books in the Wesley Snipes Blade style. The Blade may be acquired for a whopping 2000 V-Bucks when it becomes available again in the Item Shop. 
The Blade comes dressed in his signature trench coat, but you can swap this out for his vest-only outfit complete with arm tattoos. Both versions have the comic book's trademark red sunglasses, and his harvesting instrument is, of course, the silver-tipped sword, after which he is called.
What makes Blade Skin Awesome?
Amazing Ninja Warrior
Muscular Body
Fierce looking character
How to Get Blade: You can get this skin for 2000 V-Bucks
See Blade in action: https://www.youtube.com/watch?v=aKk7vjzmRDE
6. Captain America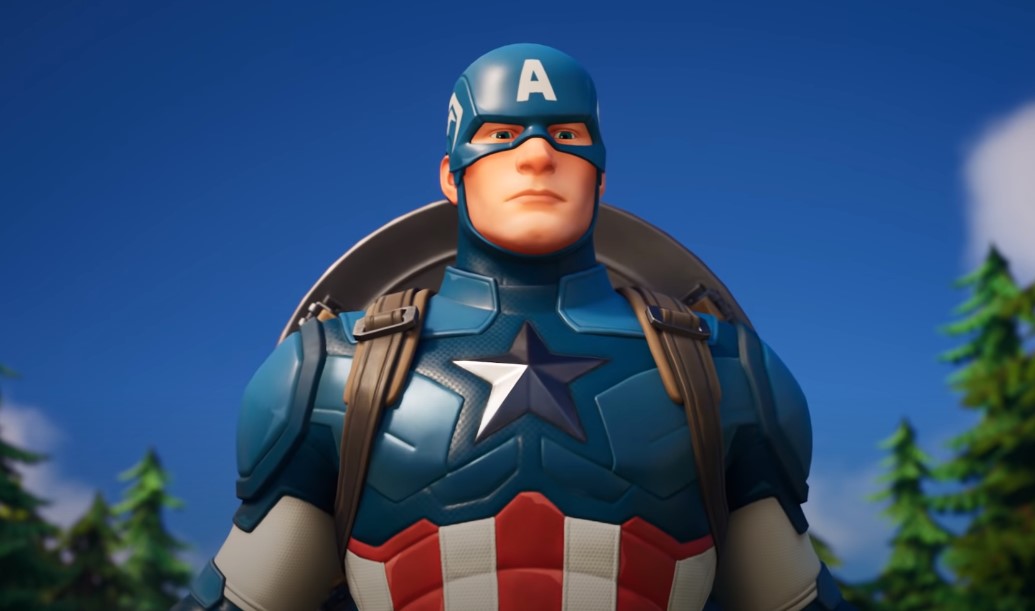 Captain America, Fortnite
The Marvel Cinematic Universe played a significant role in establishing Captain America as a household name and adored hero. It was a sea change for someone who was often seen as a weaker version of Superman by many famous superhero fans. 
Fortnite's skin is inspired by Steve Rogers and his stint in the stars and stripes. With Sam Wilson as the titular character in the upcoming Disney+ series, it'll be fascinating to see if Fortnite ever adds a version of the hero based on the guy once known as Falcon.
What makes Captain America Skin Awesome?
The leader of the Avengers
Has Shield as its Back Bling
Amazing Muscular Body in a Blue outfit
How to Get Captain America: You can get this skin for 2000 V-Bucks
See Captain America in action: https://www.youtube.com/watch?v=549nkZ2dcCc
5. She-Hulk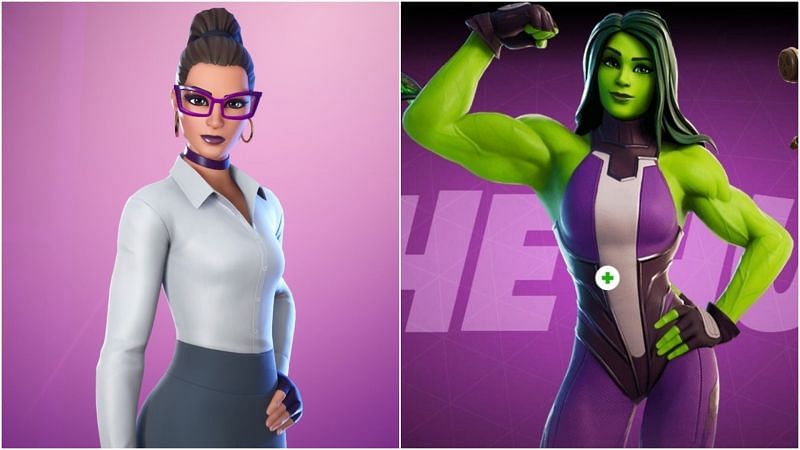 She-Hulk, Fortnite
Rather than incorporating The Incredible Hulk as is customary, he was replaced with his equally powerful cousin: She-Hulk. As with Tony Stark, she begins as mild-mannered Jen Walters but gains an emotion that allows her to release her wrath and turn into She-Hulk upon accomplishing her trials. 
Regrettably, she lacks the comics' gamma-born strength, although she does employ court mallets as harvesting tools. Jen Walters' alternative skin has a red and black color scheme that matches her She-Hulk form, converting her into the comic book's Red She-Hulk.
What makes She-Hulk Skin Awesome?
Amazing Transforming Character
Comes in Red and Green Colors
Cool Long Hair
How to Get She-Hulk: To get Jennifer Walters She-Hulk Gamma Overload to emote, you will need to buy the Battle Pass in Fortnite Chapter 2 Season 4 and reach level 29.
See She-Hulk in action: https://www.youtube.com/watch?v=-ZT8FBG8KrU
4. Black Panther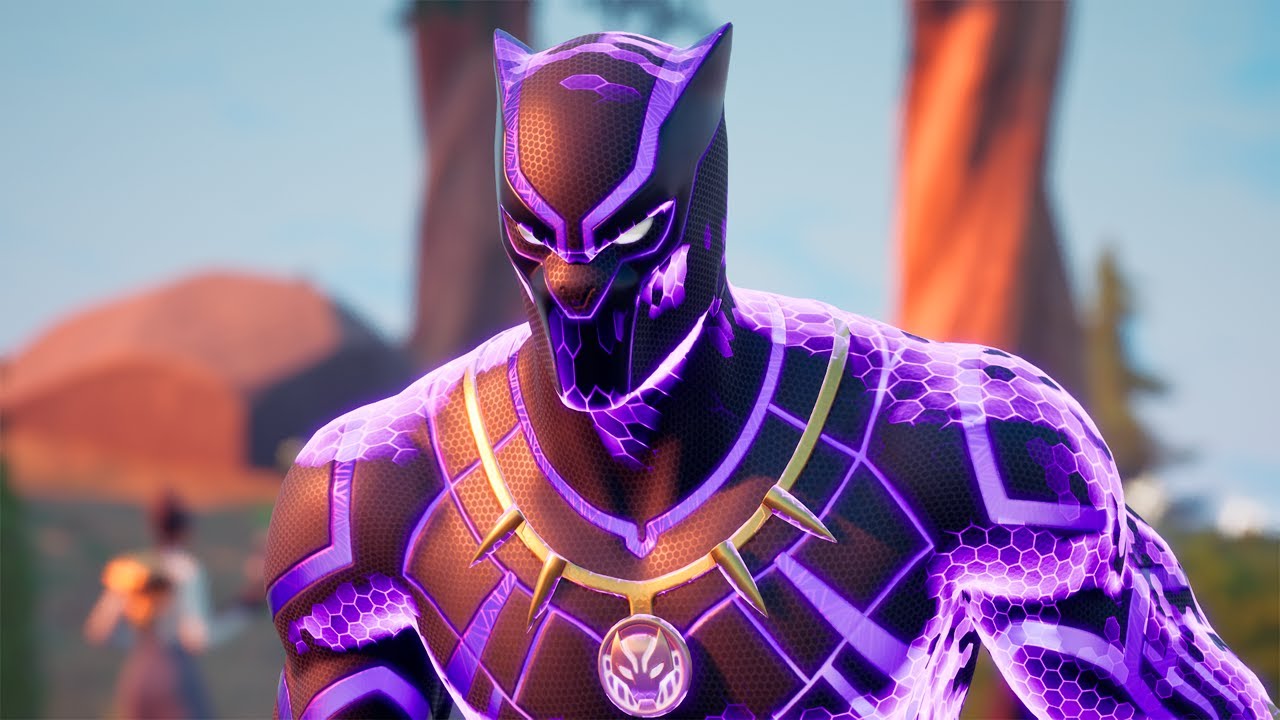 Black Panther, Fortnite
The actor who played Black Panther in the film of the same name, Chadwick Boseman, has passed away, leaving this character with a sense of purpose. Fortnite's inclusion of characters from the film helped increase the representation of Black culture in popular culture. As a homage to the late Boseman, the game featured a Wakandan salute emote from all Marvel Fortnite characters. In honor of someone who touched so many people's lives, it was an emotional time.
What makes Black Panther Skin Awesome?
Amazing Panther Looking Skin
Cool Claws on the Outfit
Vibranium Powered Suit
How to Get Black Panther: To get Black Panther in Marvel's Avengers, you need to start the War for Wakanda mission chain. After you complete the first mission, you'll get T'Challa as a playable character.
See Black Panther in action: https://www.youtube.com/watch?v=gdU9-_TgA7s
3. Wolverine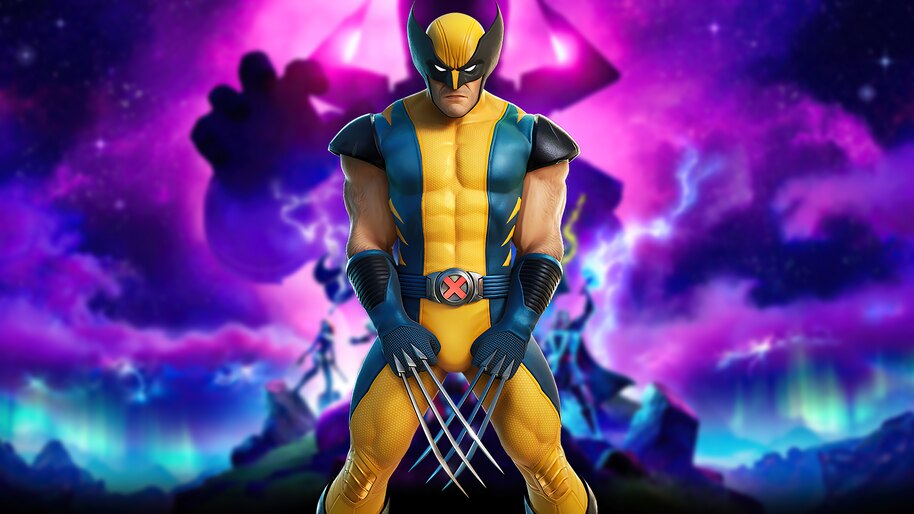 Wolverine, Fortnite
With his famous yellow and blue outfit, yellow and brown suit, and Logan persona with trousers and tank top, Wolverine was the obvious choice for Fortnite. The ability to extend Wolverine's claws from his knuckles was acquired via an emote. 
Therefore the character didn't start equipped with a harvesting tool. Still, Wolverine's multiple appearances provided fans with a wide range of options that appealed to a wide range of demographics. Logan's back bling is the decapitated head of a Sentinel, which serves as a trophy for the comic book hero.
What makes Wolverine Skin Awesome?
Unique Character from the X-Men
Cool Claws
Amazing Yellow Outfit
How to Get Wolverine: If you want to unlock the Wolverine skin in Fortnite, you must first buy the Fortnite Chapter 2 Season 4 Battle Pass.
See Wolverine in action: https://www.youtube.com/watch?v=4pfGakrhjRM
2. Thanos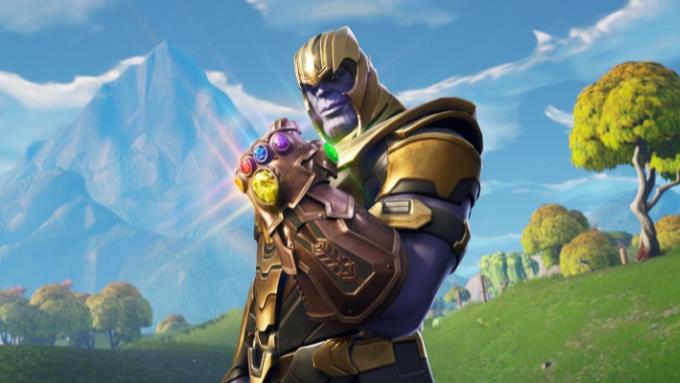 Thanos, Fortnite
Marvel was able to nail Thanos' appearance, which arrived after 20 theatrical releases and is one of the finest payoffs and antagonists in cinematic history. For example, in Fortnite, the Infinity Gauntlet harvesting tool and a silhouette of the gauntlet might be worn on a player's pack in addition to a skin depicting his fearsome appearance. Epic Games' designers were able to preserve his dimensions for his skin while yet making it function.
What makes Thanos Skin Awesome?
Cool Muscular Character
Amazing Infinity Stones Holder
Purple colored Body
How to Get Thanos: Register and participate in the Thanos Cup.
See Thanos in action: https://www.youtube.com/watch?v=LmzdPcLd7lQ
1. Venom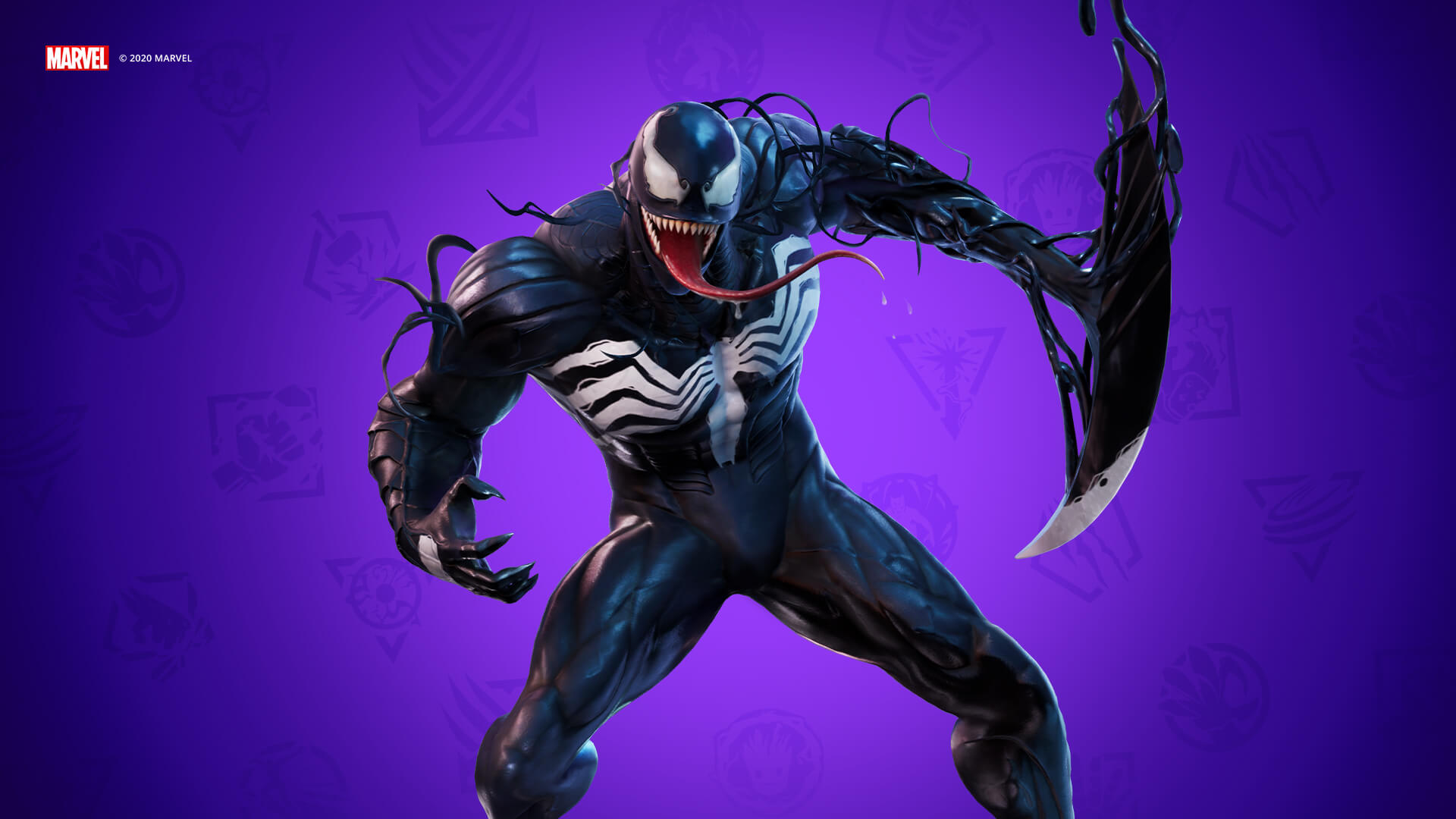 Venom, Fortnite
Venom is one of those characters that immediately catches the eye of moviegoers. For 2000 V-Bucks, players may purchase the iconic Venom character from the comics in the Item Shop. Although he also displayed his extreme skin, a more violent and frightening version of himself that emphasizes his alien origins, the character was a double threat. 
Venom's harvesting tool was a symbiote-formed scythe, identical to Riot's in the Venom film, which he was given back bling. Both skins of Venom look fantastic, and the level of realism and motion is outstanding.
What makes Venom Skin Awesome?
Excellent Parasite Attached to a Human
Muscular Body
Badass looking Claws and Teeth
How to Get Venom: Directly head to the in-game shop and buy the Eddie Brock bundle.
See Venom in action: https://www.youtube.com/watch?v=zHZLCE8NIWg
You may also be interested in: