Apex Legends Best Drop Locations for Each Map (Season 5)
Updated: 21 May 2020 8:39 pm
The New King's Canyon
Why a good landing counts:
If you land in a good spot you put yourself at an immediate advantage. Stupid to pass that up, right? Well, check out these spots we've picked and then go and try them out!
Worlds Edge: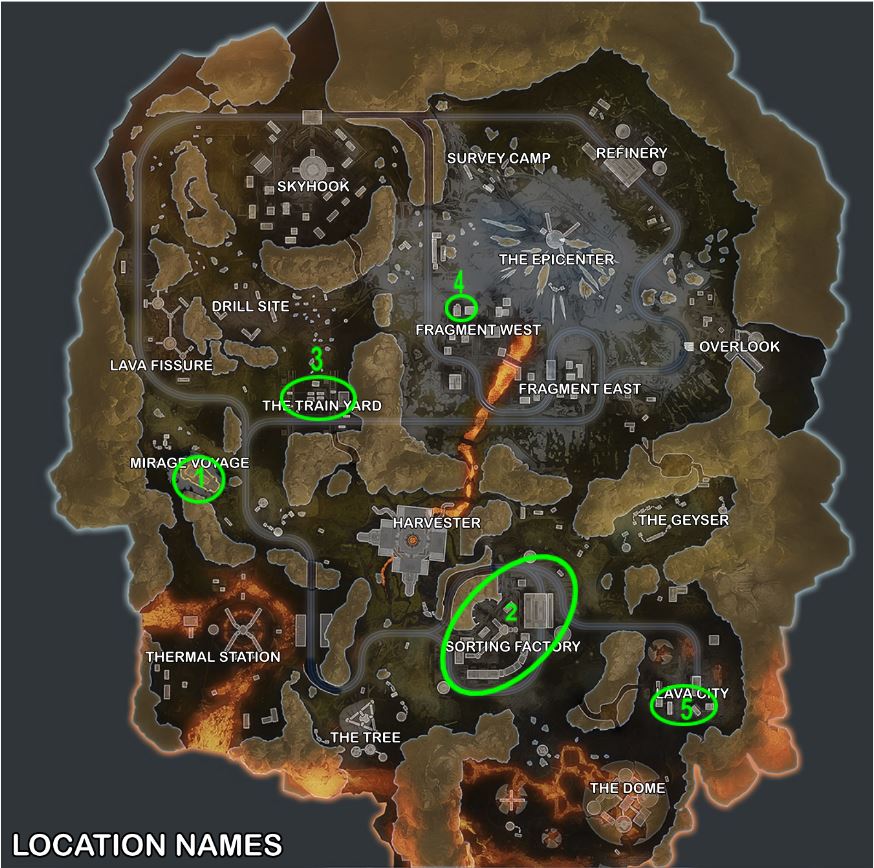 1. Mirage Voyage
If you want great loot off the bat, this is the place to go.
This is generally quite a hot spot to drop. Hope you're holding a gun and not a pen!
2. Sorting Factory
This is a pretty large area so there is a ton of loot available. Eliminates some of the RNG, so, unless you're a useless bot you've at least got a chance.
3. The Train Yard
The train yard is a great place to wait in ambush. Provided you survive the straight-after-landing battle, because it's POPULAR. The cages up above are perfect for sniping from and easy to defend.
Very often enemies from Skyhook, Drill Site, and Lava Fissure funnel through train yard if the ring is in the lower half of the map. 
The same applies to Thermal Station, Mirage Voyage, and Harvester if the opposite is true. Got that? If you didn't, well…
4. Fragment West (north segment)
The great thing about this spot is: it's very central. You rarely have to rotate much to get into the first ring.
Another epic feature: In my experience, it is the quieter part of the fragments. So if you land there you get time to loot and can get early third-party kills on the squads battling it out across the railway to the south and across the fissure in Fragment East. 
5. Lava City
Lava City is a good spot for a quiet landing, provided it's not too close to the flight path of the dropship.
A great thing about this spot is that there is almost always a loot bot near the eastern entrance to the tunnel leading west from the City. And you get vault keys in those bots. 
And, it just so happens that there is a vault key in the tunnel directly west of the City. Handy if you've got your eye on some gold armor!
King's Canyon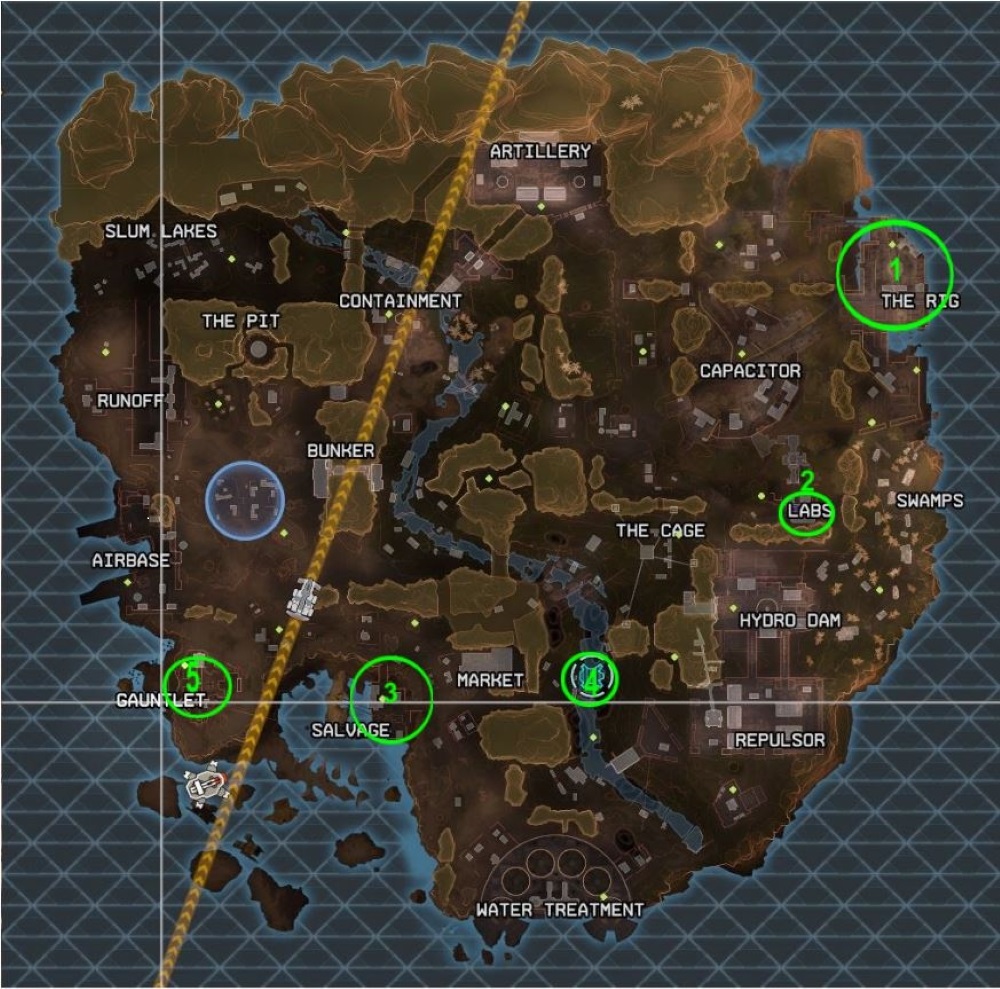 1. The Rig
The Rig is a great starting point if you want to loot up good and then fight hard. The loot is great, but, where there's honey there are bees. You're gonna have to fight for it. Unless fighting isn't really your thing… then I'd suggest Mario!
This is a high tier loot area, which can give you a nice jump-start to the game.
You are one step away from scooping up even more great loot in Capacitor. If it's there why not take it? It'll probably be in death boxes by the time you get there… or should I say: death boxes-to-be?
2. Labs
The great thing about Labs is that, if things are just too hot, you can get straight out through the massive portal going up into the sky.
The other great thing is the loot. There is a ton of it, but… that does mean more competition. Thought I was joking when I said things might get too hot? Think again.
Oh, you know what? There is also a brand new tunnel going up into Capacitor from the portal room… Gateway to loot heaven or to the lobby? It just depends on the number of enemies there and your skill level...
3. Salvage
If you go to Salvage, it'll be a miracle if you don't land fighting. This is where you go if you want to fight straight off the bat, even if it's not close to the ship's flight path. Guess why… It replaced Skull Town.
The loot quality is great… the density though is a little sketch if half the lobby lands there. How hard are you willing to fight for that epic loot?
And if all else fails… there is a MASSIVE jump tower right next door which can take you to Gauntlet, Market, or even Water Treatment. You've got options!
4. Supply Ship
The supply ship is the equivalent of the train in World's Edge. It has loot on and generally has at least 1 level 3 body shield on. So, if you wanna risk your neck for that sweet loot, go for it!
A nice thing about the supply ship is that you can jump off at a new location and get even more loot than you already have. That is if you survive the mayhem on board.
Land on the ship while it's flying, not it's landing spot marked on the map.
5. Gauntlet
Gauntlet has guaranteed high tier loot in Octane's ring of fire, and the loot lying around on the ground is not bad.
You're one step away from third-partying fights in popular landing spots like Airbase and Salvage.Nobody ever said the fight had to be fair, winning's winning after all. Unless you cheat! But you really shouldn't do that. 
Also be sure to check out:
Image Gallery