[Top 5] Valorant Best Vandal Skins and How To Get Them
Updated: 29 Mar 2022 12:35 am
Take the Vandal to a new level with skins that will leave you wanting more!
Who wants to take down enemies with the same generic looking gun all the time?
While everyone who plays Valorant has a favorite gun (whether it's for the way it looks or the number of kills achieved), I think it's safe to say that the Vandal is an option players return to without fail. Those who love the Vandal know that while it's quite similar to the Phantom in numbers, it reigns supreme in high damage rates across varying distances. Just one carefully aimed headshot is enough to take down an enemy in a heartbeat, even through full armor! If stats alone aren't enough to get you excited about the Vandal, I'm confident that the unique skins available definitely will get your heart racing. Take a look at the top 5 best Vandal skins and learn how you can get your hands on them (because trust me, you'll be dying to collect them all). 
5. Sovereign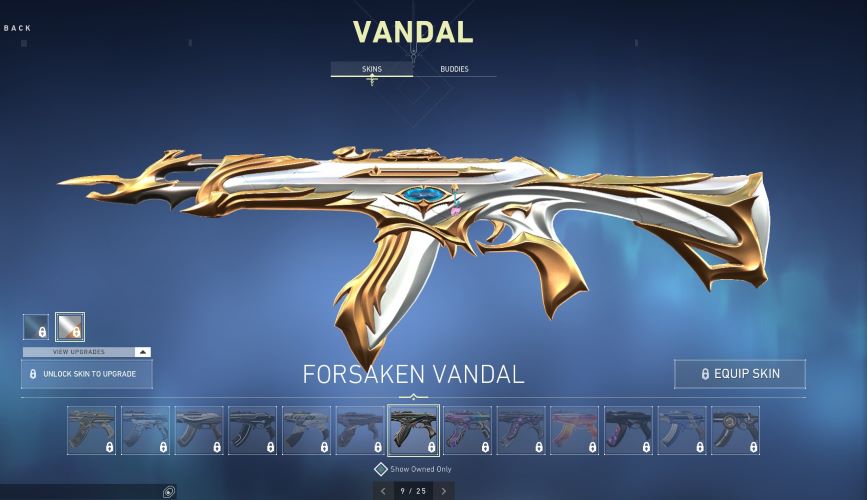 Defeat any enemy with elegance and grace.
See the Sovereign in Action: https://youtu.be/we5p9N8wMMI 
The Sovereign Vandal skin is like something out of a dream. Everything about this skin screams "Battle Angel" and for those who enjoy fantasy-themed video games, the Sovereign brings a touch of that to Valorant with ethereal ivory skin and complimentary sound effects. Complete with a sharp golden barrel and an updated sight, this version of the Vandal is ready to carry you to victory in style. 
4. Ego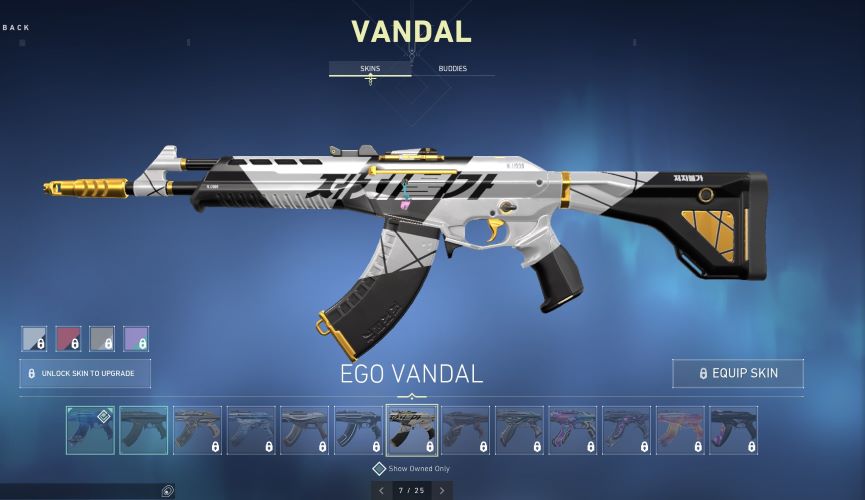 Don't let your ego get in the way...or maybe do, we don't care! 
See the Ego in Action: https://youtu.be/iZejCLM0e8I 
The name "Ego" is perfect for this skin because, as we all know, the Vandal is pretty much made for boosting a player's ego (I mean, skills). In all seriousness though, who wouldn't love this epic design; a gold barrel and additional gold details decorating a unique black and white body pattern? Yes, please! If this color style isn't your vibe though, don't worry. You can purchase the Ego skin in multiple other colorways such as red and black, tan and white, and purple and teal. 
3. Reaver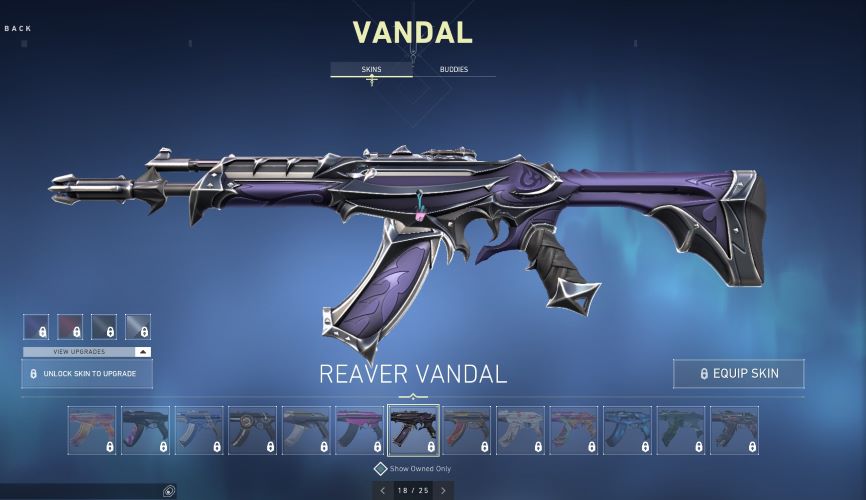 The Omen special, anyone? 
See the Reaver in Action: https://youtu.be/4wXv1jTGGyg 
If you're an Omen main, then this is the skin for you (and even if you aren't it's pretty awesome). With major dark vibes of purple and black colors outlined by claw-like trim, the Reaver skin is ready to take on any foe single-handedly. This skin has similar sound effects to the Sovereign and glows with a deep purple light that pays tribute to our favorite shadow man with every shot. Is purple not your color? No worries! You can get the Reaver in 3 additional colorways: white and black, red and black, and shadowed (all black).  
2. Glitchpop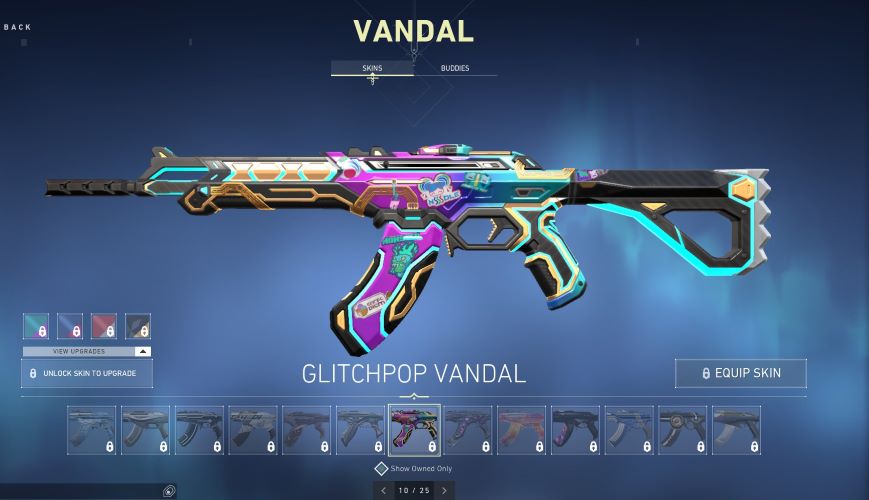 Pink, and teal, and gold, oh my! 
See the Glitchpop in Action: https://youtu.be/i7WuYzJ7Xe0 
This skin is so much fun it's ridiculous! With all the bright colors and lighting outlining the entire body of the Vandal, the Glitchpop skin just takes the popular gun to a whole new level. Fire at enemies and enjoy the unique technological sound effects that are synced to reloading (trust me, you'll get addicted). Complete with three additional colorways, you can get the Glitchpop in its original colors or in a blue, red, or dark variant- meaning that there's a little something for everyone, no matter what your favorite color may be. 
1. Prime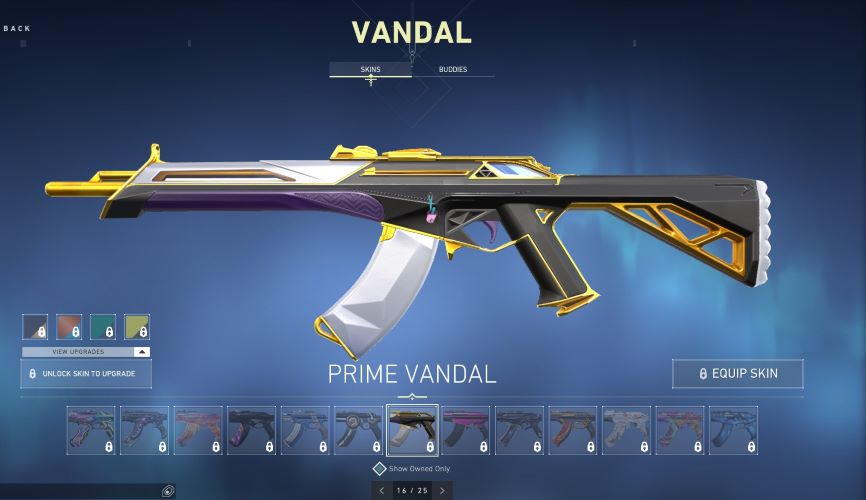 All hail, the Prime. 
See the Prime in Action: https://youtu.be/60ivp5eG1pM 
The Prime may not have a fancy sound when you move it in the air like the Sovereign and Reaver, but it has so many other amazing features that it simply has to land at number 1 on this list. Not only are the color scheme and body design stunning, but the reloading animation is incredible! Pop open the gun and reload with glowing charges to prepare for the next wave of enemies. Once they show up and you begin shooting, you'll hear that the Vandal now has a laser tone that brings a futuresque element to the gun that I can't get enough of. Just like the other skins, Prime has multiple colorways that you can purchase in addition to its original purple, black, and white theme. These colors are orange, blue, and yellow variations. 
Also be sure to read:
Image Gallery