[Top 15] CSGO Best AWP Skins That Look Freakin' Awesome
Updated: 29 Nov 2022 7:35 am
Commemorate each kill with an awesome skin.
Win the match in style with these awesome skins to deck out your AWP. Sometimes, killing the enemy and winning the round isn't enough. Send a message and let your enemies know who you are with these 15 skins for your AWP.
#15 PAW ($1.30 - $10.60)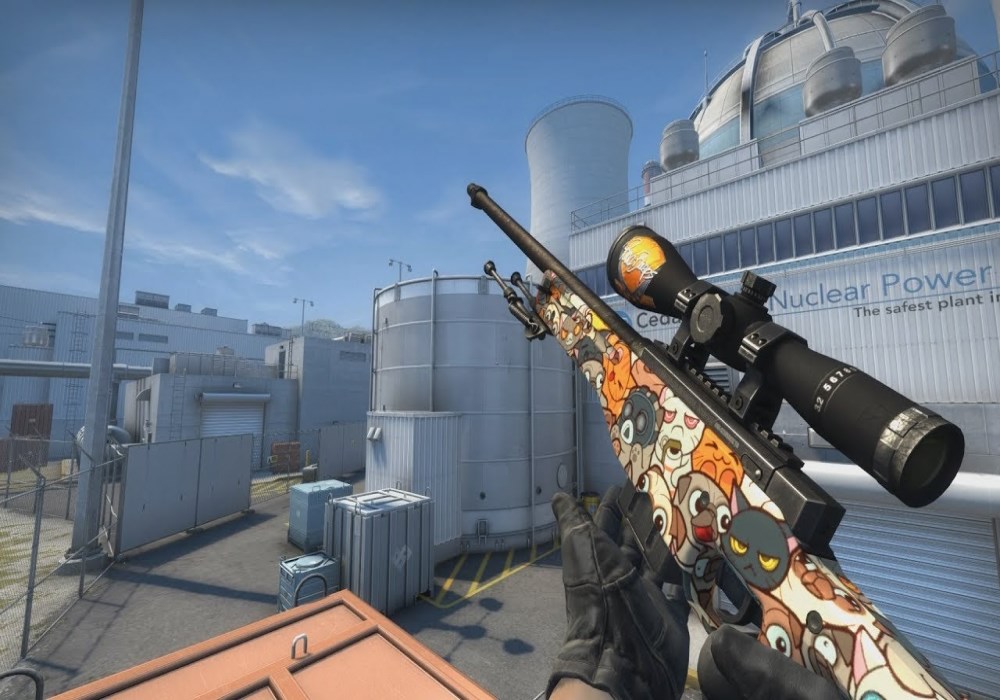 Distract the enemy with cuteness.
"Cute but deadly" are words that you probably won't think of when describing the AWP. 
Kicking off the list with the most adorable skin in the game, this skin is bound to make you grin and giggle as you nail those headshots. The aptly named PAW is filled with adorable cartoon doggies and kitties to cheer up your losing streak. This skin is pretty common, which makes it cheaper than most.
This skin is available in the Horizon Case bundle, released during the Horizon Collection event. The skin was designed by a community designer named "TheDanidem."It's available for purchase on the Steam marketplace, with a price tag of $1.30 up to $10.60.
#14 Fever Dream ($5.45 - $22.94)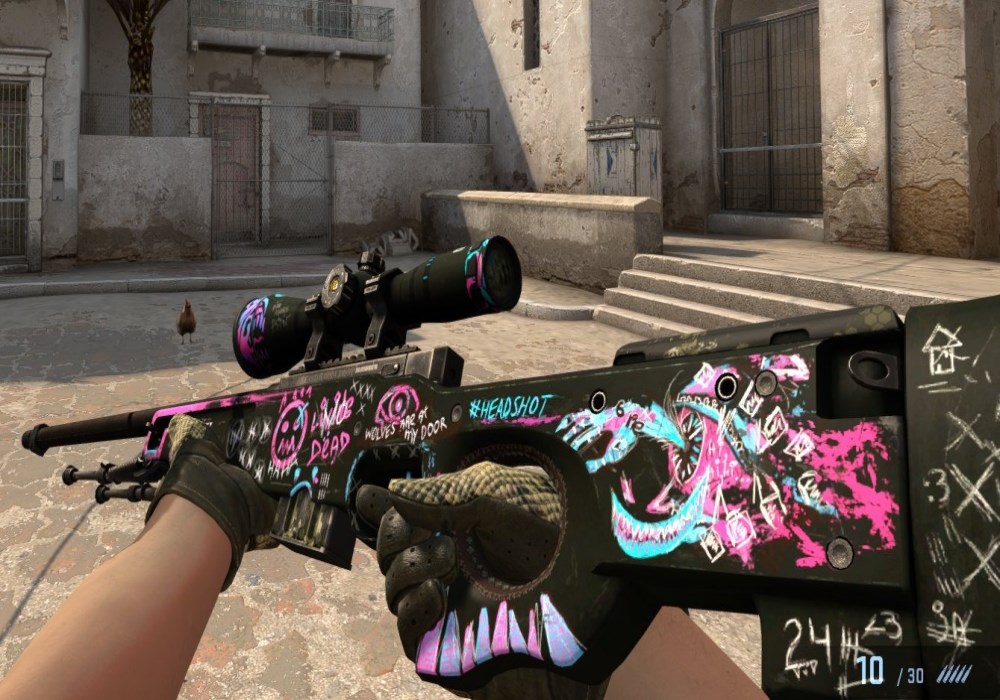 Fever dream lives up to its name with its nighmarish design.
Show the enemy your fierceness with this unhinged skin.
Let out your wild style with this all-black skin with feverishly scribbled designs. The Fever Dream is a great skin for those who like a simple black backdrop with a little bit of personality, courtesy of the colorful hand-drawn doodles.
It came in the Spectrum Case, part of the Spectrum Collection. The skin was another gift from the community, courtesy of the community designer "Apel ∞." It's fairly common and a favorite of many players, with a price range of $5.45 to $22.94.
#13 Acheron ($0.57 - $39.00)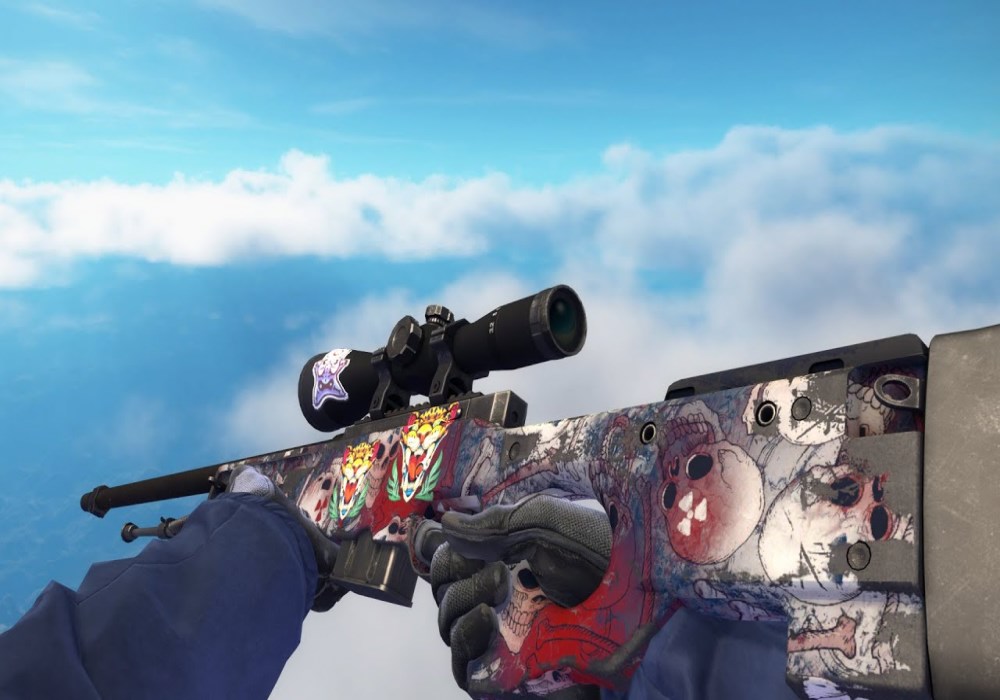 Rock your enemy's world with the Acheron's punk-like design.
Stack up kills and add more skulls to the Acheron.
The Acheron is a grungy skin that's sure to leave a distinct visual impact. The skin really nails home the AWP's status as a headshot making death machine. It's covered in drawings of skulls, overlaid with a hodgepodge of red and blue spray paint; a great choice for players with a large body count.
The Acheron skin came out with the 2018 Nuke Collection, but it can be found in other packages as well. It's a common item, with prices ranging from $0.57 to $39.00.
#12 Mortis ($1.27 - $11.62)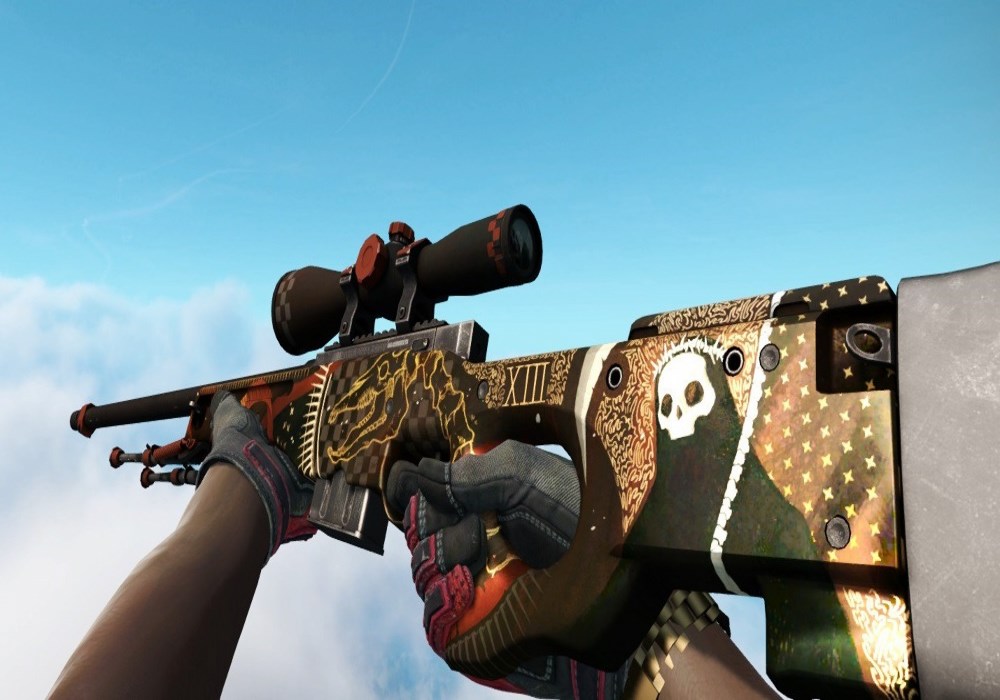 A spinechilling design for a deadly weapon.
The Mortis lives up to the AWP's deadly reputation with its macabre aesthetic.
Another skin with a fixation for skeletal designs, Mortis features an elegant and unique design that complements the AWP's simple yet deadly reputation. The black and red color scheme makes a great background for its ghoulish design with gold accents.
The Mortis skin debuted in 2018 in the Clutch Case container as part of the Clutch Collection. Its commonality makes it a cheap skin to design your AWP with; its price varies from $1.27 to $11.62.
#11 Medusa ($1,390.74 - $2,351.32)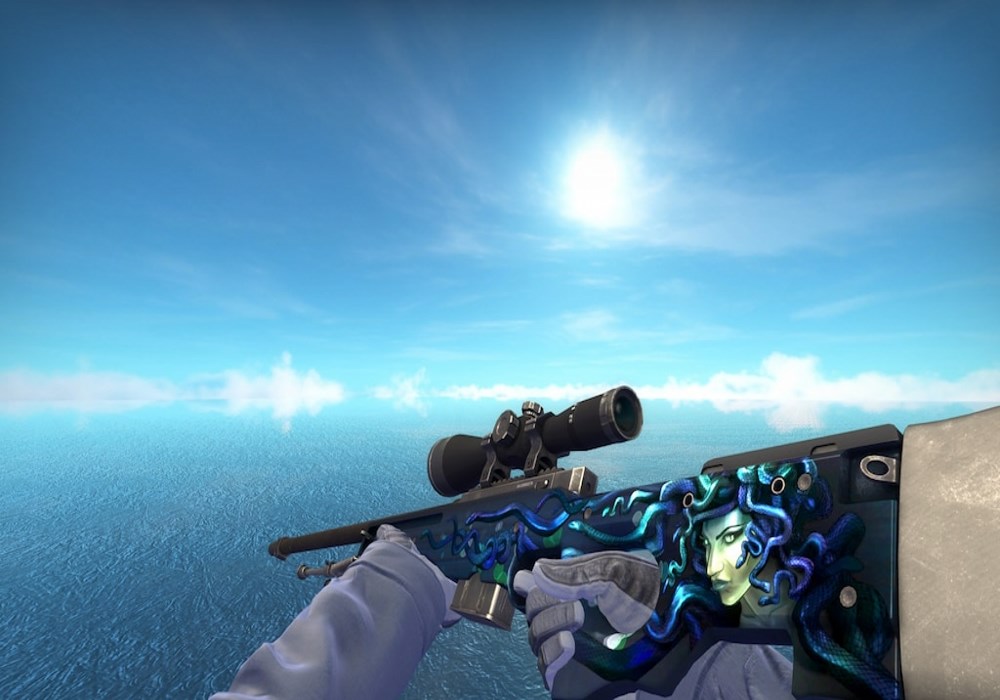 Render your enemies stone cold with every strike.
Stop the enemy in its tracks with the AWP's powerful attack.
Turn your enemies into stones with this mythical looking skin, featuring the deadly yet beautiful Medusa. The dark blue base color really brings out the snakes and makes this skin come alive. Its notoriety is due to the fact that this skin has a rarity level of "Covert," making it a valuable addition to any player's inventory.
This AWP is so rare that you can't just get it from opening containers, it's only available in the Gods and Monsters Collection, making it a legendary skin to acquire with a costly price tag of $1,390.74 to $2,351.32.
#10 Fade ($668.00 - $720.00)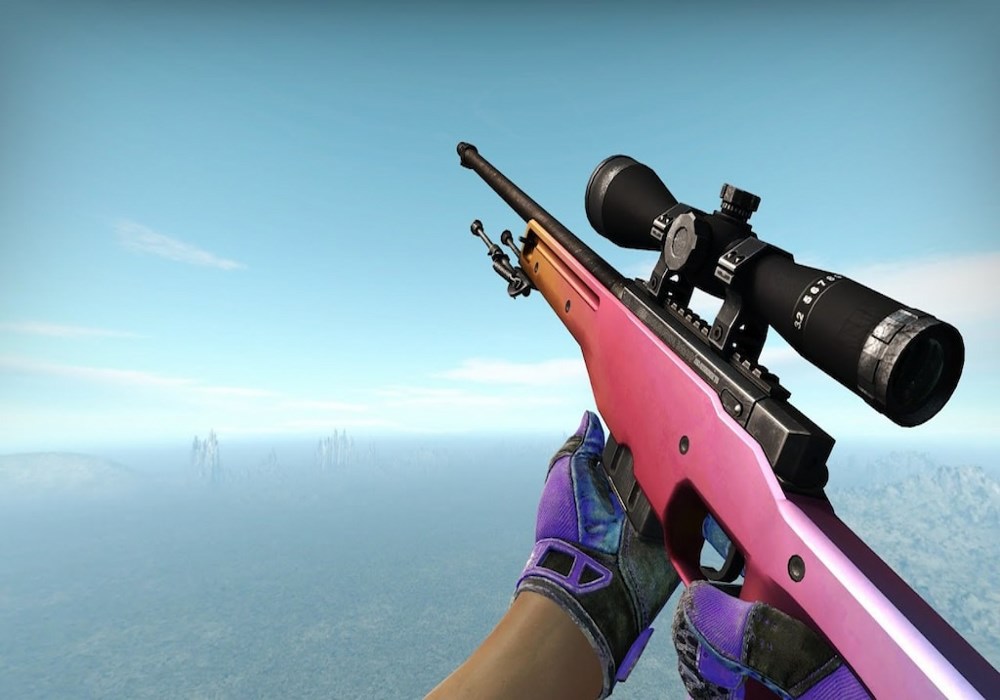 Simple, elegant, and impactful.
Look good while making the enemy look bad.
Simple yet eye-catching, the Fade's captivating color scheme is bound to turn some heads-or rather blow up some heads. Its orange, pink, and purple gradient provides it with a nice reflective sheen that's just mesmerizing to look at. Now, you can take down enemies while looking clean and stylish.
Another rare gem, this skin came with the Control Collection and is unavailable in any containers. Its rarity drives up its value, with prices ranging from $668.00 to $720.00.
#9 Asiimov ($53.90 - $192.80)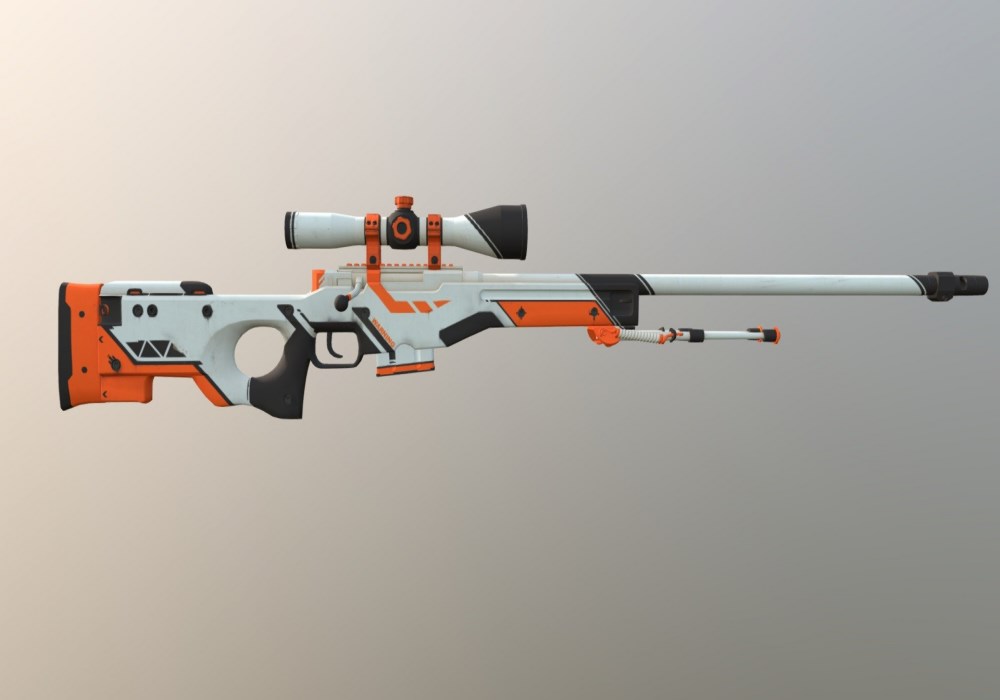 The future is now.
Leave the enemy team in the dust with the Asiimov.
Featuring a cutting-edge and futuristic design, the Asiimov integrates sci-fi elements with the AWP's precision. Its black and orange design makes a stark contrast to its all-white background. Its sharp-edged geometric shape blends well with the AWP's body.
The Asiimov dropped with the Operation Phoenix Weapon Case container, a part of the Phoenix Collection. A community designer named "Coridium" is responsible for the Asiimov's stylish design. Players are going to have to fork over cash if they want to nab this skin because its selling point ranges from $53.90 to $192.80.
#8 Graphite ($138.42 - $295.77)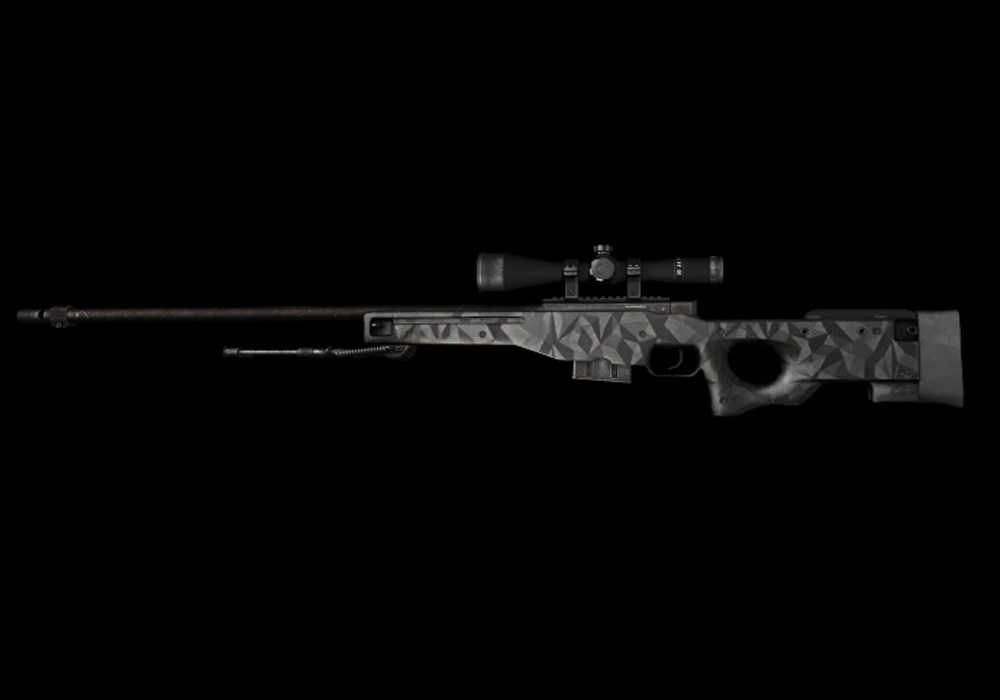 Tall, dark, and deadly.
The Graphite skin really nails the AWP's no-nonsense and hardhitting personality.
The Graphite skin is cold, dark, and sharp. It's an excellent choice for players with a serious and determined focus. The Graphite skin really makes you feel like a professional and tactical soldier. Covered in geometric shapes over a dark gray paint job with a subtle reflection.
This skin came alongside the Operation Bravo Case container as part of the larger Bravo Collection. It's a rare and valuable item, which justifies its price range of $138.42 to $295.77.
#7 Atheris ($1.66 - $28.01)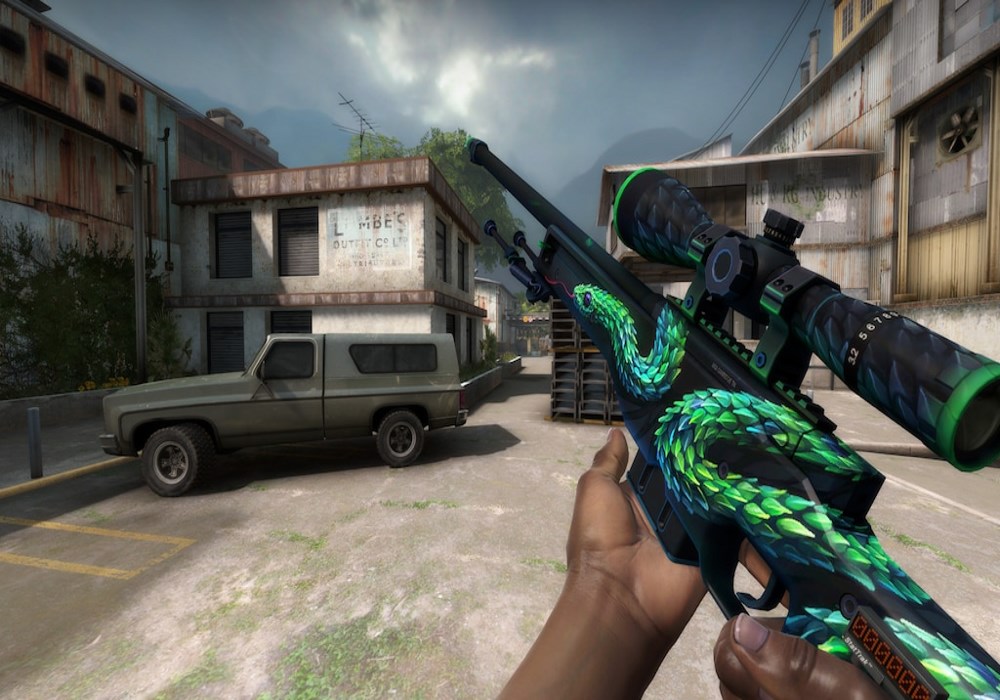 Like a viper, the AWP strikes the enemy when it's least expected.
The AWP shares the speed and cunningness of the viper, matching its lethality.
Strike fast and strike hard-that's the motto of this bold and deadly skin. The Atheris perfectly encapsulates the AWP's strengths, beautiful, quick, and lethal, just like a viper. It's a must-have for players with lightning-fast speed and deadeye precision.
The Atheris came with the Prisma Case container and is part of the 2019 Prisma Collection. The skin was designed by the talented community designer "Graff." It has a steep drop rate, which is lucky for you as this skin is affordable. You can get one for as little as $1.66 and as much as $28.01.
#6 Wildfire ($24.98 - $209.83)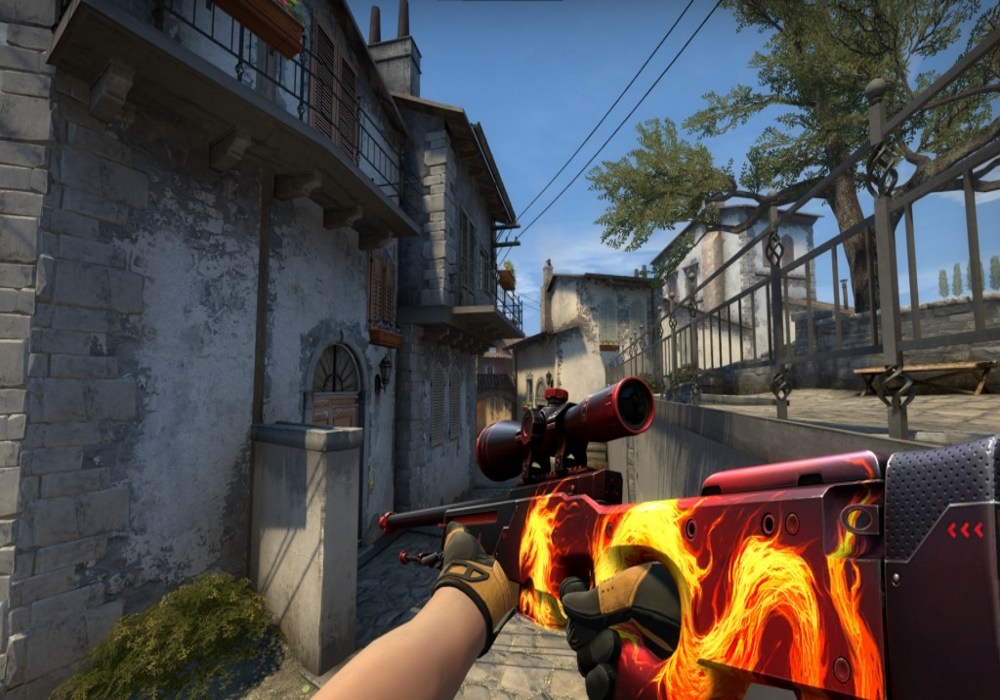 Reduce the enemy to ashes with each bullet.
Unleash the Wildfire's fiery serpent with every shot.
Set the competition ablaze with this fiery skin. This attention-grabbing skin is guaranteed to fire up your game with its trailblazing design. Featuring a black cast body with red accents and a flaming serpent as its centerpiece, a community designer named "VLEK" is responsible for the Wildfire's amazing design.
This awesome-looking skin can be acquired through the CS20 Case container, a member of the CS20 collection. Its rarity drives up its value from $24.98 up to $209.83.
#5 Worm God ($1.10 - $5.46)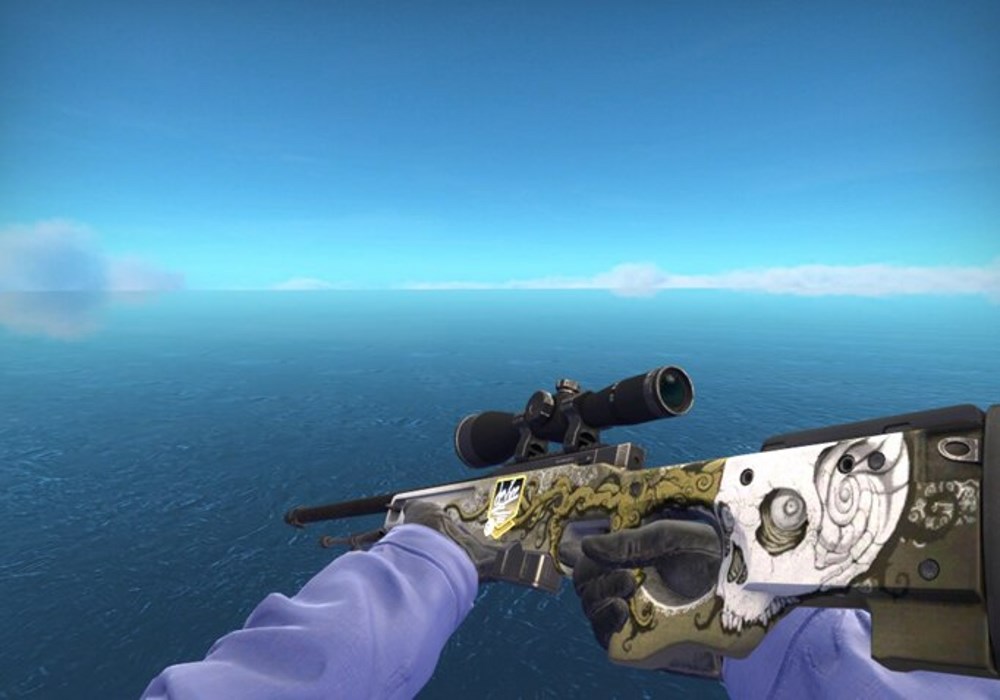 Let out your weird side.
Let the enemy know that you're not afraid to get weird.
Leave a nasty impression on the enemy with this bizarre yet charming skin. The Worm God makes great use of its weird name with an even weirder design. Its dirty and weathered base design highlights the disturbing skull art piece, all held together by vines and roots growing throughout the body. The skin was born from the creative mind of the community designer "enZym".
This gnarly skin comes with the Chroma 2 Case container, as a part of the Chroma 2 Collection. The Worm God is up for grabs at an affordable price of $1.10 to $5.46.
#4 Dragon Lore ($2,616.67 - $280,902.79)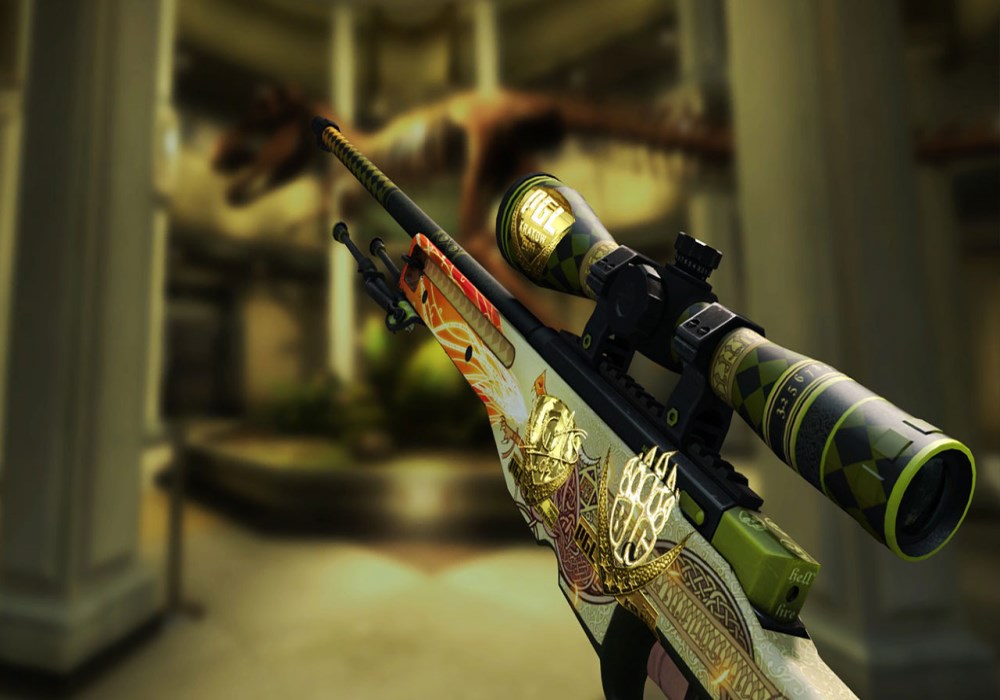 Channel the power of dragons and obliterate your enemies.
The AWP captures the power of the fabled dragon and unleashes its might with every bullet.
Let the dragon out with this beastly skin. The Dragon Lore proudly emblazons the legendary beast on its eggshell white body with beautifully designed patterns to enhance its design. The dragon's fiery breath symbolizes the AWP's powerful strike.
The Dragon Lore broke into the scene in 2014 and is available in multiple containers. The Dragon Lore skin broke onto the scene in 2014 and is available in multiple Cobblestone Package containers. It debuted alongside the "Operation Breakout" update as part of the Cobblestone collection. It's an extremely rare item with a drop rate below 1%, making it extremely valuable, with a price range of up to $2,616.67 to $280,902.79.
#3 Oni Taiji ($188 - $594.93)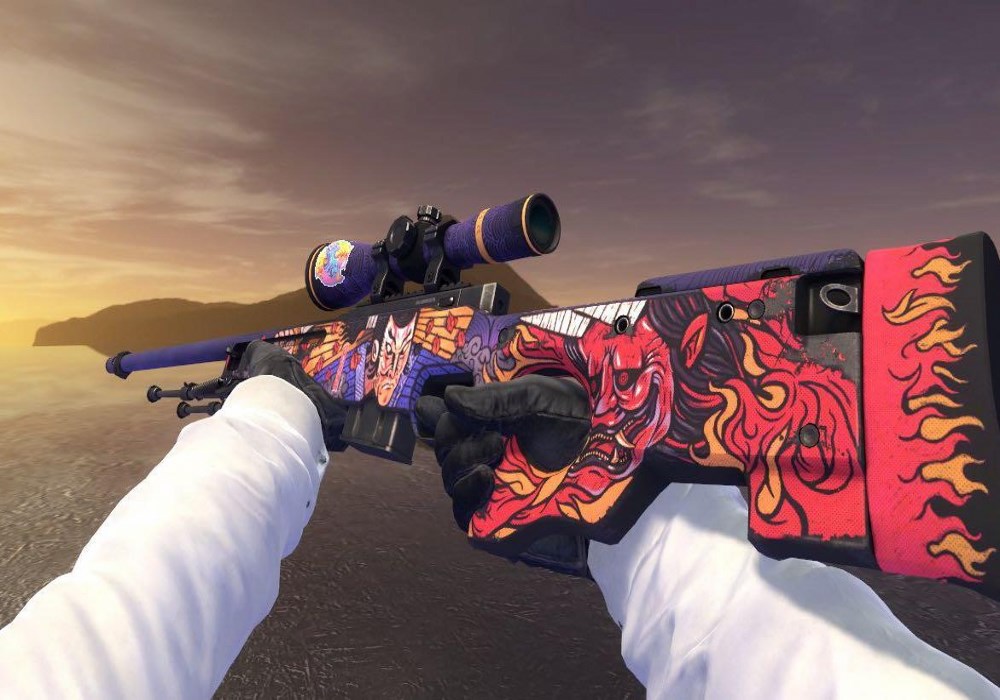 Say "sayonara" as you cut down enemies.
Dispatch your enemies with the speed and skill of a samurai.
The Oni Taiji infuses the AWP with the rich artistic influences of Japan, resulting in a spectacular skin boasting an incredible artwork featuring a lone samurai facing off with a demonic spirit known as an Oni.The skin was made by the community designer "L'grand."
The Oni Taiji was introduced with the Operation Hydra Case container, as a part of the Operation Hydra Collection. Just like the Dragon Lore, the Oni Taiji has an extremely low drop rate, with a price ranging from $117.55 to $587.92.
#2 Gungnir ($4,343.25 - $8,314.58)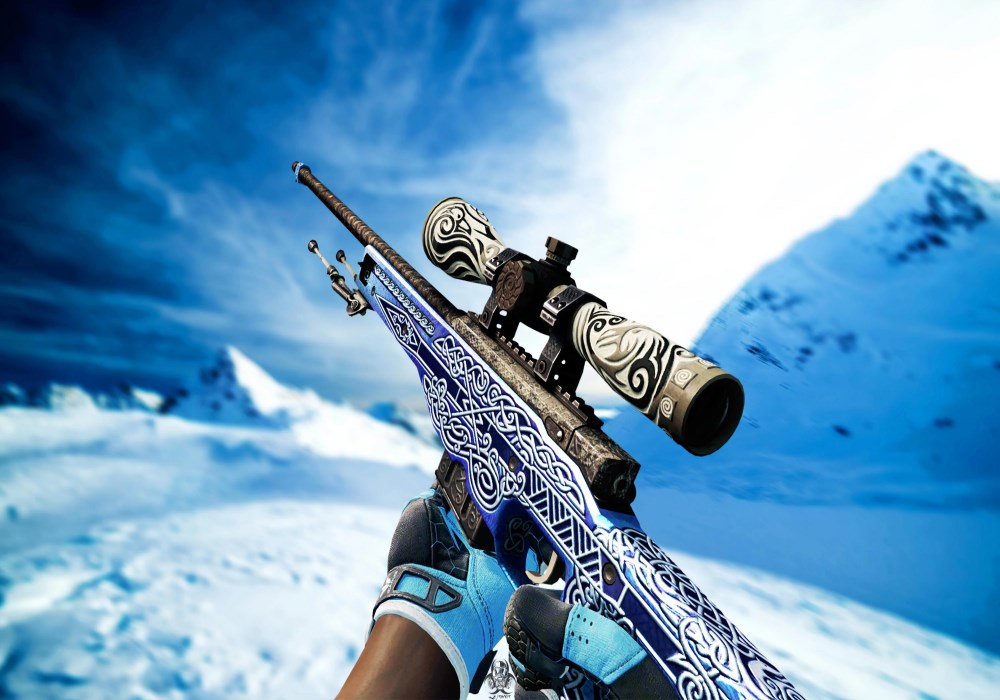 Call upon the Allfather and strike down enemies with his might.
The AWP embodies the power of the Allfather's legendary weapon.
Unleash the power of the Allfather, with this Norse mythology inspired skin.The skin takes its name from the legendary Gungnir spear of the Norse god Odin. Its metallic blue body features superb Celtic knotwork. With Gungnir taking center stage, ready to strike down any enemy that crosses its path.
This spectacular looking skin cannot be gained from any container, as it's only available in the Norse Collection. The Gungnir is true to its legendary name, as its drop rate is as low as 0.64%. Its incredible design and scarcity make it a pricey item, with prices ranging from $4,343.25 to $8,314.58.
#1 The Prince ($1,899.00 - $2,794.99)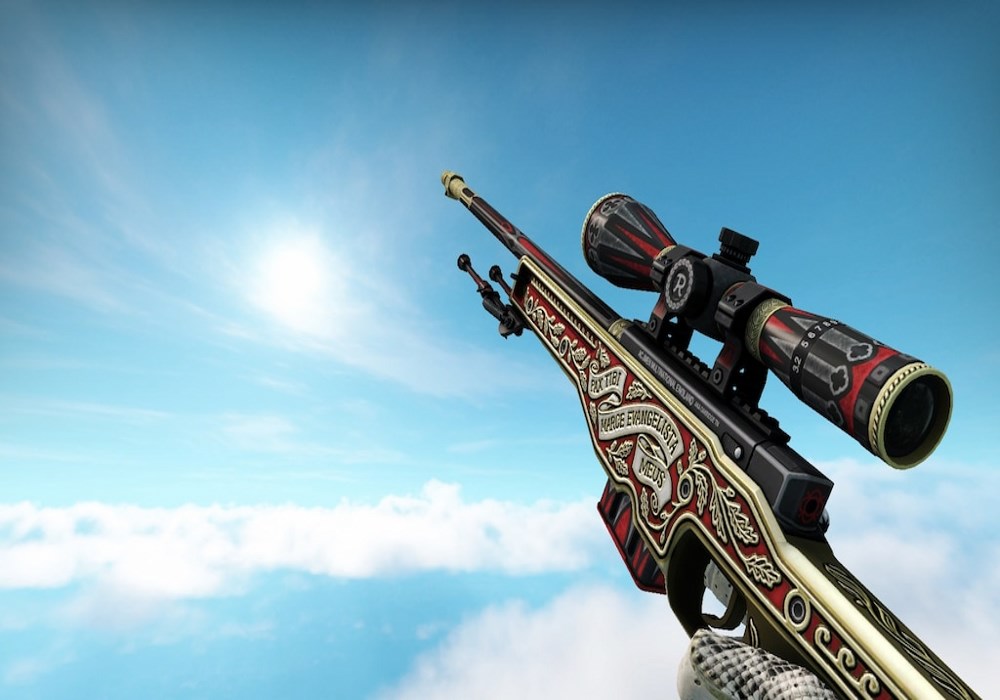 Rake up kills like your raking in cash.
The Prince combines the AWP's superb power with luxury.
Claiming its throne as #1 is the Prince. This beautifully designed skin looks like it was made for royalty—hence its name. The Prince has a red metal body with golden highlights that features an exquisite design. The cherry on top is the Latin inscription "Pax Tibi Marce Evangelista Meus," which translates to "Peace be with you, Mark, my evangelist."
Unsurprisingly, this magnificent skin has a steep drop rate. Considering that this skin is only available in the Canals Collection, prospective players can get the royal treatment for as little as $1,899.00 and as much as $2,794.99.
You may also be interested in: