Top 10 CSGO Best AK-47 Skins
Updated: 09 Nov 2019 10:19 am
"Just find an AK and save!"
Everyone knows owning an AK-47 skin immediately makes you the best on the team. You can stop the defuser with .01 seconds remaining, your running headshot was totally legit and "without that team kill we wouldn't have won the round".
Jokes aside, AK-47 skins look the nicest in the game, have some of the most detail, and cost nearly as much as AWPs which really makes me wish I had some of the nicer ones -I only have the Cartel and let's face it, the Cartel is pretty dope but it's not top ten worthy. So, in a mixture of awe and jealousy I've decided to list the top ten AK-47 skins below, counting down to number one:
10. Jaguar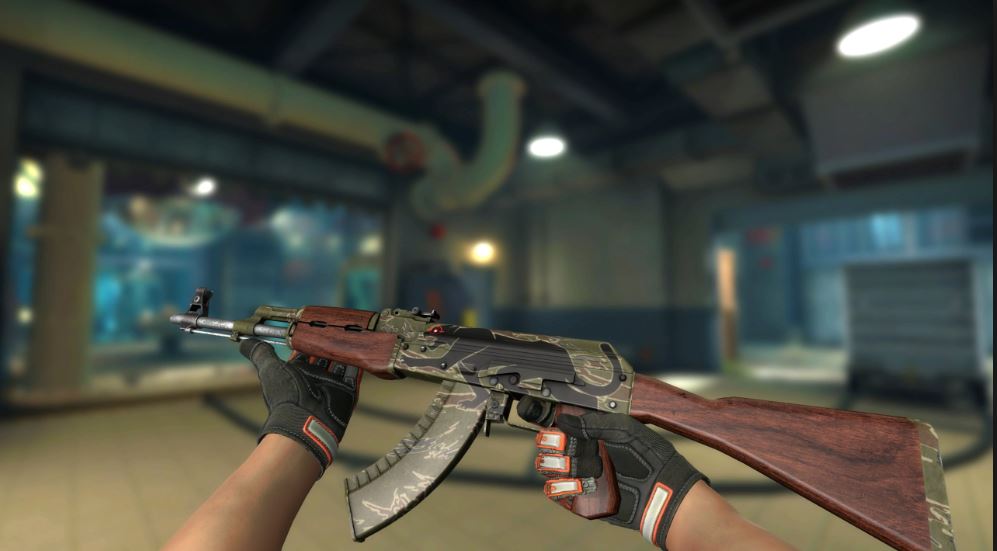 Jump into the jungle with the bold print of the Jaguar. Though the design is simplistic, the vicious illustration poses the perfect acquaintance to this fierce first person shooter, reminding every owner of the Jaguar to go for the headshot. Of course, if you can't control your AK spray and you've never heard of a one tap, perhaps you should go for a different one because metaphorically -and literally- speaking you'll be missing the mark.
What's Awesome About the Jaguar:
The dark hues make this skin camouflage.
The Jaguar design is as aggressive as it is unique
The price range is reasonable enough for a nice end-of-the-month treat yo'self gift
Jaguar Factory New Market Value: $51
How To Get The Jaguar:
See Jaguar in Action:
9. Case Hardened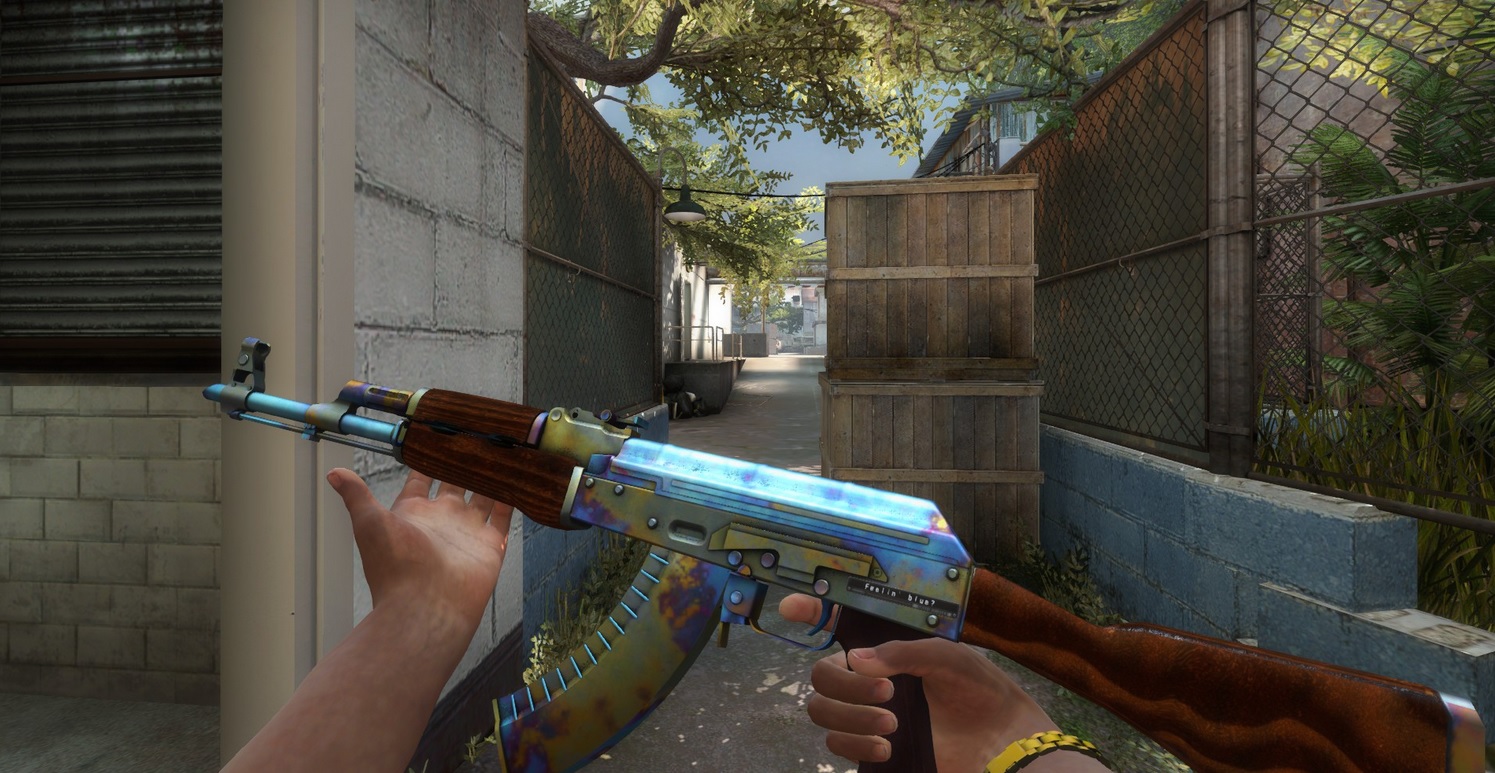 A little color never hurt anyone.
Perhaps one of the most realistic depictions of an AK-47, the Case Hardened is sleek, subtle, and realistic. Offering a simple discoloration on top of the standard AK-47 design, I ask myself was it stomach acid that eroded the paint?
What's Awesome About Case Hardened:
The design is simplistic
It is unlockable!
This is the perfect skin to put stickers on, especially holographics!
Wide accessibility on the marketplace!
Case Hardened Factory New Market Value: $85
How To Get This Skin:
See Case Hardened in action:
8. Neon Revolution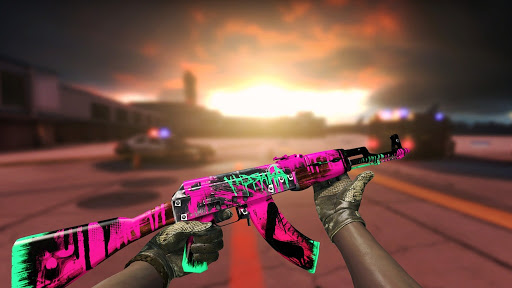 No suicide squad would be complete without it.
Neon drip-painted and riot-inspired, the Neon Revolution AK-47 is perfect for anyone who isn't afraid to stay on-site until the bomb blows. It's fierce, hellish, and it literally says "anarchy". So, if you're a peaceful player who thrives on their positivity and a Switzerland-esque stance on violence not only do I suggest uninstalling CSGO in general but I might also point you towards any AK-47 skin but this one.
What's Awesome About Neon Revolution:
The colors are bright and eye-catching (HINT: be sure you're out of sight after planting the bomb).
Great price.
The carvings and graffiti on the Neon Revolution give an illusion of stickers.
Neon Revolution is available in two separate cases so your chances of unboxing one are significantly higher than other AK-47 skins!
Neon Revolution Factory New Market Value: $51
How to get the Neon Revolution:
See the Neon Revolution in Action:
7. Aquamarine Revenge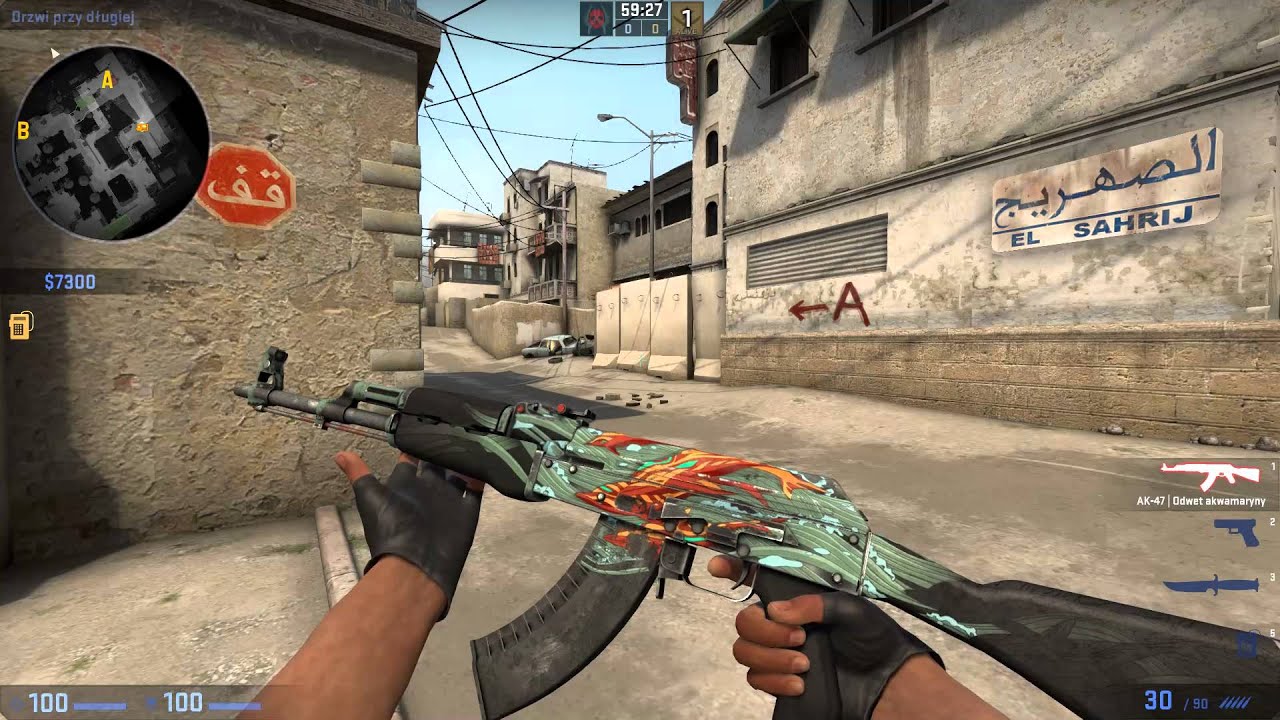 Is there an echo in here?
Aquamarine Revenge is an absolute dream! With fading colors from barrel to stock and a tranquil painting of dolphins, you can't help but wish every gun in CSGO had a skin as beautiful as this one.
What's Awesome About Aquamarine Revenge:
You can justify the buy.
The design is extremely detailed.
There's no need for stickers but there's plenty of space to do so!
Aquamarine Revenge Factory New Market Value: $51
How To Get the Aquamarine Revenge:
See Aquamarine Revenge in action:
6. Neon Rider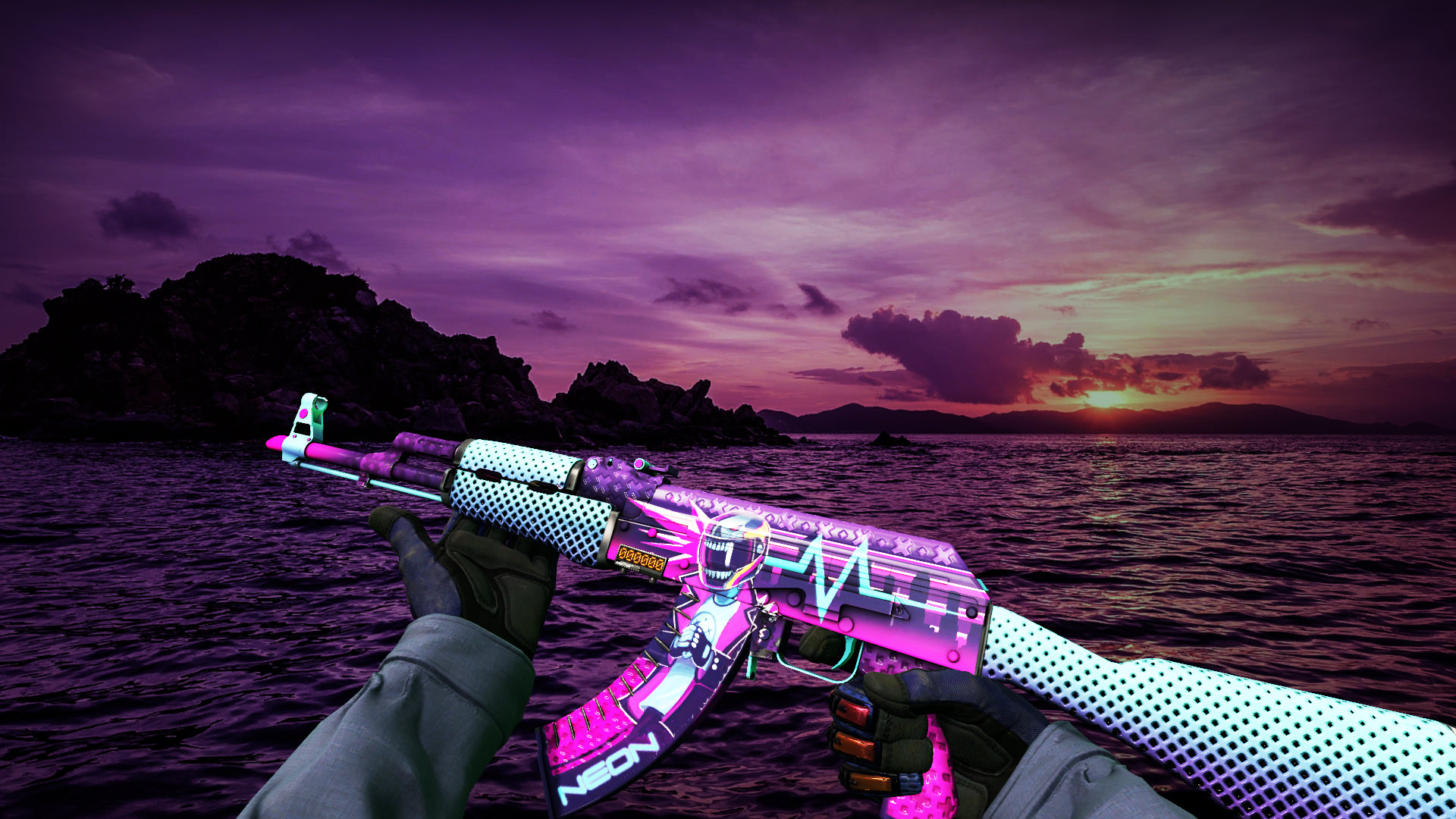 It's neon colors and retro patterns certainly make the Neon Rider AK-47 stand out against the rest. Just looking at this design hypes me up and gives me a feeling of excitement and nostalgia.
What's Awesome About the Neon Rider:
The retro design covers the entire gun from stock to barrel.
The wide price range makes it accessible to players of all income levels
The color palette is reminiscent of "the good ole days" (as if we can remember them, right?).
Neon Rider Factory New Market Value: $87
How To Get This Skin:
Purchase it on the Steam Marketplace, trade with a friend, or by unboxing one in a Horizon Case.
Since it is unlockable, you are unable to receive it through a drop.
See Neon Rider in action:
5. Vulcan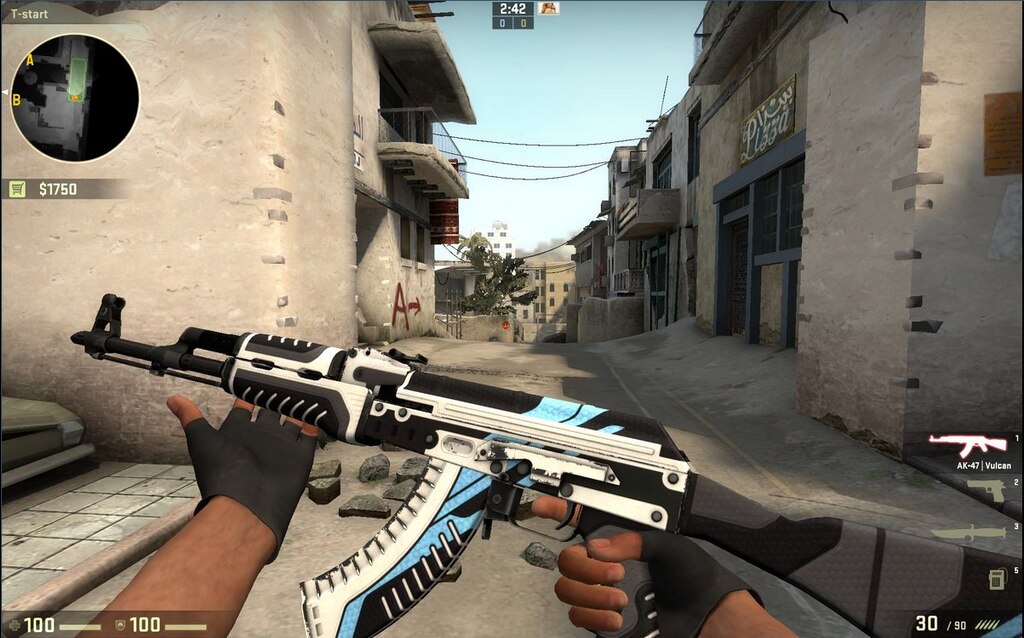 This sports-inspired design is certainly eye-catching and if seeing some of your favorite pros use the Vulcan isn't enough to convince you it's one of the best AK-47's on the market, maybe you should open your eyes and take a gander at the design. It's simple, soft, and an absolute paradox to the objective of the game. It also reminds me of that robot, what's his name?
What's Awesome About Vulcan:
The limited color scheme helps camouflage players as they push site and wait for CT to defuse.
The open space is great for stickers.
The unique design gives this AK-47 an entirely new shape and style; the bulky handguard becomes tubular and the stock is somehow softer.
Vulcan Factory New Market Value: $128
How To Get This Skin:
See Vulcan in action:
4. Red Laminate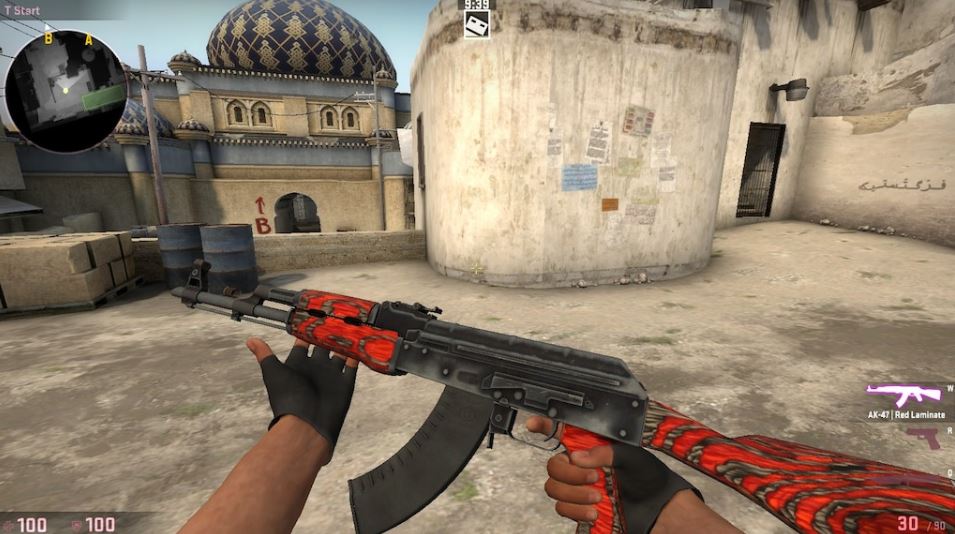 At first glance, this AK-47 skin might not look like much but the Red Laminate is certainly not something to be overlooked. Sure, it looks like you accidentally left your default AK-47 sitting in a pool of saltwater but that's the point! Paying homage to the standard AK-47, this red laminate design is subtle yet humbling enough to make any player wish it was in their inventory.
What's Awesome About Red Laminate:
It holds true to the default AK-47 design.
It is unlockable!
The wide price range makes it affordable to players of all income levels.
It is perfect for stickers and foils.
Red Laminate Factory New Market Value: $170
How To Get This Skin:
See Red Laminate in action:
3. Asiimov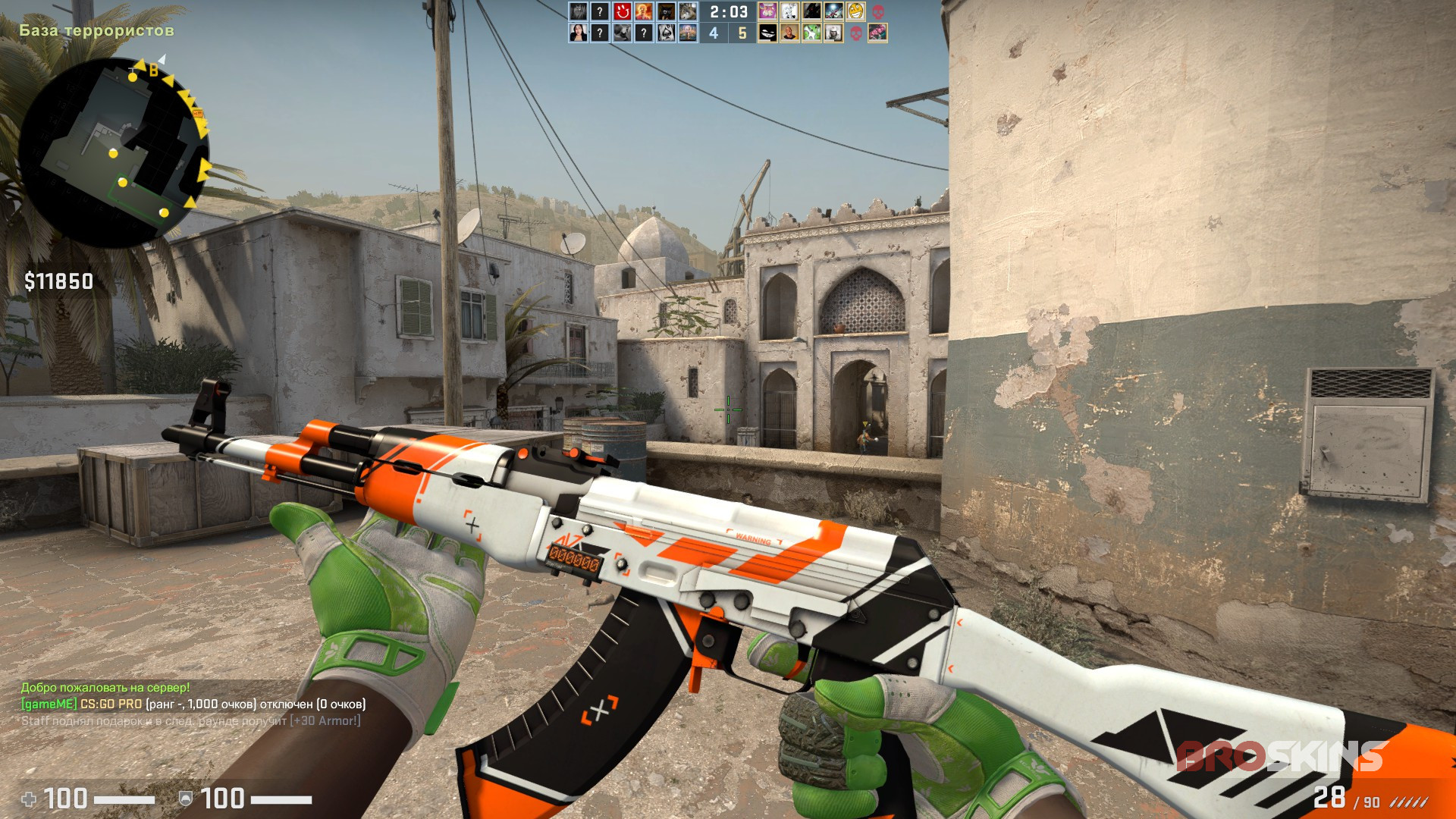 Anyone can predict the future... a visionary shapes it
This custom painted Asiimov AK-47 is an eye-catcher. The bright colors and sci-fi inspired pattern is covert enough to stay hidden from your opponents and the wide price range makes it an affordable item for many players.
What's Awesome About Asiimov:
The tri-color design is simple but bold.
Wide price range makes it reasonable.
It's sticker friendly.
Asiimov Factory New Market Value: $191
How To Get This Skin:
See Asiimov in action:
2. Fire Serpent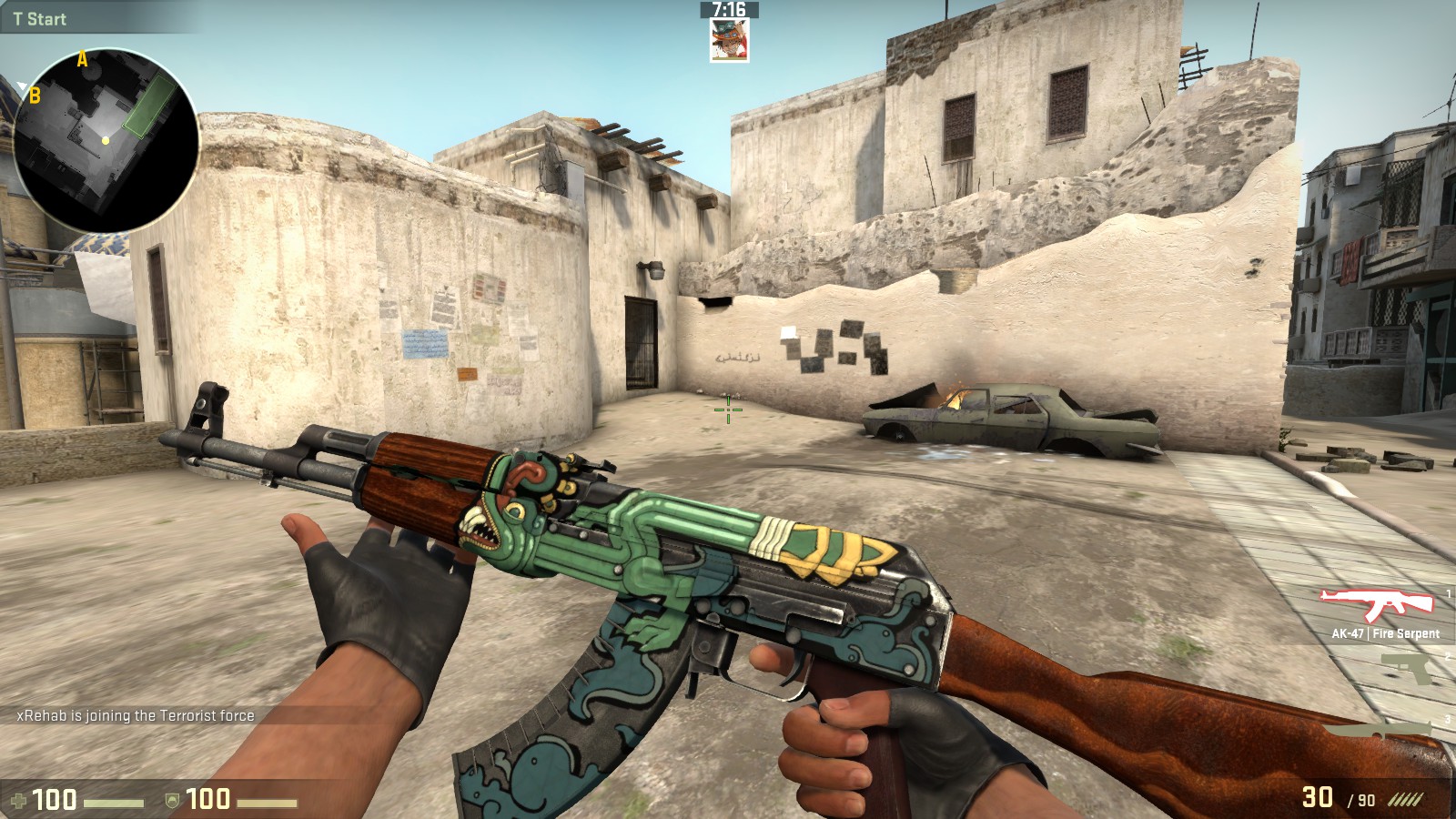 If you want to survive in the streets, learn to spit fire
Looking as good in-game as it does out, the Fire Serpent AK-47 skin is a prime example of combining minimalism and modernism in the name of epic carnage. In other words, why not throw a colorful fire-breathing snake on an AK-47? After all, we're going to blow the whole place down anyways!
What's Awesome About Fire Serpent:
It is minimalistic yet captivating.
There's room to place stickers without covering the detailed serpent design
Pays homage to the default AK-47 by showing the hardwood stock and barrel.
Fire Serpent Factory New Market Value: $1000
How To Get This Skin:
Purchase it on the Steam Marketplace, trade with a friend, or unbox one in a Falchion Case.
Because you can unbox a Fire Serpent, you are unable to receive it through a drop.
See Fire Serpent in action:
1. The Empress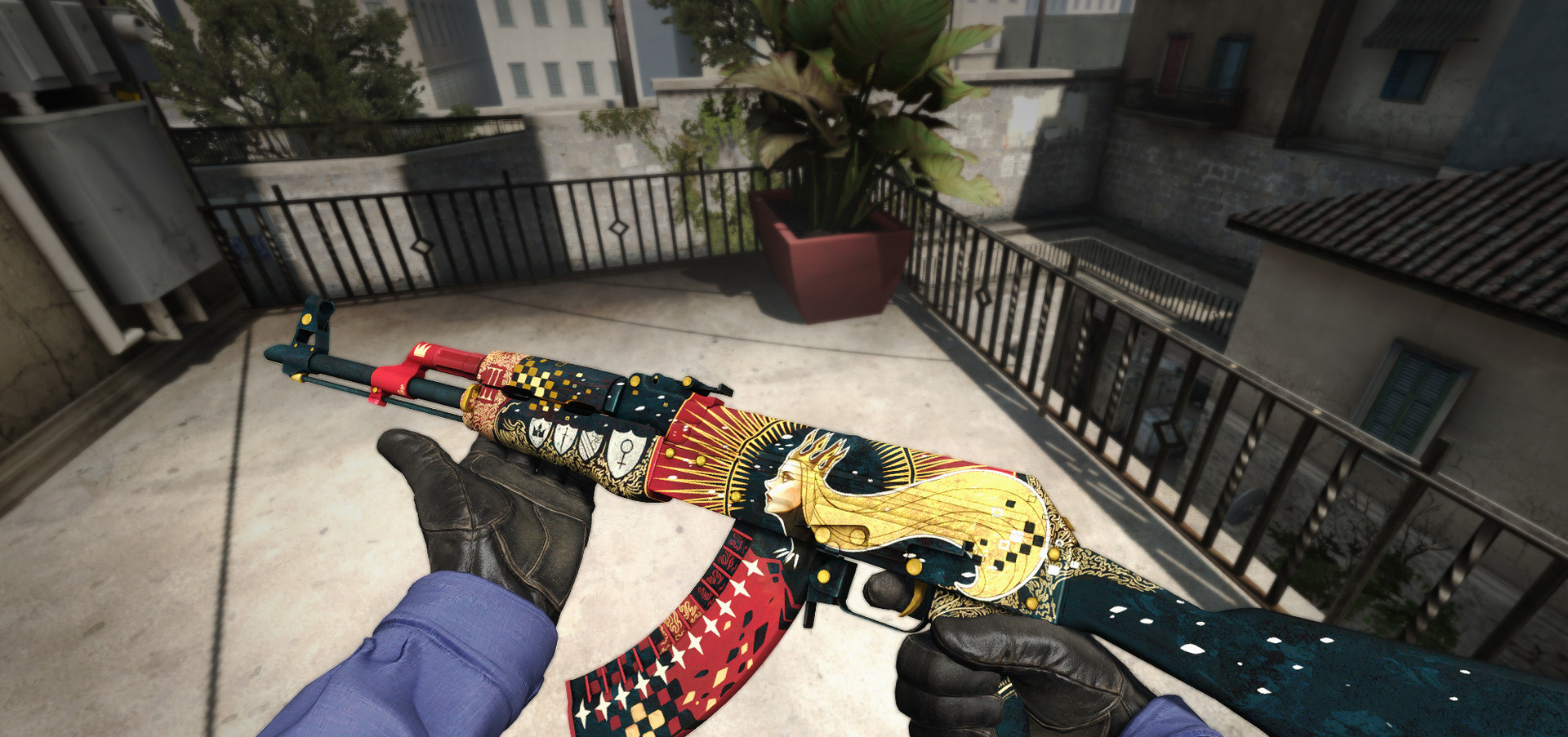 Wealth comes in many forms
Drawing its power directly from The Empress tarot herself, this tantalizing AK-47 skin is sure to help you dominate the battlefield. Or, at least it should if you're willing to drop a few hundred dollars to buy a StatTrak ™ Factory New one.
What's Awesome About The Empress:
It is one of the most detailed skins in CSGO.
The color palette is tasteful and timeless.
Crowding your gun with stickers to make it eye-catching isn't necessary; the design is complex and mesmerizing enough as is.
There is a story behind the design.
The Empress Factory New Market Value: $128
How To Get This Skin:
See The Empress in Action:
Also, Be Sure To Check Out: