The 10 Best Android Racing Games You Can Play Right Now
Updated: 05 Dec 2019 12:23 am
Get your hands on the fiercest car competition on mobile.
10. CarX Highway Racing
CarX Highway Racing Gameplay
Enter into the street-racing scene as a rookie and climb your way through the ranks on the highways with (as if there are) no rules. Real-world cars aplenty, modify each vehicle in your collection to maintain your edge over opponents all the way across the finish line.
What makes CarX Highway Racing Awesome
Reckless driving is awarded when driving towards oncoming traffic, cutting close to other traffic, etc.
Story mode has events organized in "bracket" style; you can complete events in virtually any order.
On the flipside, there is a police mode with a different storyline and adds to the diversity of the gameplay.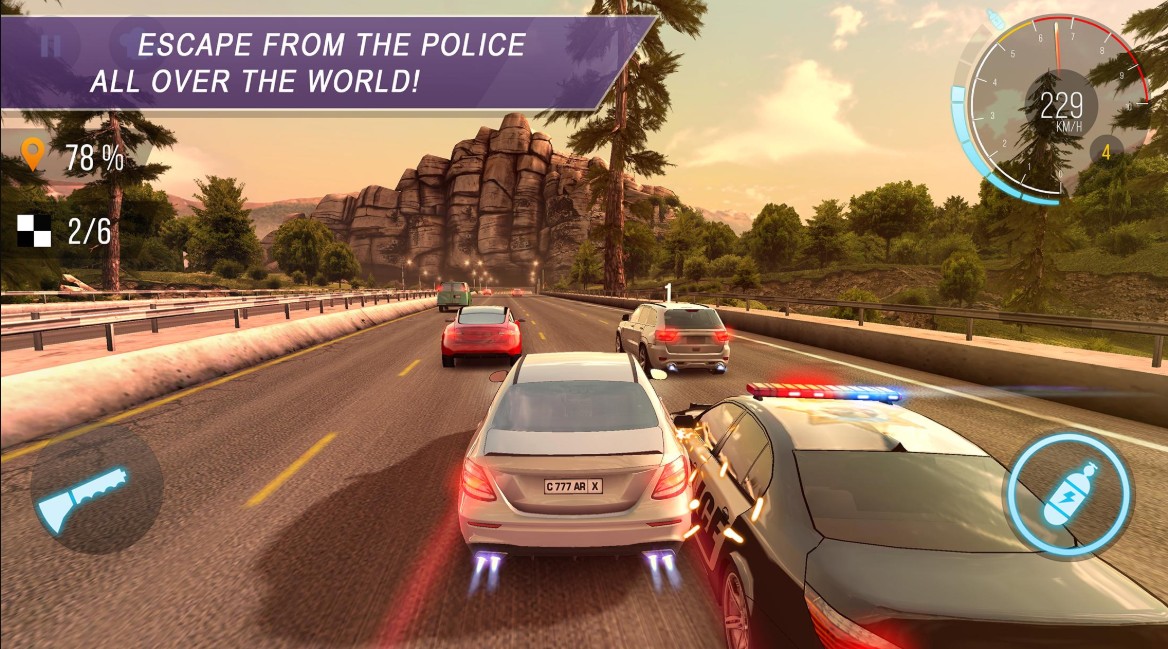 Fight your opponents for first place to stay in the race, fight the police so you can keep it going!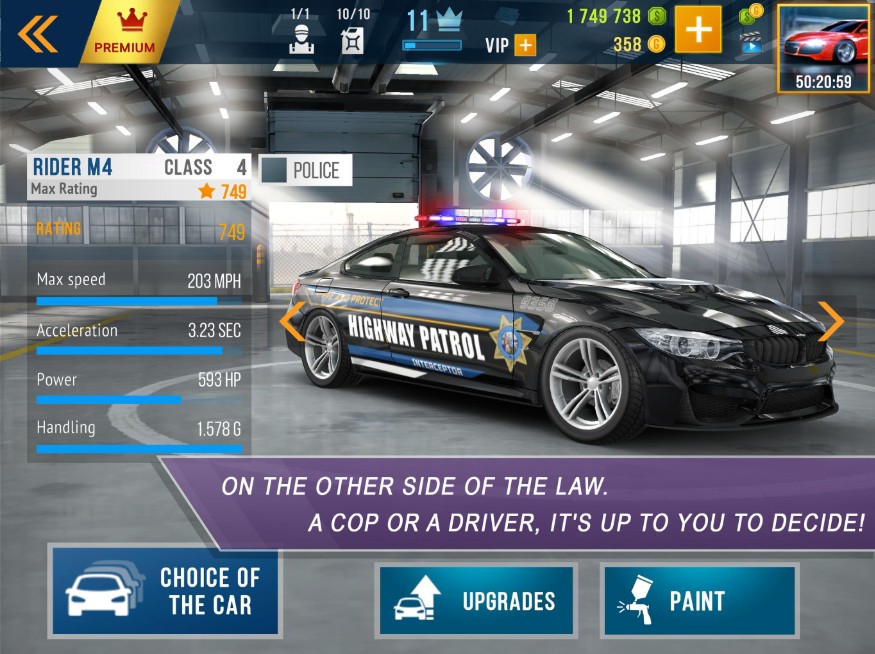 Modifications apply to patrol units as well, allowing you to chase after and ram your suspects with greater speed!
9. Moto GP19
Moto GP19 Gameplay
Steep yourself into the top tier Moto GP series as you progress through the seasons great array of international GP tracks, timing your every action and shaving tenths of a second at every turn.
What makes Moto GP19 Awesome
Play as your favorite GP rider or as your own privateer; modifying your own bike and racing for your own sponsor.
Continuously exchange positions in neck-and-neck battles for top position as players are forced to time their braking and throttle applications
Game credits are utilized for assists and bonuses such as better "grid" placement at race starts and riding accuracy to better your chances at placing well.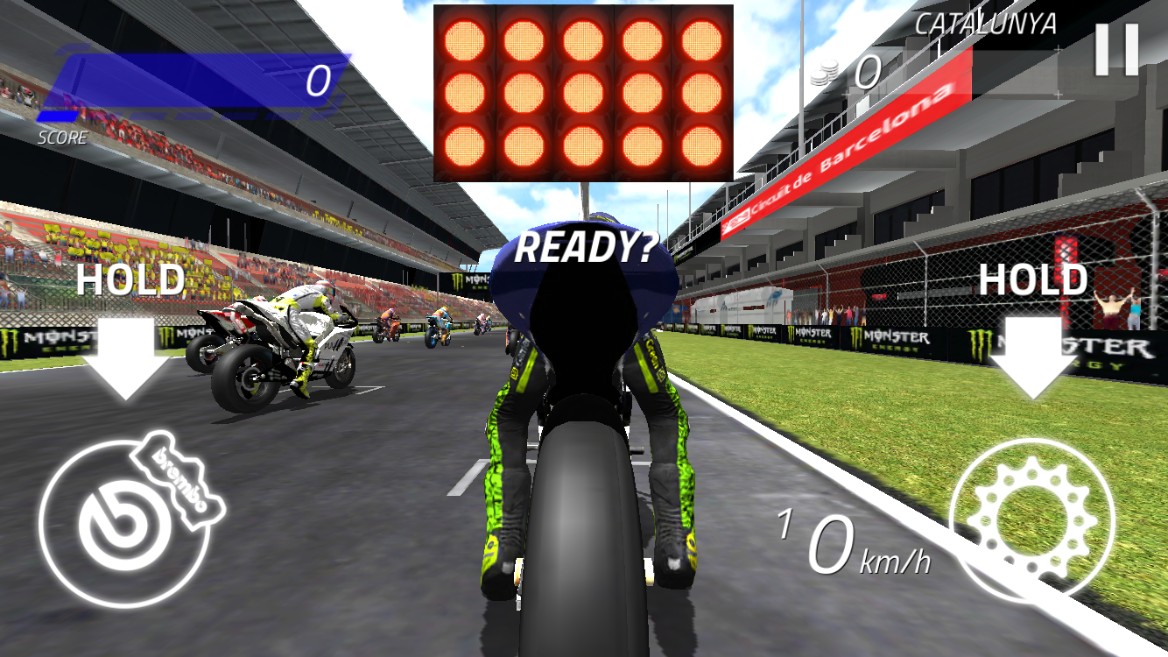 Mashing your fingers until the last second, lifting off to get right back on the power and brakes.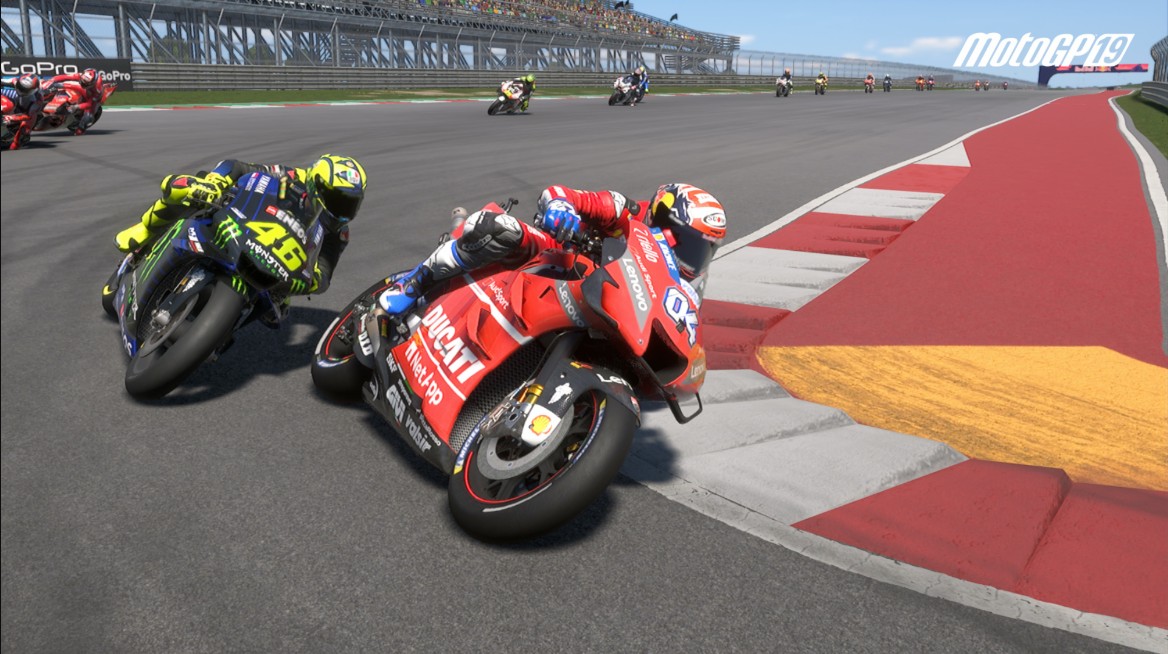 An intense race with a even more wild sense of speed helps players decipher their proper throttle applications.
8. Horzion Chase Turbo
Horizon Chase Turbo Gameplay
Speed around the world in a neo-retro styled arcade racer against a grid full of sports cars with a rousing syth-soundtrack. Pick up "track tokens" while refueling gas to keep your race going and your car tuned-up to win first place!
What makes Horizon Chase Awesome
Thorough content with over five continents and 90 different tracks to race on.
Game fully supports gaming controllers for those looking for an optimal racing experience.
Over 20 different cars to chose from with all being able to by modified; all cars drive differently and therefore some are better suited to different areas than others.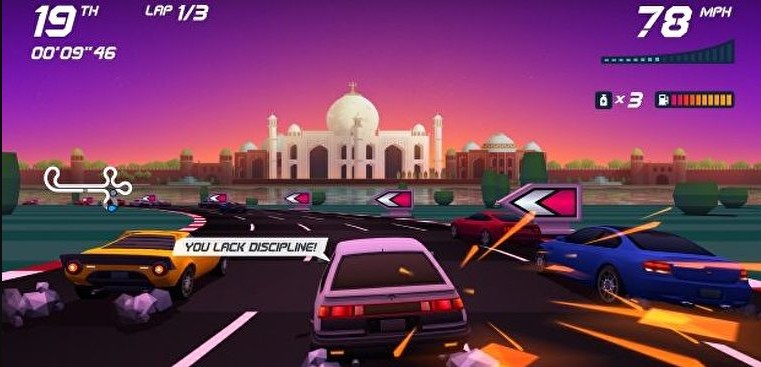 Racing clean is a product of racing through the crowd at top speeds to get from first to last in so few laps.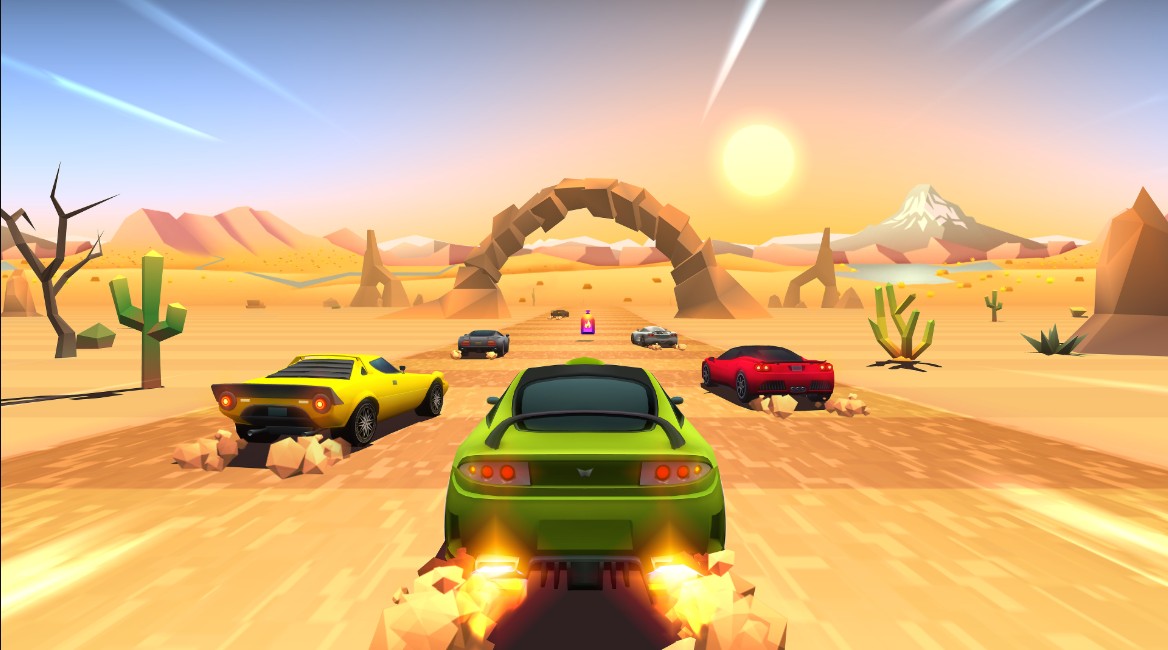 Players are limited to three "boosts" per race so being judicious and strategic is paramount to edging past your opponents.
7. Pixel Car Racer
Pixel Car Racer Gameplay
Drag racing has never been so serious, yet simple and fun! An old-school, side-scrolling gameplay garnished with a myriad of cars, modifications, car settings, game modes, and ways to personalize your automotive assemblage is sure to addict.
What Makes Pixel Racer Awesome
Game difficulties are extremely integrated; players can choose between fully automatic shifting to changing their own gears with a "clutch" control.
"Crates" are given very often to allow chances to win rare and bespoke items to add to vehicles.
Cars can be outfitted with virtually anything from body-kits, to roof racks, to custom vinyl's made from save pictures in your device.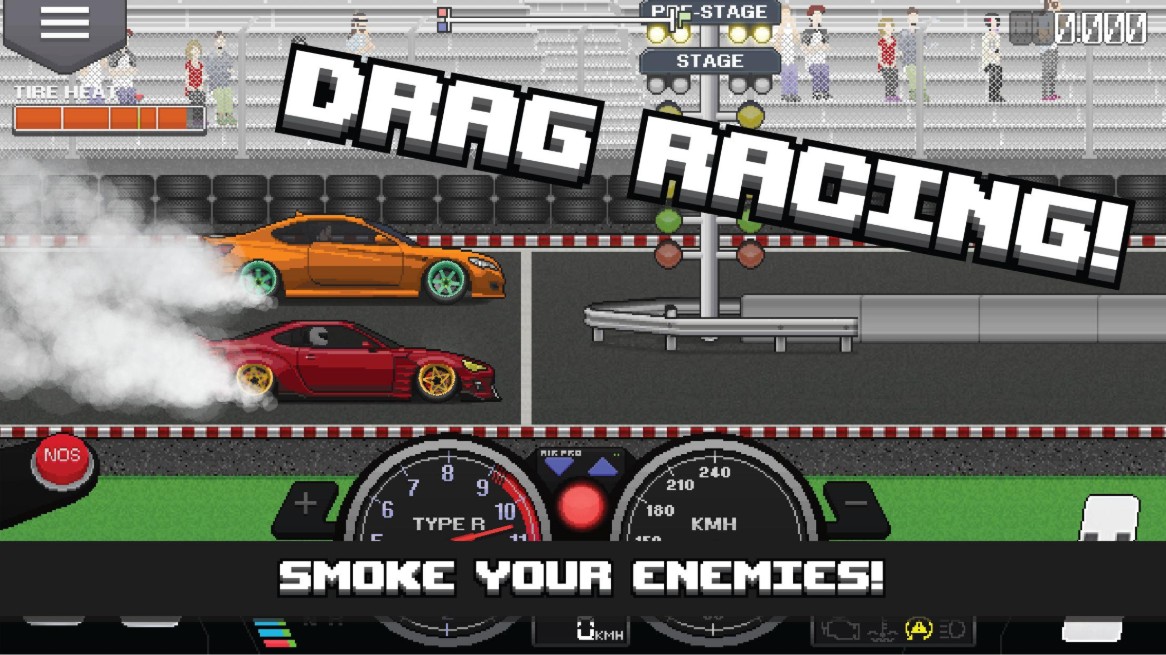 Do burnouts before staging every race to optimize your tires grip off the starting line!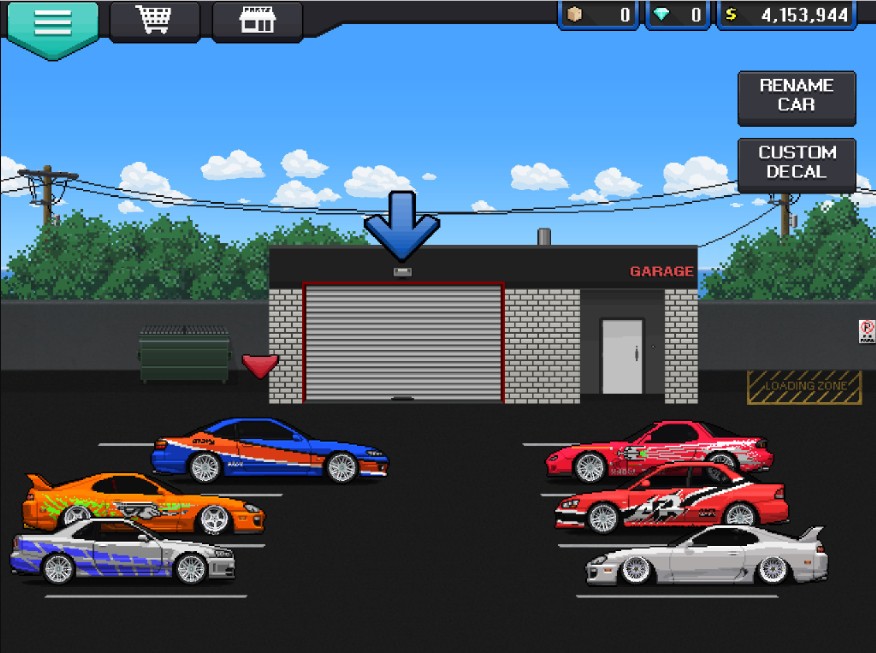 Gamers car collections are given nearly endless combinations of parts, colors, vinyl's, and details to choose from.
6. Gear.Club
Gear.Club Gameplay
Compete against AI and other drivers online in several modes in a range of beautifully detailed premium cars as the spoils of victory open up new areas for players to dominate. Hone your precise driving skills to earn higher ratings for each event and keep your car in pristine shape.
What makes Gear.Club Awesome
Your "workshop" is fully customizable with service shops, tuning shops, paint booths, etc. that you'll unlock and have more room for as you progress.
Cars are able to be outfitted with different exterior pieces and equipped with droves of performance parts to make your car more competitive.
"Flash" events are updated frequently to give gamers an opportunity to participate in events that will render valuable prizes.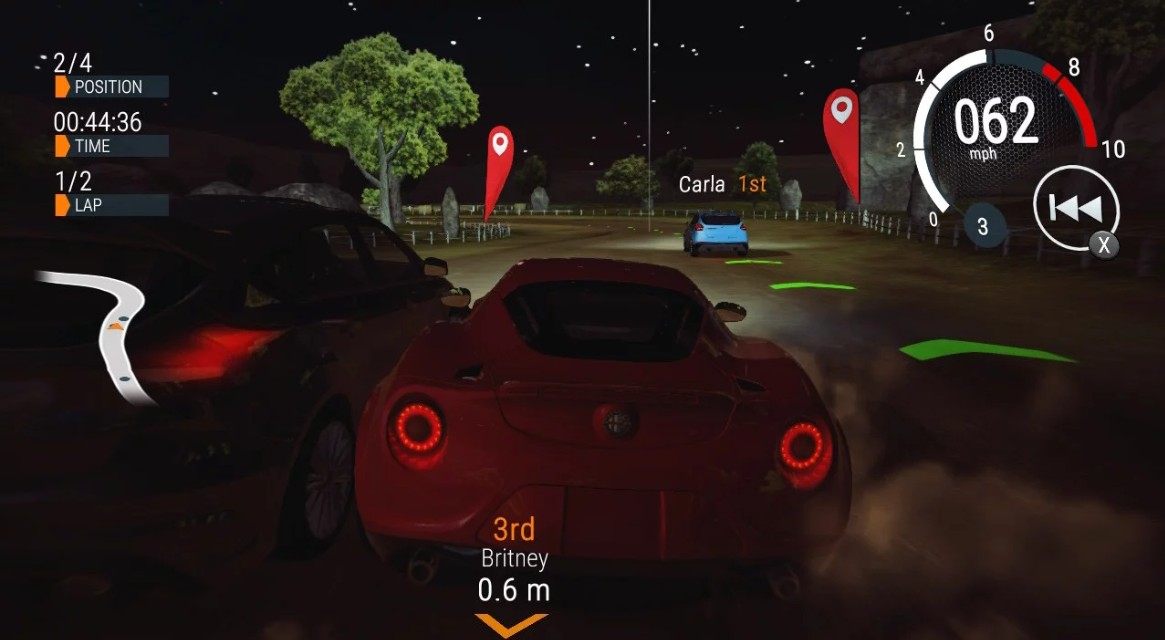 Racers have to adapt to scenery as it will vary from dawn to dusk depending on which event they join.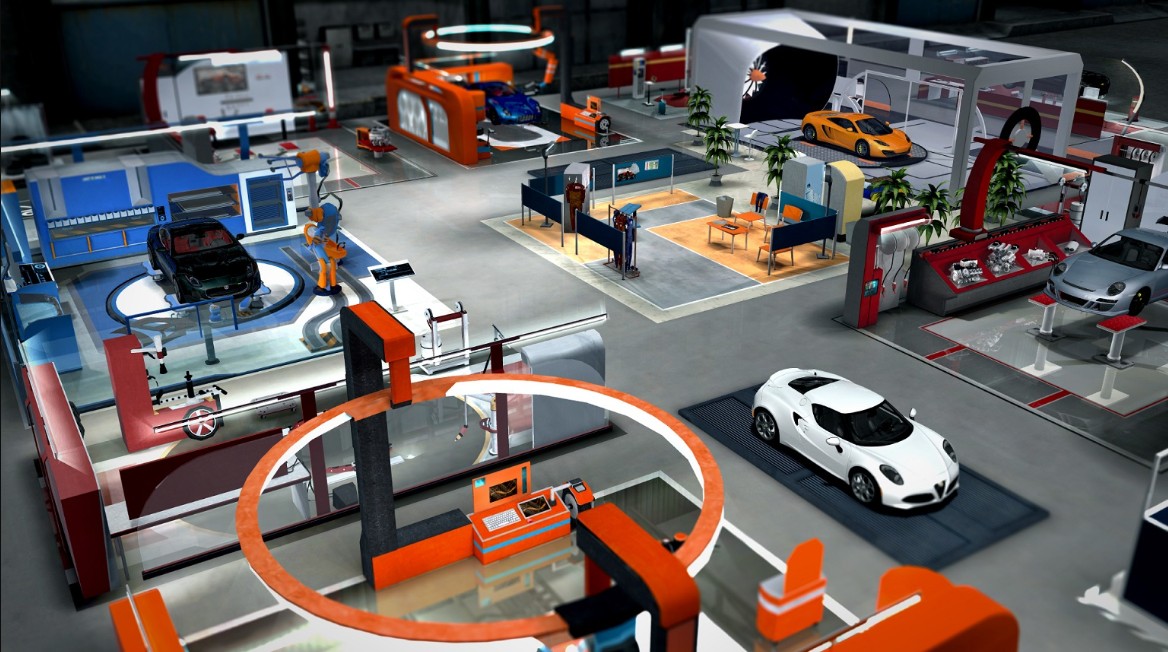 As your car collection grows, so will your "workshop" with many different booths to service and modify them.
5. FR Legends
FR Legends Gameplay
A cartoonish take on the thrill of drift motorsports that prize players with exquisite physics and car control. All "battles" are drawn out with "lead and chase" to reward the driver that best controls their chaos; racers use their winnings to purchase limitless accessories and upgrades for their vehicles.
What Makes FR Legends Awesome
Animated action is rendered beautifully and gives gameplay a distinct character especially as gamers find themselves sliding through world locations.
Racers can tune their vehicles to a "T" with options ranging as far as suspension geometry and engine swaps.
Online multiplayer allows drifting one the same track with up to 4 others while still maintaining smooth gameplay.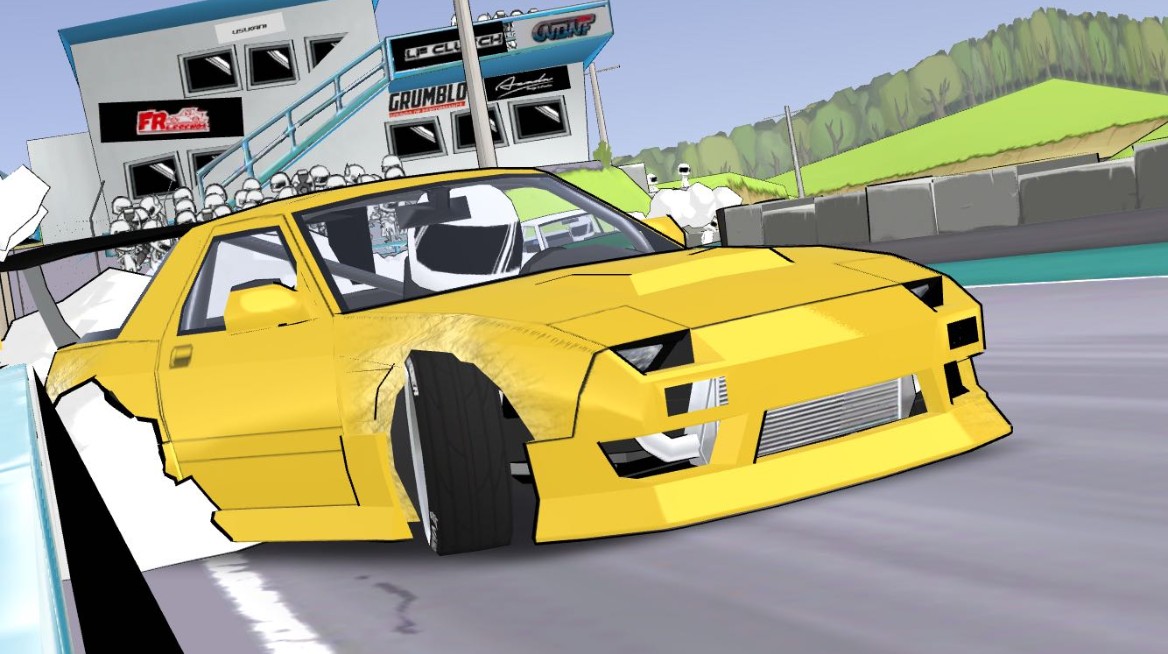 Each drift run is scored by various measures, including how close you can get to walls (including directly grazing them)!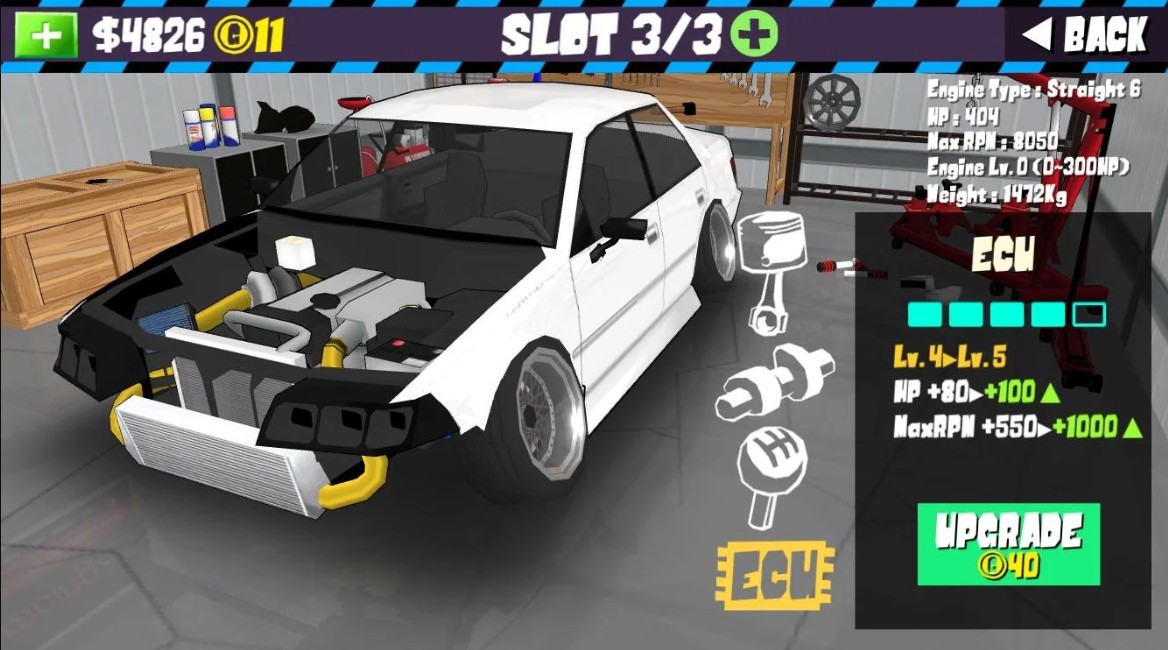 As you make each cars performance more voracious, you'll naturally be exposed to competing in higher, more difficult classes.
4. Gigabit Off-Road
Gigabit Off-Road Gameplay
An ode to hot-rodders that enjoy taking their machines off the beaten path; this is an open-world game that stresses physics and challenges players through checkpoint runs and time-trial events. Featuring numerous maps of grand proportions and challenges aplenty, you take your plain truck from "mild" to "wild" to complete all driving missions.
What Makes Gigabit Off-Road Awesome
Each vehicle has extensive amounts of modifications to suit different goals; be it a nimble sand-runner or a rugged gulch-stepper.
Even when drivers find themselves stuck in a rough spot, they can affix their winch to a stronghold and pull themselves out.
Trucks function very close to their real-life components; you can switch between "low" and "high" ratios and "lock" both front rear axles individually or together to master whatever terrain.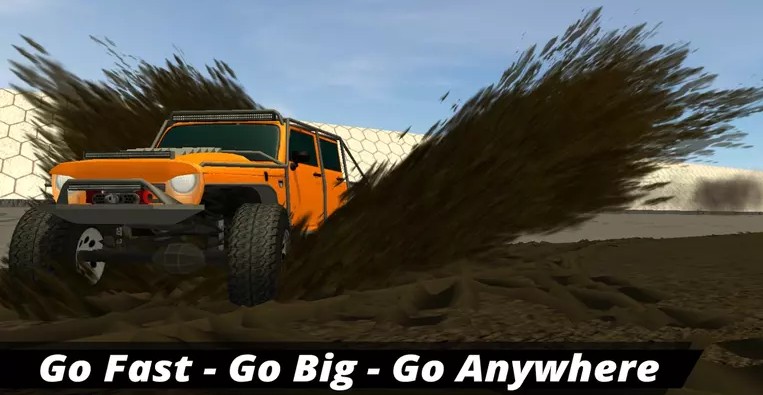 Conquer the terrain with more tenacity with more advanced suspension setups, and aggressive tire/wheel combos.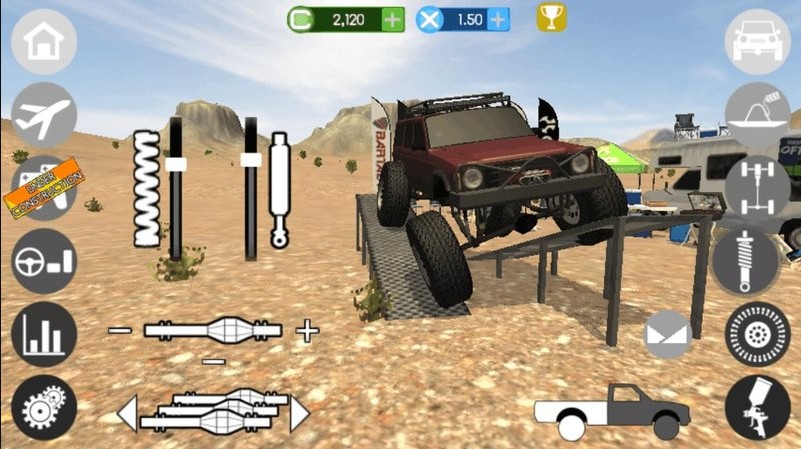 The suspension tuning menu allows players to see what their adjustments will affect in real time!
3. TorqueDrift
TorqueDrift Gameplay
The professional drifting scene is alluring in its own right but it might not be the friendliest face. TorqueDrift invites mobile users cheerily, giving them real life Formula D tracks as well as their participants cars and all the shredded, smoking rubber they can handle.
What Makes TorqueDrift Awesome
Smooth physics and simplified gameplay make it easy to control cars at their limit so racers can effortlessly increase and enjoy their vehicular anarchy.
Professional and high-grade vehicles are available to drive almost immediately through special events updated frequently.
Cars that are collected can be modified with actual name-brand parts which adds to appeal and authenticity.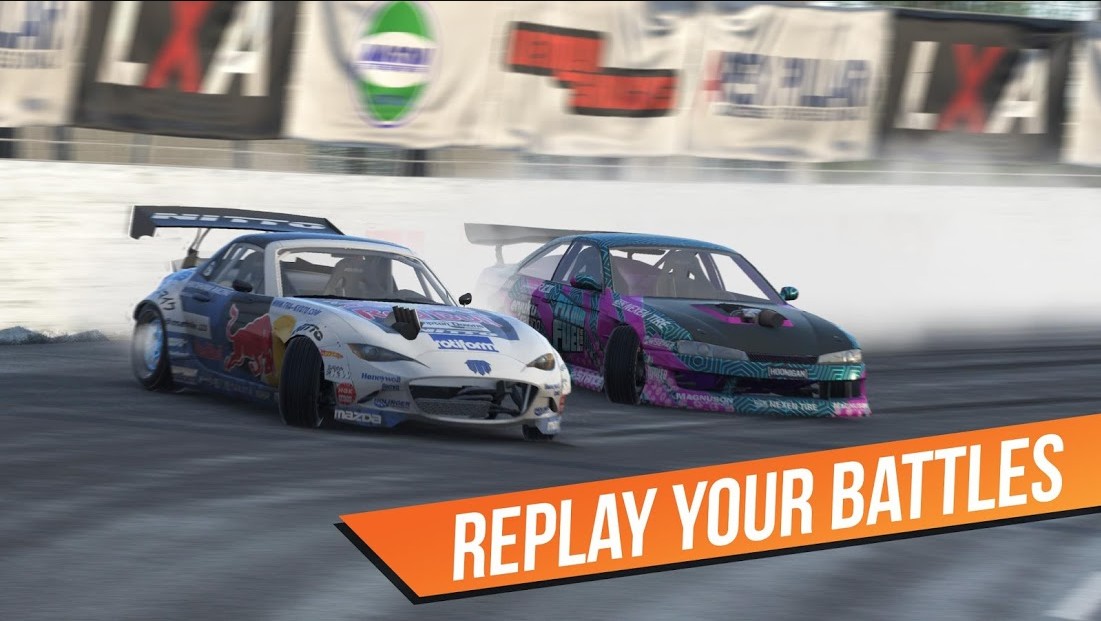 The graphics, physics, and nature of the competition makes for riveting gameplay spectation.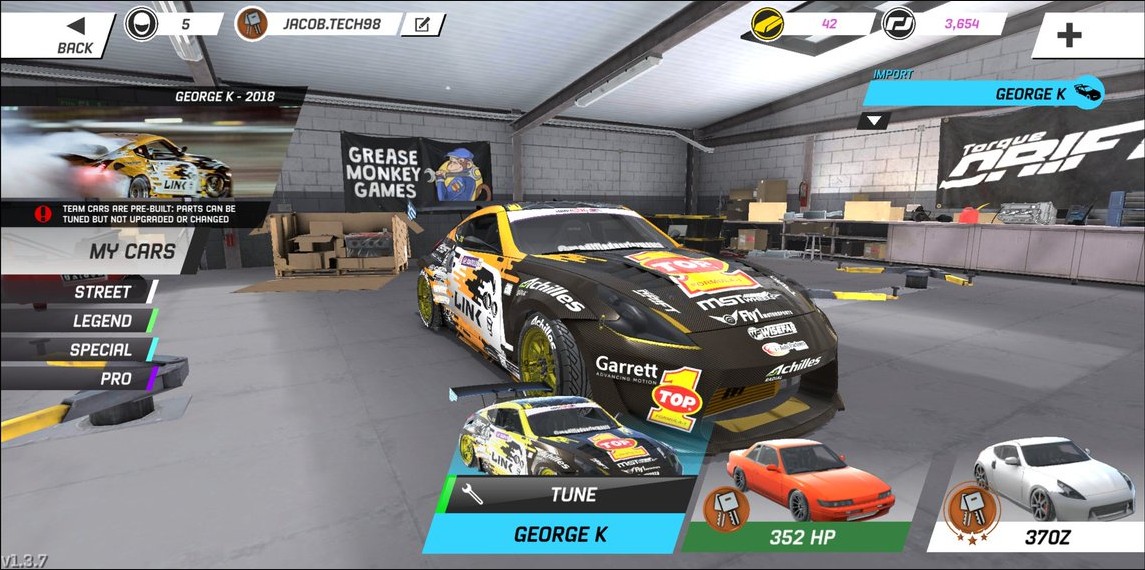 Standard cars and pre-tuned cars can be purchased and customized to a drifters liking.
2. Assoluto Racing
Assoluto Racing Gameplay
Arising to critical acclaim as a true "sim" to the professional racing genre, participants seeking a passive or realistic challenge on any of the games original and locations are emulsified into motorsport at some of its most involving levels. Drivers participate in daily, trial, and multiplayer events to test their "metal" as they fine tune their cars for unbridled victory.
What Makes Assoluto Racing Awesome
Driving physics are tailorable to how "realistic" the player wants to experience their gameplay with steering assists, traction control, and ABS control.
Cars are customizable to have them achieve almost any level of performance and ferocity.
Daily rewards are given and others as well once milestones of completion are achieved.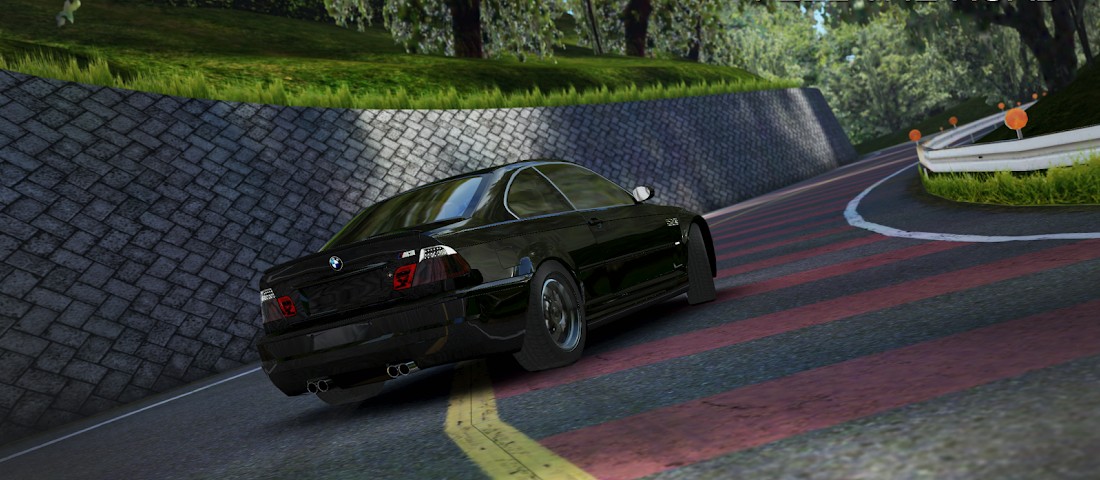 Each car in the game drives just as good as it looks, a rarity among mobile "sim" racers.
You are given special colors and parts as prizes for achievement milestones as you strive for 100% race event completion.
1. Real Racing 3
Real Racing 3 Gameplay
A true racers mobile-pastime as much as a "game", individuals will find themselves in an endeavor to level-up their driving levels to progress on into a nearly limitless list of vehicles meant for street and track duty. Game credits are won through abundant event participation and spent on car upgrades and maintenance while at times being supported by crew members such as engineers and marketing agents.
What Makes Real Racing 3 Awesome
Graphical quality is superb; interior views are breathtaking and the sense of speed is unparalleled.
The roster of cars is just as well, spanning over 20 different manufactures and far past 200 precisely detailed examples from all ages and disciplines of motorsport.
Online multiplayer mode has a diverse range, from time trials with special vehicles to team-events pitting drivers against each other for ultimate racing glory.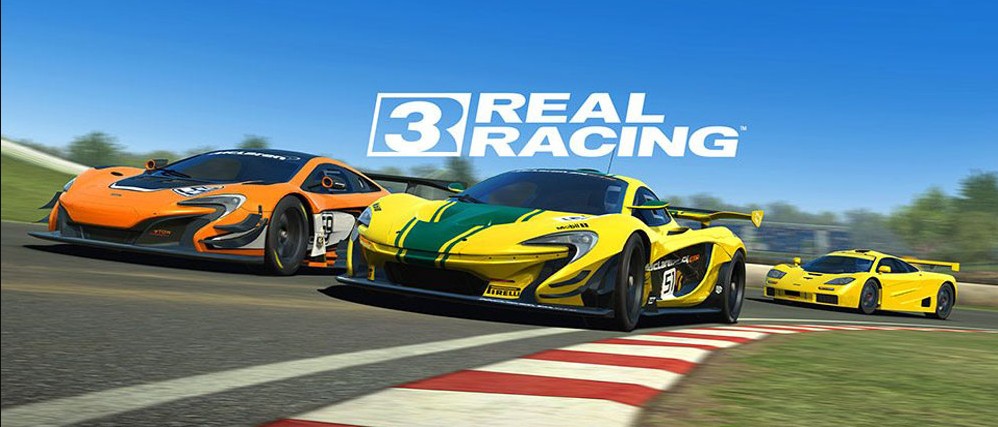 The game readily gives its players automotive celebrations in the form of updated driving challenges.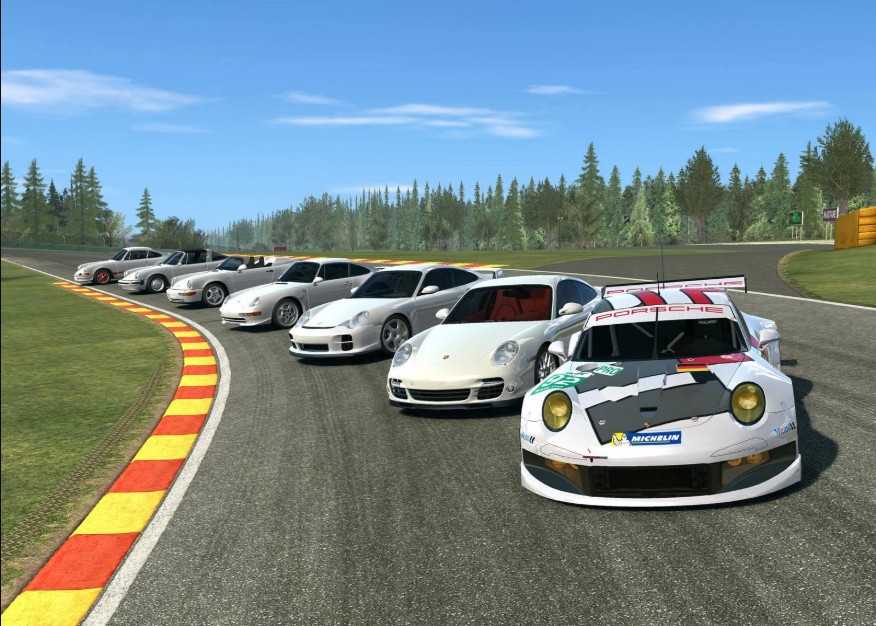 Brand names well-suffused in motorsport voluntarily find their virtual home in real racing.
Looking towards something else? You may also be interested in:
I also cover more content in articles that can be found here:
Image Gallery