The 15 Best Free Racing Games to Play In 2017
Updated: 09 Jul 2017 8:05 am
Nothing like a good sprint down a winding mountain road!
Ride Like Hell In These 15 Awesome Free Racing Games
What is it about a good racing game that gets us so revved up? Is it the quiet purr of a powerful engine at the starting line that promises we're in for one sweet ride? Or is it the steady transition to that deep roar that underlines the heady experience of blazing down that straightaway at close to 250 km/h? Graphics that make us feel we could step right through the screen and into the car? The chance to own and drive what we'll only ever be able to afford in our dreams?
Is it the thrill of pitting our reflexes and coordination against the (in-game) laws of physics, and being able to literally feel the struggle for mastery through the controller as we focus on maintaining insane speeds? The blurred visuals racing toward us and making it difficult to see properly while we stubbornly refuse to ease off the gas? Slipping past challengers around tight turns with hardly a margin for error? Or maybe the freedom of doing what you know you couldn't possibly be doing in real life (for most of us), or at least not legally?
Whatever it is, one thing's for sure: good racing games really have a way of connecting with us and driving home a sense of thorough satisfaction when we've finally put down the controller.
And that's exactly the kind of promise these games have in store. The best part? You won't have to pay a dime to experience these amazing games. You don't need to dip into your piggy bank to get awesome racing games. Just power up the computer, plug in your controller (or not; your choice), strap yourself in and get ready to experience 15 free racing games you've just got to play this year!
15. Live for Speed
Live for Speed shows off a new circuit.
Let's get things rolling with Live for Speed. You'd never guess this game was developed by a three-person team. Live for Speed is a racing simulator with an emphasis on recreating a realistic and comprehensive racing experience for the racing enthusiast and the casual gamer alike. And the game does this pretty well, in fact. It has a few awards to its name to prove it.
Like I said, Live for Speed is a serious simulator. It pays keen attention to the details of physics that are inevitably involved in driving a car. The end result is that you'll come as close as most people ever will to actually blazing down the straightaway on an actual race course. You can also tweak settings for even greater realism. It also features pit stops (with fuel and tire changing) and a useful tutorial system to get you up and running in the world of real racing.
Live for Speed offers a variety of race types and challenges, and a dynamic online community that includes modding. It's an intelligent racing simulator that's perfect for anyone wanting to immerse themselves into the wide world of racing. You can download it for free here.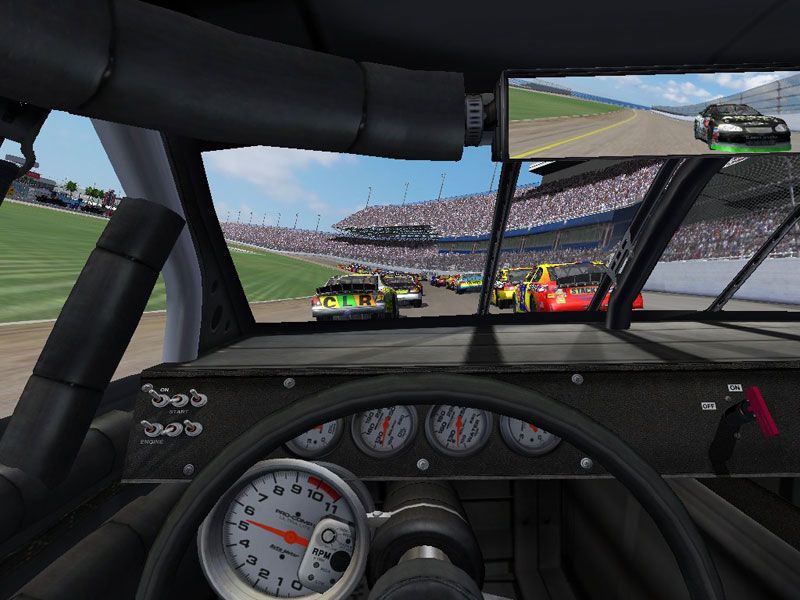 You can really immerse yourself in the racing experience by using a first-person camera mode.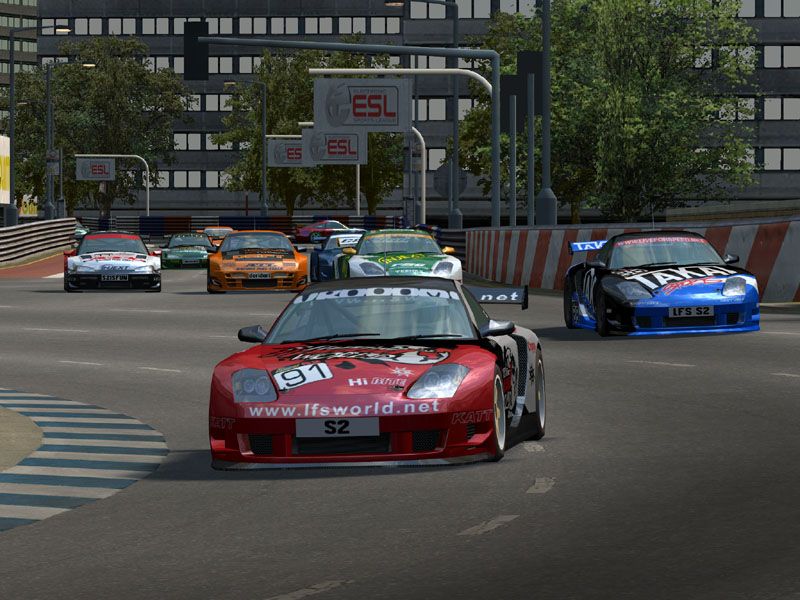 Live for Speed offers a variety of racing tracks including city-based courses.
14. Stunt Rally
Stunt Rally gameplay
Stunt Rally comes to shake things up a bit. Or a lot. That much should be clear from the title. So, if you're looking to escape from the cliché that is your typical racing game, you've just found your way out.
You can expect rally style driving in this game, and lots of it. That means mostly gravel tracks. But that's only the beginning. Stunt Rally boasts a generous 172 tracks (some of which are literally out of this world). You know—just in case you want a change of scenery. And you have 20 cars, a motorcycle, three hovercraft and even a bouncing sphere to choose from.
As far as stunts are concerned, Stunt Rally will have you going underwater, speeding along narrow alleyways, making death-defying jumps, driving through tight loops and avoiding any number of obstacles—and sometimes all of these at once. The game is totally free and is a great value. Pick it up here.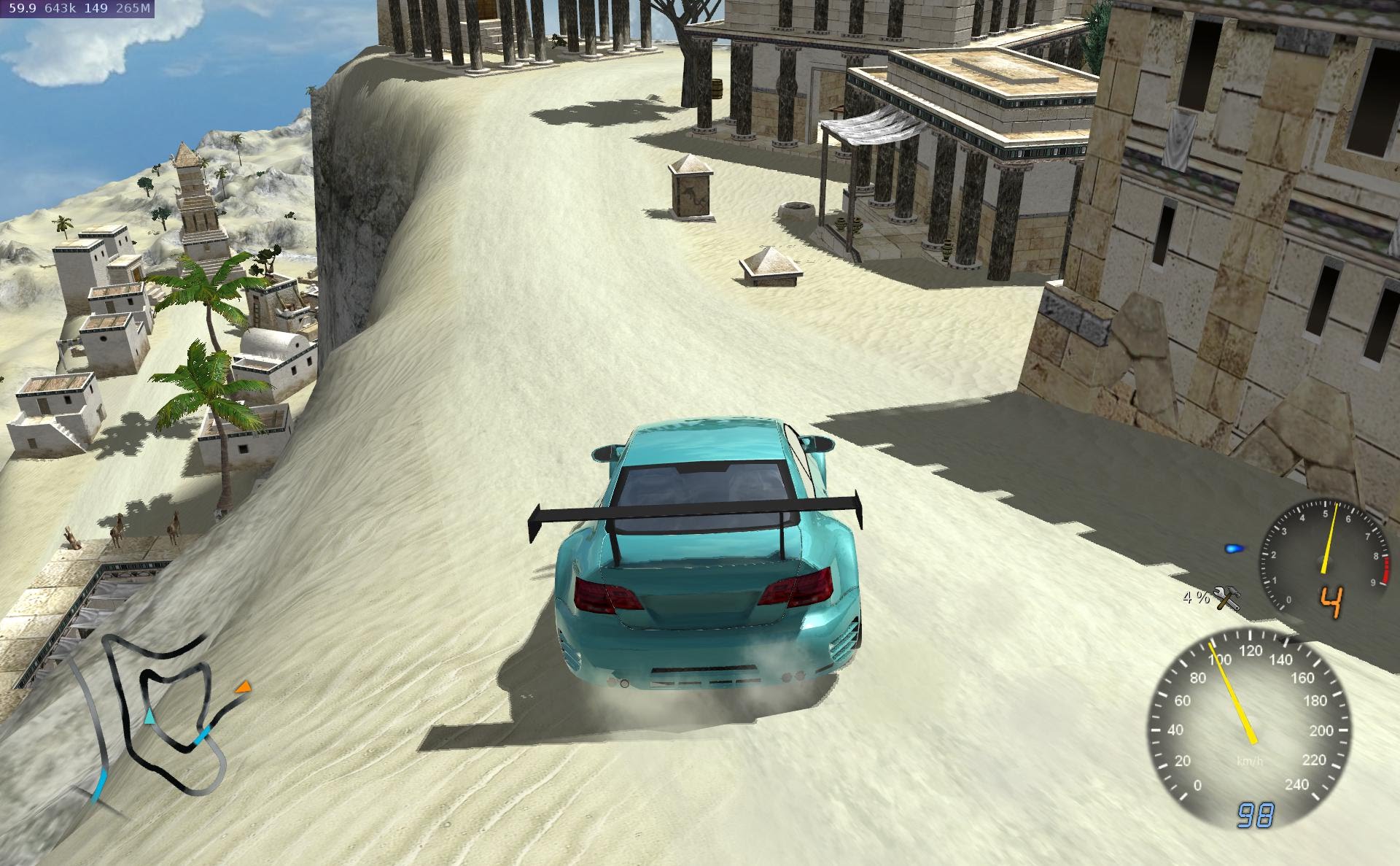 One wrong move on this sandy terrain could throw you off this precipice and out of 1st place.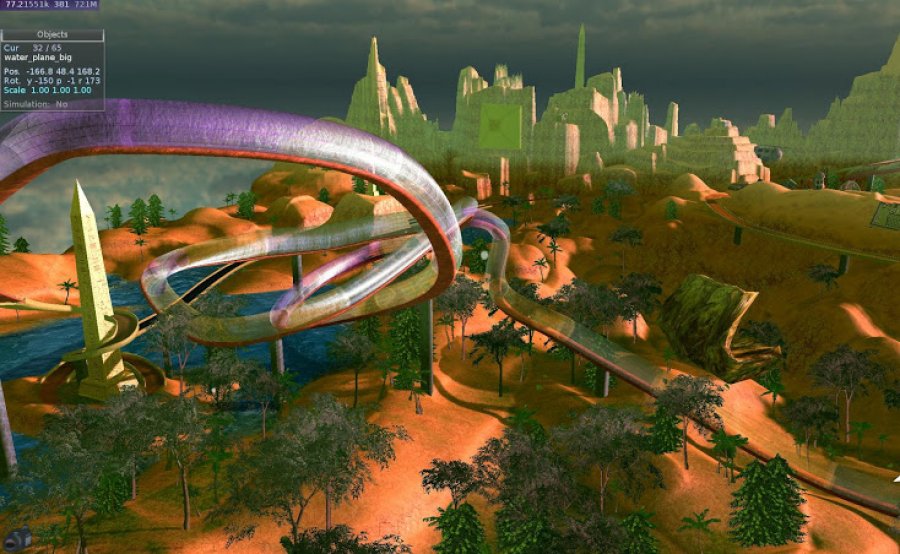 Yes, they do expect you to drive (or roll) all the way down that.
13. Tales Runner
Tales Runner trailer.
Tales Runner is quite different from the other games on this list. That's because it takes racing in a very different direction. Yes, you'll be online and yes, you'll be racing against lots of other enthusiasts, but no, you will not be getting behind the wheel of a Ferrari to take down the competition. Instead, you'll be racing on anything from magic carpets to slides, and switching between flying through the skies and running on your own two feet in a world full of brilliant colors and cartoonish charm.  
Tales Runner is an interesting mix of adventure and racing. You'll be racing to complete obstacle courses and solve puzzles before your opponents as you make your way through lots of different settings with new goals and challenges littered along the way. Instead of customizing your new set of wheels, you'll be customizing your in-game avatar. And there are lots of people to play against and lots of different options. Race up to 30 people at once or take a break and play one of the many mini games.
Tales Runner offers a change of pace and a different perspective on the beloved race to the finish line. It's pure, quirky fun for those who want to put their skills to the test beyond the world of V8 engines and drag races. Download the game here.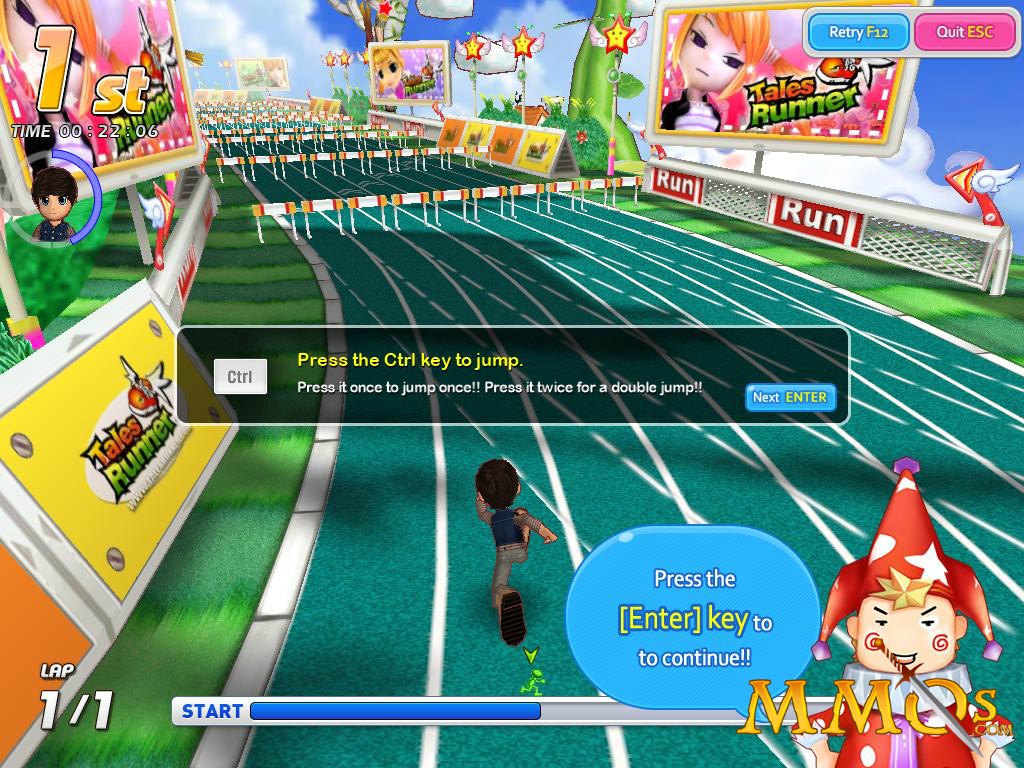 A tutorial in Tales Runner.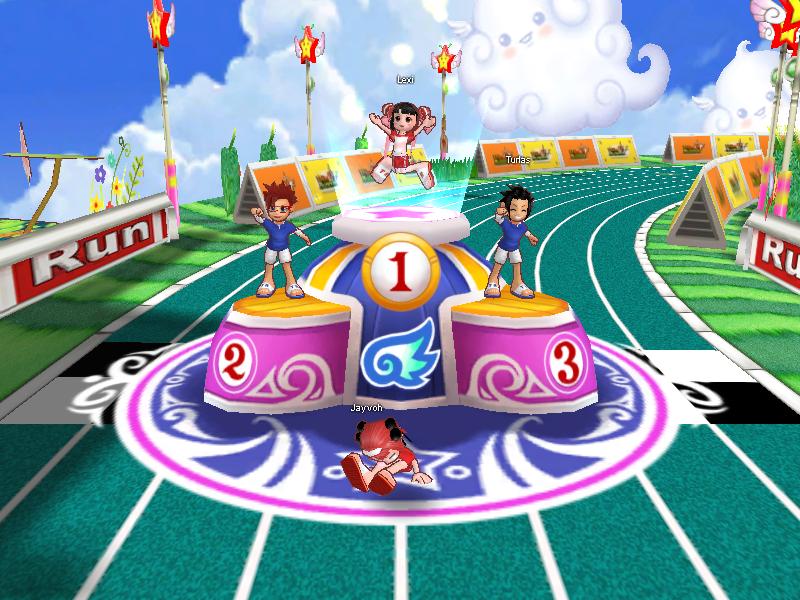 You know, this reminds me of Super Mario Kart…
12. Racer
Racer trailer
Dolphinity Racer is all about real-world racing and simulation, and it's been doing that job quite well. This is not going to be your typical joyride. Racer pays a lot of attention to its simulation, so, like some of the other racing sims on this list and maybe even more so, you'll find that driving in this game isn't nearly as simple as on your average racing game. You'll have to know what you're doing, or you'll get nowhere fast.
Racer seeks to recreate the sensation of driving real cars on real race tracks. To that end, the game places a lot of emphasis on handling, force feedback and real physics. Jumping into Racer means jumping into a racing experience about as close to the real thing as you can expect to come. It's one of the best racing simulators out there. Testament to that is the fact that several professional racers and car manufacturers model their simulators off this one. Roll on over to get your copy here.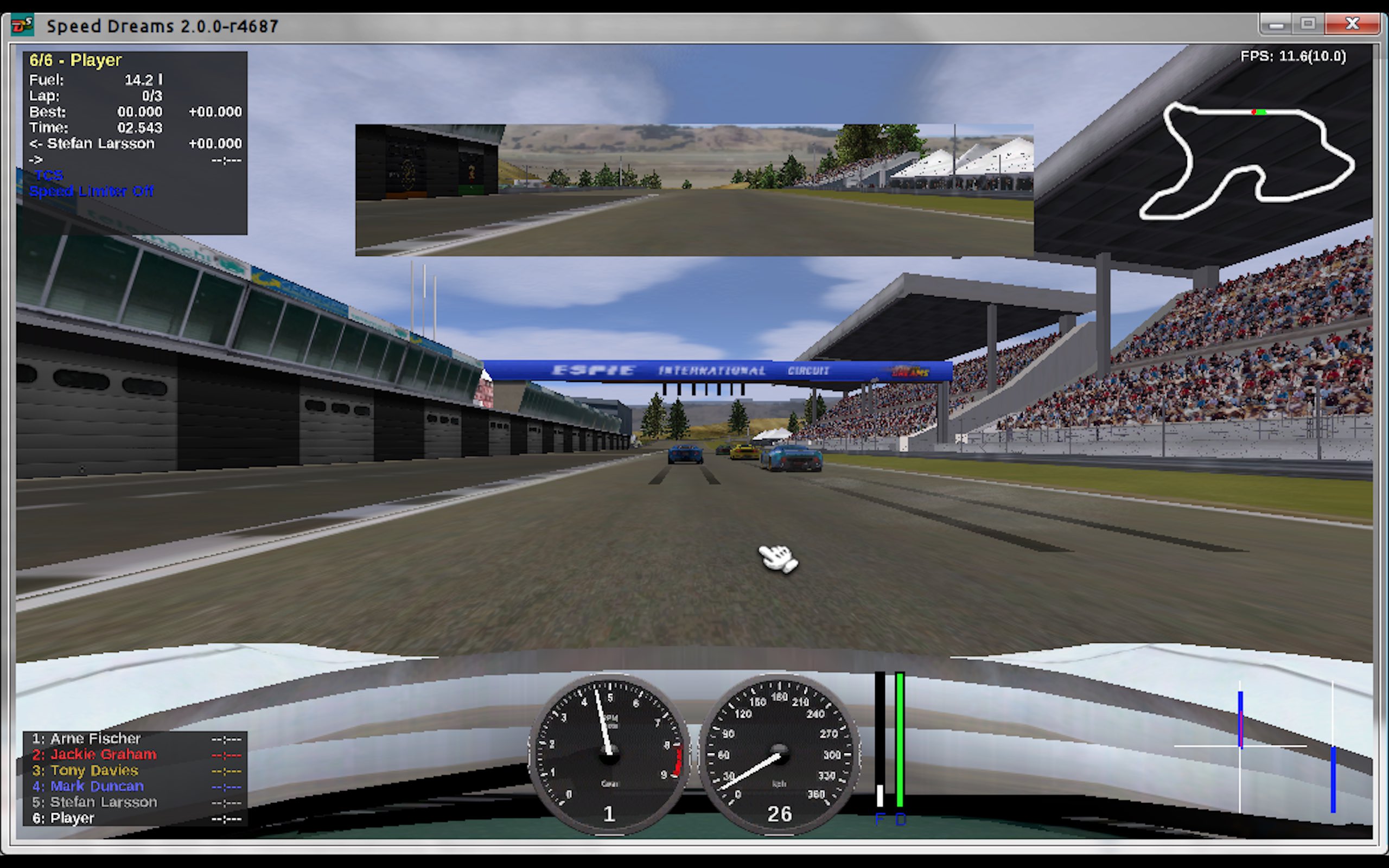 Racing simulators like Racer emphasize skill over raw power.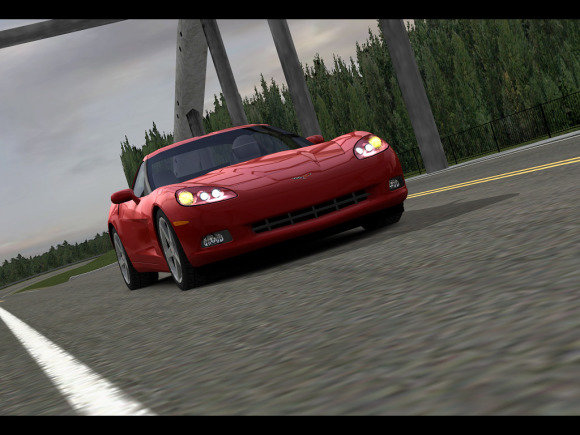 One of the great options available in-game.
11. City Racing
City Racing trailer
City Racing by EA Group is a GTA-style sandbox game that gives you total freedom to do whatever you want around town—that is, total freedom provided that you can stay out of the clutches of the law. So, feel free to make the world your oyster. Just be prepared to run, run and run some more when your friends from the station show up to crash your party.
When you're not busy outrunning the cops, you can stamp your dominance in illegal street races, make money, go around pulling off insane jumps and stunts (just because you can), and live out your dream of becoming a taxi driver. Sharp eyes and sharper reflexes are your best friends in this game. You can get it here.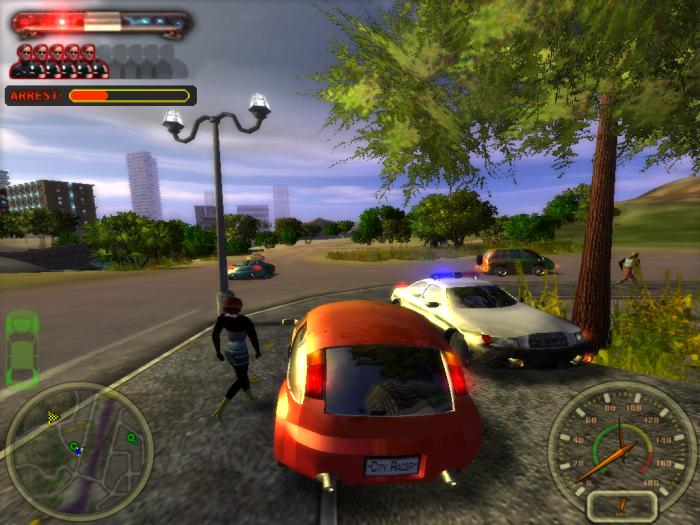 Don't get busted!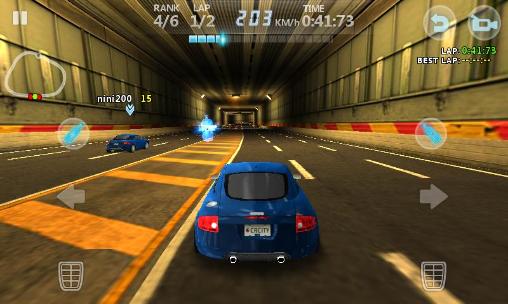 Race through the city and become number one!
10. High Octane Drift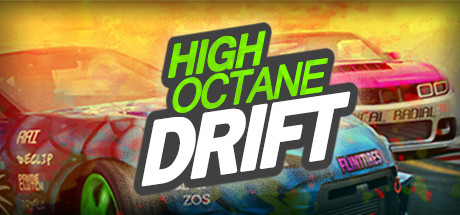 If Drifting is more your speed then check in to this game, because there's a lot of it to go around. High Octane Drift is an online racing game where players enter into drift races against each other to earn in-game cash with which to advance their careers. The game levels the playing field by having everyone starting out from ground zero and having to work their way up by racing and earning money to purchase and customize their cars for optimum drifting performance. To do this, players will need to compete on many different tracks that will each test different skills and cars.
One of the strongest assets of High Octane Drift is its customization capabilities. There's a staggering amount of customization material available in game—the number reaches over a thousand. Players are thus encouraged to play and earn in order to build their dream car with as much attention to detail as they would like. There are also lots of opportunities for players to form teams and compete as a unit, as well as there are several racing events where players can compete against up to 32 others for rewards or prestige. Get this game for free here.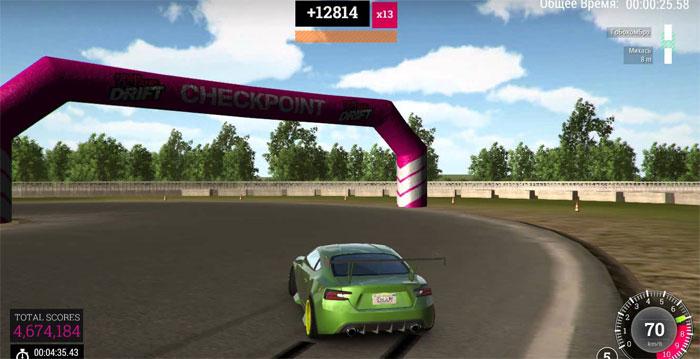 Try to keep your drift going for as long as possible to raise the multiplier!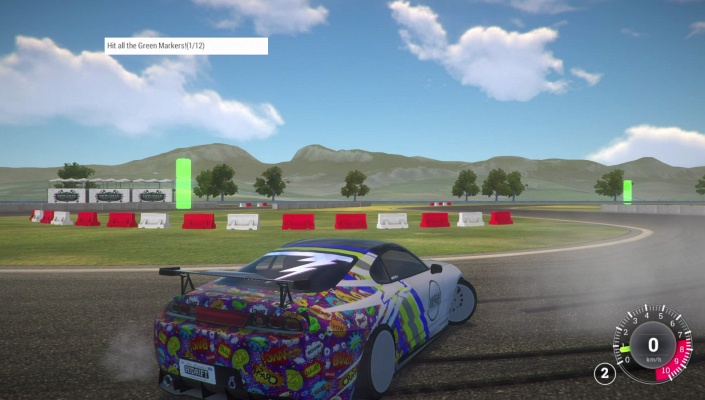 With so many individual customization parts, you can really build your dream car just the way you want.
9. Truck Racing by Renault Trucks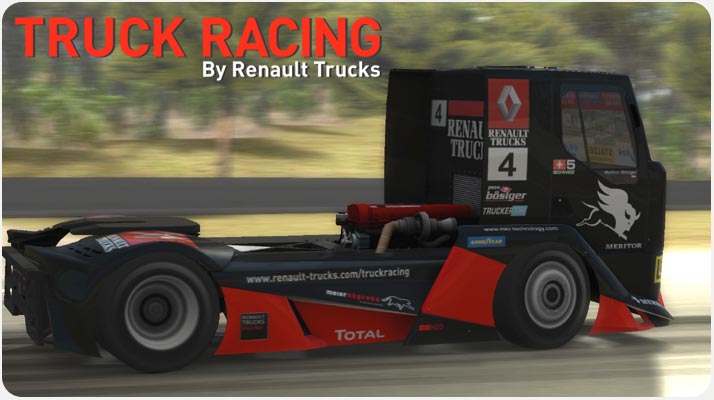 Usually when we think "racing game" we think cars, or at least motorcycles. Not trucks. Definitely not trucks. They're slow, gargantuan and unwieldy. So, no, we don't usually think of trucks in a racing context. But who ever said there couldn't be surprises every now and again? And that's exactly what Renault set out to do.
It wasn't a bad deal, either. Plenty of people like trucks; and while it's not the norm, it certainly isn't unheard of for trucks to be whizzing around a racetrack like your average F1 racer. And yet, for all that whizzing, these are not F1 racers. They're nowhere near as fast, nor are they as easy to handle. But they're fast enough to be worth racing around a circuit and different enough to pose a challenge, and that's all that matters. If you want something a bit out of the ordinary, Renault has got you covered. You'll find the download here.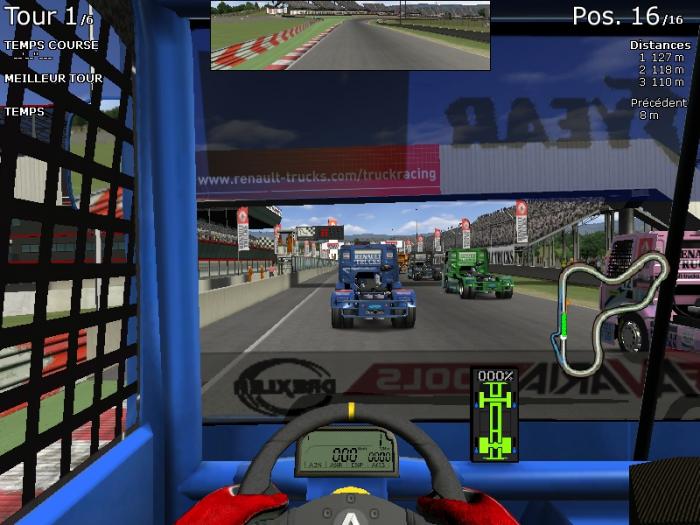 Race in first-person mode and put your skills to the test.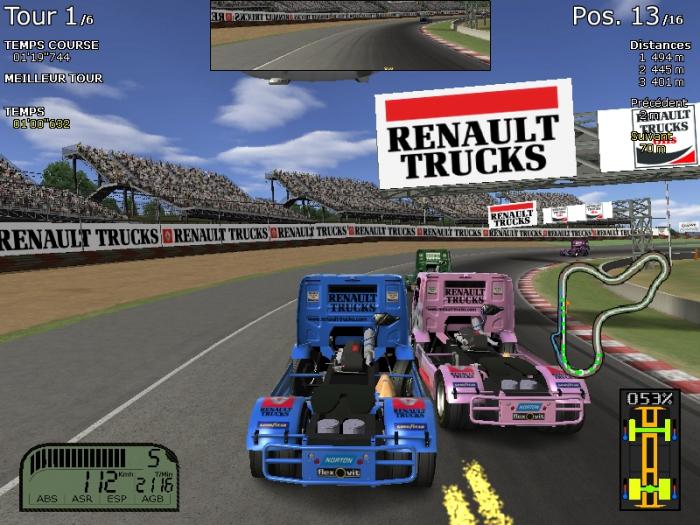 You could almost forget these are trucks.
8. Snow
Snow trailer
While we're on the subject of being out of the ordinary, I'd like to bring your attention to another oddity on this list. You know what they say: variety is the spice of life. Besides, it's not as if speed only applies to wheels or only operates in bulky hunks of metal whooshing past far more quickly than is generally advised. So, racers, I give ye Snow from Poppermost Productions.
Get ready to shred your way down icy mountain slopes, catching massive air and busting some cool moves in the process. That's right, Snow is all about skiing. Explore the vast, snowy world on your own, or race against friends to see who'll be king (or queen) of the mountain. Edit the terrain to suit your style. Add ramps, rails and plenty more at any point along the mountain. Hone your skills with the skis or trade them in for a snowmobile instead. Master some of the coolest moves ever seen on the snow—and, as always, watch out for that tree! Swing by here for the download.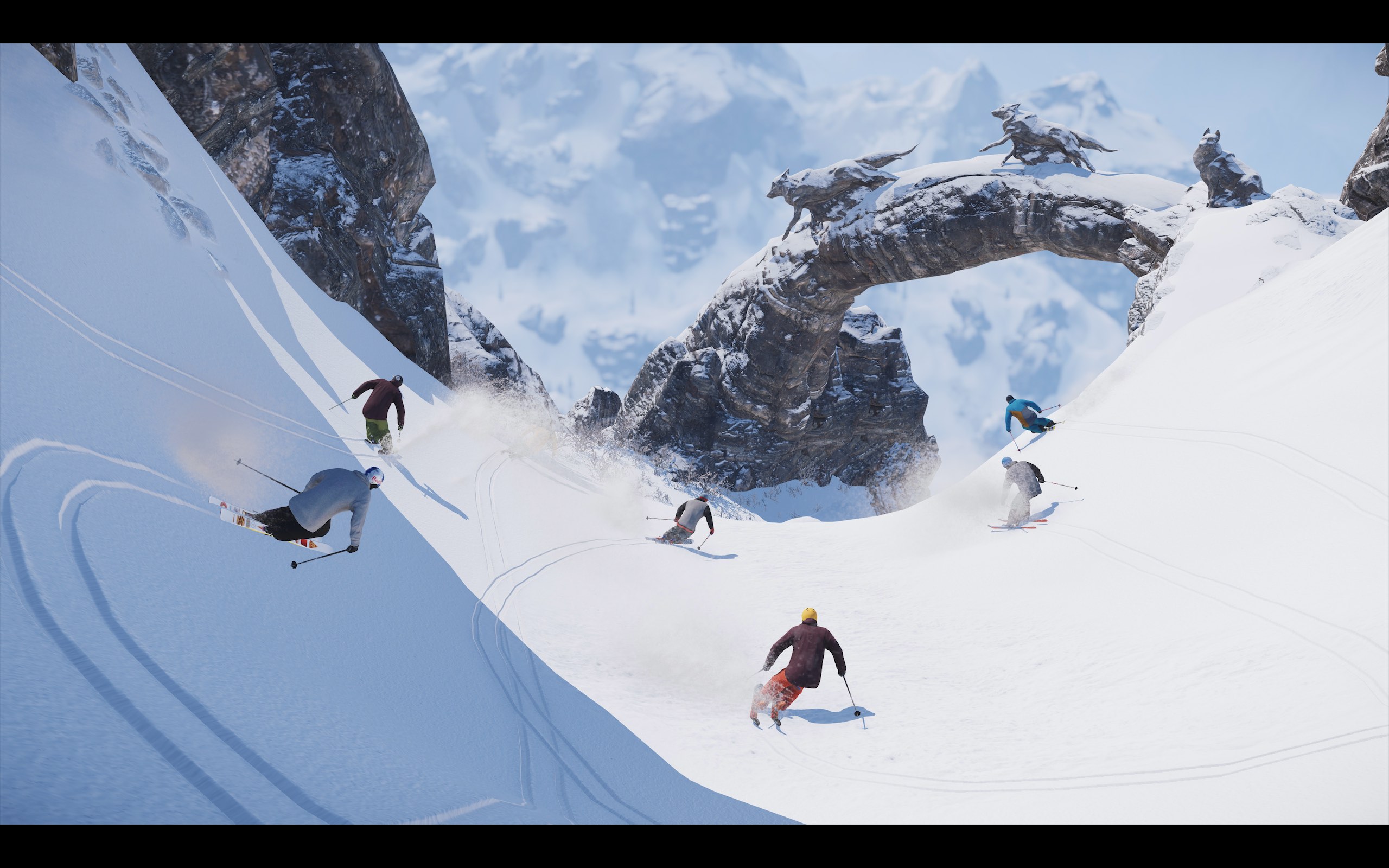 I spy with my little eye something that resembles a wolf…or three.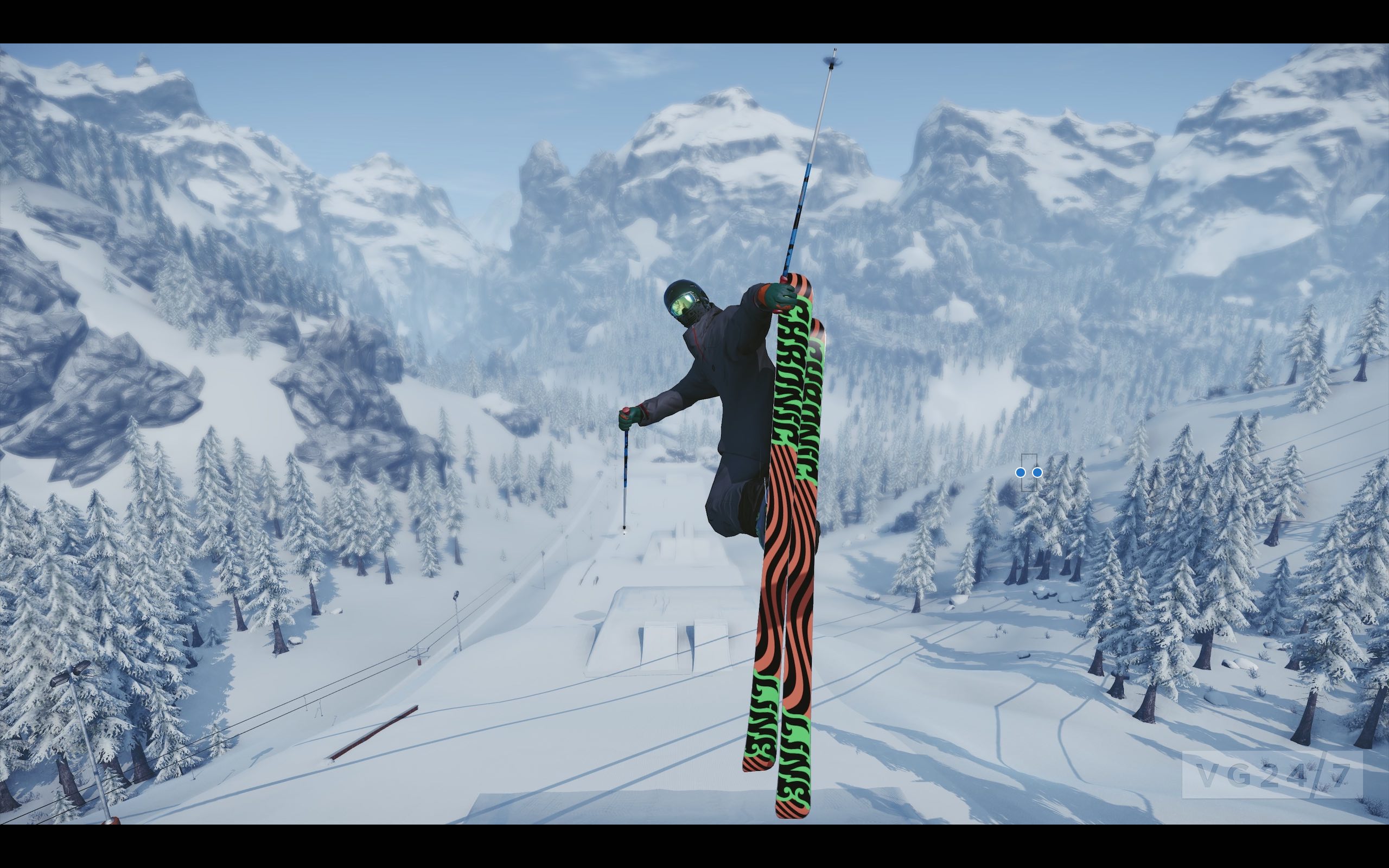 Everybody's got an inner stuntman. Unleash yours!
7. Simraceway

Ever wanted to participate in online race events hosted and overseen by professionals of the sport? Well, here's your chance! Simraceway is a very thorough racing simulator developed by Ignite Game Technologies and geared toward live, online multiplayer races. All said events are hosted by Ignite and overseen by a council of experts. That does mean, however, that you'll have to watch your conduct in-game. Simraceway recognizes the same rules of engagement as the real-world race industry. That means sanctions can and will be applied, including suspension.
Simraceway offers quite a bit in the way of simulation. It has a good selection of cars, maps reproduced with laser technology, a professional atmosphere, accurate feel and physics throughout the simulation, and the chance to win prizes through its racing events. It's definitely one to check out. Get the game here.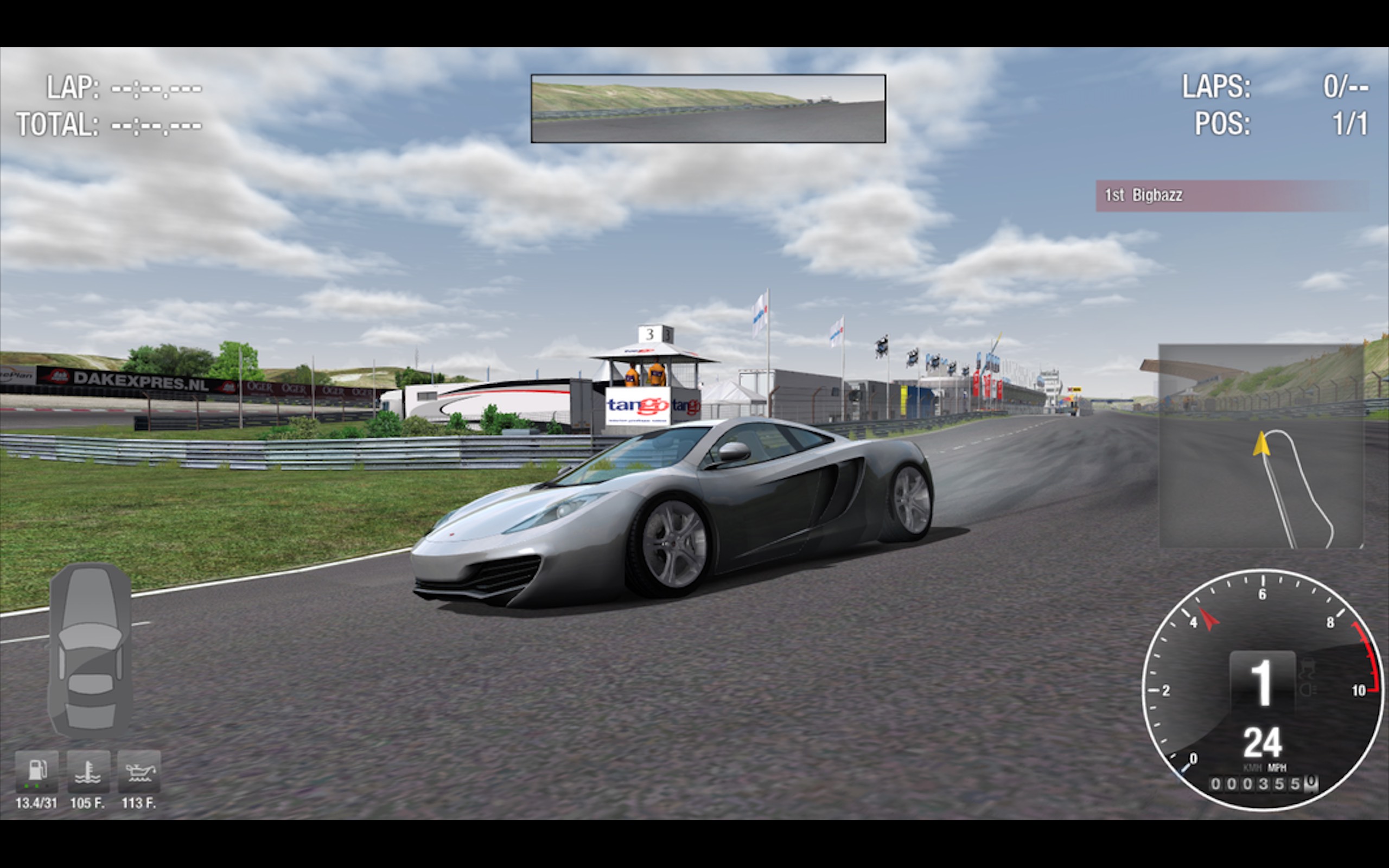 A Mclaren in-game.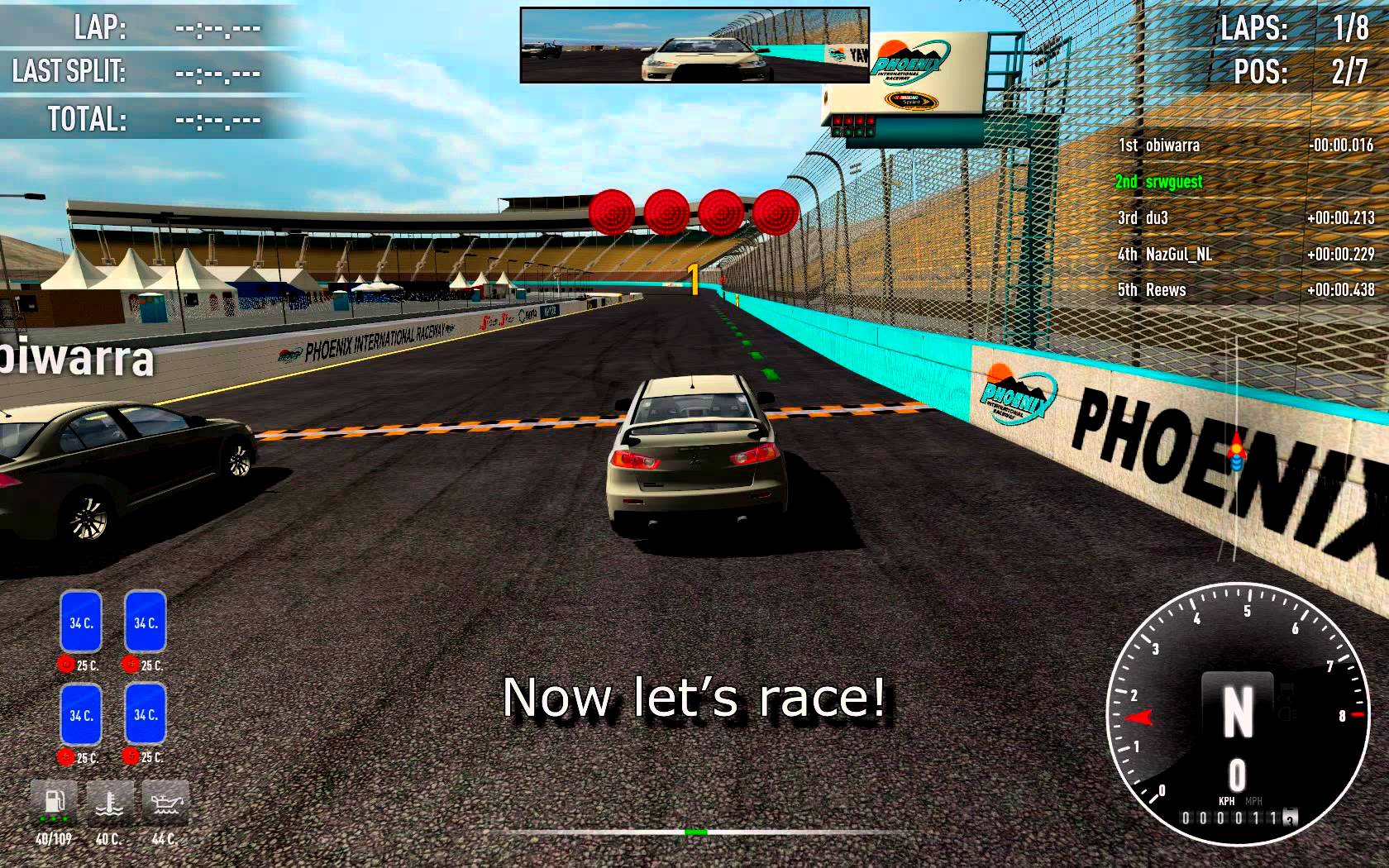 Yes, indeed, let's!
6. BMW M3 Challenge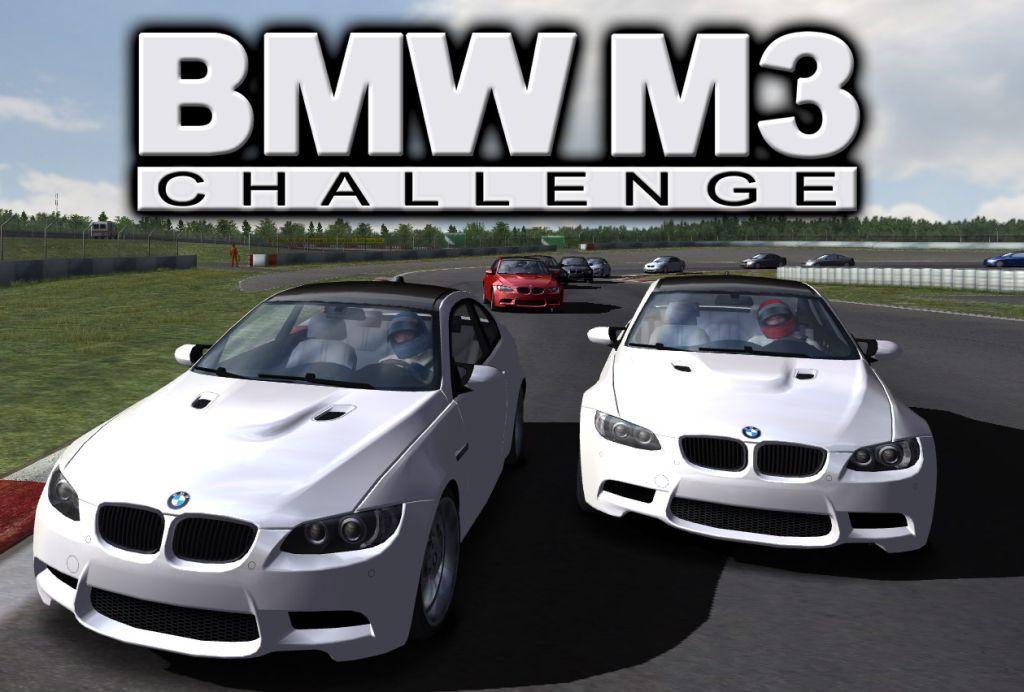 What Mercedes CLC Dream Test Drive is to Mercedes, BMW M3 Challenge is to BMW. The game is designed to allow the player the opportunity to test drive one of BMW's great creations, the BMW M3. While that does mean you're limited to the one car, it's a real treat to drive the M3. For many of us, this brings back fond memories of a certain silver-and-blue BMW in a certain Need for Speed game…
Drive alone, race against the AI or race against others to experience the greatness of the M3 firsthand. The graphics and the physics in this game are both of a high quality, making this one of the best free simulators you're likely to come across. You'll find it here. 
Look at all these beauties!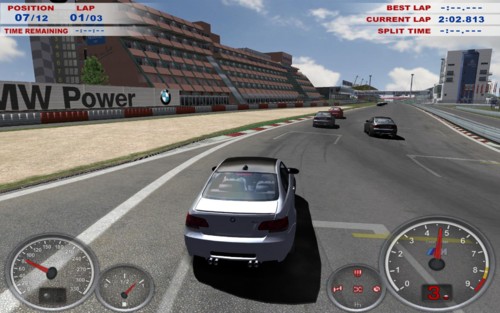 The BMW M3 makes for a great driving experience.
5. Rigs of Rods
Rigs of Rods trailer.
Rigs of Rods is a critically acclaimed physics sandbox game which uses soft-body physics to reproduce realistically many objects in the game. It enables the player to freely drive or operate a wide range of vehicles including cars, trucks, boats and airplanes. With its soft-body physics, Rigs of Rods accurately models the vehicles and objects in the game, thereby giving the player a very realistic representation of what happens to them under certain circumstances—like crashes.
Rigs of Rods is a very sophisticated simulator which offers variety, freedom and vast amounts of realism. It really frees you up to experiment in various ways and to observe the effects of any interactions between objects in the game. From speeding to crashing, everything is faithfully represented, making the game very enjoyable and respectable. Go here to download the game.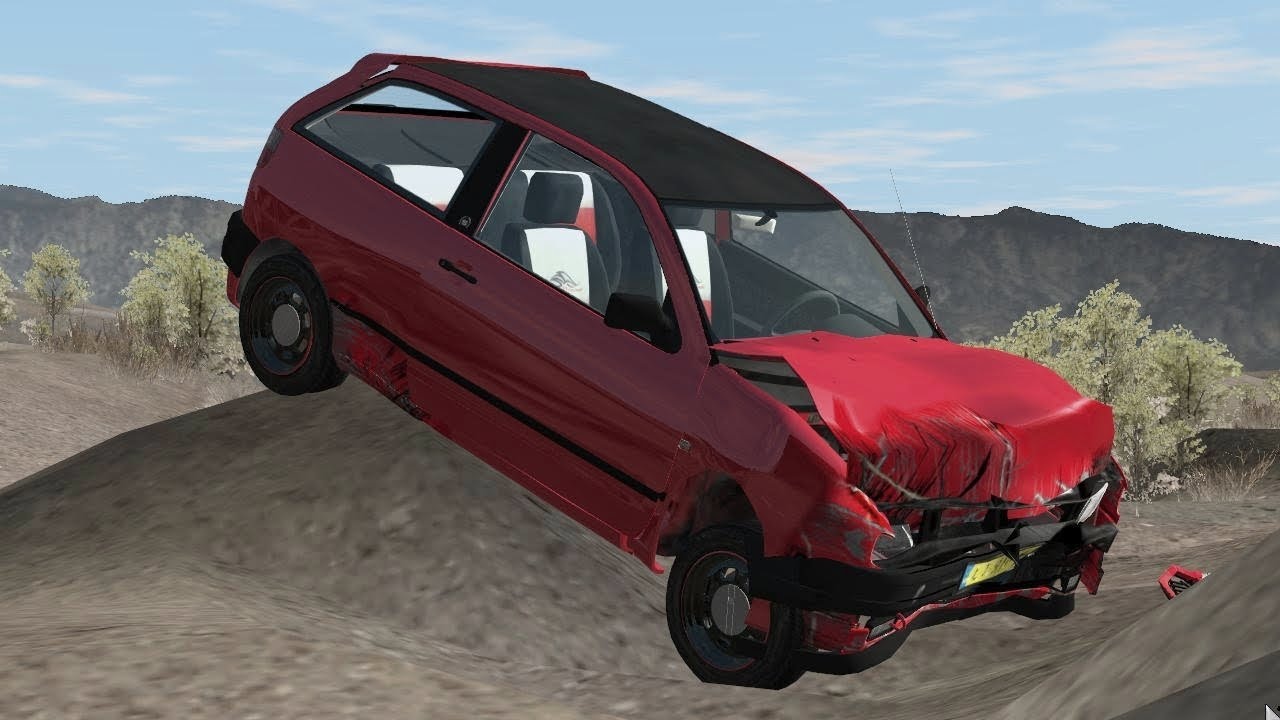 Now you can do your very own crash tests. The accuracy of the simulation is uncanny.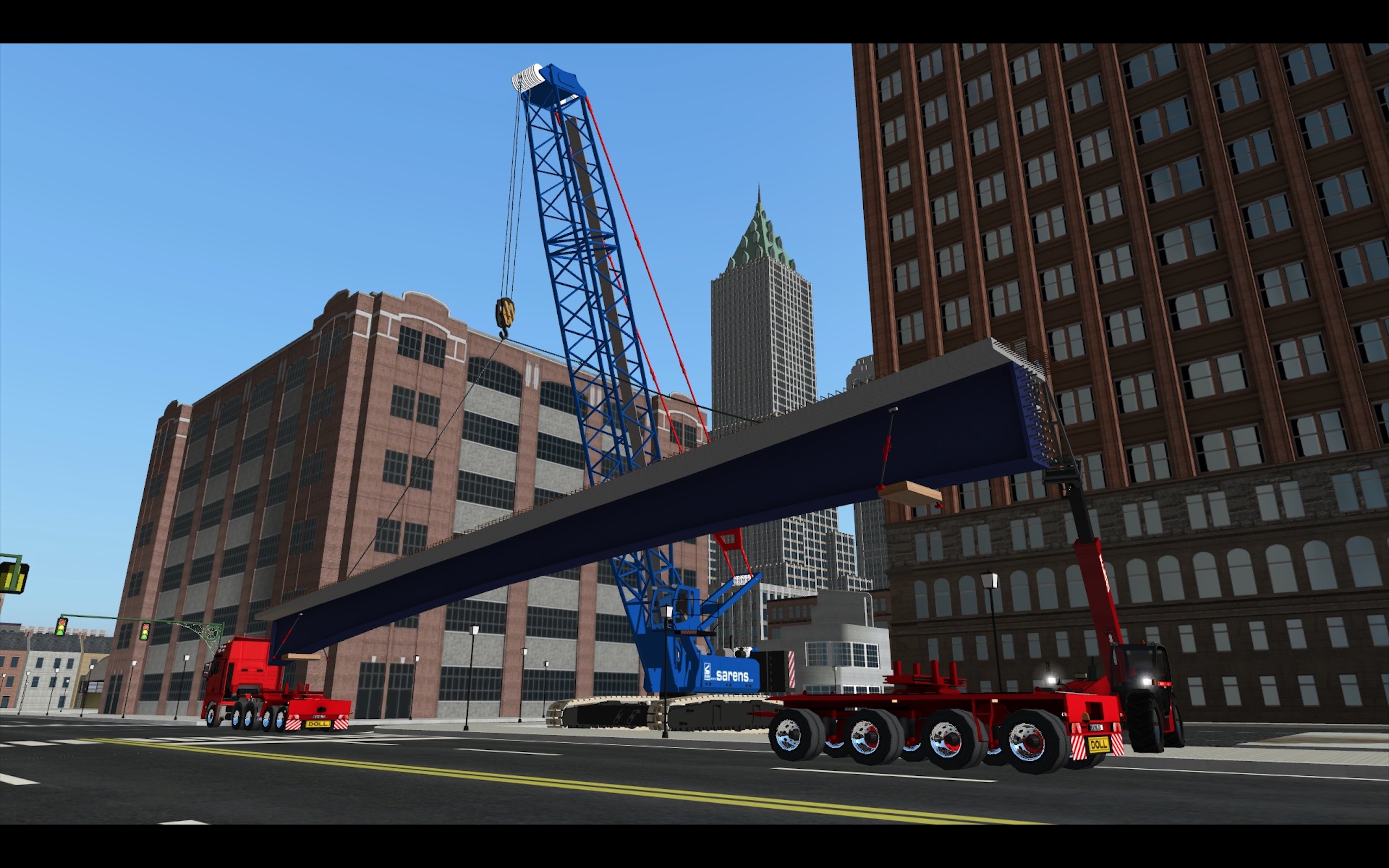 Rigs of Rods allows for experimentation across a variety of circumstances. Imagination is really your only boundary here. And the laws of physics, of course.
4. World of Speed
World of Speed trailer.
There's a lot going on for this MMO game, and a lot to do in it. World of Speed is full of fast-paced action, worthwhile challenges and engaging gameplay. Play alone or form teams as you seek to gain control of the race circuits and streets of the in-game world, including many real-world locations. But if you mean to succeed, be prepared for heated contests, sabotage and demanding races as you and your rivals seek to claim the upper hand in a constant battle of attrition.
World of Speed is a game that respects skill—it's not all about who crosses the line first. You're rewarded for skillful driving such as clean turns and drafting other cars, and these rewards can be used to upgrade your car so you'll be even harder to beat the next time. Also, offense and defense figure heavily into the game. You can slam into rival cars to stop them achieving some critical bonuses, but you can also find yourself losing out when someone else moves in to sabotage your perfect run or your dash to the winner's podium. Stay alert!
The game is still in the test phase as of now, with no official word as to when it will be properly released, but it is open for beta testing. Sign up for the beta here.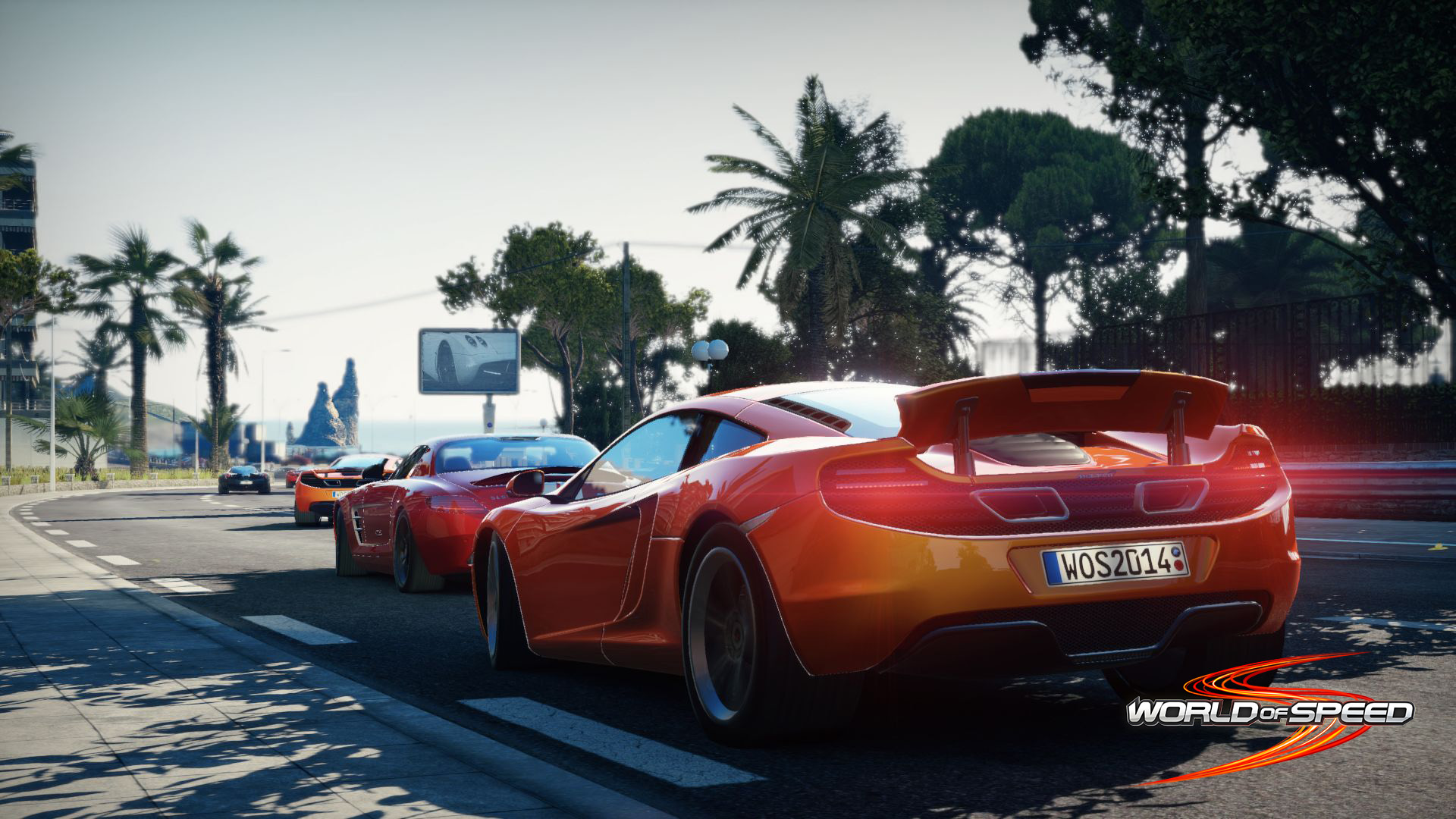 Race for control of beautiful locales from all over the world.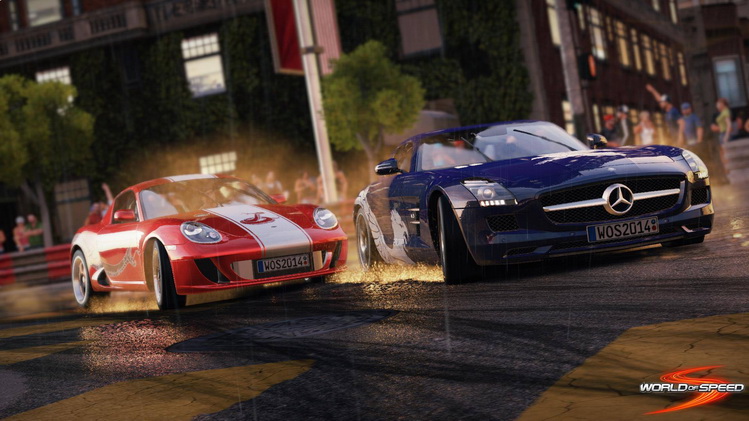 Competition can be stiff in World of Speed. Bring your A-game!
3. RaceRoom Racing Experience
RaceRoom Racing Experience trailer.
Free or not, few racing sims will do it better than this one. Sector3 Studios' RaceRoom Racing Experience (or R3E) is an amazingly detailed game. From the cars to the circuits to the sounds, R3E pays acute attention to detail in its attempt to immerse the player as deeply as virtually possible into the world of professional F1 racing.
Sector3 Studios (formerly known as SimBin Studios) really did put a lot of thought and effort into this game, and it shows. There are over 100 fully licensed cars available in-game spanning a plethora of categories. The graphics are also nothing short of amazing, as is the sound. The simulator is also capable of rendering different times of day. Physics and force feedback are also high in this game. Given the fidelity, versatility and focus evident within the game, it's actually quite remarkable that it's all free. Sector3 sure didn't cut corners! This is where you go to find this great game. 
R3E features many powerful cars with insane top speeds.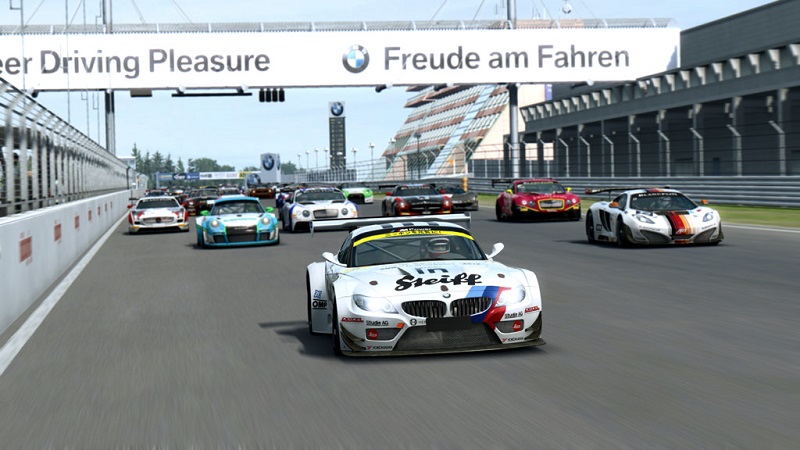 Ah, the classic circuit race and the struggle to break away from the pack...
2. TrackMania Nations Forever
TrackMania Nations Forever trailer.
I'll tell you right now—TrackMania Nations Forever is not for the faint of heart. There's a lot to be said for racing up a steep hill, getting to its zenith and expecting to sprint down the other side, only to find that you're already flying through the air toward an uncertain stretch of roadway in the distance with nothing but a gaping abyss beneath you; and the angle of your jump is just fractionally off… And a lot would be said, too, if not for the fact that the words never make it to your mouth—your heart got there first!
TrackMania Nations Forever, developed by Nadeo, is all about the fun of racing, not the sense in it. Don't look for logic here. But be sure that all your driving skills will be put to the test. All of them.
TrackMania Nations Forever is a riot of a free racing game, chock full of those eerily familiar and exhilarating bends, twists, turns, loop-de-loops, wall rides and springboard jumps that could only be termed "bizarre". These tracks will have you doing compulsory stunts that'll have you questioning whether your car had a visit from Peter Parker's radioactive spider. Everything about the game is quick, intense and thrilling. It's pure mayhem disguised as a racing game and it's loads of reality-defying fun. I've only got one more word for you: "Reflexes!"
Swing by here to get the game.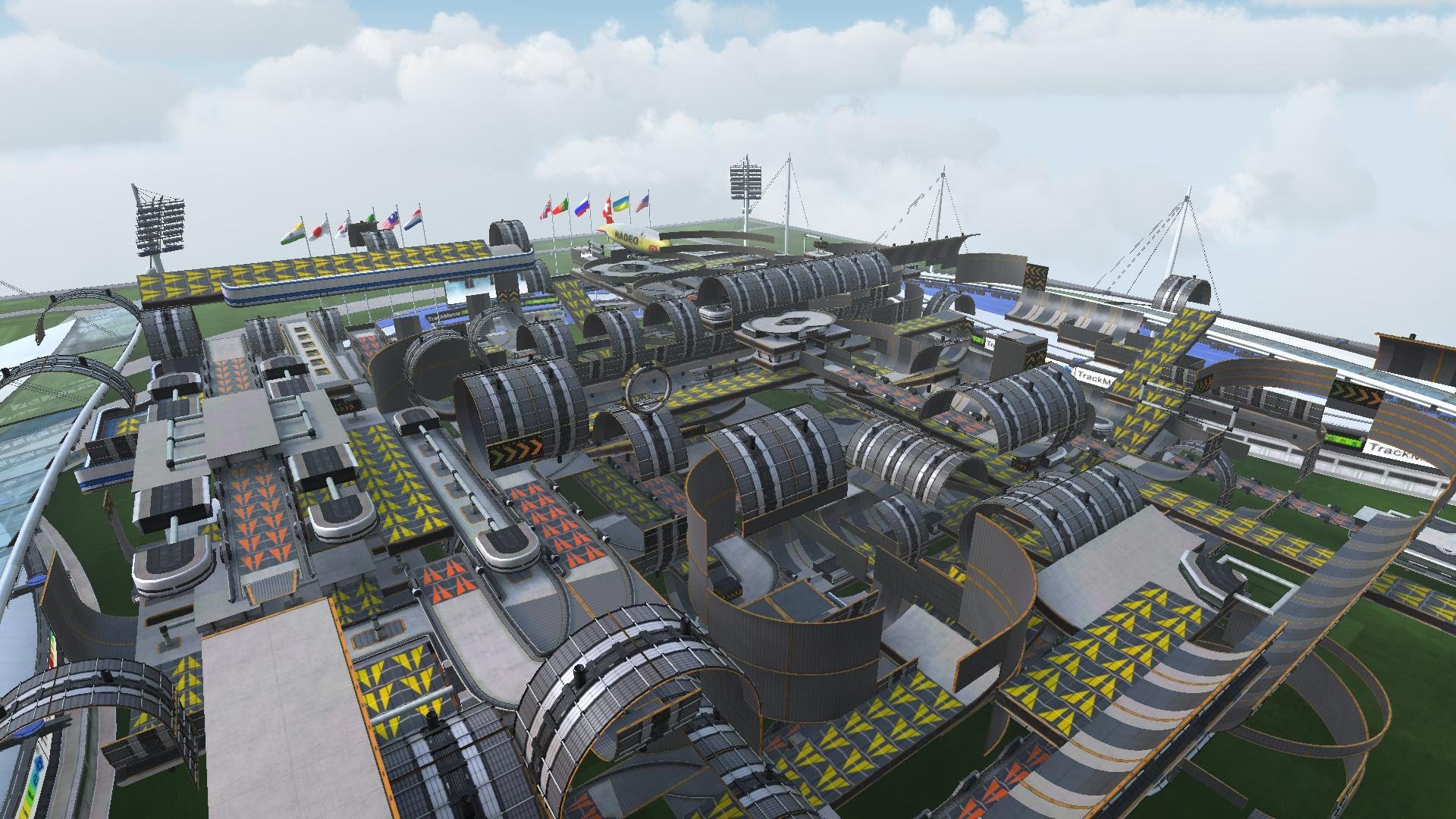 The madness that is a TrackMania Nations Forever race course.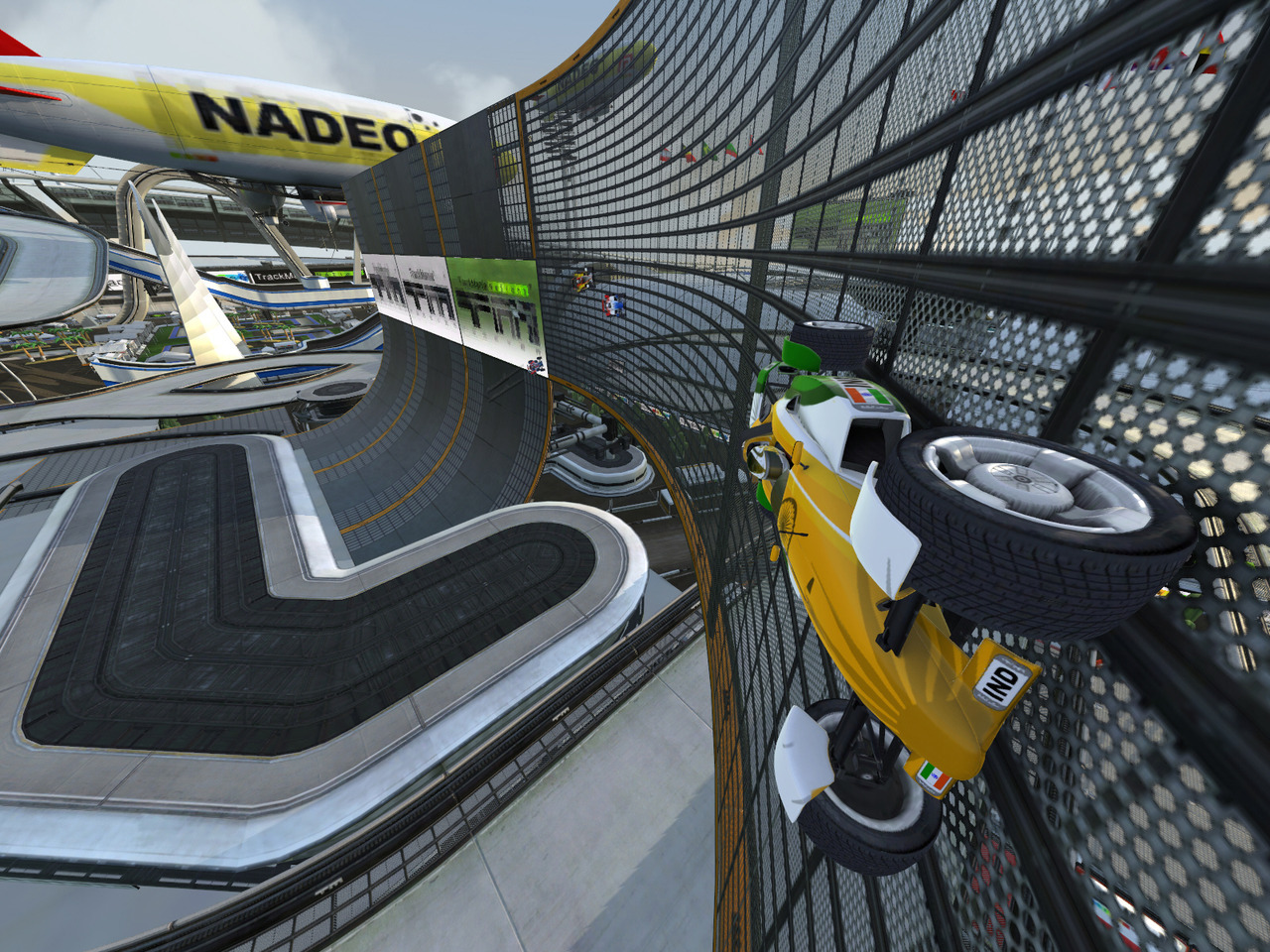 Sorry, Spidey, you're really not that special anymore…
1. Asphalt 8: Airborne
Asphalt 8: Airborne trailer
So… Continuing with the trend of cars that, uh, think they were meant to fly… (And the crazy folk that drive them…) Sigh. How to get these cars back on the ground where they belong… Gameloft definitely decided to go for a TrackMania flavor in this one. Asphalt 8: Airborne comes fully loaded with a veritable arsenal of logic-snubbing barrel rolls, flips, spins and misguided (not to mention ill-advised) attempts at flight. You wonder how the cars survive all this, to say nothing of the drivers…
Needless to say, Asphalt 8: Airborne is ridiculously fun. After all, just try to name me even 5 things in an arcade racer more incredible to see than some well-timed and executed outlandish stunts. Beyond that, the game offers you 47 licensed cars including a few Ferraris (yay, Ferrari!) and an array of tracks like the Nevada Desert. And you even get to take shortcuts!
You'll definitely be wowed by the visuals in this game. But be careful with your dreams of becoming a stuntman—the game does come wielding a weapon to use against stunt-happy drivers. Every crash and every hit adds up. So drive skillfully unless you want your car to end up in the scrap heap.
Bear in mind that this game is only available on Windows 10 Mobile, Windows Phone 8 and Windows Phone 8.1.  You can get this cool game here.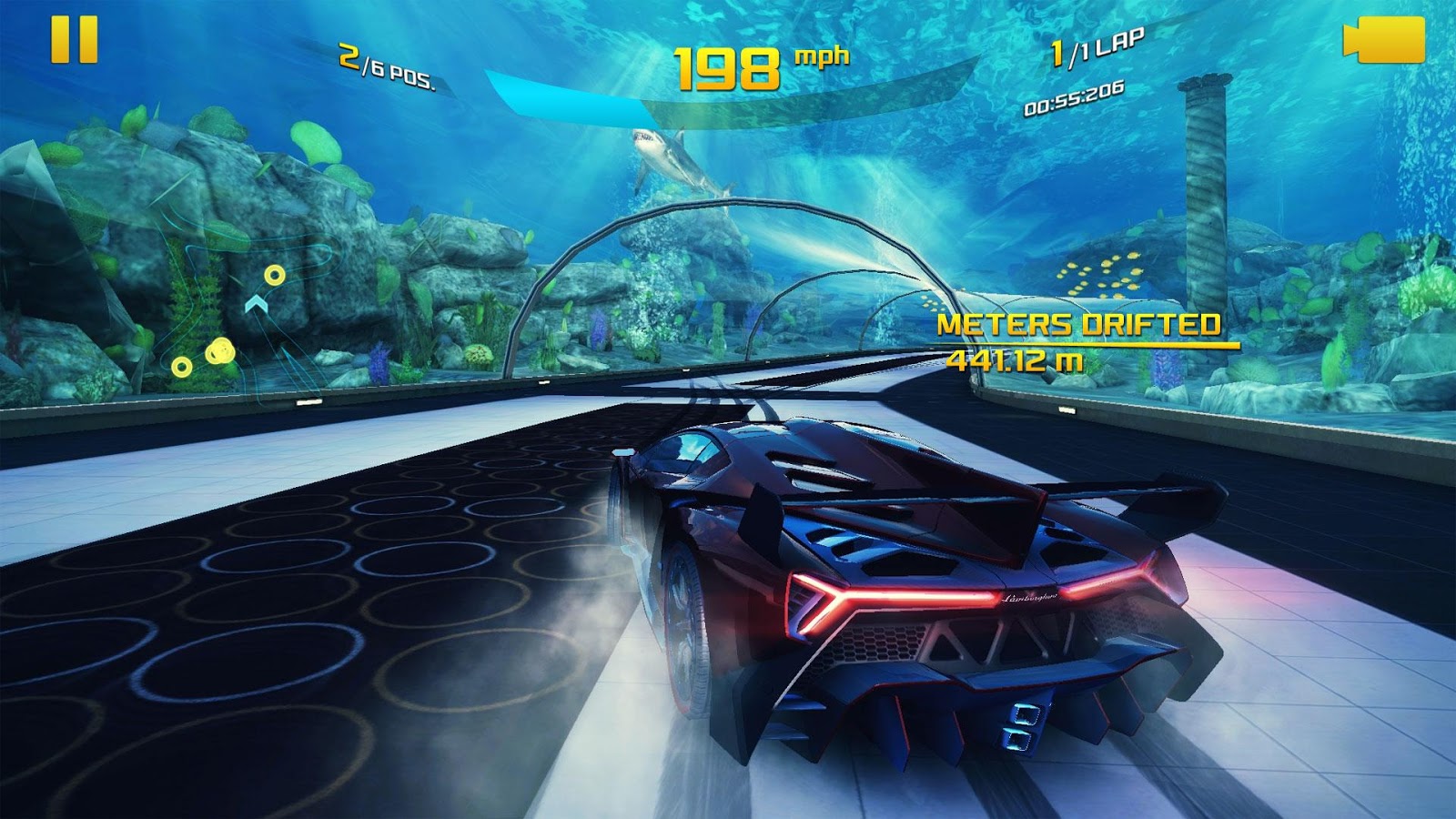 The title says "Airborne" and yet here we are nearing Atlantis…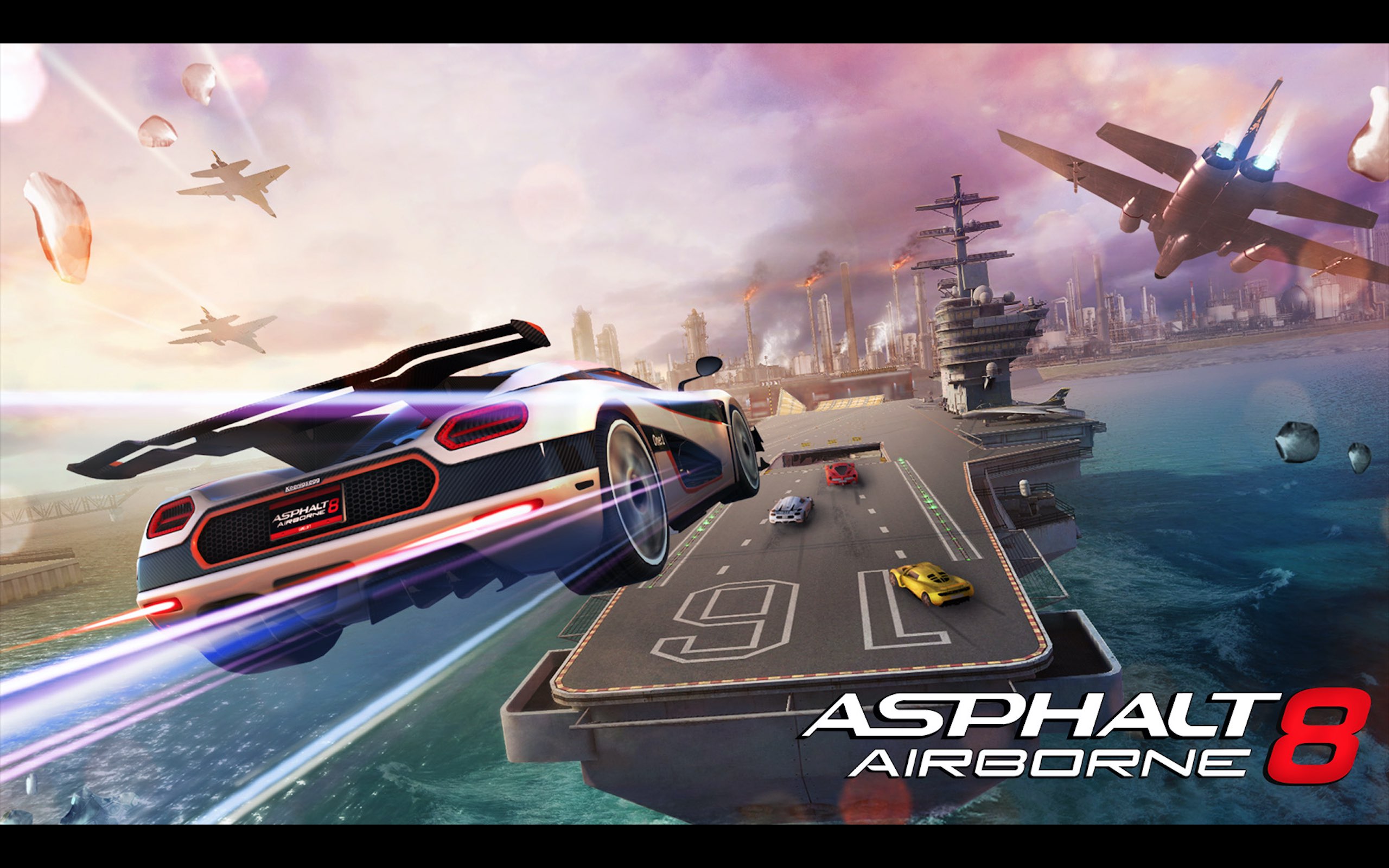 Now THIS is more like it!
Yup, there's nothing quite like a good racing game. So go ahead and tell us what you've been playing in the comments, or what your favorite racing games are for 2017.
And, if you liked this article and want more like it, check out these good reads:
The 15 Best Racing Games Ever Made
6 Reasons You Definitely Want to Play Rocket League
10 Cooperative Games That Require Teamwork to Win