5 Fast Facts About The Crew 2
Updated: 16 Jul 2018 2:09 pm
Lots of vehicles and lots of locations
Embark on a journey across America.
Ivory Tower's The Crew 2 was announced over a year ago at E3 2017, and since then The Crew fans have been waiting patiently for the game, which finally launched June 29 of this year. In case you didn't know, The Crew 2 is Ubisoft's new open world racing game. Here are 5 facts you should know before you buy.
1. Drive Anything
The last Crew game was based only on cars, but it was still a good game. Ivory Tower combined its experience with open worlds and RPGs, and created a car game which kept players involved on the virtual open road. That was great and all, but this time around the studio something new and exciting for its next game, in order to draw in players. Most people expected a new location, Europe or Asia maybe. But, no. Ivory Tower did something unexpected: they decided that the player should be able to drive everything and anything in the next game. That's right. The Crew 2 will let you drive a sports car, race a boat, or even fly a stunt plane. Each type of vehicle will handle differently, meaning driving a boat will have a different set of controls and mechanic than flying a plane. You can even simultaneously switch between the different vehicles during a race, in a new game mechanic called Fast Fav. With just one push of a button, players will be able to switch from car to plane to boat.
2. Drive Anywhere - In the US
The Crew 2 will be set in the entire United states, containing multiple locations for its many vehicles. And, of course when you've got every type of vehicle, you're gonna need every type of terrain. That's why the Crew 2 will let players race anywhere - on, off, and above the road. You can turn corners with a sports car in New York City, trek through the Hudson River in a motor boat, or fly amongst tall towers in a stunt plane. Or you can go outside the city and drive a dirt bike through the beautiful countryside, brave the 10 foot waves of the ocean in a boat, or fly over farms and valleys. You can even choose to drive from the East to the West Coast. Overall, The Crew 2's map is absolutely massive, covering an area over 2000 square miles in size, and all of it will be persistently open world.
3. Always Online
Like the first Crew game, the Crew 2 will require an internet connection. You play on the same open world as everyone else. This means players will always be able to interact with the world and each other whenever they play the game.
4. Pick One of 4 Roles
The Crew 2 won't limit you to one progression path. There will be 4 roles for you take, each with its own culture, style, set of disciplines, and place to meet. You can be a street racer, a professional racer, an off road rally racer, or a mix of all 3. Each of the roles will involve challenging races and objectives to complete, as well as beautiful scenery to explore.
5. Progress Anyway You Want
The Crew 2's progression system is extremely fluid. Literally anything you do as a driver, flyer, or boater will give you points which will level you up. Just driving up a ramp, doing a barrel roll mid air, or making a sharp turn is all that it takes to earn yourself points. This means that you as the player can choose your own way to progress through the game. Even if you like flying more than driving, your progression through the game will never be penalized.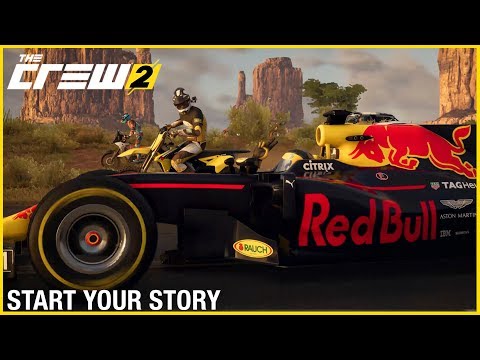 The Crew 2 Trailer at E3 2018
Image Gallery