E3 2018: Location, Dates, Schedule, Games, Conference Times
Updated: 05 Jun 2018 4:50 am
The LA Convention Center. All's quiet before the storm.
E3 2018 - What You Need To Know
Wondering what you need to do and know to get tickets to one of the biggest events of the year? Here's all the information you need to attend Gamer Christmas.
What is E3?
The Electronic Entertainment Expo (E3) is a three day trade show featuring most of the popular hardware and software developers from around the world. During this time companies roll out all of their best upcoming games, PC and console accessories, and new technologies. This gives you and all the other attendees a chance to play with all of these new toys. For example, the Oculus Rift VR headset first debuted at E3 years before it would be in the hands of the general public.
In addition to this, video game publishers tend to bring directors, artists, programmers, and voice actors working on upcoming games. This gives you a chance to meet with them, ask questions about upcoming releases, and get new insights into many of the games that will be released over the next year. E3 will also have its own guests. Hideo Kojima will be attending as part of the Coliseum, a grand stage show that takes place during the Expo.
One final reason to be excited about being at E3 instead of watching it from home are the press conferences. Large sprawling show pieces that take place in the days leading up to the expo. E3 press conferences are a massive circus like event where game publishers reveal trailers for their upcoming games. They also frequently announce new games that no one has heard of yet. It is true you can watch the press conferences from home. However, being there in person gives you a much greater experience. For example, last year the Bethesda press conference featured a unique animated tour of the fictional theme park, Bethesdaland to show off their new games. Each section of the park was built around one of the games and the film featured a trailer for the game. People there in person also got to take part in a large scale recreation of Bethesdaland. Each section was done up to look like the game, had its own food, and music.
E3 2018 location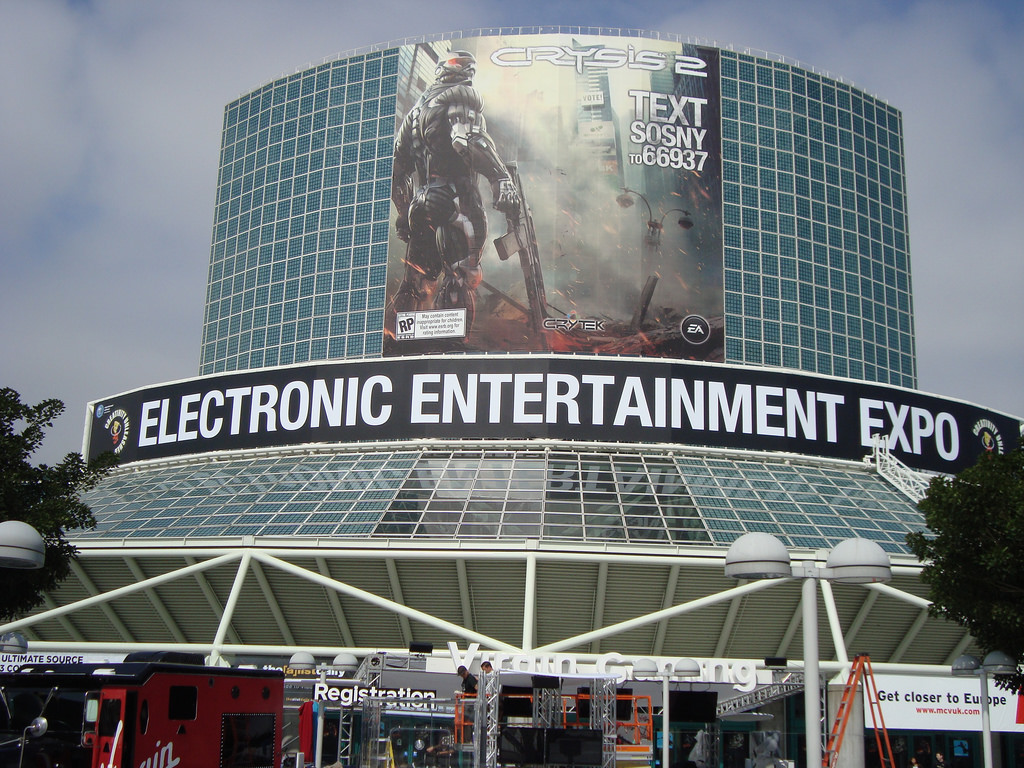 The LA Convention Center. Home of E3.
With two exceptions E3 has always been held at the Los Angeles Convention Center. Before the first E3 in 1995, game companies attended other trade shows, such as the Consumer Electronics Show (CES) held in the US. At the time video games weren't taken very seriously. This came to a head in the early 90's when the video game publishers were located outside of the convention center in a tent. It rained that year and the tent leaked causing several of the game consoles to become waterlogged. Famously, Sega lost several of their systems to water damage and decided they would no longer attend. Over the next couple of years several other companies followed suit.
For the next few years several companies ran their own trade shows. Then in 1995 the International Data Group, parent company to GamePro, and the Interactive Digital Software Association (IDSA) got together and hosted the first E3. There was a small amount of competition from the CES, but in the end they cancelled their video game support allowing E3 to become the only trade show for video games.
When is E3 2018?
This year the E3 show floor is open from June 12th to the 14th. The hours of operation vary each day. Additionally, hours vary depending on what type of badge you have. Starting last year E3 began making a limited supply of tickets available to the general public. This did bring in a new level of energy and excitement to the show. Many people noticed that it also overcrowded the show is some areas and made it difficult for press and industry members to perform many of the necessary tasks that are driving forces for the show. To combat this, industry, reporters, vendors, and some of your and my favorite streamers, will have earlier access to the show floor on some days.
Show Hours are as follows: (all times listed are pacific standard)
INDUSTRY PASS*
Tuesday, June 12, 11:00 AM – 7:00 PM
Wednesday, June 13, 9:00 AM – 7:00 PM
Thursday, June 14, 9:00 AM – 6:00 PM
GAMER PASS
Tuesday, June 12, 2:00 PM – 7:00 PM
Wednesday, June 13, 12:00 PM – 7:00 PM
Thursday, June 14, 9:00 AM – 6:00 PM
*Includes Media, Exhibitors, Business Pass Holders, and VIP Badge holders
E3 Tickets
Tickets to E3 come in three flavors. It should be noted here that E3 has a very strict no one under 18 policy. It doesn't matter who you are accompanied by, if you're under 18 then you're not coming in. A part of this is game content, there will be a lot of M rated games being played openly on the show floor. This means that if they did allow someone under 18 onto the floor it could open E3 up to law suits. So be aware if you are near 18 in age you will be asked for ID and if you can't supply it then you aint getting in.
The most interesting badge is the Gamer Pass. A gamer pass gives you access to the slightly reduced hours of the show for all three days. You get to see new games and technology. Watch first look trailers, gameplay, and exclusive announcements. It also lets you into the coliseum where almost anything can happen. The Gamer Pass costs $249 and is still available for sale. It's interesting to note that this year the first wave of tickets were $150, so next year start checking early so you can grab those early deals.
The Industry Badge focuses on reporters, streamers, YouTubers, and other media personnel. It gives you access to the longer hours, the ability to schedule interviews, and to attend some of the seminars. However, it also has some of the highest requirements for entry. Industry attendees have to submit two forms of ID from a very long and specific list. They also need to register far in advance of everyone else so their credentials can be verified. As of right now, registration is also closed for Industry Badges. Much like the Gamer Pass, if you're interested in going next year start checking early.
The final badge are Business Badges. These are for you folks who are producers, publishers, analysts, and influencers in the industry. If you're going there to develop a project, meet with corporate higher ups and discuss strategies, and generally make business deals then this is the badge for you. The Business Badge gives you access to the same areas as everyone else. It also makes available several meeting rooms, backstage areas, and lounges that are quietly located off the main paths for private discussion and negotiations. Because of the extra space, wifi availability, and other amenities the business Badge costs $995.
E3 Press Conferences
If you're in LA a little early, have some spare time, and can get your hands on some tickets there will be multiple press conferences every day starting on the 9th. Tickets to these vary from show to show. For example Bethesda held a lottery. If you want to attend one, I recommend hitting the companies Twitter feeds and looking for their specific requirements.
Saturday, June 9
Electronic Arts 11:00 AM PT/2 PM ET/7 PM BST/4 AM AET on June 10
Sunday, June 10
Microsoft 1 PM PT/4 PM ET/9 PM BST/6 AM AET on June 11

Bethesda 6:30 PM PT/9:30 PM ET/2:30 AM BST on June 11/11:30 AM AET on June 11

Devolver Digital 8 PM PT/11 PM ET/4 AM BST on June 11/1 PM AET on June 11
Monday, June 11
Square Enix 10 AM PT/1 PM ET/6 PM BST/3 AM AET on June 12

Ubisoft 1 PM PT/4 PM ET/9 PM BST/6 AM AET on June 12

PC Gaming Show 3 PM PT/6 PM ET/11 PM BST/8 AM AET on June 12

Sony 6 PM PT/9 PM ET/2 AM BST on June 12/11 AM on June 12
Tuesday, June 12
Nintendo 9:00 AM PT/12 PM ET/5 PM BST/2 AM AET on June 13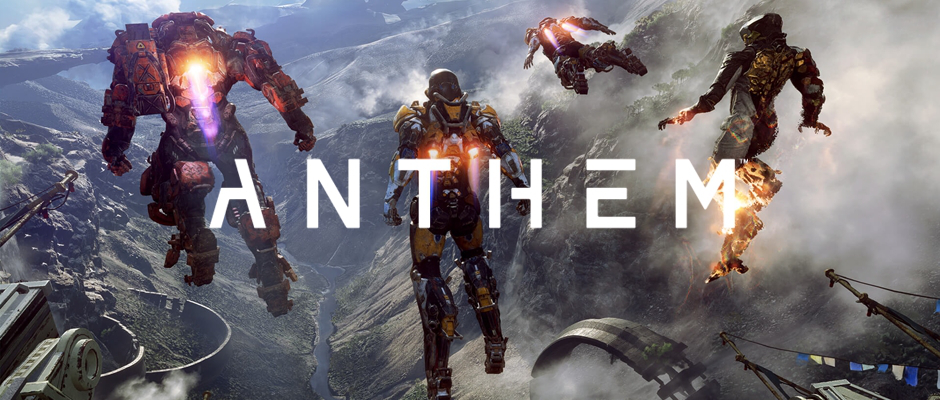 Anthem may be EA's biggest hope this year.
Electronic Arts
Opening the gate this year is EA. We can anticipate some new sports games. Most likely a look at the upcoming Madden, Fifa, and NBA titles. They have also confirmed the new Battlefield title that is rumored to be set in World War II. We'll probably get a new look at their title, Anthem. Anthem is a MMO looter shooter EA debuted last year.
It's going to be interesting to see if EA can overcome all of the negative press from last year. The loot box controversy that rolled out with Star Wars: Battlefront II has certainly been a hard hit for the company. This is mostly due to the numerous laws that have been passed throughout the world as a direct result of it. Add to that the disastrous launch of Mass Effect: Andromeda and rumors that EA had pulled support from that game to make Anthem. EA has a lot to make up for and it'll be a hard sell this at this year's conference.
Microsoft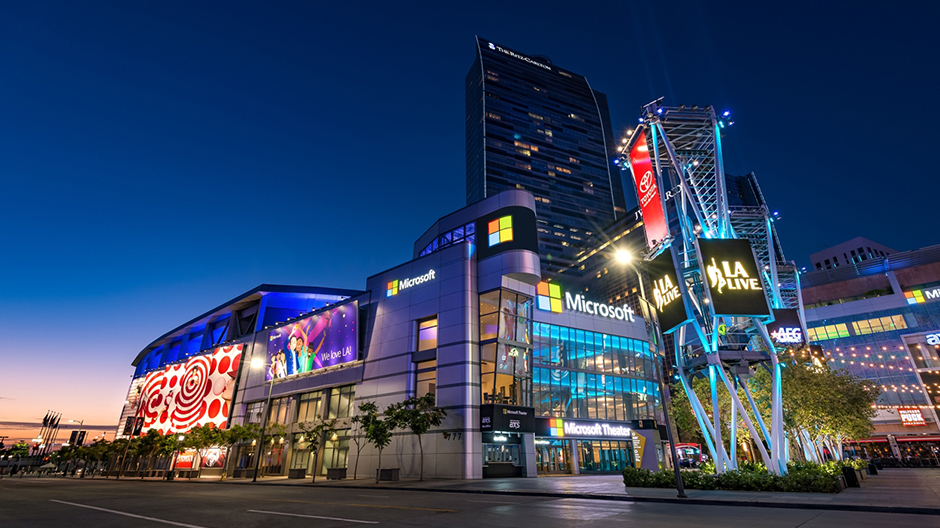 The Microsoft Theatre all decked out and ready for the big night.
They've promised their biggest show ever. What that can mean boggles the mind. We can assume near constant coverage on Mixer, Microsoft's alterative to the Twitch streaming service. Microsoft has been tightlipped about what games they will be showing. We can assume we'll see some more information from things like Sea of Thieves which just announced its first content drop. I would also imagine new fan favorite, Fortnite, will have some presence. Microsoft is promising an "epic moments" reveal Sunday afternoon as part of their Fan Fest event. Fan Fest is an exclusive event with only 400 tickets that offers a ton of access and goodies over the weekend.
Bethesda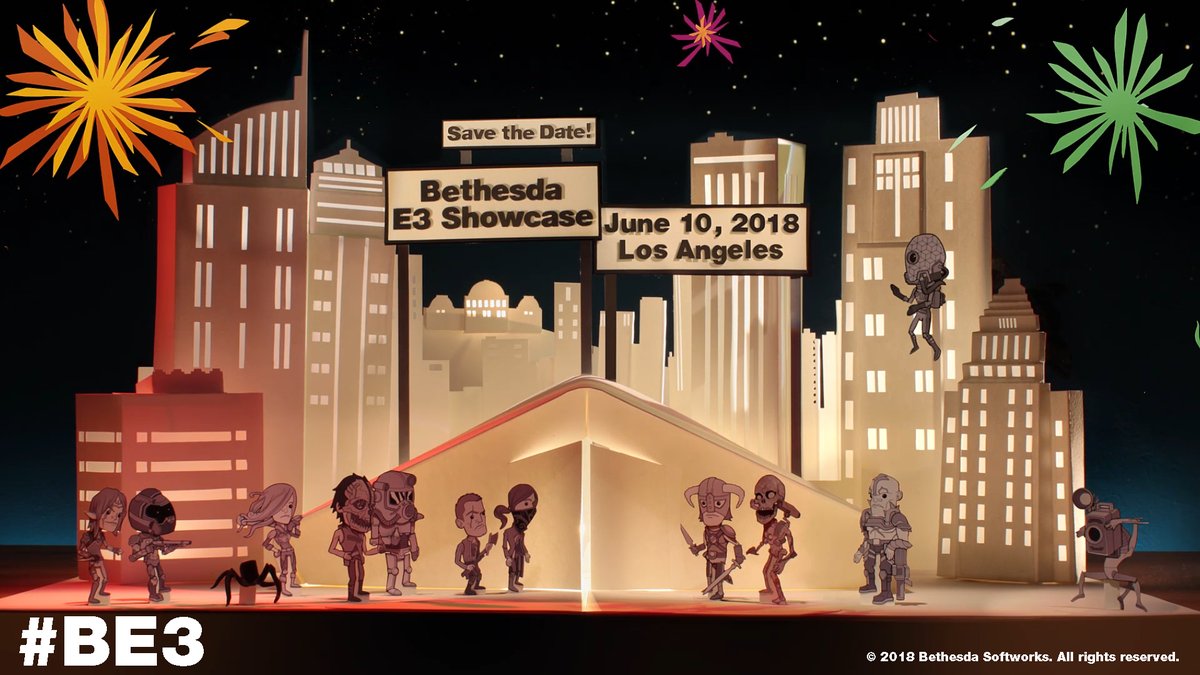 This year Bethesda looks to be going with a pop-up book approach.
Ever since their first conference in 2015 Bethesda has always set a high bar for what they bring to E3. In their first outing the promised and delivered Fallout 4, a game no one even suspected was coming, within months of E3. The next year they brought surprise hit Doom. One thing that has continuously impressed me about Bethesda is that everything they reveal at E3 is out by the next E3. As with every year most of what they are bringing is a mystery. Though, due to a Walmart leak, Bethesda has confirmed Rage 2 will be at the show this year. A recent drop also revealed Fallout 76. Beyond that, I'm super excited to find out what else they'll have.
Devolver Digital

Always full of surprises, know one can even guess waht Devolver will be doing.
Last year Devolver Digital splattered onto the stage with a send up of press conferences. They advertised everything from a system that allowed you to literally throw money at the screen to buy DLC to a system that moded games based entirely on your thoughts. Most people thought it was hilarious. This year they promise to be back with that same sense of adventure and spirit. They also promised actual announcements. What will we see? God only knows.
Square Enix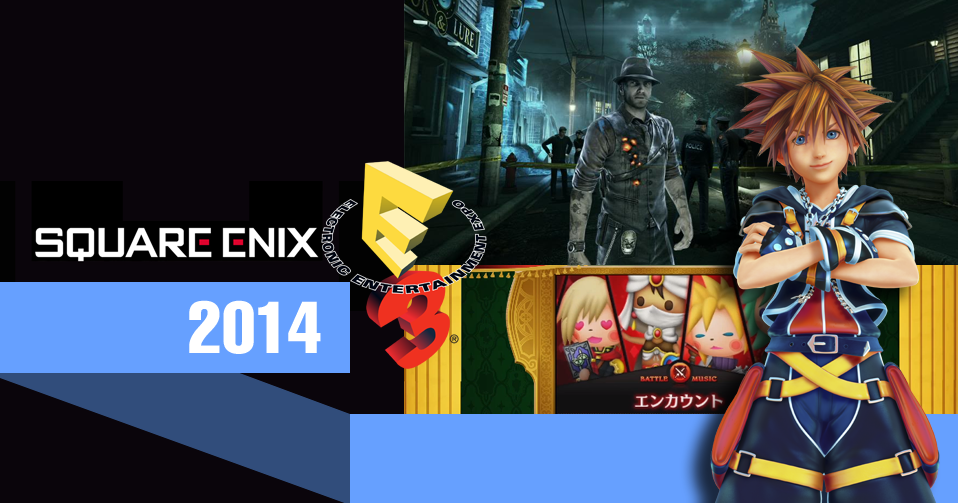 Four years ago they talked about Kingdom Hearts. It looks like this year we finally get 3.
Since they've released the press demo to the media and announced there would be more information in early June we can assume Kingdom Hearts 3. (Insert maniacal giggling.) Since they took the development of Final Fantasy VII back from their satellite studios over quality concerns last year, delaying the release, I'm hoping there will be news. A contract with Marvel to produce an Avengers game was announced in January. We may see that. They also recently announced the new Tomb Raider instalment, so I'm fairly certain that will have a presence. All of that aside, I'm very hopeful for Life is Strange 2. I loved the first game and with its prequel story finished, I want to see what the next chapter brings. I've said goodbye to Max and Chloe. I want to meet new friends to emotionally destroy me.
Ubisoft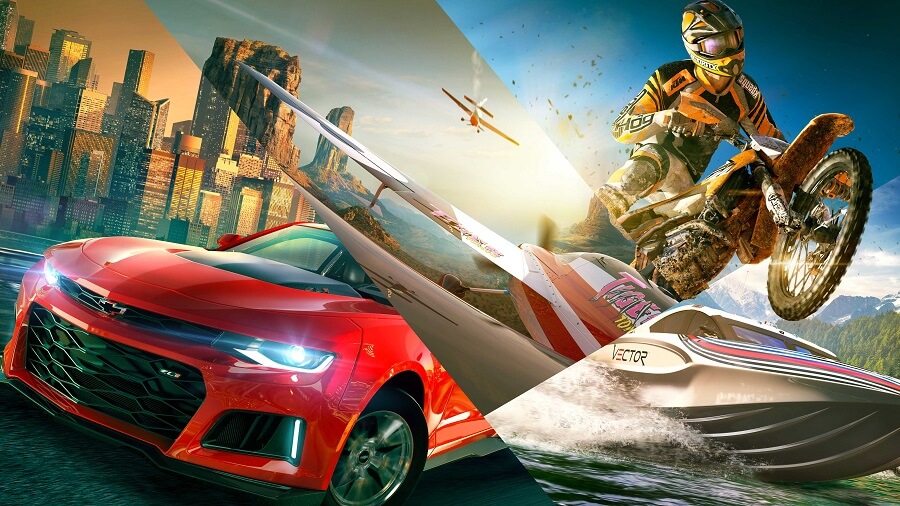 Ubisoft promises to bring the Crew 2 this year. We've already seen bits and pieces, what more is there to share?
Ubisoft has announced the release of three AAA games for 2018: The Crew 2, the Division 2, and one more. Whatever that one is we will most likely see it at the press conference this year. Hopes have been pinned on a lot of different games, but my personal wish is to see more Beyond Good and Evil 2. The cinematic released last year promised a lot and I'm anxious to see how/if it can be delivered on.
There's not a lot of information about the PC show. I'm waiting for the suprises.
PC Gaming Show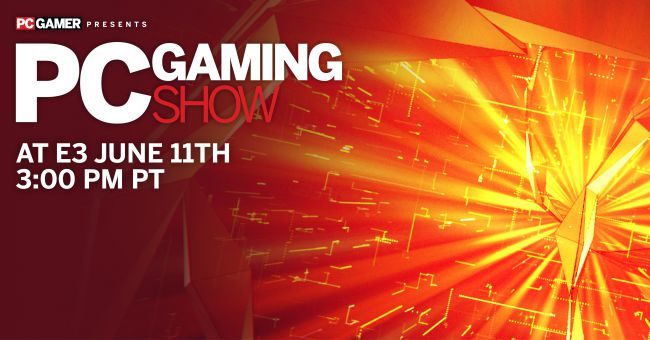 Once again Sean "Day9" Plott will be hosting the PC Gaming Show. A mix of game trailers and tech reveals, the show has always been of interest to PC gamers. It also tends to focus on smaller developers like FromSoftware who don't have their own press conferences. What we're likely to see will most likely be centered around VR technologies. These have been getting a big bump in the last year with a lot of streamers and big titles stepping into the ring. Hopefully, this will see a drop in prices for the technology. Where actual games are concerned, it would be nice to see something on the PC release of Monster Hunter World, the full release of Fortnite (still in beta), and maybe the release of some of the Xbox and Sony exclusives to the platform.
Sony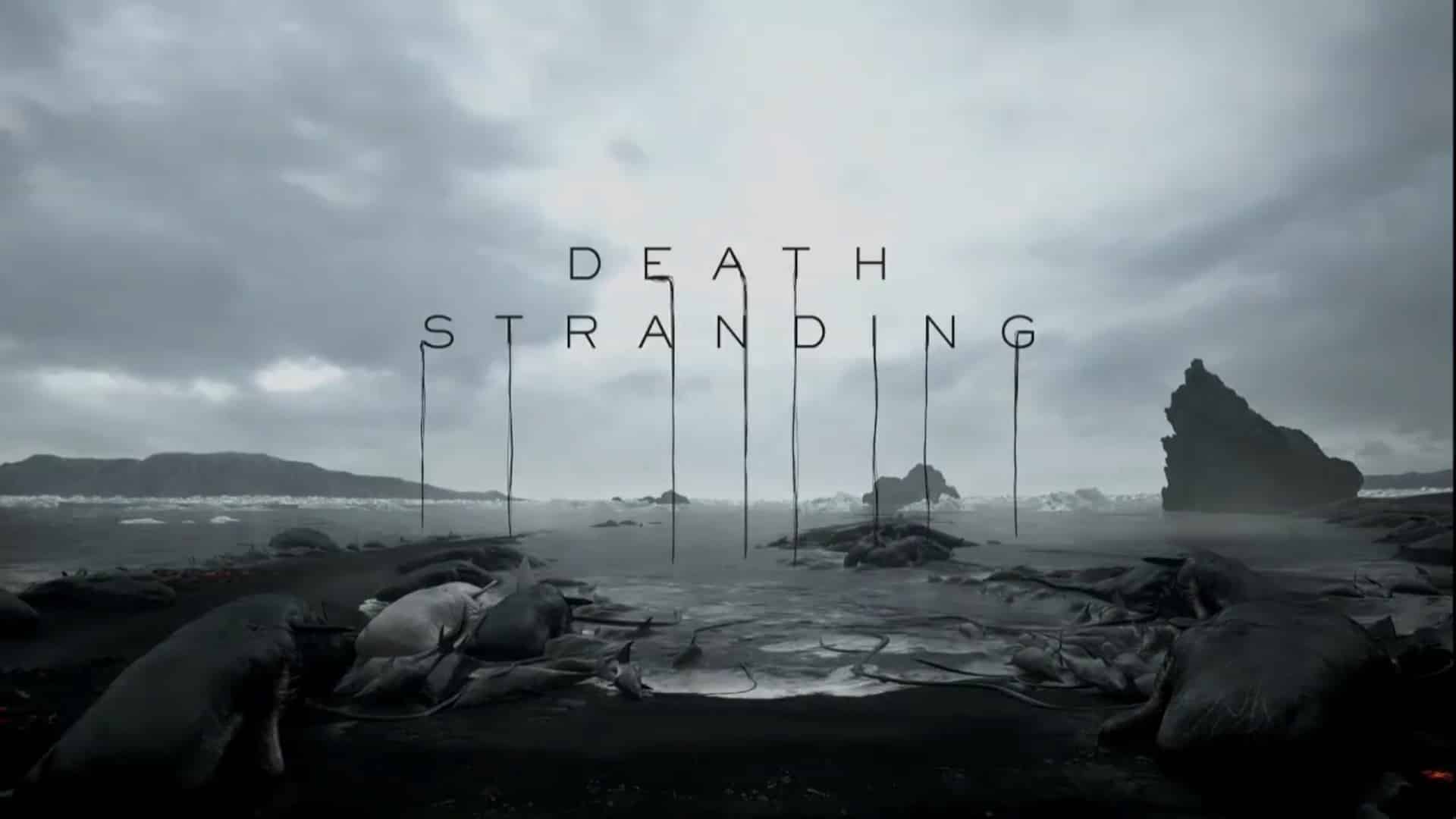 With Death Stranding coming to E3 let's all hope we get to see the promise made with PT.
Sony has announced that they will have deep dives on four games during the show: Death's Stranding, Spider-Man, Ghost of Tsushima, and the Last of Us II. They've also said there would be several smaller announcements focused on indie games and exclusives. What any of that could be is anyone's best guess.
Nintendo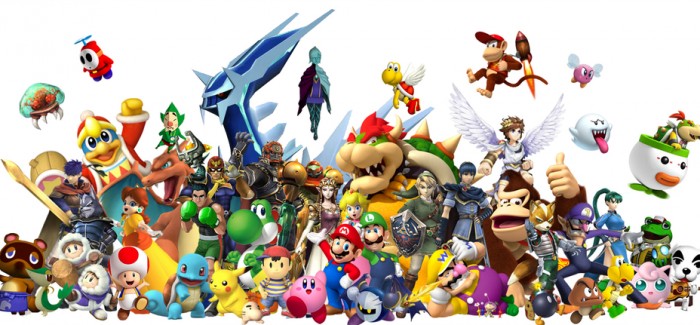 Super Smash Brothers has had some epic lineups. Let's hope the new one meets those standards.
With Super Smash Bros for the Switch coming out later this year we'll most likely see this. We'll probably also see some of the Mario Tennis Aces since they're rolling out their tournament at the beginning of June. It would also be nice to see further information on the Donkey Kong DLC for Mario + Rabbids that was teased earlier this year. There was a leak of what the Nintendo Direct for E3 would be. However, it contained things like Star Fox's LSAT keys, so it's unlikely that anything in the document was real.
e3 Live Coverage
What if you can't go to E3? Like myself, many of you out there will be experiencing E3 from your homes. This is extremely easy. All of the press conferences are streamed on Twitch. Microsoft will stream on Mixer over the entire show. Nintendo will frequently do remotes on their direct channels on YouTube, Twitch, and by broadcasting to their consoles. Live and constant coverage will be done by multiple media outlets and websites. It will be extremely easy to find coverage of E3. If you want coverage with commentary, I'm going to recommend Easy Allies who have the single best reaction video in the history of E3. When they were called Game Trailer their reaction to the Final Fantasy VII reveal was epic. Alienware broadcasts live from the show floor every year. Nerdist does remotes.
The amount of coverage is going to be amazing. If you want to find coverage of E3, I guarantee you there will be a place to watch it.
Have a good time, and if you get a chance to attend in person, leave a comment below so we can all be super jealous. Also, leave a comment if there's some bit of information or a part of the show you think needs promoting. I know I want to see what's out there. I could research this for days and never find all of it. So I'm going to let you fine folks throw me some ideas. And after the show, come back here and let us at Gamers Decide know if you saw something awesome you'd like us to talk about.
Image Gallery