[Top 15] Minecraft Best Seeds (2020 Edition)
Updated: 25 Oct 2021 8:45 pm
Eliminate the element of surprise!
Are you craving a new Minecraft challenge? Do you have a storyline in mind that you'd like to pursue? Maybe you're just not a fan of surprises.  Use a Minecraft seed to generate the specific world you want to live in and play out your favorite scenario. The code will start your game just where you want it. If you dream of playing as the king of the jungle or maybe an ice queen, enter a seed code and spawn into your fantasy world.
15. Woodland Mansion with a Village 1208416085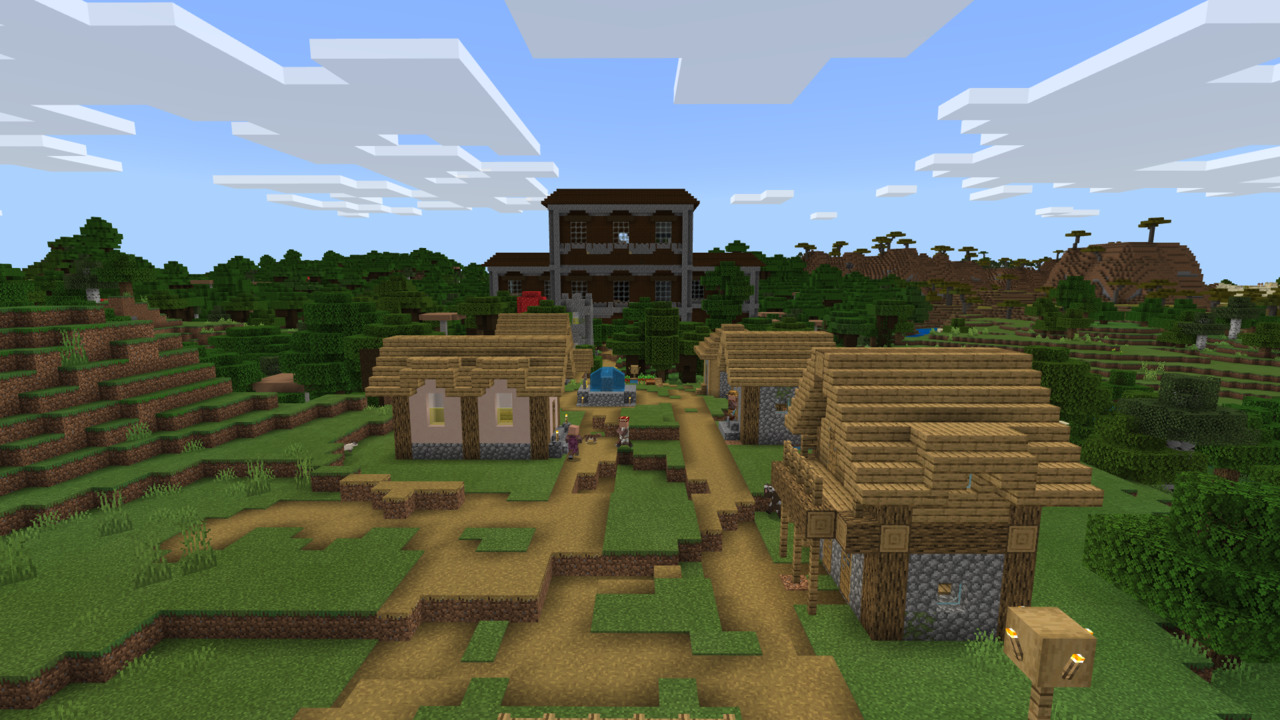 A castle awaiting its king
Woodland mansions are notoriously hard to find in Minecraft. If you've searched everywhere and keep coming up empty, try this seed. The mansion is not far from the spawn point and stuffed full of loot.
What is awesome about this seed:
Amazing rare gear awaits you inside the mansion. After you've collected it and defeated the mobs, move in if you want to live like a king.
The village at the foot of the mansion is full of friendly villagers and great resources.
Don't forget to visit the abandoned Nether portal and Illager tower on your way to the mansion.
Compatible Versions:
1.14.1
14. Marooned -782825413 (evilfrogs)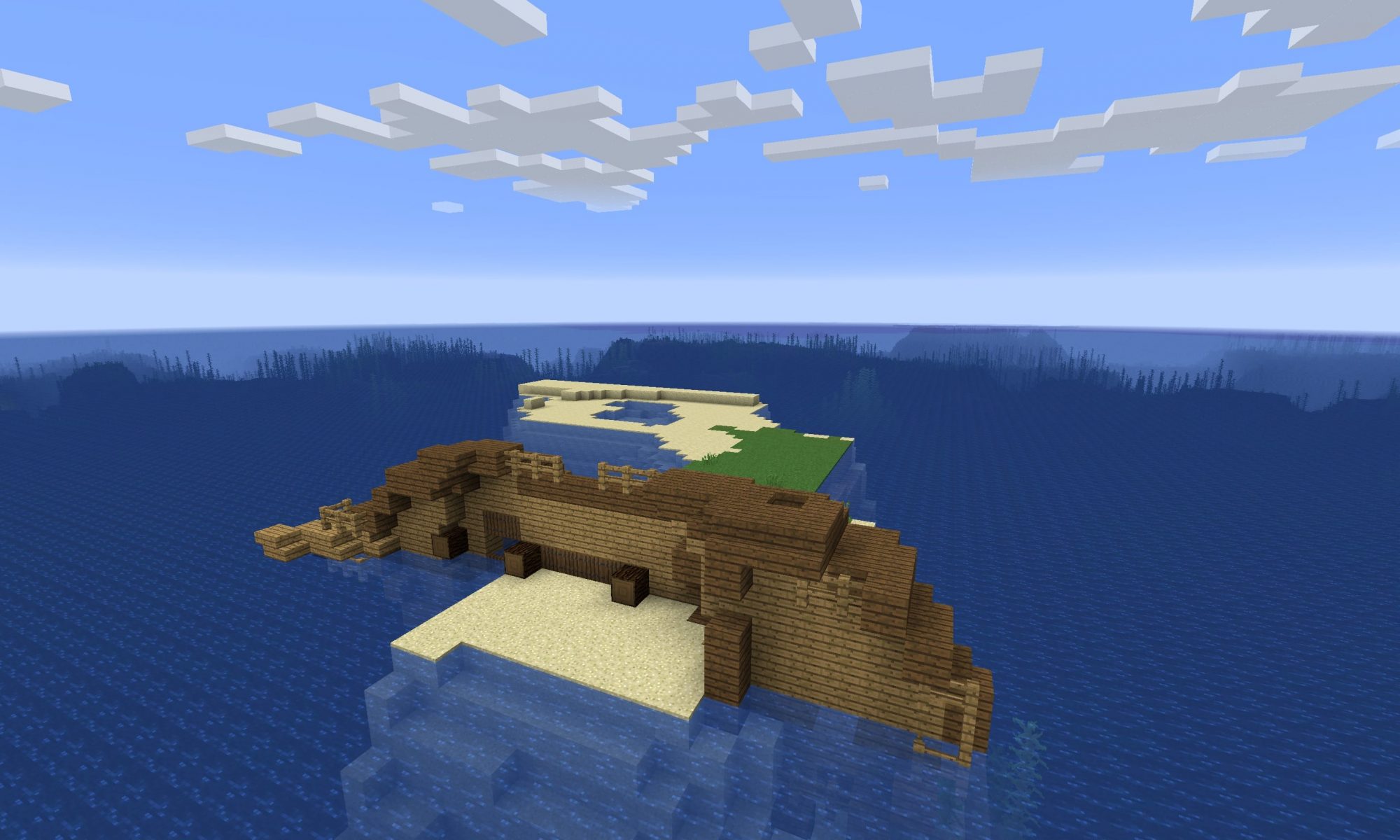 Whoops!
Your ship has crashed into a tiny island in the middle of a sprawling ocean! You may not be the best ship captain, but are you a good survivalist? Make the most of your limited supplies and see if you have what it takes.
What is awesome about this seed:
Test your resourcefulness! Only the bare minimum is available, so waste not.
No trees. That may not sound awesome, but it does present a fresh challenge.
If you're successful, you can get off the shipwreck and land on an island. But is the island safe?
Compatible Versions:
1.13
1.14
13. Mushroom Island 64093444 (chill)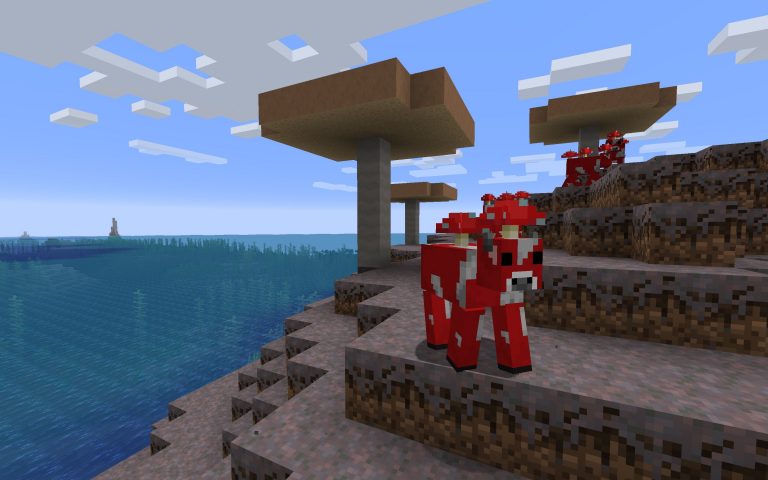 There's something wrong with these cows...
Mushroom islands are not something you see every day. If you're a fan of fungi, this is the spore - er, seed - for you. Say hi to some Mooshrooms on the island before you investigate the shipwreck nearby.
What is awesome about this seed:
The shipwreck contains just tons of valuable loot! Aside from emeralds, items, and food, you'll find…
...A map for buried treasure! Who doesn't love a treasure hunt?
Everything is easy to find. You can be a weird mushroom pirate if that's what you're into.
Compatible Versions:
1.14
1.15
12. Coastal Village 3227028068011494221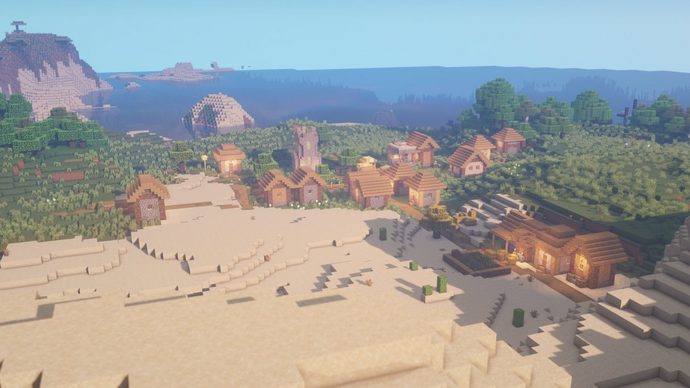 Who wouldn't want to live here?
This gorgeous seaside village is spawned just for you. The opposite of a challenge, this seed has everything you could ever want. A forest full of trees, a rich ocean, a great village, and tons of resources are yours for the taking. 
What is awesome about this seed:
This is a great starter seed for someone who doesn't want to work hard getting resources, but wants to enjoy a unique storyline.
Enjoy the lovely scenery as you play an easy game alongside friendly villagers.
Compatible Versions:
1.14
1.15.2
1.16.1
11. Beautiful Forest Hills 3427891657823464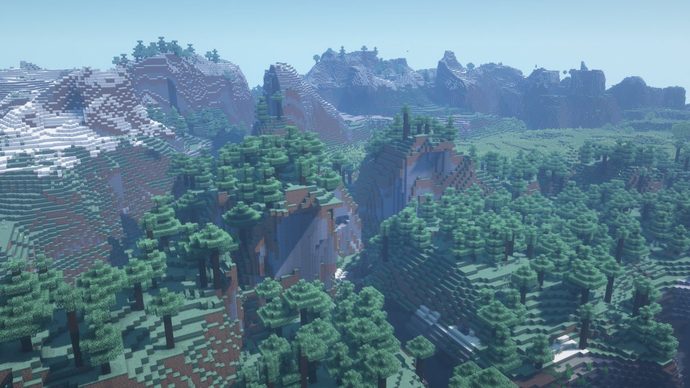 Better turn on your coordinates - it looks easy to get lost in this forest
"Beautiful" is an understatement. There are tourist destinations less scenic than this stunning seed. Enjoy the scenery for a moment before you dive into the forest and pretend to be Bear Grylls. 
What is awesome about this seed:
Forest hills are a wealth of ore and wood. You'll have a great mountain home and a stash of strong tools in no time.
Layer this with a fabulous shader and you'll have a spawn worthy of a postcard.
Compatible Versions:
1.14
1.15.2
1.16.1
10. Extreme Hills Lava Fall 321708923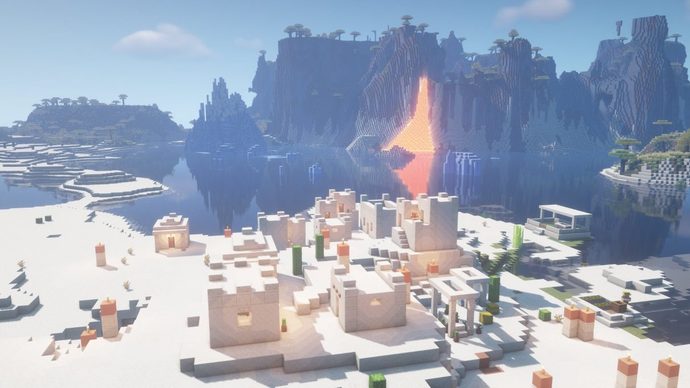 Looks a bit like Pompeii
This seed looks intimidating because it is. A stunning waterfall made of lava pours from an extreme hill into a placid lake behind a desert village. Build an incredible sandcastle and you'll rule the desert village.
What is awesome about this seed:
Obsidian, anyone? The lava fall plunges straight into the water, making obsidian collection easy. If you're a fan of the Nether, this will fast track your portal build.
Enjoy a wide variety of biomes stuffed with ore and raw materials. The village has plenty of loot, too.
Compatible versions:
1.14
1.15.2
1.16.1
9. Smallest Island Ever -3115927715480771327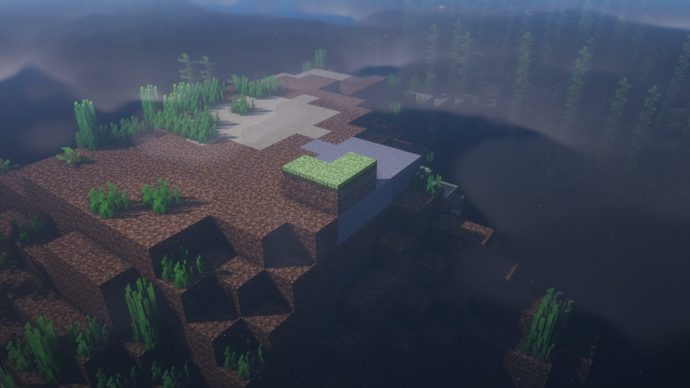 I spy with my little eye...
Without a doubt, this is the smallest island you'll ever spawn on. It's just three blocks! There's more to explore here if you're willing to go diving. Swim a bit and you can start mining a Snowy Tundra. 
What is awesome about this seed:
The challenge of living on a tiny island presents great obstacles for you to overcome.
A house built on stilts (or, stilt) would fit on the island, but that's about it. If you've ever wanted to live on a private island, you'll find solitude aplenty here.
Try building an igloo! It may be tall and skinny, but you can mine enough materials from the nearby tundra.
Compatible Versions:
1.14
1.15.2
1.16.1
8. Woodland Mansion 881036744959935202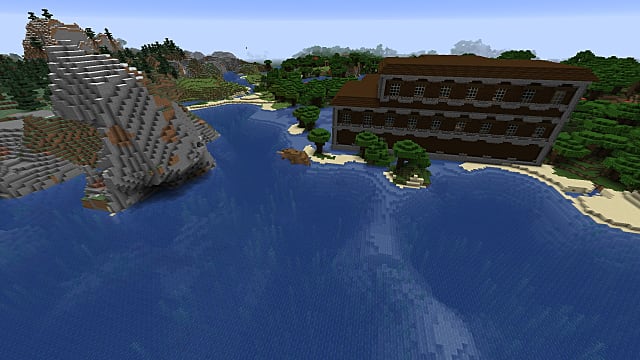 A mansion with a view
If you don't mind a bit of walking, you can find everything you'll ever need in this seed. Spawn here and you can explore the coast, a woodland mansion, a village, a shipwreck… the list goes on. You'll have to do some walking to see all the sights, but it will be worth it. 
What is awesome about this seed:
You can have it all! All of the major landmarks are available in this seed if you're willing to search them out.
The biggest challenge will be deciding where to start.
Compatible Versions:
1.16
7. Village Ravine and Jungle with Diamonds 598080973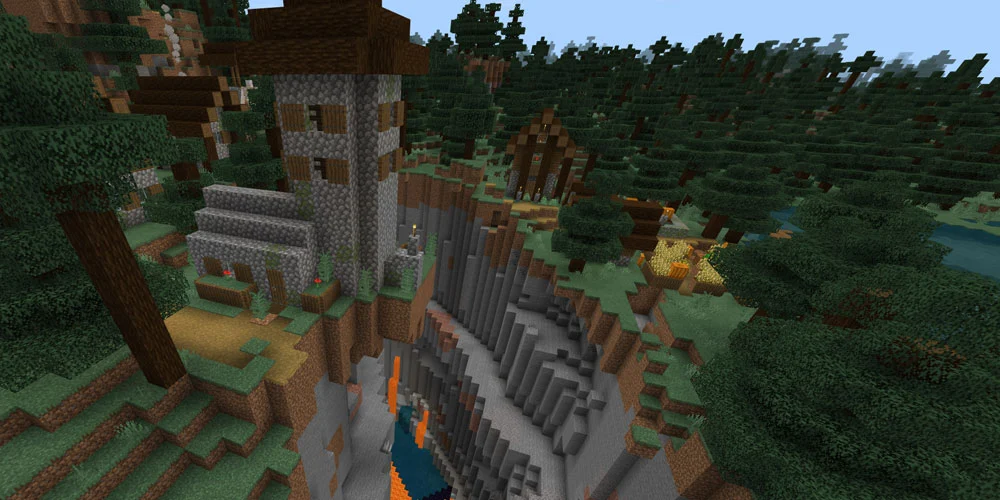 I dare you to peek out the window of this tower
Try this seed to spawn near a jungle biome. Visit the village and try not to fall into the massive ravine. If you don't fall in and die, you can check out the jungle - you may stumble upon a second village.
What is awesome about this seed:
Get rich quick! You'll have to free solo it, but if you climb down into the ravine, you can collect plenty of diamonds.
An ice spikes biome is not too far away, and it's stuffed with even more diamonds.
Compatible Versions:
1.14.6
6. Mountain Village with a Dungeon -1231267014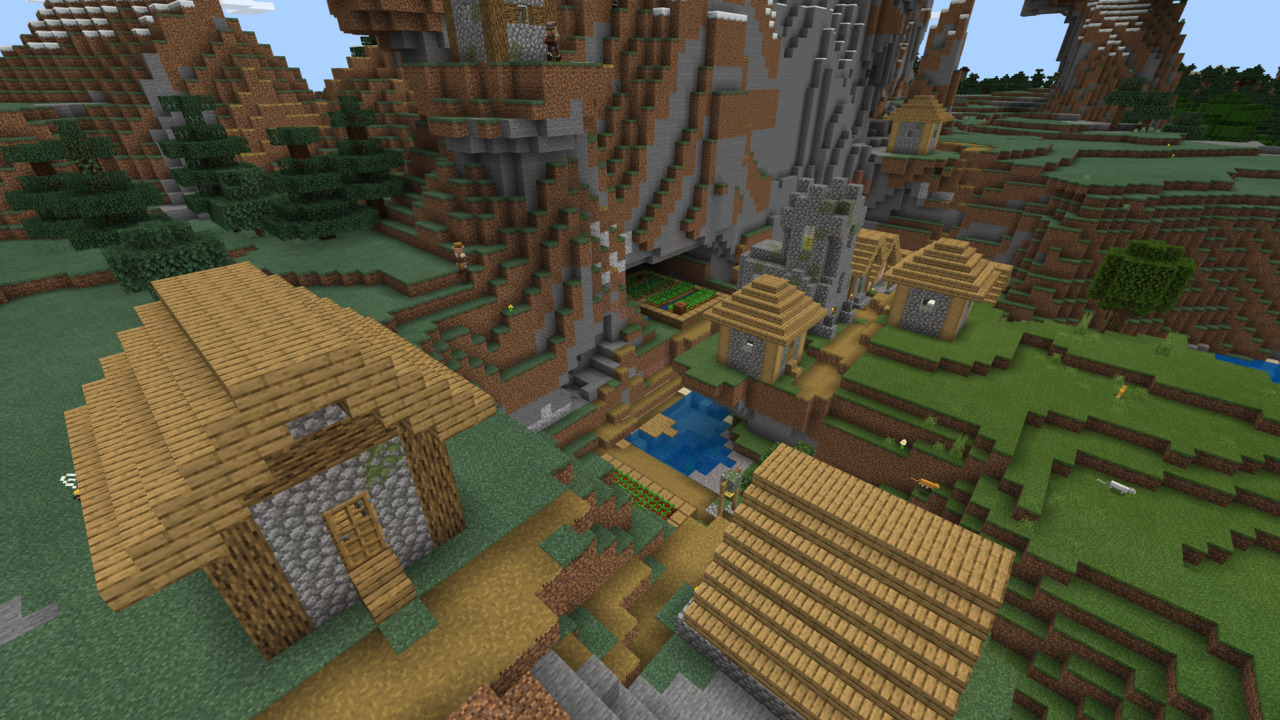 There may be some skeletons in these closets
This village has some dark secrets. A dark dungeon, to be exact. Walk through the forest to find a village that looks pleasant enough from a distance, but enter the cave in the mountain and discover what evil lurks within.
What is awesome about this seed:
A monster spawner inside the dungeon is waiting to be defeated. 
There are at least three villages within close range, one of which is populated entirely by zombies.
When you're done slaying monsters, check out the mountain biome rich with valuable ore.
Compatible Versions:
1.14.1
5. Bamboo Forest with Pandas 1959330209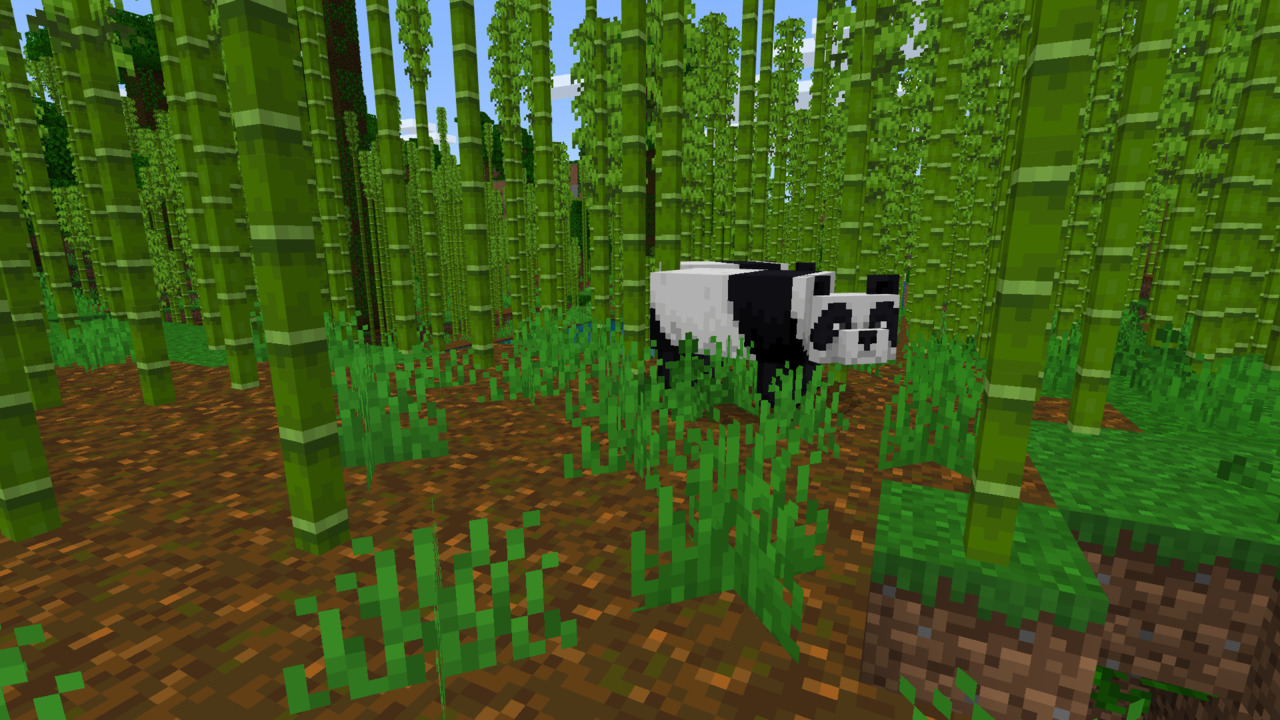 One of the few places to find pandas in the wild
Aww, who doesn't love pandas? Just like in the real world, Minecraft pandas are very rare. If you'd like to see one up close, spawn in this dense bamboo forest. A great jungle biome borders the bamboo forest, so you won't be lacking for resources if you decide to settle down here.
What is awesome about this seed:
Pandas are friendly mobs that don't do much of anything except look adorable. You can breed them to make your very own panda zoo.
The jungle biome is massive. There's more than enough to do in there, but if you keep going, you'll find the ocean.
Compatible Versions:
1.12
1.14.1
4. Zombie Village  427074153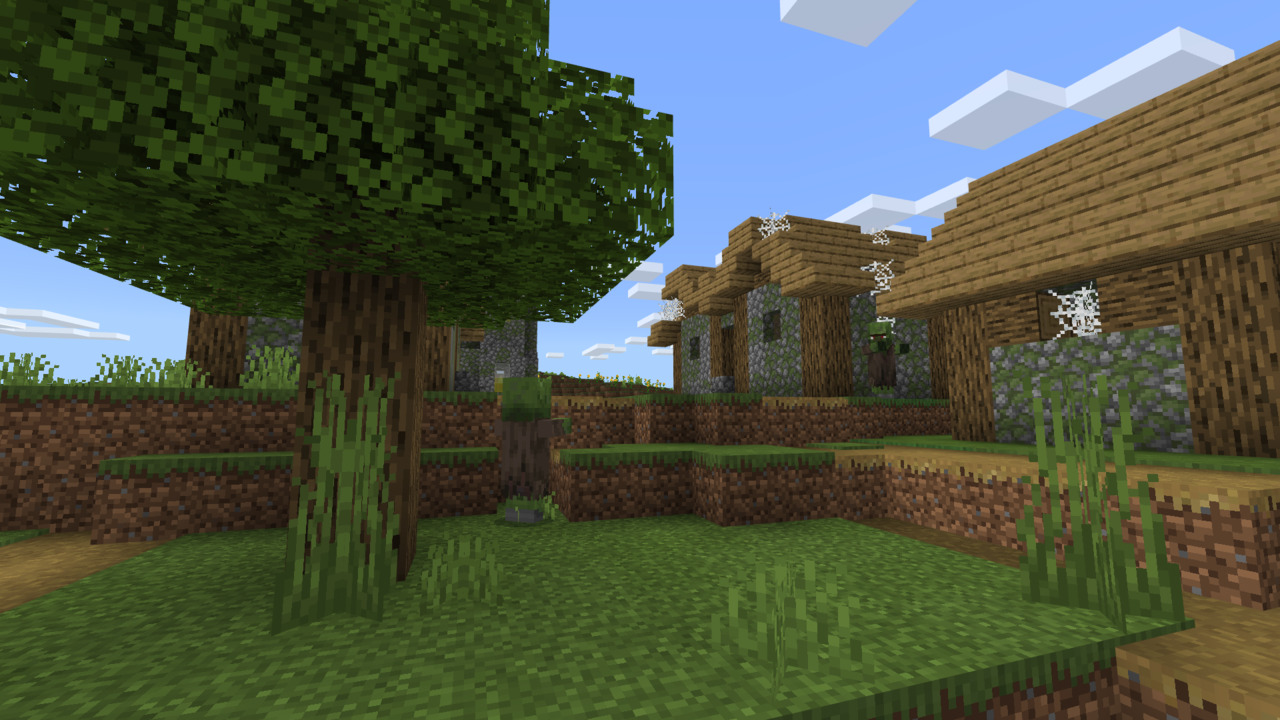 I see dead people
Sure, you could add a horror mod to Minecraft. Or, you could just spawn in this lovely little village where the undead abound. Fight your way through, and you'll be rewarded with more of the same.
What is awesome about this seed:
Are you a fan of zombies? Yes? Great! There are plenty to go around. You hate zombies, you say? Well, you can unleash your rage and kill them all, then.
Unlike many great seeds, this one is available in Bedrock. 
Compatible Versions:
1.14.1
3. Underwater Temple -5181140359215069925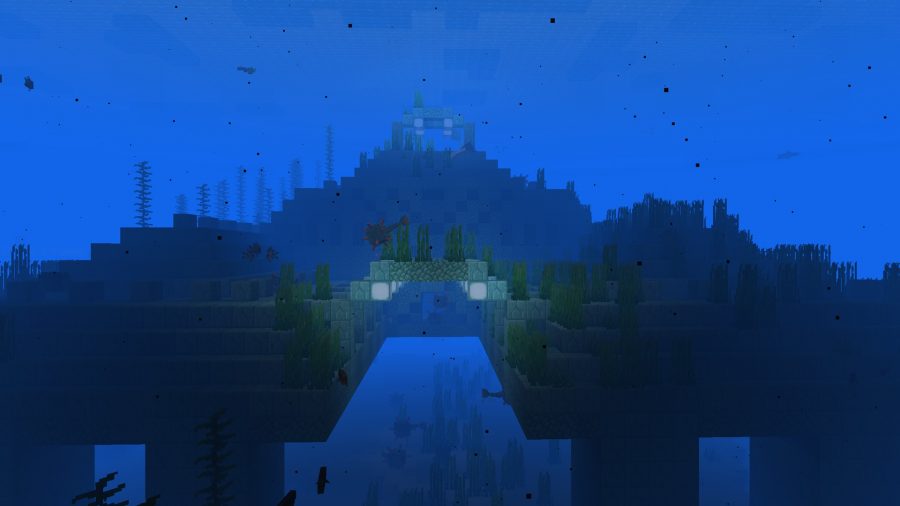 Hold your breath!
Do you believe in Atlantis? You will after visiting this incredible underwater temple. Ocean dwellers will love exploring this massive structure.
What is awesome about this seed:
Ocean monuments are rare and so are the things you can find inside. Stock up on sponge and prismarine before you go.
Guardians do their job well. They'll pose a great challenge if you try to enter their temple.
After you've defeated the guardians and looted the temple, check out another ocean monument nearby. 
Compatible Versions:
1.8.1
1.8.8
2. Ice Spikes -4186746847636013829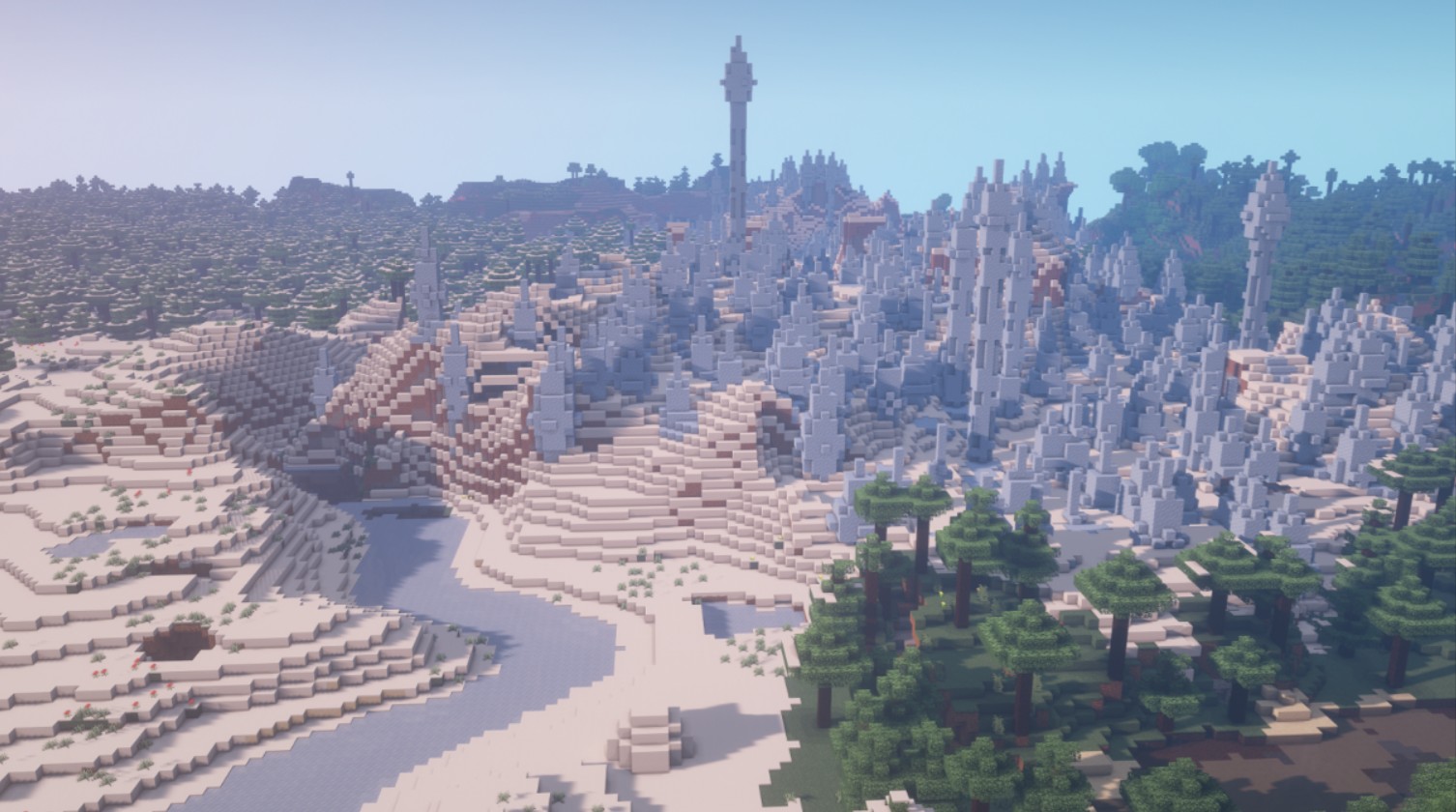 A city skyline, but make it ice
Disney fans will feel right at home in this Frozen-like seed. Towering ice spikes jut out of the ground next to a forest. A plains biome nearby fills in any gaps in your inventory.
What is awesome about this seed:
Live out your Queen Elsa dreams and build an ice castle. You'll have a view unlike any other.
The woodland forest and the plains biome provide a great place to live and build a home if you're more of a Princess Anna type.
Compatible Versions:
1.14
1.15.2
1.16.1
1.Mesa -8427444967367737379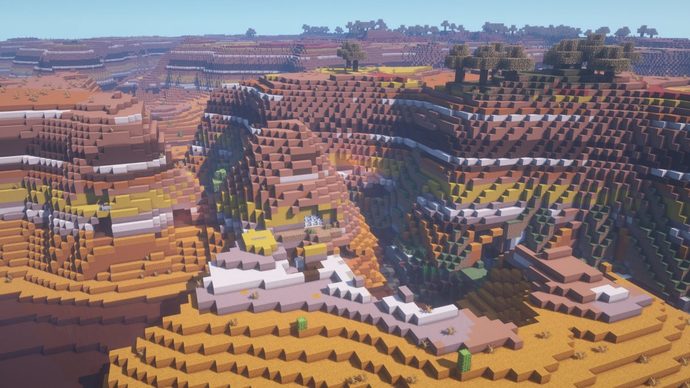 Did you bring your camera? These views are stunning!
This seed will drop you off in a breathtaking mesa biome. The colorful layers of sediment are striking in the massive chasms and buttes. There are not a lot of trees around, so you'll have to be clever when you build.
What is awesome about this seed:
Beware the cave spider spawner! Those mobs are not going to let you move in on their territory without a fight.
Collect mountains of gold in the mesa biome. You can live like a dragon and wear golden armor in a golden house.
Compatible Versions:
1.15.2
1.16.1
You May Also Be Interested In:
Image Gallery