[Top 15] Minecraft Horror Skins That Look Great!
Updated: 15 May 2020 6:34 pm
Take a break from playing the hero and become just another one of the monsters.
Why fight the monsters when you can become one?
Skins are an exciting and effective way to transform any player's Minecraft experience into something unique. Players can become customized versions of their favorite movie icons, creatures, and even mobs from the world of Minecraft itself.
When it comes to the horror genre, Skins are a fantastic way to generate a bit of terror. From horror movie creatures to blood-covered wraiths, players can plague their friends with nightmares and emerge from the shadows as ghastly figures.
The horror side of the Minecraft community is on the rise. Get some buddies together, make a plan to play together, and prepare to make your friends scream with delight when you showcase these top fifteen Minecraft horror skins.
15. Zombie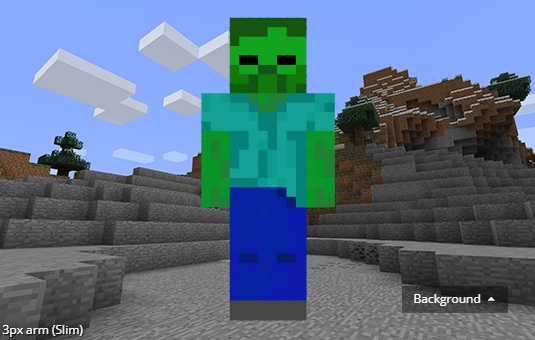 The Walking Dead comes to Minecraft! As one of the most iconic hostile mobs in Minecraft, Zombies are an essential staple to the horror genre. Players can appear as one of the living dead and terrify their friends with this perfect replica of the Zombie mobs. How long will your friends survive against the living dead?
What Makes The Zombie Skin Fun:
The ultimate hiding place! Players can disappear in plain sight and trick their friends into thinking they are just regular Zombie mobs.
Excellent for Prop-Hunt style and PvP gaming. Players can see how long it takes their friends to find them when they no longer appear as a regular player.
Players look absolutely terrifying with this Skin―perfect for horror role-playing and horror map scenarios!
Download The Zombie Skin here!
See The Zombie Skin in Action:
14. Baldi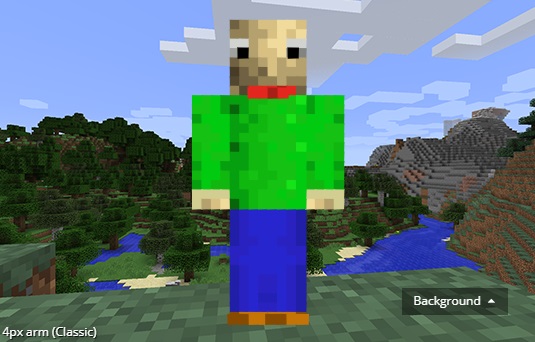 Though 'Baldi's Basics' might not seem like a horror game at first glance, its math-themed brand of terror has become iconic among the horror community. Minecraft players can now wear Baldi's unsettling skin, complete with terrifying red lips and bulging eyes, and deliver swift justice to their friends every time they get an answer incorrect.
What Makes The Baldi Skin Fun:
Get back to basics with this simplistic but horrifying Skin! A frightening appearance transforms any player into the thing of nightmares!
Players can relive their favorite Baldi's Basics moments, or invent their own unique twists on events, with this amazing horror Skin.
Players look haunting with Baldi's bulging eyes and elongated features, especially after the sun's gone down.
Download The Baldi Skin here!
See The Baldi Skin in Action:
13. Annabelle Doll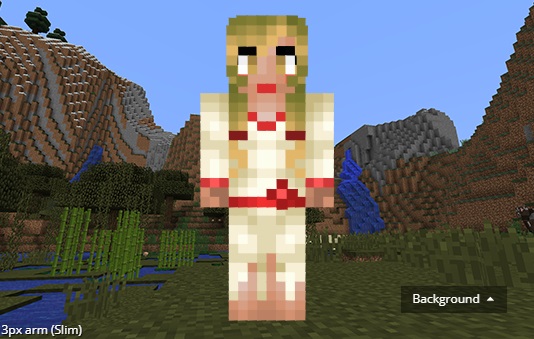 Step aside, Chucky. There's a new doll in town, and now she's bringing terror to Minecraft! This horror Skin turns players into a haunting rendition of the cursed Annabelle doll, made popular by The Conjuring franchise. Hardcore fans of the horror genre can terrify their friends and bring misfortune to their Minecraft maps.
What Makes The Annabelle Doll Skin Fun:
Players look harmless enough from a distance with this Skin―but approaching reveals the horrific truth!
Creep up on friends with a fear of dolls and give them a fright!
Relive all the terrifying moments of The Conjuring franchise. Players can become the enemy they fear and design the perfect horror scenario.
Download The Annabelle Doll Skin here!
See The Annabelle Doll Skin in Action:
12. Slender Man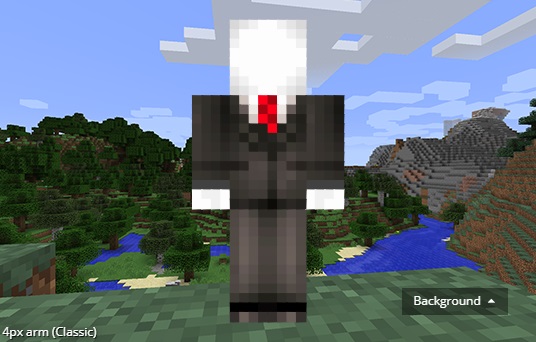 As the source of many online urban legends and nightmares, Slender Man has taken his rightful place as a true horror icon. In addition to downloading the hostile mob, players can now wear the Slender Man's Skin and traumatize their friends. Create frightening horror scenarios with this faceless entity and bring a new meaning to the word 'fear'.
What Makes The Slender Man Skin Fun:
Become the infamous horror icon and terrorize your friends!
Slender Man's expressionless white face and dark suit transforms players into a terrifying entity perfect for a horrifying game of PvP or twisted hide-and-seek.
Combine the Slender Man Skin with downloadable hostile mobs for an enhanced horror experience.
Download The Slender Man Skin here!
See The Slender Man Skin in Action:
11. Granny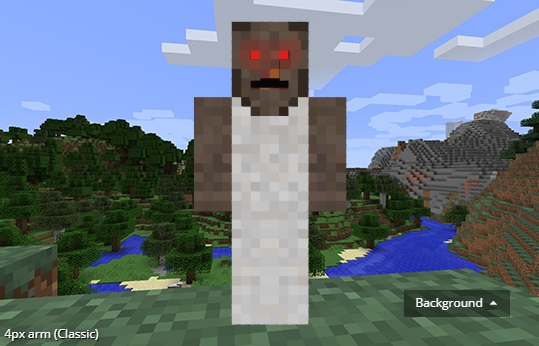 New to the world of horror, the survival game 'Granny' has become a terrifying experience for all those who play it. The nightmare comes to Minecraft with this haunting Skin. Players can become the not-so-friendly titular grandmother and hunt down their friends. How long will players survive against the terror known only as Granny?
What Makes The Granny Skin Fun:
Players look utterly horrifying with Granny's glowing red eyes, gaping mouth, and plain white nightgown.
Challenge friends to see how long they can survive against another player using the Granny Skin in a hardcore version of PvP! 
Recreate the excitement of Granny the game without downloading a horror map and make your own horror experience.
Download Granny Skin here!
See The Granny Skin in Action:
10. Jason Voorhees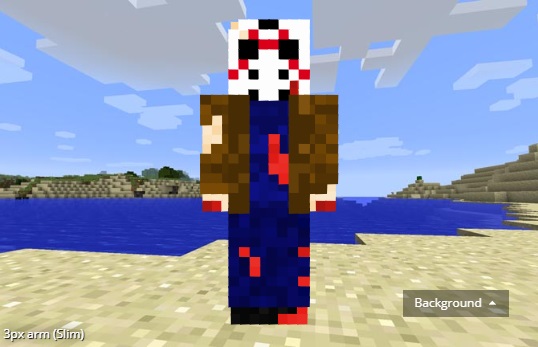 Behold the terror of Camp Crystal Lake! As one of the most recognizable characters in the horror genre, Jason Voorhees is a must when it comes to Minecraft horror Skins. Players emerge covered in blood with the horrifying, iconic hockey mask, promising death and misery for all those unfortunate enough to cross their path.
What Makes The Jason Voorhees Skin Fun:
Create horrifying scenarios with friends with one player as Jason and the others as counselors and see who can survive the longest!
Discover villages and utilize them as Camp killing grounds when it comes to villagers. Who said you had to be the good guy?
Players become the thing of nightmares with Jason's signature mask and coat, as well as splatters of victims' blood from head to toe.
Download Jason Voorhees Skin here!
See The Jason Voorhees Skin in Action:
9. Ghostface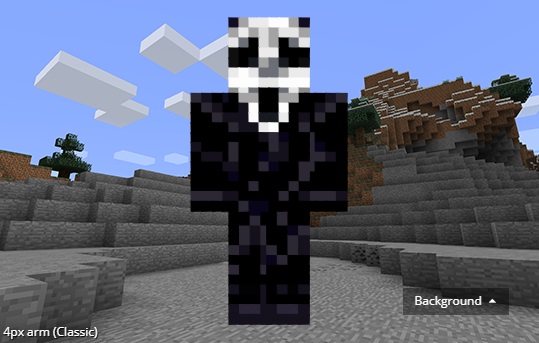 Get ready to scream with this Ghostface Skin. There might not be a phone available or a voice changer, but this horror Skin creates a blood-chilling image for those who aren't expecting it. In true 'Scream' fashion, players can have more than one killer for exceptional PvP gaming modes. Players can use this Skin to create horror scenes unlike any other in the world of Minecraft.
What Makes The Ghostface Skin Fun:
The iconic Ghostface mask makes players look frightening both from a distance and up close!
Use the Ghostface Skin to play a demented game of hide-and-seek with friends and see who has the skills to survive the longest.
Everything is much scarier in the dark―sneak up on other players and give them a taste of terror when they least expect it!
Download The Ghostface Skin here!
See The Ghostface Skin in Action:
8. Zombie Pigman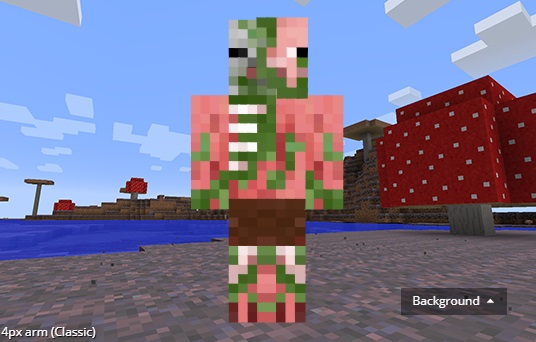 As one of the most unsettling mobs in the world of Minecraft, Zombie Pigmen haunt the Nether world and create a frightening challenge for all players. Players can now appear as a Zombie Pigman and hunt down their friends! How long will your fellow players survive when they can't discern the difference from a real Zombie Pigman and their friends?
What Makes The Zombie Pigman Skin Fun:
Players can hide in plain sight among other hostile mobs during PvP gameplay! What better way to win a game than to hide where no one would think to look?
Zombie Pigmen are unsettling in nature―and now players can look just as terrifying!
Get in the mindset of a hostile mob and create new horror scenarios based around the terrors of the Nether.
Download The Zombie Pigman Skin here!
See The Zombie Pigman Skin in Action:
7. Valak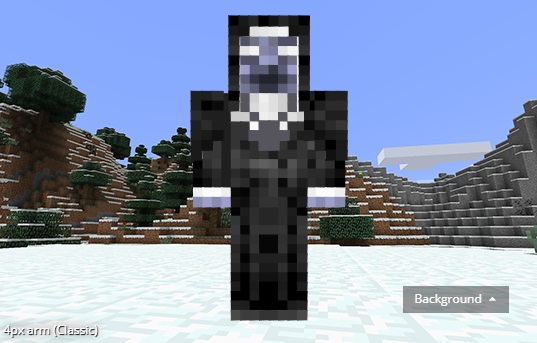 Another entry from The Conjuring franchise, Valak AKA The Nun, arrives in the world of Minecraft. Players can transform into the stuff of nightmares and become a horrific demon with this Skin. Haunt the streets of discovered villages and redefine terror. What will players do when the demons take control of the world?
What Makes The Valak Skin Fun:
Players look absolutely ghoulish―and awesome―with this demonic Skin!
Far more recognizable and dangerous than the Annabelle doll, Valak allows players to spread a new meaning of terror throughout their Minecraft maps.
PvP takes on a new route with this horrific Skin! Assign players as exorcists and another player as Valak and see who will survive.
Download The Valak Skin here!
See The Valak Skin in Action:
6. Herobrine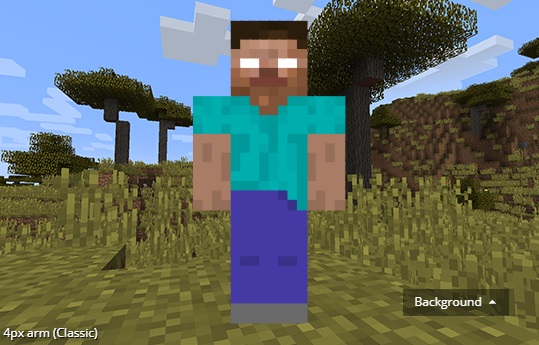 As one of the most recognizable Creepypastas in the Minecraft world, Herobrine has inspired a number of Skins designed in his honor. With this haunting Skin, players can become the exact image of the most feared entity in Minecraft lore. Use this chilling Skin and become the legendary monster all hardcore players fear encountering.
What Makes The Herobrine Skin Fun:
At a glance, players look exactly like a simple rendition of Steve―until they don't. Herobrine's blank white eyes strike terror into all who encounter him.
Prank friends by manifesting as the most terrifying, rumored entity in Minecraft lore!
Create horror experiences with Herobrine's Skin. Roleplaying becomes even more exciting when Herobrine can appear out of nowhere.
Download The Herobrine Skin here! 
See The Herobrine Skin In Action:
5. Herobrinett/Alexbrine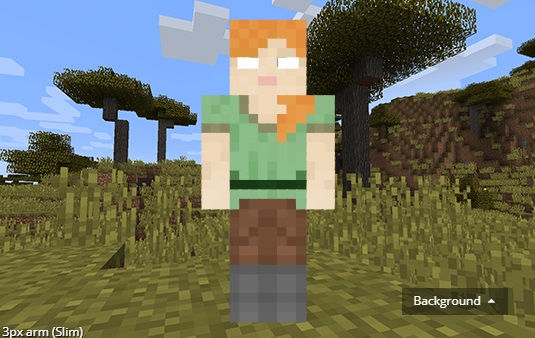 With Herobrine quickly rising to legendary status among the Minecraft community, it makes sense that the same wicked entity would also manifest in the form of Alex. With this horrific Skin, players can turn themselves into a Herobrinesque version of the Alex Skin, complete with the iconic blank white eyes and murderous, deadpan expression.
What Makes The Herobrinett Skin Fun:
Herobrine's empty white eyes make for a completely terrifying image―and this frightening aspect makes the Alex Skin look even more bone-chilling.
Players can use this Skin to terrorize friends and become a legendary monster!
Using this Skin in addition to the Herobrine Skin makes for a frightening double dose of horror; PvP gaming becomes even more challenging with two wicked entities instead of one.
Download The Herobrinett Skin here!
See The Herobrinett Skin in Action:
4. Steve Zombie Esqueltico [Skeletal]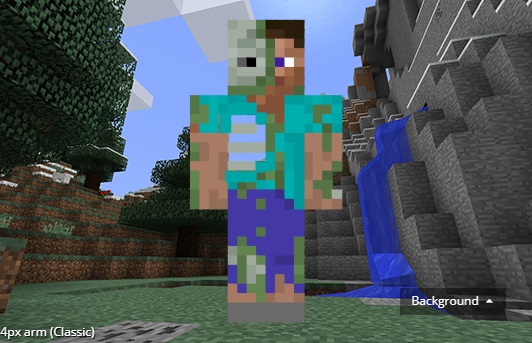 What happens when you cross a Zombie and a Skeleton? A horrific hodgepodge of some of the most brutal hostile mobs ever to grace Minecraft, that's what! Players can turn themselves into a haunting image of hostility, complete with exposed bone and infected gore. This Zombie's been through Hell, and now it's your turn.
What Makes The Steve Zombie Esqueltico [Skeletal] Skin Fun:
This terrifying combination of Zombies and Skeletons makes players look like the epitome of horror!
Reenact zombie horror films and create frightening maps with this Skin.
The gory aspect of this unsettling Skin transforms players into the stuff of nightmares, perfect for late-night gaming sessions and PvP events.
Download The Steve Zombie Esqueltico [Skeletal] Skin here!
See The Steve Zombie Esqueltico [Skeletal] Skin in Action:
3. Hero Skeleton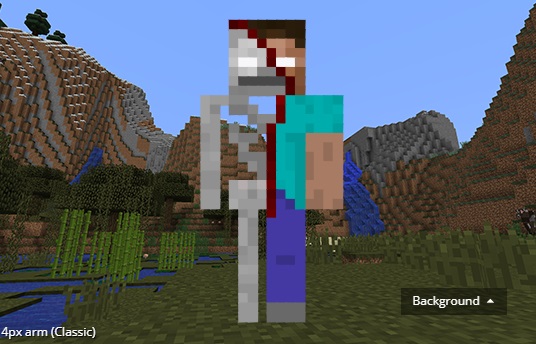 Some heroes are willing to risk it all to save the world. With this gut-wrenching Skin, players can become a petrifying version of the original Steve mob. With a body half composed of exposed bone, this horror Skin transforms the player into an unsettling visage of heroic sacrifice. Bring new meaning to the word 'horror'!
What Makes The Hero Skeleton Skin Fun:
Eager to become an undead entity? This Skin allows players to turn into a frightening creature with exposed bones, perfect for frightening other players.
Blank white eyes add a bit of fright, a la Herobrine, and a large supply of exposed bone doesn't hurt, either!
The minimized proportions provided by this Skin easily put players in the mindset of a skeletal mob, allowing for more immersive gameplay.
Download The Hero Skeleton Skin here!
See The Hero Skeleton Skin in Action:
2. Ghost Herobrine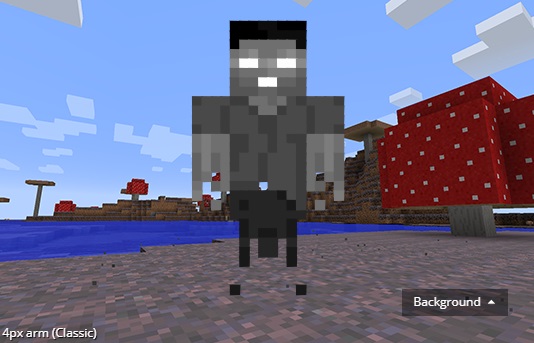 As if Herobrine weren't terrifying enough on his own, this ghostly apparition emerges to bring a whole new definition to horror. Players can take on the faded appearance of Herobrine's ghastly image, complete with the illusion of missing legs and a sickening gray coloration. Herobrine haunts the world of Minecraft in more ways than one.
What Makes The Ghost Herobrine Fun:
With blank white eyes and a pale gray coloration, this Skin brings all the terror of Herobrine to Minecraft and adds a frightening new twist to it!
Players can terrify their friends and haunt the background of multiplayer maps.
The illusion of no feet makes it seem as though players are eerily flying through the air―exactly like an evil spirit bent on destruction and death.
Download The Ghost Herobrine Skin here!
See The Ghost Herobrine Skin in Action:
1. Steve Attacked By Zombie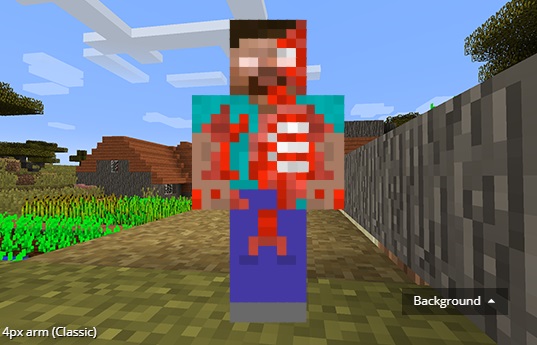 No one ever said a Zombie attack wasn't gruesome! With this gory Skin, players can take on the image of the bloodied victim of a brutal Zombie attack. As the living dead exist throughout the world of Minecraft, this gut-turning Skin adds a new level of terror to their encounters. Shock friends and unleash terror with this bloody addition to the world of Minecraft skins.
What Makes The Steve Attacked By Zombie Skin Fun:
Add a new level of fright to a challenging Zombie multiplayer map. Zombie attacks are no laughing matter―and now, the whole world knows it!
A perfect blend of horrific and graphic violence, this Skin is also excellent for hardcore fans of the slasher genre.
Players look bloody disgusting with exposed ribs, organs, and an excess supply of blood. Become a true horror icon and horrify other players.
Download The Steve Attacked By Zombie Skin here!
See The Steve Attacked By Zombie Skin in Action:
If you enjoyed this article, you may also be interested in:
Image Gallery