[Top 15] Minecraft Best Survival Mods We Love!
Updated: 05 Jul 2022 1:56 am
Steve facing down a skeleton on a cliff!
Is survival mode getting repetetive?
Minecraft is an enormous game, with tons of content to keep players invested for hours upon hours! However, a lot of people quickly find the game boring or repetitive, and want some new features to breathe life into their survival worlds. If you're one of these people, then you're in luck! I've put together a list of the top fifteen absolute best mods you need to try out if you want to spice up your Minecraft survival experience!
15. Ender Storage 1.8+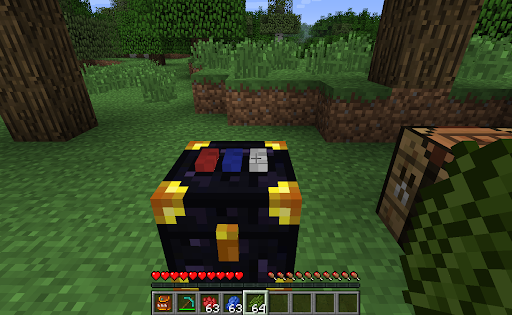 The new ender chest from Ender Storage 1.8+
See this mod on YouTube: 
A review/showcase of the mod.
Ender chests are a super useful feature of Minecraft, letting you store items over an infinite distance with no fear of losing them. However, the limit to the amount of items an ender chest can hold is only 27, which is far too little. Thankfully, Ender Storage 1.8+ fixes that problem! Ender Storage 1.8+ offers new ways to sort items and increases the amount that ender chests can store!
Ender Storage 1.8+ is straightforward and simple to understand, while also being extremely useful for storing and transporting items.
Ender chests can now be color coded, and ender chests with the same color will share their inventory, even across dimensions! It makes sorting through ender chests a lot easier than before.
Ender pouches are a new addition, and can be linked to an ender chest for portable ender storage on the go!
Ender tanks are also new, storing things like water and lava the same way as ender chests, letting you grab a bucket of liquid whenever and wherever you need!
Check out this mod for yourself, with the link here!
14. Waystones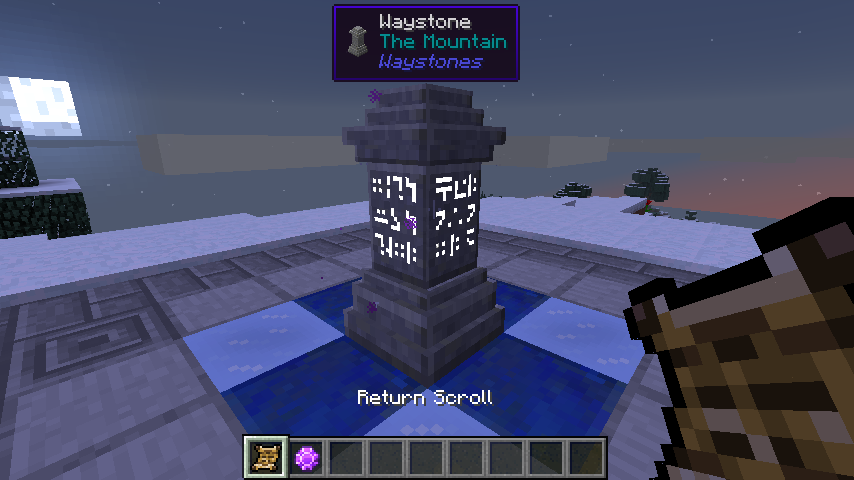 A waystone from the Waystones mod
See this mod on YouTube:
A review/showcase of the mod.
While a very simple mod, Waystones is super useful. Have you ever been far away from your home in Minecraft, then died and lost all your items? The Waystones mod helps to remedy that problem by allowing you to create waystones that serve as warp points for you across your world, making travel a breeze!
Waystones is undoubtedly useful, but it's also just as fun to play around with, and has some nice features to go along with it!
Waystones are craftable in survival, meaning you can make your own and set them up wherever you please!
In addition to craftable waystones, you can also craft scrolls that can teleport you to waystones without needing to be close to one!
Waystones are also compatible with multiplayer, meaning you can travel to other player's waystones and link up important points of interest!
Check out this mod for yourself, with the link here!
13. Aquaculture 2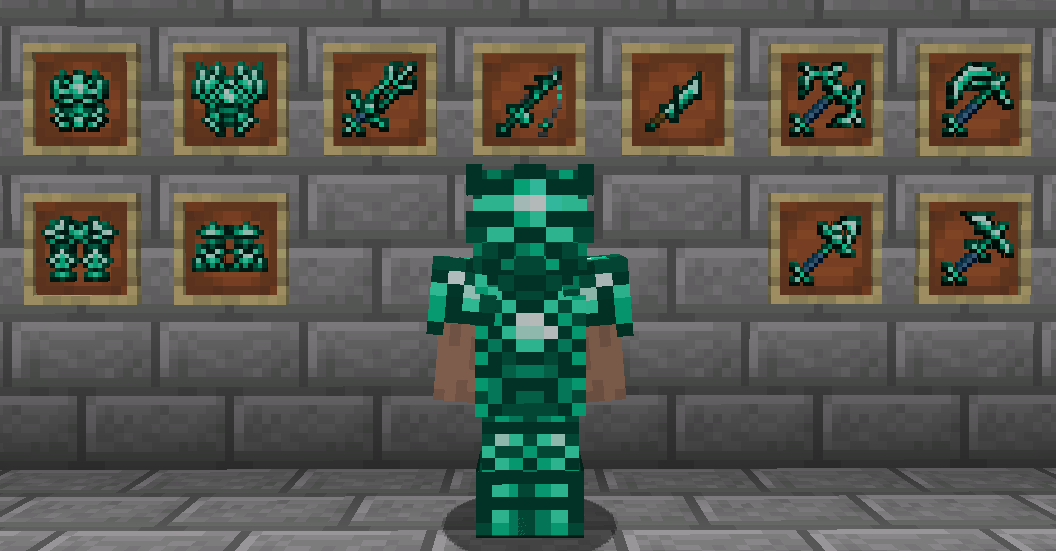 A new set of armor and tools from Aquaculture 2
See this mod on YouTube:
A review/showcase of the mod.
Are you someone who likes fishing? If you are, then you're going to love the Aquaculture 2 mod, and even if you don't like fishing, there's plenty of features here for everyone to enjoy! With tons of new fish, upgradable fishing rods, along with bait and tackle, this mod adds a whole new layer to fishing in Minecraft!
Aquaculture 2 greatly expands upon fishing in Minecraft, making it even more fun and entertaining!
There are over 30 new fish to catch while fishing in this mod, along with some that are actually mobs and swim around in the water!
This mod also adds new fishing rods that can be upgraded for better functionality, and some that even have different special uses!
With the addition of bait and tackle, along with lines and bobbers, you can fully customize your fishing rods to be the best they can be, and reel in the fish that you never could before!
Check out this mod for yourself, with the link here!
12. Bibliocraft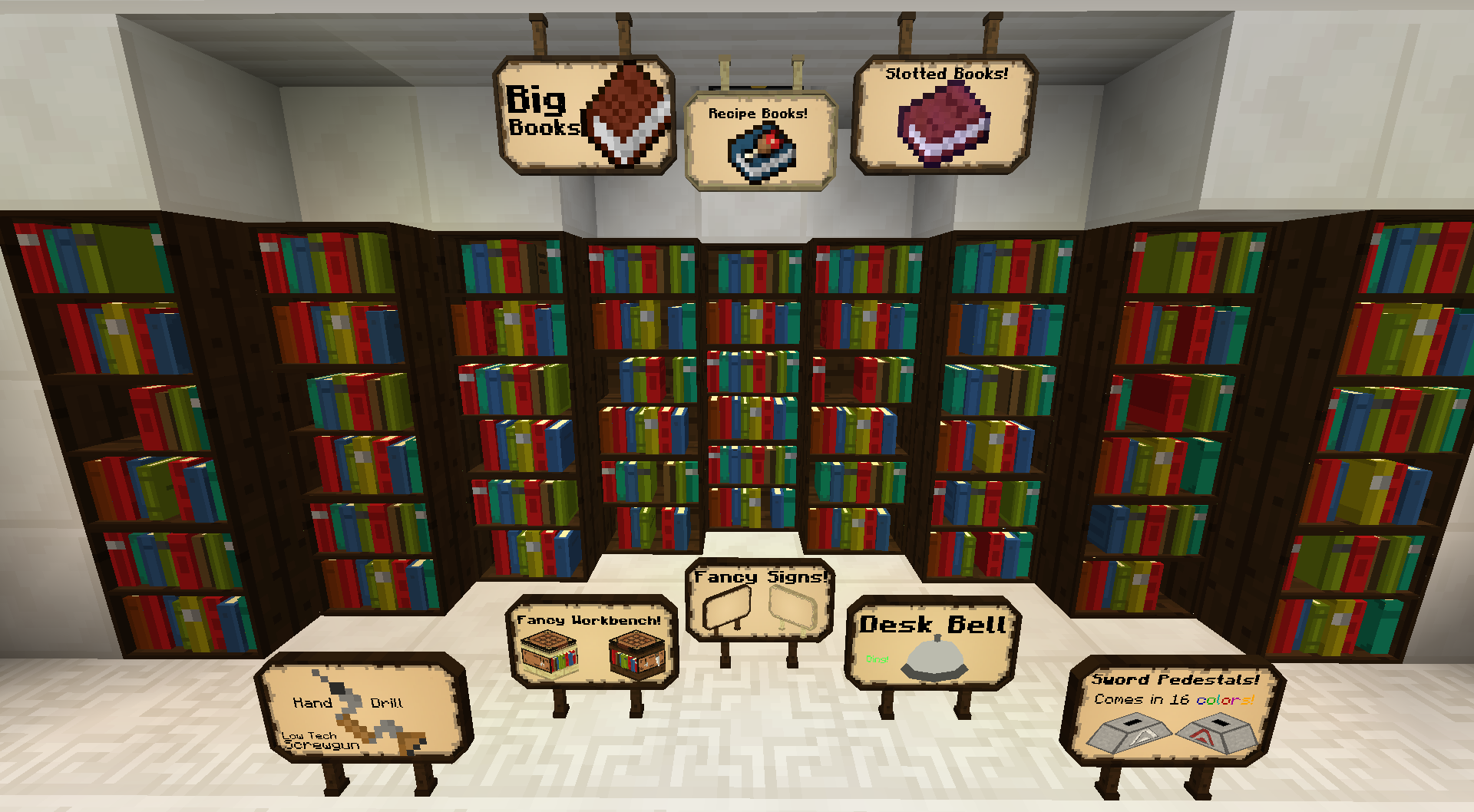 Bookshelves and signs from Bibliocraft
See this mod on YouTube:
A review/showcase of the mod.
Bibliocraft is a mod that adds lots of aesthetic features into the game, like furniture, lights, and tabletop items! It's a great mod for builders who want to add more detail to their interiors, and also spices up the design for your home with only a few items!
Bibliocraft is super fun for builders and people who like to decorate, it's pretty simple but has a lot of nice additions!
Some furniture like display cases, shelves, and armor stands can actually display items and armor on them, giving them a bit of functionality!
Bibliocraft also adds some unusual furniture that's cool to have nonetheless, like sword pedestals, clocks, and even typewriters!
There are also lots of smaller items to be placed on tables and counters, like plates and cookie jars, just to add a bit more to look at so your home doesn't feel empty!
Check out this mod for yourself, with the link here!
11. Industrial Foregoing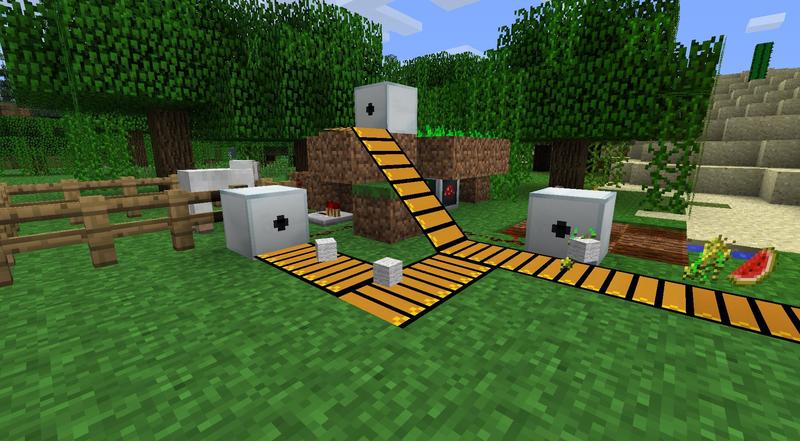 A redstone contraption made from conveyorbelts
See this mod on YouTube:
A review/showcase of the mod.
Redstone is a huge part of Minecraft, and it allows players to create huge contraptions and automate farms and things of the like. However, the area that redstone is lacking in is the industrial side, with machines and electricity and other gadgets of the like. Industrial Foregoing changes that, by adding tons of new machines to easily automate processes and make your world an industrial paradise!
Redstone isn't for everyone in Minecraft, but Industrial Foregoing helps to bridge that gap with it's simple to understand machines and fun features!
All the machines in the mod are compatible with other redstone and industrial mods, so you can mix and match wires, machines, and power sources all you like with no worry!
The interfaces or menus of all the machines are laid out straightforward and easy to understand, so things aren't cluttered and confusing!
The mod also adds an in-game manual to help you keep track of what machines do and how to make them, all the while keeping it simple and efficient!
Check out this mod for yourself, with the link here!
10. Iron Backpacks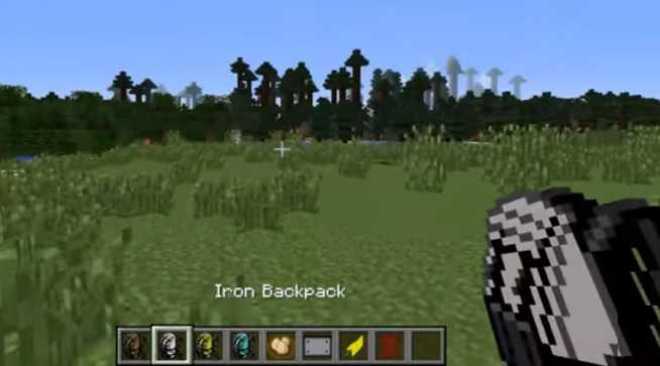 An iron backpack along with some other variety backpacks
See this mod on YouTube:
A review/showcase of the mod.
Everyone who's played Minecraft for at least an hour has suffered from an overcrowded inventory. There are a lot of mods that try and resolve this inventory sorting issue, but Iron Backpacks is the best one around! Being able to carry more items and sort them on the go is super handy, and a mod you don't want to miss out on having.
Iron Backpacks is a highly useful and fun mod, for a number of reasons!
There are different tiers of backpacks for you to get, each can hold different amounts and more than the last!
Similarly to a mod coming up on the list, the backpacks can be upgraded with different features that let you customize them!
The backpacks can also be equipped onto your player, and will appear on your character's back, along with your armor and tools as normal!
Check out this mod for yourself, with the link here!
9. Storage Drawers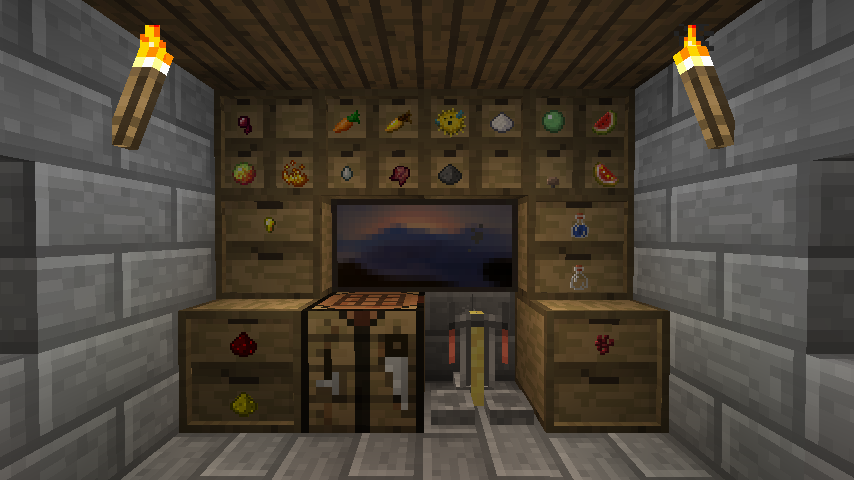 A brewing station made using the compact storage drawers
See this mod on YouTube:
A review/showcase of the mod.
Storage Drawers is a mod that adds, well, storage drawers into your game! They're designed to be both functional and aesthetically pleasing, so you can have compact, rational, and good looking storage for your items!
The Storage Drawers mod is good for both builders and those who have cluttered chests, there's some fun for everyone with this mod!
In addition to the compact and stylish storage, there are also different designs and upgrades for the drawers!
There are also shelves and displays for items, making it easy to recognize what container is storing what, as well as looking good!
Storage Drawers is also compatible with other aesthetic mods like Bibliocraft, so feel free to combine them and store your items in style!
Check out this mod for yourself, with the link here!
8. Iron Chests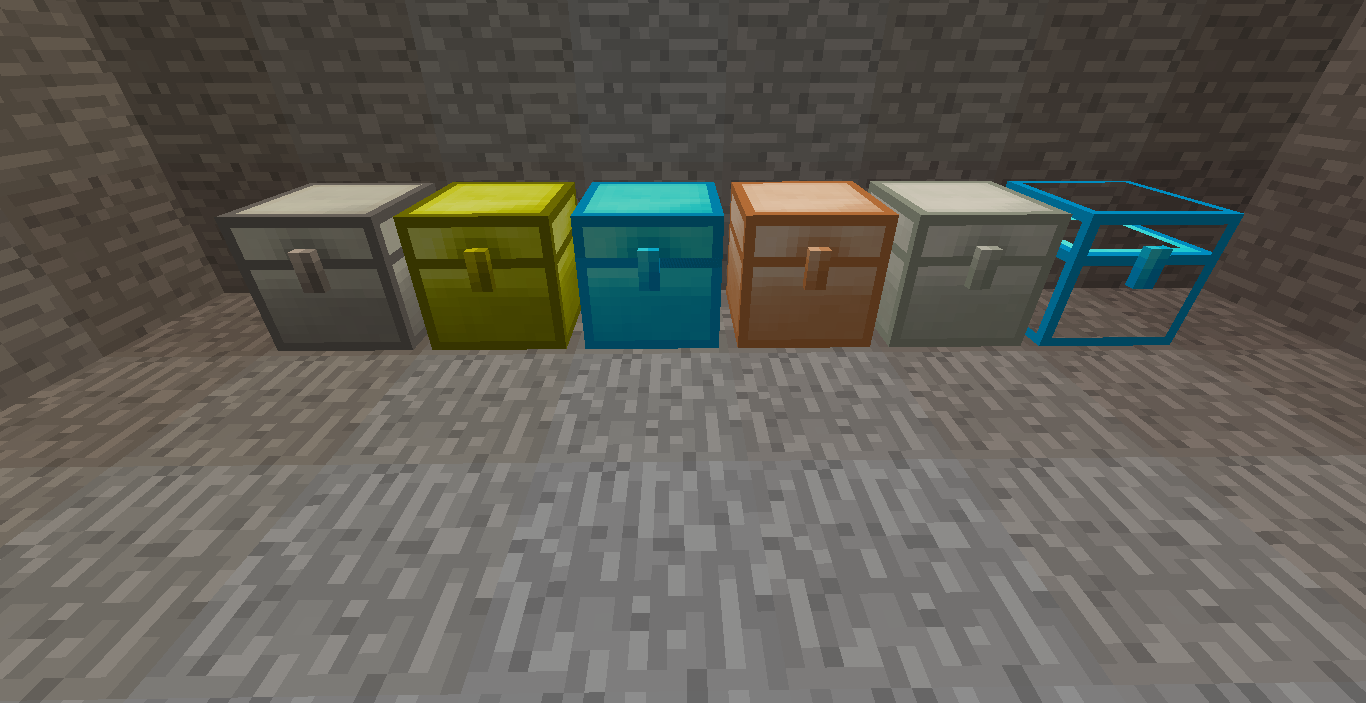 All the different tiers of iron chests
See this mod on YouTube:
A review/showcase of the mod.
Everyone who's played survival Minecraft knows that your chests fill up really quickly with junk and other resources, and lots of times you end up throwing potentially valuable items away. Well, that problem is no more with the Iron Chests mod! The Iron Chests mod adds new tiers of upgradable chests that can each hold more and more items than the last. Your storage problems will be no more!
What's fun?
The new chests are compatible with redstone, meaning you can use them in builds like sorting and storage systems!
The chests can also be upgraded with craftable items that improve the chests, increasing the storage capacity.
The Iron Chests mod is also compatible with tons of other mods and modpacks, so there's no worry of causing problems with mods you already have installed.
Check out this mod for yourself, with the link here!
7. Mr. Crayfish's Furniture Mod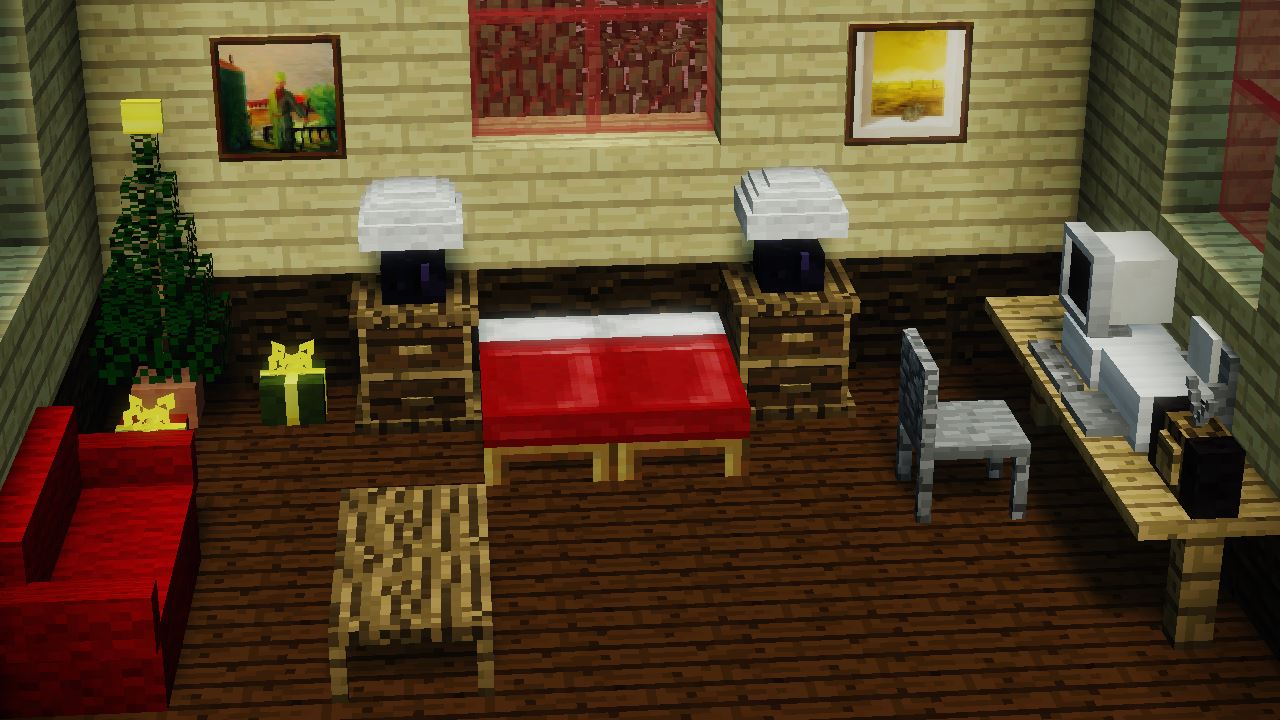 A room filled with furniture
See this mod on YouTube:
A review/showcase of the mod.
The name of this mod says it all, it adds furniture into Minecraft! Furniture is a feature sorely lacking from Minecraft, but thanks to Mr. Crayfish's Furniture Mod, there are a lot of different choices of furniture, all in different styles and materials! It also includes a few other features that expand the functionality of the mod a bit, so read further below for more details!
Mr. Crayfish's Furniture Mod is a super fun and amazing mod, furniture is a feature long overdue for Minecraft, and this mod does a great job of doing just that!
With over 80 pieces of furniture, some customizable with colors and materials, there's no shortage of interior decorating you can do!
Lots of the furniture isn't just for show, either. You can sit on chairs, lay down on couches and beds, and even use things like sinks and toilets!
In multiplayer, there's actually a mail system included with the mod, that lets you send and receive items to and from other players!
Check out this mod for yourself, with the link here!
6. Pam's HarvestCraft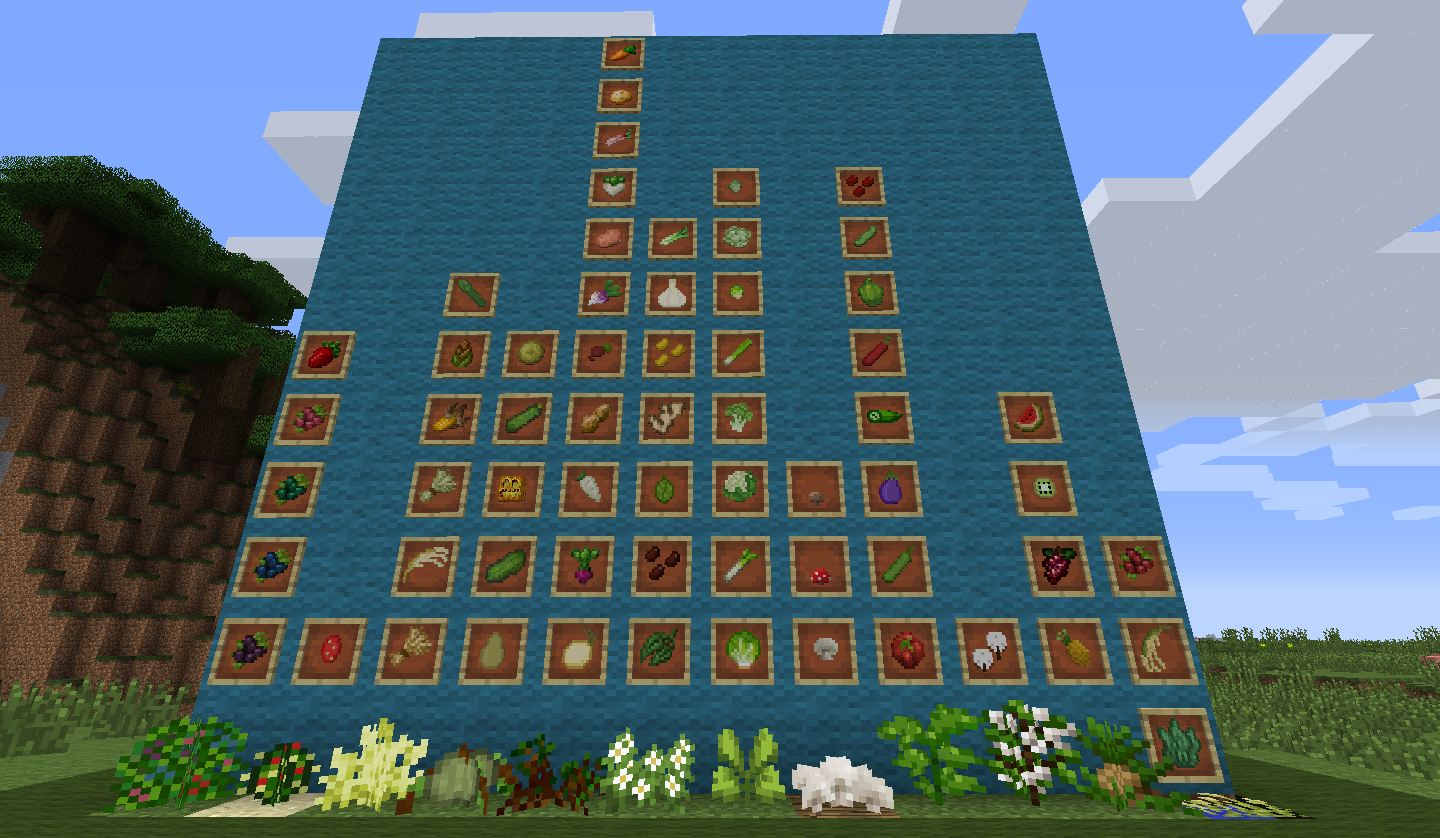 A wall showcasing all the crops in Pam's HarvestCraft
See this mod on YouTube:
A review/showcase of the mod.
Pam's HarvestCraft is a mod that makes the boring farming of Minecraft a lot more in-depth and interesting! Adding over 80 new crops and over 1,000 new food items, Pam's HarvestCraft really goes above and beyond! There are also some other new plants and items included with the mod, to flesh out some areas that just needed a little touch up.
Pam's HarvestCraft is a great fit for those who enjoy the more relaxed, lighthearted side of survival Minecraft. Here's some more fun features from the mod below.
The hunger and food system has been reworked, with different foods having different effects, and requiring more attention from you as to what you're eating and how much!
This mod also expands the cooking side of Minecraft, introducing half a dozen new cooking tools and different ways to use them for delicious recipes!
Along with all of the great nature additions, Pam's HarvestCraft also adds some machines to help with automating your farming, for those who want to take a more industrial approach to things!
Check out this mod for yourself, with the link here!
5. Chisel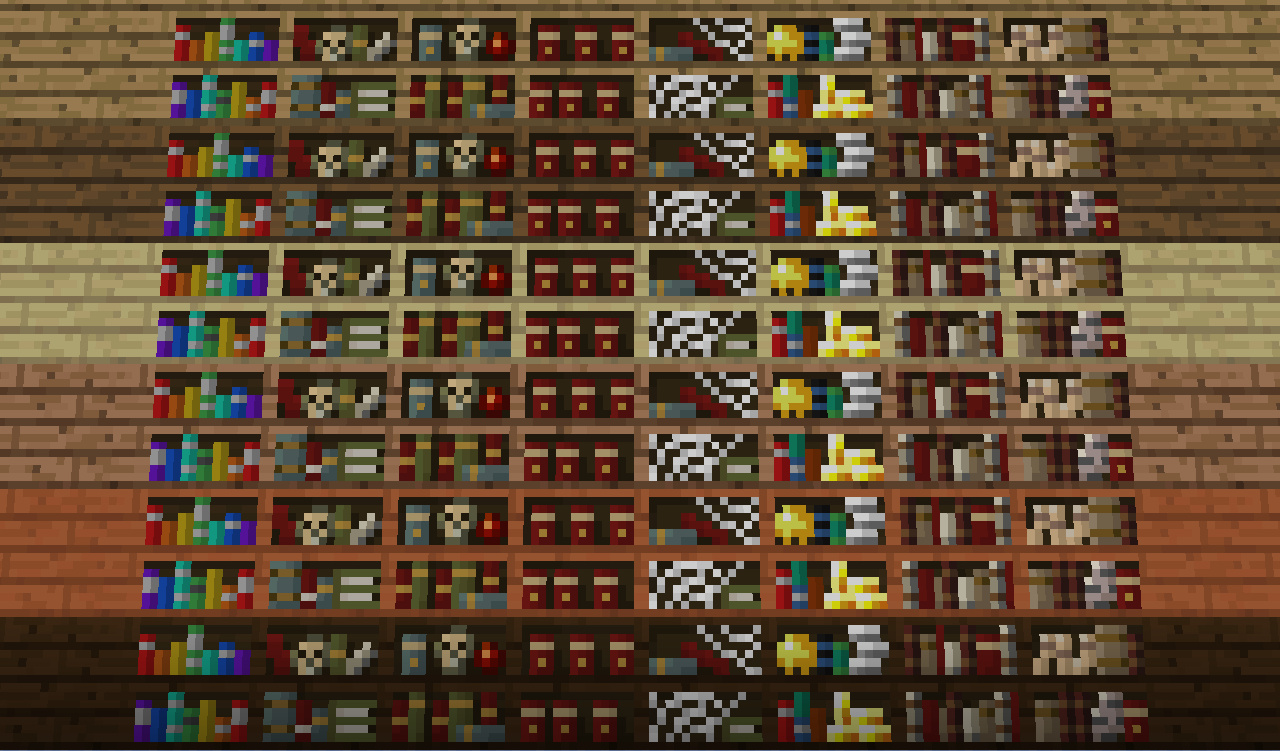 A set of bookshelves made with the chisel tool
See this mod on YouTube:
A review/showcase of the mod.
At some point or another, everyone who's played Minecraft has felt frustrated while building. Maybe you can't get the shape you want, or maybe there isn't a block with the texture you're looking for. Thankfully, the Chisel mod solves those problems! The Chisel mod adds a massive variety of new building blocks to the game, perfect for every construction project you'll ever do!
The Chisel mod is perfect for builders, who will adore these new, fun additions!
A majority of the new blocks are accessed through one new tool, the chisel. This keeps things simple and easy to understand, and doesn't fill up your inventory with variations and different textures of the same block.
You can also upgrade the chisel, which can increase speed, change blocks back from being chiseled, and even automate the process at some point!
Along with the chisel and new blocks, the Chisel mod also adds new building materials for you to use, compatible with the chisel, of course!
Check out this mod for yourself, with the link here!
4. Biomes O' Plenty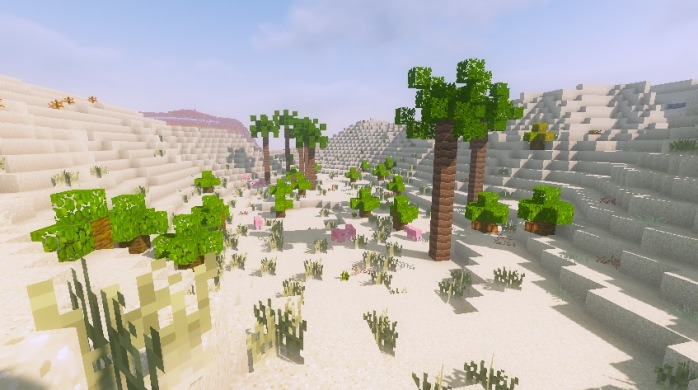 A new desert biome from Biomes O' Plenty
See this mod on YouTube:
A review/showcase of the mod.
Biomes O' Plenty is a mod that aims to make the world of Minecraft even more diverse and interesting! Adding over 40 distinctive biomes along with even more subsets of those, there's tons of new scenery to discover and explore! Top that off with tons of new blocks, items, and plants, and Biomes O' Plenty is a mod that's definitely worth checking out.
There's tons of new places to explore in Biomes O' Plenty, each with their own fun, unique features!
The main attraction of this mod is, of course, the biomes! Since there are so many added, I'll list some of my favorites. The cherry blossom grove is lush and filled with beautiful pink trees, the fungal jungle is an odd blue meadows littered with giant mushrooms, and the ominous woods are spooky forests with dangerous plants and mobs!
There are also tons of new plants, such as water lilies, roses, brambles, moss, and even some fruits like pears and peaches!
Among the plants and biomes are new creatures too, like butterflies, deer, snails, and even mythical pixies!
Check out this mod for yourself, with the link here!
3. The Twilight Forest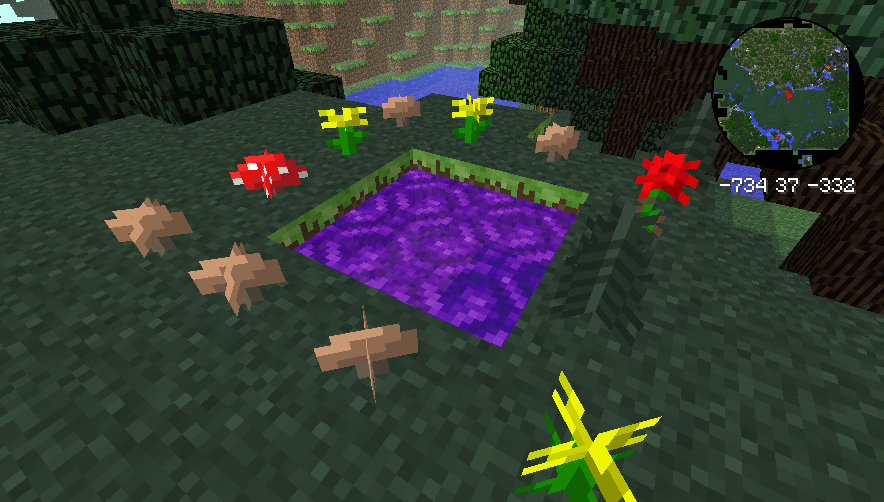 The portal to the Twilight Forest
See this mod on YouTube:
A review/showcase of the mod.
Need some more unsettling and creepy locations to explore in Minecraft? The Twilight Forest mod has you covered. The Twilight Forest is a new dimension, a massive stretch of forest with new creatures, items, and dungeons! It's the perfect place for frights and adventuring, with plenty of content, and still more to come in the future!
There's lots to love about the Twilight Forest, so I've included some of the most enjoyable features below.
One of the greatest features of this mod is the new biomes, all themed around forests. The diversity of the new wooded areas makes them extremely interesting and fun to explore, some examples being the dark forests, frozen and cold forests, and even murky swamps!
The amount of new creatures added in the Twilight Forest mod is just incredible! From wildlife like snakes, insects, and boars, to monsters such as knights, druids, and goblins, you're sure to have a blast interacting with all of them!
The dungeons in the Twilight Forest mod are gigantic, with dozens of twisting rooms, corridors, and interesting rooms and puzzles to explore! Pair that with some of the amazing mobs and bosses, and you have an adventure mod that you can't skip out on!
Check out this mod for yourself, with the link here!
2. The Aether / The Aether II

The mystical and floating sky islands of the Aether
See these mods on YouTube:
Some reviews/showcases of the mods.
Everyone knows that the Nether is the spooky, creepy, and very hot underworld of Minecraft, but what about the opposite? Introducing the Aether mod! The Aether is a brand new dimension far above the skies of your world, with new materials, mobs, dungeons, bosses, and more! There are actually two different versions of this mod, The Aether and The Aether II. The Aether is the original mod with lots of the main features, while the Aether II has some newer additions and updates, and so I included both in the number two spot since they go hand in hand together. If you want the full Aether experience, then be sure to check out both!
Bringing an entirely new dimension to the game, the Aether has too many fun features to count, so I whittled it down to three of my favorites!
A big feature you'll encounter right away is that the tools and items you use in the regular overworld of Minecraft aren't very useful in the Aether. In fact, breaking trees in the Aether is faster with your hand than with diamond tools! You'll need to gather new materials and resources to make a lot of progress, which is a good change of pace from regular Minecraft survival.
There are tons of new mobs added in this mod, to name a few, Zephyrs are flying creatures that shoot projectiles to try and push you off the floating islands, and Blue Swets are water creatures that will try and drown you! There's even more mobs than this, but I think these two mobs highlight how different and quirky the Aether is!
The Aether just wouldn't be the Aether without the dungeons and adventure. There are three dungeon tiers, bronze, silver, and gold, each being more difficult than the last. I won't spoil the surprise of these dungeons for you, but be prepared for bosses and lots of treasure!
Check out these mods for yourself, with the two links here and here!
1. Tinkers' Construct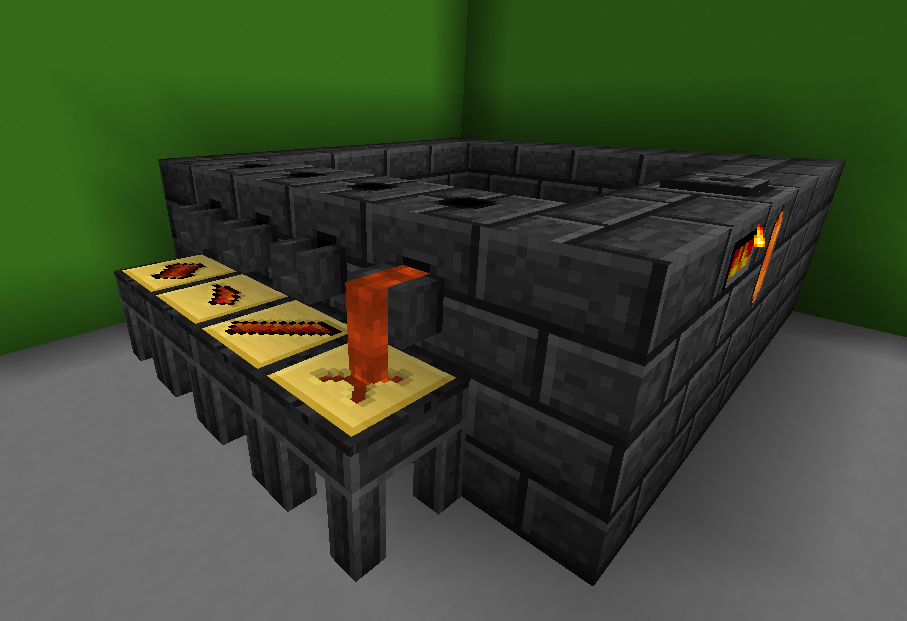 The blast furnace from Tinkers' Construct
See this mod on YouTube:
A review/showcase of the mod.
Finally, the mod that is a must have for your survival world, Tinkers' Construct! This mod allows you to create, customize, and upgrade unique tools, with hundreds of different combinations! You'll need some new crafting stations and a smeltery to get started, and over time with upgrades, your tools will gain some extraordinary abilities, such as repairing themselves, stunning Endermen, or even turning projectiles invisible!
There's a lot of fun features included in the Tinkers' Construct mod that I couldn't mention above, so I'll list some of the other highlights here!
The tool crafting can get pretty complex with this mod, but thankfully the process is very straightforward and streamlined. The mod adds a book in-game that explains the basics on how to use the new crafting stations and the smeltery, so you'll never be overwhelmed or lost as to what to do!
Slime islands and slime variations! Tinkers' Construct adds floating islands to your world called slime islands, they appear in the sky and are hosts to many different types of slimes. Additionally, the resources you get from slime islands and slimes can be used to give unique properties to your tools!
Also added in this mod are brand new ores! Minecraft is pretty limited when it comes to the different kinds of resources you can find, but thankfully Tinkers' Construct adds in some brand new ones to play around with!
Check out this mod for yourself, with the link here!
You may also be interested in:
Image Gallery