25 Must See Mind Blowing Minecraft Creations
Updated: 16 Apr 2020 9:26 pm
We've all looked at something and thought 'I could build that' - well these crafters actually did
25. The House from Up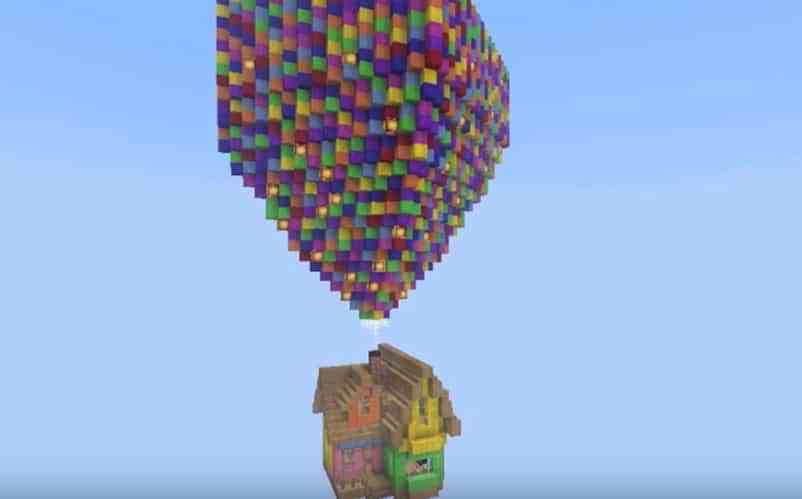 One of the most well-loved houses in Pixar history got a high-flying revival in this build.
Why is this an awesome creation? First off the house is actually floating. Heyaroo built the ripped-out foundation on the ground below and the house floating up above, seemingly suspended by its hundreds of balloons. The inside of the house is completely fleshed out as well, and this creation truly makes us believe that adventure is out there.
24. King Kong vs T-Rex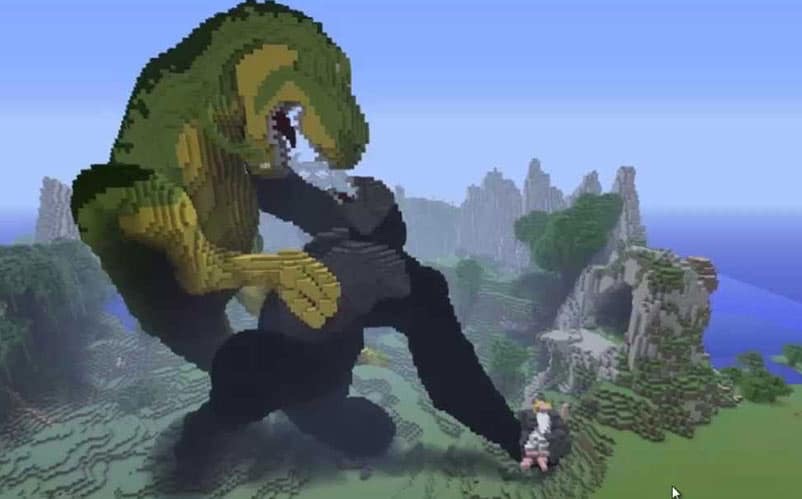 What's more epic than two of the most iconic creatures in cinema duking it out? The way that Frostbyte and Micko made this creation.
Why is this an awesome creation? This statue was built in 2012, and was largely completed before creative mode even came out. Which means that almost every block you see was painstakingly mined and placed without the advantage of flying. This was a labor of love for cinematic monster fight scenes, and one that we can all enjoy now.
23. Battlestar Galactica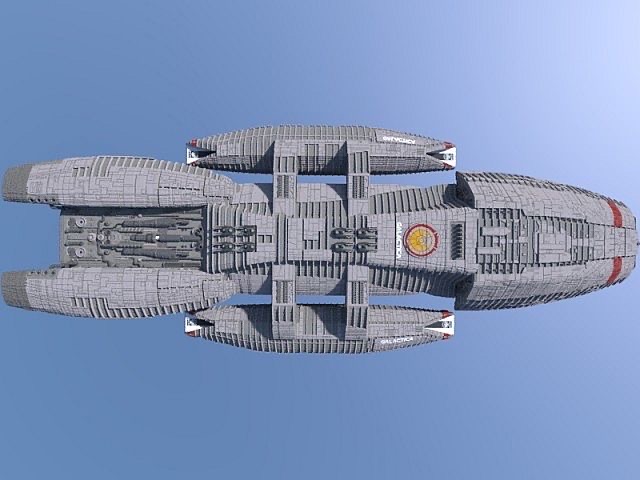 It's hard to believe there's a build this massive out there. "It's crazy perhaps, but that doesn't mean it isn't true." - President Laura Roslin.
Why is this an awesome creation? How about over 5 million blocks? That's how many blocks went into this beastly build by TheHaunse. You can download this map and explore the ship in full, and you'll find all manner of elaborate structures from control rooms and working lifts to a massive hangar deck and drive core. 
22. Boat in a Bottle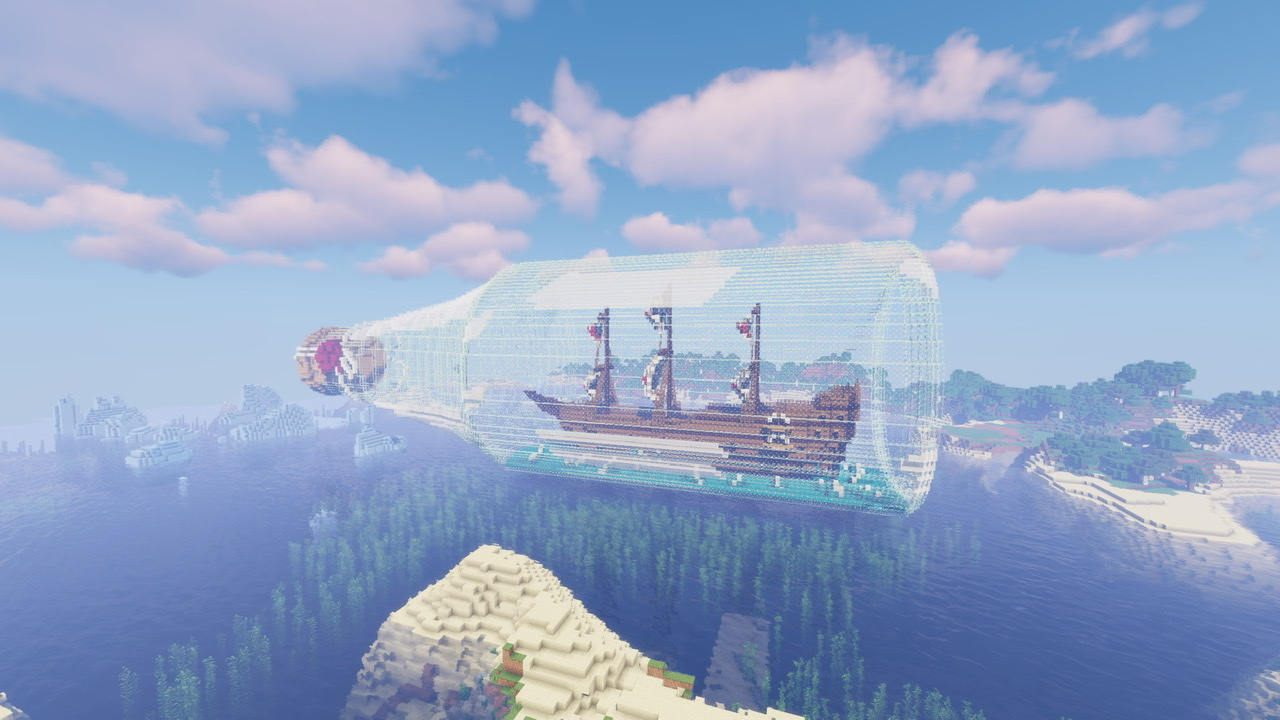 Jack Sparrow would be less than thrilled, but everyone else should be more than impressed.
Why is this an awesome creation? Building ships in bottles has been a popular pastime for those with a steady hand and a keen eye for detail, but BlunderCraft took it to a new level by building one in Minecraft. You can see it mid-construction below, which is somehow even more impressive than the finished product.
21. Space Shuttle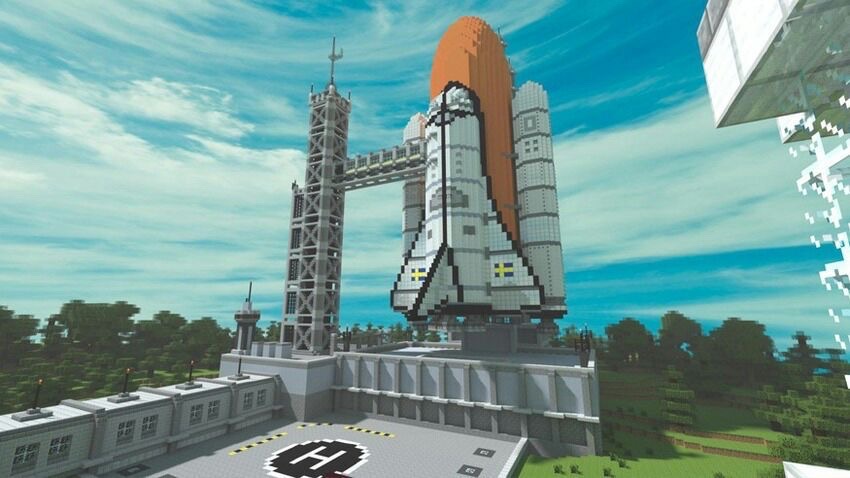 Downloading this map in 3...2...1...
Why is this an awesome creation? This is the closest most people will get to a spaceship in their lifetimes, but the detail and time that went into this stellar creation by Corpeh almost makes you believe it's the real deal. You can explore secret rooms around the launch pad, ride up to the cockpit of the shuttle in a working elevator, or just hang out in the control center. 
20. Star Wars Death Star Run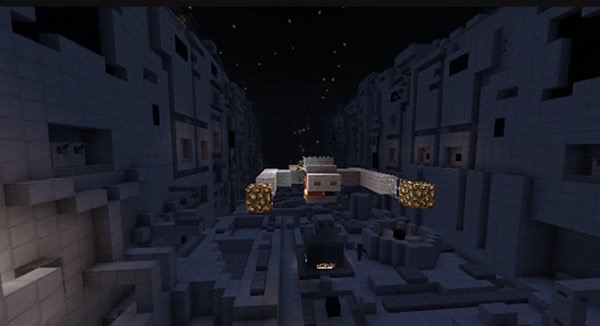 Does Luke Skywalker make it to the end? Watch and find out.
Why is this an awesome creation? Movie magic meets Minecraft in this highly-detailed retelling of one of the greatest scenes from the original Star Wars trilogy. You can look on as Luke Skywalker makes his Death Star Run, trying to thwart Darth Vadar and the forces of evil. The ending is dynamite - literally.
19. Sonic the Hedgehog Mini Game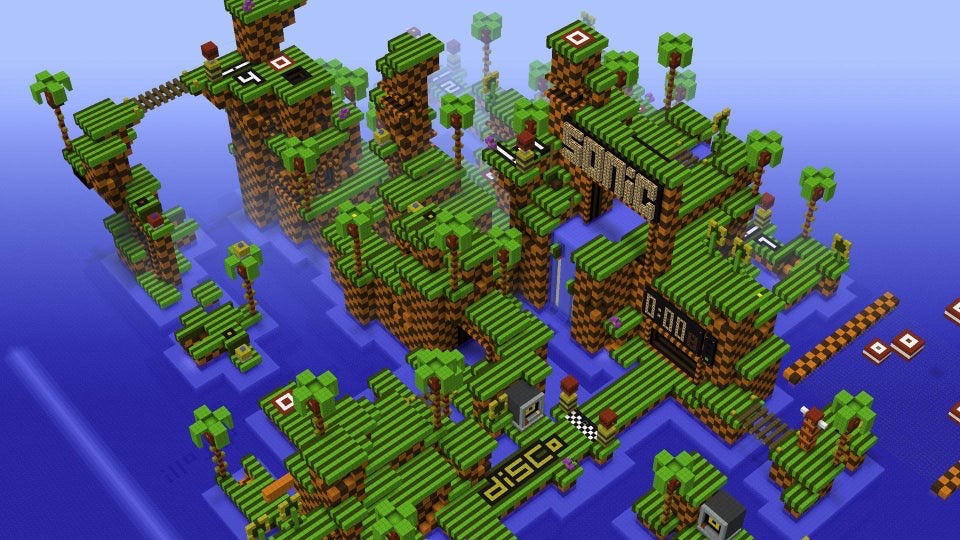 You don't have to join Hypixel to enjoy this exciting mini game.
Why is this an awesome creation? You can actually play this mini game by FVDisco in Minecraft once you download it. You can perform speed jumps and use super springs as you race around the circuit to beat your best time, and there's an actual live clock that tracks your progress. How cool is that!
18. Edgecraft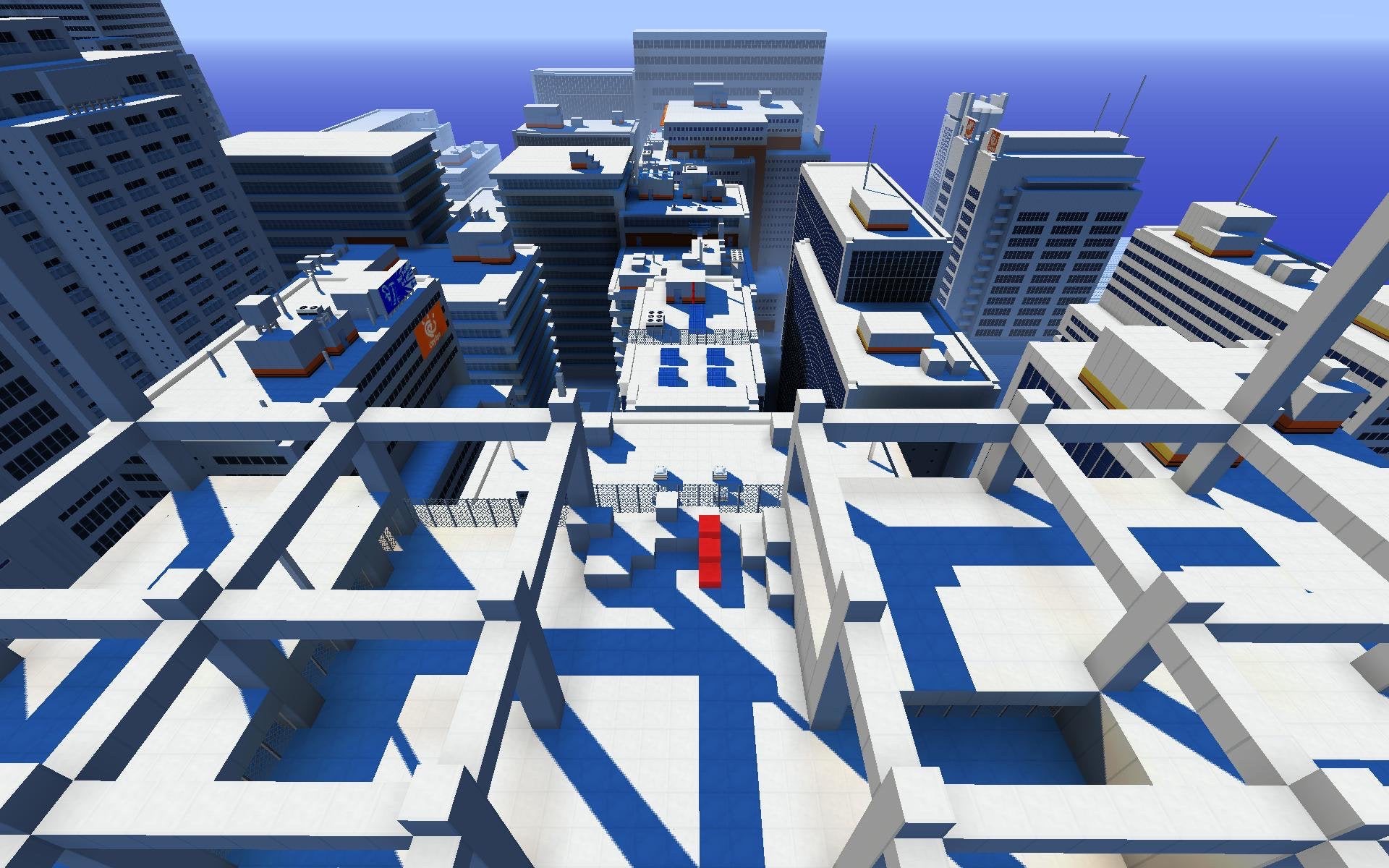 Ready to do some parkour? Now you can play Mirror's Edge in Minecraft. And yes - that's a picture from Minecraft.
Why is this an awesome creation? There are very few creations in Minecraft that actually make you question if it's real life or not, but this is one of them. The sharp edges and lines of the beloved game Mirror's Edge make for the perfect template for the block world of Minecraft, and the result is so close to the original that we almost can't tell them apart. 
17. Terran'Syl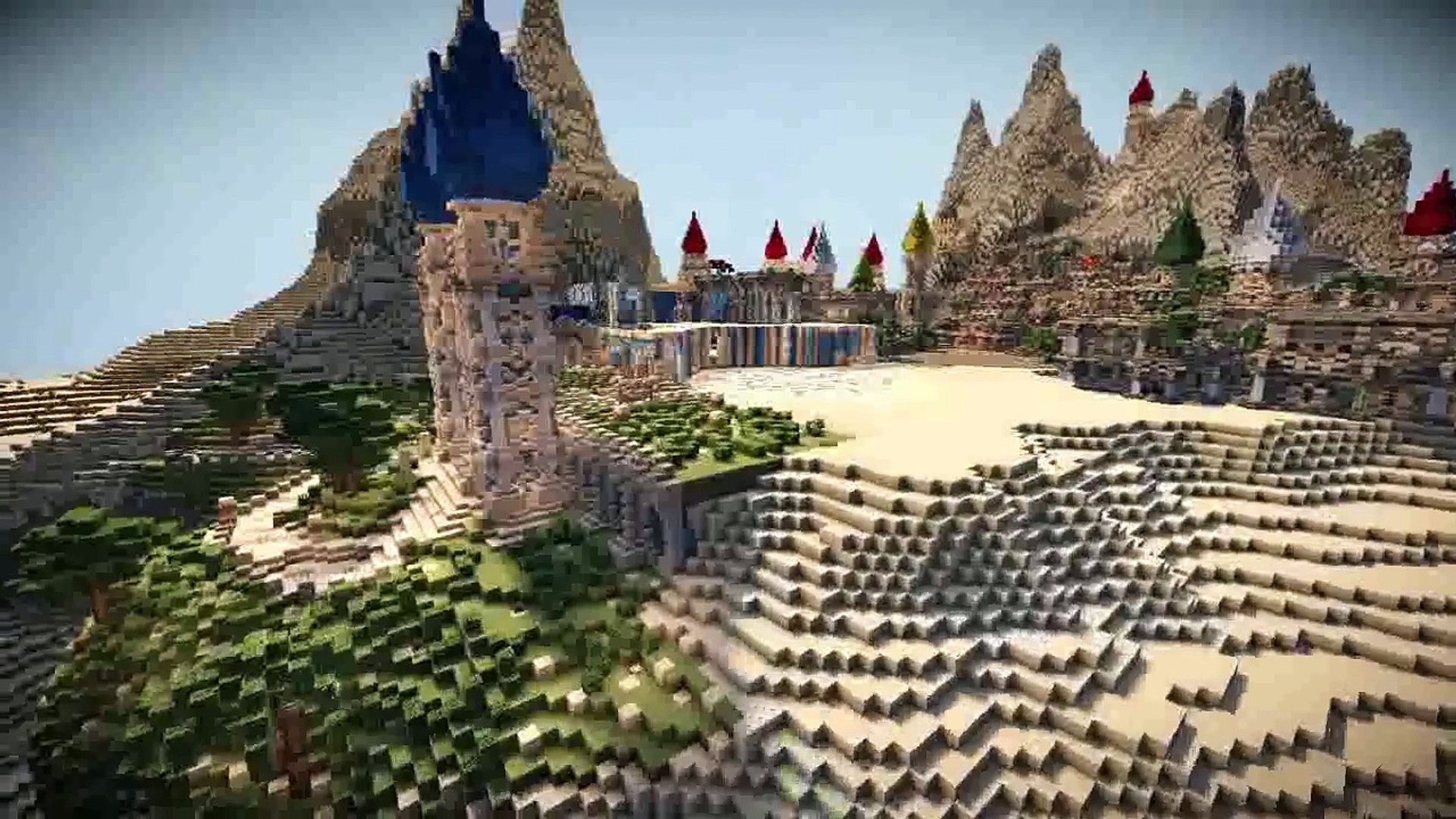 A beautiful Arabian city situated in the desert, and an impressive time lapse build video to go along with it.
Why is this an awesome creation? There's just something incredibly breathtaking about Middle Eastern architecture, and MOGames7 captures all of it in this impressive city nestled in the desert hills. You can watch this city being built block by block from the highly intricate walls to the colorful shops and houses, and marvel at the level of building mastery that went into this creation.
16. Planet Earth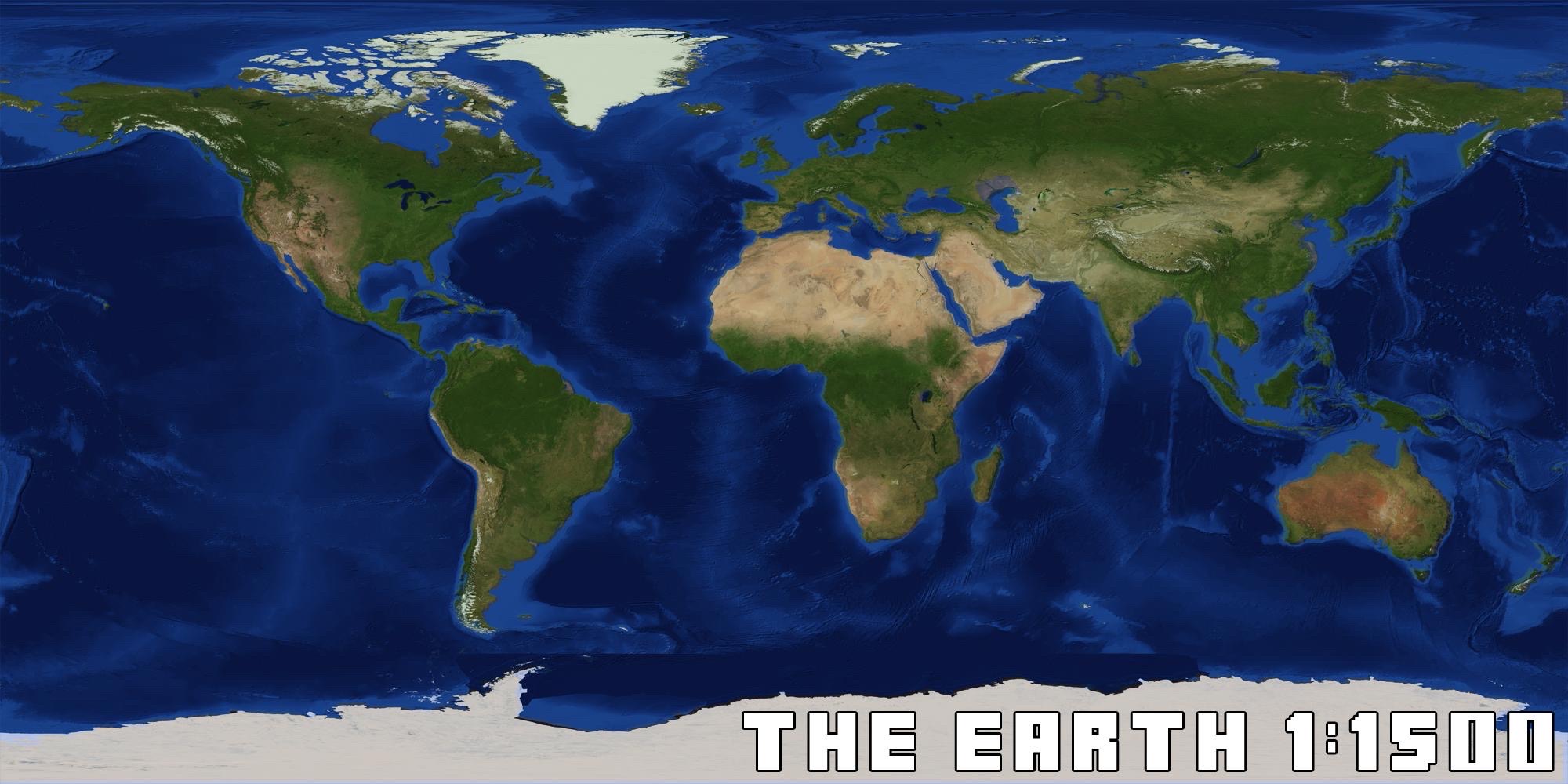 Ever wonder what Planet Earth is made of? The answer is about 135 billion blocks.
Why is this an awesome creation? You no longer have to leave the comfort of your home to travel the world and explore its natural beauty. LetsLente built a 1:1500 scale version of earth and packed it all into this enormous cube. You can find many of our planet's natural landmarks including the Sahara desert, Mount Everest, the Mariana Trench, and more.
15. Winter Palace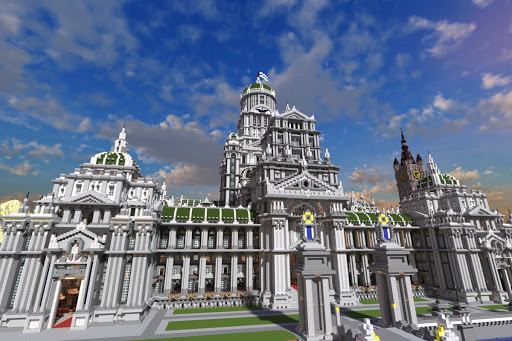 This absolutely gorgeous palace is something out of an imperial dream.
Why is this an awesome creation? You can't beat the level of detail and crafting mastery that went into the building of this palace, from the towers and halls to the interior which is just as meticulously crafted. This palace is part of the Imperial City server, which also features many other incredible buildings by its users. 
14. Working Computer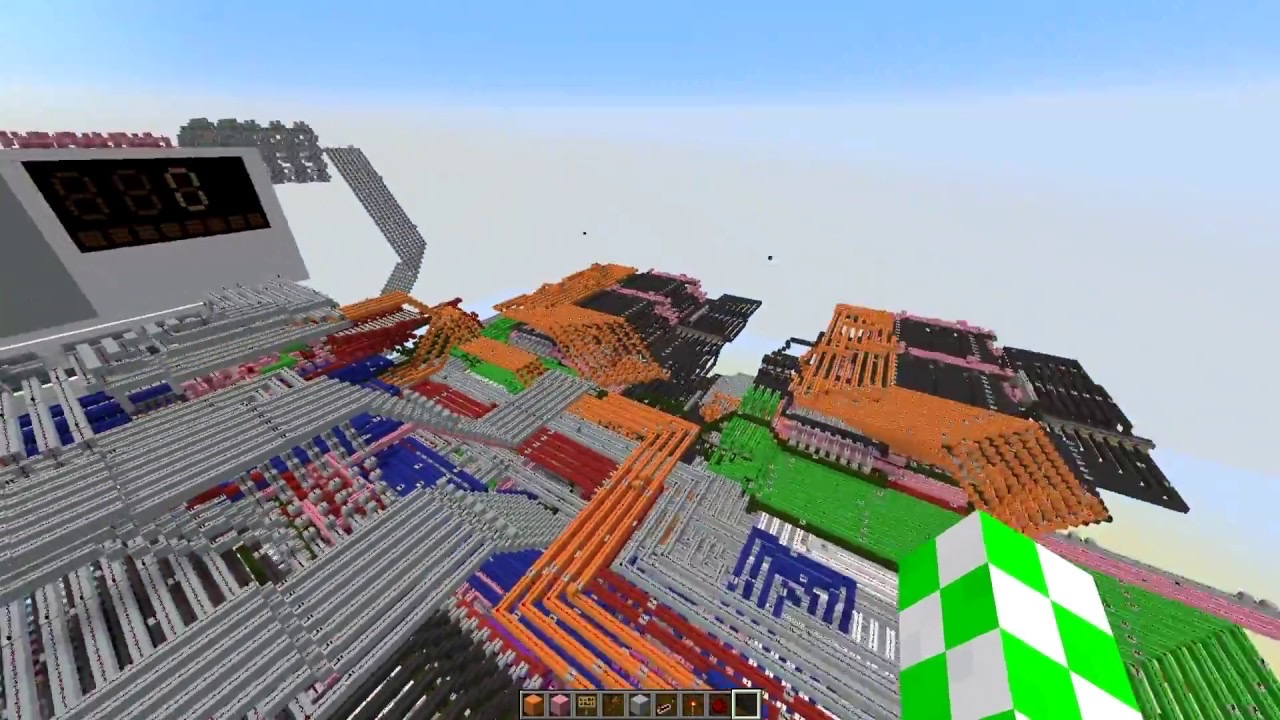 'Step aside Watson, there's a new supercomputer in town.
Why is this an awesome creation? Redstone circuitry definitely adds another layer of intrigue to Minecraft, but I don't even think Mojang expected someone to take it this far. Legomasta99 managed to create a fully functioning computer with over 28 kbytes of memory and 31 bytes of RAM. You can program it to perform certain tasks, including long division. Now you're not playing video games, you're doing math.
13. Mines of Moria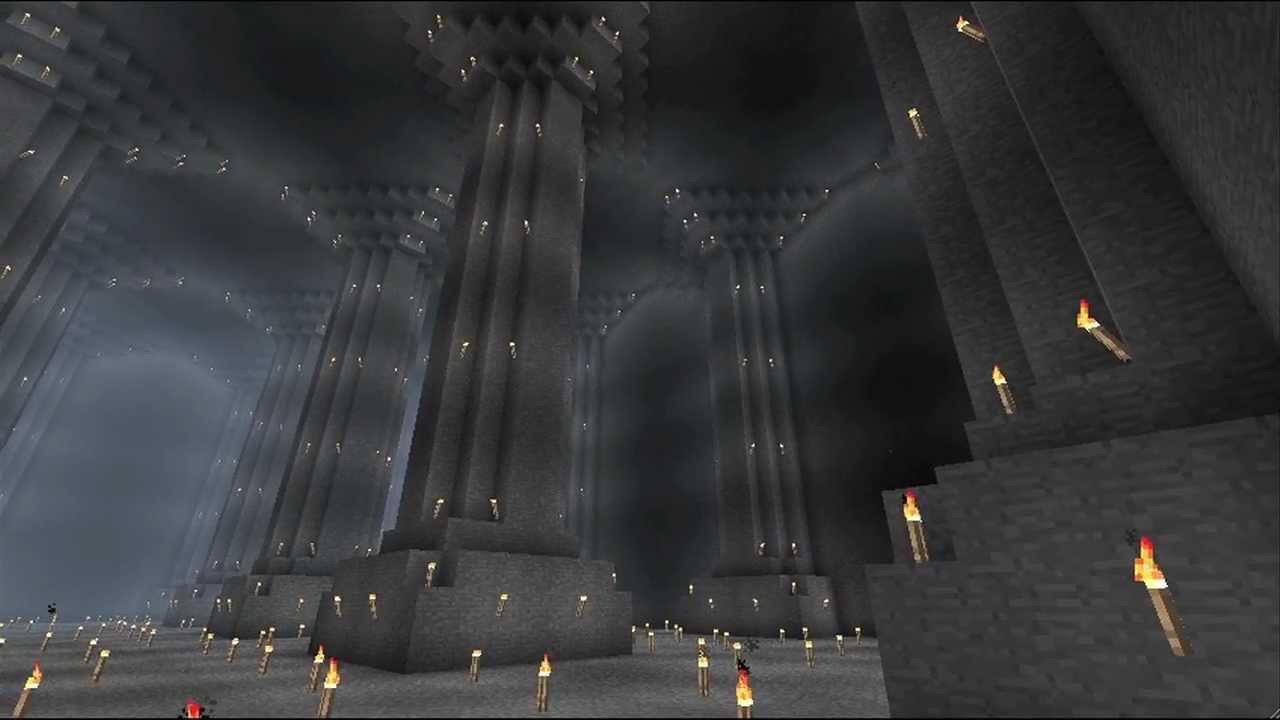 This ancient subterranean city will have LOTR fans looking over their shoulder for the Balrog. 
Why is this an awesome creation? Made by Ebglminecraft their team, the level of detail that went into every stone pillar and archway is simply stunning. Torchlight adds just the perfect touch of gloom to this once-proud Dwarven city, but what is even more impressive is that this build was made in creative mode in eight days without any mods, cheats, or other assistance.
12. Warucia Castle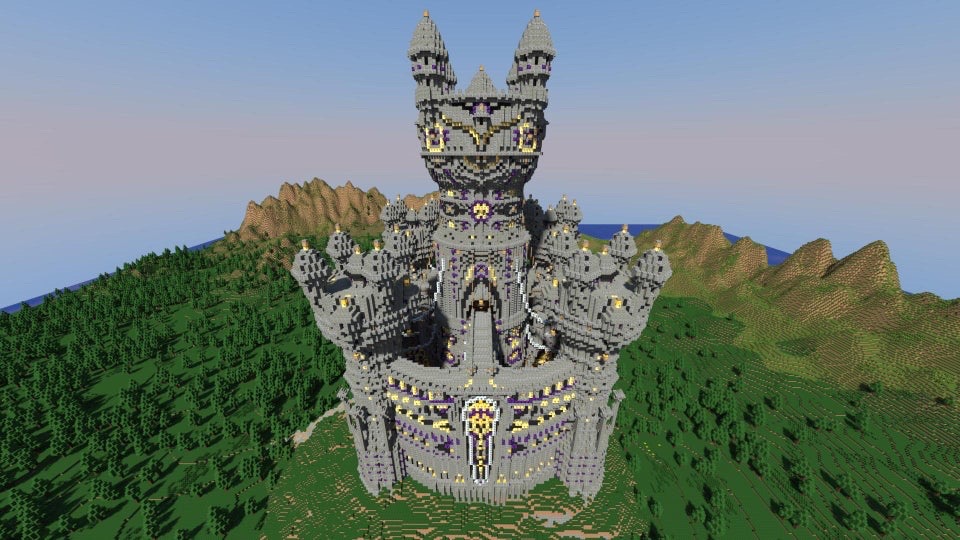 Admit it - if you were the king of Minecraft you would want this to be your castle.
Why is this an awesome creation? This imposing structure is extremely intricate both inside and out with wide, domineering towers and turrets. At night this structure comes to life with perfectly placed redstone lanterns, giving the castle a rich, dark ambiance. If this castle existed in real life it would definitely be on our bucket list to visit.
11. Cyberpunk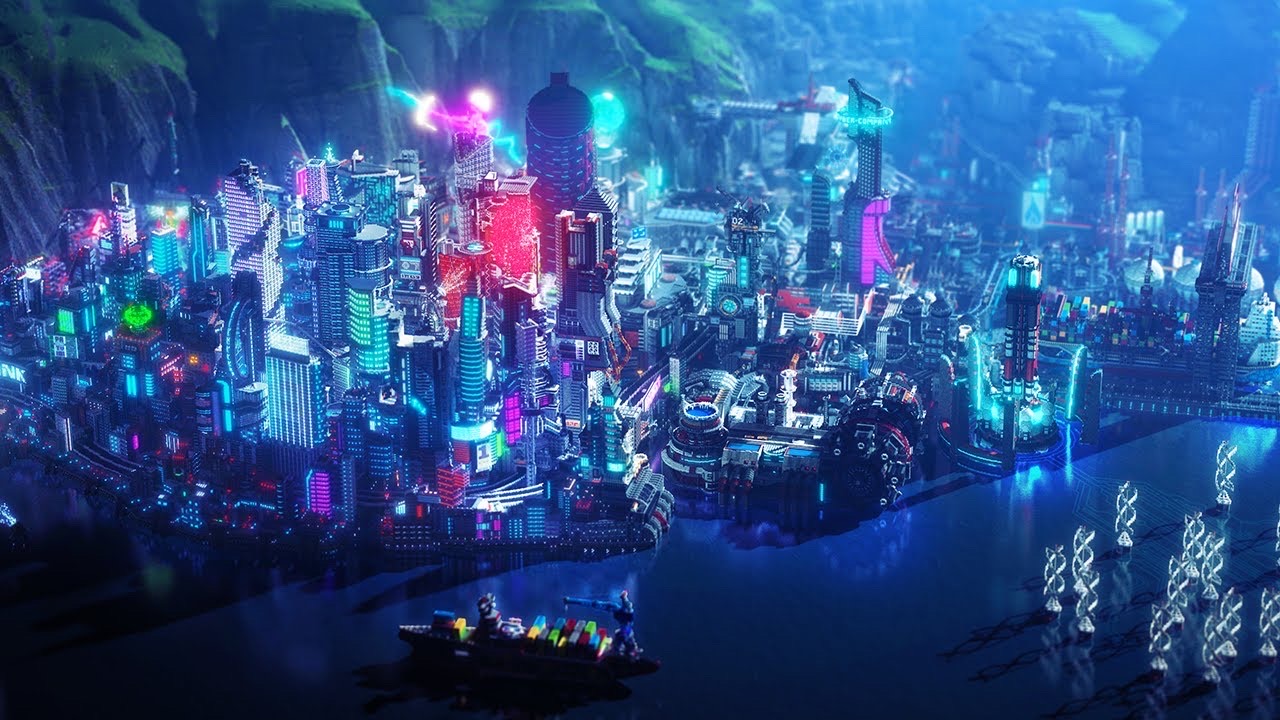 Night City never looked so good in this Minecraft replica.
Fans of Cyberpunk will love exploring the highly detailed neon city, but unlike in the game you can see what it actually looks like in the day in Minecraft. This city is true to the original from the neon lights to the futuristic buildings, and you'll almost forget you're not actually playing the game as you wander down its streets.
10. Babylonia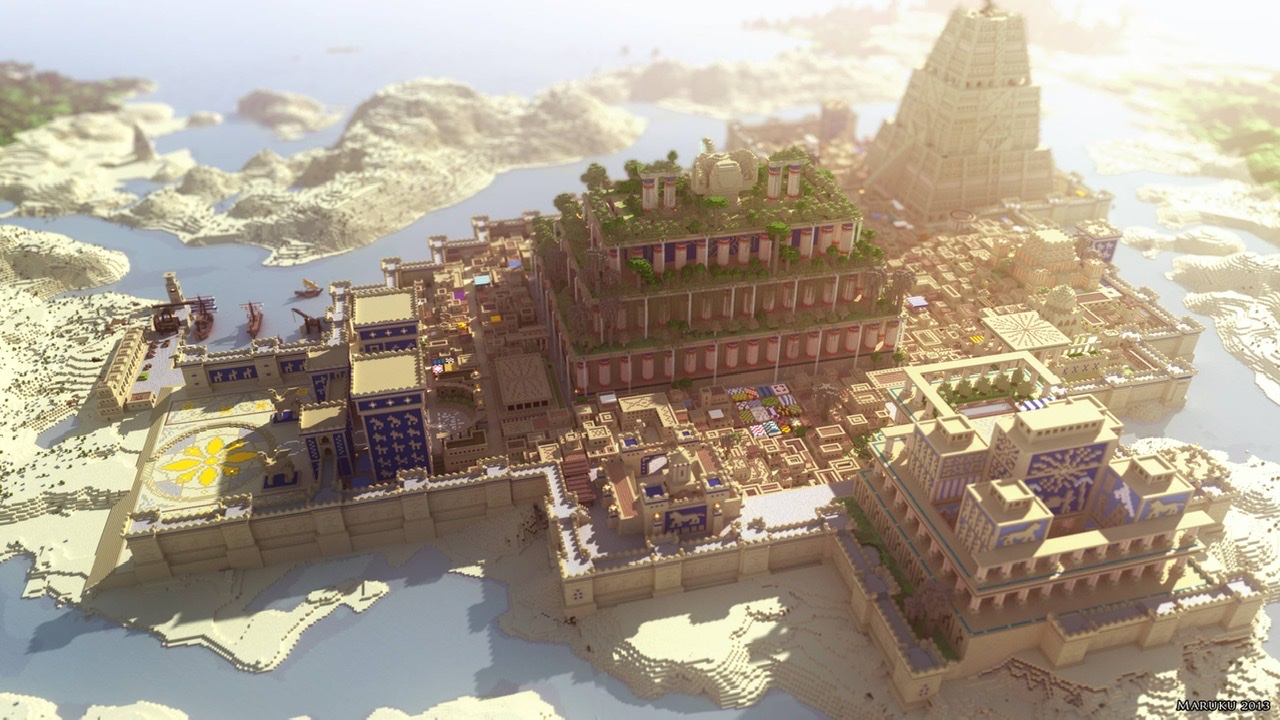 Nothing stays lost in Minecraft, not even entire ancient cities.
Why is this an awesome creation? Roi_Louis's version of Babylonia is full of beautiful architecture from the giant pyramid to the dazzling palace, but the most unique part of this city is the jungle temple in the middle that incorporates nature right into its very roof and walls. You can easily get lost among the houses and bazaars of this metropolis, and you can imagine what this city must have looked like in its prime.
9. The Golden City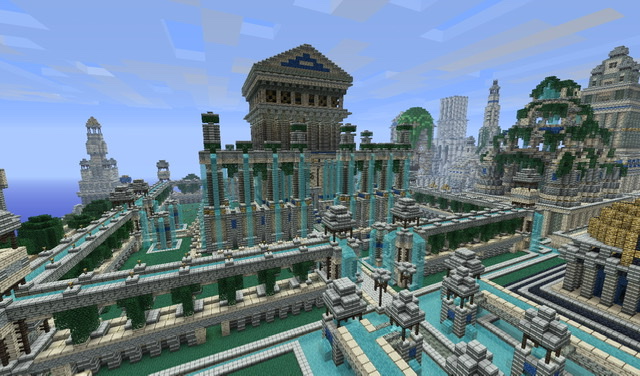 When a bunch of people with a passion for building come together, the result is a Golden City.
Why is this an awesome creation? It took a village to build this city from Sanacraft, and you can see all manner of beautiful buildings from museums and the city hall to bridges and mansions. The city practically takes up the entire world, and it would take a long time to fully explore its many creations. If you want to be part of a project like this, there are multiple other active collaborative servers out there to be found.
7. The Acropolis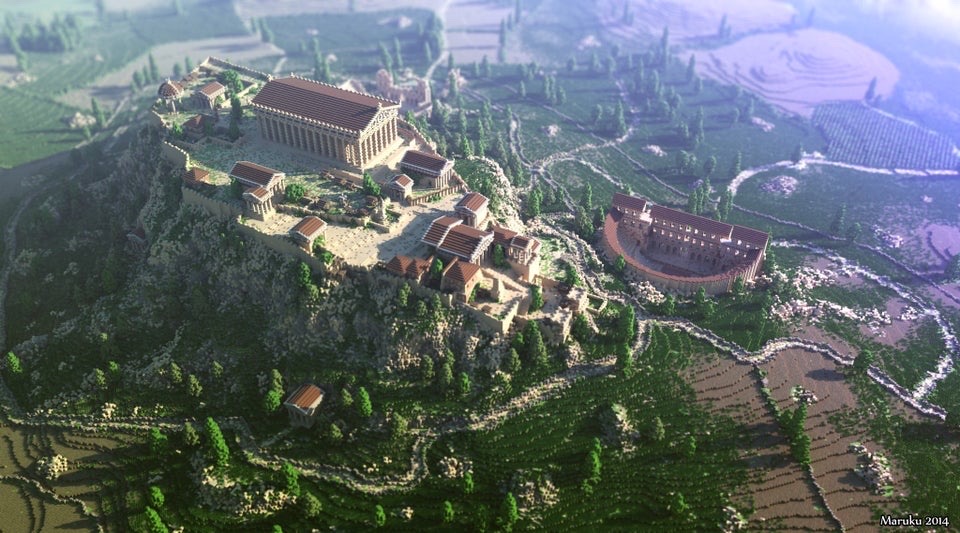 This should definitely satisfy the Gods, or at least Athena.
Why is this an awesome creation? The real Acropolis was located in Athens, and was an entire temple-city dedicated to the goddess Athena. Gtofan74 went to great lengths to ensure that this is an accurate depiction of what the Acropolis looked like in its prime, and was able to capture the Greek architecture perfectly.
6. Cathedral of Artium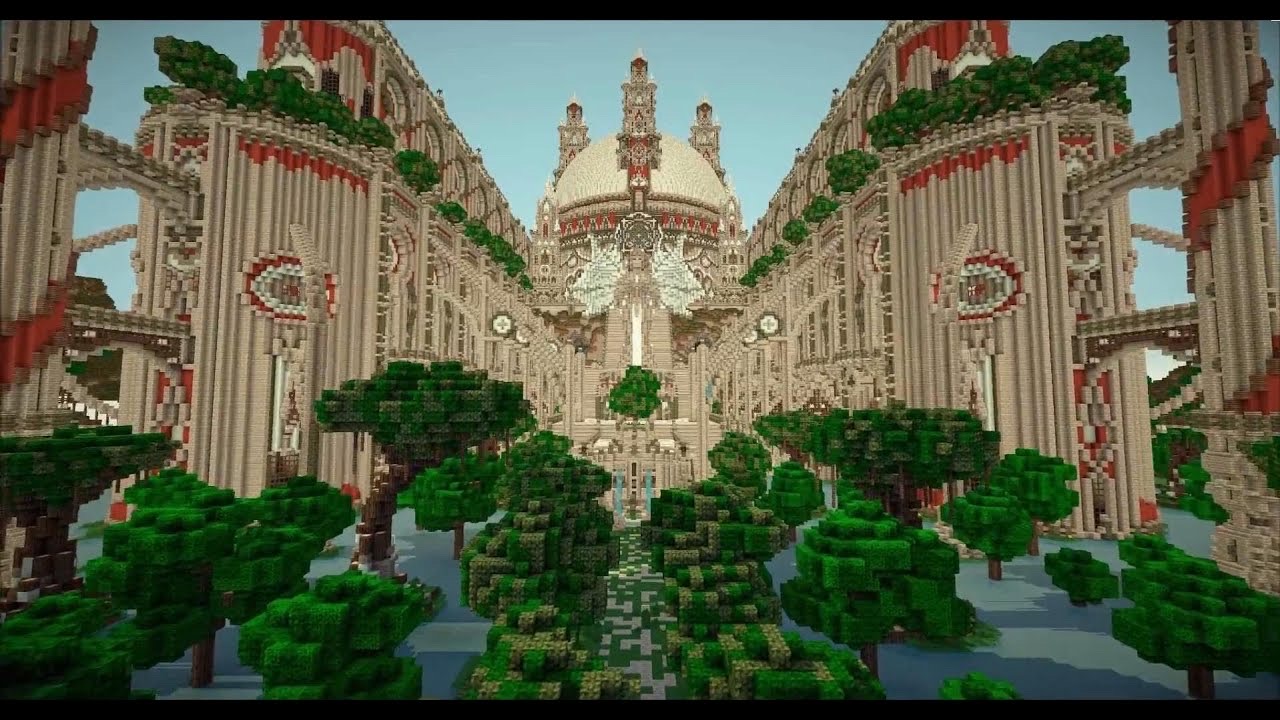 While some of the best builds are built based on existing structures, this one came entirely out of one crafter's mind.
Why is this an awesome creation? There's just something so humbling about visiting an enormous, gilded  cathedral, and with this downloadable map you can visit the most impressive one in Minecraft. This massive structure starts at the bedrock layer and reaches into the clouds, with intricate crafting the whole way up. If Creoluicis's cathedral existed in real life, it would put every other one to shame.
5. Minecraft Acid Interstate V3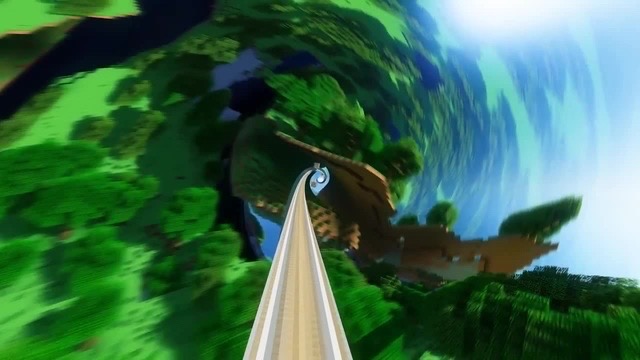 This is one of the most relaxing and satisfying Minecraft videos ever made. 
Why is this an awesome creation? What did MiningGodBruce do when they didn't know what to build? They dug one way for a very, very long time (over 13 months). Then they laid down a high-speed rail, condensed an hour and a half worth of minecart travel into under three minutes, and watched in awe as Minecraft twisted, flowed, and swirled all around.
4. Medieval City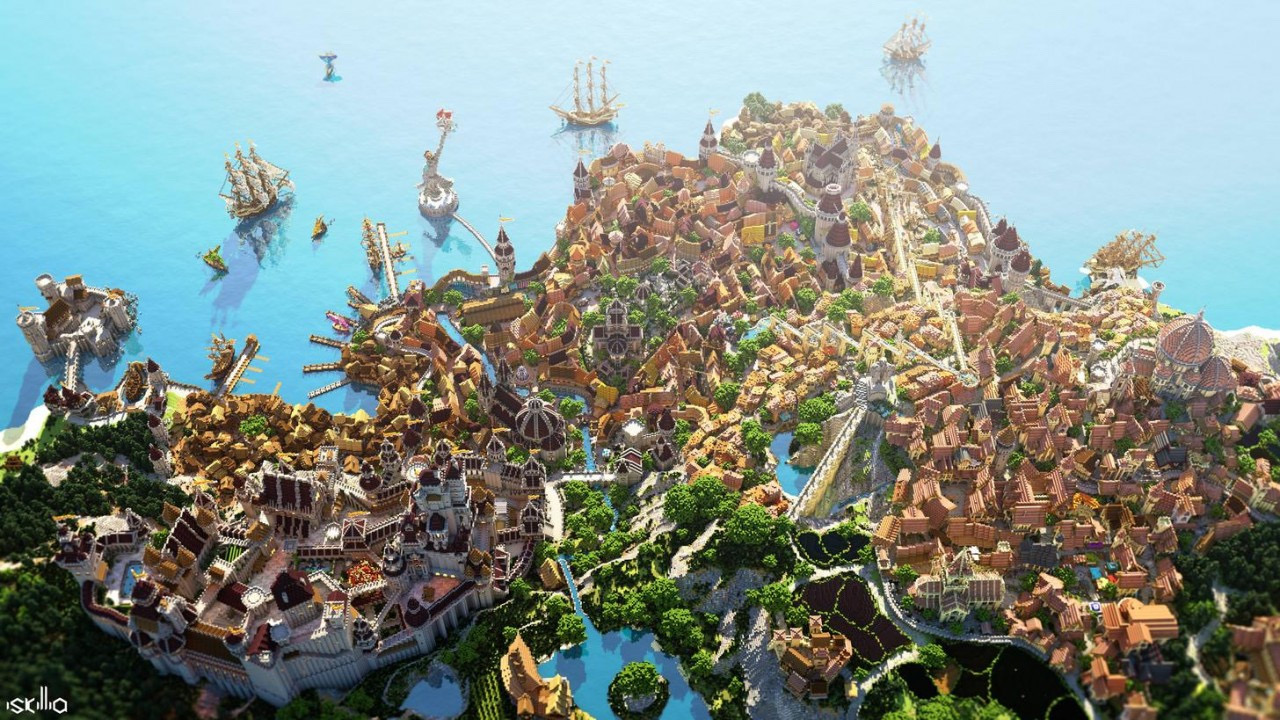 Step back into Medieval times with the map that puts other exploration maps to shame.
Why is this an awesome creation? You'll want to download this map immediately, and get to exploring. Easter eggs are tucked into the dusty corners and narrow alleys of this exquisite city, rewarding those who traverse its depths. From the gorgeous castle to the houses to the ships in the harbor, every bit of this map is accessible, and every bit is incredibly crafted by the ElysiumFire team.                                                                                                                                                                        
3. Witchcraft and Wizardry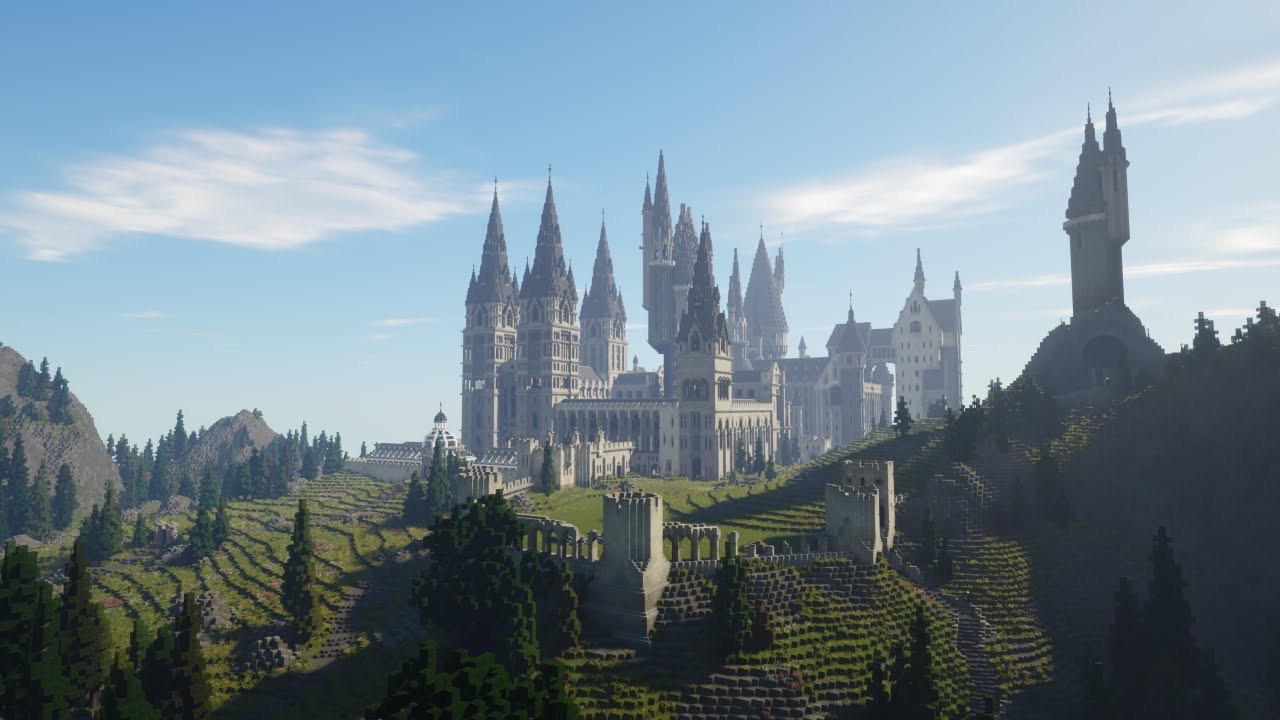 Just because you didn't get your letter doesn't mean you can't enjoy Hogwarts.
Why is this an awesome creation? It's not bad for a bunch of muggles, in fact it's a magical creation that incorporates the most popular places from the world of Harry Potter. Another collaborative effort by The Floo Netowork,, this map is impressive not only for its accurate depiction of places such as Hogsmeade and the Ministry of Magic, it also encompasses many of the things that make the wizarding word so alluring - including the ability to cast spells.
2. WesterosCraft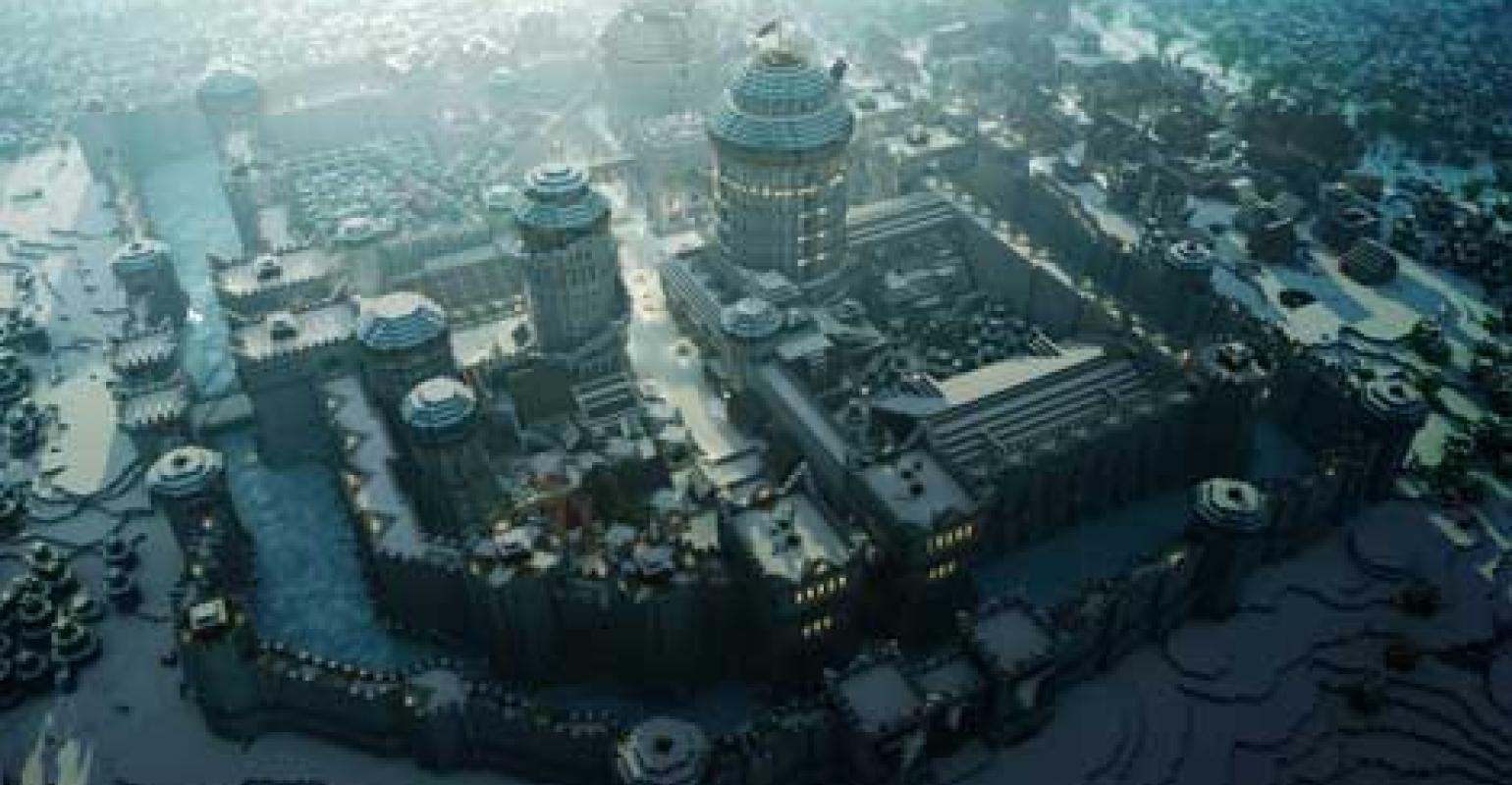 The entire map is Westeros, and the builds are incredible.
Why is this an awesome creation? Every city in Westeros is captured in absolutely perfect detail, and it took more than two and a half years and 175 different crafters to complete this massive map. You can see from Dorne to beyond the wall and everything in between, and no matter how you felt about the show's ending you'll love this epic replica.
1. Minecraft Middle Earth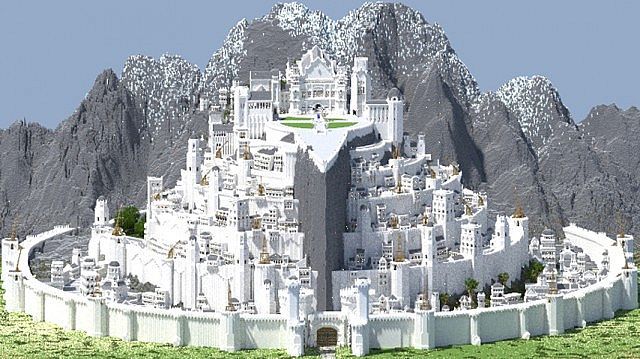 LOTR fans have found their haven, and there's still work to be done for those who wish to contribute.
Why is this the most awesome creation? This server is dedicated to creating the entirety of Middle Earth, from Minas Tarth to Andrast. Multiple cities have already been created but several more are still in progress, and if you want to add your building prowess you are welcome to join in the crafting fun. This is the epitome of Minecraft creation, and the most mind blowing build out there.
If you enjoyed this article, you may also be interested in:
Image Gallery