Top 10 Best Minecraft Servers 2019 With The Most Players
Updated: 07 Jun 2020 1:10 am
Servers are a great way to make Minecraft more enjoyable!
Minecraft servers are an amazing feature of the game!
Do you ever get bored of playing standard Minecraft by yourself? Servers offer some pretty cool ways to break out of that routine! Try surviving the hunger games or maybe even roleplay on an economy server. Minecraft servers are your oyster!
*To play on a server, copy and paste the IP address. Then, select "multiplayer" on Minecraft's home screen. Click "add server," and paste the corresponding IP address. Once you click "done," you can officially join the server!
10. Pixelmon Reforged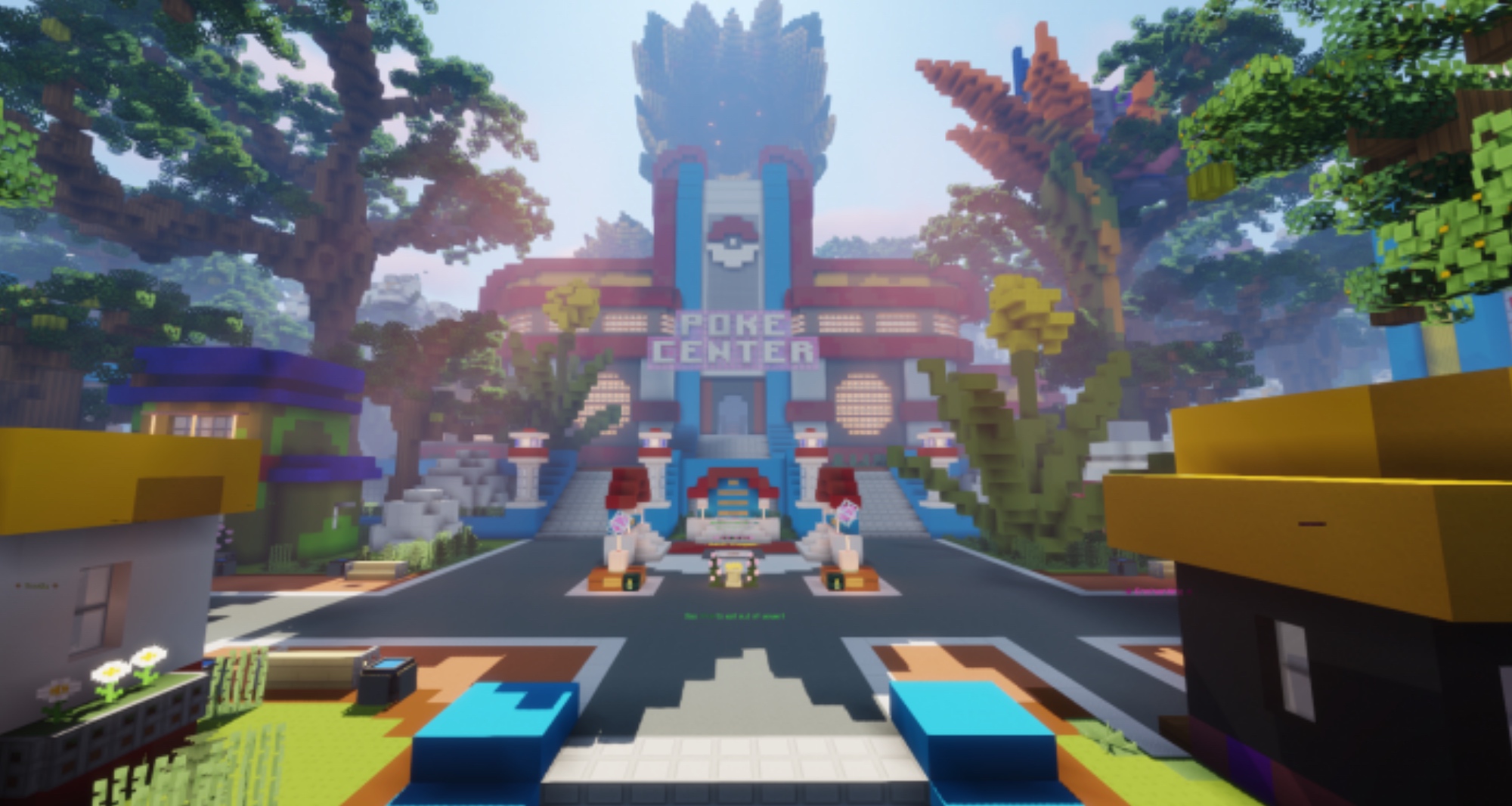 Gotta catch 'em all on Pixelmon Reforged.
Pixelmon Reforged is a server built to entertain you. Tons of content has been added through a modpack, which is required to play (you can install it here). With all the third-party involvement, a lot could go wrong but an active, committed staff ensures the server runs perfectly.
What's awesome about this server:
PokeBuilder is an ingame mechanism that's added through the modpack. This unique building index is fun to break the vanilla-esque
PokeHunter is a cool feature that leads you to capture Pokemon that the developers have created in-game. Go catch 'em all!
Daily Challenges will keep you coming back and feeling refreshed. Everyday new challenges await you to be conquered. Show them who's boss!
Server Details:
IP: pixel.mc-complex.com
Player limit: 1,000
Uptime: 99.6%
Check out their website here.
9. Arkham Network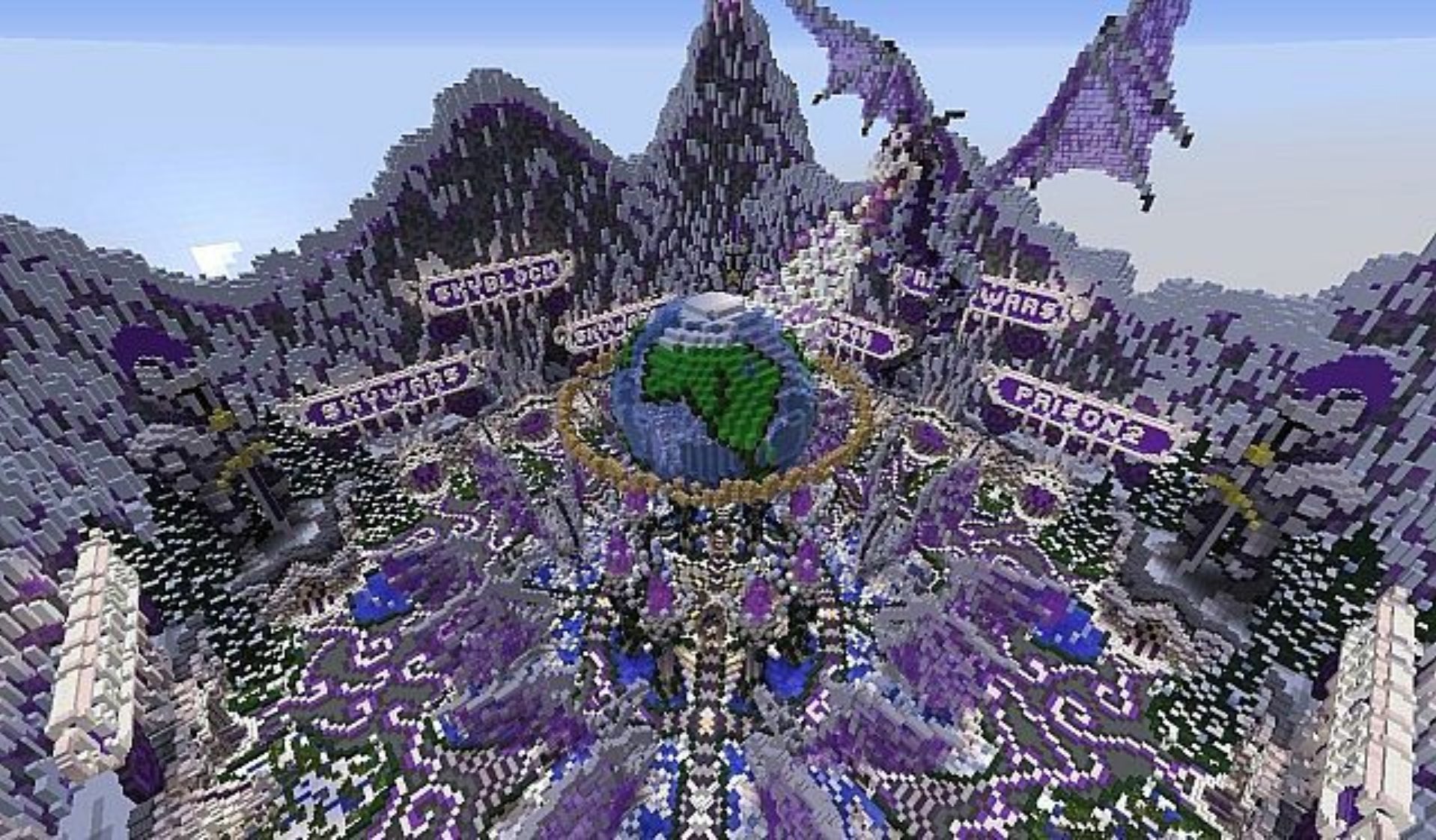 A colorful display at the server spawn.
Arkham Network is known for its custom plugins and evolving systems. This server has great leadership as you play one of the many minigames they offer; minigames you won't find anywhere else are on Arkham!
What's awesome about this server:
Unique styles of the skyblock minigame. From a Superman theme to standard skyblock, you can find a spark of rejuvenation playing this classic game.
A creative server that allows you to build to your heart's desire. You can assign game modes to your plots and create cool settings. Build a spiraling PvP arena and compete with the Arkham community!
Play Prison and look for gems that open awesome enchantments for your weapons and backpack. Don't hold back from chasing these advantageous perks!
Form parties and play minigames with friends. You can enter the server with a number of friends and go head to head!
Server Details:
IP: mc.arkhamnetwork.org
Player limit: 1,141
Uptime: 98.4%
Check out their website here.
8. Mineplex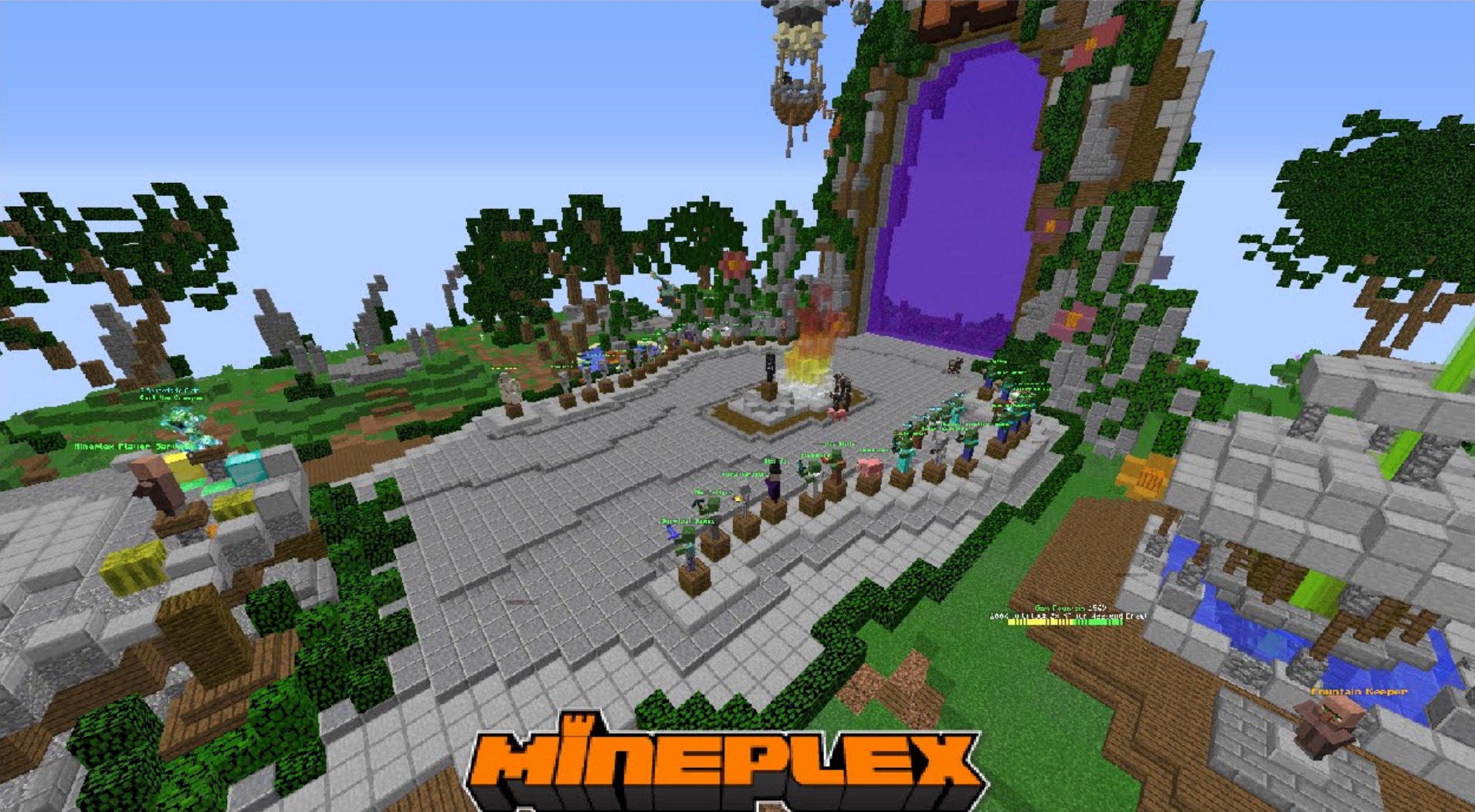 The Mineplex spawn has a lot of cool details.
Mineplex features a ton of minigames. The developers made an effort to incorporate both classics and new options into their server, which makes it suitable for all players. This server boasts one of the best communities in Minecraft as their large admin base facilitates a smooth-running server.
What's awesome about this server:
Play Mineplex's minigame: Draw My Thing! This unique gamemode allows you to show off your artistic skills in front of the Minecraft community! Or try to guess what your friends are drawing!
Play a Hunger Games inspired gamemode, Survival Games. You'll face 23 other players in an arena with a goal to be the last one standing. Will you survive the Survival Games and be a heralded victor?
Team up with friends and play Clans. Build an awesome base, defend it and conquer others, or travel into the badlands and defeat bosses for a chance to earn legendary weapons.
In Bridges, spawn on an island and rapidly collect resources before countering your opponents in PvP. With a team of nine of other players, you'll face three teams after 10 minutes of protected looting. Gear up!
Server Details:
IP: us.mineplex.com
Player limit: 3,631
Uptime: 99.0%
Check out their website here.
7. Performium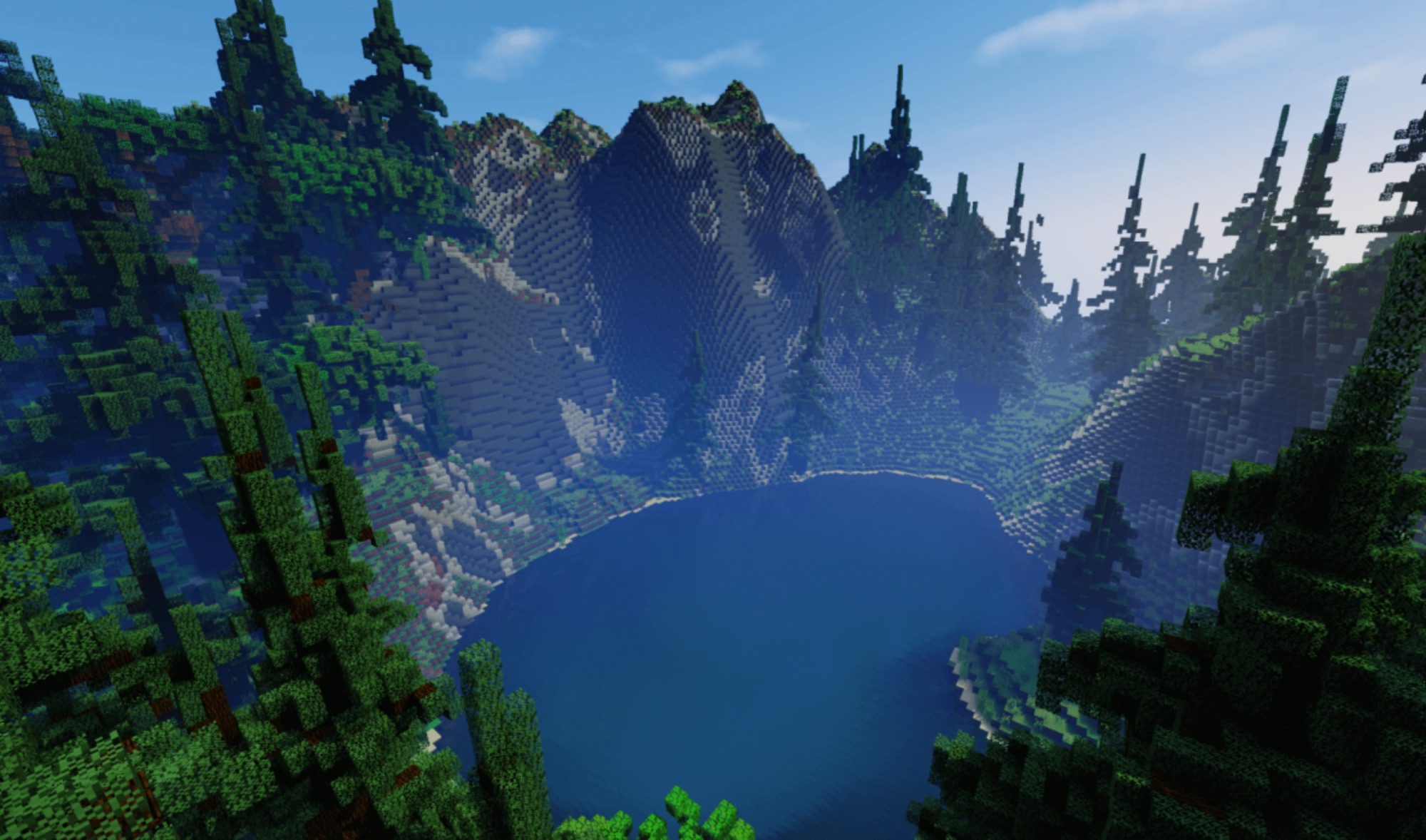 This epic survival subserver was released in June 2019 by the Performium team.
The performium server is hosted by DoniBobes and RGAMinecraft, some of the biggest Minecraft youtubers currently on the platform. Multiple servers and minigames are within Performium, so there's a lot to do! Maybe you'll get lucky and be featured in one of their youtube videos.
What's awesome about this server:
Play on a survival world… but in space! This awesome addition to Minecraft was released in June 2019 and gives you a new way to play the game. Put on your space helmet or hold your breath and see what you can do!
Enter the Epic Survival Server and engage in McMMO to level up! While fighting the community, utilize the economy market set up so that you can get some sweet gear.
Create a personal shop that you can sell a product of your choice at a price you set. Reuse this currency to get cool items yourself and buy from the other shops!
Server Details:
IP: mc.performium.net
Player limit: 1,999
Uptime: 99.7%
Check out their website here.
6. PvPWars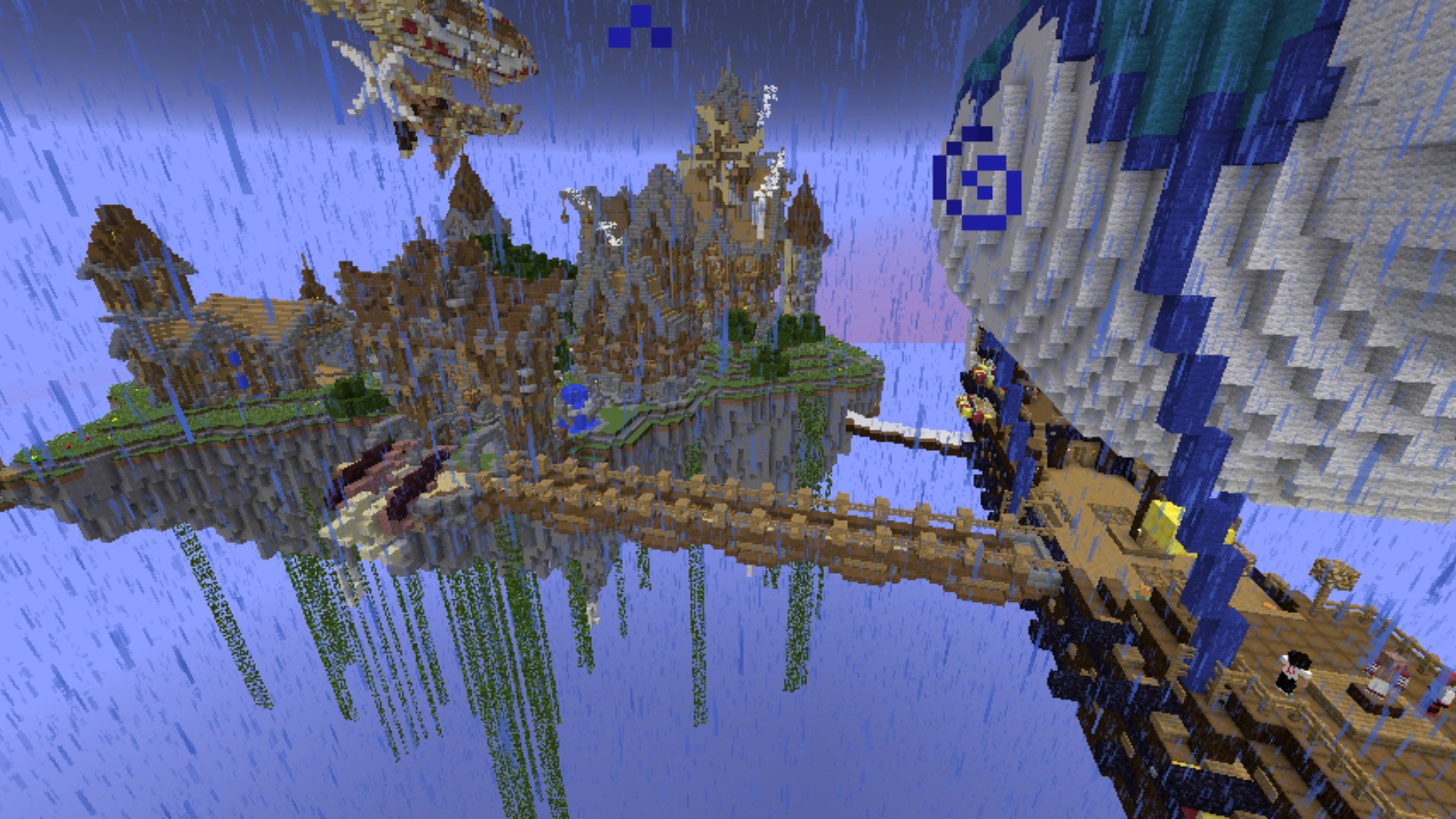 Test your combat skills on this incredible custom map.
PvPWars is a dedicated PVP server for all you combat lovers. With only 3 minigames to choose from, being skyblock, prison and factions, you can join this server and know exactly what you're getting into. Begin your journey as a PVP pro on PvPWars!
What's awesome about this server:
There are 5 types of Skyblock servers at your disposal! Choose from emerald, ice, diamond, matrix and fire to experience a unique take on Skyblock.
Play prison at your own pace or race to acquire prestige. The details of the Prison map are incredible and deserve some recognition. Check it out!
A factions server gives you a chance to build a base and face others in PvP or PvE. Everyday new worlds are generated that bring different bases into the world that you can conquer.
All servers have monetary awards for all of the top performers. You can win up to $1,025 USD!
Server Details:
IP: pvpwars.net
Player limit: 4,250
Uptime: 99.5%
Check out their website here.
5. MineHeroes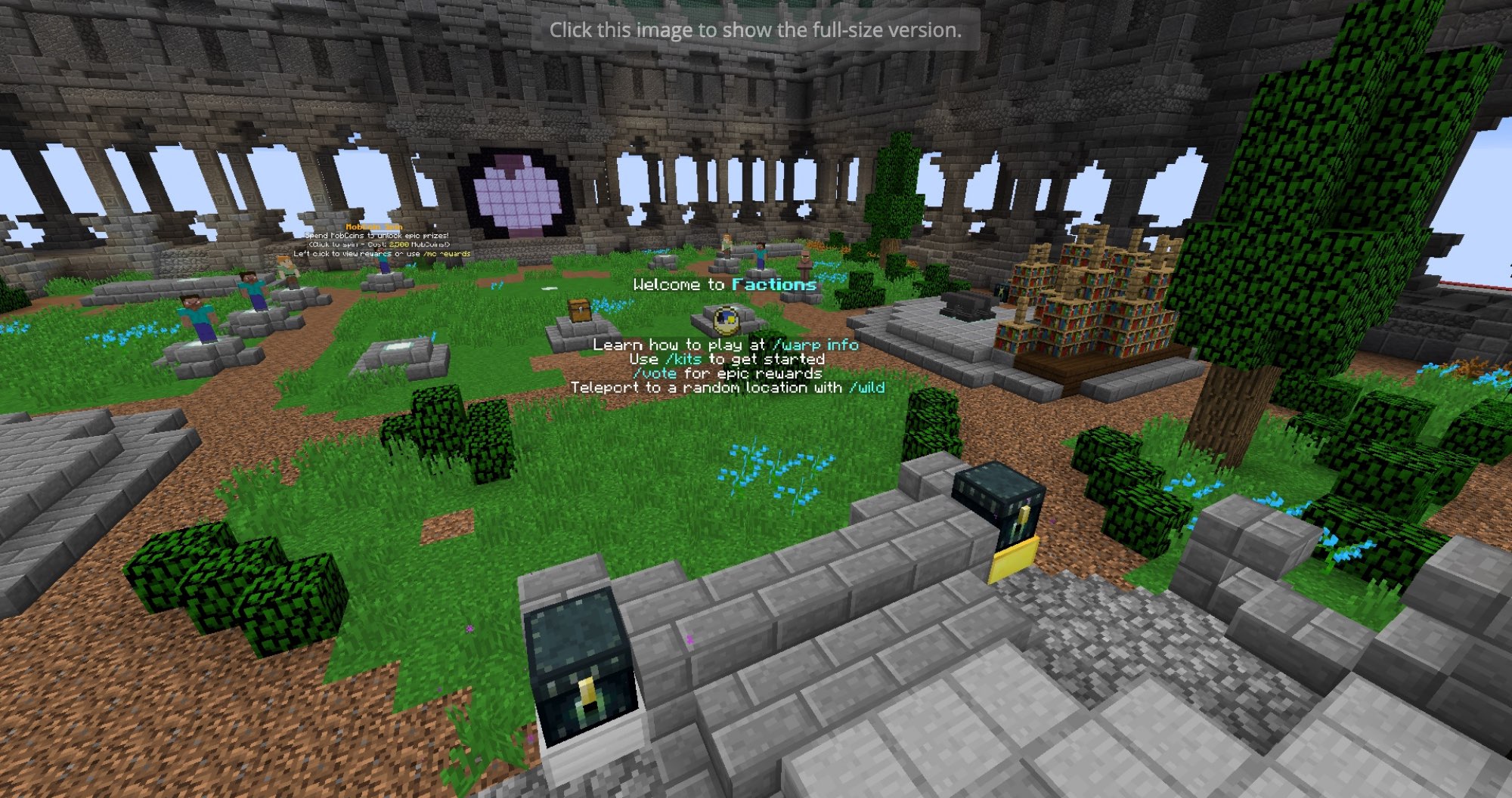 IMAMTECH and their team designed this fantasy-esque map.
Play a variety of minigames on the MineHeroes server; there's even a survival server! Rank up and get custom enchantments on your items. If you have any questions, hop onto their forums and look through their 33,000+ discussion posts for an answer. 
What's awesome about this server:
Get creative in MineHeroes' creative server. Build whatever you aspire to build, but keep it PG! The admins do not mess around and keep everyone to a high standard.
Join a survival world and claim a plot of land. Build a cool creation that will show off your skills during a server tour. Make it unique to display you!
Build your island in the sky to great measures in Skyblock. Take advantage of the auction house to acquire some new goodies and tools that could help you!
Server Details:
IP: play.mineheroes.net
Player limit: 2,500
Uptime: 99.9%
Check out their website here.
4. Minecraft Central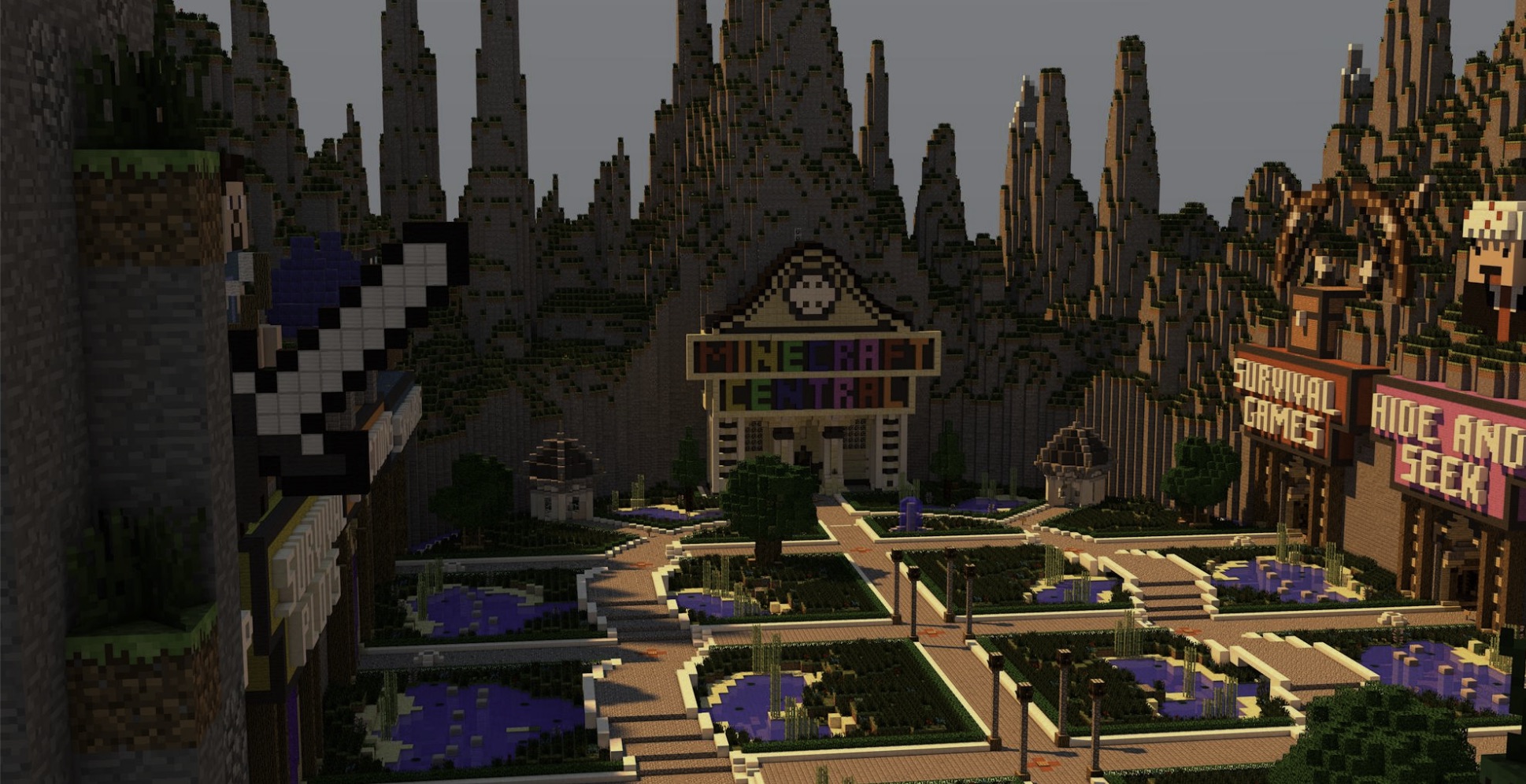 Choose which minigame you want to play inside this sick mountain.
Minecraft Central is a staple in the server community. With a variety of minigames available and awesome decorative details, it's so much fun to play! This server has been around for a long time; with their constant improvements, they'll always be one of the best.
What's awesome about this server:
Play arena PvP against ranked or unranked opponents. With 9 preset kits to choose from, you can take on your enemies in whatever fashion you're in the mood to.
Prison offers some cool enchantments, like decapitation and grinder, that could give an edge in PvP combat. Face your enemies and show them who's boss.
Try ultra hardcore! It's is an intense gamemode that combines survival and PVP aspects into one server. Mine resources to craft your personal armor that can give you the advantage when you need it most!
Server Details:
IP: mc-central.net
Player limit: 10,000
Uptime: 99.4%
Check out their website here.
3. ExtremeCraft.Net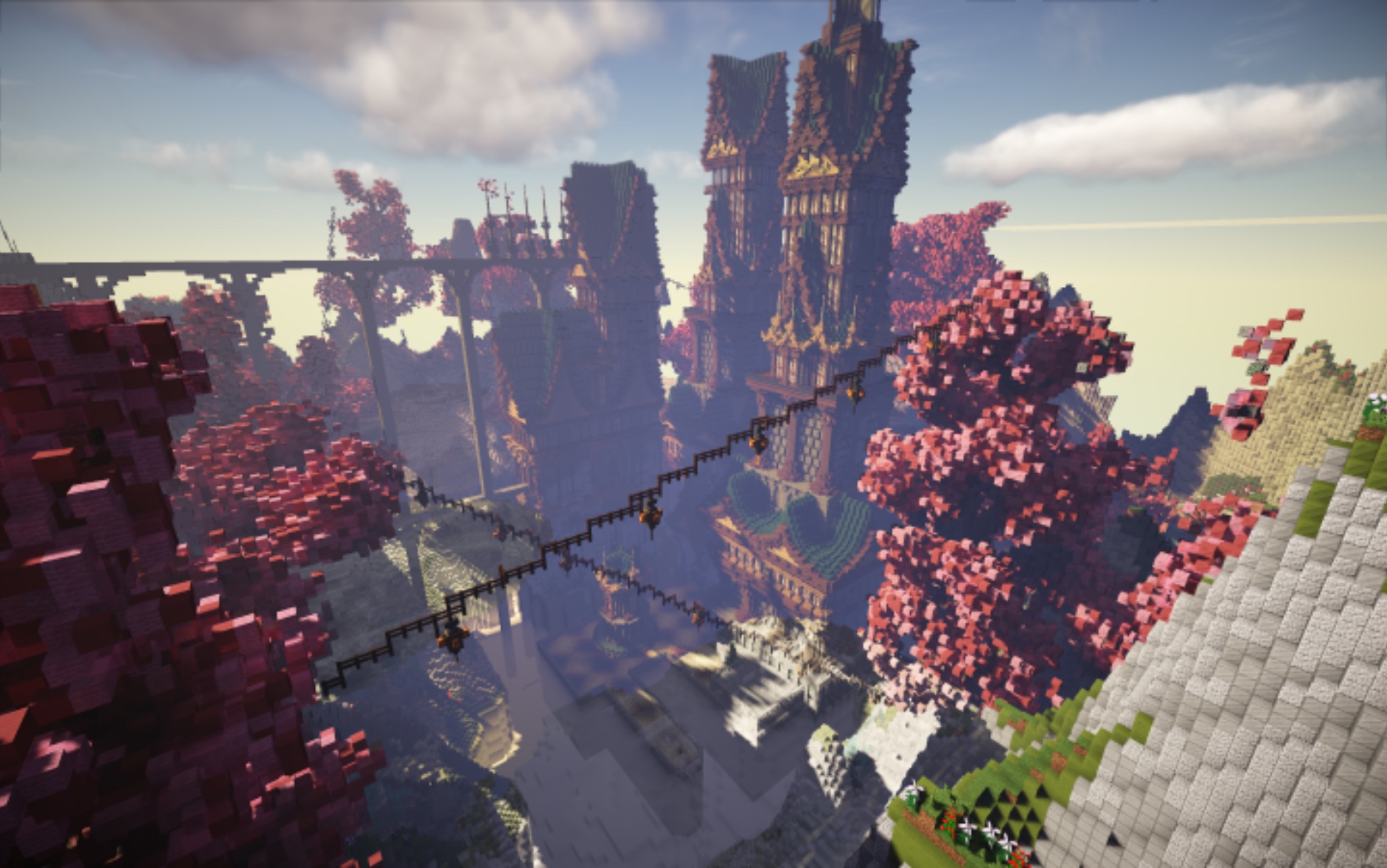 Join the ExtremeCraft.Net Community and start playing today!
ExtremeCraft.Net is a beautifully designed server. There is no dull moment as you play one of the 19 different minigames the admins have developed. This server even has hide and seek!
What's awesome about this server:
AcidIsland is a new gamemode that twists Skyblock into something original. Avoid falling into the dangerous water but don't be shy to use a boat to reach your friends and the community!
Loot chests and use what you find to eliminate enemies in the Survival Games. Show your opponents how tough you are!
Disguise as a random block and try to hide from the community in Hide and Seek. This fun elementary game has been given life in Minecraft! It offers a creative twist to those looking for something new.
Server Details:
IP: play.extremecraft.net
Player limit: 3,000
Uptime: 99.3%
Check out their website here.
2. MineSuperior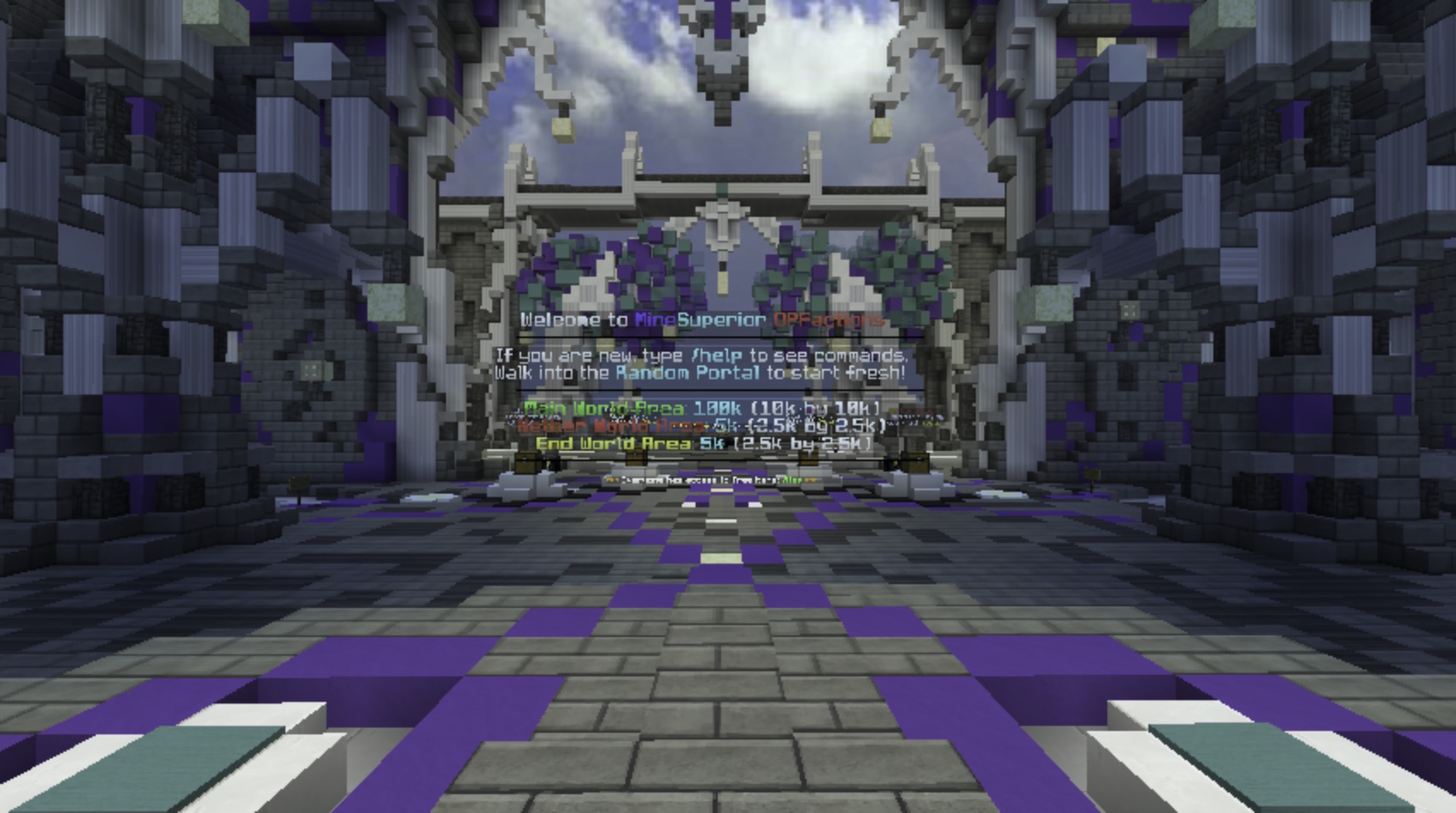 Check out this awesome OPFactions spawn!
MineSuperior is a great server that allows up to 8,000 players online at once. Its developers main goal while creating it was to "be for the players" with a simple server design. Test your skills against factions, OPPrison and more!
What's awesome about this server:
You can engage in PVP on OPPrison, kitPVP, Factions, or Skyblock. 
Try to win up to $525 in factions! Load up tnt cannons and more to protect your base from raids.
Play their newest gamemode: Towny. Join 'towns,' get a job, sell your items and maybe start your own town! 
Play the classic Minecraft challenge, skyblock, in a server setting! Spawn on your floating island and try to eliminate those on nearby islands.
Server Details:
IP: hub.mcs.gg
Player limit: 8,000
Uptime: 99.7%
Check out their website here.
1. Hypixel Network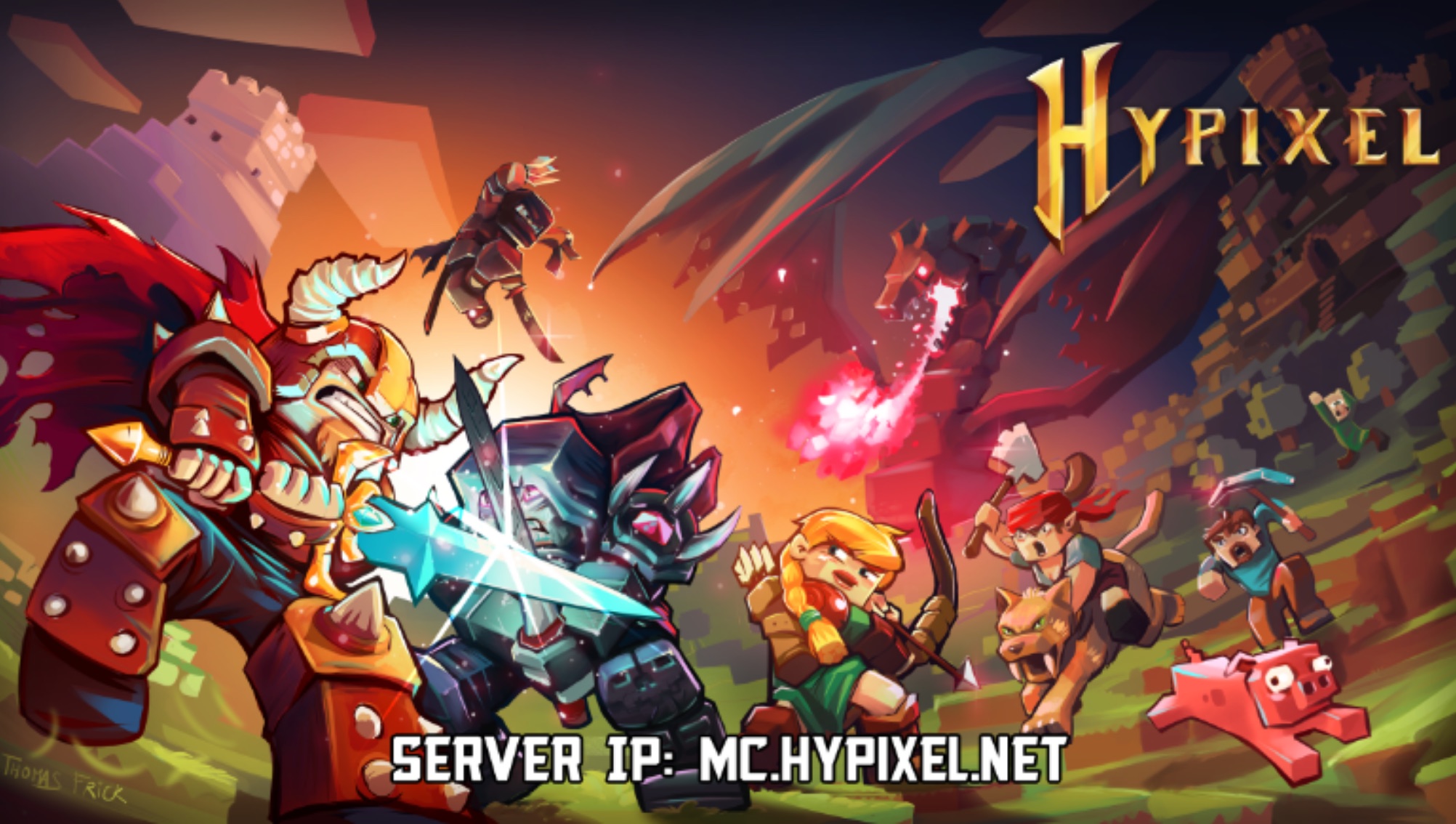 Hypixel Network is a Minecraft server celebrity!
Hypixel Network is one of the most famous Minecraft servers ever. Despite having 50,000 player spots, it can sometimes be difficult to squeeze in! This fantastic community and its developers have over 35 minigame options for you to play.
What's awesome about this server:
Cops and Crims is a Minecraft rendition of CSGO. Use both tactics and skill to capture and defend bomb points.
Try the mysterious thrilling minigame, Murder Mystery. In this gamemode, you'll be automatically assigned a role: the murder, detective or the innocent. Fulfill your role and see if you have it in you to survive and thrive!
Server Details:
IP: Mc.hypixel.net
Player Limit: 50,000
Uptime: 99.5%
Check out their website here.
-----------------------------------------------------------------------------
If you enjoyed this article, you may also be interested in:
Thank you for reading this compilation of the best servers in Minecraft 2019! What servers are your favorites to play?
Image Gallery