Top 15 Best Minecraft Hacked Servers 2019
Updated: 09 Sep 2019 2:44 pm
Join some of the most STUNNING worlds in Minecraft out there with the latest hacked MC servers!
Hacked Minecraft Servers are completely free and allow everyone to play!
Whether you're fed up with having to pay for all these awesome texture and skin packs that come with the server or you're too bothered to pay for the monthly fees. Some of the most popular Minecraft servers might be "free" but only to an extent.
Fortunately, Hacked Minecraft Servers are the perfect alternative as these servers offer just as amazing gameplay with all the game modes suited to your style, all while being completely free of charge.
Find out below which of the latest and most popular hacked servers in Minecraft you should try next!
TIP: To join online servers, just select "AddServer" from the Multiplayer Menu and copy and paste the IP address(found right beside the name of the server).
 
15. Xenolith (play.xenolithnetwork.com, United States)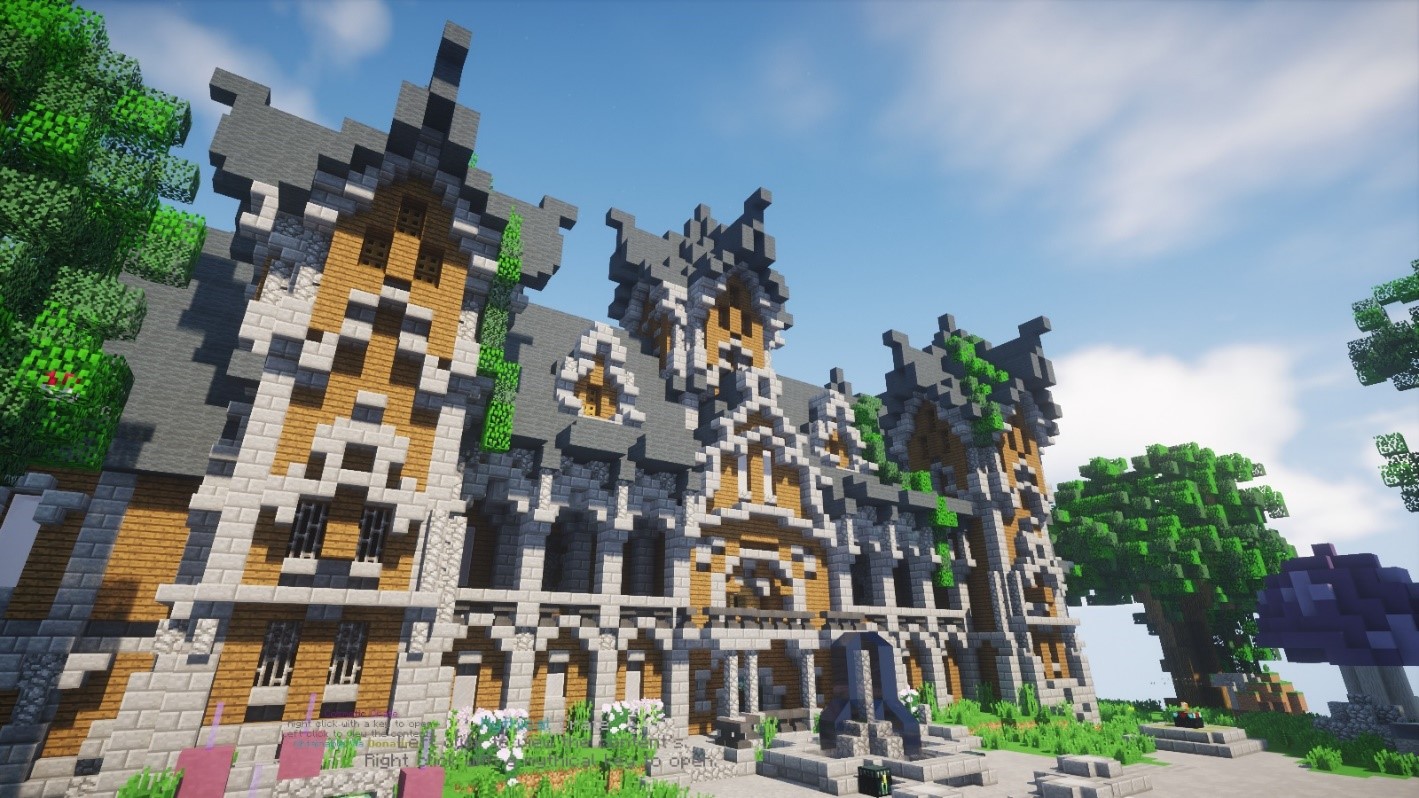 One of the best Minecraft Cracked OP Prison Server with amazing graphics and fun challenges!
Survive on floating islands guarded with powerful NPCs, defeat other players and complete building challenges in this great new OP Prison Server. With 100+ Custom Enchants, Custom Mob Drops and exciting Guns and Events, get ready for a fast-paced game with ranked levelling.
Get exciting features such as:
Survival with Slimefun, quests and jobs.
Skyblock with purchasable island upgrades, with-in game currency and more.
KitPvP with 20+ kits, healing syringes and abilities.
Hub with NPCs that you can click on to join a server.
Join the community here.
14. Twerion.net (twerion.net, Germany)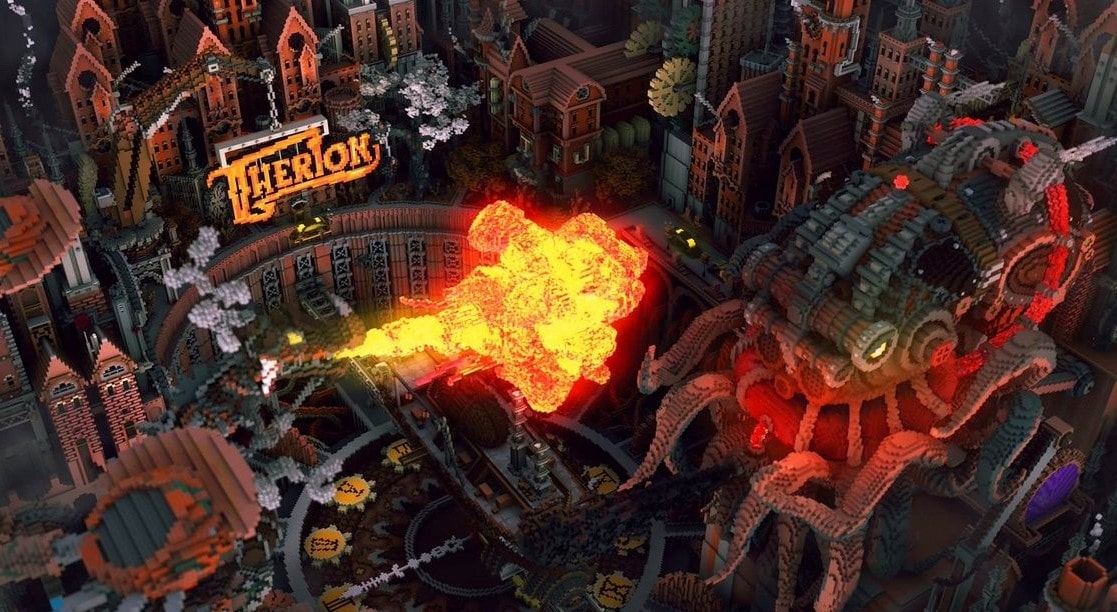 Outsmart your enemy or you will fall on their swords as every stroke is a ONE-HIT.
With 1337 slots, this is one of the largest cracked servers in German-speaking countries. You will see some of the most diverse islands on which there are signs with free items to collect and build a home in your own kingdom. Fight strategically against your opponents as every stroke is a one-hit so secure your items and conquer the borders!
Some of the things that makeTwerion.net great are:
The 24/7 availability thanks to their own cloud system.
The first server to offer the OP-PvP mode in a long time.
Completely private Bedwars system with a continuously available lobby.
Complete quests to unlock Achievements and make your island the most valuable.
You can find their website here.
13. YottaCraft (top.yottacraft.ru, Russia)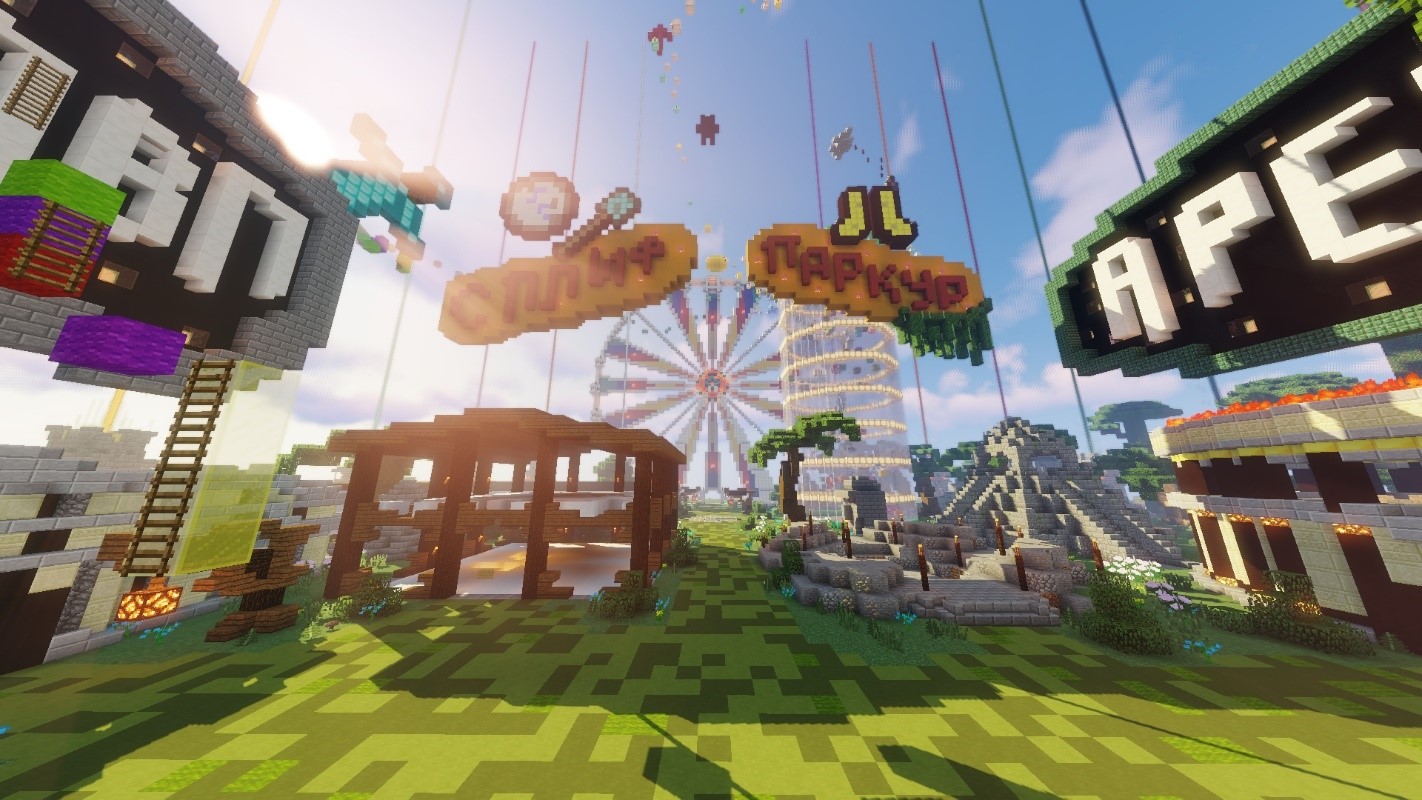 This weirdly awesome server is certainly a must-try.
An exciting world to delve in with labyrinths, glass, car mines and trampolines, this makes for a truly unique experience. Complete difficult mini-games with an unusually complicated mob and rumour has it, no one has been able to make it through the end. Finish this to get amazing rewards!
If that's not enough, here are more features that make YottaCraft one of a kind:
Steam Carriers that ride players on spawn.
Try epic parkour on trampolines!
Marriage. Yes, in this game, you may just find your soulmate, hug and kiss.
Check out the forums here(don't forget to translate the page though as the whole thing's in Russian).
12. TheNRK (play.thenrk.net, France)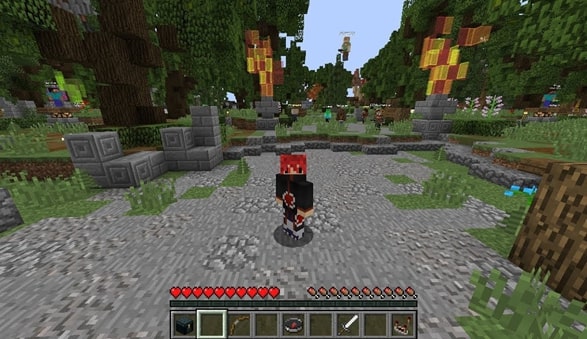 You can fight on the ground or kill enemies from the skies and watch them fall to their deaths!
From Hard Survival to Towny Factions, to Vanilla and Creative modes, bring your A-game and prepare to fight to the death to make sure your faction comes on top! You can never know who to trust. Otherwise, if you're tired of wearing your faction's colour, then sit back and enjoy living in a beautiful island or let your artistic nature shine through with your massive creations.
Here are more features about TheNRK that you wouldn't want to miss:
Hard Survival. Make sure to brush up on your survival skills. Cause their new game mechanics, new mob levelling system and difficult challenges await you and they won't be forgiving.
Prison. Start off as the new prisoner, work your way up the ranks and prestiges all the way to freedom!
Towny. Take a break from all the PvP and join the peaceful side of the server with gorgeous sceneries and amazing biomes.
If you want to join the server's community, click here.
11. Mineland (us.play-ml.ru, United States)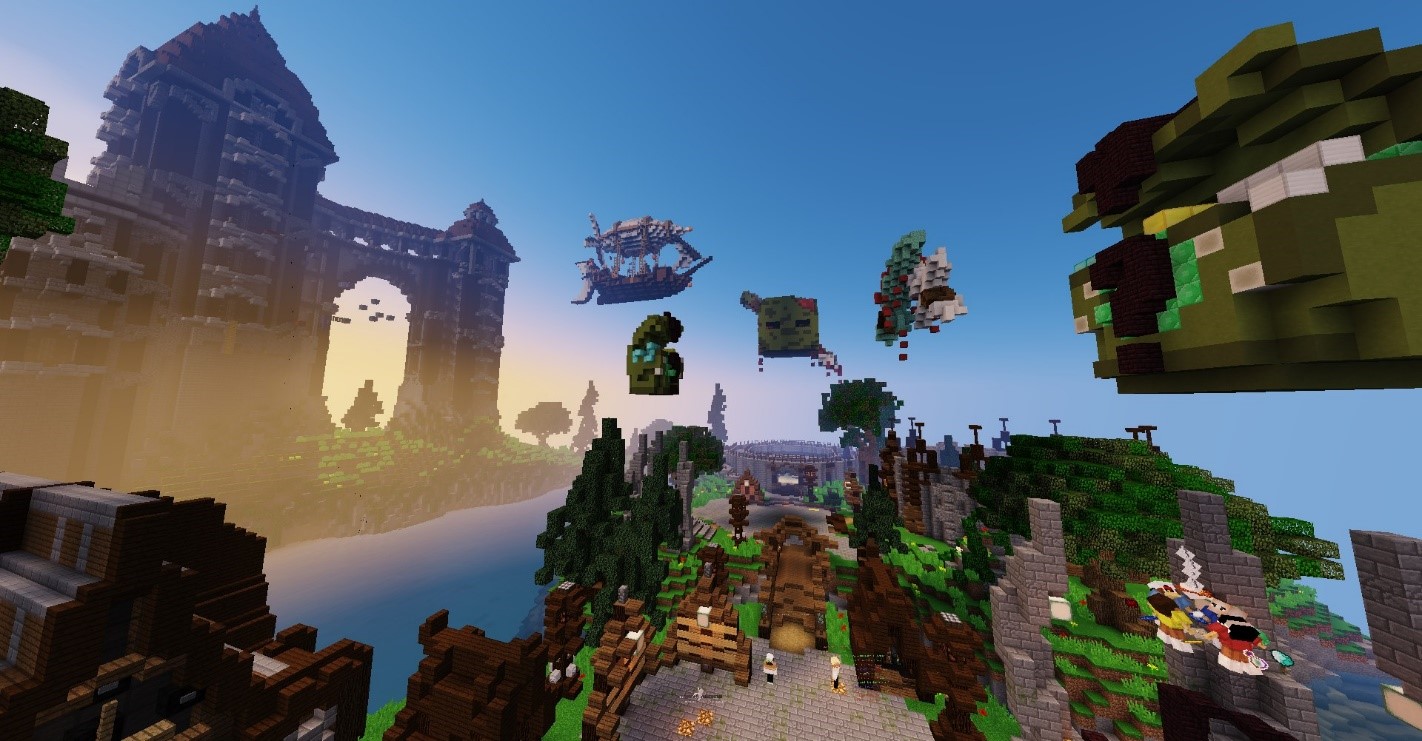 One of the Best Creative Servers out there!
In this fascinating Creative Hacked Minecraft Server, you can build with friends, survive with them on your own island, earn money, make shops and even create your own mini-game. A uniquely developed server with high-quality game modes, monthly tops, and fun quests. Every type of player will surely find something they will enjoy.
Here are more note-worthy things unique to Mineland:
Prison. Find your way while trapped in a HUGE compound filled with inter-factional wars and awesome bosses. Become the leader of a gang and dominate!
Skywars. With solo and team modes and perks and kits that come along while improving. Find out what's inside these 'Air-drops'.
Skyblock. Experience the MobArena with 50 waves and 16 different sets, ore generators and auctions for real traders.
Check out the forums and store here.
10. ExtremeCraft.net (play.extremecraft.net, United States)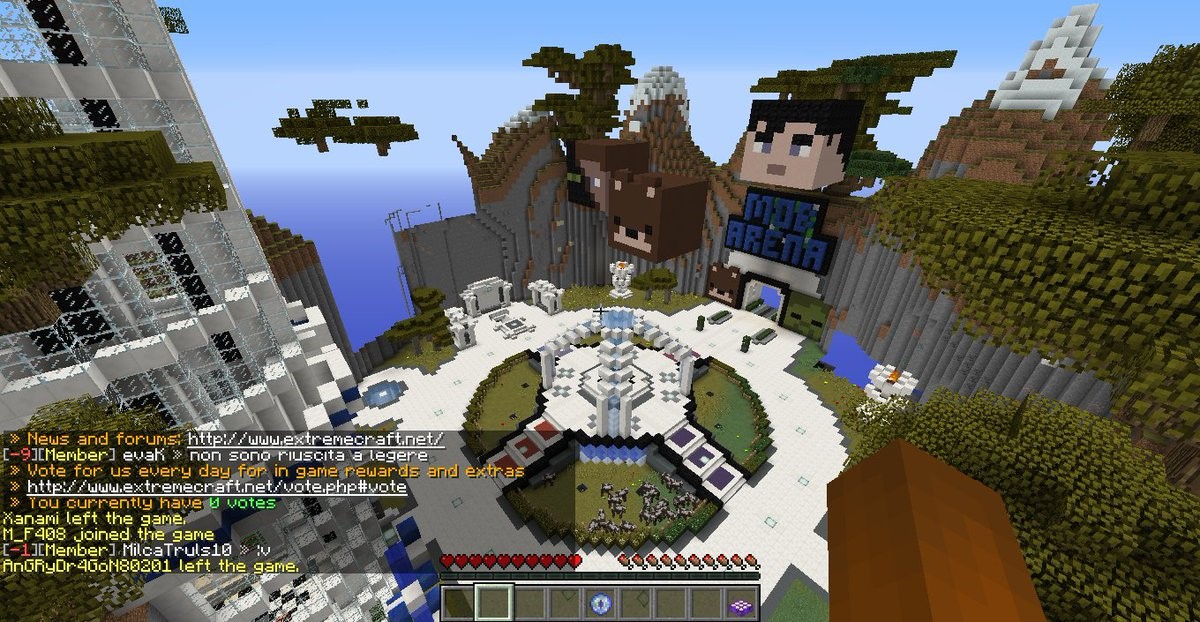 Choose from a WIDE range of exciting game modes.
With over 3000 players, ExtremeCraft.net is one of the largest cracked Minecraft Servers. Complete with new and classic entertaining game modes, this server attracts all kinds of players. From Hunger Games, Skywars and SkyBlock to Creative, Semi-Vanilla and EggWars, this game has everything!
What makes ExtremeCraft interesting?
Its wide range of game modes perfect for every Minecraft player.
The large number of players and the uptime of 98.2%.
Upcoming modes such as Prison, PvP, KitPvP, PotionPvP and many more!
Find support in the community here.
9. SedexCraft (play.sedexrsps.com, United States)
Venture off to beautiful custom islands you won't see anywhere else!
A survival server with the ability to create towns and nations, fight to survive and protect yourself from griefers and PvP players. This is a unique and friendly Minecraft server with friendly staff and community to shed some light when you're feeling lost as their website is online 99% of the time and the server having nearly no lag or downtime at all.
SedexCraft also features:
Mini-games such as MobArena, Spleef, and PvP arenas.
You can level up your skills with McMMO and fight mob bosses from around the world.
With Skyblock, Quests, Dungeons and Towns, this is a great world to explore.
Join the friendly community here.
8. CCNet (149.56.28.221, United States)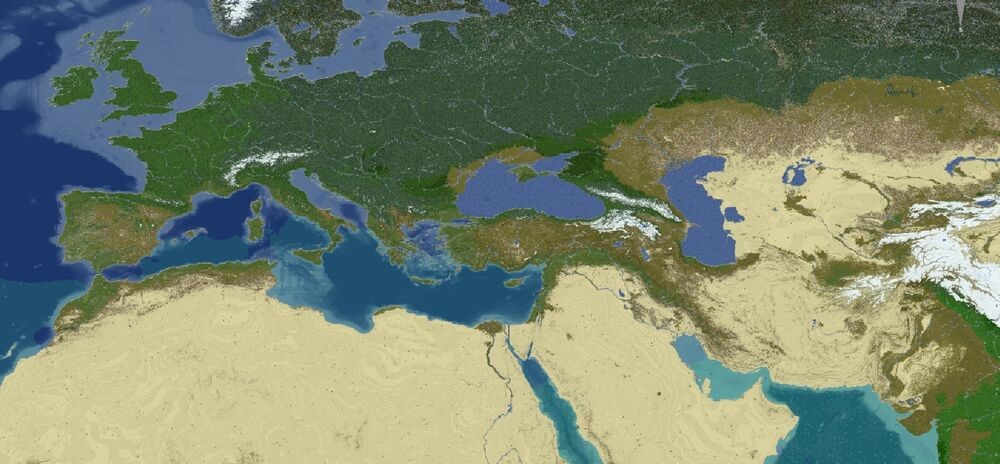 Literally walk AROUND THE WORLD in 80 Days… probably for way less.
Nations is the newest server on the CCNet Minecraft network. A semi-geopolitical sandbox set on a 1:1000 scale map of Earth where you can build towns and form a nation while engaging in diplomacy and war with others. Construct a navy and military to protect your assets, and sail the seven seas to transport goods and earn money. Form alliances and establish dominance over Earth!
Features like below make this server stand out:
Towny. Construct a town, and band together with other people to create a thriving nation
Slimefun. Create massive factories, huge machines and epic gear.
Lead your nation to victory during wars, or live peacefully by yourself - the choice is yours!
Visit their website and join the forums here.
7. UltraNetwork (mc.ultranetwork.net, Ireland)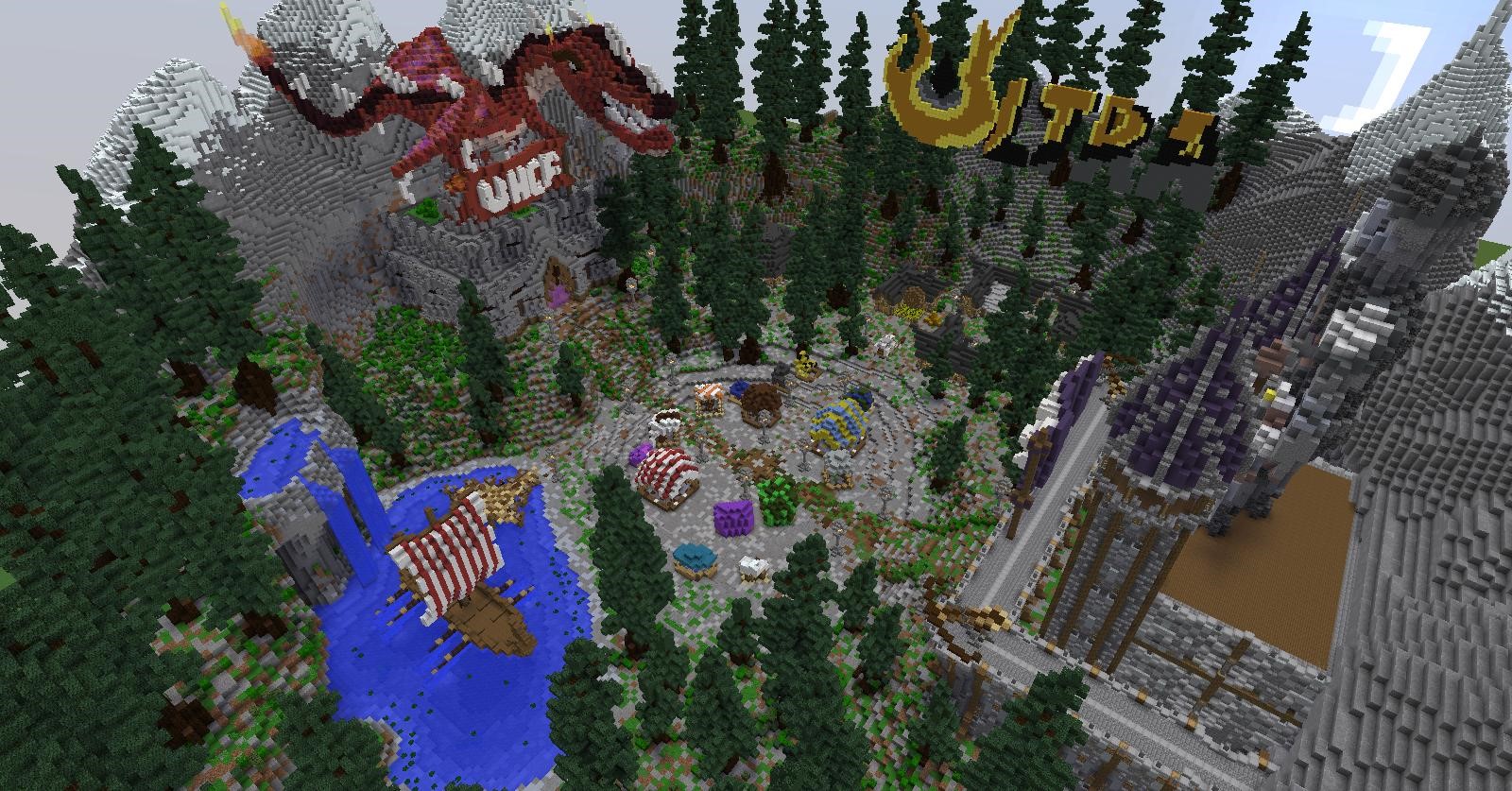 Take a glimpse at the server's fantastical central hub!
Get involved in a friendly and diverse community of players and immerse yourself with plots, from dominating over 60 ranks in prison to surviving in your own island or creating masterpieces with your friends. Either way, prepare yourself and get ready for an Ultra experience!
Get great features like below:
Great customization options. With the use of custom tags, cosmetics and interface preferences, you are able to express yourself freely.
Their servers feature enchantments available for selected items that have been custom-made for your enjoyment!
They strive to provide continuous updates and feature improvements over time to all the game modes.
Join their community here and donate to receive exclusive premium perks and rewards!
6. LuthCraft Network (jogar.luthcraft.com, Brazil)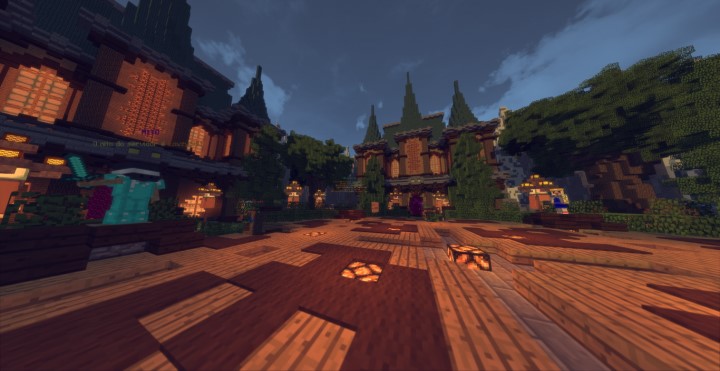 How can you resist this beautifully designed server?
Starting out as a survival server, LuthCraft grew to be one of the best Full PvP Server out there with PvP events where you can win fun various items, this server is for anyone who enjoys the thrill of battle. So, what are you waiting for? Call your friends, ride a top clan and rank up to be one of the best!
Great features such as below make LuthCrafttruly one of the best:
Fully dedicated servers, rented tailor-made to meet their constantly growing needs.
Humanized staff, thus direct contact between players and coordinators and always available.
5+ years open server, providing better gameplay and hassle-free playability, always adapting and growing with the players.
Don't know where to start? Click here.
5. BananaCraft Network (play.mc-bananacraft.net, Netherlands)
One of the best new player-friendly Hacked Minecraft Server!
BananaCraft Network launched in February of 2019 and is a reboot of the original BananaCraft. It's a fast-growing server with a wide variety of game modes and servers ranging from KitPvP, Factions and Survival to Creative and Skyblock with Skywars launching later this year.
Some of their features are below:
Survival. While keeping close to the original Minecraft survival experience, the added features such as trading items with others and claiming lands for you and your friends make it interesting.
Factions. A great place to learn about Factions for the newbies as they offer helpful tutorials along the way and fun experience for the old Minecraft players with PvP, raiding and TNT enabled.
Skyblock. You start with a small island and expand it by gathering resources and trading with others. This Skyblock server is fully GUI driven to keep it as simple as possible for the user.
Stuck on something? Check out the forums here.
4. Ham5teak (play.ham5teak.xyz, Singapore)
You have to try out this creative and highly customizable Hacked Minecraft Server.
This server offers many different game modes including Survival, Skyblocks, Factions and Prison – all of which installed with unique plugins like custom enchantments, items and world generation that makes for great custom-made biomes and structures tweaked and amplified to give players the most realistic, fun and one of a kind experience. All topped with a global anti-cheat system.
Some of Ham5teak's one-of-a-kind features are:
Skyblocks. Everything on your island is customizable such as weather, time, biome and border colour to name a few. You can even add to a huge list of classic or popular songs provided by the in-game music player, with no client modifications required!
Factions. Raid, loot and build up your very own Kingdom. The Faction Server uses a custom fork of the popular Factions plugin, called Kingdoms which means the server includes many custom features (like turrets, boosters, boss mobs and minions) only exclusive here.
Join the community here.
3. Cosmic Craft (mc.cosmicmc.net, United States)
Have a blast choosing from the most entertaining mini-games available!
Join one of the best and biggest Minecraft server that can reach up to 2000 players online with the most amazing games available for any kind of Minecraft player out there. Choose from a GTA Server to Skyblock, to Faction, Creative, Survival and Hunger Games, OP KitPvP, Towny Servers and more!
More features that make Cosmic Craft the best:
Definitely a newbie player friendly server.
Fun mini-games like Prop Hunt Hide and Seek, Battle Arenas, Dwarves vs Zombies, Crafting Dead, Bedwars, EggWars and many more!
They have some of the biggest and most supportive community available to the player's rescue at all times.
Join monthly voting contests and win cosmic rewards here!
2. Sky Kingdoms (skykingdoms.net, United Kingdom)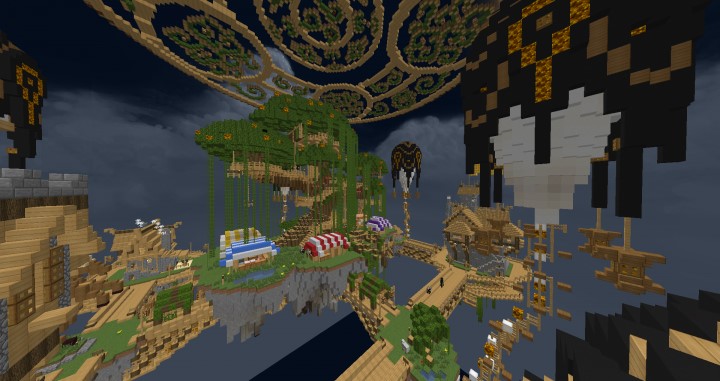 Delve into this magical world with a medieval setting!
Explore the lands of this magical medieval world where you can get free rank-ups, compete on islands in Hypixel-styled Skywars, open Crates and get more powerful kits or fight other players and try to destroy their beds.
Amazing game modes and features include:
Survival (Custom World, Slimefun & Lucky Blocks, Crate Keys, Auctions)
Skywars and Skyblock (Mystery Box aka Soul Well, 10+ maps)
Factions and Kingdoms (Raiding, Looting, Winter Factions, Ice Castles)
Join the welcoming community here.
1. Blockdrop (playmc.games, United States)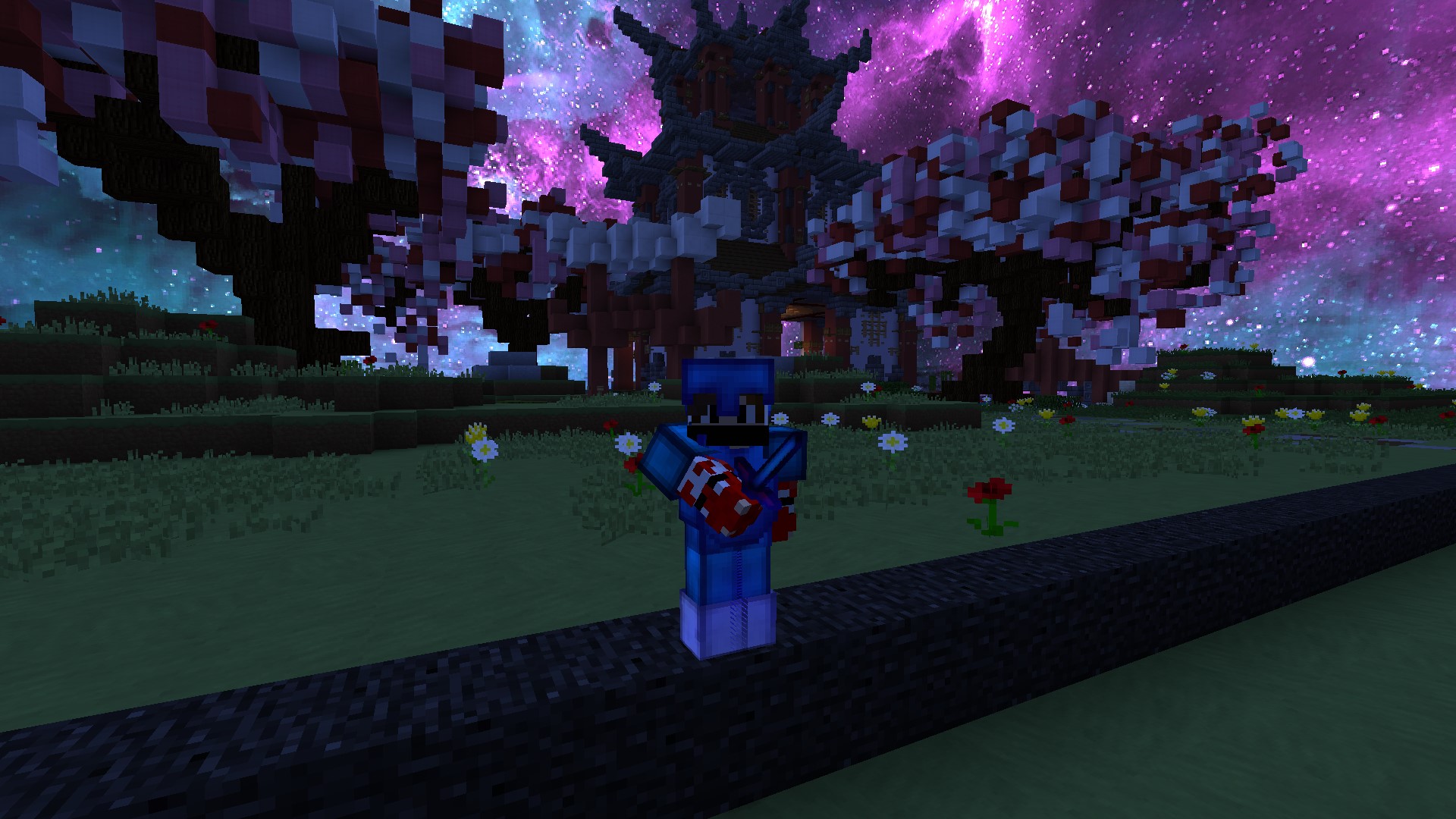 Check for yourself how fun and vibrant this worldis with only the best game modes!
Finally reigning at the very top of the list we have, Blockdrop, the BIGGEST cracked network and one of the fastest-growing communities right now! With over 4000 players who can play online, you can always consider this as a community server. With amazing game modes like OP Factions servers, Prison+, Skyblock, Bedwars, Skywars, Survival, Practice PvP, and featuring their latest creation, 'City Life'.
Try out some of Blockdrop's best features like below:
Constantly evolving with new updates like The Shop. This is likely the most advanced one on any server out right now, knowing a balanced economy is a vital part to maintaining a good server, they constantly update retail prices for every item in the shop based off its popularity and demand.
A fun and supportive community and admins that actively finds and fixes bugs, glitches or exploits keeping Blockdrop a high-quality server.
Don't hesitate and join the community now!
You may also be interested in:
Image Gallery