[Top 10] Minecraft Best Underground Base
Updated: 09 Dec 2020 10:36 pm
Big flashy towers are so out of style
Create the perfect hideaway!
Maybe you're not the type of person who enjoys creating dramatic buildings that can be seen from miles away. Or maybe you want a secret headquarters hidden away from your friends and safe from all mobs. Either way, this is the place to find unique underground bases like you've never seen before. Get creative and try a new style of building below the surface with this list of top 10 underground Minecraft bases!
10. Easy Underground Base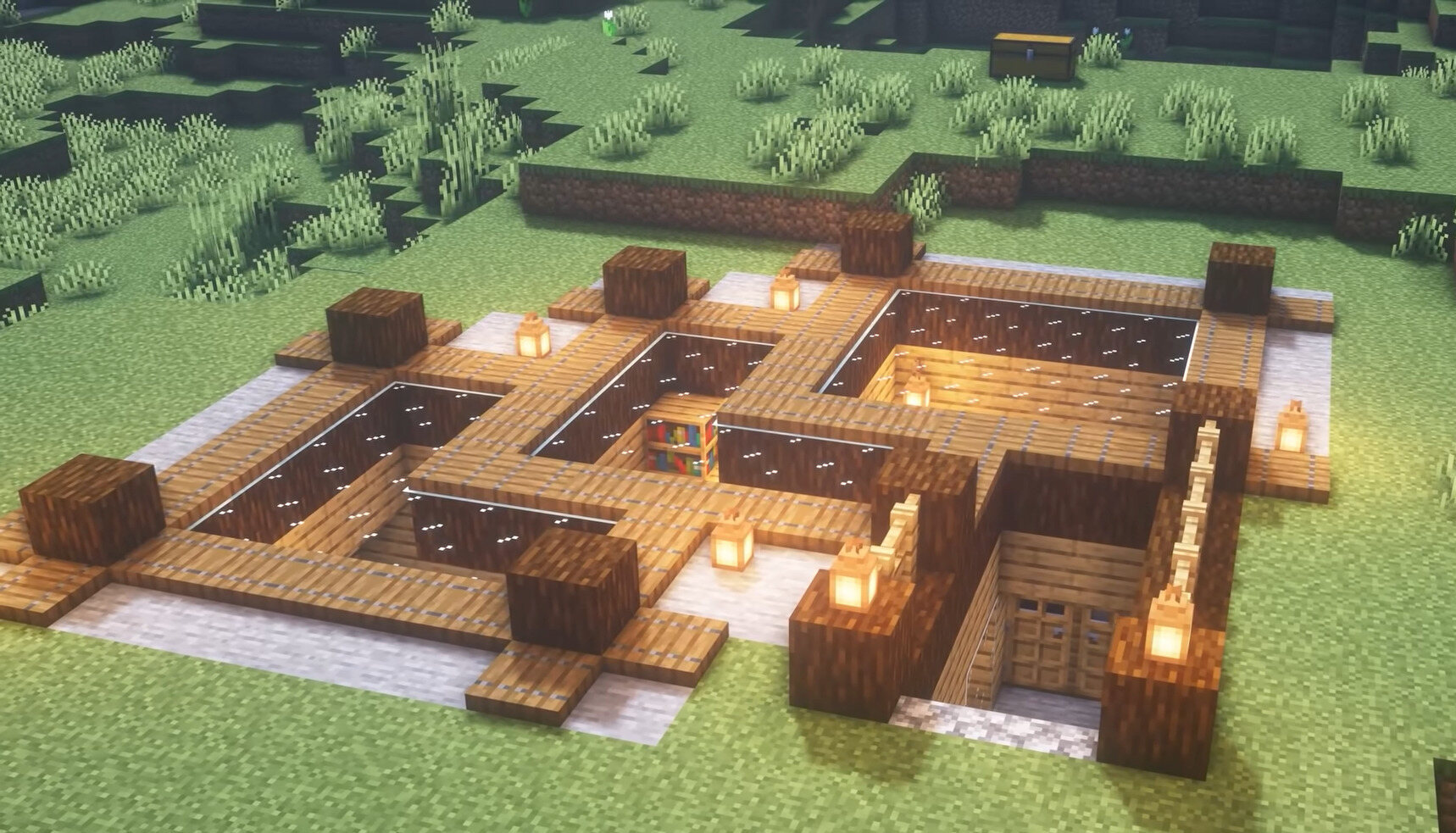 This simple base with a unique shape is the perfect starter option
Learn how to build it HERE
This base is a very good starter option. It does not call for many materials and the overall design is rather simple!
What's great about this base:
This base is simple and a very good option for building at the beginning of the game!
It provides crucial aspects such as crafting, smelting, and storage despite the small space.
Although it is a good starter option, there is also a space made for the enchanting table so this could be a long term home!
The ceiling of the base is glass, so there is plenty of natural lighting along with the lanterns inside.
Although it is a rather simplistic house there is still room for some decorating, and the look of the base from above-ground is unique and cool.
9. Underwater Base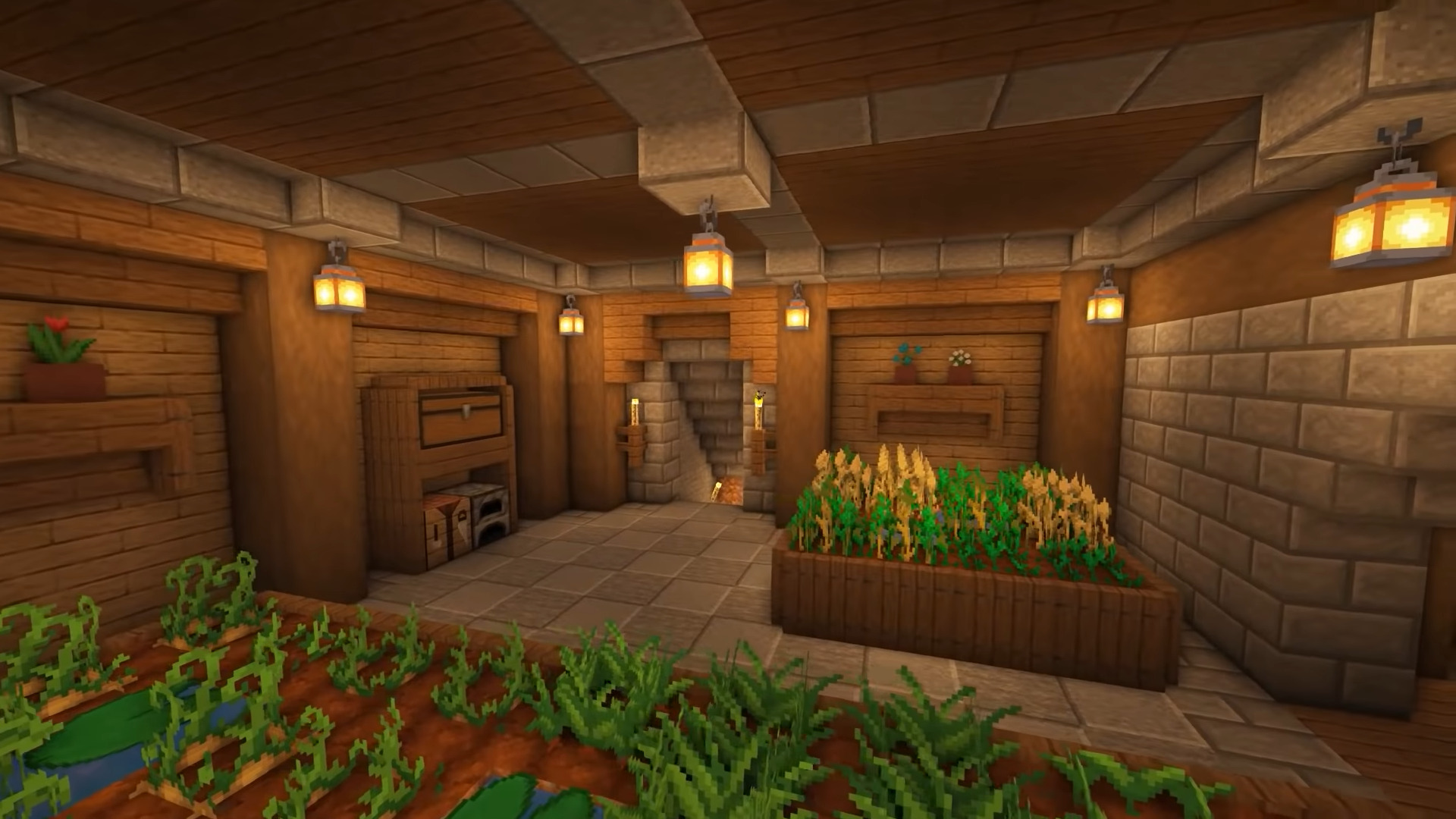 Darling it's better down where it's wetter, under da sea...
Learn how to build this base HERE
This underground base is the perfect hideaway for those who really do not want to be discovered. It combines all the essentials in a neat and secretive package. Oh yeah, and it's underwater!
What's great about this base:
The coolest thing about this base is that it's underwater! You enter and exit the base using a "water elevator," because the entrance is in the middle of a pond.
It is a rather large base for such an unnoticeable entrance. It has four rooms, which makes space for an entry hall, storage/crafting room, farm room, and bedroom.
There's no need to feel claustrophobic in this base. Despite it being underground, it's very spacious, well-lit, and decorated. 
This base even creates room for a Nether portal!
There is also a built-in mine entrance, so what else do you really need to go above ground for anymore?
8. Single Room Base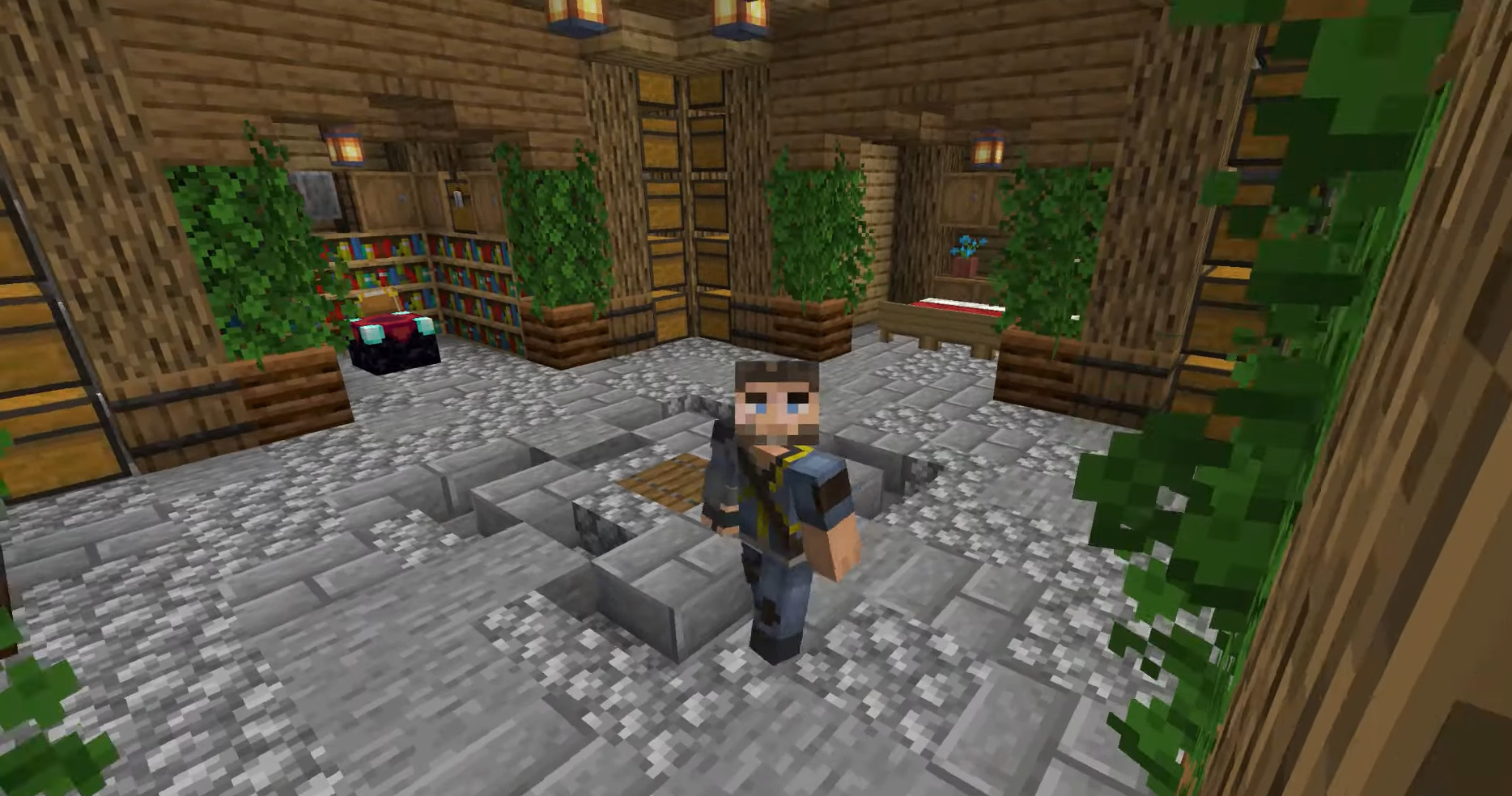 All the essentials right at your fingertips
Learn how to build this HERE
If you're looking for a more modest underground base that still includes the crucial elements that any sufficient house needs, this is the one to build.
What's great about this base:
This base has a bunker style entrance, but can also easily be hidden!
The best thing about this base is the one-room, compact design that makes all crafting and storage features easily accessible.
There is plenty of storage that is tastefully incorporated into the walls to save space.
In the center of the room there is an optional entrance perfect for a mine.
It is well-lit despite being underground with simple accent decorations to make the area more welcoming.
7. Modern Hidden Base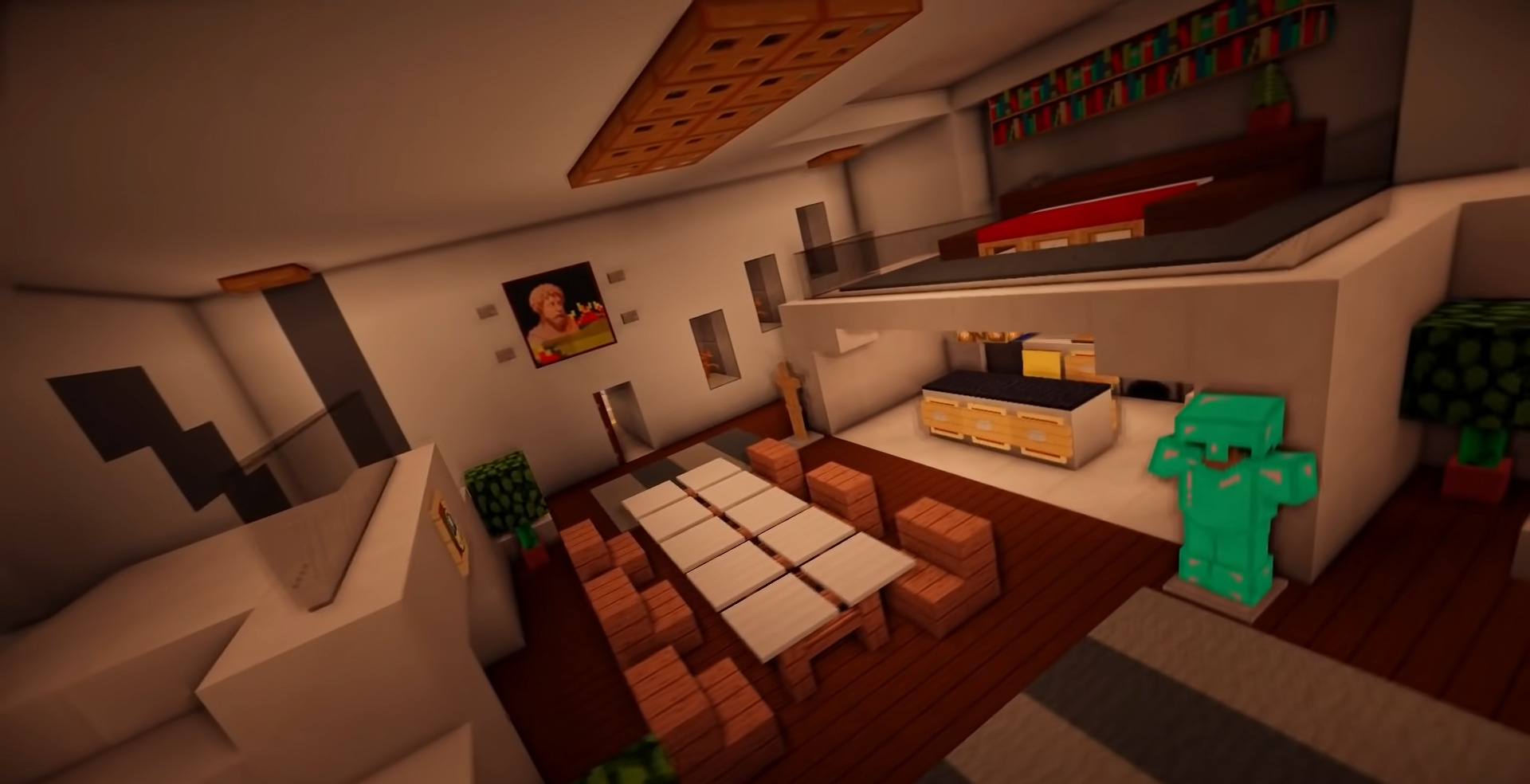 Step into modernity!
Learn how to build this HERE
This is not your average Minecraft house. This completely hidden base provides a decorative yet fully functional home with a modern twist!
What's great about this base:
This design provides a modern spin that is unique to the classic rustic look of the usual Minecraft base.
The entrance to this base is completely hidden using a dirt and sticky piston system to blend in with the ground.
Enjoy decorative rooms like the kitchen and dining room that you don't normally come across in a Minecraft base.
It's very spacious with room for anything you'd need to add afterward.
There is more than one bedroom which makes it a good base for multiplayer games!
6. Super Simple Base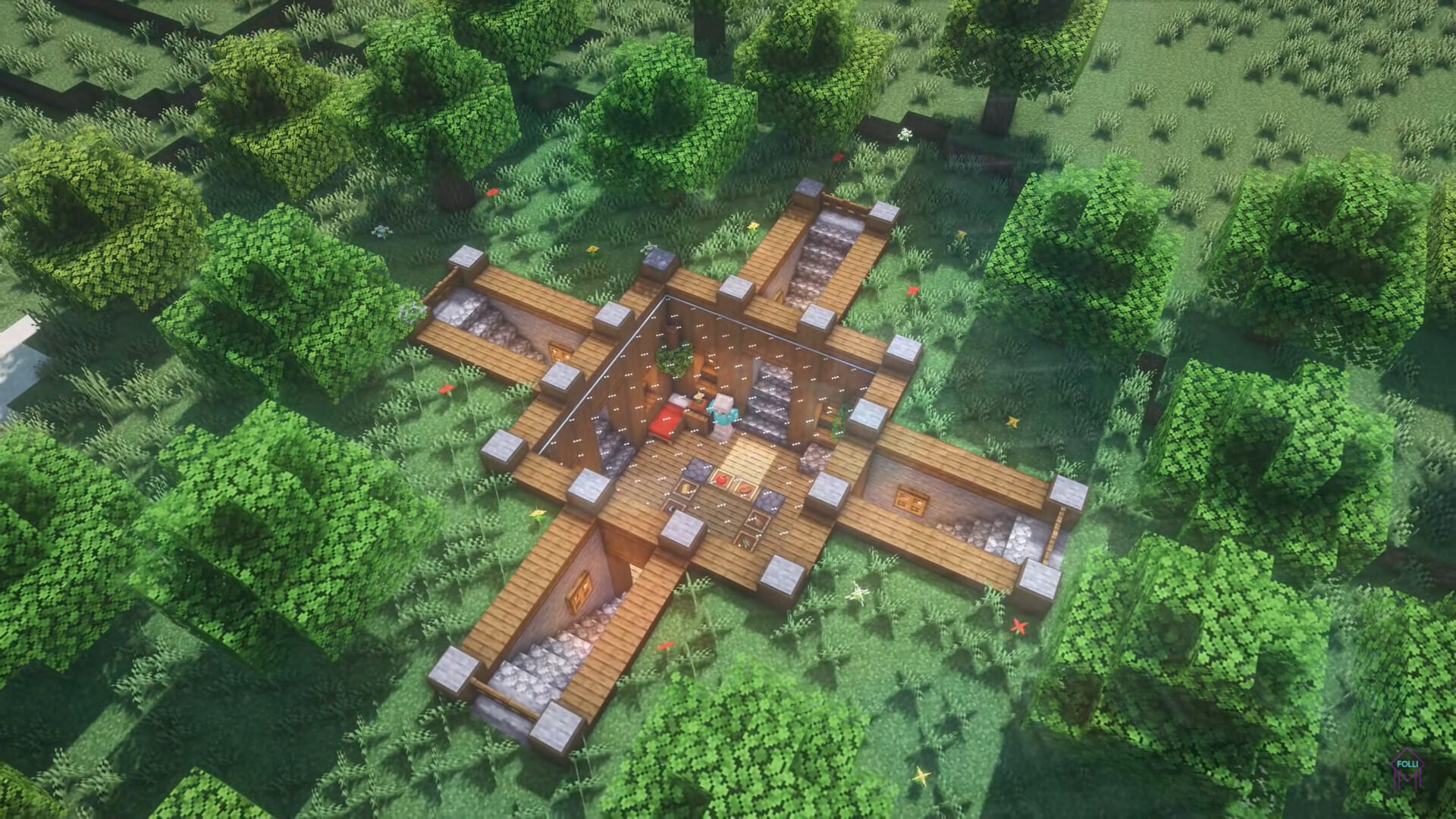 X marks the spot
Learn how to build this HERE
This base is perfect if you're looking for a super simple and functional underground starter home!
What's great about this base:
While this base may only be one room, it still has plenty of room for all the essentials!
The design is simple and small, but still offers an interesting design and unique top view.
Rather than being closed off and completely hidden, this base has a glass ceiling allowing a view into the outside world.
Despite the ceiling being glass, this base could easily be enclosed if the player wanted to be hidden instead!
All of the useful commodities like the crafting tables and furnaces are disguised or hidden in order to save space while keeping a pleasing appearance.
5. Awesome Circular Base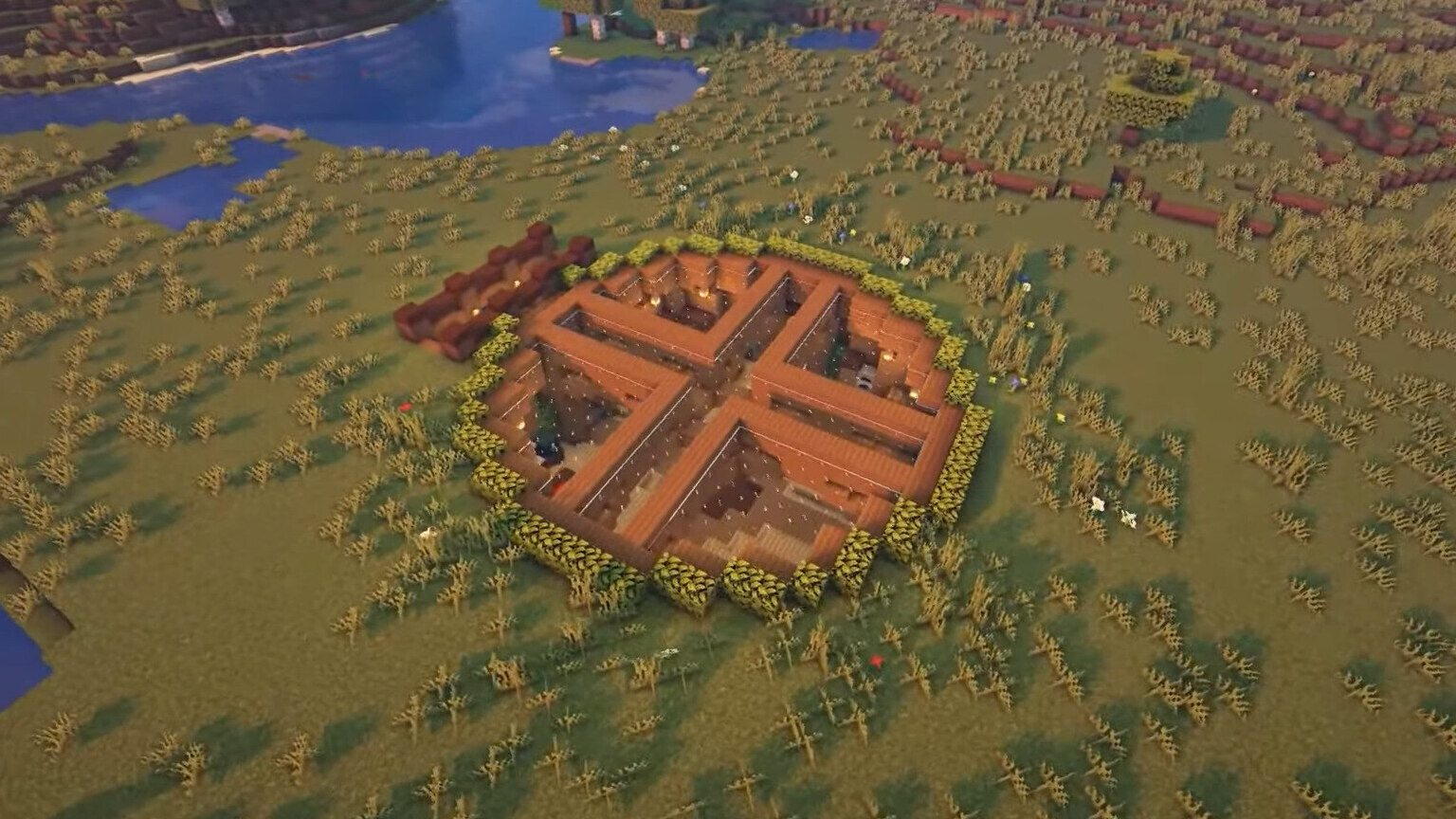 Or the circle of functionality, safety, and good lighting, if you will
Learn how to build this HERE
This unique circular shape provides a spacious base complete with all the necessities and natural lighting.
What's great about this base:
This base combines literally all the necessities in one spacious area, making crafting and storage very easy.
It also includes an easily accessible Nether portal!
In combination with lanterns, this base has a glass ceiling so you're able to enjoy natural lighting.
There is more than enough storage opportunity included here!
The accents and decorations included in this base create an environment that is pleasing to the eye.
4. Cave Base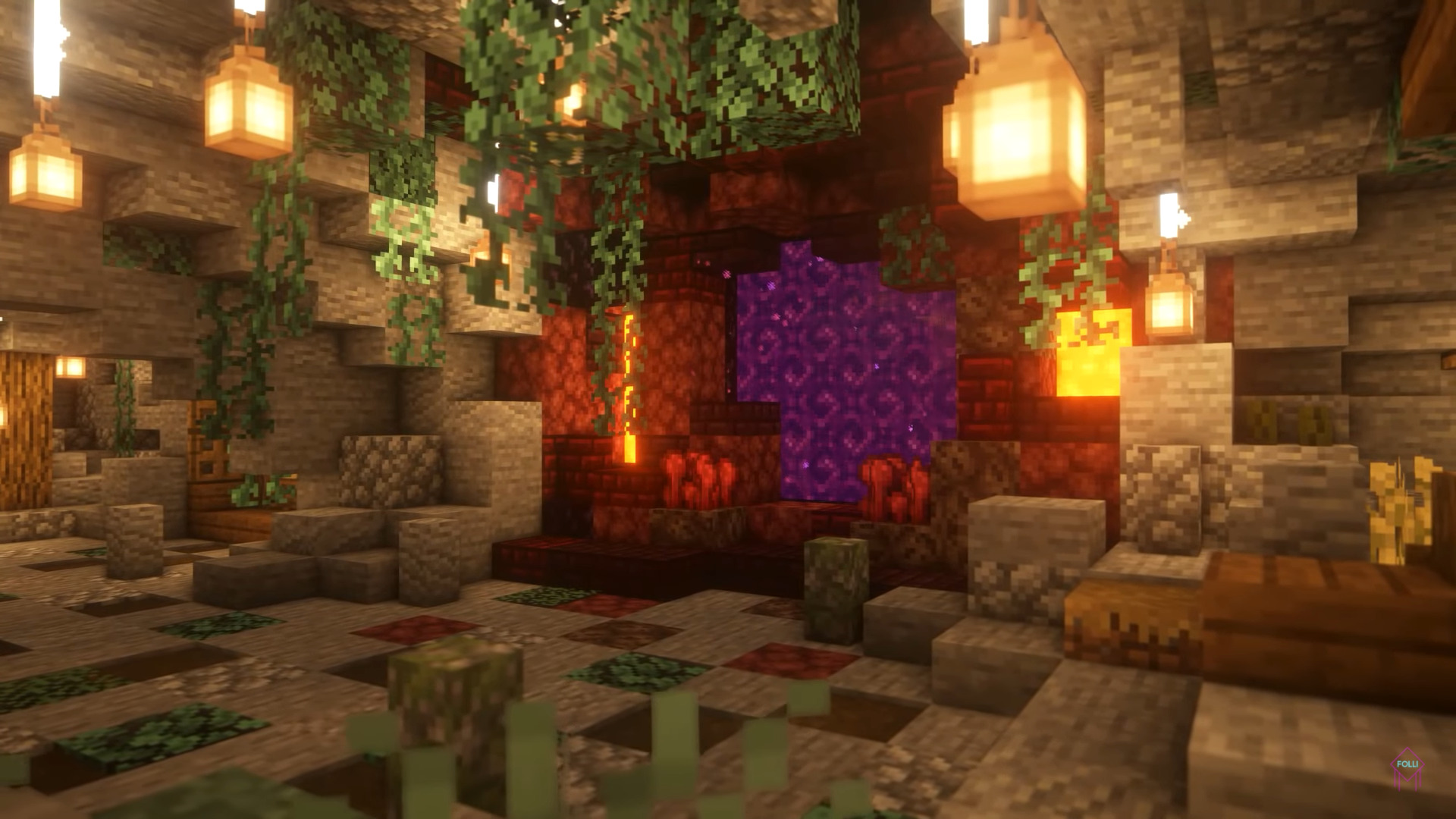 Learn how to do the best you can with what you've got
Learn to build this HERE
Sometimes digging out space underground can be tedious. This base introduces a way to create a unique base using a naturally generated cave instead!
What makes this base great:
The best part of this base is that it utilizes a normal cave rather than having to take the time to dig out a new space!
The style of this base is very natural and fits the environment of a cave, rather than revamping the entire area. 
It includes all the essentials, like crafting, smelting, and enchanting.
It also includes bonus aspects like a Nether portal with a very cool design surrounding it, and a small farming area!
This style of base is rather inconspicuous and secretive considering it just looks like the average cave from the outside
3. Ultimate Underground Base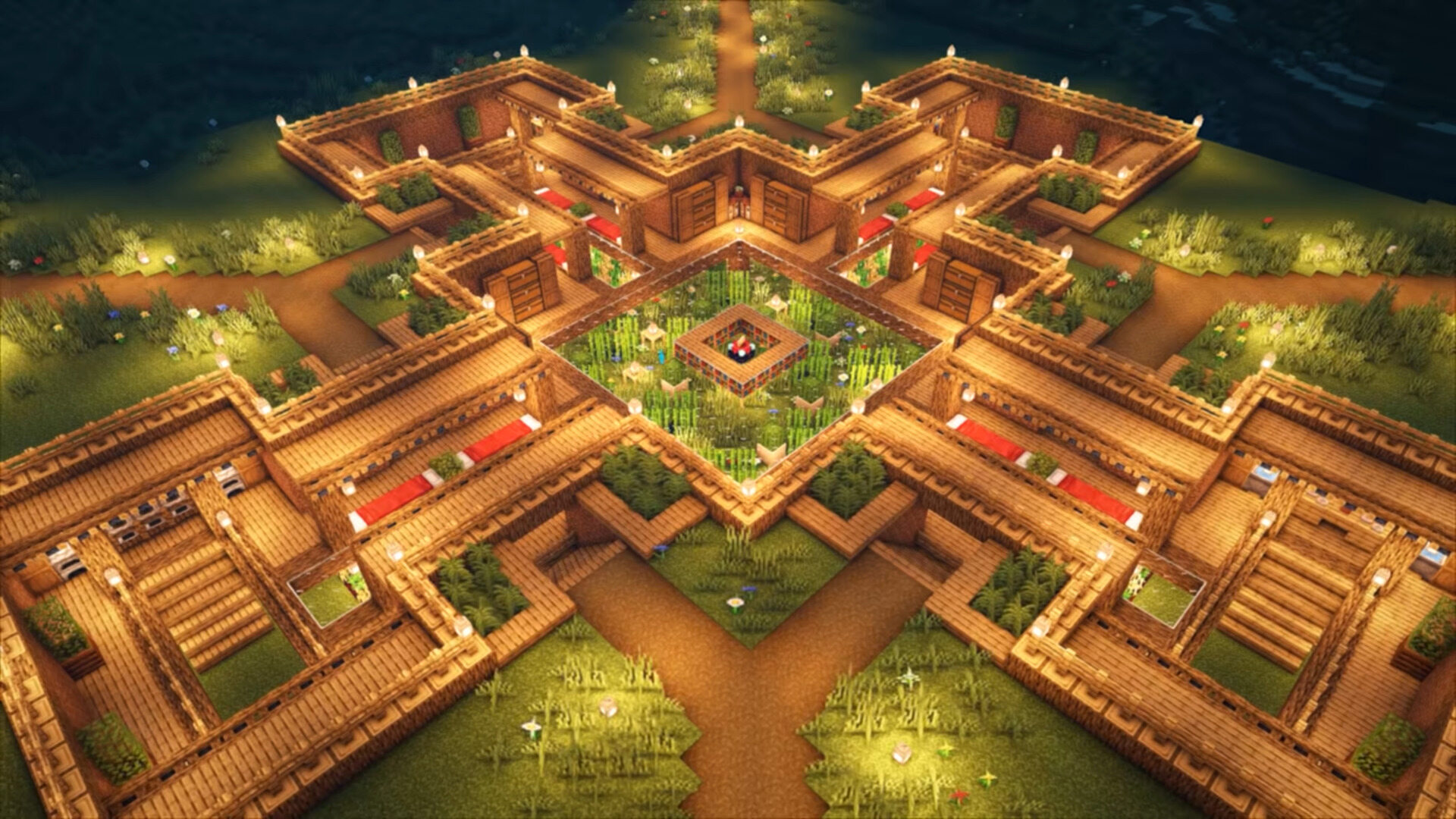 The ultimate sleepover with your bestfriends
Learn how to build this HERE
If you're playing with friends this huge base complete with all the necessities is definitely the one you're going to want to construct.
What's great about this base:
This base is massive and includes multiple beds for everyone in your server.
There are several crafting and storage spaces so each player could have their own!
There are areas dedicated to everything you need, including enchanting and smelting.
This is an open-air base, meaning there is no ceiling therefore you are exposed to the environment!
There is crop space included in this base design, so you are able to grow and make food without leaving the confines of your home.
2. Another Awesome Circular Base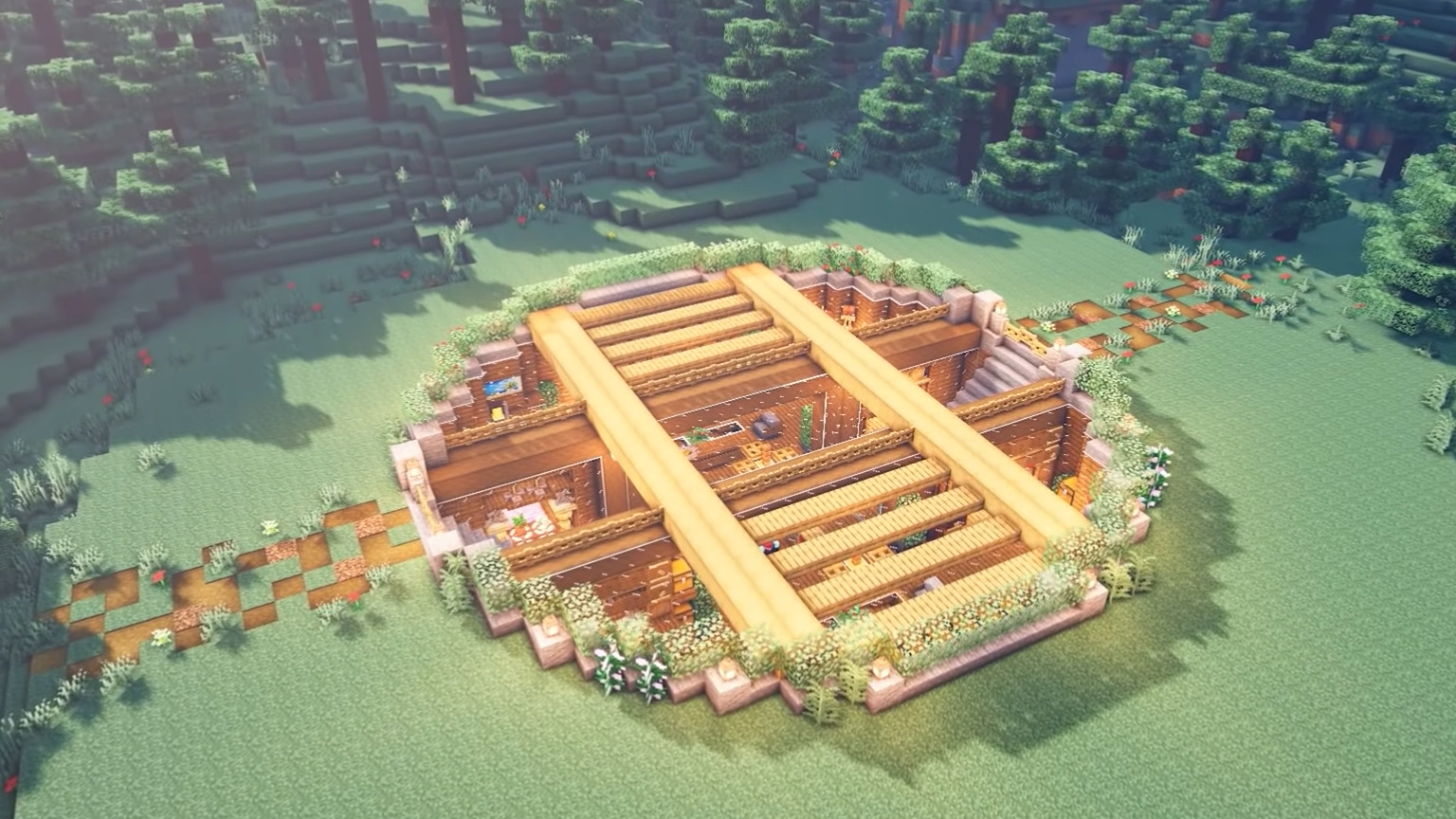 This base is perfect if you want a crash course in how to decorate in Minecraft
Learn how to build this HERE
This eye-catching underground base stands out because of how it is beautifully decorated and yet still extremely functional. 
What's great about this base:
This base provides enough storage for all the wares of even the most avid adventurers. 
If you're looking for decorating inspiration, this is definitely the base to check out. There is tons of creative decor and accents that make this house unique.
It provides all the essentials, including a smelting area, crafting tables, and enchanting area.
Enjoy a mixture of natural and artificial lighting with the partial glass ceiling!
This base also includes a Nether portal that is hidden behind the stairs so it's not an eyesore!
1. Multi-Room Underground Base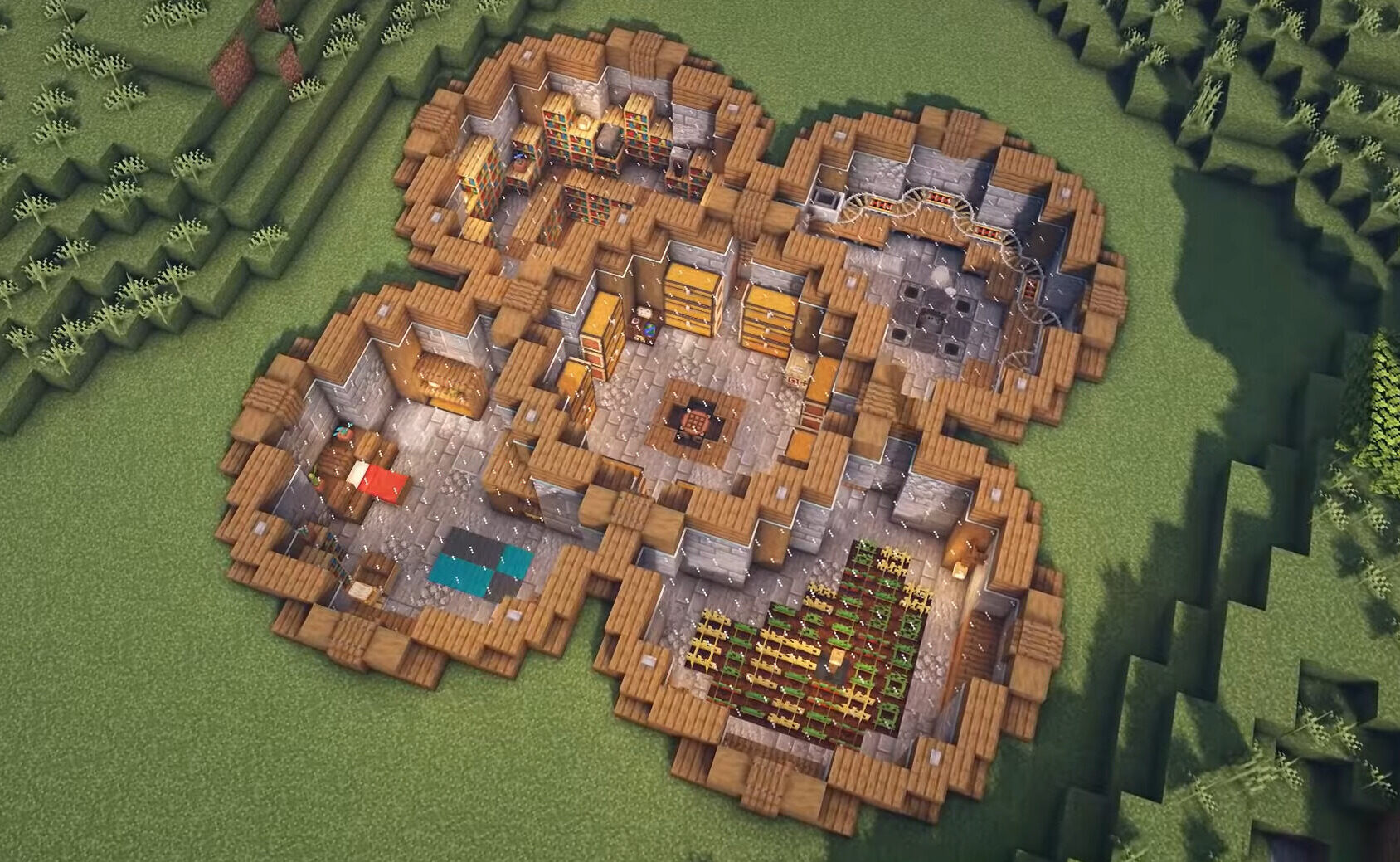 While this underground base may look awesome, its also got some cool surprises in store
Learn how to build this HERE
This design is very unique and provides multiple rooms for everything you'd need in a base, along with a secretive surprise or two! 
What makes this base great:
There is no need to worry about running out of storage space in this base, just take a glance at the storage room!
This base includes a smelting system that distributes your ores and other materials into the furnaces, which then places them into a chest to easily access them when they're done.
There is a farm included in this base which allows for the production of food from within your home!
This house also adds an enchanting room that may look normal, but a pressure plate will lead you to a secret door in the bookshelves that holds a Nether portal!
This base also has a glass ceiling that connects you with the outdoors and the natural light while also protecting you from mobs and other threats.
You May Also Be Interested In:
Image Gallery