[Top 10] Animal Crossing: New Horizons Best Looking Villagers
Updated: 22 Sep 2021 10:10 pm
Apollo is popular with the ladies.
With so many villagers to choose from, it can be hard to decide who you really want living on your island.
With so many villagers to choose from, it can be hard to decide who you really want living on your island.
There are many different species of animals represented across the Animal Crossing Villagers, and each one has their own distinct looks and personality.
Some villagers are better looking than others, with some being downright gorgeous.
In this list, we break down the top 10 best looking villagers in Animal Crossing: New Horizons.
10. Olivia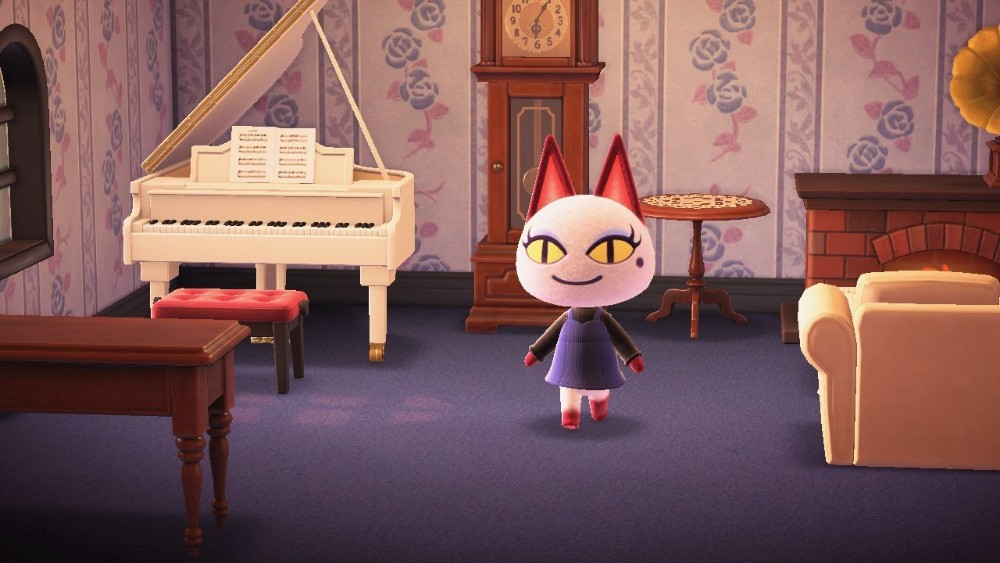 Olivia channels her inner Marilyn Monroe in her fancy home.
With her ruby-red ears and her Marilyn Monroe beauty mark, Olivia is undeniably a gorgeous villager.
Olivia has a snooty personality, she wears blue eyeshadow, and she has eyelashes for days.
With her elegant style and impeccable taste in home décor, it's no wonder that she made this list.
What's great about Olivia:
Her house oozes with elegance
With her snooty personality, she will be condescending towards others, but will consider you her best friend
She has a great wardrobe
9. Raymond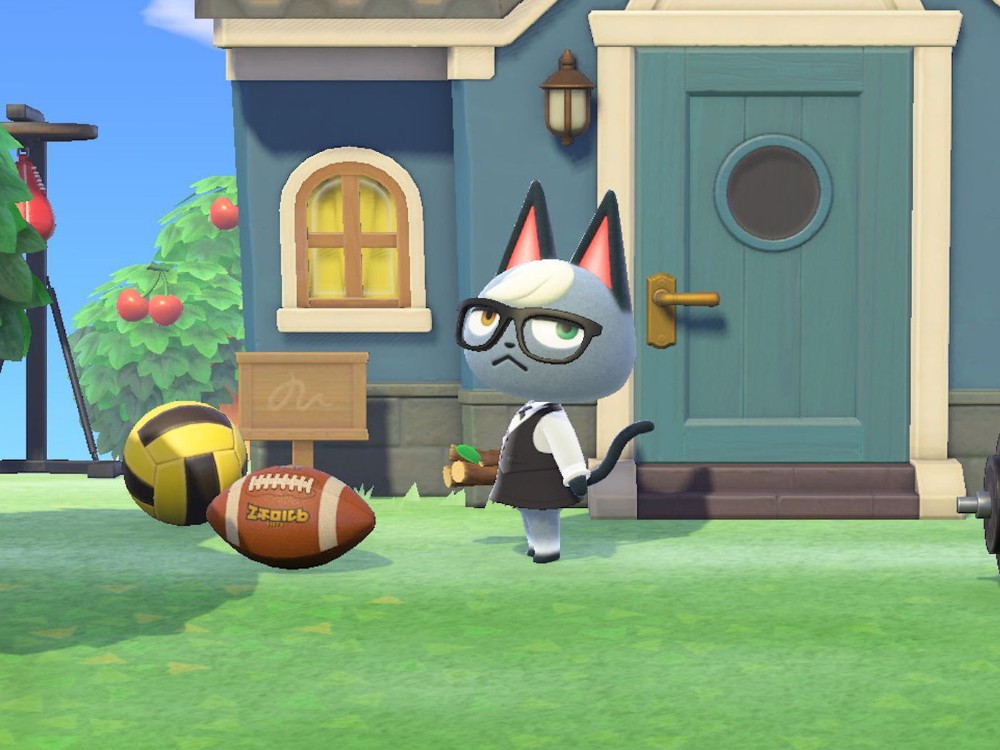 Raymond secretly works out when he's not trying to be a movie star.
Raymond is the only smug cat villager in New Horizons, but he will warm up to you quickly if you give him nice gifts.
He prefers the finer things in life and has a classic taste in clothing.
Raymond is also the only cat villager with heterochromia, meaning that his eyes are two different colors with the right one being brown and the left one being green.
What's great about Raymond:
His classic style in both clothing and décor
His house is modeled like an office, complete with desk and water cooler
His eyes are two different colors, setting him apart from other cat villagers
8. Apollo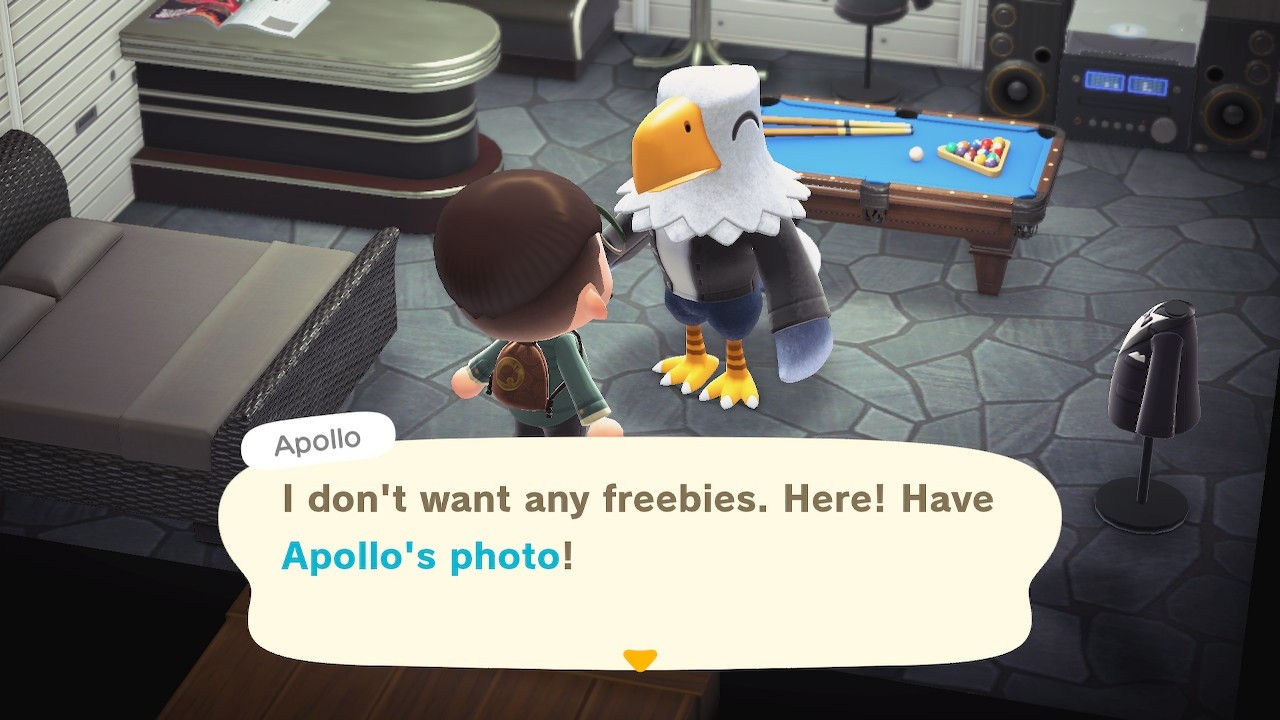 Apollo doesn't take anything for free.
Apollo is a majestic eagle, so it's easy to see how he made this list.
He has a cranky personality, but deep down he really has a heart of gold.
He struts around the island in a cool leather jacket, and his sleek décor even has a pool table.
This is one villager who knows exactly what cool looks like.
What's great about Apollo:
He has a cool sense of style
Cranky type villagers have some of the best dialogue in the game
He is an eagle, and that's pretty rare itself
7. Lopez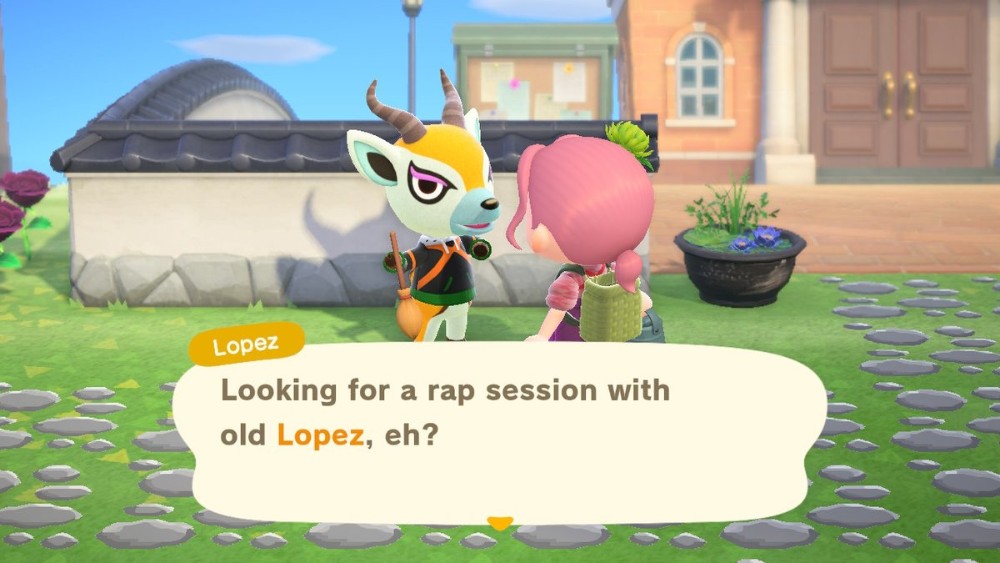 Lopez gets his inspiration from the island, and he's planning on writing a book about his life.
Lopez is a smug deer villager with a personality that is similar to Raymond's.
He also has a classic sense of style, both in his wardrobe and his home décor, and he is particularly fond of the Ironwood furniture collection. 
Lopez's pale blue muzzle and ears contrasts with his pink eyelids that really make his eyes stand out.
Even though he has a smug personality, Lopez is a dreamer, and he will often tell you about his latest poetry writing ambitions.
What's great about Lopez:
He has a really great classical style
His home is completely decked out in Ironwood furniture, and there's a chance he will give you a DIY for it
His ramblings about his ambitions to be a famous author are amusing
6. Audie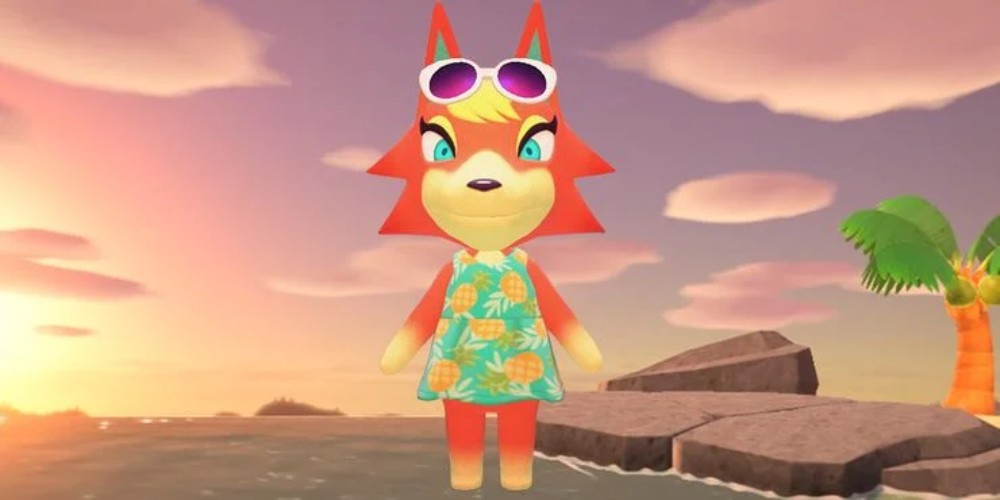 Audie gives off serious island vibes with her laid-back sense of style.
Audie is a gorgeous wolf villager with striking blue eyes and blond bangs.
She gives off a tropical vibe with her pineapple dress and white sunglasses, and her peppy personality is a lot of fun.
She is said to be based on a woman named Audrey Buchanan, an elderly grandmother who played more than 3,500 hours in Animal Crossing: New Leaf and had a character named Audie.
Audie's home is light blue to match her eyes, and the interior keeps with the tropical theme, complete with a palm tree lamp and rattan furniture.
What's great about Audie:
With her peppy personality type, she is one of the nicest villagers in New Horizons
She has a cool tropical vibe
She is based on an actual person
5. Marshal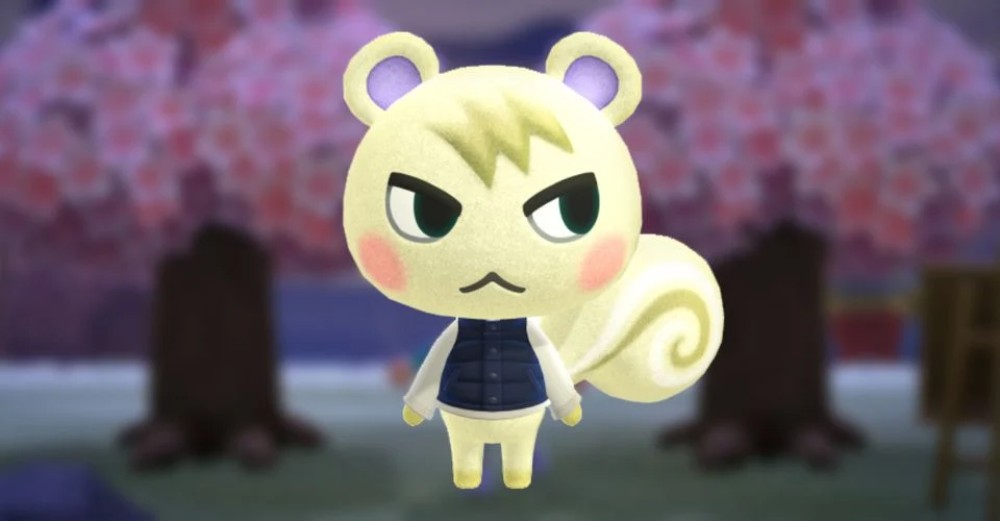 Don't you just want to pinch those little cheeks?
Marshal is a handsome marshmallow-colored squirrel with a tuft of blonde hair and the cutest rosy cheeks.
Despite how adorable he is, he has a smug personality type, so it may take some time for him to warm up to you.
He is one of the most popular villagers due to his looks and quirky personality.
Marshal has excellent taste in clothing and home décor, and his home has a very elegant vibe with an upright piano and pieces from the Café furniture collection.
What's great about Marshal:
It's hard to look at his face and not smile
Even though he is smug, he is very sweet once he warms up to you
His house has a cool and sophisticated style with a mixture of modern and classic furniture
4. Merry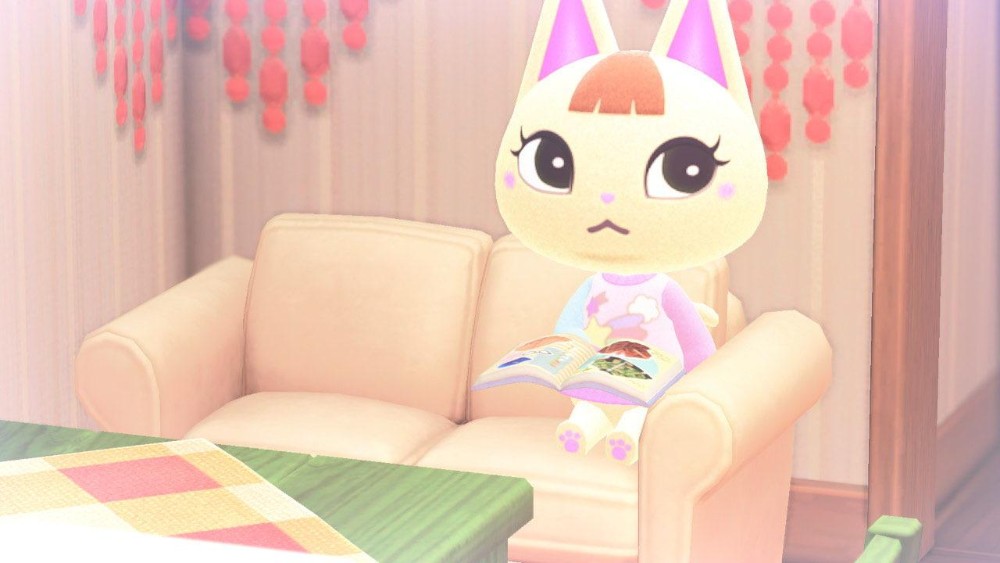 Merry is the epitome of cuteness.
Merry is another villager that is wildly popular with players, and with good reason.
In addition to her very friendly peppy personality type, she is one very cute cat.
Merry has a slight blush to her cheeks, long eyelashes, and cute little bangs.
She even has the slightest hint of a little double chin, which just adds to her cuteness.
Her home is equally as cheery as her personality, with bright colors like green and orange adding a fun touch.
What's great about Merry:
She has one of the cutest smiles in the game
She has a fun and friendly personality that makes it easy to get along with her
She is one of the nicest villagers in New Horizons
3. Zell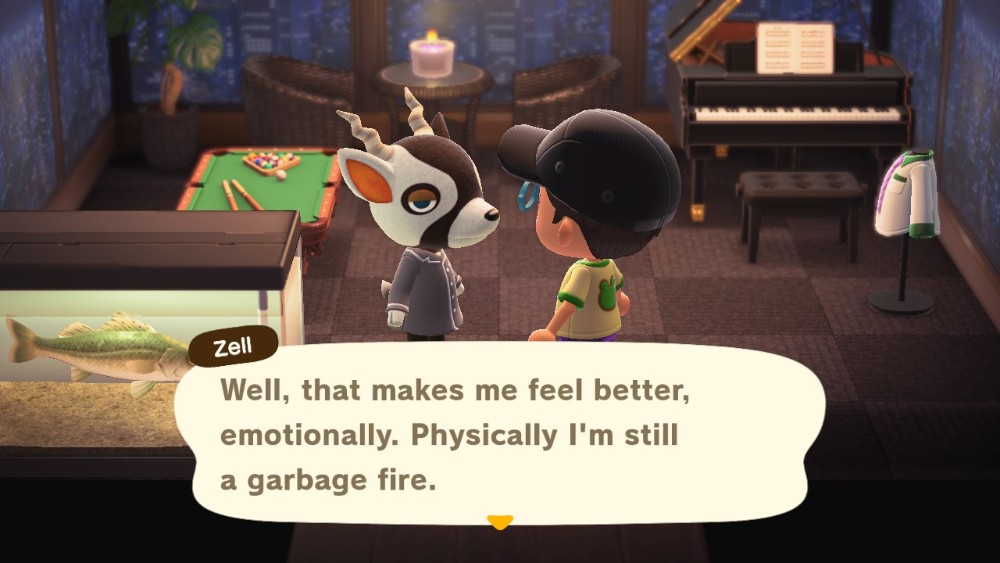 I think we can all relate to how Zell is feeling.
Zell is a cream-colored deer villager with chocolate markings, and he resembles a gazelle.
He has a smug personality type, which means that he will usually be a polite gentleman.
Occasionally, he can be a little conceited, but he is a handsome villager, so it's understandable.
Zell has a very classic sense of style and his home is extremely stylish with a grand piano, a pool table, and an amazing city view.
What's great about Zell:
Smug personality types have some of the best dialogue in the game
He can be a little flirty towards female players
His home décor is absolutely amazing
2. Teddy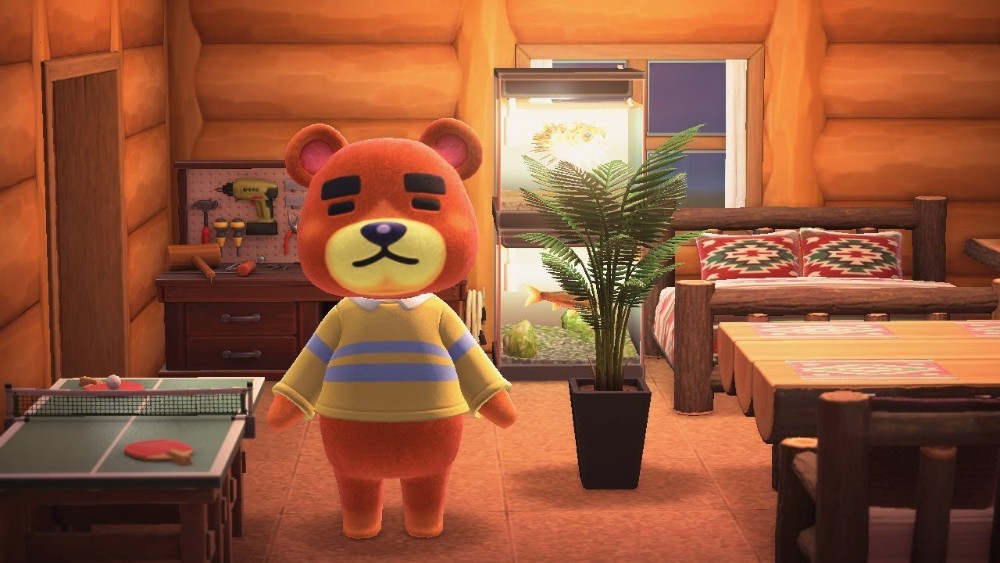 Teddy may appear mild on the surface, but he's into some pretty wild stuff.
Teddy is a jock villager with a very sweet and endearing personality, and you can't help but like him.
He is a big teddy bear with thick eyebrows, and he loves to flex in the new clothes you give him.
His sweet attitude towards you once you get to know him makes him even more huggable, and once you have him on your island, you won't want to let him go.
He has a simple sense of style, preferring a rustic log cabin look with log furniture, and he is always working out to stay in tip-top shape.
What's great about Teddy:
Once you get to know him, he becomes very sweet and protective towards you
The fact that he's a big teddy bear just makes him irresistible
His dialogue is pretty amusing when he shares his innermost random thoughts
1. Diana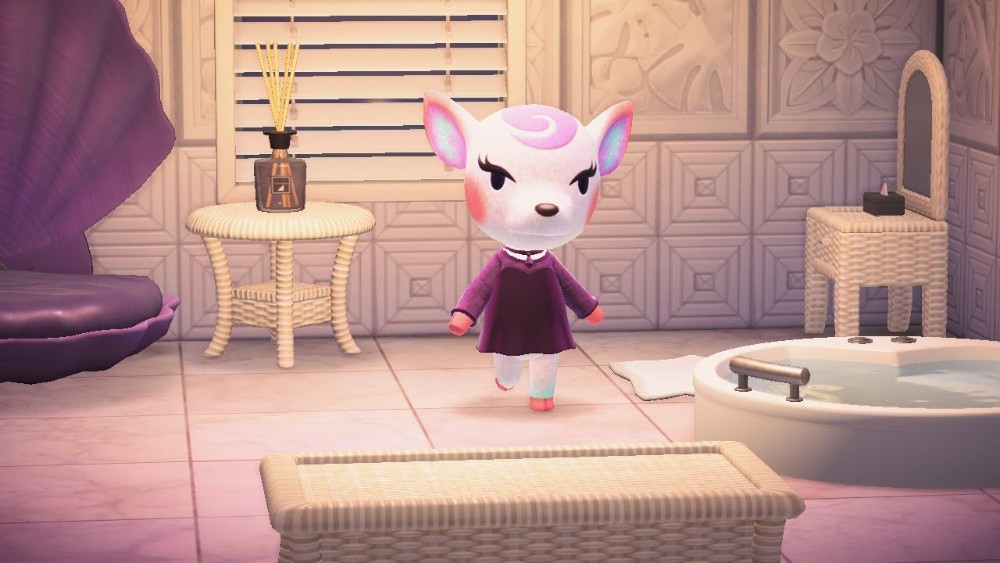 Diana is the most sophisticated deer you'll ever meet.
Diana is a gorgeous deer with white fur, purple ears, bright rosy cheeks, long eyelashes and a purple swirl on her head.
Her name is said to have come from the Roman goddess Diana, who is said to have reigned over all of the wild animals.
While Diana does have a snooty personality, she is actually friendlier than most of the other snooty villagers and she doesn't participate in island gossip.
She has an elegant style, both in her clothing and home décor, and her home features the Shell Bed and Whirlpool Bath.
What's great about Diana:
She is named after a Roman goddess
She has a super friendly personality
Her home has cool décor
You May Also Be Interested In:
Image Gallery