[Top 15] Sims 4 Japanese Mods and CC Every Player Should Have
Updated: 06 Jan 2023 11:14 pm
"Whippna Choba Dog!"
Top 15 Sims 4 Japanese Mods and CC Every Player Should Have
The Sims 4 base game, the popular life simulation game, recently became free to download and play on all supported platforms from October 18, 2022. As a result, the game will undoubtedly attract a lot of new players who will learn just how much of a sandbox game it is.. Currently available only for PC players, the game has a wide variety of mods and custom content, or CC, available for players to customize their game. These range from character creation and outfit options to buildings, objects, user interface (UI), and even Sim behavior changes. Many mods and CC items are available to download for free from sites like Tumblr, sims4updates, or Sim Supply. Most recently CurseForge developed an official mod site for the game, where mod creators and players alike can upload and download mods and CC from a central safe, free, and trusted site. 
We have gathered the top Japanese mods and CC here for Sims gamers both new and experienced. Japanese mods and CC are customization options to add a Japanese touch to players' homes and characters through traditional and inspired clothing, buildings, rooms, and other objects. If you ever wanted to give your Sims a Japanese experience, look no further! Included in this list are different types of builds, furniture, outfits, and more.
15-Kitayama Living- Build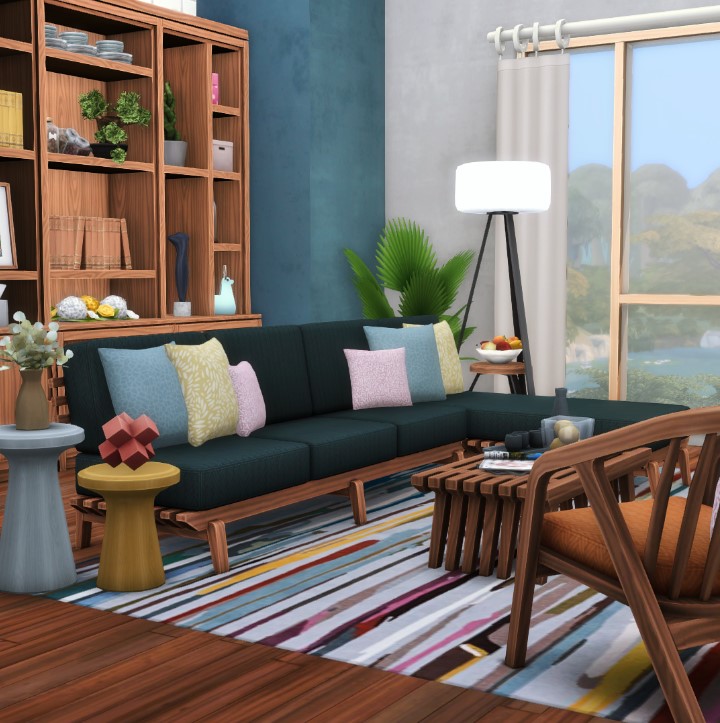 This is a Japanese-Scandi Fusion mod with over 30 Objects. Each piece of living room furniture in the game has between  16 to 36 color and style options. Included in this set are sofas, cabinets, shelvings, tables, and other knickknacks to accessorize the room. This build mod is compatible with the base game.
What's Fun About Kitayama Living:
The beauty of Japanese and Scandinavian furniture designs was blended to create something unique. 
Each piece looks as though it was well crafted and placed into homes, creating a relaxing environment.
Bonus: There are two other mods that go along with this. A Dining mod and a Bedroom mod. With the bedroom set offering more luxurious possibilities, both sets include between 16 and 36 color and style options.
 Get the mod here.
14-Japanese Tatami Floors–Build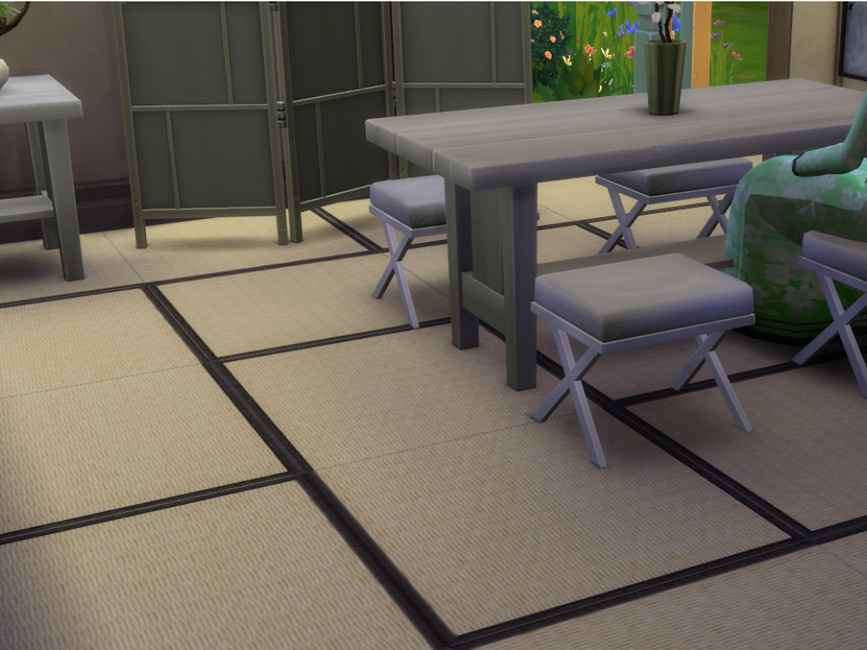 Traditional Japanese flooring known as tatami is still widely utilized in Japanese houses, though it's more common in hotels nowadays. These minimalist floor mats will add a crucial Japanese elegance to your sim's home.
This mod is available for the 1.91.205 game version.
What's Fun About Japanese Tatami Floors:
Players can add traditional Japanese flooring to their builds, and get creative with how to place it down.
This CC Japanese floor has the advantage of blending in completely with any interior design you choose.
This can be used to create a traditional Japanese home or tea ceremony room.
Get this mod from here.
13-Japanese Hot Tub and Rocks–CC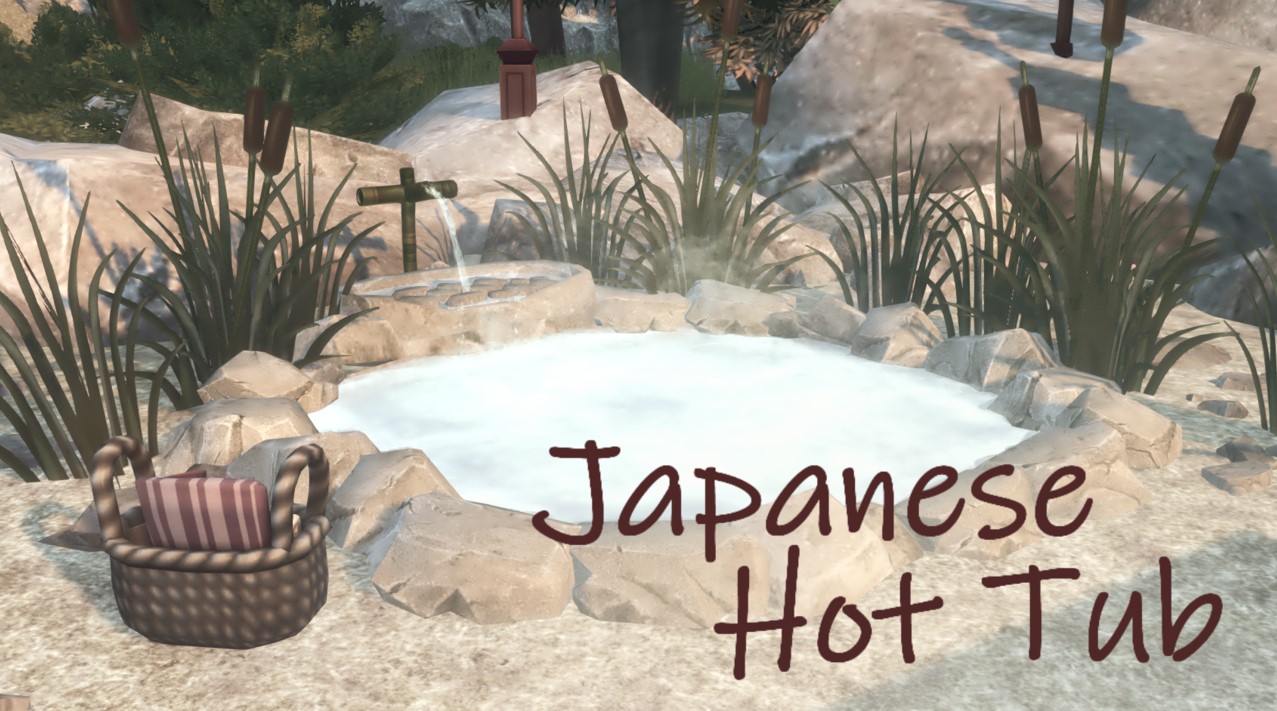 This hot tub mod is modeled after a certain style of traditional Japanese hot tubs or soaking tubs called Ofuro tubs, which continue to be an important part of Japanese culture. Culturally, the water came from a hot spring, and people would soak in the waters as part of a cleansing ritual. 
The Hot Tub comes in 3 rock colors: gray, blue, and brown in both green and brown bamboo water spout colors. As well there are 5 decorative rocks added which are the same as the base game rocks, with added texture to match the tubs.
What's Fun About Japanese Hot Tub and Rocks:
This mod is unbreakable and has multiple effects included. It has a water stream, waterfall, and steam effects on the rocks and hot tub itself.
Aromatherapy is enabled. This is a skill-based option that allows players to add essential oils to the hot tub to influence their Sims moods.
This mod was updated by a fan of this Hot Tub mod, and they did a great job!
Get this mod here.
12-Living Japan - Hakone CC Pack–Build / Catalog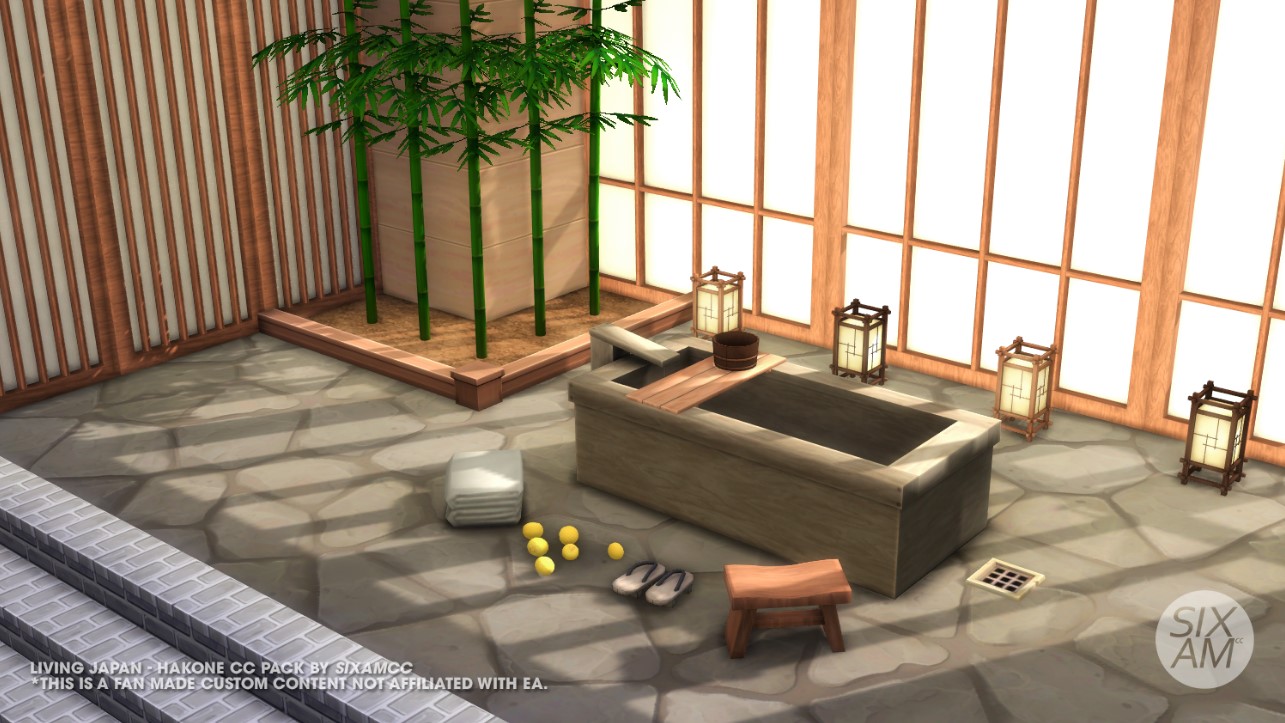 With objects for beds, living rooms, bathrooms, and other spaces, this mod gives the game a ton of brand-new furniture features. 59 new meshes total, including designs for windows, duvets, and ceilings. The creator even made Japanese-style windows that are translucent so light can pass through them, just like a normal Japanese paper window.
This mod functions with the base game and is available for the 1.90.358, 1.90.375, and 1.91.205 game versions.
What's Fun About Living Japan - Hakone:
With multiple designs available, no two rooms need be the same.
The furniture in this mod comes empty so players can place the decorations any way they like without being limited by clutter decoration.
The designer made several adjustments to the game's commonplace objects to give them some originality while maintaining the Japanese aesthetic.
Get this mod here.
11-Kyoto Part 2–Build / Catalog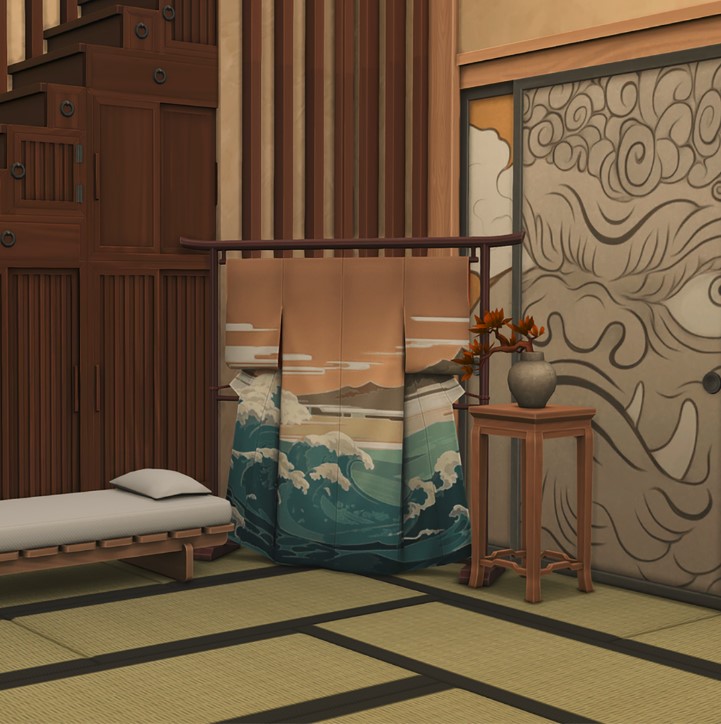 This mod consists of over 30 Objects focused on interior items. The creator wanted to add a mix of traditional and minimalist design to give a Zen feeling. Included are items for the cold winter months, such as an Irori hearth, as well as places for storage around other functioning items. 
This is available for the 1.91.205 game version.
What's Fun About Kyoto Part 2:
This mod includes a Futon bed with linens and matching Tatami mats.
You can find Kimono and Haori displays and other decorative items.
Get this mod here.
10-Tea Pot and Green Tea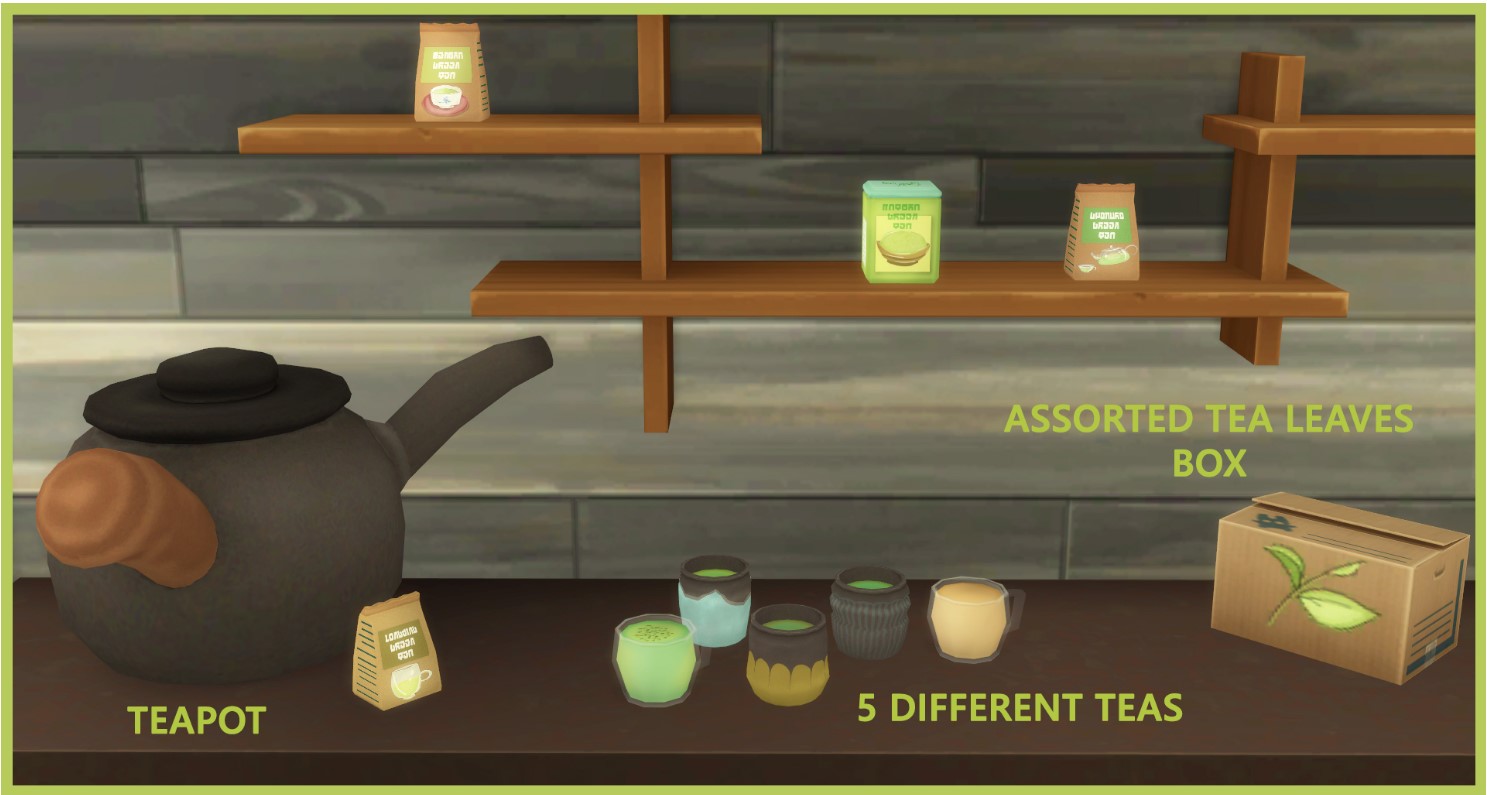 This mod has a teapot with a variety of Green teas in it. Green tea enthusiasts can now create their preferred beverage for their Sim in the game! Players can interact with the elements to produce different teas that arrive in a box of leaves. Every tea has a unique cup.
This mod requires Custom Food Objects and is available for the 1.93.129 game version.
What's Fun About Tea Pot and Green Tea:
This is an interaction mod, meaning players can have their Sims actually make the tea!
The types of teas included are Matcha, Sencha, Gyokuro, Longjing, and Burdock green teas.
Each tea gives the Sim a buff, either a happy buff or an energized buff. It can also warm up freezing Sims.
Get this mod here.
9-Hen Onigiri Bento Box–Recipe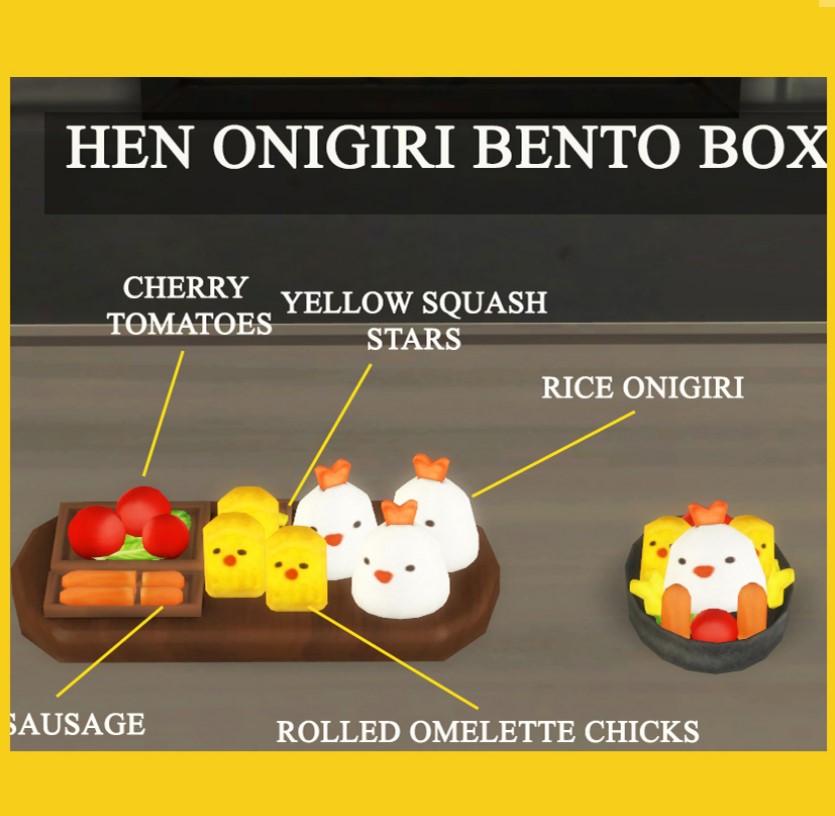 This mod consists of a recipe to create a "bento box," which is a single-portion takeout or home-packed meal in the Japanese style, typically made for lunch. Eaten by people of all ages, they are popular with parents creating them for their children, who make cute designs with the food. This mod is created in that style, with the foods cooked and arranged in a cute way to look like little chicks.
This is base game compatible and requires Custom Food Objects. It is available for the 1.93.129 game version.
What's Fun About Hen Onigiri Bento Box:
It is compatible with toddlers, meaning they can eat the food while sitting down either on the floor or on a chair.
It is also compatible with pets as they can interact with it and eat it.
There are 3 serving options with this recipe and players can choose any kind of meat and vegetable to add to the meal.
Get this mod here.
8-Functional Mill Add-on: Mochi and Green Tea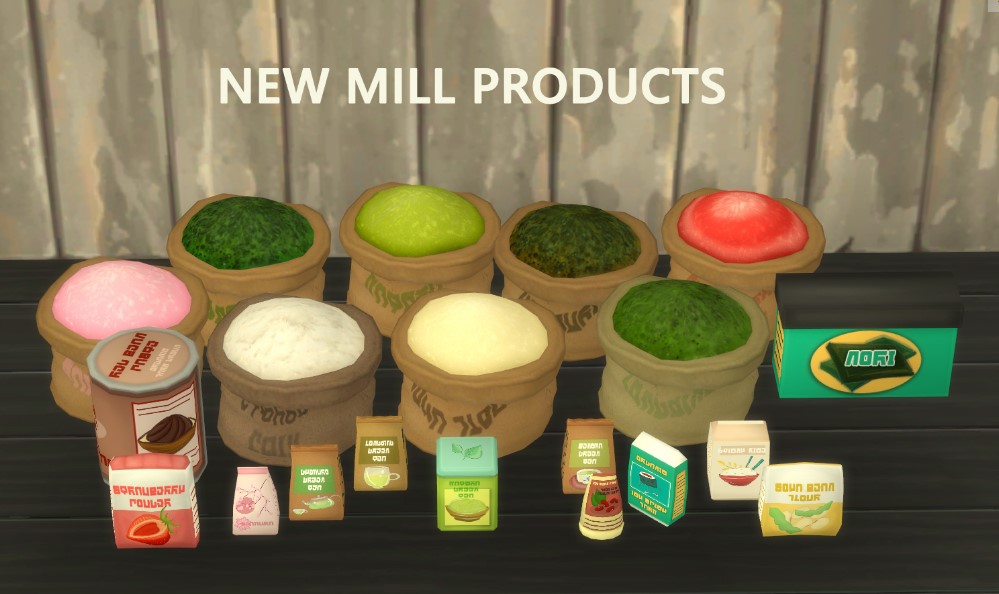 Simply stated, this is an add-on mod to the Functional Mill with new products added.
The following new products were added: 
1. Sticky Rice Bag
2. Roasted Soya bean flour - Kinako
3. Sakura essence powder
4. Matcha powder
5. Gyokuro Tea Leaves pack
6. Longjing Tea Leaves 
7. Sencha Tea
8. Red Bean paste - Anko 
9. Nori
It requires the Functional Mill
This mod is compatible with the base game and is available for the 1.93.129 game version.
What's Fun About Functional Mill Add-on: Mochi and Green Tea:
Players can increase their ingredients as cooks or their grocery stock for those who operate a grocery store with the inclusion of these items.
It gives players more reason to level up their milling skills.
These added ingredients can be used to create new recipes.
Get this mod here.
7- Chicken Katsu Curry– CC Recipe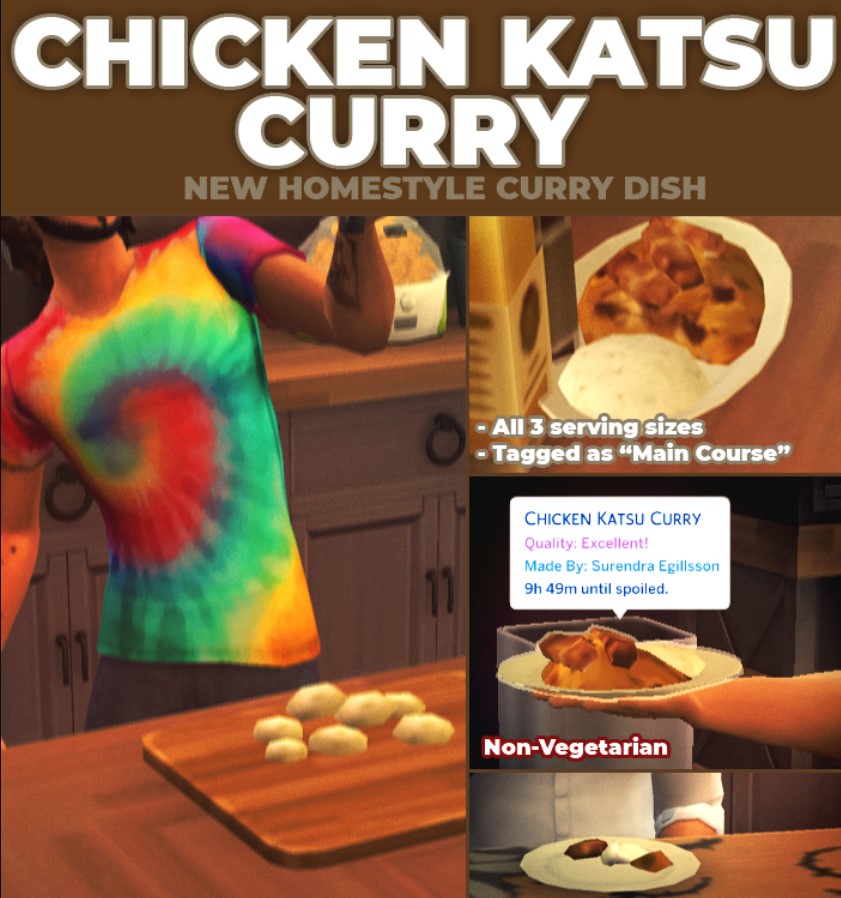 This unique meal, chicken katsu, is a Japanese curry dish made with fried chicken coated in panko bread crumbs and served with a variety of fried vegetables and a tonkatsu sauce made with tomatoes, carrots, onions, and other ingredients. This is s totally functional mod so Sims have to prepare it themselves.
This mod is fully base game compatible and requires the latest version of the creator's Food Enabler Object.
What's Fun About Chicken Katsu Curry:
This is a classic Japanese dish that is both delicious and easy to make. 
There is also a vegetarian version for players who want to include a vegetarian lifestyle into their gameplay.
Bonus: The creator has two other Japanese food mods that we think you would enjoy. There is a Tofu and Edamame Stir Fry mod and a Yaki Udon mod. The tofu and edamame dish is a Japanese-inspired vegetarian noodle dish, made with noodles, tofu, and edamame, cooked in a vegetable broth. Yaki udon is a Japanese stir fry dish made with udon noodles, vegetables, a source of protein, and a soy-based sauce.
Get this mod here.
6-Kawaii Stuff–CC Objects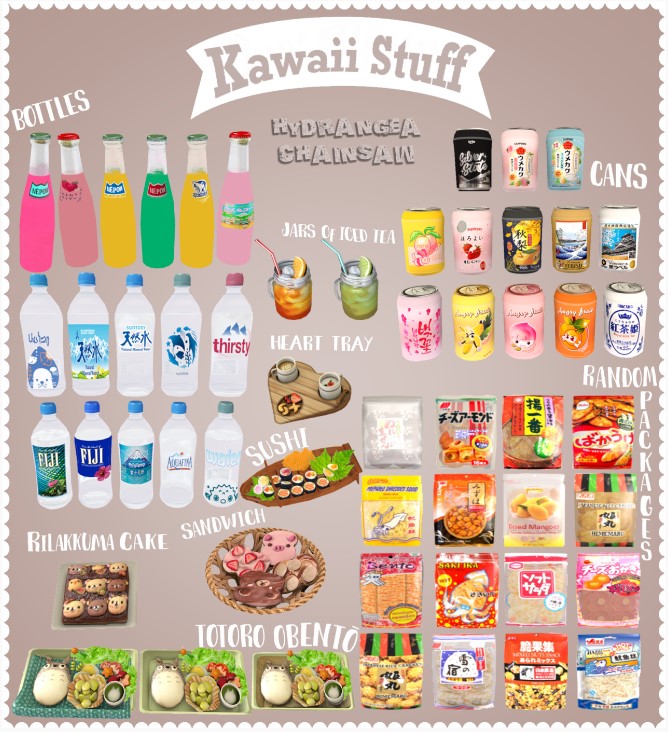 This mod is full of cute or kawaii objects including random snacks, cans of drinks, and different brands of water and other foods. It is free to download, though in order to download it you have to make a "purchase". Just put in 0 under where it says "Name a fair price". Then it takes you to a cart page where you add your email to confirm the download and that's it! 
What's Fun About Kawaii Stuff:
Each item is super kawaii and look realistic, just like the real stuff!
The latest update added more items for players to access, such as the snacks and obento.
Bonus: The creator also has a vending machine mod free to download. The vending machines included are for books and videos, different types of drinks, and cigarettes.
Get this mod here.
5-Samurai Tattoo Sleeve–Sim Customization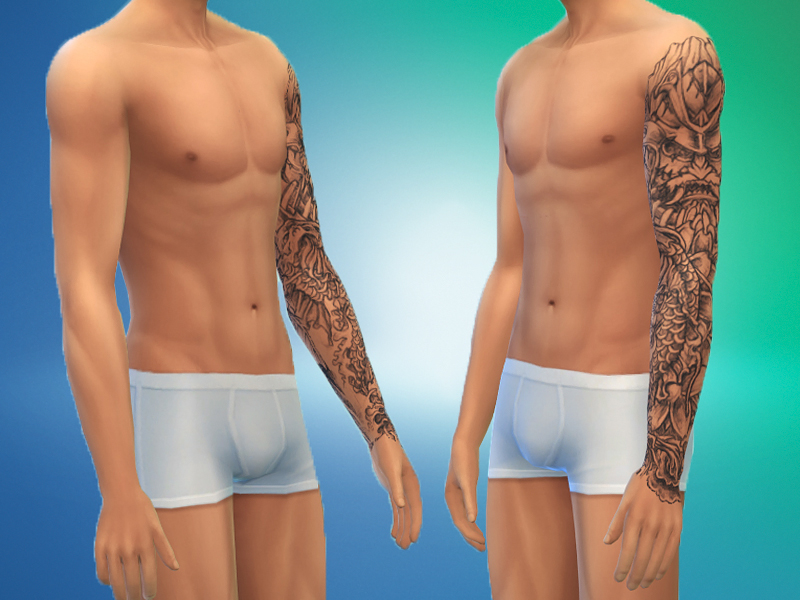 This mod adds a left-arm-only Japanese tattoo with a samurai and koi fish design. It is currently only for male Sims.
What's Fun About Samurai Tattoo Sleeve:
Players who like tattoos and always wanted a samurai design would love this for their Sim.
It is a stand-alone item, so it can be worn with tattoos on the rest of the body.
Bonus: If you want a female tattoo here is a Japanese Flower Tattoo accessory from another creator.
Get this mod here.
4-Sakura Kimono Jacket–Clothing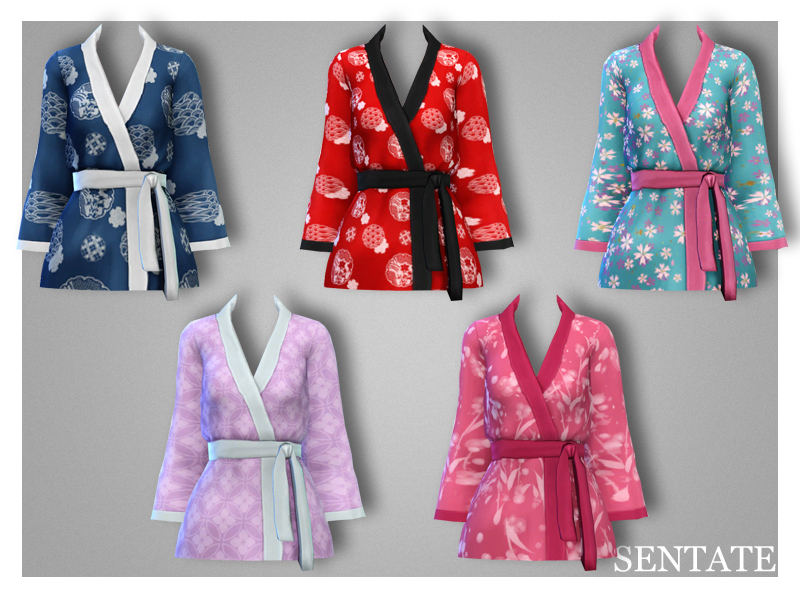 This mod adds a special modern touch to the classic kimono. It includes a cropped jacket with 3/4 sleeves and a wraparound design that ties at the waist. 
What's Fun About Sakura Kimono Jacket:
For those who want to have the look of wearing a kimono without wearing a full kimono, this is for you.
5 basic colors and 5 Japanese prints are available.
With the different colors and patterns available, you can dress your sim in this jacket multiple times over and create different outfits.
Get this mod here.
3-Usagi Blush–Sim Customization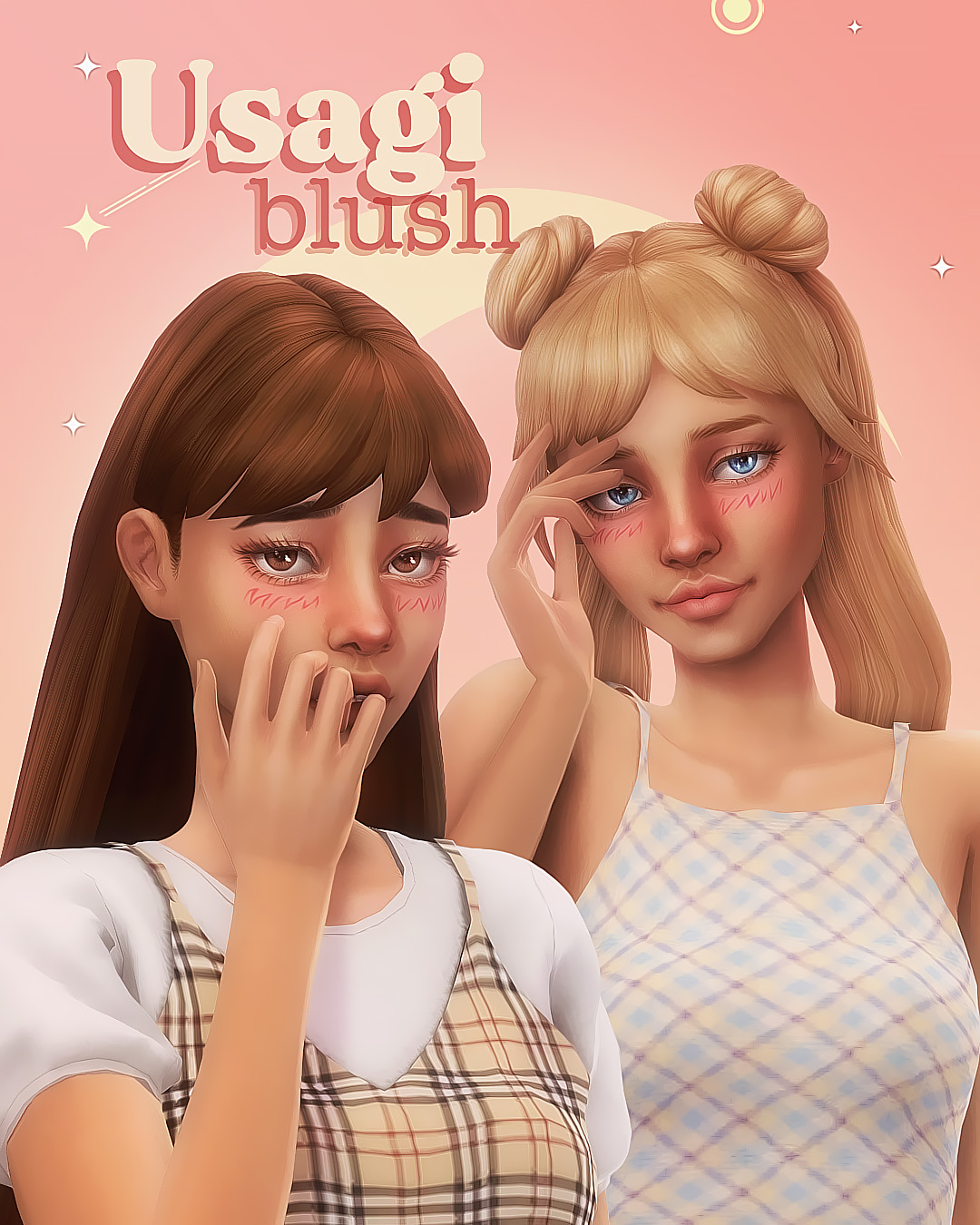 Most often seen in Japanese comics or manga and anime, this anime-inspired blush is perfect for those shy and embarrassing moments. This is a blush and facepaint add-on, with options for placing it only on the cheeks or also the nose.
What's Fun About Usagi Blush:
This is a cute look to give to your Sims, with 9 swatches available.
The opacity and hue can be customized to either have a slight blush look or be pretty visible.
Get this mod here.
2-Chiyo–Clothing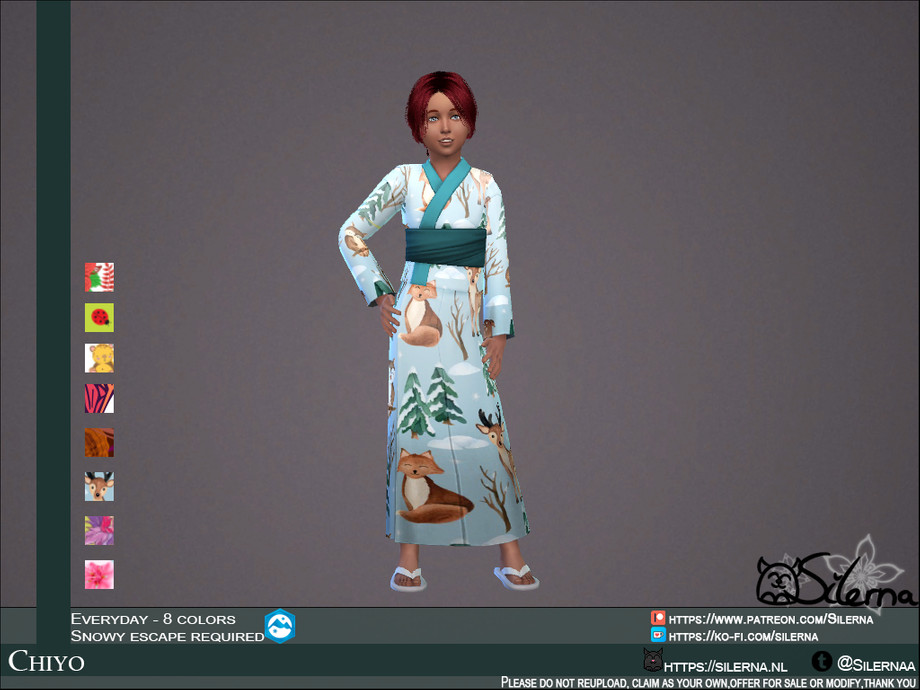 This mod recolors the female child kimono that comes from the Snowy Escape Expansion pack. There are 8 different color designs available and are standalone recolors.
What's Fun About Chiyo Mod:
This clothing mod is categorized as an everyday clothing item.
The designs range from cute to funny and give more variety to the expansion pack options.
Get this mod here.
1-Female Snowy Escape Yakuta Recolors–Clothing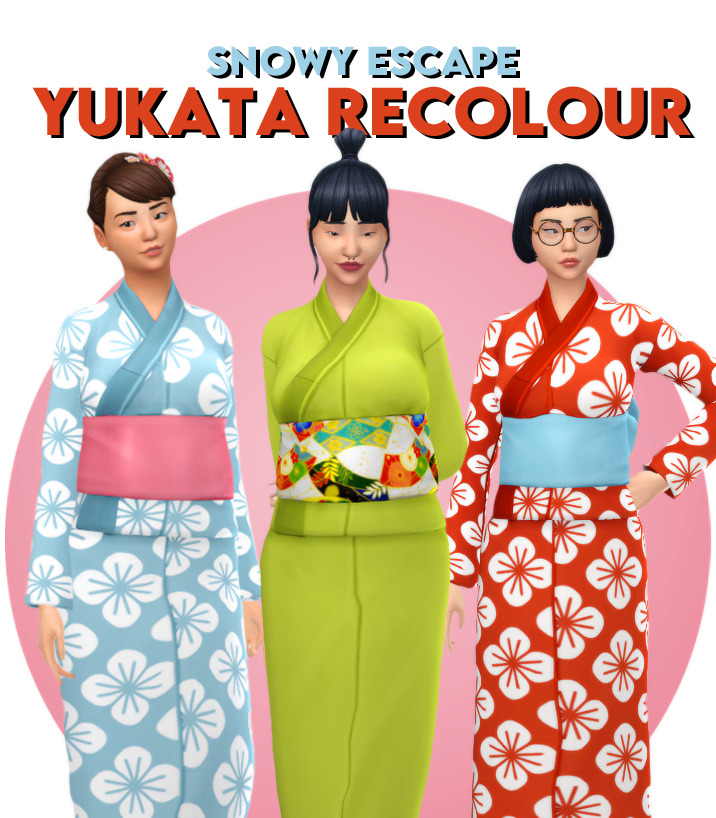 Another recoloring for clothing from the Snowy Escape Expansion pack, this add-on mod is for the female Yukata. There are over 20 swatches available.
The Snowy Escape Expansion is required.
What's Fun About Female Snowy Escape Yakuta Recolors:
Combined with 12 colors from Cupidjuice's Palm Springs pallet, this mod includes a blossom overlay Yukata with a contrasting obi and a plain Yukata with a patterned obi, making a total of 24 swatches.
Bonus: There is also a male version: Male Snowy Escape Yakuta Recolors. There are also 24 swatches available for this mod.
Get this mod here.
You may also be interested in: