[Top 10] The Sims 4 Best Wedding Locations
Updated: 01 Jun 2023 3:32 am
Where will your Sims tie the knot?
The ever-so-loved simulation game known as The Sims 4 allows players to play with all aspects of life, especially romance. After the release of the My Wedding Stories game pack, weddings have become much more relevant in the game, allowing players to give their Sims memorable experiences that begin each of their journeys into marriage. The romantic aspect of The Sims 4 gives the gameplay more depth and realism, allowing players to connect to their Sims more than ever before.
Luckily, this game offers a wide variety of wedding locations that stretch across all of the additional packs that add to the game, from venues surrounded by nature to beaches with white sand. If your Sims are engaged and ready to tie the knot, check out the top 10 best wedding locations for The Sims 4 in this epic compilation and find one fitting for you!
10. Selvadorada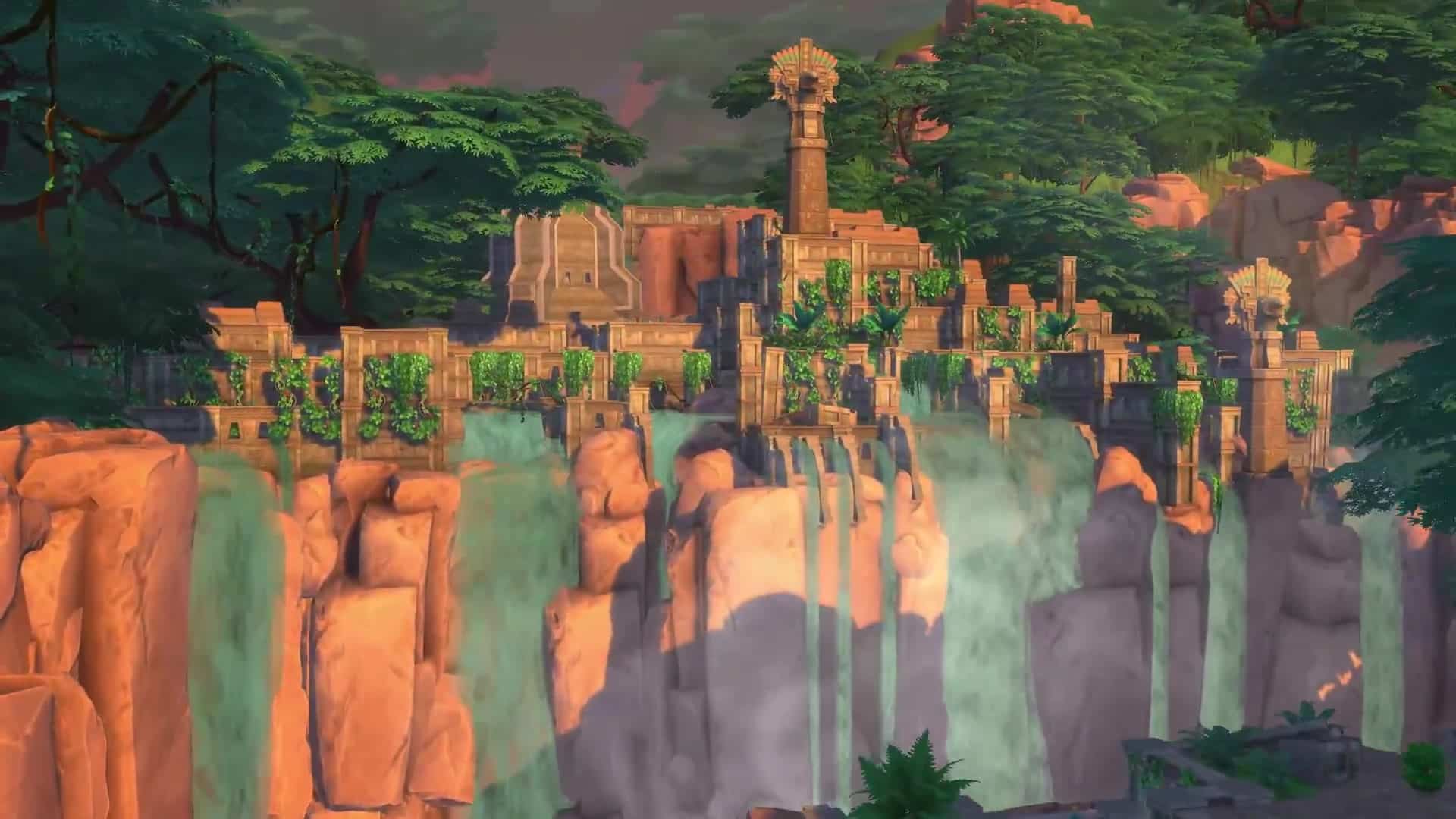 Have a wedding next to the jungle in this rainforest world.
Selvadorada is an amazing place for vacations, exploration, and even for love. Although there are no venues that are specifically fitting for weddings, the landscape and scenery will surely allow your Sims to be immersed within the beautiful nature.
This destination can be romantic for any couples or even for Sims searching for a lover, and all that needs to be done to make it a perfect wedding location is the placement of a wedding venue or wedding arch on a rental lot. Selvadorada will surely sweep your Sims off of their feet and allow them to have a wedding event that is as natural as it is beautiful. 
What makes Selvadorada a great place for weddings:
Amazing scenery that immerses lovers in a romantic landscape filled with nature.
Plenty to explore and see alongside your lover.
Fun vacation destination with friendly locals and new, unforgettable sights to see.
9. Myshuno Meadows (San Myshuno)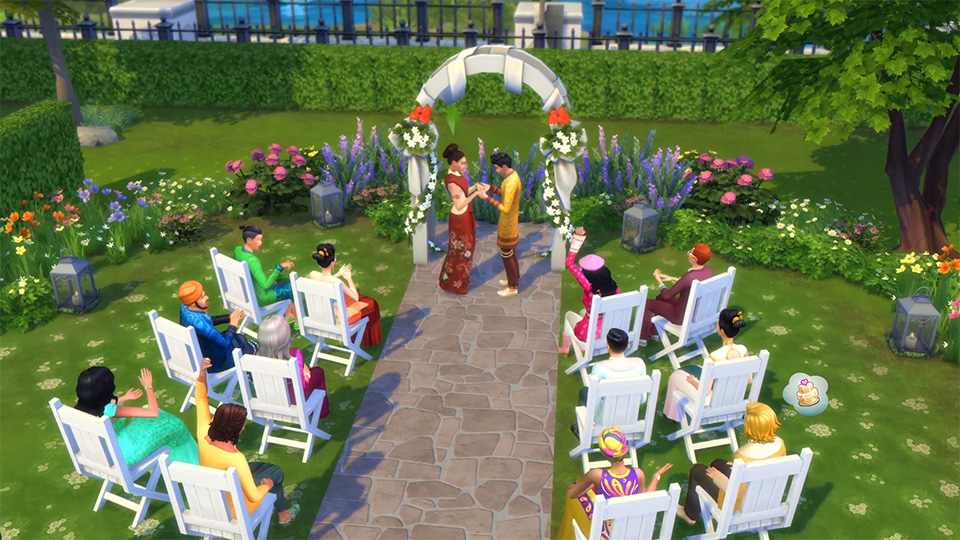 Stay close to the city for a wedding surrounded by nature. 
Myshuno Meadows is the perfect place for any Sims who want to be surrounded by the city for their wedding day. This central park is home to many activities that all of the family can enjoy, from a nicely sized playground to a wedding reception area that is nestled within the natural elements of the area.
Myshuno Meadows is high class and close to the Uptown area of San Myshuno, making it a perfect place for wealthy lovers to wed. The wedding area is rather small and only has an arch and some seats, but would be perfect for a small wedding. 
What makes Myshuno Meadows a great place for weddings:
A great place in the city for small and intimate weddings. 
Plenty of fun for the entire family that will ensure that guests do not become bored.
Surrounded by nature but not far from the city, making for a unique venue.
8. Magnolia Blossom Park (Willow Creek)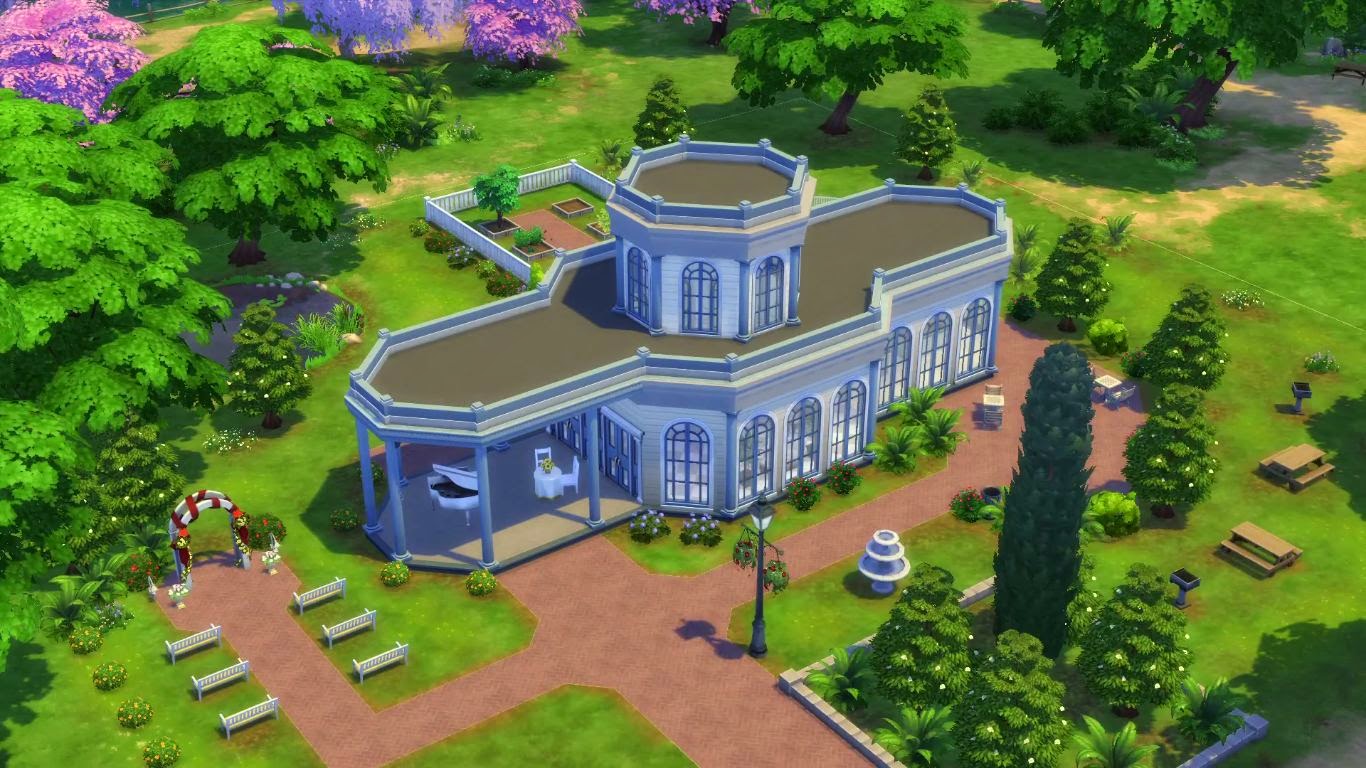 Experience a romantic afternoon under the weeping willows at Magnolia Blossom.
The Magnolia Blossom Park in Willow Creek is a classic Sims 4 wedding venue, being one of the first beautiful venues where Sims could get wed. It does require some setup to prepare for the ceremony and reception, which can be done quickly from build mode.
Once set up properly this park makes a beautiful wedding venue surrounded by bright plants and alluring ponds that any Sim and player will surely fall in love with. 
What makes Magnolia Blossom Park a great place for weddings:
Bright vegetation and beautiful ponds that will make your Sims feel like they are having a fairytale wedding. 
Plenty of space that can allow for multiple wedding areas that are custom-made for each player's gameplay. 
Base game venue that any player can access, making it helpful for players who only own the base game.
7. Garden Palace of Vows (The Gallery)
Have an Indian-inspired wedding at the Garden Palace of Vows.
The Garden Palace of Vows is a wedding venue that comes with the My Wedding Stories game pack, allowing Sims to celebrate their wedding at an Indian-inspired venue.
This palace has beautiful terraces and an outdoor reception area along with mesmerizing gardens that will make anyceremony beautiful and honorable. This lot can be placed from the gallery, found in the "My Library" area. 
What makes Garden Palace of Vows a great place for weddings:
A unique venue inspired by Indian styles and traditions with beautiful gardens and palace hallways. 
Pre-made lot from Maxis, allowing players to place it wherever they find it fitting in their game. 
Feel like royalty as your Sims celebrate an event of union at a palace fit for monarchs. 
6. Sulani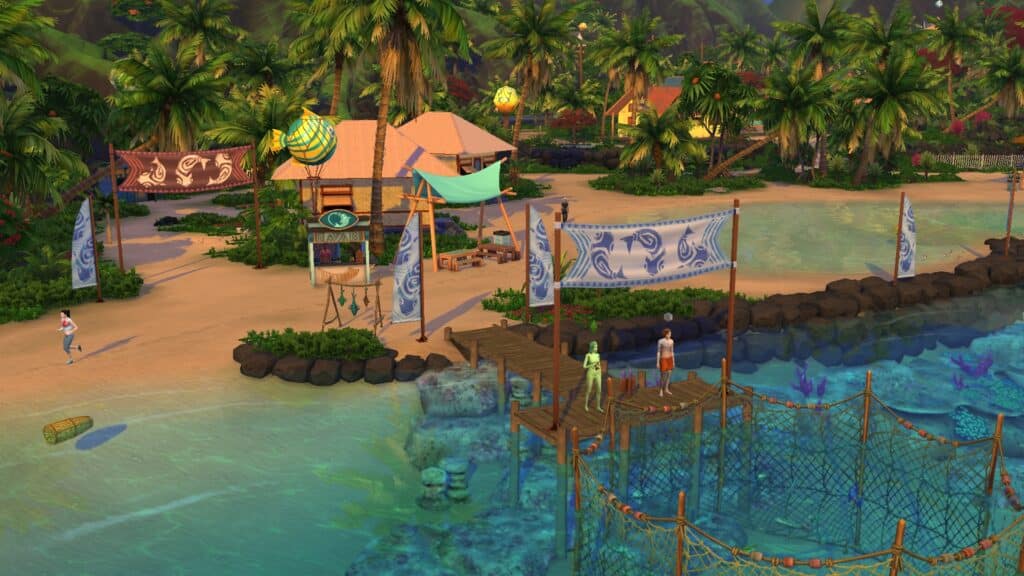 Make your wedding tropical by building a wedding venue along the sands of Sulani.
Sulani is the perfect world for a tropical wedding with its many beaches and friendly locale. All of the areas in Sulani have a different vibe, allowing players to build a wedding lot that is perfect for their game anywhere in this tropical world.
Players can build a wedding venue on a private island or alongside a sunlit beach and take a dip in the water after their ceremony, all while enjoying the bright sands and blue waters of Sulani. 
What makes Sulani a great place for weddings:
Build a custom venue that is fitting for your Sims and their wedding alongside the beach, immersed by the tropical nature of Sulani. 
Keep guests entertained with water activities after the reception by building sandcastles, swimming in the ocean, or by socializing with them among the great scenery. 
Have a bright and colorful wedding that will allow Sims to take in the island.
5. Von Haunt Estate (Windenburg)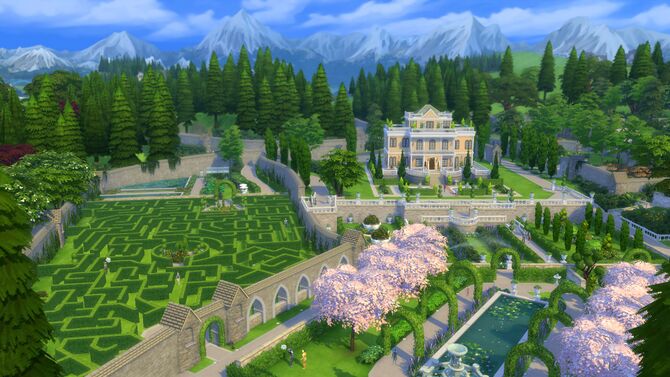 Wander through the hedge maze after a wedding behind the Chalet. 
The Von Haunt Estate Chalet Gardens is a venue where Sims can have a Bridgerton-style wedding behind a historical estate. There is an area by the Chalet Gardens that is perfect for a royal wedding, with a wedding arch and piano right under a breathtaking waterfall.
All of this is next to a giant hedge maze and a plaza filled with fountains, giving plentiful space for guests attending the wedding. The Chalet Gardens would be the best wedding venue if there was more seating, but any guests attending an event at this venue will have to be standing for the wedding.
What makes Von Haunt Estate a great place for weddings:
A huge venue that is surrounded by nature and giant hedges, making the perfect place for a wedding inspired by royalty.
Plenty for guests to do, from exploring the hedge maze to dancing on the terrace of the estate. 
Memorable scenery that brings Sims into a world of bliss while attending a wedding. 
4. Mt. Komorebi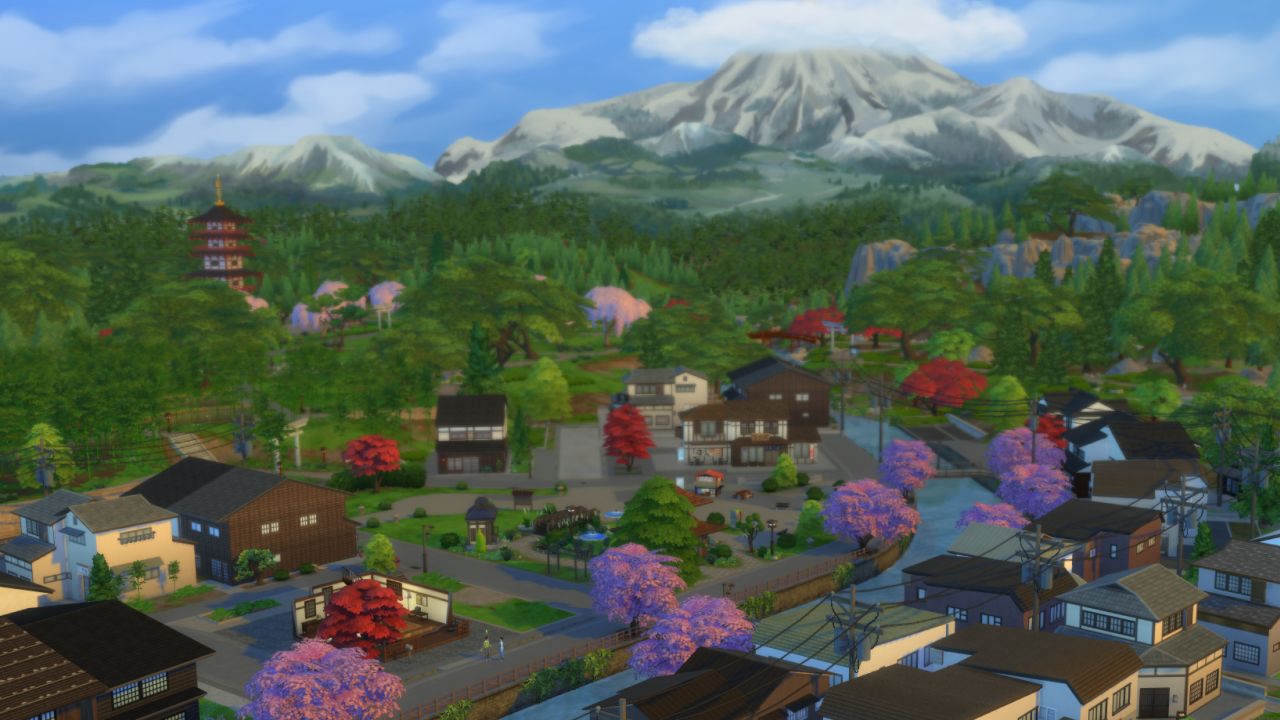 Embrace the nature and culture of Mt. Komorebi and have a wedding under the mountain. 
Mt. Komorebi is another world where most lots can be turned into a romantic venue for weddings. This world has three areas that are unique and have their own traditions, but the snowy mountain area is the best choice if you want your Sims to have a unique wedding that is surrounded by a white blanket.
The Centurial Harmony Garden from the My Wedding Stories game pack fits into this world beautifully, allowing Sims to have a chinese-inspired wedding in a world that can also provide for a perfect honeymoon. 
What makes Mt. Komorebi a great place for weddings:
Have a wedding that is inspired by Chinese traditions by pairing the Centurial Harmony Garden with this world.
Build a custom venue that is either next to the town, close to a bamboo forest, or surrounded by snow. 
Have a wedding at a wide variety of venues in the enchanting world of Mt. Komorebi by personalizing pe-made lots or by building your own.
Stay in this world after the wedding is over and enjoy a honeymoon in the beautiful world where there is plenty to do.
3. Club Calico (Brindleton Bay)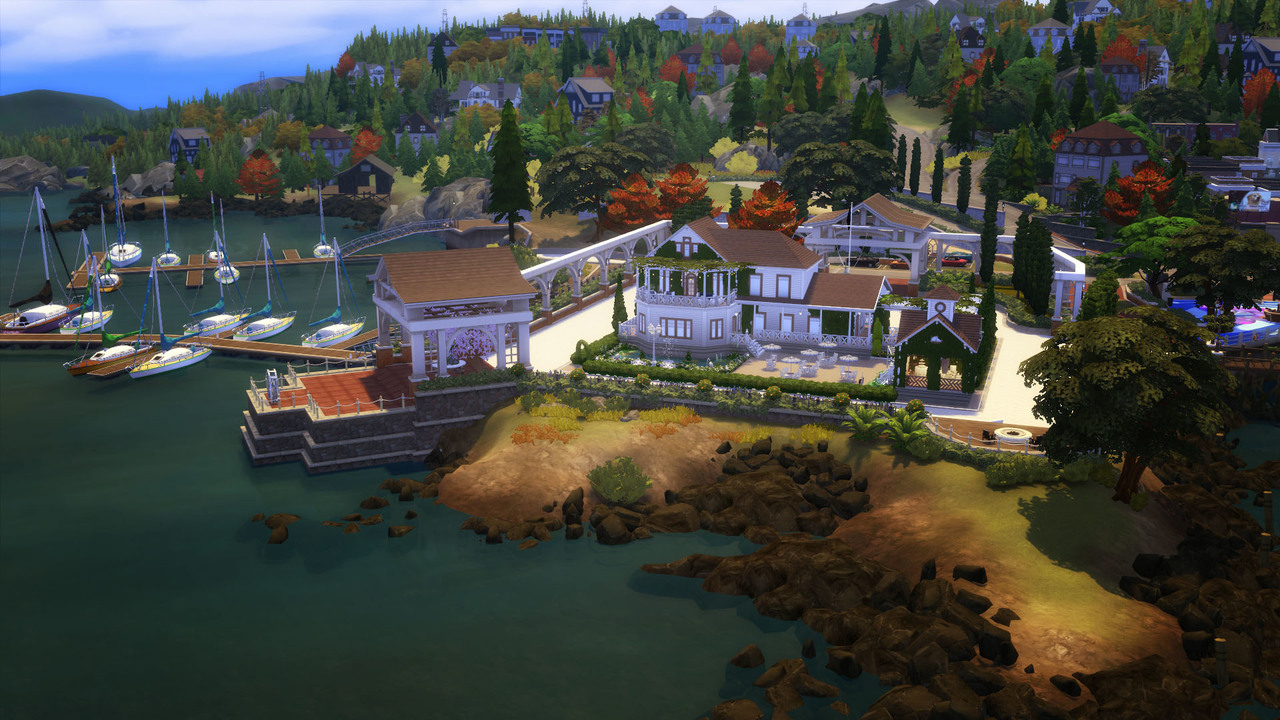 Have a bayside wedding at the country club in Brindleton Bay.
Club Calico is a high-class bayside lounge equipped with a cozy fire pit, huge pool, nice wedding area, and an amazing indoor facility that can be used as a space for the reception.
This location is in Brindleton bay and overlooks the dock that sits above the water, making a perfect romantic venue for a memorable ceremony. Gather all of your Sims in this well-established country club and celebrate the new lovers!
What makes Club Calico a great place for weddings:
Enjoy a wedding by the water in Brindleton Bay at a high-class lounge full of amenities.
Dance and hang out inside, swim around in the pool, or gather by the fire pit before and after the ceremony. 
Have a classy reception with your Sims and their families in a picturesque neighborhood full of life.
Plenty of space that allows for large and successful events to be held.
2. Jardin de Mis Amores (The Gallery)
Have a wedding at a spanish-inspired chapel and enjoy the gardens.
Jardin de Mis Amores is an amazingly beautiful Spanish-styled wedding venue, another that comes with the My Wedding Stories game pack. This venue is comfortable and full of colorful vegetation, emphasizing the romantic aspect of the lot.
Sims can spend their time inside wandering through the greenhouse areas; or outside near the wedding area, taking in the fresh air that blows into the courtyard. Any couples are sure to have a romantic time at this venue, whether they are contemplating their wedding day or celebrating it.
What makes Jardin de Mis Amores a great place for weddings:
Pre-made venue with all of the essentials required for having a wedding ceremony, reception, or any other formal event. 
Spanish-inspired build that brings your Sims into a garden of love where they can celebrate their union.
Outdoor wedding arch in the courtyard, surrounded by bright plants and brown tile that makes a warming environment.
Plenty of space for guests to explore while enjoying all of the wedding events.
1. La Coppia Serena (Tartosa)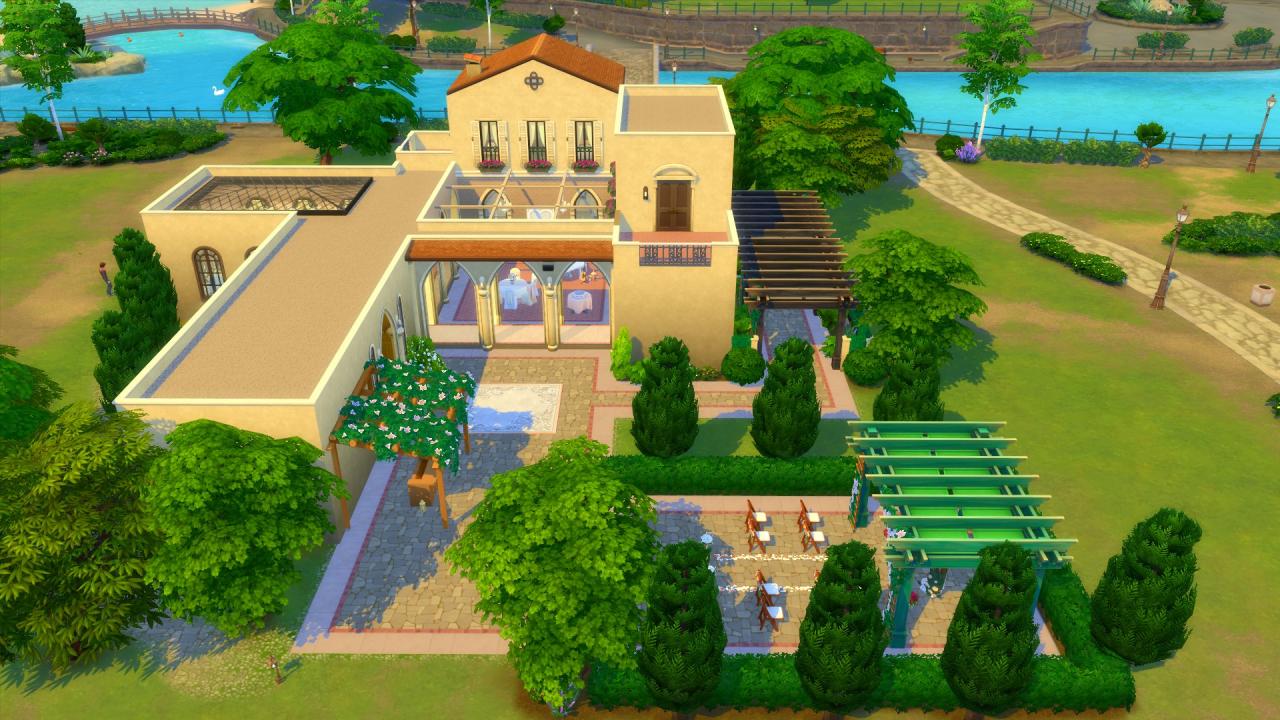 Host many events at this multipurpose, beautiful venue. 
La Coppia Serena is the best wedding venue offered by The Sims 4, again coming from the My Wedding Stories game pack. This venue has two wedding areas, one that is indoor and one that is outdoor; as well as multiple dancing areas, lounging areas, and plenty of space for a reception.
This venue is pre-built and placed in the beautiful world of Tartosa, fitting in perfectly with the bright sand and sparkling blue water, making it extremely easy to access. This lot can function as a venue for many events, but has everything and more that is needed for the best Sim wedding ever. 
What makes La Coppia Serena a great place for weddings: 
Pre-built lot that comes with the My Wedding Stories game pack, placed in the Greek-inspired world of Tartosa.
Two unique wedding areas that allow for different styles of weddings, one outdoor and one indoor. 
Plenty of space for wedding activities and the reception, from a full dining area to an outdoor dance floor. 
Plenty of details that allow the lot to be extremely memorable and romantic, surrounded by an intriguing landscape.
You may also be interested in: