[Top 5] Sims 4 Best Toddler Traits That Are Excellent
Updated: 29 Apr 2022 4:20 pm
Toddlers with much personality are make for an adventure.
Want more impactful traits?
Most simmers will agree that toddlers are one-dimensional in the Sims 4. Modders from the community have taken it upon themselves to create some traits early on in the game for toddlers.
Toddlers can be cute and cuddly, but it is no secret that their gameplay needs more to it. Adding on some new traits with toddlers opens up more storytelling ability and new ways to play. 
What are the best toddler traits that are excellent for your gameplay? Here are the top 5 toddler traits that will give your toddlers more depth and could help out their parents.
5. Easy Temperament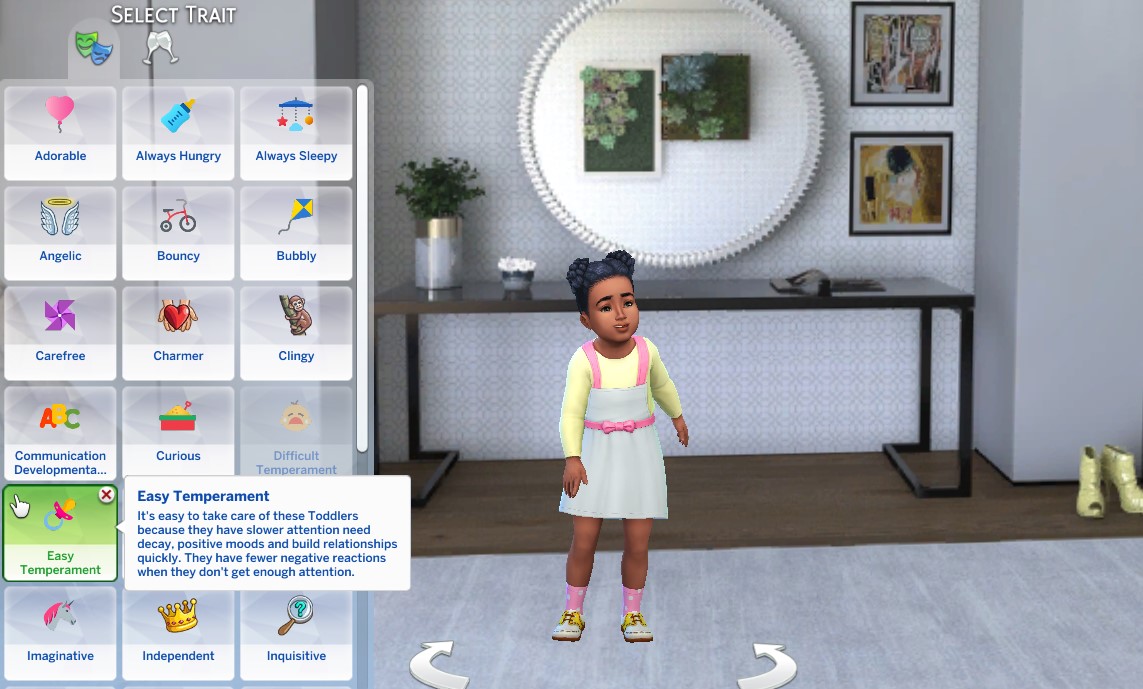 Easy tempered and adorable? Yes, please. 
Most of the base game traits only affect the emotional state of the toddler and not the needs associated with them. Easy Temperament is a CC trait that does both emotional and needs. 
This trait grants the toddler slower decay of their attention need and gives a  more positive mood. Your toddler will also be able to build relationships quickly. 
If you are the type to do the 100 baby challenge or something like a legacy challenge, this trait can assist in making multiple toddlers easier to take care of. Easy Temperament is an ideal trait for using with toddlers in your game; it will make your adult sims' lives easier.
Why Easy Temperament is Great
Less work
Attention decays slowly
Less negative reactions
Easy Temperament details: Details
4. Slow-to-Warm-Up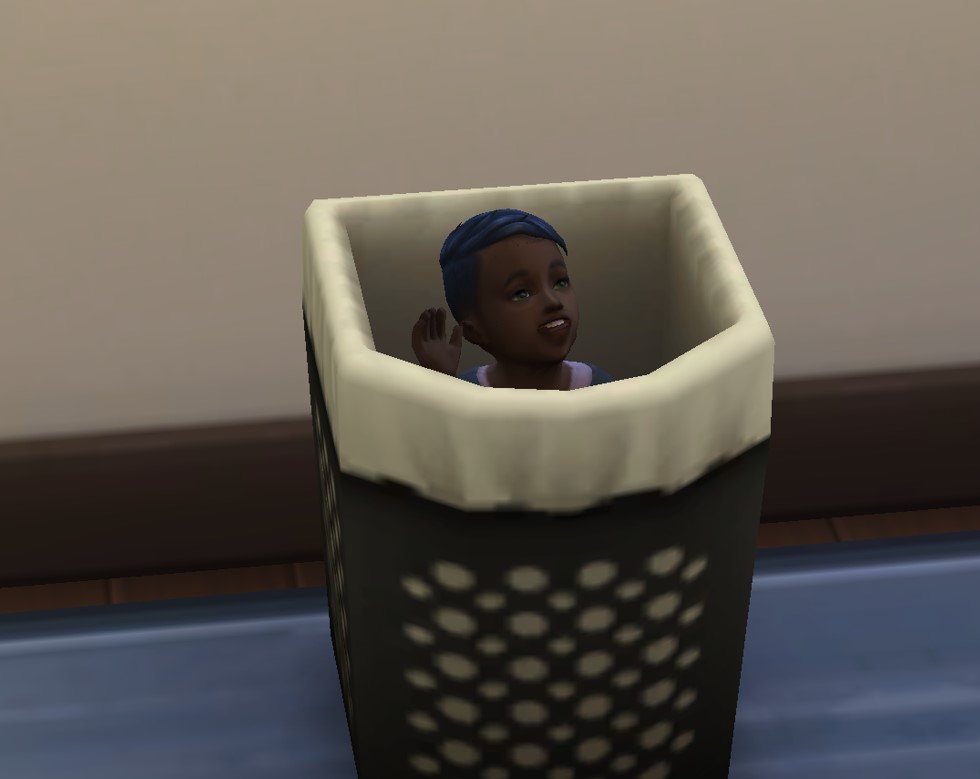 He is slowly warming up and coming out of his hiding place to say hello.
There are plenty of toddlers that do not warm up to people very quickly. The Slow-to-Warm-Up trait brings that to your game for toddlers. 
Like Easy Temperament, Slow-to-Warm-Up gives toddlers a slower decay of their attention need. Instead of positive moods, toddlers with this trait will have more negative moods, bringing in a real challenge. 
Even though toddlers with Slow-to-Warm-Up as their trait build relationships with other sims slowly, there are some positives. If the parent sims don't give the toddler lots of attention, the toddler won't care too much.
Why Slow-to-Warm-Up is Great
More challenge
No negative reaction to not enough attention
Slow attention decay
Slow-to-Warm-Up details: Details
3. Chatty Toddler Trait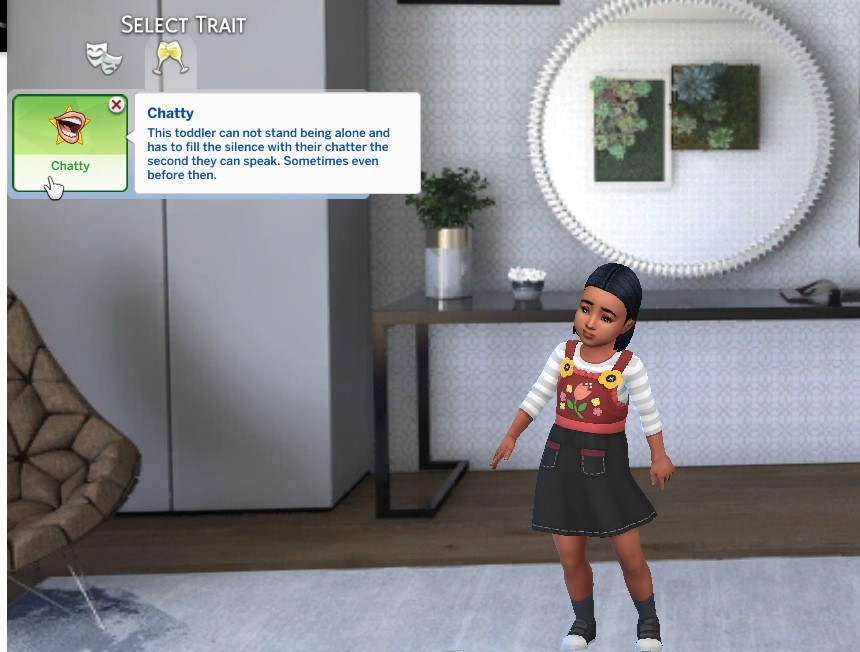 Perhaps a chatty toddler will grow up to have many friends.
Some toddlers in life are extremely talkative. In Sims 4, toddlers don't truly get that option, but with the Chatty Toddler trait, they'll chatter the moment they learn to make sounds with their mouths. 
The toddler with this trait can't stand to be alone for very long or stand the silence for too long. Your toddler will be running up to their parents, wanting to talk their ear off. 
The moment the sim with the Chatty trait becomes a toddler, their main goal is to make as many "talking" like sounds as possible. Don't worry. They are only trying to talk to everyone and anyone who will listen. 
Why Chatty Toddler Trait is Great
Highly social
Doesn't want silence
Learns how to speak better
Chatty Toddler Trait details: Details
2. Always Sleepy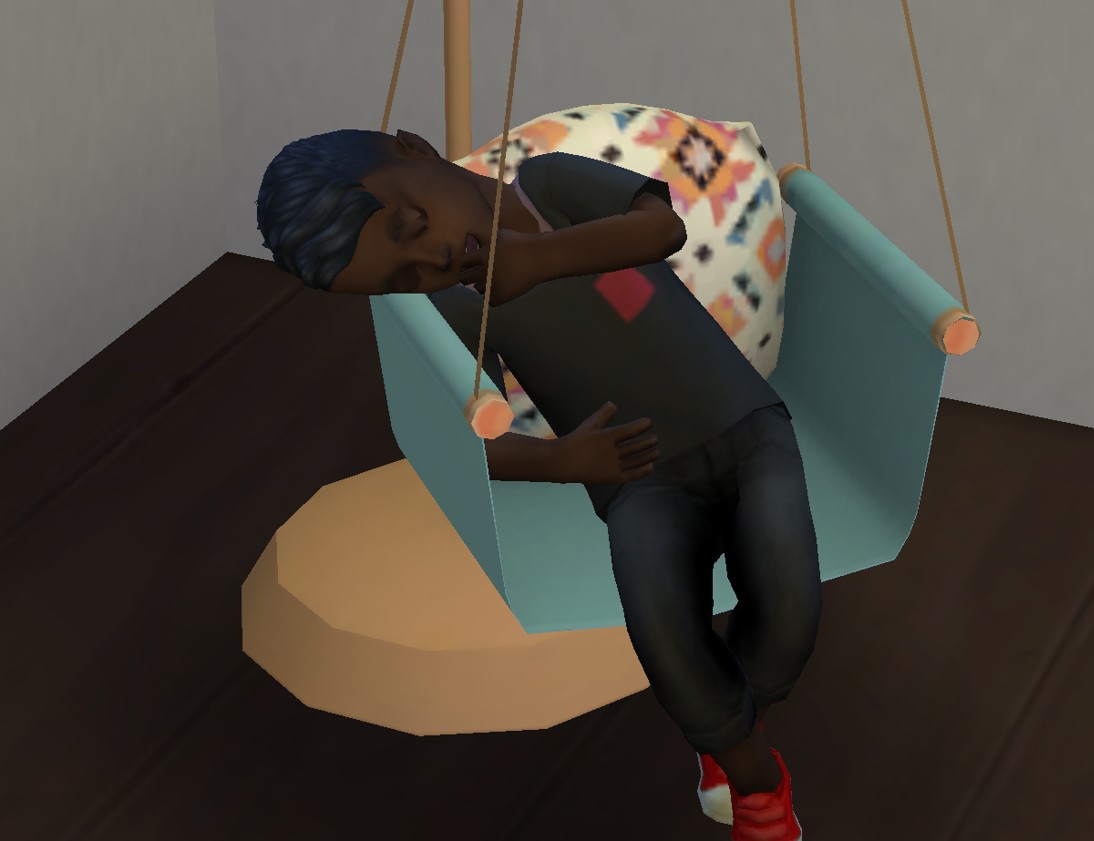 We've all been there. A nap would be lovely.
Have you ever had a toddler that preferred to sleep over anything else? Such toddlers can be easy to care for or perhaps even harder, especially with the Always Sleepy trait. 
With Always Sleepy as your toddler's trait, you will see more negative moods as they get tired, replacing the usual buffs. After your toddler gets a full night's sleep, they will receive a moodlet that gives them a +1 happy mood. 
This trait can be ideal for players who want their sims to have children but don't want to take care of them constantly. Keep their bed turned down for these lovely toddlers; they need a nap. 
Why Always Sleepy is Great
Need more sleep
Stay happy the more they get sleep
Makes it easy for challenges
Always Sleepy details: Details
1. Quick Learner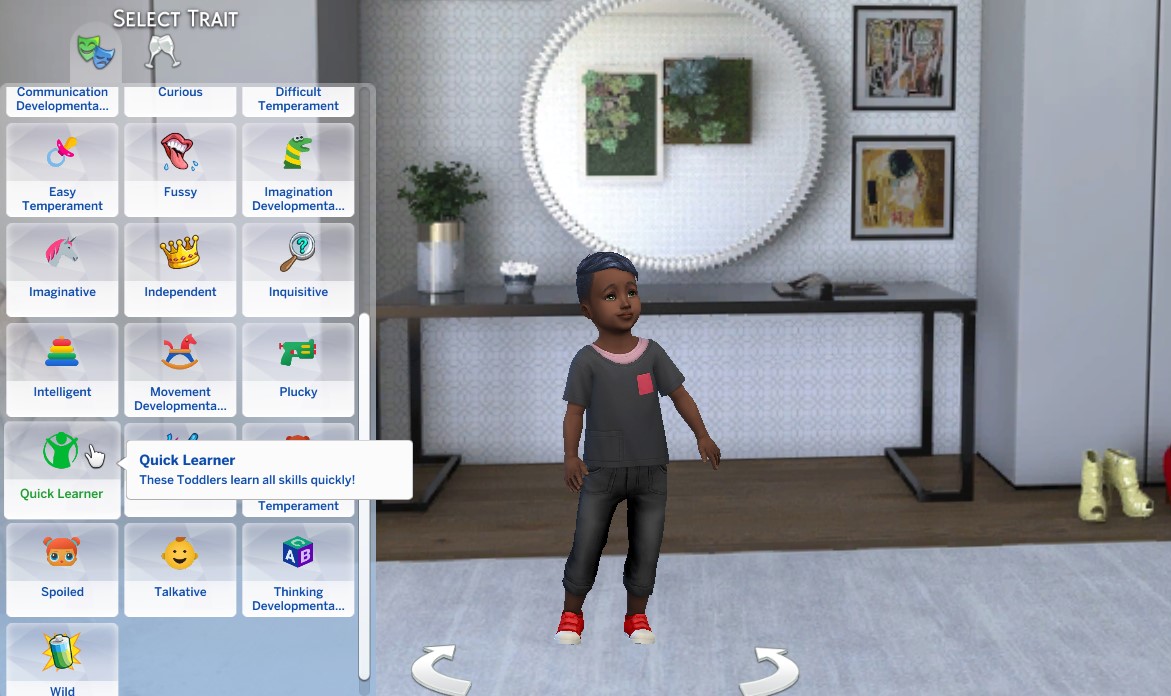 Is it me or does he pick up things quicker than his sisters?
Have you noticed that sim toddlers tend to get angry with learning new things? Quick Learner is a trait that is no longer an issue. 
Your sim toddler will be happy to learn new skills with this trait. This trait makes learning toddler skills quick and fun for each toddler with the Quick Learner trait. 
If you'd like your sim toddler to have the best upbringing for a challenge, or in general, this is the ideal trait. After all, all parents want their children to enjoy learning and to have brilliant minds. 
Why Quick Learner is Great
Builds skills quickly
Smarter
Happy to learn 
Quick Learner details: Details
You may also be interested in:
Image Gallery