[Top 15] Sims 4 Best Drama Mods That Are Fun
Updated: 07 Jan 2023 4:47 am
"Boobasnot!"
Top 15 Sims 4 Best Drama Mods That Are Fun
Players will greatly like the extras that drama mods add to the gameplay of the main game. The mods listed below make it easier to create intriguing and realistic narratives. Look them up!
15-More Drama Please!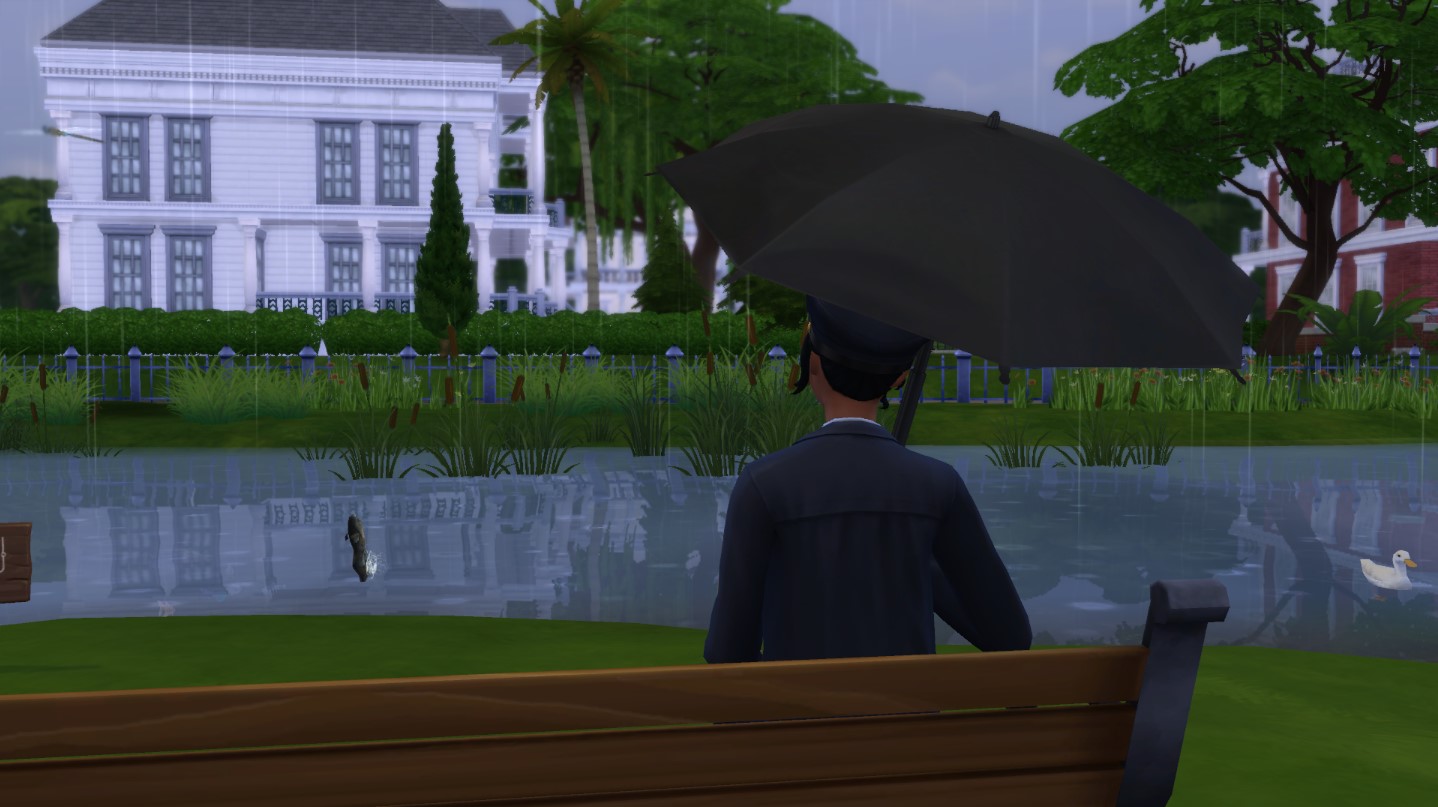 This mod is for you if you're sick of playing the same old game saves and you want some drama in your Sims world. This mod includes both new and vintage Sims, including The Pleasants and Dreamers, as well as new clubs, Lots, and other things.
Players will enjoy the stories that will come out of this mod, especially the mysteries! What happened to Bella Goth and Baby Ariel?!
What's Fun About More Drama Please!: 
There are several new clubs in the game, including ones for parents, teenagers, and others.
The Pleasants' tale is about a couple that, through time, lost their affection for one another and drifted apart. Add in children and a live-in nanny, and you've got yourself an intriguing scenario to unravel.
A social space for friendly gatherings and a place to crash was created, and several lots, including the Blue Velvet, were remodeled..
Mod features: 
The Get Together and Discover University expansion packs are recommended
Recommended to also use Bienchen's Whim Overhaul
Get this mod here.
14-First Love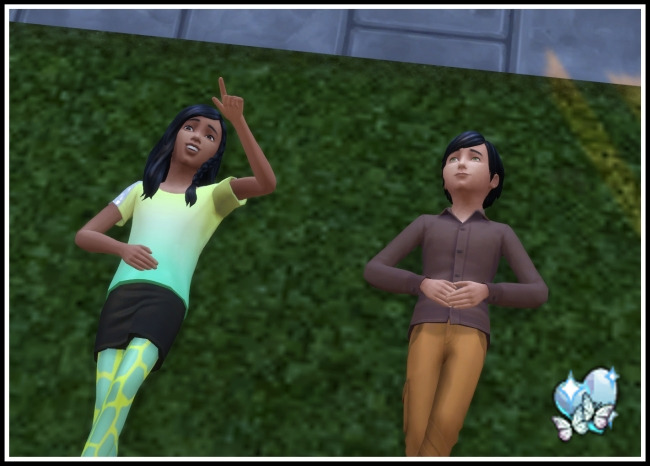 For young people, having a crush on one or more people is typical. Thanks to this update, Sim children can experience their First Love and a Crush. It makes new, one-of-a-kind connections possible and allows for interactions and Pie Menu Buffs. If everything works out, the relationships might develop.
Once a child's friendship with someone is strong enough, a new pie menu will appear on their crush, allowing them to confess to them. This is just the start of the cute and memorable experiences a young Sim will go through with this mod.
What's Fun About First Love: 
Being close to your crush will grant you a unique Buff that, every 30 minutes, will gradually increase a concealed Relationship Progress.
Asking your crush to be your boyfriend or girlfriend is the ultimate step in the relationship growth. Your First Crush relationship becomes your First Love as a result.
There is even the option to ask your boyfriend or girlfriend to just be friends, which deletes all of the relationship progress and status.
Mod features: 
There are optional add-ons that can make the relationship progress 2x or 4x faster, and the Lot Trait is changed into a Lot Challenge since you can have an unlimited amount of challenges.
Get this mod here.
13-No Holidays Failure Drama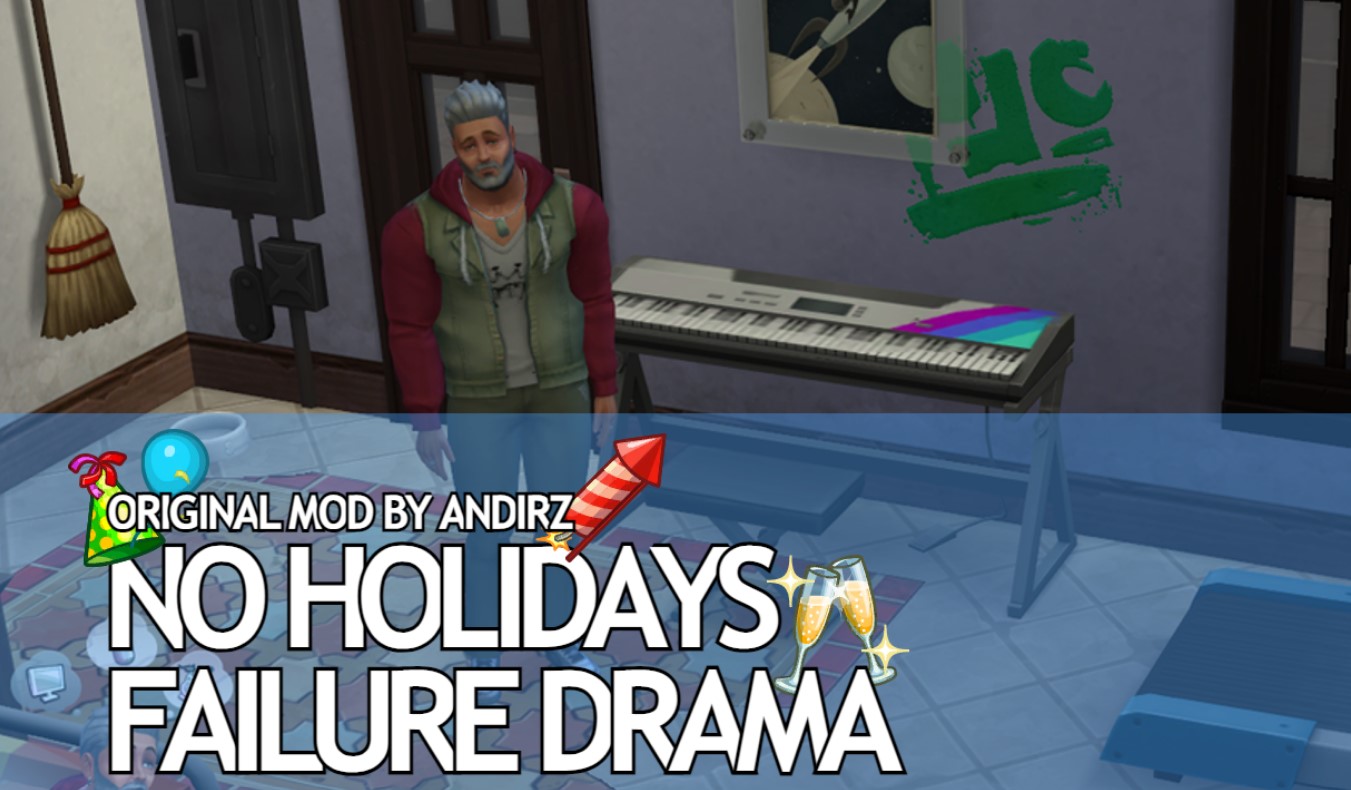 The patch replaces the depressing buff that each Sim gets if they fail to finish a holiday with a variety of mood-specific buffs. Various personalities, gameplay, or hidden qualities have an impact on how an individual reacts. 
This mod adds realism to your Sims by giving them more appropriate emotions when their holiday is canceled. 
What's Fun About No Holidays Failure Drama: 
There are various emotions, including happiness, boredom, sadness, tension, tenseness, and anger. Depending on the personality of the Sim, each emotion has a range of intensities and durations. 
Additional traits may also affect behavior if you have other expansion or game packs.
Mod features: 
Requires the Seasons Expansion pack
Requires Scumbumbo's XML Injector Script
It is available in all the languages present in the game
Get this mod here.
12-Mortem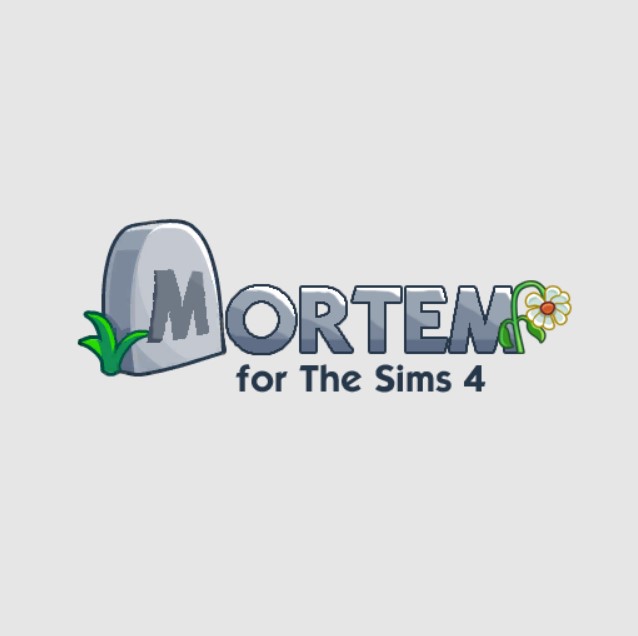 Because death is not a pleasant experience, this mod depicts its realities in a way never before done by The Sims. But without it, The Sims doesn't have the richness that real simulated life has. As a result, this mod alters everything by making the process of dying more realistic. The initial mortem stages are still in place, as the Medical Examiner still has to be alerted.
There are multiple changes and additions included in this mod. Not only does it change some events and interactions, but there are objects and even a Lot for a fully functional Funeral Home. The "Report a death call" is more reliable, Sims can take leave for their bereavement, and handle the death with new funeral services.
What's Fun About Mortem: 
You can now choose the type of Tombstone or Urn you want the Deceased Love One to have from a variety of unique options in this mod pack to designs available in your Sims 4 packs. Your options are only limited by what you have installed.
You may give your farm animals a befitting burial with the help of the Cottage Living Expansion Pack, allowing your Sim to experience their passing fully. The procedure begins with a death notification that your pet has passed away and a recommendation to go bury them where you want them to be. Consequently, a Death Flower will bloom as though you were burying another Sim rather than just recording their demise.
Asking the Medical Examiner to Donate Remains to Science is another new option that allows people to skip paying for cremation or burial and the accompanying service.
Mod features: 
New options for handling remains
Multiple Sim deaths can be handled at the same time with separate arrangements
Get this mod here.
11-Celebrity System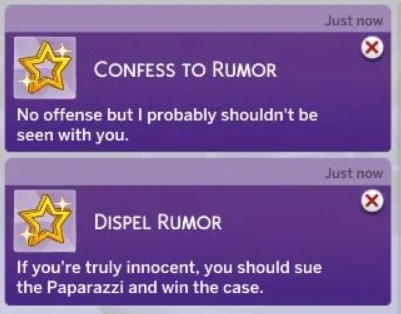 This mod focuses on the drama that might occur in a celebrity's life while they are in the public eye. It can be anything from rumors to compiling evidence against someone to how well-liked a star is among the general people!
Depending on the decisions you make, there are interactions associated to each scenario. Every action doesn't guarantee that your celebrity Sim will be in the public spotlight, either disgraced or respected. The reason is there is a 50% chance with one buff active at a time so you never know which way things will go.
What's Fun About Celebrity System: 
Publicly Disgraced – Sims might commit an act that makes them publicly disgraced or be wrongly accused. You can either confirm or deny a rumor by engaging in one of two interactions. Examples of actions that can disgrace a Sim are cheating, stealing, and threatening the paparazzi.
Publicly Respected – Sims will gain more admiration for their deeds at this point, and their reputation will rise. Examples of actions that gain public respect are giving a donation, volunteering, or having a loss in the family.
Public Spotlight – Sims in the spotlight frequently appear in the "news" as a result of an event in their personal lives. When in the public eye, they frequently increase in fame. Examples are getting married, adopting a pet, and being sick.
Sue For Slander – When Sims think the Paparazzi have overstepped their bounds, they can file a slander lawsuit. There are three outcomes: success in the case, failure in the case, or dismissal of the case. Suing is expensive, and you might have to pay extra if you lose or the case is dismissed when your reputation is at stake. Otherwise, if you win, you will receive a large sum of money.
Mod features: 
Requires XML Injector
Required interactions: Apologize For Cheating, Confess to Cheating The Baby Is Not Yours, Announce Engagement, and Can I Have Some Money
Get this mod here.
10-Open Love Life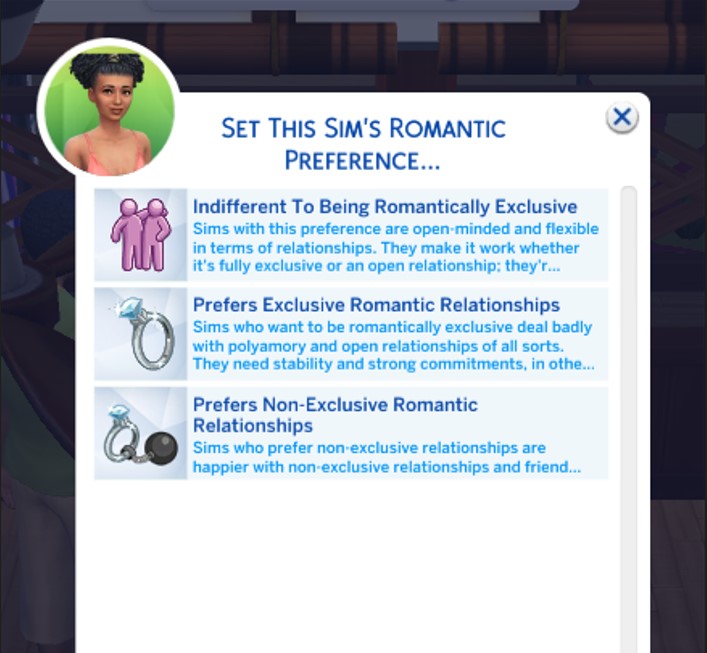 With this mod, relationships between Sims can now be either exclusive, non-exclusive, or indifferent to a preference type, which will surely cause some sparks to fly. Deciding to have one or more partners is now an option! The only concern is whether their partner will share those feelings.
Sims can request to be non-exclusive from one another, which could mean polyamory or being in an open relationship. Sims with similar preferences will often be happier than Sims with opposing preferences, while indifferent Sims are laid back and accepting of anything. By using the Action menu, you can play around and change Sim's preferences however you like.
What's Fun About Open Love Life: 
This mod automatically applies a preference to all Teen and Adult Sims in the world. 25% of Sims will be indifferent, 25% will not care, and the other half will desire exclusivity.
Sims that favor open relationships will always consent. Exclusive relationship preferences have a 30% acceptance rate, and indifferent Sims have a 50% possibility of accepting. The moodlets and acceptance rates depend on each Sim's preference.  
Sims can either express enjoyment or complain about their relationship. They can also confess to feeling jealous. When talking to friends and other people they can praise the lifestyle they chose with no change to their moodlets.
Mod features: 
A new Preferences option in the Relationship Type menu
Open relationships with an unlimited amount of Sims
3-Sim throuple relationship
Option of side partners
Get this mod here.
9-Hire certain Sims at Restaurants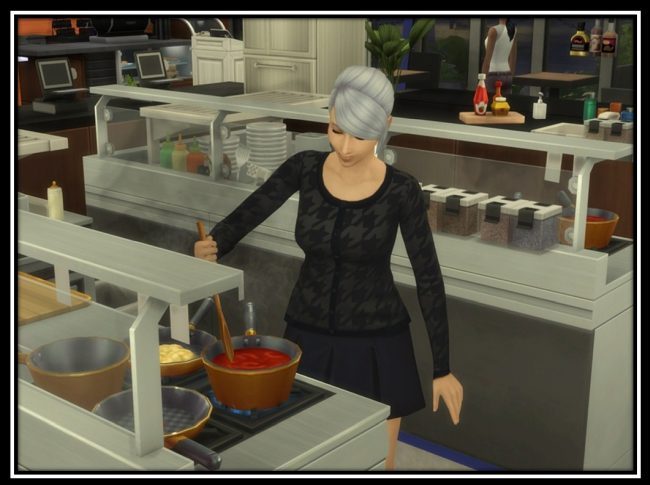 Finding the right people to fill your many job openings is one of the challenges of restaurant ownership. With a few new interactions, this mod gives you the freedom to choose who you wish to recruit. To make it a family business, you can even hire family members, which, depending on how your family functions, may or may not be a smart idea.
You can give the Sims you hire one of three traits with the new Hire Pie Menu item "Restaurant Employees": Chef, Host, or Waiter. The addition of the trait ensures that Sim will acquire the necessary skill levels to perform their job.
What's Fun About Hire certain Sims at Restaurants: 
You must own a restaurant and have at least a two-person home in order to employ family members. When you are ready to hire them, check that they are at home. This also applies to any other Sim you wish to hire.
Sims have to be hired by the restaurant owner directly to work properly. You can't hire them through the Jobs via Phone option. 
For each trait, the Sim has to be at minimum a Young Adult with no career, not famous, and not an Alien, ghost, or Vampire. The Chef trait needs a minimum level of 5 in Cooking and level 1 in Gourment Cooking and Bartending, while the Waiter can't have a Childish or Evil trait.
Mod features: 
Requires Dine Out Game Pack
Optional Add-ons: No Wages where you don't pay your workers, and Skills for NPCs which sets the maximum skills needed for jobs
Get this mod here.
8-Absent Emotion Traits Pack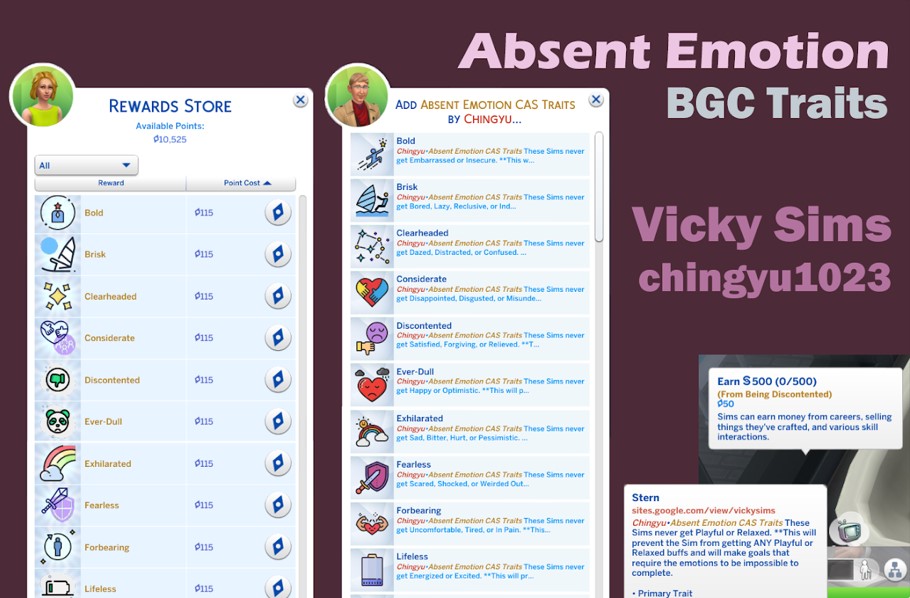 This mod features custom traits that prevent a Sim from getting a moodlet of certain kinds of emotions. There are two versions for this mod, an Original CAS version, and a Reward version. The Original version limits the number of traits a Sim can have and the Reward version lets you add as many traits as you like.
With 18 custom traits to play with, players will enjoy the fact they can take away any traits they dislike their Sims to display during gameplay.
What's Fun About Absent Emotion Traits Pack: 
Some of the traits in this mod are Bold, Exhilarated, Considerate, and Unimaginative. Bold Sims don't get Embarrassed or Insecure buffs. Exhilarated Sims don't get Sad, Bitter, Hurt / Betrayed, or Pessimistic buffs. Considerate Sims don't get Disappointed, Disgusted, or Misunderstood buffs. Unimaginative Sims don't get any Inspired or Nostalgic buffs.
Each trait has its own CAS animations, Whims, Impacts on Character Values, and Disabled Emotions. costs 115 Satisfaction Points.
Combining qualities is possible when using the CAS Traits and Reward Traits versions, which makes the game more entertaining.
Mod features: 
It is Base Game compatible as well as compatible with other mods
Mod is available in Italian, Polish, Simplified and Traditional Chinese 
Supports Lumpinou's Custom Moods
Get this mod here.
7-NC4T Pickpocketing Mod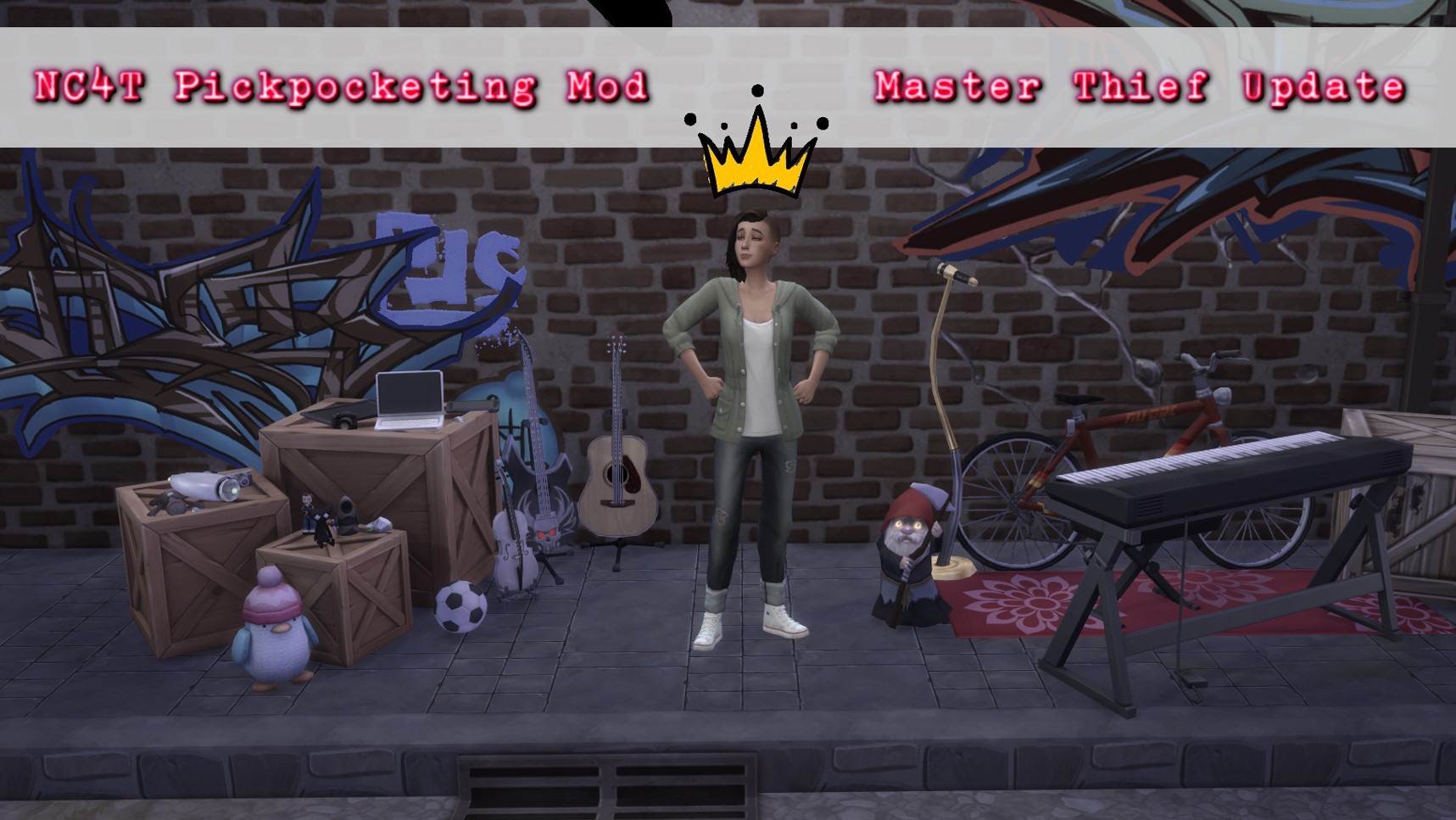 This mod is for you if you've ever wanted to steal from people for money without having the Criminal Career! With the help of this mod, every Sim can engage in pickpocketing and steal from others. The Moodlets have been modified and placed in their own "Pickpocketing" category, along with a number of awesome perks. Want a band of children that go around making mischief and stealing? That is now enabled with Little Thieves. You can even pickpocket the Grim Reaper but be careful because there is a consequence if you fail!
Be careful because with every failed pickpocketing interaction, your Sim will run away after being yelled at, and two new moodlets are added to the Sim that prevent any pickpocketing for 4 hours and make everyone suspicious. 
What's Fun About NC4T Pickpocketing Mod: 
The interaction can now be accessed from the introduction menu or the section of mischievous interactions because the mod removes the prerequisites of "need to greet" and "has met." It also terminates the interaction queue after the pickpocketing interaction is complete.
The likelihood of success and financial gain increases with skill level; there are 10 levels of major skills.
Children will have access to the pickpocketing interaction and talent once they have mastered their motor skills. The Children's Fitness skill can be unlocked by mastering the Motor skill. Before attempting to pickpocket, they make an innocent whistling animation. The skill, as well as all moodlets, boosts, strings, and other aspects, remain the same.
Mod features: 
Adds a new skill to the game: Pickpocketing
Get this mod here.
6-Random Texts & Calls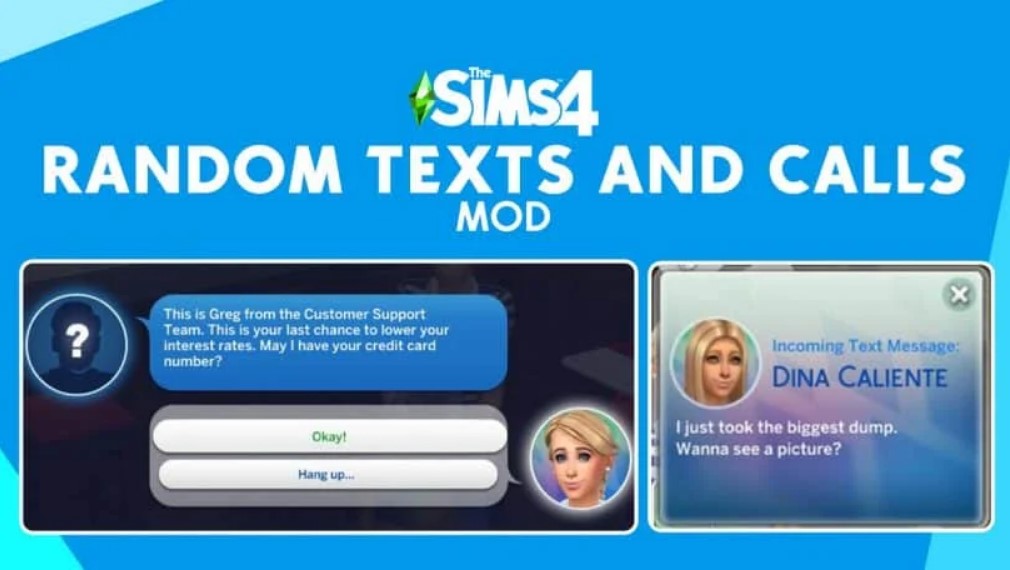 With this mod, which adds a ton of random text messages and phone calls from NPCs, you can anticipate receiving phone calls from your Sims' partners, parents, friends, and a variety of strangers. The relationships your Sims have with other people will feel more genuine thanks to this update.
Similar to how it is in real life, some of the calls are amusing, others are wholesome, and some are just meant to annoy your Sims. The types of calls you get and the subjects Sims want to talk about will also depend on the traits of your townies. Your active Sims' attributes will also have an impact on how they respond to these calls.
What's Fun About Random Texts & Calls: 
Texts and Calls: You can anticipate receiving a variety of text messages and phone calls throughout typical gaming. The ones you can choose from depends on the people your Sim is friends with, who they know, and who else is in your world.
Some examples are friends calling to talk about recent sports news, new TV shows, or games. Your Sim's parents will call to check on them or to give them money. Criminals will call to scam you out of your money.
Responses: Different Sims will respond to these calls in different ways. Their personal traits will also influence how they react to the call. This opens up a wide range of potential responses, such as the likelihood that loner Sims will never be enthusiastic about getting an unwanted phone call while outgoing Sims will thrive from ongoing social engagement.
Mod features: 
Available in multiple languages: Russian, French, Italian, German, Chinese, and more
Optional Add-on: NPC invites are restored so you can get calls from NPCs with invitations to go out to restaurants, parks, and dates all week while invites to parties and city events happen on the weekend.
Get this mod here.
5-Ask Parent About Dating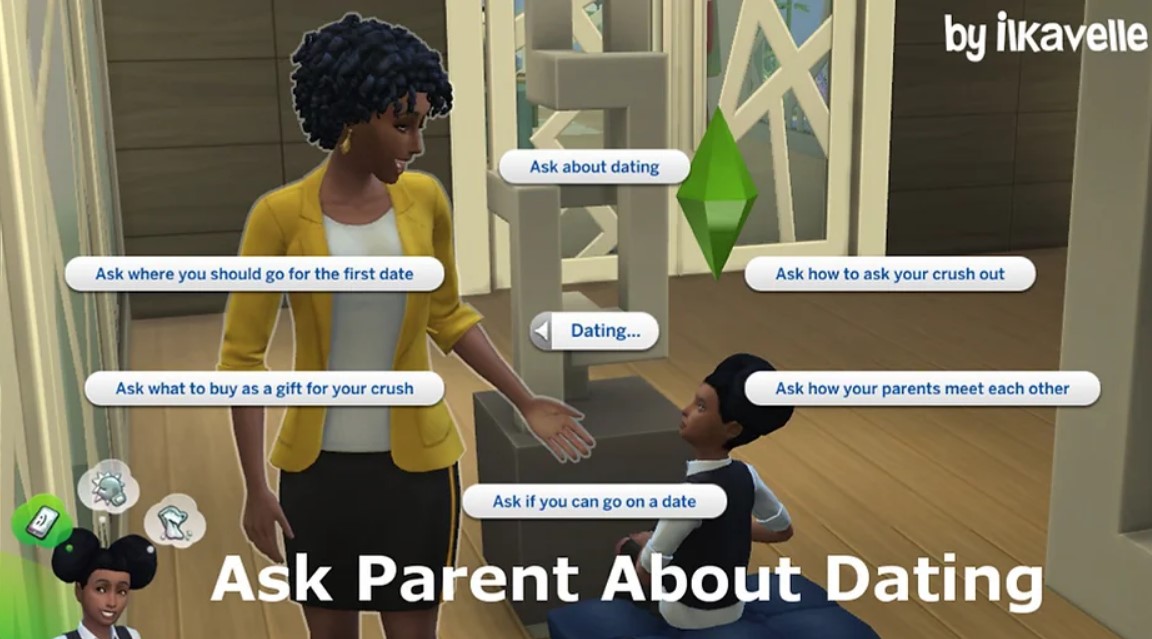 This mod adds new social interactions, created mostly for children and teens. There are 6 new questions that kids can ask their parents to which they will respond with random replies.
A good feature of this mod is the addition of children getting buffs after asking each question and parents occasionally getting a boost.
What's Fun About Ask Parent About Dating: 
The "Ask if you can go on a date" question can enable a "date event" for children only if they get permission from their parents.
Parents have the opportunity to share the true story of how they met each other using the "Ask how your parents met" inquiry, which has numerous possible responses.
Adopted children can still see those interactions. In the event that a parent remarries, the new spouse should use the interaction "Adopt as Caregiver," after which they can be questioned as well.
Mod features: 
Requires XML injector
Available in multiple languages: Polish Italian, Chinese, Russian, Portuguese, Dutch, German, Swedish
Get this mod here.
4-Ultimate Stan Aspiration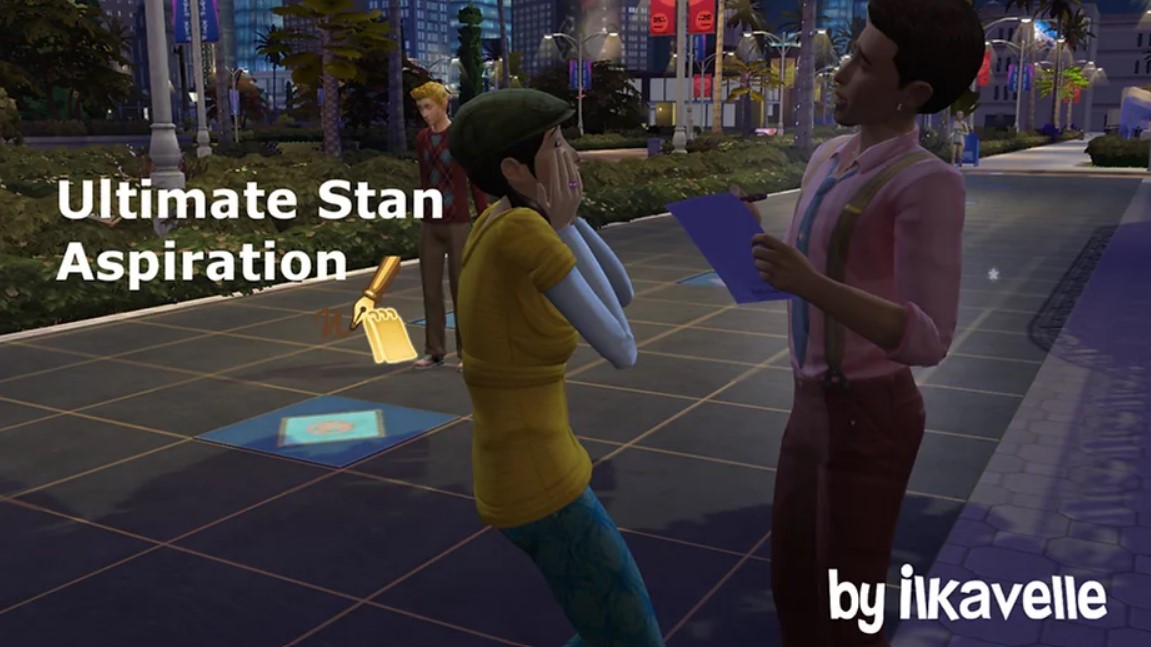 The Get Famous Expansion Pack focuses on Sims becoming a Celebrity, but this mod adds something different by focusing on the fans. This gives Sims an aspiration to hang out with celebrities and get their autographs while becoming the Ultimate Stan.
Because fans rarely contact with celebrities, the mod's designer wanted that to be the focus. Using the mod and completing the objectives could result in a celebrity obsession.
What's Fun About Ultimate Stan Aspiration: 
There are 4 Objectives: Starlight Boulevard Visitor, Autographs Collector, Devoted Fan, and Between Fandom and Obsession. Some of the tasks are to get your first autograph, ask different celebrities for 5 hugs, watch an Award ceremony, and swipe 10 items from a celebrity home.
Reward Trait: There are currently two random outcomes for this aspiration. You can make friends with famous people or develop a weirdo persona. When introduced to superstars, celebrity friends always find success. However, Weirdos never have success when introduced to celebrities and also make the Sims around them feel anxious.
Send Email to Celebrity is a necessary step to take in order to unlock a new interaction in which your Sim either receives a response or is ignored. This computer-based interaction falls under the Social category and can result in numerous consequences depending on the buffs involved.
Mod features: 
Base Game compatible
Requires Get Famous Expansion and XML injector
Available in multiple languages: Polish French, Russian, Chinese, Italian, Portuguese, Dutch, Spanish
Get this mod here.
3-Suggest Getting Married Interaction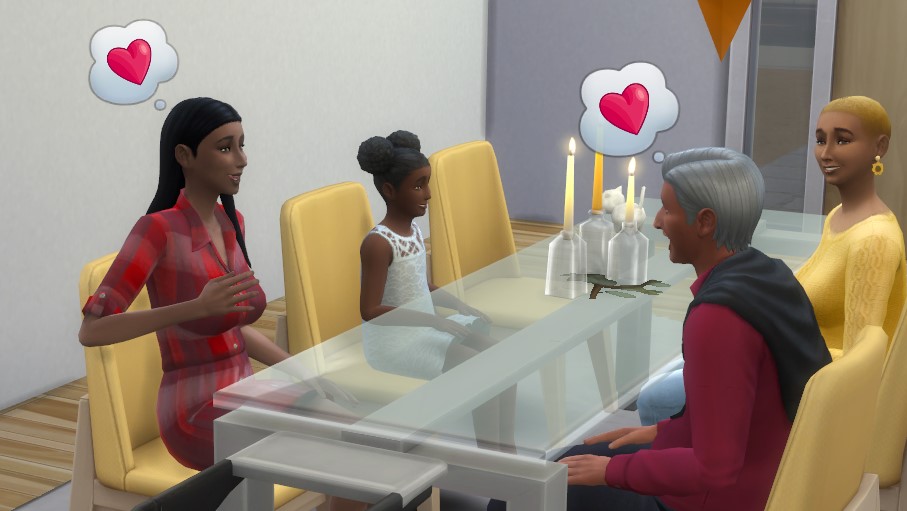 This mod was created as an answer to Sims not being able to get married on their own with the Neighborhood Stories feature. It adds a new interaction, which if successful, the Sim gets married and their spouse moves to live with the target Sim.
The designer took considerable care to make sure that eligible Sims don't abandon any kids or pets in their previous home. This is fantastic since it ensures that no kids or animals will be abandoned.
What's Fun About Suggest Getting Married Interaction: 
As part of the friendly interactions on single Sims, this mod adds a new interaction called "Suggest Trying Online Dating".
The spouse that was chosen has specific characteristics. They will fit the target Sim's sexual orientation, be single, be in the same age range, and more! They may bring their children or pets to live with your Sim's family if they have either.
The characteristics of the active Sim and the target Sim will have an impact on how likely a recommendation will be accepted. Success is more likely for Sims who have the "Family Oriented" characteristic, and the odds are significantly better if the target Sim also has this trait. Sims with the attribute "Non-Committal" won't ever agree, though.
Mod features: 
Available in German
Recommended to use the creator's Ask to Invite Family Member mod, which makes it a lot easier to get to know the new partners
Get this mod here.
2-Doubts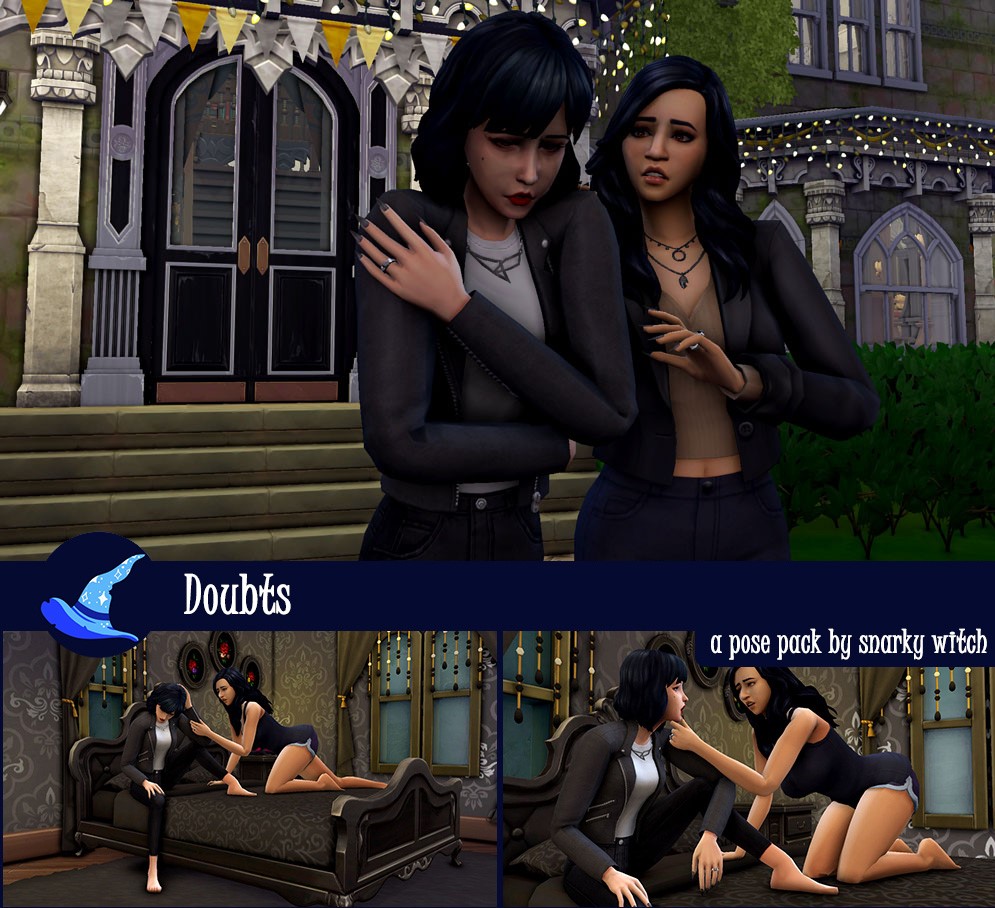 This pose collection is excellent for giving your narrative a little drama. Couples can be seen showing uncertainty in these stances. You decide what that something is! They can be expressing uncertainty about their relationship or their work.
Each Sim can convey a wide range of emotions with the poses in this mod. When one Sim is upset, the other Sim will be trying to console or confront the other.
What's Fun About Doubts: 
There are 9 couple poses, which can be done with all Sims.
Some of these poses can be done on a double bed, and others are done on the overhang of the Tower.
Using the City Living Expansion Pack, you can pose your Sims in specific areas such as the Torendi Tower Penthouse Lot in San Myshuno.
Mod features: 
Requires Wonderful Whims by TURBODRIVER
City Living Expansion Pack is required as some poses are for a specific lot in San Myshuno
Thumbnails and descriptions for all poses
Get this mod here.
1-New Emotional Traits

With the addition of ten new emotional qualities, this trait pack expands the list to include traits linked to emotions like embarrassment and extreme variations of the already-existing traits linked to emotions. They all include new Moodlets, whim sets, social interactions, character value modifiers, and a variety of gameplay and are suitable for both children and adults.
Depending on the emotional trait your Sims have, they can access a variety of entertaining functions. When more packs are utilized in addition to the original game, these qualities might have more features.
What's Fun About New Emotional Traits: 
Traits included are: Arrogant, Calm, Coward, Daydreamer, Egghead, Insecure, Oblivious, Perky, Restless, and Stoic.
Sims with the Calm trait have a modest resistance to the Scared mood and are better at managing their emotions. Additionally, the feature largely eliminates the risk and benefit of changing emotions.
Daydreamer Sims have the capacity to daydream, which inspires them and causes them to start brainstorming. Unfortunately, they also struggle to focus, but once they get their thoughts in order, their creative abilities significantly improve.
Sims who possess the Insecure characteristic feel uneasy among strangers, and this discomfort increases when they are required to do public performances. Self-deprecating jokes can always be told by insecure Sims, who also get more Comedy skills at the expense of Charisma and other social abilities. 
Mod features: 
Base Game compatible
Available in multiple languages: Portuguese, French, Russian, Chinese, Italian, Spanish, German, Polish, Czech, Danish, Dutch
Get this mod here.
You may also be interested in: