[Top 15] Sims 4 Best Builds
Updated: 30 May 2020 11:48 pm
A beautiful island home for Mermaid Sims... and regular Sims too of course
Sul Sul! With over 1000 build creations by fellow Simmers, the number of lots to add to your Sim neighborhoods are endless.
Here are the Top 15 Best Builds that you can add to your game to make the gameplay more exciting:
15. Underwater House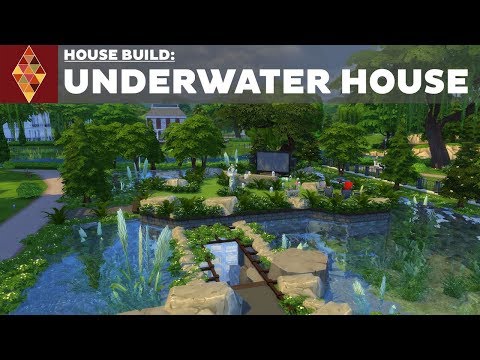 If your Sim ever wanted to live underwater, this house build is the one. Hidden beneath what looks like a foresty lake or even a tiny island, the rooftop of the house serves as an outdoor movie theater and a campfire hangout. The interior design of the house is a cozy yellow wall with sleek white furniture and nature-inspired decor. 
Why this Underwater House Build is Fun:
Creative and unique decor
Great scenery
Lots of plants everywhere!
Build Details:
$241,744
40 x 30 
No CC2 Beds 1 Bathroom
14. Fortune Teller's Caravan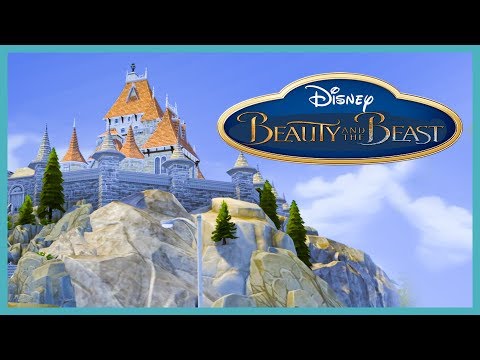 This beautiful residential lot features a Fortune Teller's Caravan draped in lots of velvety curtains, rustic details, and of course, who could forget the magical crystal ball? (Replaced by a familiar orb for decor) This build uses quite a lot of items from The Sims 4: Real of Magic and is therefore perfect for any Spellcaster Sims. The build has two red caravans that Sims can live in, an outdoor cauldron, a garden, and a tent.
Why this Fortune Teller's Caravan Build is Fun:
Great for witchy and wizardly Sims
Large open space
Moderately priced
Build Details
$63,172
30 x 20
2 Beds 2 Bathrooms
Cheat recommended: bb.moveobjects
13. The Beast's Castle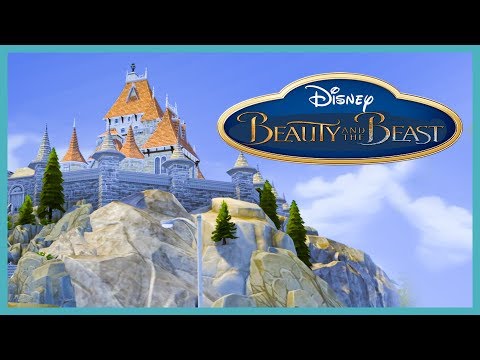 Much like the tale as old as time, this build is heavily inspired by none other than the Beast's magnificent castle. The breathtaking exterior of the castle is decorated with brownstones, red roof tiles, and glass dome roofs. The interior of the castle is medieval-themed and features an elegant dining hall, a rustic kitchen, mini-tower libraries, and much more!
Why this Beast's Castle Build is Fun:
Every room in the castle is heavily decorated with an immense amount of detail
Plenty of room to add magical items
VERY spacious lot
Build Details:
$415,926
64 x 64
1 Bed 1 Bathroom
Cheat recommended: bb.moveobjects
12: Sulani Catamaran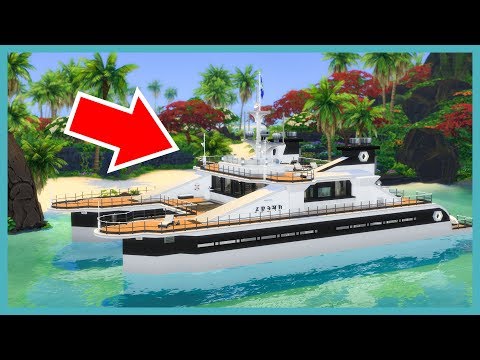 There is no better way to wake up in the early morning than to wake up on a yacht in the beautiful Sulani Islands. This unique build lets your Sims live in their personal yacht. The interior of the yacht is mostly sleek and black and white themed. The design mimics the cabins and suites that we would see on large cruise ships. (Think Titanic)
Why this Sulani Catamaran Build is Fun:
Sauna included!
Great way to utilize the building-on-water feature from The Sims 4: Island Living
Build Details:
$288,717
50 x 50
3 Beds 3 Bathrooms
11. Junkyard Living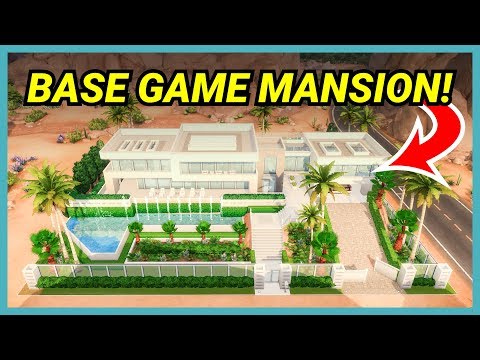 A junkyard? Who would want to live in a junkyard? This odd build may look a little messy and trashy at first, but the messy exterior of the lawn is only a disguise for the artistic decor behind the graffitied walls. The bold, teal-colored walls pair extremely well with the rustic-styled kitchen and vintage-inspired sunroom. Upstairs are the artistically furnished bedrooms, common rooms, and a rooftop outdoor living space with a minibar below. 
Why this Junkyard Living Build is Fun:
Great for the "Rags to Riches" Challenge
No CC or mods were used / Base game only
Personal indoor gym included!
Build Details: 
$222,556
40 x 30
3 Beds 3 Bathrooms
No CC
10. Basegame Modern Mansion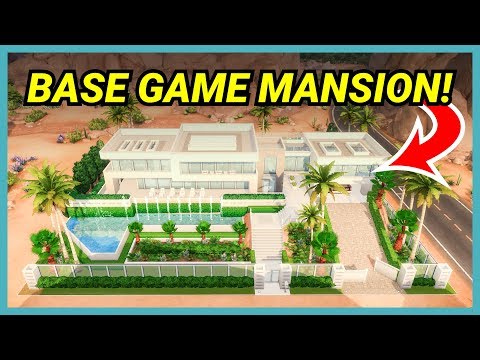 This black and white color-schemed mansion closely resembles the large homes in Los Angeles (minus the rocket ship in the backyard). With clear, large glass windows on almost every wall, your Sims will have a great view of their pool and yard. Despite the small spaces, the rooms feel open and spacious thanks to the glass decor and glass roofs.
Why this Basegame Modern Mansion is Fun:
Beautifully decorated outdoor living area
Sleek modern furniture 
Large mansion great for larger households
Entirely base game furniture
Build Details: 
$683,301
50 x 50
4 Bed 4 Bathrooms
No CC
9. Eco Sanctuary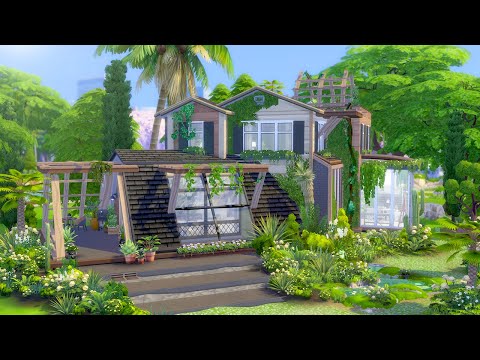 This eco-friendly heaven is not only sustainable but also extremely cozy. The abundance of plants and flowers, both inside and outside of the house, make the house come to life. Along with the unique flooring patterns, large glassy windows, and a modern fountain in the dining room, the house is playable and has everything that a household of Sims needs. This build also includes a spacious rooftop garden, perfect for green-thumbed Sims.
Why this Eco Sanctuary is Fun:
Trendy rooftop garden (because regular yards are now overrated)
A unique way to use panels
Diverse decor and furniture
Build Details: 
$114,305
30 x 30
3 Beds 2 Bathrooms
 Cheat recommended: bb.moveobjects 
8. Hogwarts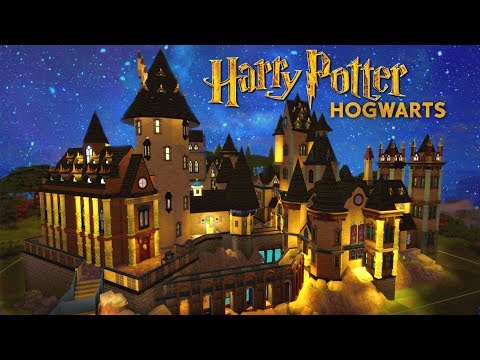 Ten points to Gryffindor! This build is a dream come true for all of you Harry Potter fans. This shrunk-down version of Hogwarts closely resembles the School of Witchcraft and Wizardry with the stone walls, the great hall (comes with floating candles), the moving staircase, lots of pictures on the walls, rooms decorated based on each house, classrooms, and so much more. The exquisite decor and furniture (especially in the Hufflepuff common room) will make your Sim feel like a wizard or witch at Hogwarts. 
Why this Hogwarts Build is Fun:
Looks almost exactly like the movies
Spellcaster Sims can finally attend Hogwarts
Secret rooms and mirrors!
Build Details:
7. Tiny Train Home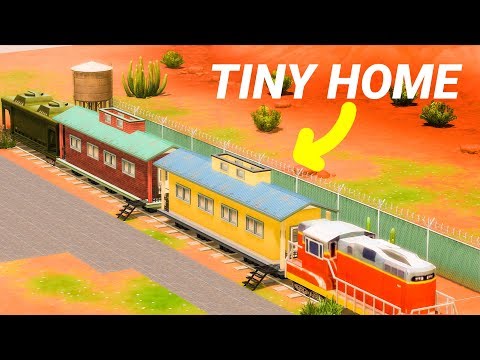 Ah yes, a tiny home… but in an abandoned train style of course. In less than 100 tiles, this small home features a tiny, but still functional, traditional house with a kitchen, bathroom, bedrooms, and etc... The house is split into two old-school carts, meaning Sims can travel between train carts to reach different parts of the home (with no stairs!) 
Why this Tiny Train Home is Fun:
Despite being quite narrow for a home, it can fit a moderate-sized household
Abandoned railroad station included (for the sake of aesthetics)
Lowered bills due to Tiny Home trait
Build details:
$70,127
50 x 40
4 Beds 2 Bathrooms
No CC
6. Tiny Island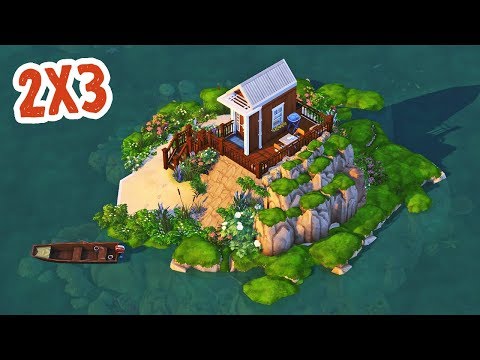 This micro home takes the Tiny Living and Island Living Expansion Pack to another level. While the home size is not ideal in real life, the snug decor and quirky ornaments are great for households that are no more than one Sim. The rest of the lot is a beautiful lake that surrounds the micro home. Sims can also catch fish at the backside of their house.
Why this Tiny Island Build is Fun:
Single-tile bathroom!
Fisher Sims can fish whenever they like
Dirt cheap bills
Build Details:
$60,047
64 x 64
1 Bed 1 Bathroom
Cheat recommended: bb.moveobjects 
5. Mermaid's Tiny House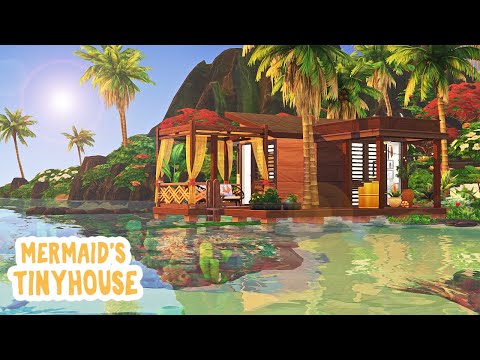 I promise this is the last tiny house on this list! This beautiful house was created with items mostly from the Island Living and Tiny Living pack. Both the interior and exterior of the house are tropical-themed and mermaid-inspired. The house is perfect for mermaid Sims who like to live right above a mini freshwater lagoon.
Why this Mermaid's Tiny House Build is Fun:
Sims can fish (or keep them company)
Beautiful mermaid lagoon and landscape
Convenient for mermaid Sims
Build Details: 
$46,718
40 x 30
1 Bed 1 Bathroom
Cheat recommended: bb.moveobjects 
4. Traditional Japanese Townhouse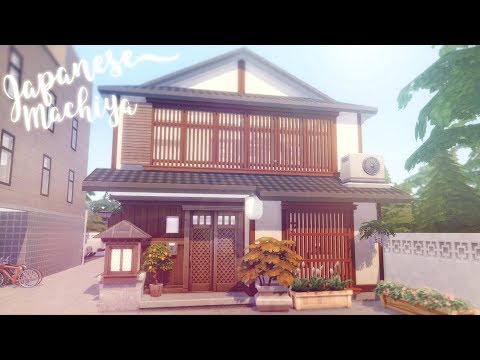 In this virtual Japanese townhouse, also known as a Machiya, this build has beautifully recreated the aesthetic of traditional Japanese homes. With wooden details across the walls and an almost-kotatsu in the cozy living room, this build exudes comfort and accurately resembles a Japanese home. Beside the house is an empty shop where players can turn it into a store or just simply leave it as decor. 
Why this Traditional Japanese Townhouse Build is Fun:
Diverse, unique, and accurate addition to the Sims world!
Great for smaller households
Players can create a small shop in the empty building beside the house for extra fun
Build Details:
$95,014
30 x 20
2 Beds 1 Bathroom
No CC
3. New York Apartments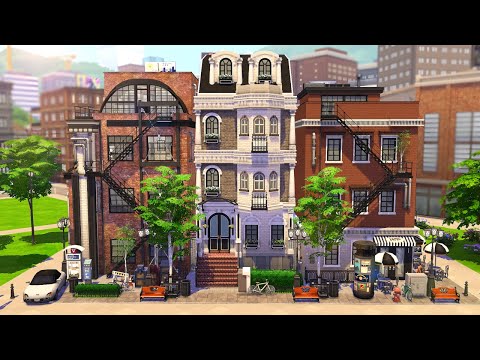 This apartment puts the City Living maxis match lots to shame! From the rustic kitchen counters to the iconic brick-red walls, this New York apartment is styled with detail and accuracy. A small, corner café is also included besides the apartment for added scenery. This innovative apartment will really make your sims feel as if they are strolling down the bustling streets of West Village!
Why this New York Apartment Build is Fun:
This is like an upgraded version of City Living
Extraordinary outdoor detail
Bonus cafe in the corner
Build Details:
$182,408
30 x 30
1 Bed 1 Bathroom
No CC
Cheat recommended: bb.moveobjects
2. Treehouse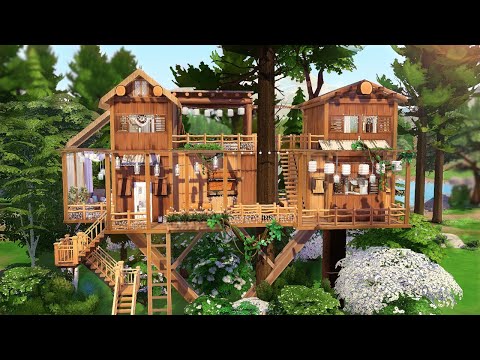 This is the treehouse we all dreamed of as a child… and now your Sims can live in it! This cozy and romantic treehouse-themed home is perfect for nature-loving Sims. The home is furnished with wooden decorations and furniture. The addition of plants and steel details add a touch of rustic to the home. With two bedrooms, this house is suitable for a small to medium-sized family.
Why this Treehouse Build is Fun:
Lots of nature-esque decors
Light color palette
Build Details: 
$86,986
40 x 30 
2 Beds 1 Bathroom
No CC
1. The Office
Although this is not a residential building, it is by far one of the and best (and funniest) builds for fans of The Office. From Angela's cat posters to Ryan's desk in the closet, the layout of Dunder Mifflin is an exact replica of the show. 
Why The Office Build is Fun?
Players can recreate the show in The Sims game
Funny details (like Dwight's megaphone)
Build Details:
No CC
You may also be interested in:
Image Gallery