[Top 3] The Sims 4 Best Mod Managers
Updated: 15 Aug 2022 11:51 am
In-depth look at amazing Mod Managers.
What Mod Managers are ideal to use? 
The gaming world has always had modders and custom content creators. Within the Sims 4 community, there are many mods and custom content to download, some end up broken or do not have the correct mesh.
That is when Mod Managers come into play. Mod Managers have been created to assist players with organization, seeing what is broken, and more. 
Some Mod Managers will even sort out screenshots for you and automatically unzip files for your CC and mods. For those reasons, it is important to find the Mod Manager that works for what you specifically want it to do. 
In my research, I found that there are very few Mod Managers out there and that each one has its own look, sorting system, and operation. 
There are three that stood out the most. Without further ado, here are the top three Mod managers.
3. Raxdiam's The Sims 4 Mod Manager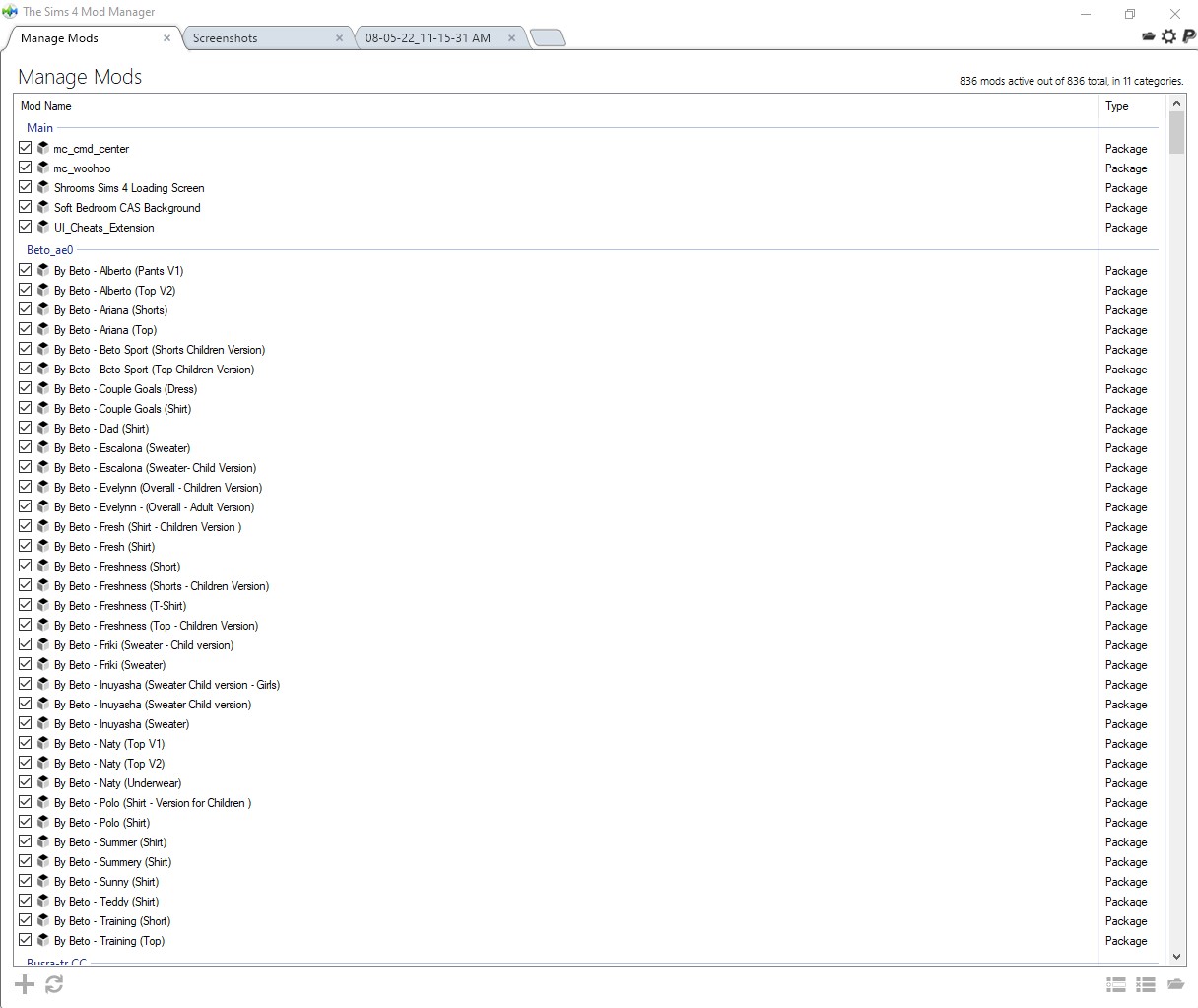 Simplistic in design and easy to use. 
When you think of Mod Manager, what does the interface appear to be? The Sims 4 Mod Manager from Raxadiam is a beautifully simplistic Mod Manager that is easy to use with a few extras. 
Raxdiam's The Sims 4 Mod Manager has step-by-step installation, making the process easy to process. I have several mods already placed into my mod folder that didn't matter to this mod manager. 
All the mods appeared in the Mod Manager instantly, and it was amazing to see that there are over 800 mods/cc. This manager makes it simple to manage your mods, edit the resource.cfg, and view screenshots. 
There are several features listed on the site for easy knowledge. Some of the features include showing the mod type, the ability to enable/disable multiple mods at a single time, and support for subfolders. 
Not only are there several features, but there are many hotkeys that you can use to make everything much easier. For example, if you use Ctrl + Shift + E, you can enable selected mods, whereas Ctrl + Shift + D disables selected mods. 
Raxdiam's The Sims 4 Mod Manager is simple to install, with a simplistic design making it easy to use. There are two things to note, this manager requires .NET Framework 4 or higher to work, and Raxdiam got their inspiration from Thrahistan, who created the first mod manager. 
Download Raxdiam's The Sims 4 Mod Manager: site link
2. Sims 4 Mod/CC Manager 2021 by GameTimeDev [BETA] V1.0.7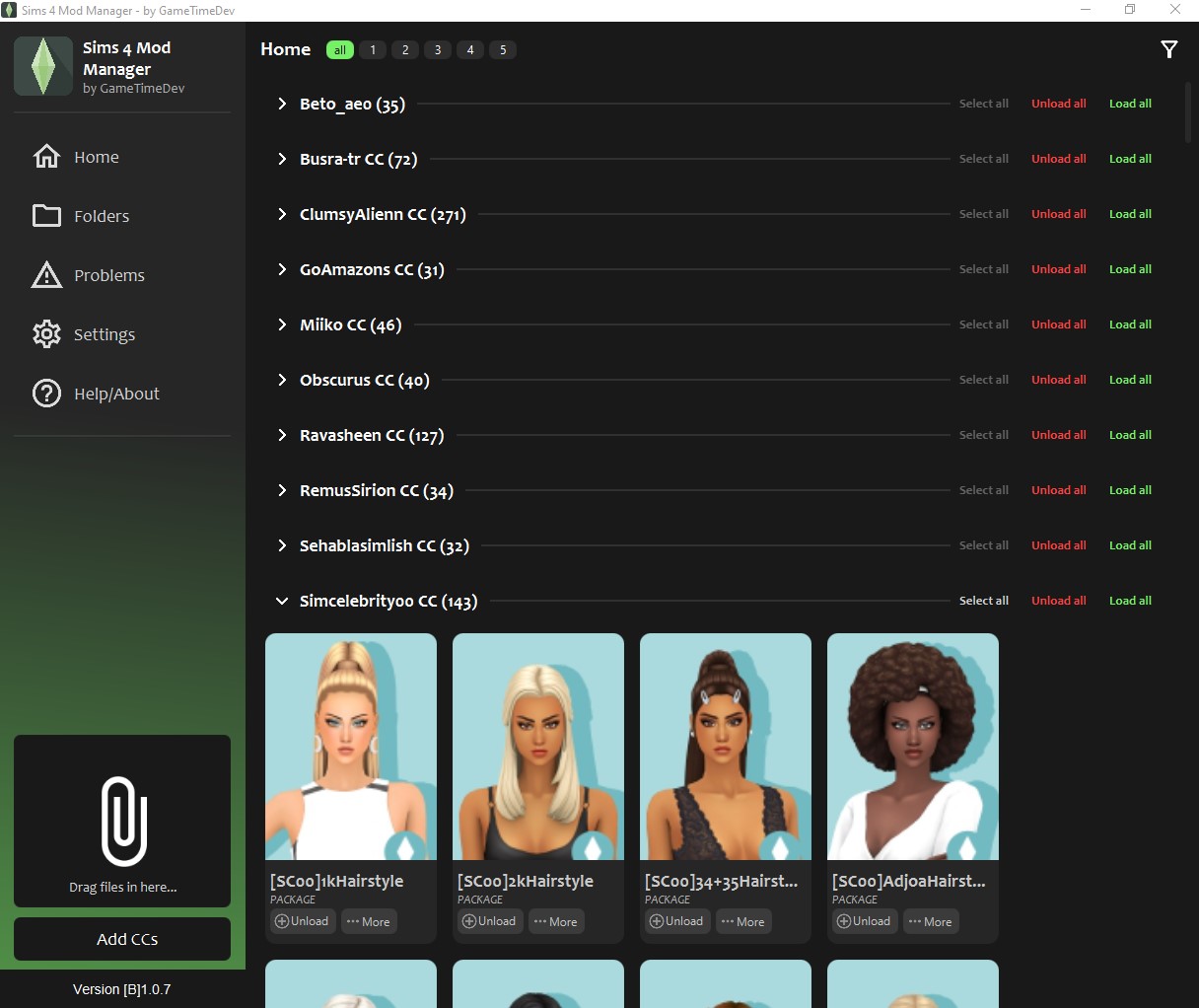 Amazing thumbnails to know what I have and what I still need. 
There is a newer Mod Manager that has made an impact on the community. GameTimeDev has created their own Sims 4 Mod/CC Manager, which is in Beta presently. 
The Sims 4 Mod/CC Manager 2021 by GameTimeDev [BETA] V1.0.7 isn't overly complicated to use. The installation is a simple process, and GameTimeDev encourages feedback. 
One of the best features that help with the organization is the thumbnail access in the mod manager. Current features include the Translator Tool, filter options, subfolders, and a problems section to locate broken mods/cc. 
There is also a drag and drop option in the form of a paperclip to the left of the window, which shows up if you have it full screen. The creator has plans for future updates, and you can even provide ideas and feedback and let them know any bugs you find. 
The biggest feature that stands out is the ability to see most of the CC that you download. Overall, the Sims 4 Mod/CC Manager 2021 by GameTimeDev [BETA] V1.0.7 has room to grow and expand but is currently great the way it is. 
Download Sims 4 Mod/CC Manager 2021 by GameTimeDev [BETA] V1.0.7: site link
1. Jibby's The Sims 4 Ultimate Mod Manager V1.2 - SUBFOLDER SUPPORT
The UI makes cool sounds, and it is easy to use. 
With more focus on subfolder support, Jibby's The Sims 4 Ultimate Mod Manager V1.2 - SUBFOLDER SUPPORT brings a different view to mod managers. The moment you go to the download page, you are greeted by a quickstart video. 
This video goes over, in detail, what the mod manager has to offer and how to use it. The installation is easy like the others, which is an amazing feat for anyone to accomplish, especially when it comes to computer programs. 
To install, select the download, double click, and extract into the folder of your choice. You may get an alert; select the run anyway. 
Within the mod manager, you will find a menu to the left. Here you will have the options for the mod manager, mod libraries, settings, about, and the option to launch the game. 
There are other features included in this mod manager. Those features are the ability to manage more than one library of mods at a time, automatic detection of different types of cc, multi-select to load/unload mods/cc, drag and drop, and view many styles for mod lists, and drag and drop. 
It is user-friendly and customizable to function as you need it to. One thing you can find in the settings is the ability to unload mods the moment you exit the game. 
The fun part about this Jibby's The Sims 4 Ultimate Mod Manager V1.2 - SUBFOLDER is the UI sounds, which you can turn off if you prefer. This mod manager truly lives up to the name of ultimate. 
Download Jibby's The Sims 4 Ultimate Mod Manager V1.2 - SUBFOLDER SUPPORT: site link
You may also be interested in:
Image Gallery