[Top 15] The Sims 4 Best Horror Mods (2021 Edition)
Updated: 27 Dec 2022 8:01 pm
Do fear the reaper with these 15 horror mods.
What do Deadly Toddlers, Frankenstein Monsters, and EXTREME Violence have in common? 
Part of the appeal of The Sims is that it lets you play out imaginative storylines where you control the narrative and the players in it. For us, horror-loving nerds, The Sims 4's more "scary" additions come up short in terms of graphic, horrifying content which can be restrictive to your gameplay. Whether you are looking to play out more realistic storylines like a serial killer on the loose or your brand of horror falls more in line with the supernatural, these fifteen mods are sure to satisfy any horror fan's taste for the dark side. 
15. Horror Life Mod from Melun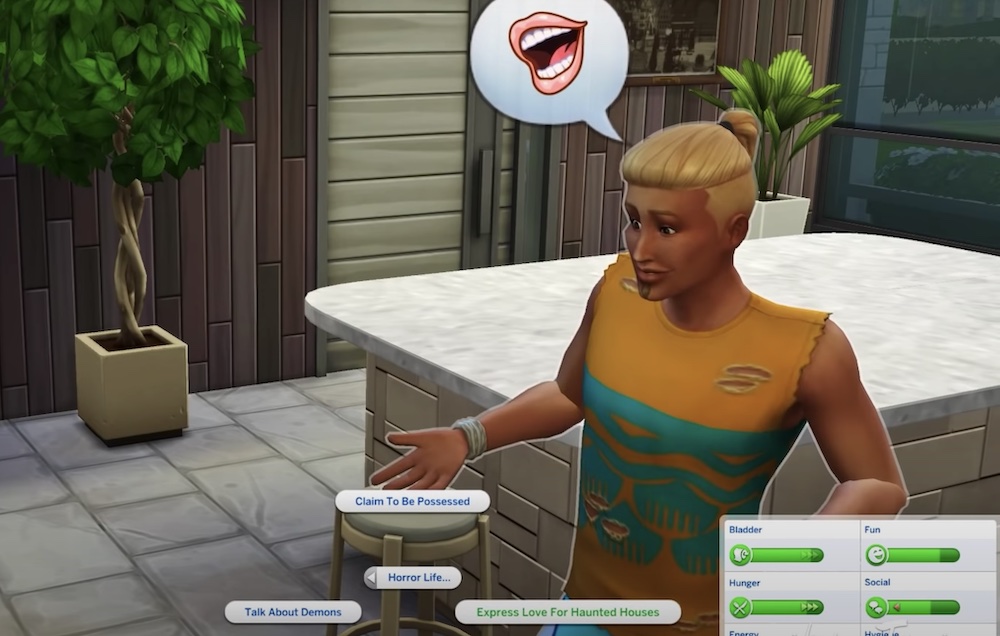 Sims can now obsess over horror-related topics with other Sims. 
YouTube Link: https://www.youtube.com/watch?v=kpEMuu_DvG0
Horror Life introduces the more modest elements of horror into your gameplay where you can use the social horror life interaction to talk about things like possession, haunted houses, demons, and infamous murderers. Celebrate Spook a Sim day and create a club with like-minded individuals with the new Spook a Sim club rule. At the lowest rank on our list, it's only fitting that this is the tamest of all the mods. Future updates promise this mod to introduce elements like murder and gore, but for now, this mod is relatively mild and an innocent add-on to your game.
The social interactions with this mod give your Sim an added layer of personality, maybe closely resembling that of the player.
The New Club rule is a fun addition if you're looking to create a group of horror-loving friends.
Pair this with the Spooky Stuff pack and you can have a full-fledged Halloween holiday in the Sims.
Equip your Sim with fun horror interactions by downloading this mod on  https://www.patreon.com/posts/horror-life-40356296
14. Incinerator Mod by NecrodogMTSandS4S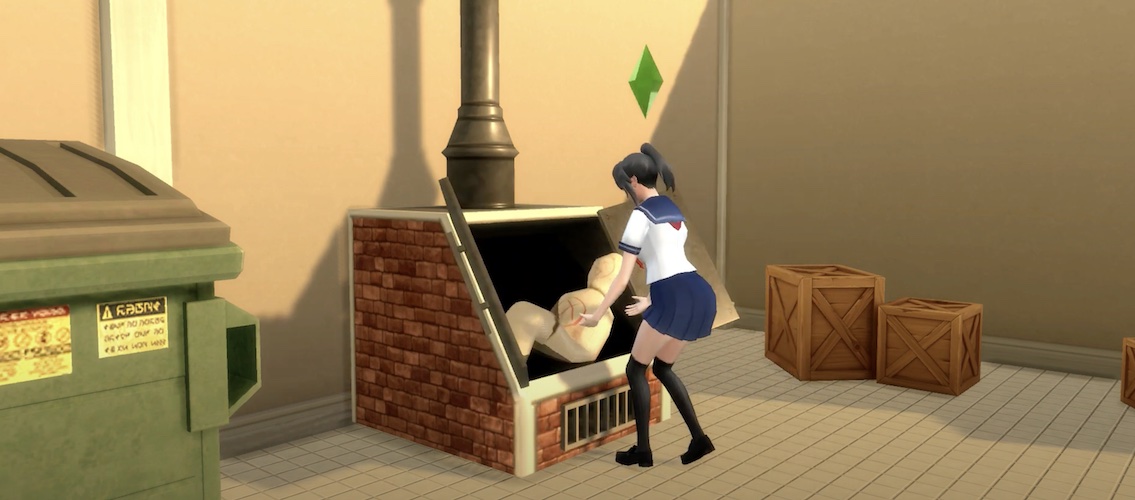 Hiding bodies and destroying the evidence has never been more efficient. 
YouTube Link: https://www.youtube.com/watch?v=5UgtJnjgWwQ
If you're looking for a quick, efficient, and creative way to get rid of your enemies then look no further than the Sims 4 Incinerator Mod by NecrodogMTSandS4S! Where most of the murder mods come with the pesky consequences of being arrested, with this mod you can kill your enemy in secret by incinerating them in this new buy mode object! 
This is a great add-on for any murder-centric gameplay you might have, as it adds variety for how your Sims "take out" their victim. 
You can also incinerate trash and woohoo inside of it, making it a fully functional, multi-purpose Sims 4 object. Because let's be honest, if you can't make your Sims woohoo in it is it even worth buying?
You can download the Incinerator Mod on https://www.patreon.com/necrodogMTSandS4S
13. Cursed Painting Mod by Sacrificial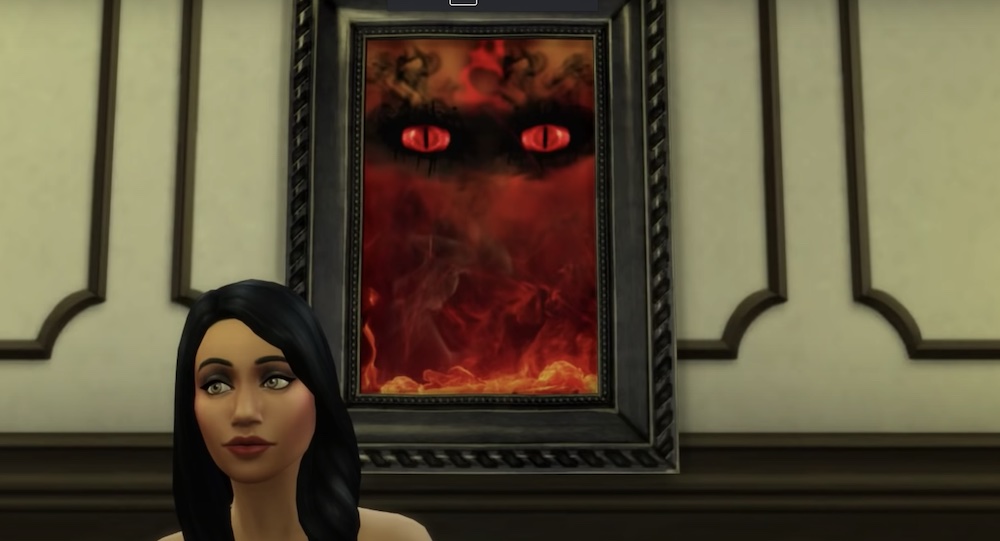 Will you live a life of wealth or will it all go up in flames? Find out with the Cursed Painting mod. 
YouTube Link: https://www.youtube.com/watch?v=mPuj8yHhhe0&t=13s
As to be expected Sacrificial will appear more than once on this top 15 list, as they are the expert in horror and gore-related content for the Sims 4. Our first mod from them comes in the form of the Cursed Painting Mod. Choose between one of three paintings to decor your humble abode and then have your Sims gather as they try their luck. Your Sim will either "win" and gain a large sum of simoleons or they'll "lose" and catch on fire. Try this mod with a single sim or gather everyone in the household as they gamble with their lives in the hopes of becoming fabulously wealthy. 
The roll the dice aspect gives you the incentive to keep coming back to try and win the simoleons, making this a multi-use mod. 
The sinister nature of the painting will pair well with any gothic or haunted builds.
Since Sims can extinguish themselves in The Sims 4 you're not guaranteed death if you don't win against the painting in your first few tries. 
You can download the Cursed Painting mod on https://www.sacrificialmods.com/downloads.html
12. Sim Torments Mod by Sacrificial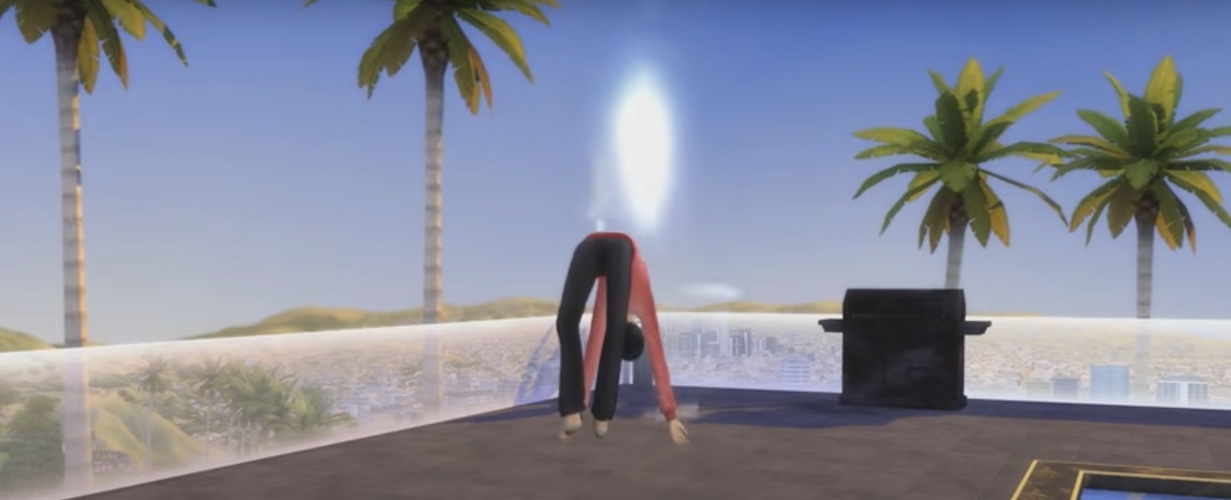 Every Simmers's favorite pastime...torturing their Sim. 
YouTube Link: https://www.youtube.com/watch?v=UaapFJmqnb8
As if Sims don't suffer enough already at the will of the player, this mod will help further your sadistic intent in torturing your Sims. Choose from non-lethal torments such as aging your sim up, depriving them of their needs, electrocution, or causing them to pee themselves. Of course, there are also lethal torments that guarantee death on site. The mod offers simpler forms of death such as drowning, setting a Sim on fire, or body slamming. However, you can go the more creative route and send them to hell, steal a soul, or crush them with a piano. Regardless of your degree of torture, or your preferred method of madness, this mod instills ultimate power in you as the creator and is handy to have when you just need to get rid of a Sim.  
Streamlines the process of killing your Sim, a feat that is more difficult now that they've learned how to use the pool without a ladder.
Creative and new death types are fun to explore and easier to use.
You can download the Sim Torments Mod on https://www.sacrificialmods.com/downloads.html
11. Deadly Toddlers Mod by Sacrificial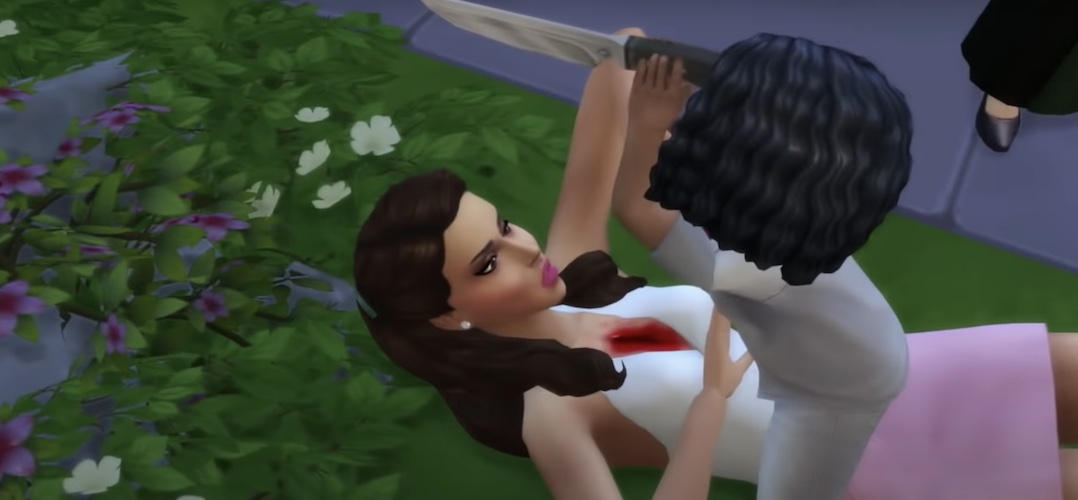 The chances of your toddler killing you are low...but never zero.
YouTube Link: https://www.youtube.com/watch?v=tP-bCUP1RBQ&t=28s
Are you a fan of the Extreme Violence mod but want it more localized to toddlers? Then this is the mod for you! Spread fear in your Sim's neighborhoods as their children now have the option to murder their parents in graphic and horrifying forms. Toddlers can stab their parents, in various places of your choosing, or set them on fire. This is Children of the Damned but much, much worse. 
This mod is great for storytellers as you can create an epidemic of murderess toddlers in your entire neighborhood, or maybe a more intimate retelling of Pet Semetary. 
The animation and graphics by Sacrificial are always top-notch, so even in the humorous portions of this mod, you are still getting a bloody display. 
You can download the Deadly Toddlers Mod on https://www.sacrificialmods.com/downloads.html
10. Necrophilia Mod by NecrodogMTSandS4S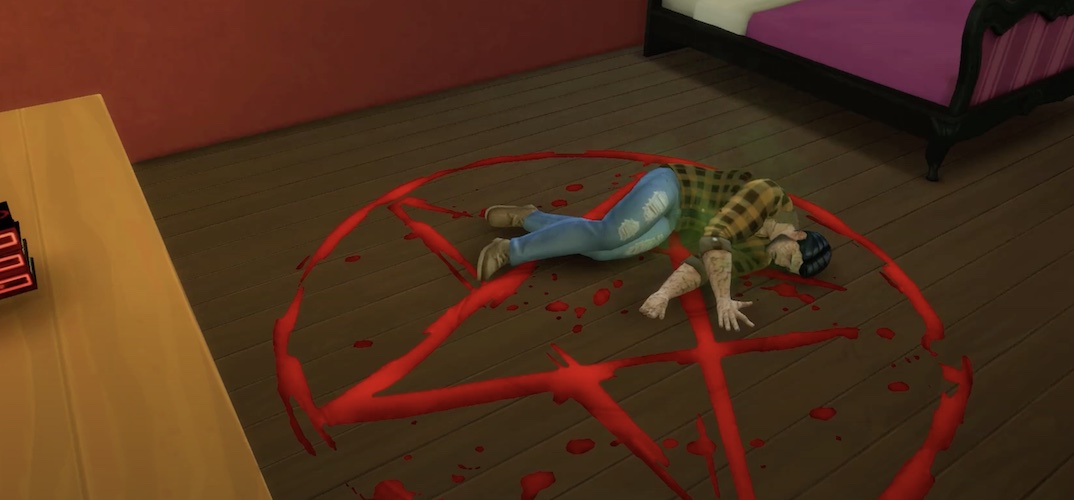 Gross.
YouTube: https://www.youtube.com/watch?v=90eC-SyQ-r8&t=12s
Little explanation is needed for this mod where you Sim can kill before they woohoo their next love interest. Updated versions on this mod have the murdered Sim sitting and decaying for some time before they reanimate, at which point you can then formulate a relationship with the corpse and well, as the title implies...This creepy mod has fewer add ons than some of the other mods on this list, but it's effective in its simplicity.
As the body begins to decay it will start to rot and the skin will appear cracked an effective detail.
Gives your Sim the ability to have a romantic relationship with a zombie, more or less. 
You can download the Necrophilia Mod on https://www.mediafire.com/file/sm3n2n6xhgdkony/necrodog-necrophilia-mod-s4.rar/file
9. Torture & Chaos Mod from Sacrificial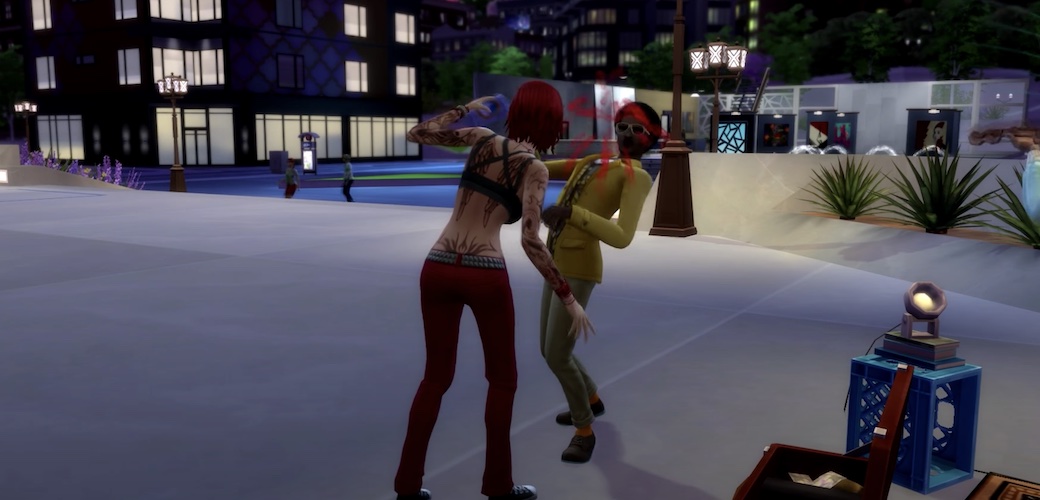 Practice a little bit of dark magic and kill other Sims with ease. 
YouTube Link: https://www.youtube.com/watch?v=3QRt07XMl2c
Essentially, this is the Sims Torments mod but instead of you being the sinister wielder of evil power, it's your Sim. Purchase the Book of Chaos from the computer or bookshelf to equip your Sim with a magical power where they can wreak havoc on the lives of those around them. Choose from options such as drown a Sim, embarrass a Sim, or Kiss of Death, just to name a few. Not all options will necessarily result in death but most will so be careful who you torment in this darker version of Realm of Magic. 
Gives you full ability to reign torment down on other Sims, without needing the Realm of Magic game pack or the skill set to achieve said mischief.
Offers new and creative death types such as causing a Sim a heart attack or throwing a poison drink at another Sim's face.
You can download the Torture and Chaos Mod on https://www.sacrificialmods.com/downloads.html
8. Monster Factory by NecrodogMTSandS4S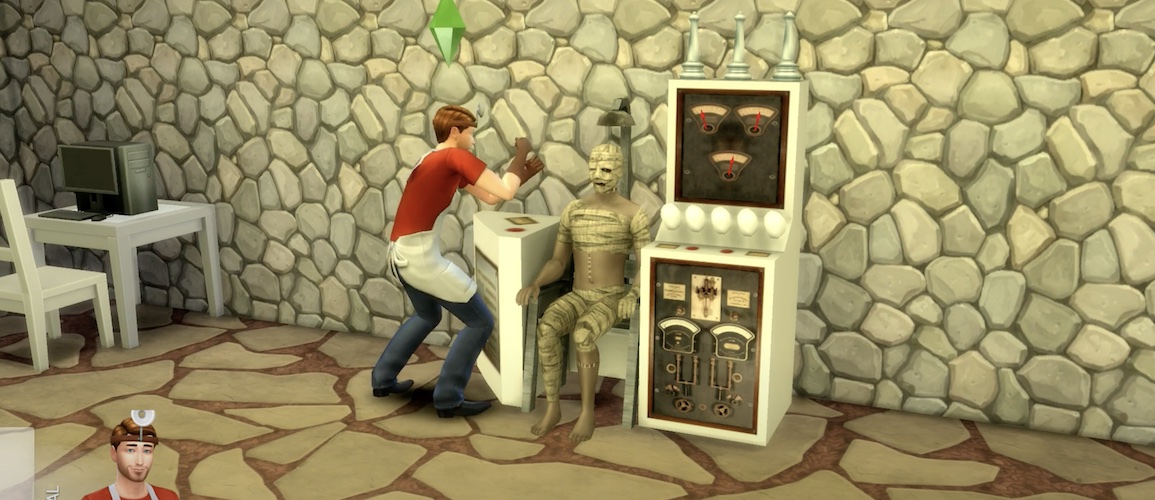 Live out the Frankenstein nightmare in this mod from NecrodogMTSandS4S.
YouTube Link: https://www.youtube.com/watch?v=au5p6q8tL5s
Another frequenter of this list is mod creator NecrodogMTSandS4S, who brings some of the more unsettling mods to The Sims 4. Live out your mad scientist dreams and create a monster by purchasing the Monster Factory machine. Collect body parts via the computer or by raiding your cannibal stash if you have the Cannibal Mod installed (see below). Once you've collected all your parts, craft a male or female monster using the machine and give them life in this modern rendition of Frankenstein. 
Once you've created the monster they will be added to your household where they become a fully functional, playable Sim.
Pair this mod with others such as the Extreme Violence or Cannibal Mod to fulfill the horrors you'd expect from a Frankenstein-like creature.
You can download the Monster Factory on https://www.patreon.com/posts/39939920
7. Cannibal Mod by NecrodogMTSandS4S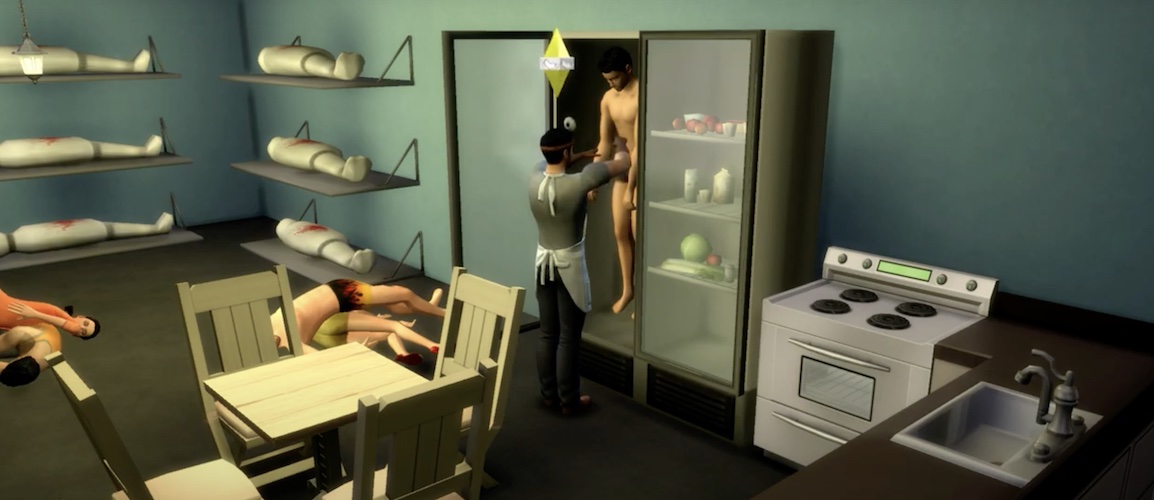 Become a mortician and harvest bodies in another post-mortem themed mod from NecrodogMTSandS4S.
YouTube Link: https://www.youtube.com/watch?v=HEQ-xuOqjvU
Do you hate making your sim cook? Have you tried all the recipes and then some? Well, maybe it's time you look into Cannibalism as this brief and easy mod promises a quick and bloody meal for your Sim to enjoy. In this mod, you can go as simple as butchering random Sims on the street, which will auto-generate a piece of meat and a family serving size of limbs. Or you can work in the morgue where you'll perform autopsies and harvest organs in your meat storing fridge. Not enough available options to cannibalize? No worries, there's also the option to "Spit Roast" a fellow Sim for a more grueling touch to this twisted mod. 
This mod comes with two unique builds: the morgue and the funeral home, a perfect place for your Sim to hide their acquired tastes in plain sight.
The bonus, usually trash-destined pile of random parts could be used to liven up your horror builds to create a grisly atmosphere.
The unique plumbob created for your cannibalistic Sim is a nice touch in this well-rounded mod.
You can download the Cannibal Mod on https://www.patreon.com/posts/cannibal-mod-39046741
6. Life Tragedies Mod from Sacrificial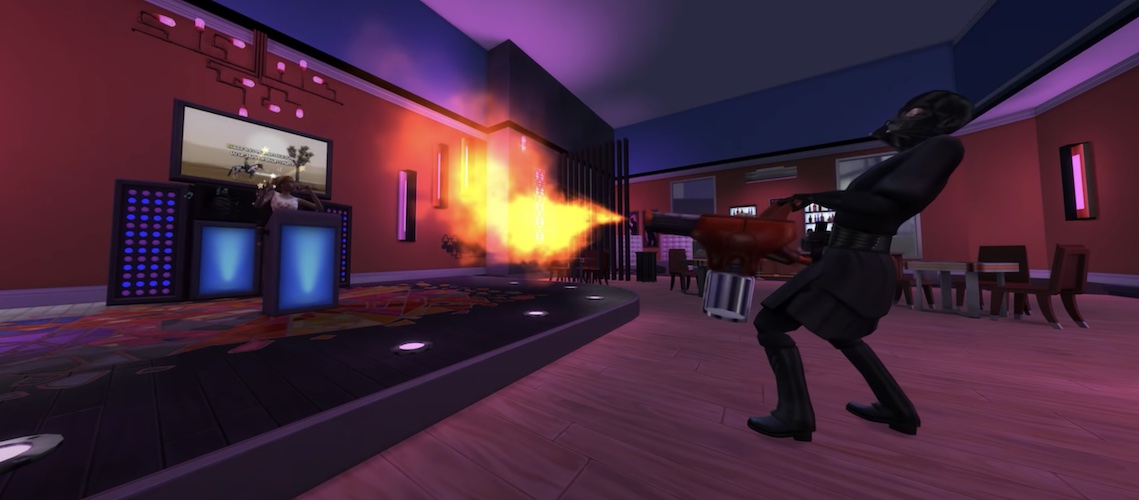 This tragic mod introduces life's most unfair moments into your gameplay.
YouTube Link: https://www.youtube.com/watch?v=RGBNBddcGyw
For a life simulation game, The Sims 4 can be lacking...well, life. Enter in the Life Tragedies Mod from Sacrificial, which brings to your game those random, unjust, and unexplainable moments we often face in our own lives. This mod introduces kidnapping, armed robberies, fatal illnesses, and car accidents to name a few. It also generates five NPC murderers and horror icon Jason Voorhees which will kill autonomously in your game.
The kidnapping and murder options are both available to your playable Sims and NPCs, letting you control the narrative or be the victim of it.
The flame thrower and cigarette are fun add-ons that are not necessarily fatal, but enjoyable content, nonetheless.
A piemenu gives you full control over what tragedies your Sim can face in the game, allowing you to enable some and disable others.
To add a layer of realism to your game you can download Life Tragedies on https://www.sacrificialmods.com/downloads.html
5. Possessed Child Mod from Sacrificial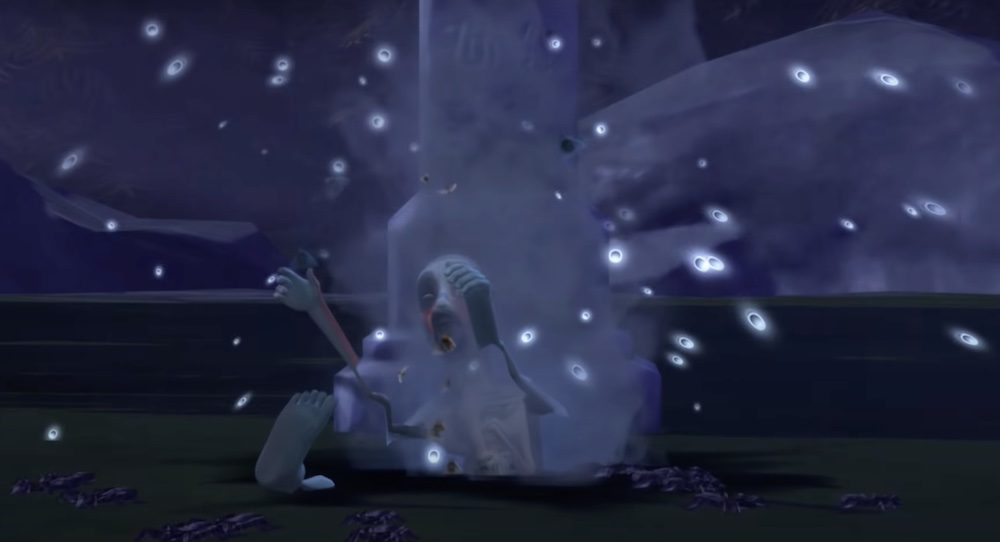 Jonathan Colby will haunt you and your Sims nightmares in this terrifying mod from Sacrifical. 
YouTube Link: https://www.youtube.com/watch?v=UKU_FMGBMTU
The backstory to this mod reads that Jonathan Colby was tortured and abused by his father, which resulted in his inevitable death. Jonathan is now seeking revenge against his father and will kill anyone who stands in his way. Luckily for your Sim, he can only appear if he's summoned through his tombstone by chanting his name, but once released Jonathan will embark on a mass killing spree murdering all Sims within the area. While kicking him might stop him for a while, it's only a matter of time before he catches up to your Sim and takes their soul. 
The animations and design of the child are truly the stuff of nightmares.
By acquiring the child's spirit for yourself, your Sim takes on the curse and can perform all the actions of the possessed child.
The banish spirit option, accessible from the tombstone, makes for an easy and quick end to the curse if it becomes too intense for you and your Sim.
Download Jonathan Colby and his curse on https://www.sacrificialmods.com/downloads.html
4. Werewolf Mod by Nyx
Nyx's beloved occult mods let you howl at the moon and hunt as a lycanthrope. 
YouTube Link: https://www.youtube.com/watch?v=GGT5fYJY810&t=7s
While the current game and its expansions host Aliens, Vampires, and Mermaids what has been missing is the addition of Werewolves, which were a popular occult life type in the Sims 2 and 3. Nyx's mod brings the missing supernatural element back into the game and it's a welcomed return. Purchase a special treasure map in buy mode and lure your Sims into the woods where they'll come back a changed Sim. Your Sim will then undergo a five-stage transformation where they will emerge a Lycan and become feral every night between 8 pm and 7 am. 
Like Spellcasters and Vampires, there are five levels where your lycanthropic Sim can level up and gain new powers.
The transformation process is in-depth; as your Sim moves between the different stages they will show wounds and bloody scars, dazed and embarrassed moodlets, before transforming into full lycanthropic form.  
You can download the Werewolf Mod on https://neilsimming.wixsite.com/neildevblog
3. The Extreme Violence Mod by Sacrificial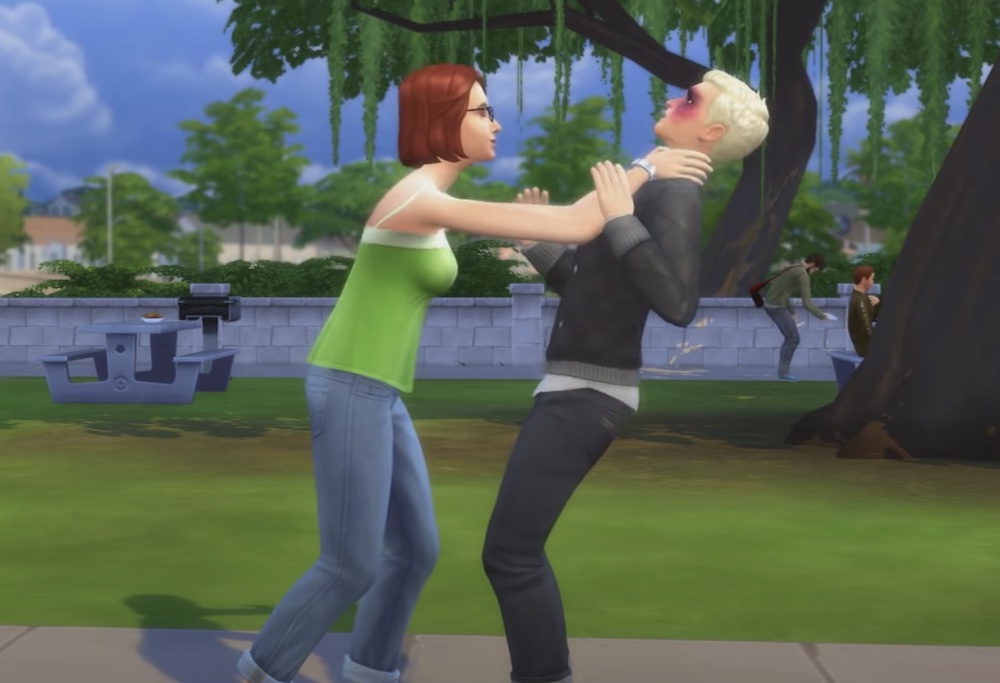 Sacrificial's mod introduces varying levels of violence into The Sims 4 gameplay.
YouTube Link: https://www.youtube.com/watch?v=A-ut8K1Nn-Y)
This classic, long-time mod allows you to implicate murder into your game. No longer will you have to build a wall around your Sims' swimming pool to summon Grim, simply install this mod and let them do the work for you. This mod comes with a ton of additional content, including numerous interactions between Sims, a new moodlet, a new serial killer trait, and more. The options are limitless from violent gory murders to aggressive bullying. Turn your Sim into a serial killer and let the suspicions arise in this dark and gory mod.  
This mod comes with a lot of new content, with both deadly and non-deadly additions, which will allow you to implicate this mod into your gameplay in more ways than one.
For story Simmers, the bullying and murder options will allow for darker, more grisly storylines.
You can download The Extreme Violence Mod on http://www.sacrificialmods.com/downloads.html
2. The Haunted Mirror Mod from Sacrificial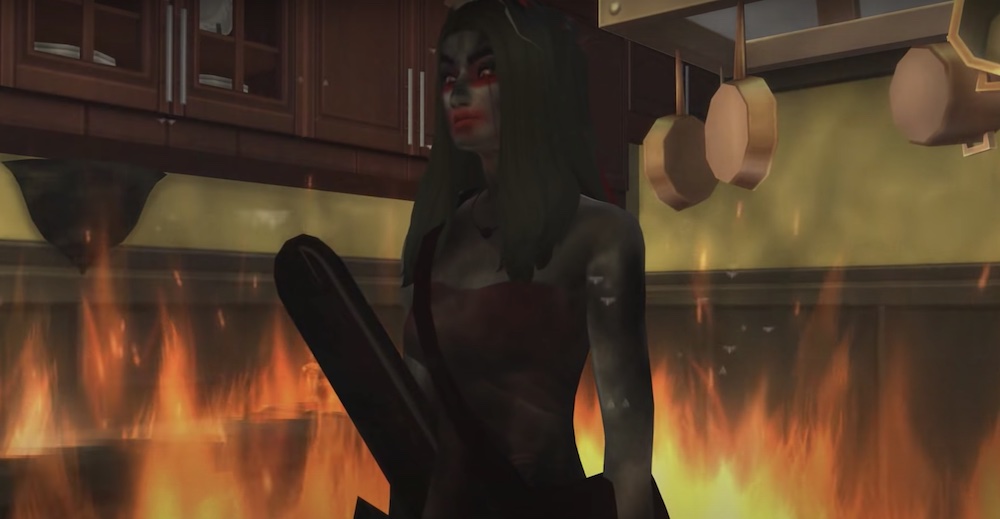 Curse your game with the terrifyingly beautiful Bride Hannah. 
YouTube Link: https://www.youtube.com/watch?v=8W7ugdon2xM)
Another mod from legendary modder Sacrificial, this haunted mirror mod will invite a tormented, murderous ghost into your Sims lives. The mod comes with one new object, the haunted mirror, which allows you to summon Bride Hannah, a vengeful spirit who will kill everyone on site. It's unclear what happened to Bride Hannah in a previous life to make her so vengeful, but what is clear is her affinity for murder, as she will stop at nothing to kill all the Sims in your neighborhood, appearing anywhere and everywhere. Once Bride Hannah is summoned, she is nearly impossible to get rid of, which feels very on-brand for what a real-life curse would be like. She's a great addition to your game if you want your Sims to be looking over their shoulders for the rest of their lives.
The blood-stained attire, contorted movements, and circling crows give her appearance a beautiful yet menacing aesthetic.
Bride Hannah is extremely difficult to get rid of, especially without cheats, making her a truly haunting presence in your game.
While you might not be able to kill her, you can still protect yourself with the special scented cologne, available through your newly purchased haunted mirror.
Download Bride Hannah and her accompanying mirror on http://www.sacrificialmods.com/downloads.html
1. Zombie Apocalypse Mod from Sacrificial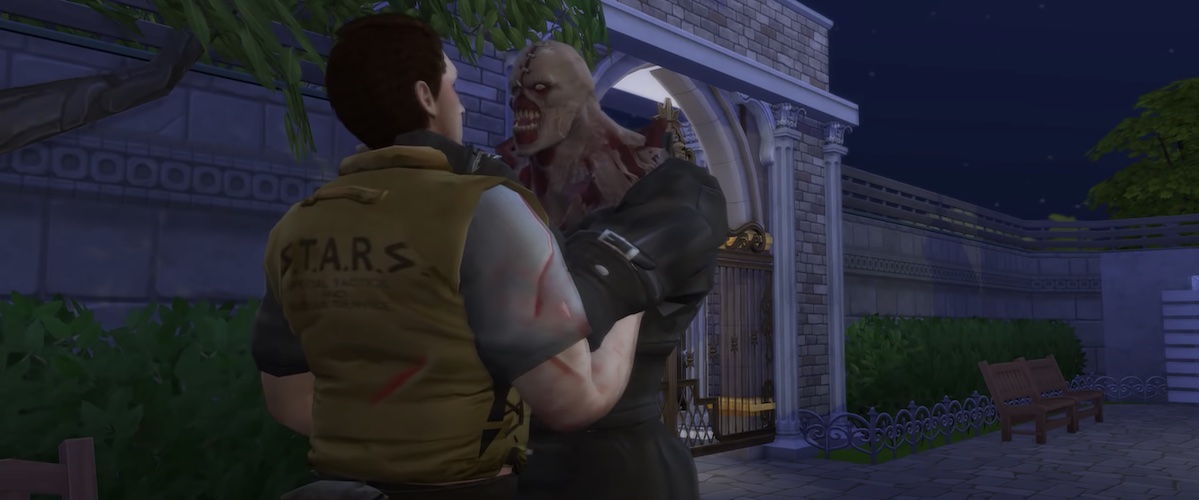 Can you survive the zombie apocalypse? Now is your chance to find out!
Youtube Link: https://www.youtube.com/watch?v=rERBmWte-CM&t=205s
Horror lovers rejoice as Sacrificial has brought us the ultimate nod to horror films with the Zombie Apocalypse mod. To start the apocalypse, "Listen to the police podcast" on the radio and stand by in horror as your neighbors and friends turn into zombies (even children!). Equip yourselves with weapons to fight off the brain-consuming creatures, but be careful not to get bitten as your Sim will turn into one of the undead! If you download any of the mods on this list, my recommendation would be this one. It's a thorough, in-depth mod with long-term playability.
It brings all the star factors from the other mods on this list right into one mod: extensive detail in the zombie transformation, cameo appearances from Resident Evil characters, and a ton of new items to round it out. 
The content you receive in this mod is equivalent to a game pack if not an expansion pack.
Gives you an active excuse to download cool Mad Max custom-style clothing to equip your Sims for the apocalypse. 
Start your apocalypse by downloading this mod on https://sacrificialmods.com/downloads.html.
Image Gallery