Minecraft: How to Change your Skin
Updated: 15 Mar 2022 10:33 pm
An iconic skin will really make you stand out when playing online!
Minecraft: How to Change your Skin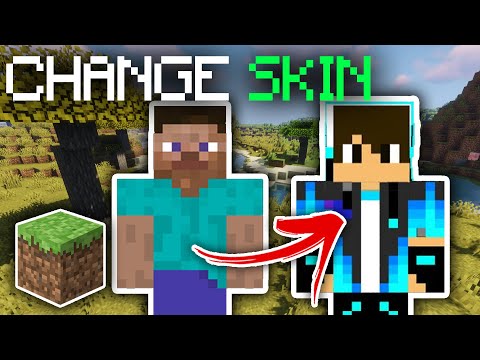 Check out this handy video guide: https://www.youtube.com/watch?v=hT8XSqMF4Sg
Video by: GuideRealm
Customizing my character is always one of my favorite parts of playing a video game. Whether that means making a character I find attractive, making a character that looks like me, or making a character that makes me laugh, I always look forward to experimenting with my avatar's appearance and seeing how it looks in-game. In Minecraft, you can do this by changing your skin! Here's how:
Firstly, you're going to make sure that you're logged into Minecraft.net on your active Minecraft account. You know how to log into a website, so I won't hold your hand, but I will warn you that since many Minecraft and Mojang accounts have been making the Big Change to Microsoft accounts, this process might be a little trickier. Just make sure you have the right information and everything should go smoothly!
There are multiple ways to change your skin - here's a quick overview for the more complicated route:

Download a skin to your computer.
Navigate to your profile settings.
Click your name in the top right, then choose "profile" from the drop-down menu.
Click "skin" on the left hand side of the screen.
Choose the correct model for your skin. Most downloaded skins will list the skin model on the download page.
Click "select a file" and find the skin file you downloaded and then hit "upload."
Your skin should now be visible in-game.

Now, the simplest route is, of course, simpler - all you have to do is pick a skin off of a skin archive site. Most archive sites have a button on the skin download page labeled something like "upload to minecraft.net" that will instantly add the skin to your page, no downloads required. 

A few good sites are…
If you're not sure what type of skin you're looking for, I have a list of 25 amazing skins that you can check out right here!

And, if all else fails, you can always design your own skin. The Skindex ( https://www.minecraftskins.com/ ) has a skin designer that's fairly easy to learn and use. This option also features an option to upload the skin directly to Minecraft.net without needing to download any files.
Once you've chosen a skin, it's easy to test your method by hopping in-game and taking a look at your character model. We'll see you around! Happy gaming!
You May Also Be Interested In: