[Top 15] Minecraft Best House Designs That Are Awesome
Updated: 30 Oct 2020 8:59 pm
The most important aspect of Minecraft is the home you build. You'll use this for safety, storage and more, so please for the love of Minecraft please don't use dirt.
In Minecraft's history, a majority of gamers have played the game and gone through the infamous first night, most likely creating some poor excuse of a house in the shape of a hole in the ground or the side of a mountain. This then leads to the ramshackle hut composed of dirt, gravel, stone, or any other material one can get their hands on cheaply. Below, you'll find some talented Minecrafters who have moved past these huts and created some beautiful homes which will hopefully inspire you to create your own masterpieces.
15. Mountain House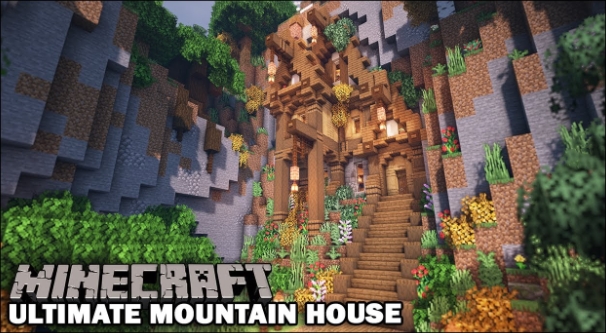 Nestled in the mountains is this beautiful home that pops right out of some fantasy world.
With the recent mountain update to Minecraft, of course we need to showcase a beautiful home nestled within the mountains. This house by TheMysticalSausage combines beautiful design with functionality by having separate rooms dedicated to farming, raising cows, and of course, storage. The creator first showcases the house with awe-inspiring timelapse of the build before finally walking through the house explaining the thought process behind the design, including why you want to sleep next to a cowpen.
What's Awesome About it:
Comes stocked with villagers to do your bidding.
When you decide to leave, you can say you literally moved mountains.
Your roommates are cows.
14. Desert Castle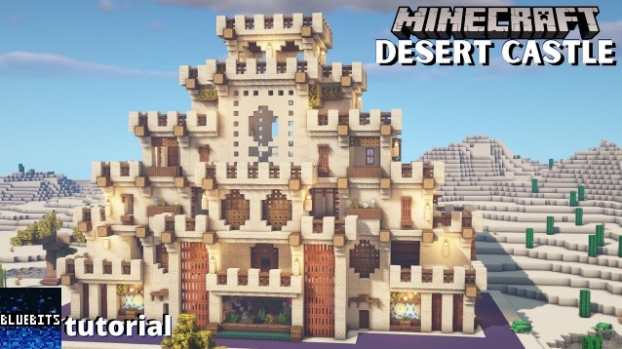 While there may not be much life in the desert, you can at least take comfort in the friendship of your tropical fish.
We'll be going on a bit of an adventure to reach this next biome and the castle that occupies this desert. Creator BlueBits walks us through creating this magnificent oasis of luxury in the harsh Minecraft desert. Great attention to detail really makes this desert castle pop, including the tropical fish that surely must have been a pain to transport across an entire desert.
What's Awesome About It: 
Deserts are used less for builds making this house unique.
The terracotta blocks really make this house pop.
You can grow a cactus garden in your backyard.
13. Underwater Base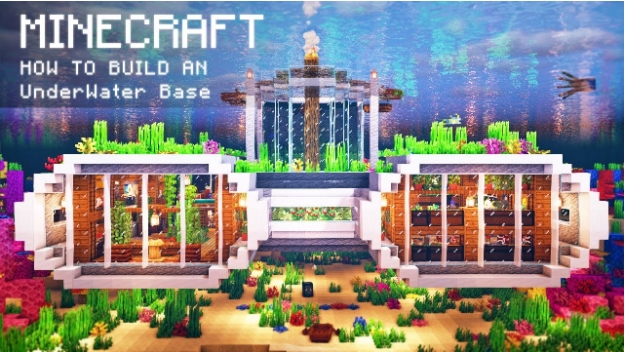 Enjoy the depths and live amongst the beautiful fauna and floral of the ocean. 
For this house, we are diving into the depths of the ocean to take a look at SheepGG's underwater base. Looking out the many windows of this base gives you a view of the beautiful coral reef just outside. Watch as exotic tropical fish swim by with the occasional squid and drowned zombie trying to break in. Make sure to pack a swimsuit, this house may be stunning but at some point you're going to want to take a dip into the beautiful waters just outside.
What's Awesome About It: 
If you like pickles they are just right outside for the taking!
You never have to worry about fire or the random bolt of lightning.
There's only one mob you have to worry about underwater.
12. Underground Base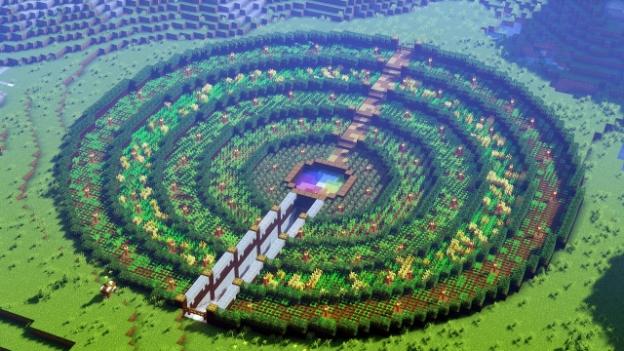 Abandon the surface and live Fallout style in this underground base. It's stocked with everything you could possibly need to survive in the cold underground.
If you are trying to get ready for the Caves and Cliffs update coming next year, look no further than Yoogolra's underground farm base. In this video, Yoogolra provides the means to literally live under a rock until the update is ready and you can use this cave base as a launching point for good old fashion spelunking. After all, most Minecraft players can tell you how easy it is to get lost in various caves and caverns under the surface, so all the supplies this farm base can provide will be an absolute must to bring with you as you head underground.
What's Awesome About It: 
This base comes stocked with everything you need.
The new update will be right at your doorstep upon release.
Building underground saves space on the surface for more builds.
11. Nether House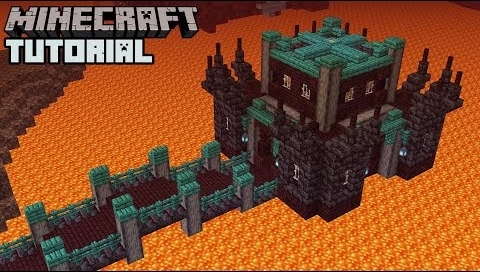 This terrifying structure is the perfect place to take a rest at once inside the Nether.
The Nether update gave players even more reason to venture into this fiery region, and ItsMarloe is showing you how to live here in style. Suspended above a massive pool of lava, this dark fortress provides you all the charm of the Nether, which too be honest, isn't much considerable how inhospitable it is. Not to fear, this build comes with all the necessities to survive in the nether before you decide to return to the surface world.
What's Awesome About It: 
Provides protection from the local mobs.
People will think you are scary and not come to your door.
The lava provides a natural light source and defense.
10. Japanese Castle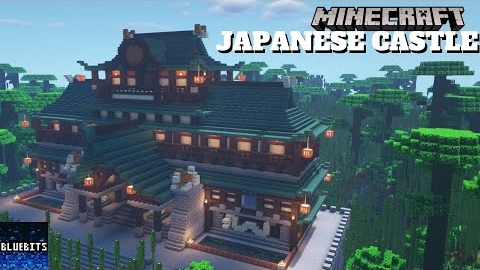 This Japanese castle is the perfect place to live out your fantasy as a ninja or samurai lord.
If you have ever wanted to live out your fantasy of being a samurai lord, then look no further than BlueBit's Japanese castle. The dark prismarine blocks really make this build pop and look absolutely stunning when lit by the lanterns at night. To top it all off, BlueBits even includes a lovely decorative snake above the entrance to really give this castle some flair.
What's Awesome About It:
Live out your samurai fantasy.
Ninjas may occasionally stop by. May also occasionally attempt to assassinate you.
Includes two koi ponds with lily pads for relaxation.
9. Wood Mansion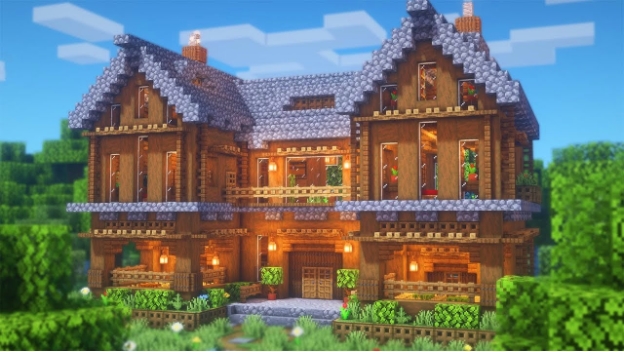 Make yourself at home in this woodland mansion and be content knowing your closet neighbor likely can't speak to you.
This secluded woodland mansion built by Folli truly is an elegant work of art. It toes the line between beauty and ostentatious while maintaining a good level of functionality. One of the major benefits of this video is that Folli tells you exactly how many blocks of material you will need and where to put them, making it that much easier for you to recreate this gorgeous mansion. After all, at some point in all our lives we've imagined ourselves living in the life of luxury within a giant mansion.
What's Awesome About It:
No neighbors to bother you.
You can be close to nature but shut it out at any time.
Main materials are stone and wood making this an easy build to collect materials for.
8. Castle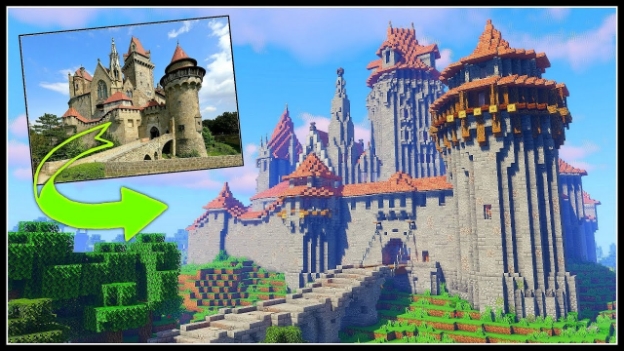 Beauty meets history in this historical recreation of an actual castle found in Austria. 
No Minecraft best house list is complete without a true and traditional castle. And that's exactly what Cortezerino has done here. He has faithfully recreated the Austrian castle Kreuzenstein in Minecraft with an astounding level of detail that you may actually confuse this for the real thing. You only have to look at the beautiful stonework placement to know this incredible build was a passion project.
What's Awesome About It:
No need to travel to Europe to visit this castle.
Can reenact scenes from all your favorite fantasy shows.
Live like a king in this magnificent castle.
7. Modern Beach House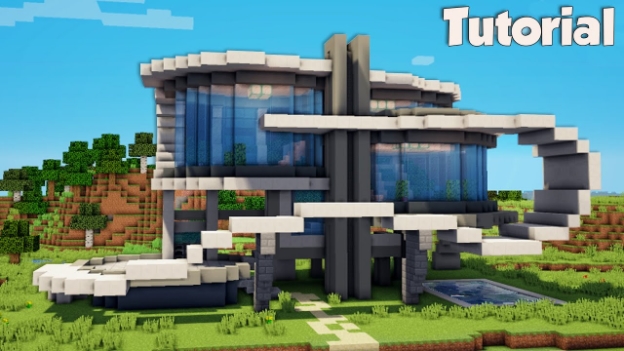 No need to rinse your feet off before stepping inside this magnificent beach home.
Beachfront property can be quite expensive and a nightmare to upkeep, but this build by WiederDude is practically free besides labor and the upkeep is minimal as long as Creepers keep their distance. This property comes complete with all the amenities you'd expect in your typical beach house, including but not limited to your own private pool if the ocean isn't quite your thing. Whatever your preference is, the views with the giant windows here are sure to be amazing, especially once the sun begins to set.
What's Awesome About It:
The joy of the beach without the sand.
Nothing says status like owning beachfront property.
Seriously, did I mention not having to deal with sand?
6. Medieval Tavern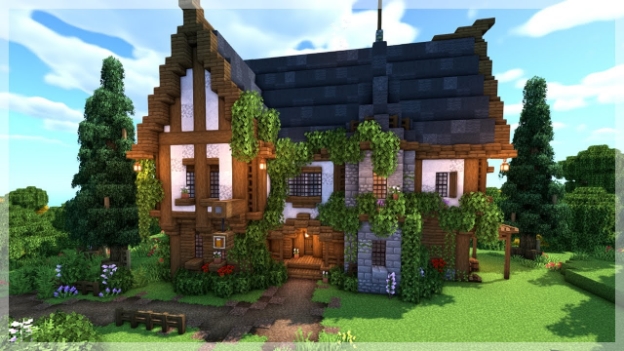 What's your poison? Enjoy the life of a tavern owner in this enchanting home.
All great adventures either start in a tavern or wind up passing through one at some point, so naturally you should include one in your Minecraft world. BlueNerd Minecraft has created a beautiful tavern that seems to have been lifted straight out of some fantasy world and brought it here to Minecraft. If this seems like something you'd be interested in building, you'll have to do a bit more work as BlueNerd Mineraft has split the interior design of this quaint tavern into a second video.
What's Awesome About It:
Take a load off and enjoy an authentic medieval ale.
You may run into some interesting characters and create your own adventuring party.
Once you build this tavern, you can sit back and let tired adventurers fund your retirement.
5. Treehouse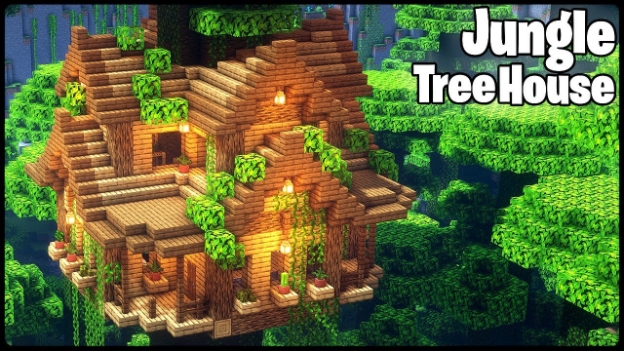 ​Sleep high above the ground amidst the birds in this treetop jungle home.
Trekking through a dense and humid jungle can be quite tiring, so building this little treetop retreat would definitely be a smart idea. Julious has created a lovely house here but managed to take it off the jungle floor and high up into the canopy. This house comes with just about everything you need to survive deep in the jungles of Minecraft. Well except maybe some bug nets.
What's Awesome About It:
Being high up in the trees prevents most mobs from getting to you.
Can sing Guns N' Roses "Welcome to the Jungle" to guests.
Jungles are full of cocoa beans so you can bake chocolate chip cookies anytime you want.
4. English Manor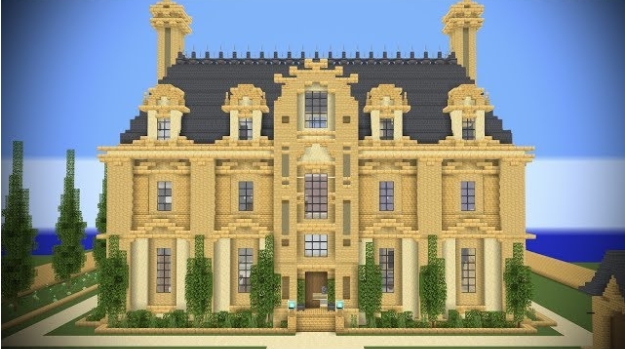 Relax in style with this countryside English manor and enjoy a nice cup of tea.
Youtuber Grian has taken to Minecraft to create his dream home and shows off this lovely English manor that looks like it would fit right in within the English countryside. The historic inspirations of this house are plain to see and the level of detail to recreate these features are nothing short of amazing. Not to fear though, Grian has made sure to include some modern touches and luxuries to make this place move in ready.
What's Awesome About It:
Lovely attention to detail makes this place feel so homey.
You can reenact scenes from all your favorite English shows and movies.
Should you find yourself stressed, take a stroll through the garden sipping some tea.
3. Futuristic House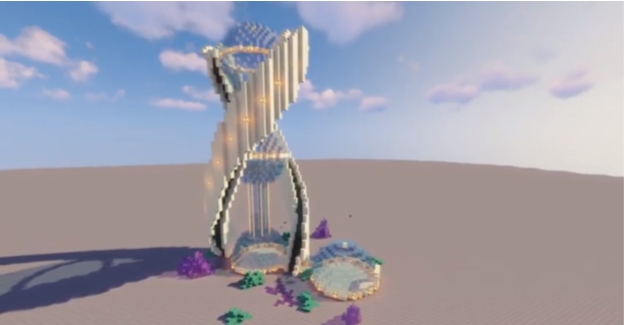 Whether you intend to survive in space on a far off planet or right here on Earth, this imposing structure will surely be the talk of the town.
The future is here! Adiecraft has created this beautiful alien looking base for you to call home. One look at this spiraling tower can easily show the talent that went into creating this futuristic home. This base contains what you'd expect to find in a home built upon another planet, whether it be for research or for survival, this base has you covered.
What's Awesome About It:
Live life in the future or in space with this alien looking home.
The two spirals are truly impressive and incredibly unique.
The glass domes will offer protection and allow you to study the alien planet you call home.
2. Architect's House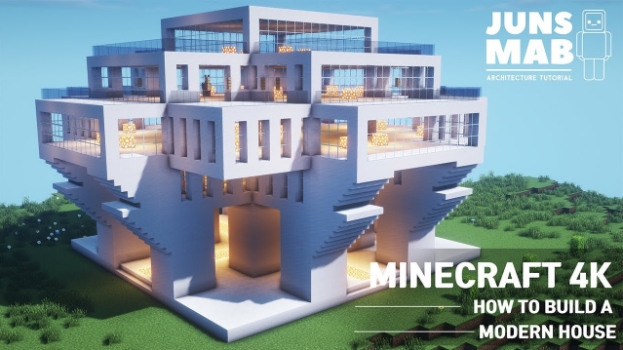 If an architect designed this home, then surely it must be good enough to build in Minecraft.
If you are looking for a functional and structurally sound house, surely you'd find that in a house designed by an architect. This modern home looks quite impressive with its bold and unique design. Juns Mab has a separate video to help you design the interior incase you actually wanted to live here and not just show off this beauty. The breathtaking views from one of the numerous massive glass windows is sure to be admired.
What's Awesome About It:
An architect has done the hard work and designed the house, all you have to do is build it.
Nothing shows off your wealth more than a house made entirely of quartz.
Truly this house is a modern marvel.
1. Cathedral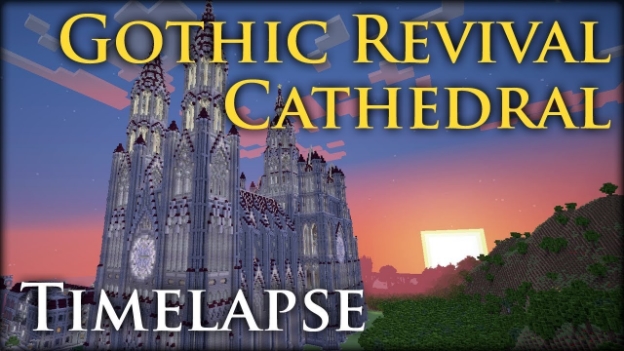 Whether this church inspires you spiritually or not, you have to stand in awe of this structure's breathtaking beauty.
Should you tend to be on the spiritual side, you'll find yourself an excellent home in EpicOnline's gothic cathedral. This massive awe-inspiring build displays a level of elegance and beauty that demands to be appreciated. The level of detail is simply astounding, from the tall imposing spires to the meticulously placed blocks of the roof, this cathedral truly shows the creativity and unlimited potential of Minecraft.
What's Awesome About It:
Truly awe-inspiring work.
The architecture is perfect to fit your gothic needs.
Whatever powers that be are in Minecraft, surely building this monument would earn their favor.
You May Also Be Interested In:
Image Gallery