[Top 10] Minecraft Best Castle Seeds
Updated: 30 Oct 2020 8:59 pm
Minecraft is the perfect platform to build the castle of your dreams, or rather, download it instead if you don't have the time or creativity to build one yourself.
Minecraft is known for generating infinite worlds with infinite possibilities of how these worlds actually look. How Minecraft does this is through is a system referred to as seeds. When each world is generated, it will randomly assign a seed to that world, however, it is possible to manually assign a seed to a world by typing in a series of numbers or sometimes words. This system's brilliance comes from the sheer infinite number of worlds that are possible, but also allows you to save an awesome seed should you happen to stumble upon one and to share it with others. With this system, there are an infinite number of possibilities of what you could create and share.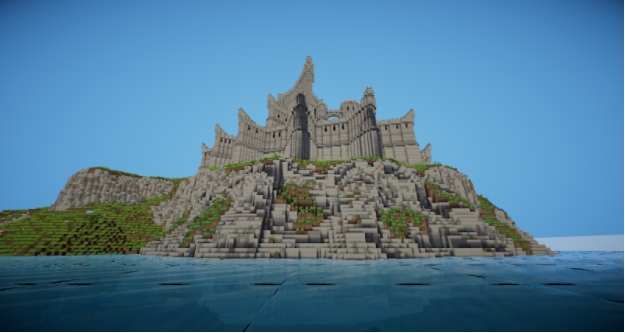 No Targaryen's here, just a beautifully rendered castle from Game of Thrones.
Game of Throne fans will recognize this structure immediately as the former Targaryen castle Dragonstone. While the build does not actually have the interior designed, the exterior is still something to marvel at. Seeing this castle's stone towers and gazing out across the vast ocean, it's clear to see what makes this castle so impressive and formidable. 
What's Awesome About It
Allows fans to walk a small part of the Game of Thrones world.
The interior is empty allowing for customization inside.
Playing this may allow you to tame End Dragons.
Versions
1.12.2
1.13.
1.14.
1.15.
1.16.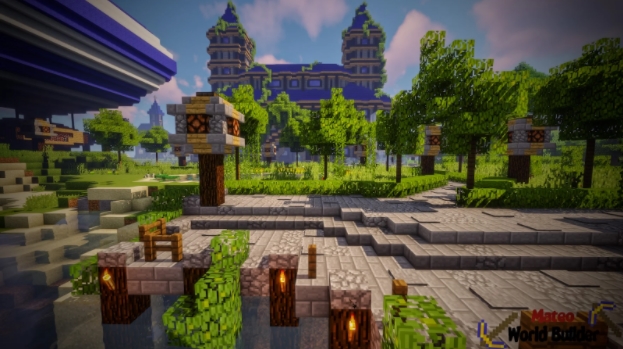 Fight to the death for the amusement of whichever Minecraft lord makes this castle their own.
Perhaps the best part of this build is the massive arena within this world. The arena is perfect for groups looking to have massive battles with one another or just simple duels. Just outside the arena is the castle, which comes complete with its own private hot air balloon. In addition to the castle and arena, you will also find a few other structures including a large custom built tree.
What's Awesome About It
The arena is perfect for combat.
The interiors are left open for customization.
This is a highly colorful build.
Versions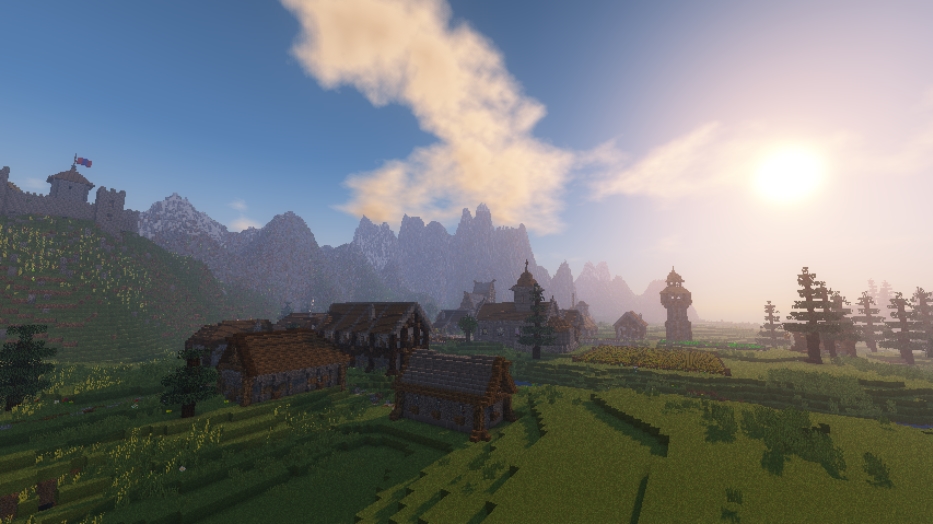 Live a simply life in this peaceful Minecraft village or rule from the castle above.
This build takes a more relaxed and realistic approach to castle building. This medieval castle consists of a mountaintop castle overlooking a peaceful village beneath. The village itself features 20 buildings varying from simple homes to different occupational buildings such as a blacksmith or a bakery. If you and your friends are looking to roleplay a medieval fantasy, then this castle is a must download.
What's Awesome About It
Very realistic representation of medieval castles and villages.
Perfect for roleplaying medieval life.
Has a great view of the village from atop the castle.
Versions
1.12.2
1.13.
1.14.
1.15.
1.16.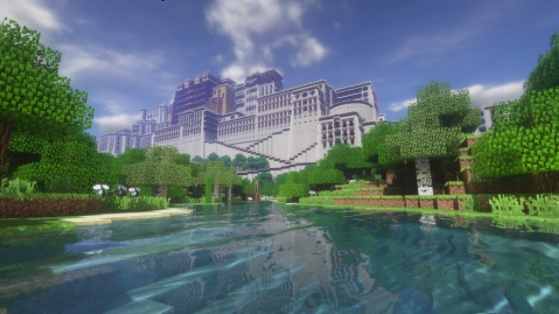 Live out your life as the famous Dalai Lamas here or simply walk a day in his sandals.
Welcome to the former home of the Dalai Lamas and what an impressive build this is. Walking through you can really see the attention to detail. The fortress looks nearly identical to the real life version and even comes complete with a garden up top to walk in quiet reflection. 
What's Awesome About It
Allows you to live as the Dalai Lama.
Almost identical to the real Potala Palace.
Has aspects of nature to blend with the manmade structure.
Versions
1.12.2
1.13.
1.14.
1.15.
1.16.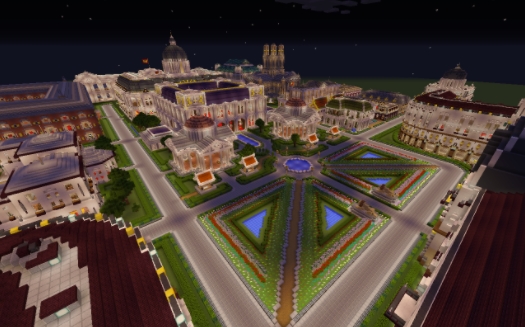 You don't actually have to be royalty to live here, but you will certainly feel like it.
This sprawling palace comes complete with everything you'd expect to find within a palace including a throne room, banquet hall, residence halls, a chapel, and beautiful gardens. This build contains nearly 1,000,000 blocks and the level of detail shows. Whether you simply want to explore or play out your fantasy of being royalty, then this palace is an absolute must for you.
What's Awesome About It
Lets you live as English royalty.
This massive build has much to explore.
Quite colorful compared to some castles that consist of stone.
Versions
1.12.2
1.13.
1.14.
1.15.
1.16.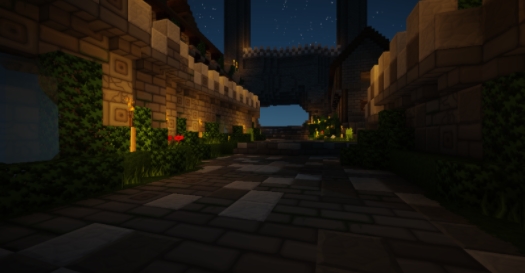 There are so many opportunities to choose from in this castle. Make sure you pick the one that's just right for you.
This massive castle has been dubbed the roleplay castle by its creator and you can definitely see the potential for this. When you spawn into the game, you actually spawn aboard a merchant ship visiting the castle. If you are interested in roleplaying, there are numerous roles for you.
What's Awesome About It
Designed for roleplay and has many available roles to play.
Sets you in a newcomer mood by spawning you aboard a ship outside.
The walk up to the castle allows you to see it in all its glory.
Versions
1.12.2
1.13.
1.14.
1.15.
1.16.
4. Saldur City (-5811490681604545326)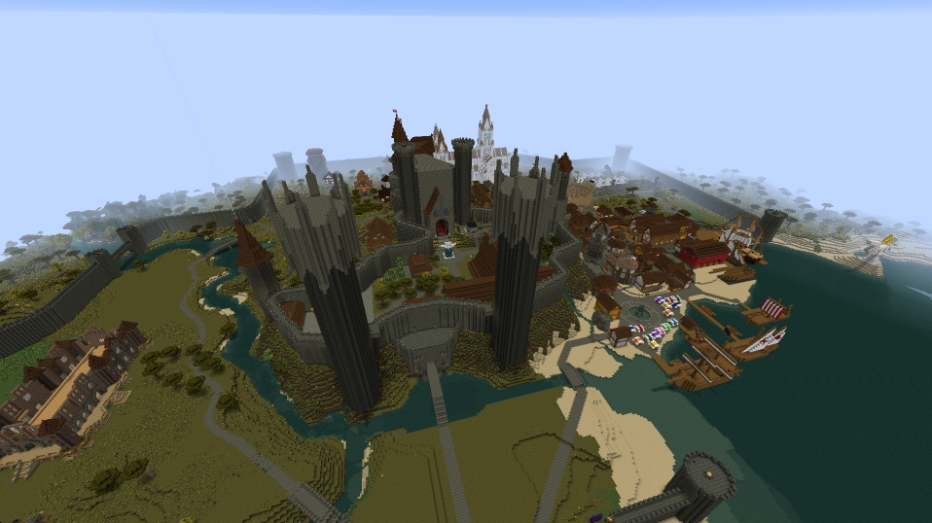 Not only is this castle massive and wonderfully created, but it comes with its own video game easter egg hunt.
This massive sprawling castle and city contains not only an enormous amount of blocks, but also a great deal of secrets to find while exploring. The creators incorporated easter eggs from other games into the city, but if this isn't for you, there is still so much to see as you wander the streets of this build. 
What's Awesome About It
Includes easter eggs which tie in to other games.
Offers so much to explore and view.
Walls are built far out from the castle allowing you to add your own flair.
Versions
1.12.2
1.13.
1.14.
1.15.
1.16.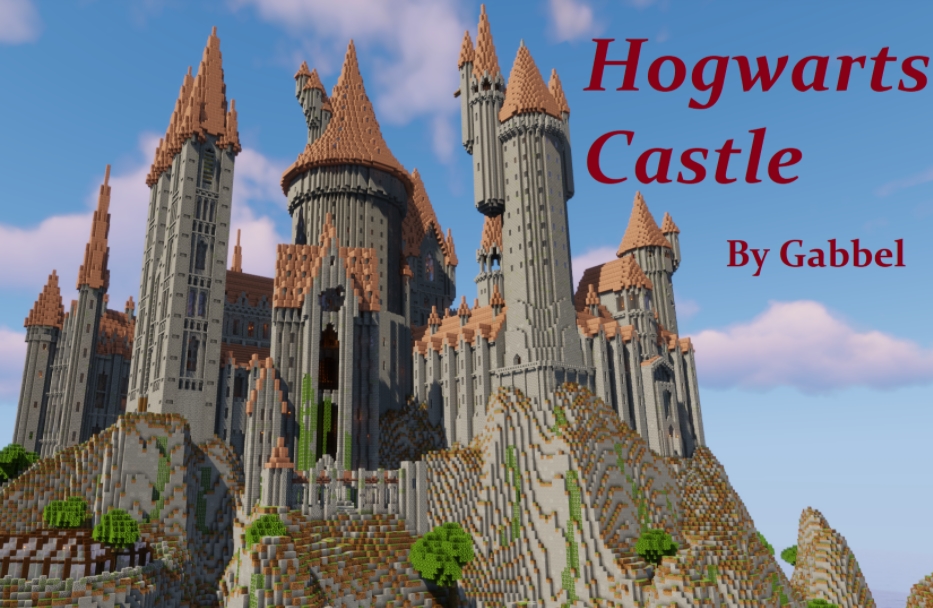 You're a wizard random Minecraft player! Live out your dream of walking through the halls of Hogwarts with this castle.
Harry Potter fans will be right at home here with this beautiful recreation of Hogwarts castle. While the build does not feature the Forbidden Forest or the quidditch pitch, it does showcase nearly all the indoor locations, boasting an impressive 400 rooms. Regardless if you have seen the movies or read the novels, it is easy to get lost exploring this incredible castle.
What's Awesome About It
Allows Harry Potter fans to explore Hogwarts. 
Truly captures the cinematic look of the castle.
You can roleplay as Harry Potter and his friends.
Versions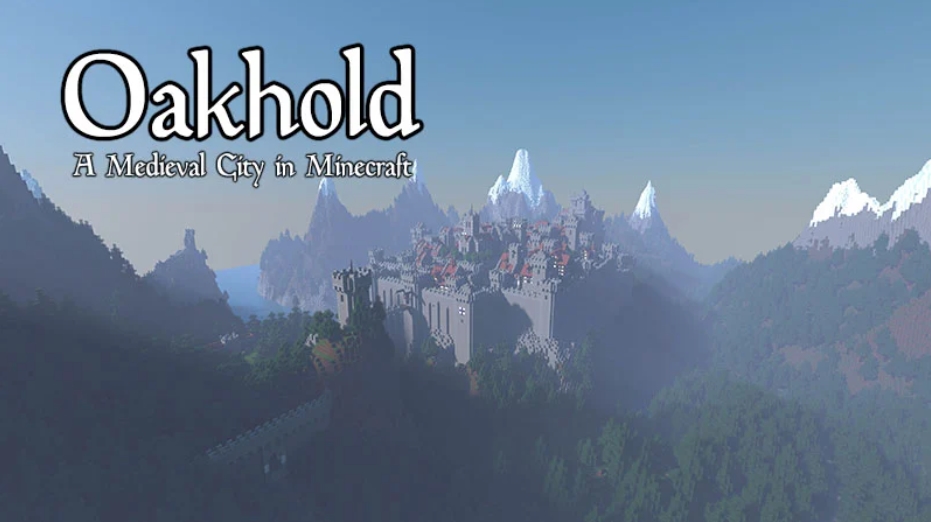 This breathtaking castle is simply out of this world. Luckily, its within this Minecraft world so you can explore it.
Oakhold is an absolutely massive build complete with a castle and surrounding city. As you spawn into the world, you have about a quarter mile walk until you eventually come to the castle walls, and something about this walk and the impressive structure looming ahead of you makes the experience all the more breathtaking. 
What's Awesome About It
One of the most impressive castle builds.
Many roles to occupy if you are interested in roleplaying.
The walk up makes the castle and city even more impressive.
Versions
1.10
1.11
1.12.
1.13.
1.14.
1.15.
1.16.
1. Falcon Rock (-712714449760912068)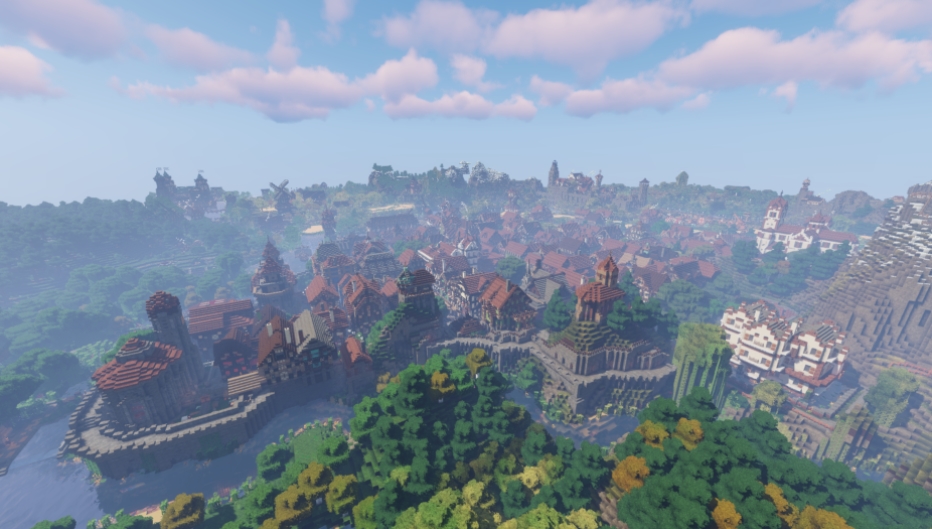 This absolutely massive castle and village will have you wondering it for hours. Fortunately there is a teleportation system in place for easy travel.
Falcon Rock is truly a work of art. The sheer scale and level of detail make this castle and city absolutely breathtaking. You could easily spend several hours just walking around and exploring this sprawling city, but to make it somewhat easier to get around, the creators incorporated a teleportation system to easily get from one end to the other.
What's Awesome About It
An absolute massive build that is truly beautiful.
Teleportation system makes it easier to get around.
The build offers so much in the form of visuals and roleplaying opportunity.
Versions
1.12.2
1.13.
1.14.
1.15.
1.16.
You May Also Be Interested In:
Image Gallery